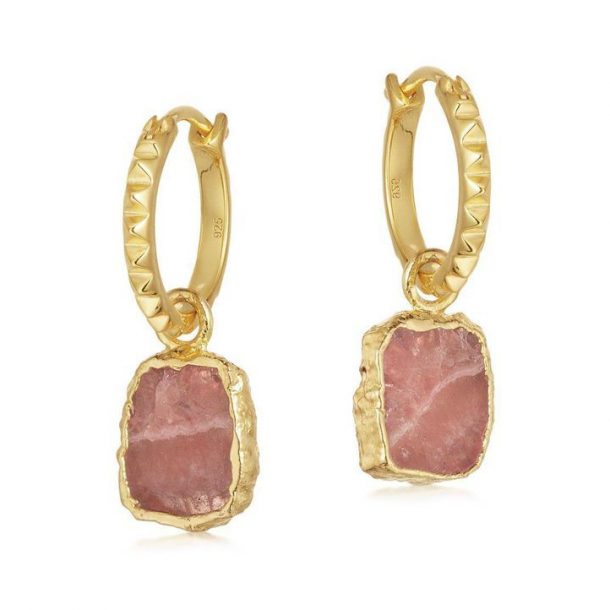 On the 15th of September 2020, the Duchess of Cambridge (Kate Middleton) debuted a new pair of pink and gold gemstone earrings during a public engagement in London. They're by Missoma. They're the brand's 'Rhodochrosite Gold Mini Pyramid Charm Hoops'.
About the earrings:
The striking pink and gold earrings feature a hand-cut Rhodochrosite gemstone set in 18ct gold vermeil on Sterling silver suspended from a hoop. The gold vermeil surrounding the gemstone has a rough, organic texture while a repeating pyramid pattern decorates the hoops.
The natural pink rhodochrosite stone is a healing crystal that radiates love, compassion and all-around good vibes according to the designer.
Buying Kate's earrings:
At the time of writing, the earrings can be purchased from Missoma.com for £85 / $110. The company offer free worldwide delivery.
SAVE 10% — Sign up to Missoma's email list to receive a 10% discount code. The box is at the bottom of their website. It only works on if it's your first order with the company.
Pink not your colour?
If you like Kate's elegant earrings but rarely wear pink, you may be pleased to read that they also come in green Amazonite. The stone is favoured for its "physical and emotional healing properties" according to Missoma. Click here to view.
Same stone, different jewellery:
Pink rhodochrosite features across Missoma's collection. The gemstone is used in a pendant, a choker, a ring and a bracelet. There are also three other styles of earrings available. Click here to browse.
Kate Middleton wearing Missoma:
This isn't the first time Kate's worn Missoma during a public engagement. She sported a pair of the brand's Zenyu Chandelier Hoops in Pakistan, during the 2019 Royal Tour. At the time of writing (17th of September 2020), the earrings remain available for purchase, should you wish to buy them.
About Missoma:
Missoma is a London-based jewellery brand founded by Marisa Horden, her mother Michele and sister Sophie. The brand name combines letters from all three ladies' names: Michele, Sophie, Marisa.
In an interview with Coveteur, Marisa describes the jewellery as "demi-fine". She credits the business as being "one of the first" to offer this type of jewellery. The Creative Director says the label is ideal for people who are looking for "something in between cheap, fashion jewellery and fine jewellery that [is] too expensive".
Kate isn't the only high profile person to have worn Missoma jewellery! Other celebrity fans of the brand include Cindy Crawford, Margot Robbie and the Duchess of Sussex.