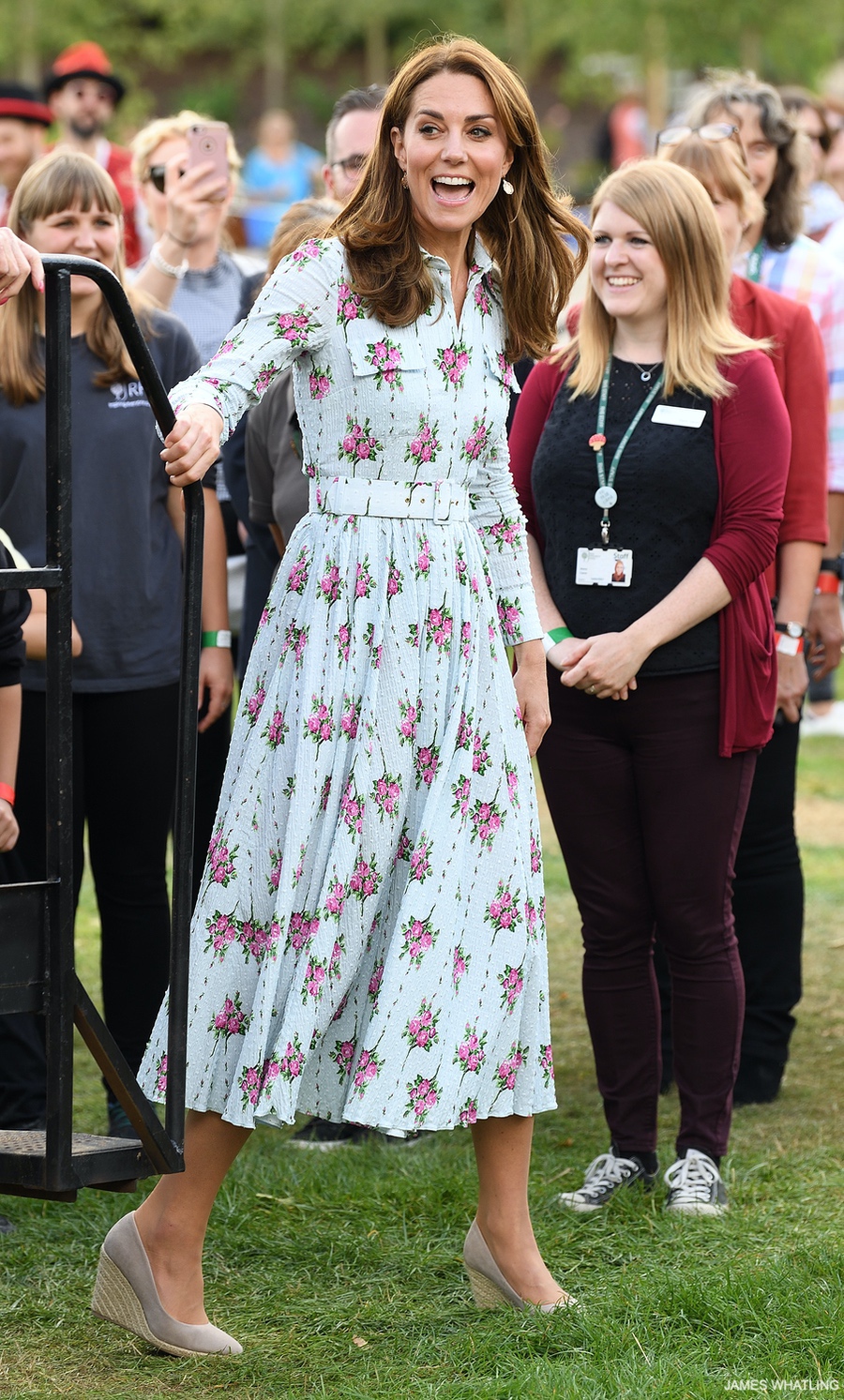 This morning, (10th of September 2019), Kate formally opened the new 'Back to Nature' Garden at RHS Wisley in Woking.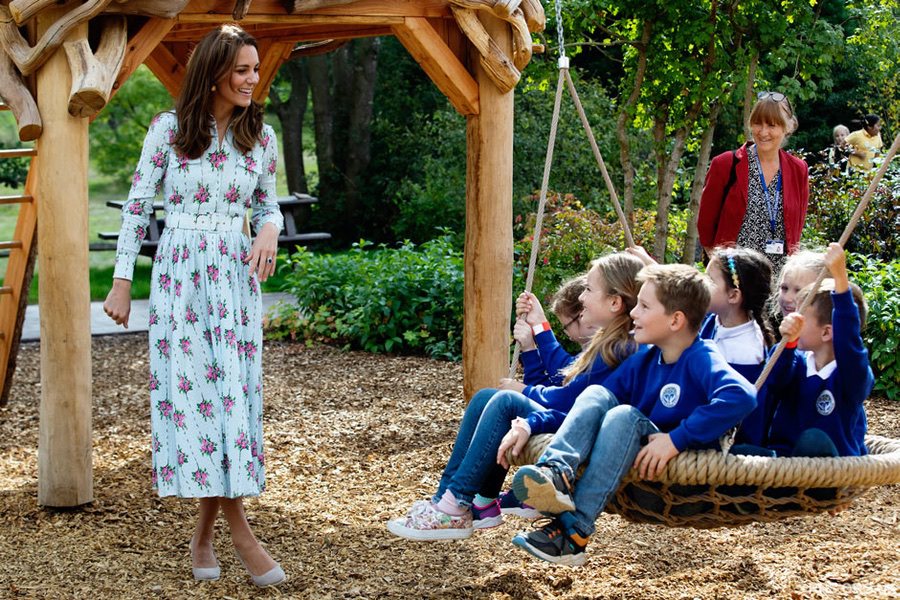 The Duchess unveiled the garden alongside RHS Ambassador, food writer and television presenter Mary Berry.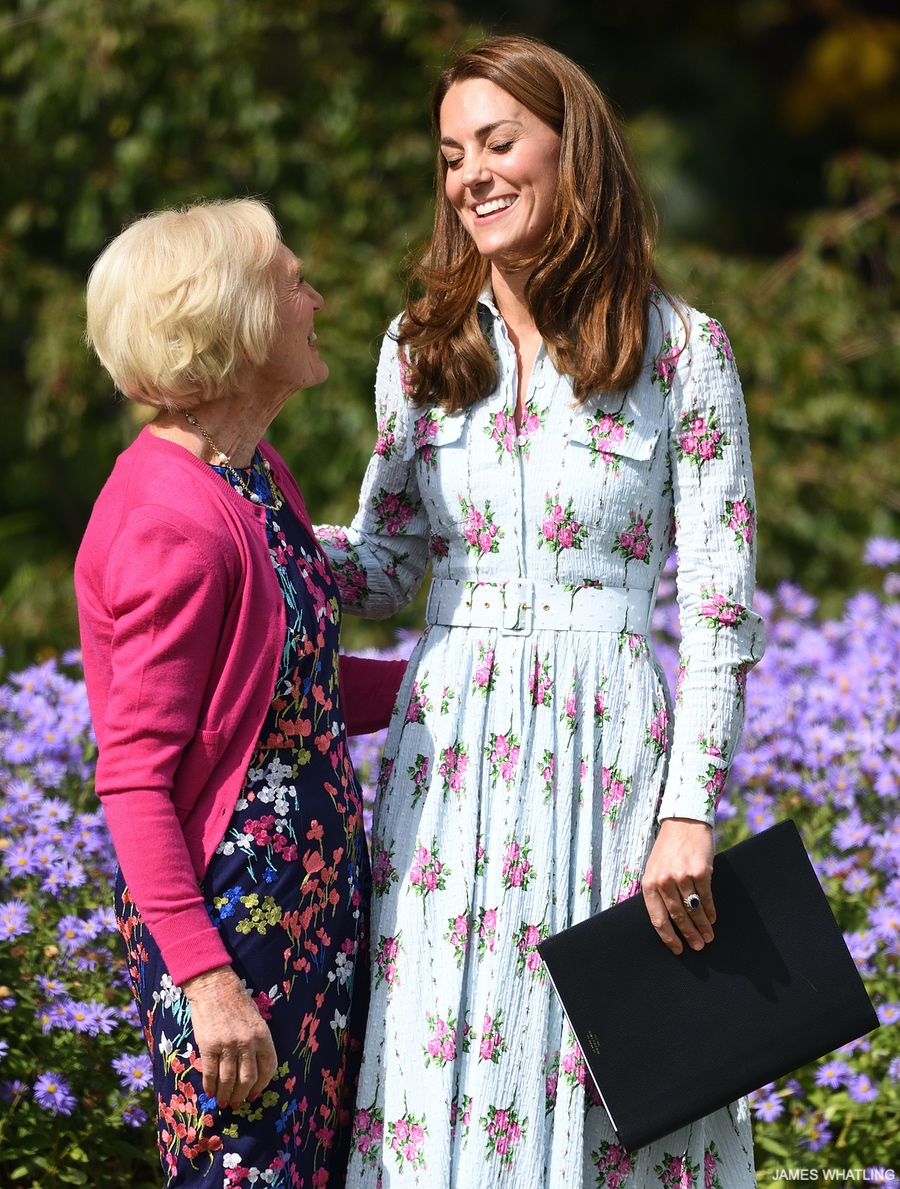 The garden is the third and final part of a collaboration between Kate, the Royal Horticultural Society and NHS England. The project aims to promote the benefits of green spaces and gardening on both physical and mental health.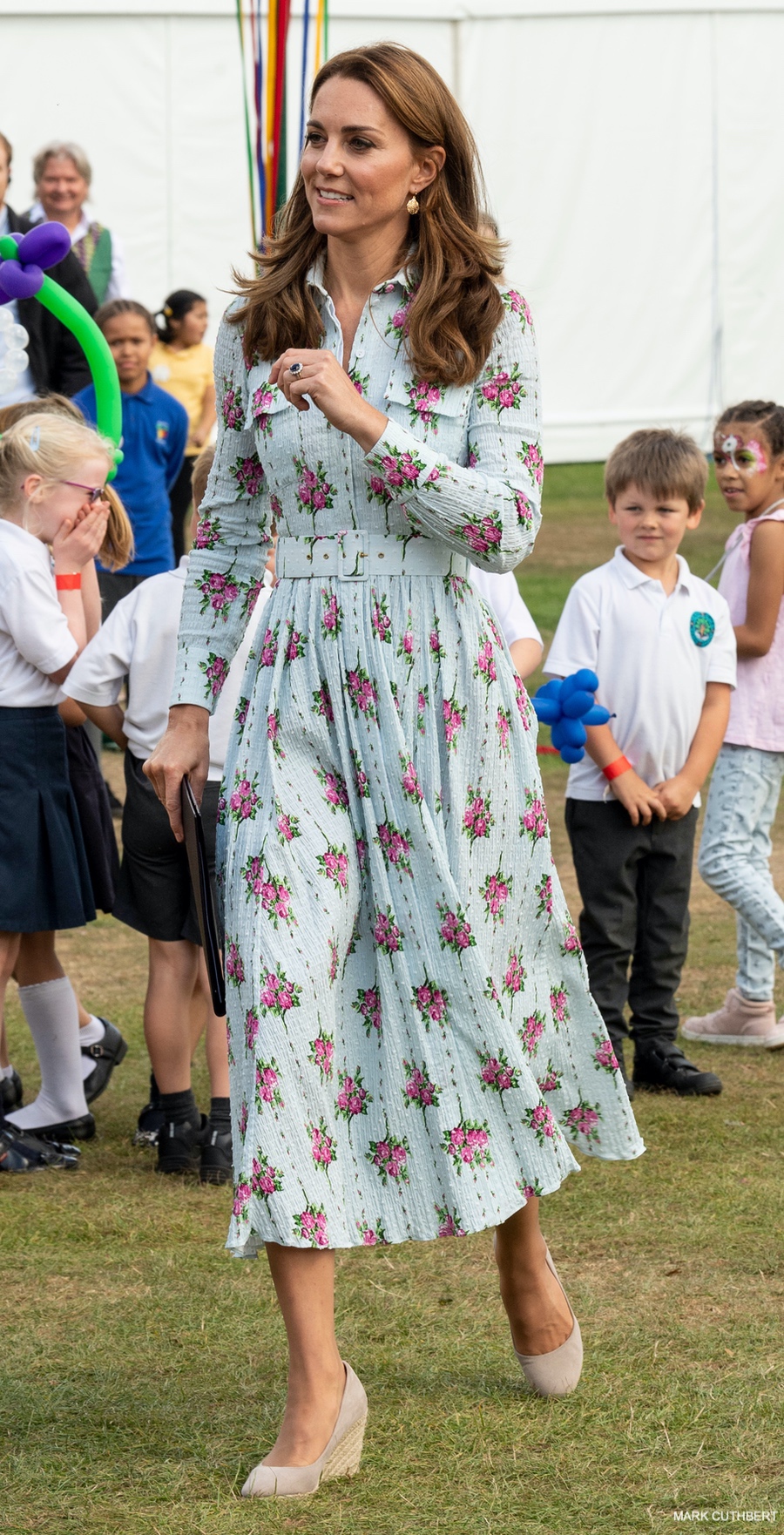 For the first part of the collaboration, Kate co-designed a garden for the Chelsea Flower Show in May. Then, the garden was transferred to Hampton Court Palace in July. (Read our article about that here).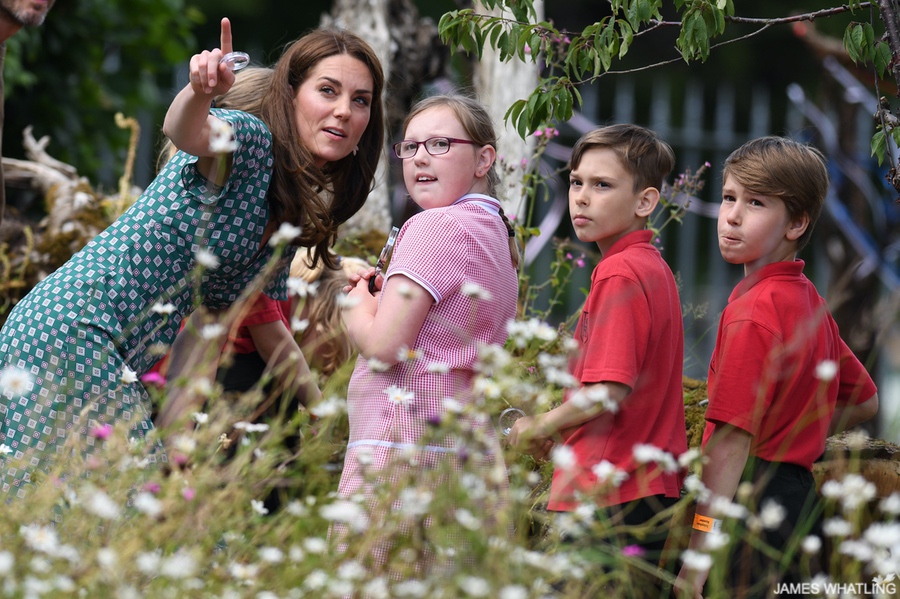 The RHS Wisley garden takes inspiration from the space Kate co-created for the Chelsea Flower Show. It contains many of the original garden's elements, including a hollow log, boulders, a wildflower meadow and a hidden burrow. The new garden also features two treehouses, a living willow pod and a trampoline area surrounded by trees.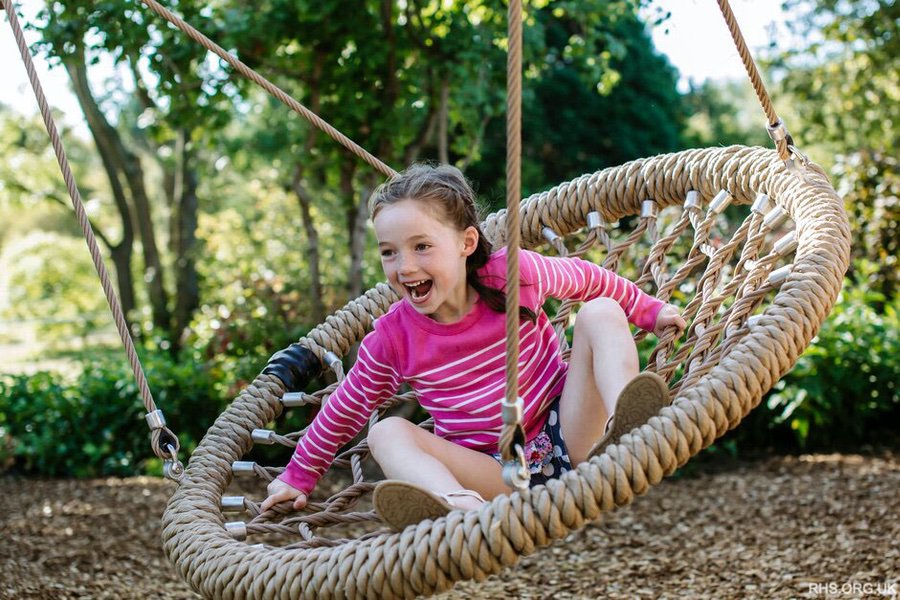 Today, Kate gave a speech at the unveiling of the garden. She explained how the project relates to the charity work she's carried out over the past few years:
I am not as green-fingered as many of you here, but I was passionate about creating a garden that inspired children and adults alike to get back to nature and reap the positive mental and physical health benefits that it can bring.

The physical benefits of being outdoors and in nature are well documented. More recently, however, I have learnt that these often safe and supportive environments can also bring significant benefits to the cognitive, social and emotional development of our children too. The experiences we gain during our earliest years influence who we become as people. They influence how we interact in school, in work and in society and, ultimately how we bring up our own children.

The Duchess of Cambridge
Kate and Mary had fun during the engagement. They took a ride in a tractor-trailer and chatted with youngsters as they played.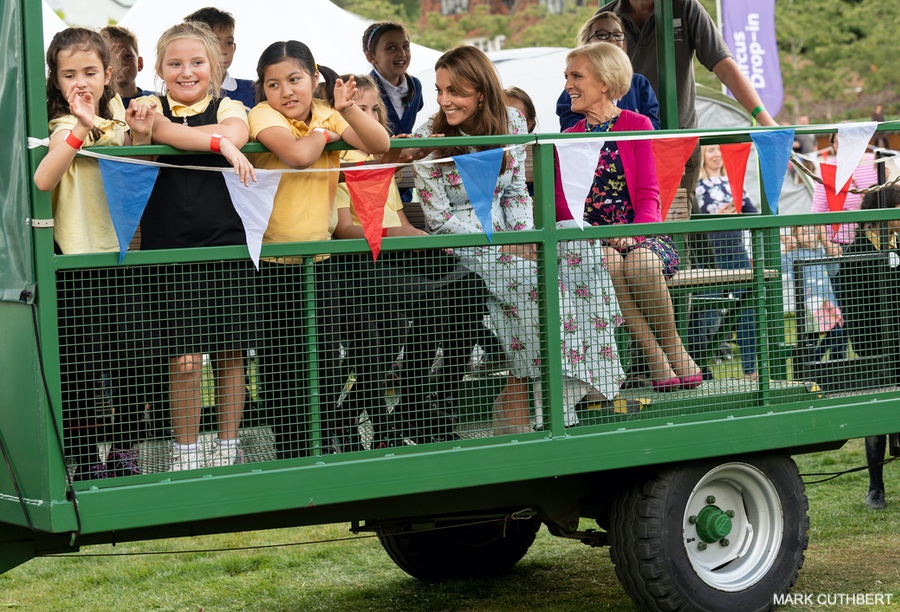 Guests represented a variety of the charities and organisations Kate has met over the last eight years.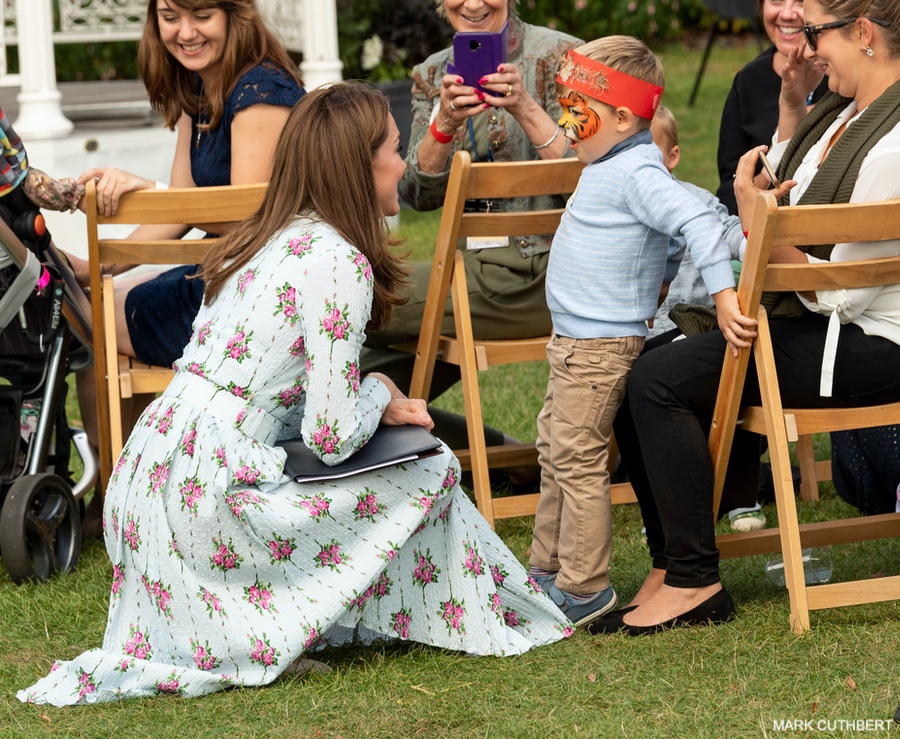 The garden will be a permanent feature at RHS Wisley, allowing children and families to enjoy the space for years to come.
For those who can travel to Woking, RHS Wisley are hosting a festival to celebrate the new garden. It will run until the 15th of September.
The Festival includes a coconut shy, gardening activities, maypole dancing and circus acts. Visitors can create bunting using pressed flowers and leaves, make origami seed packets to fill with wildflower seeds, and sow peas to take home and grow.

RHS Wisley
Kate's outfit at the RHS Wisley garden opening:
Kate wore a mid-length floral dress by Emilia Wickstead.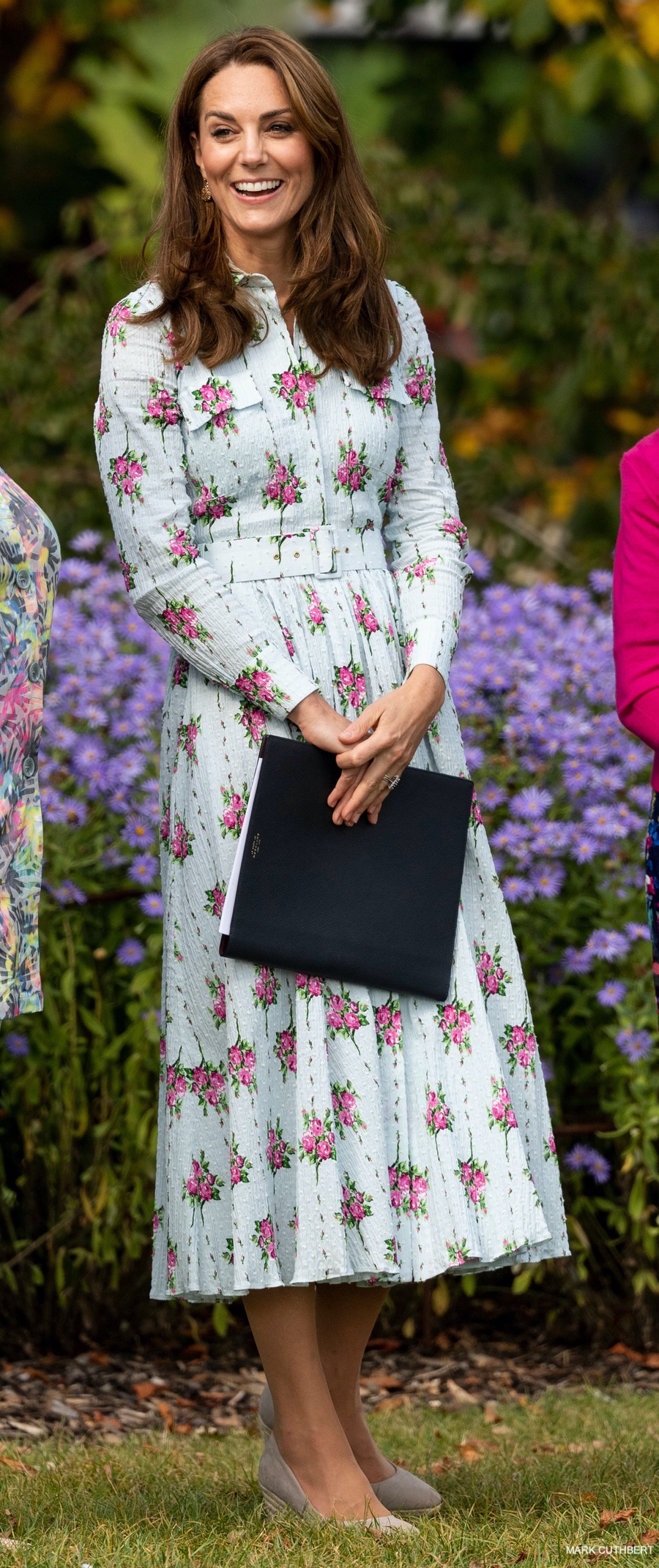 The long-sleeved dress features pink roses printed on a light blue background. It's made from seersucker fabric and comes with a matching belt.
With a ladylike silhouette featuring a collar, long sleeves, and cinched waist, the number was still classically Kate.

Harpers Bazaar
The piece is exclusive to Net-A-Porter where it retails for $2,255 / £1,635.
The company also sell a skirt, shirt and mini dress in the same fabric.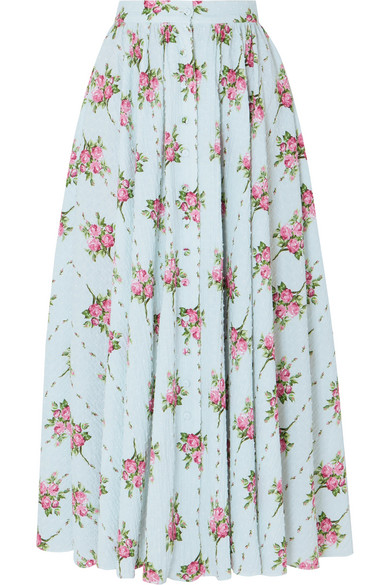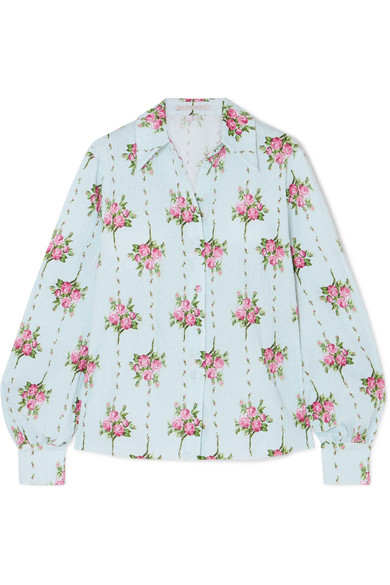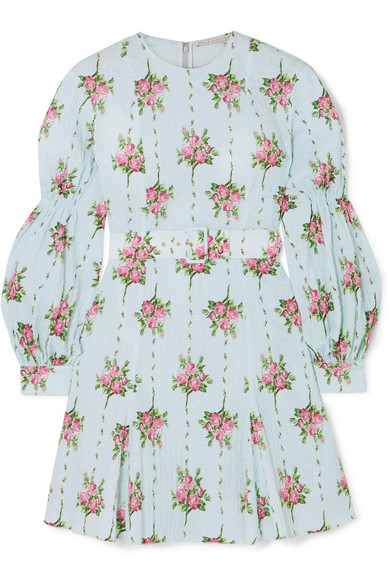 Kate brought back her Monsoon Fleur Espadrilles for the garden visit today. The almond-toed wedges feature a taupe suede shoe on a woven base.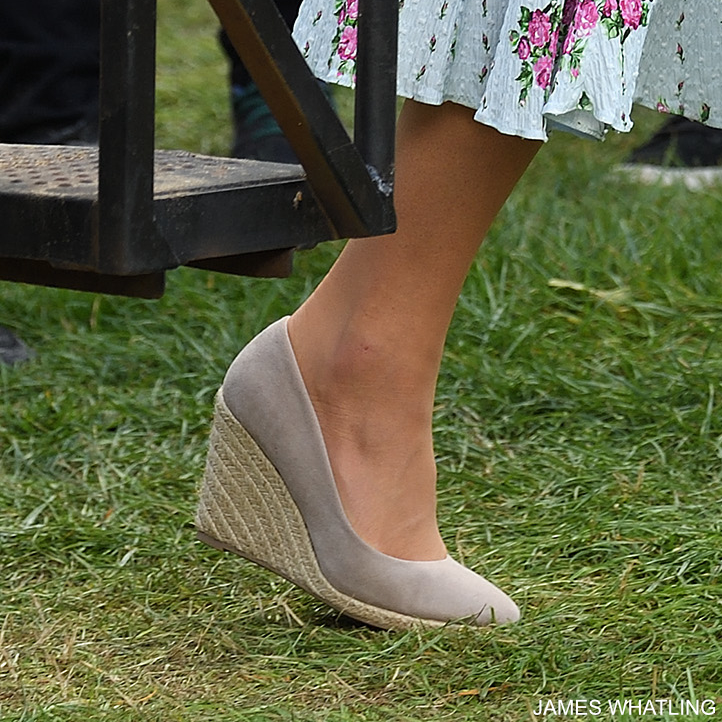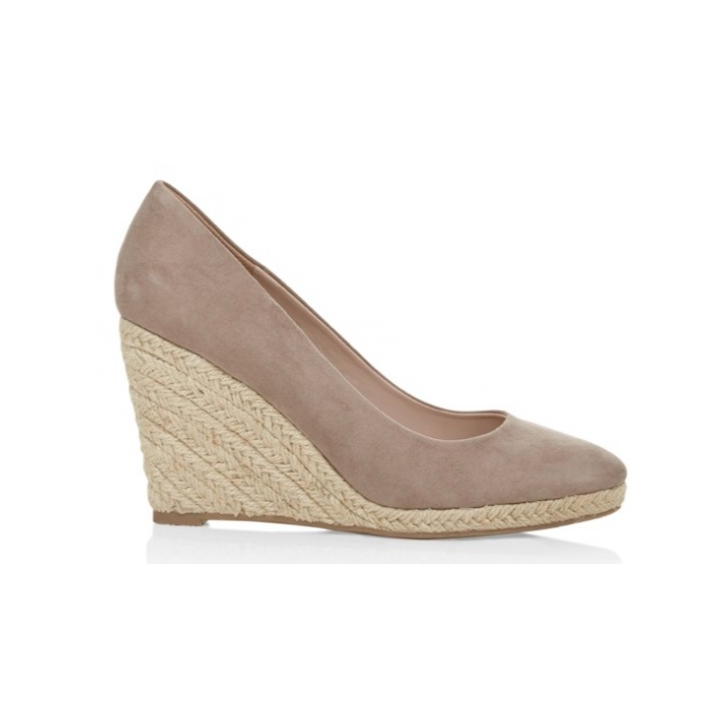 You'll probably remember them from the 2016 Royal Visit to Mumbai?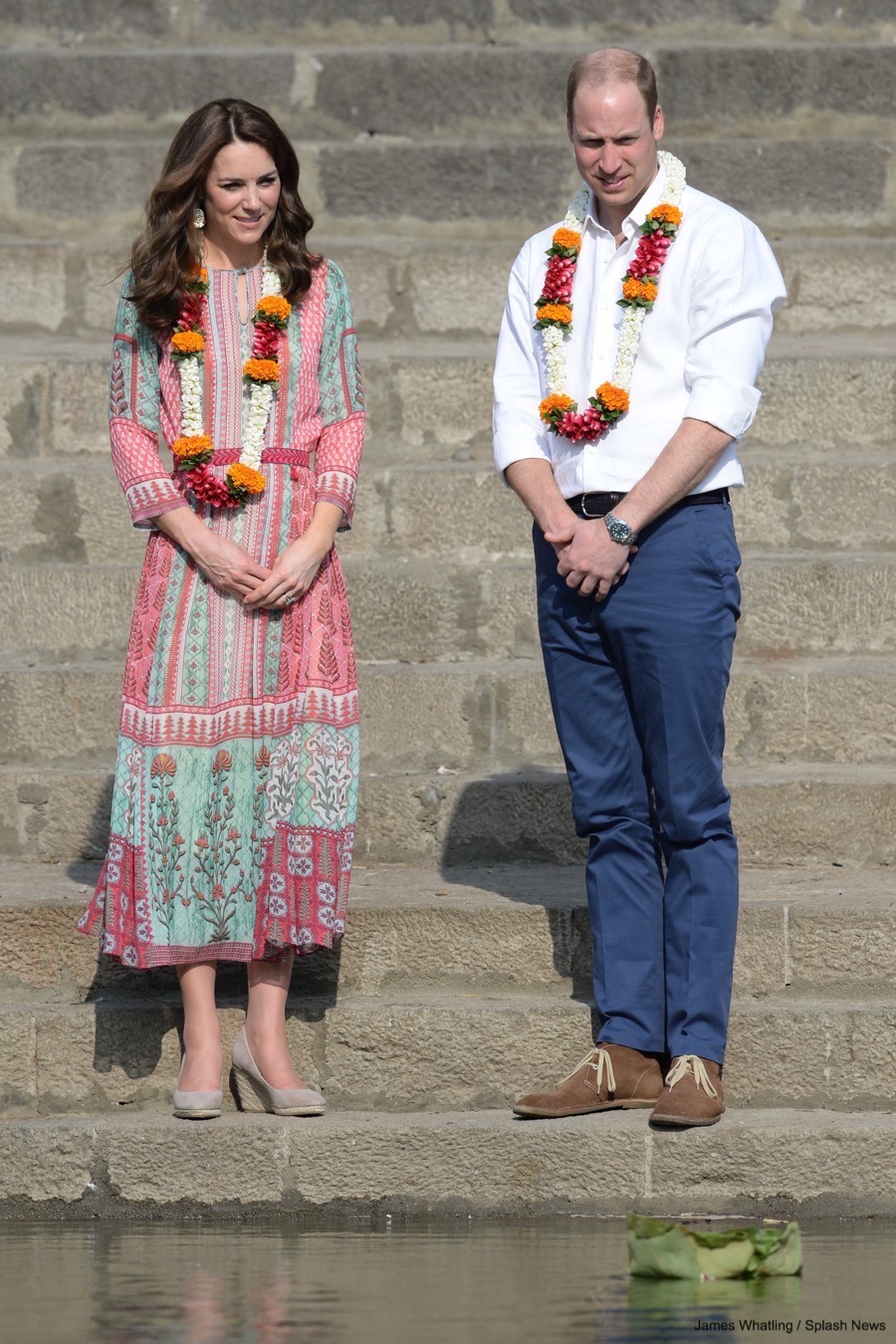 Sadly, Monsoon no longer stocks the espadrilles. But they do pop up on eBay from time-to-time.
Kate's earrings were new (to us) today. They're from Monsoon's sister company, Accessorize.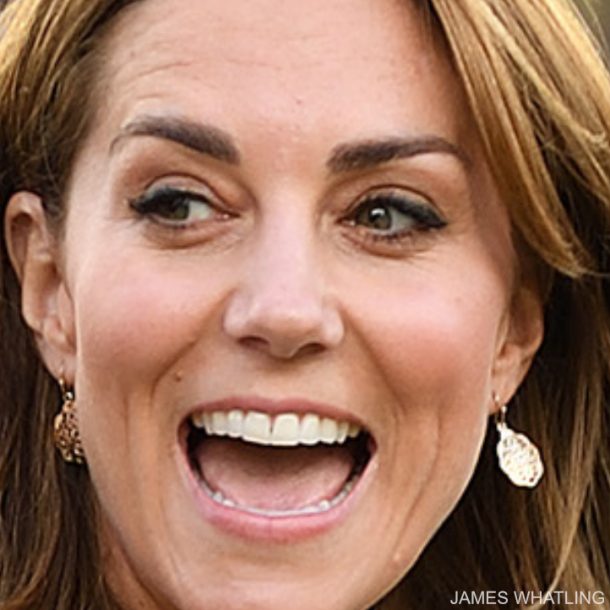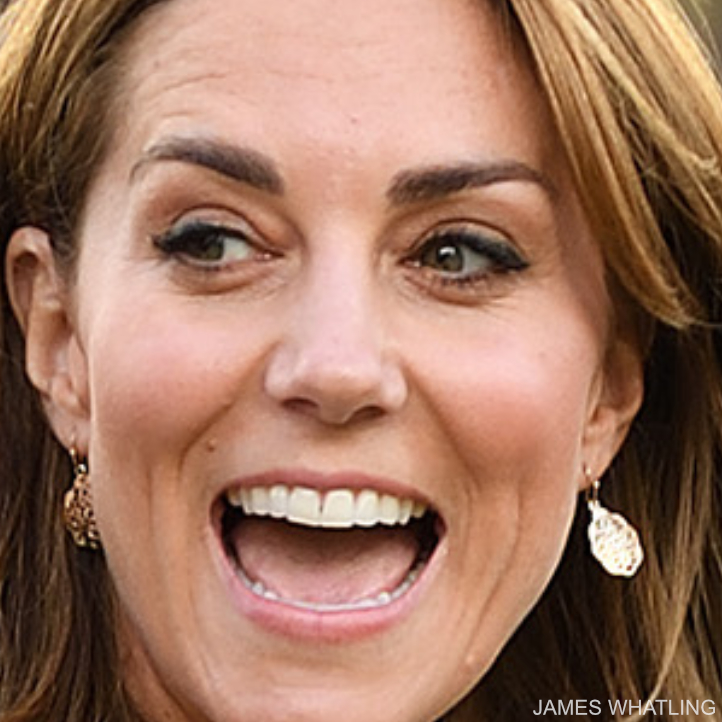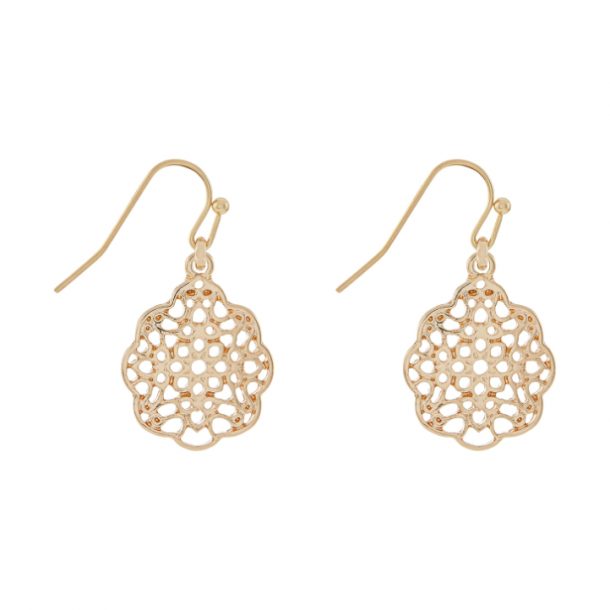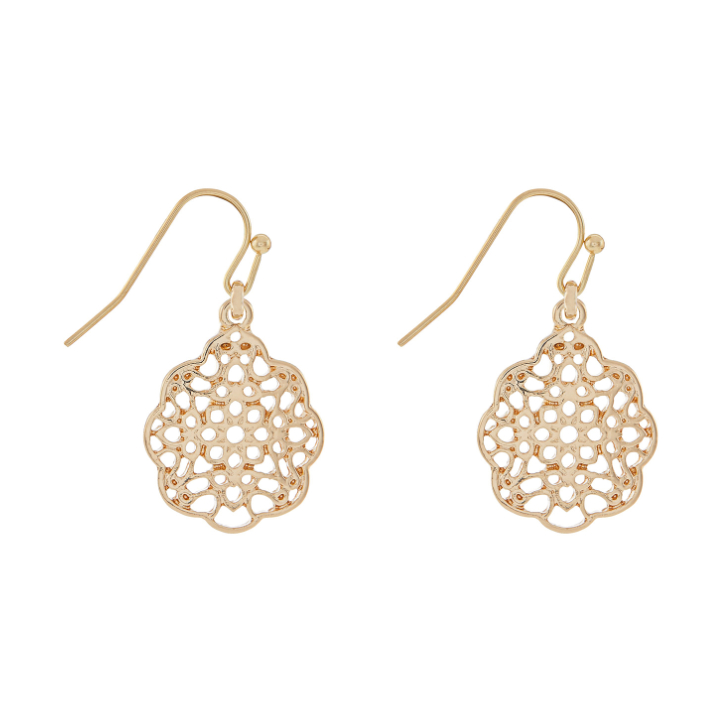 They're the Simple Filigree Short Drop Earrings in gold. They retailed for £5 / $6 before going on sale at £1.50 / $1.80! Sadly, they're no longer in stock.
(Thank you to @carolinepparr on Twitter for finding the earrings.)