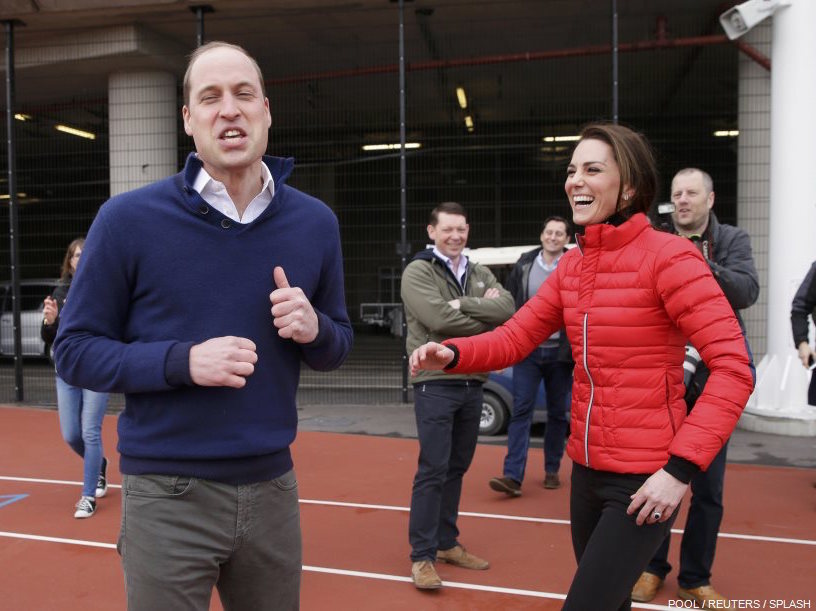 This afternoon (February 5th, 2016) William, Kate and Harry attended Heads Together's Marathon training day at the Queen Elizabeth Olympic Park in London.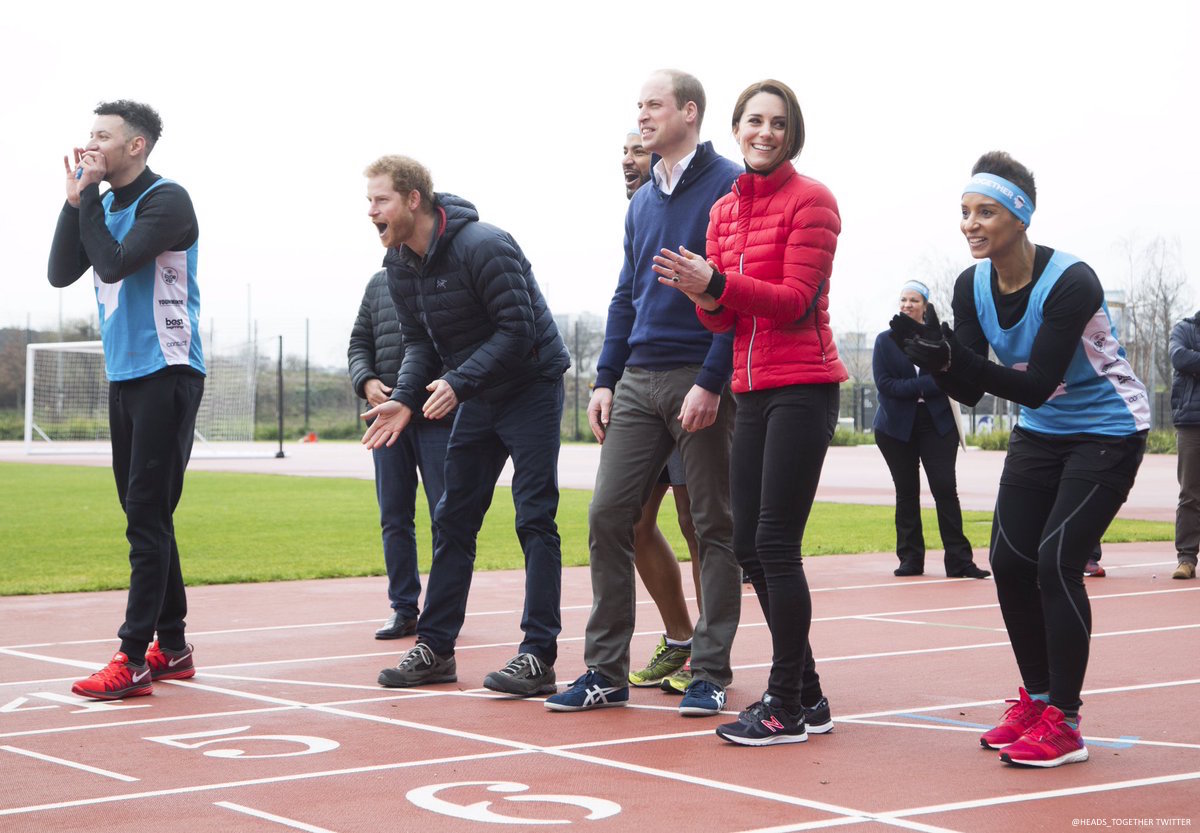 As you may recall, Heads Together is the mental health charity spearheaded by William, Kate and Harry.  It's part of trio's Royal Foundation.
The Heads Together campaign is a partnership with experienced and inspiring charities that provide frontline mental health support to people who may need it, whilst raising awareness and tackling stigma. Supported by The Royal Foundation, the Heads Together campaign aims to change the national conversation on mental wellbeing. [source]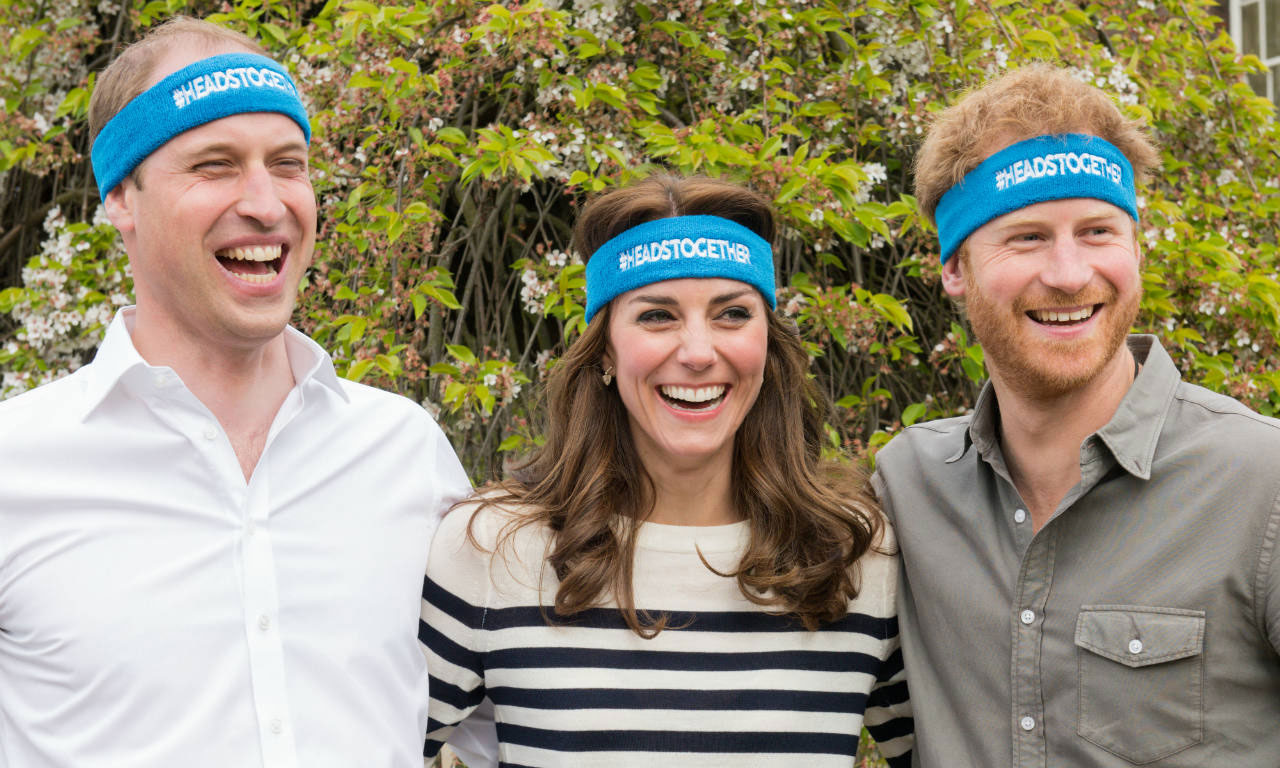 Shortly after their arrival, the trio met with Heads Together runners. Each runner is fundraising for one of the eight Heads Together Charity Partners or for the Heads Together campaign itself.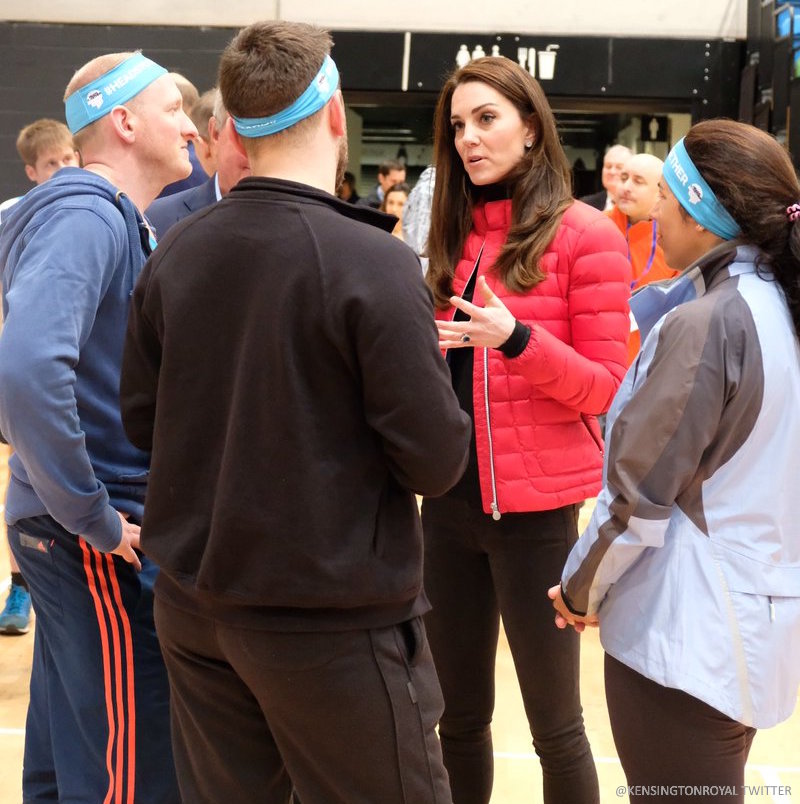 During the visit, William, Kate and Harry participated in a relay race.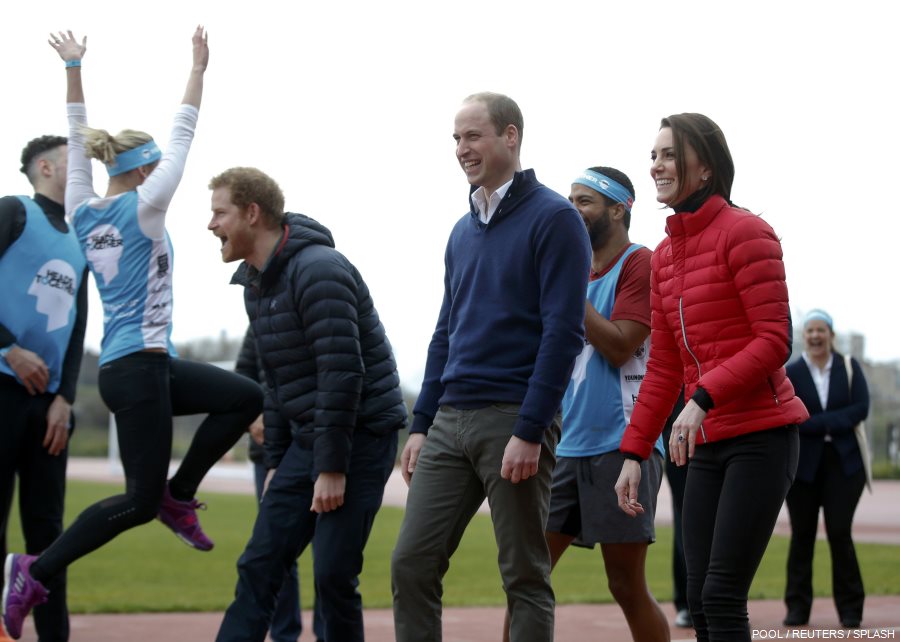 William joked around before the race began.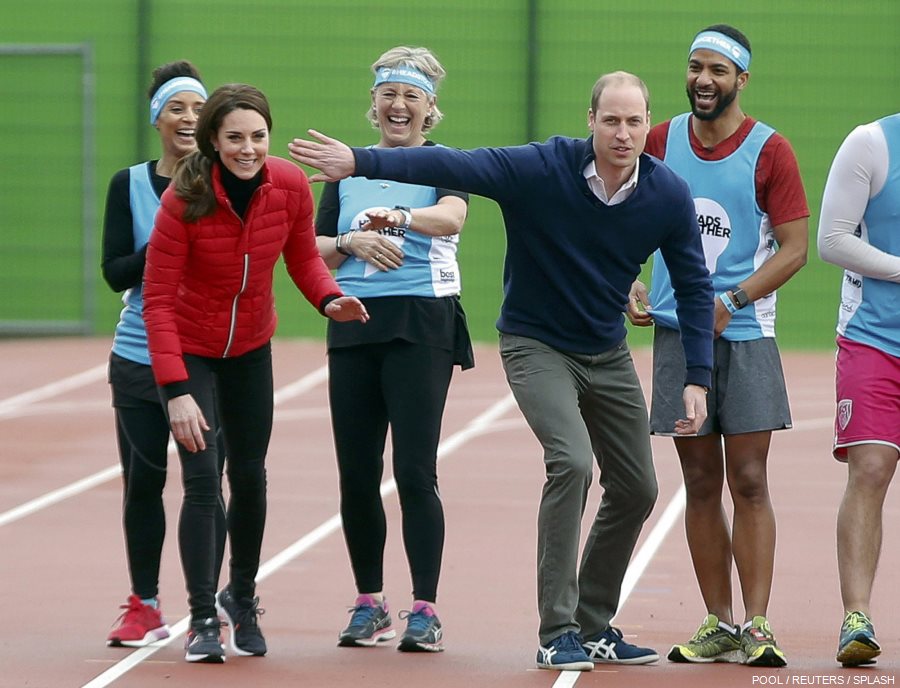 The three royals sprinted for 100m.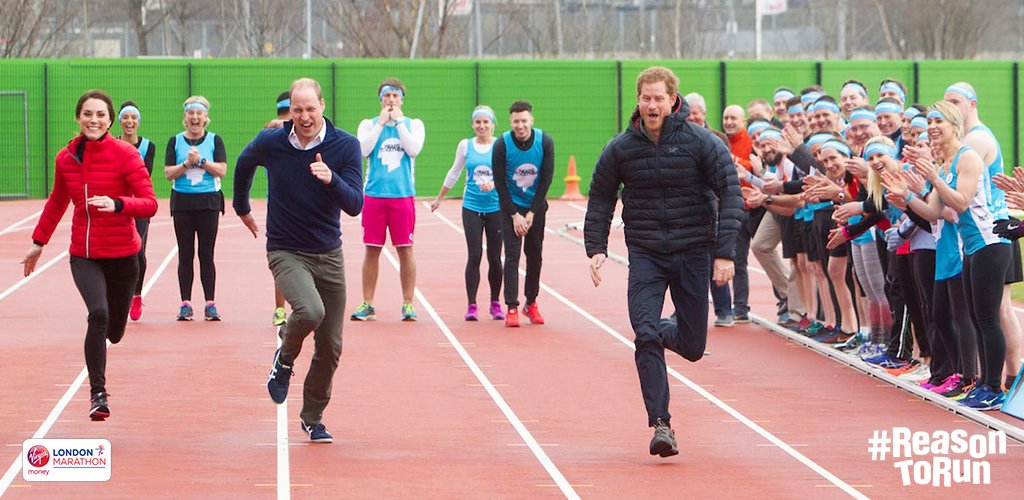 Harry took the lead, William came second and sadly, Kate finished third.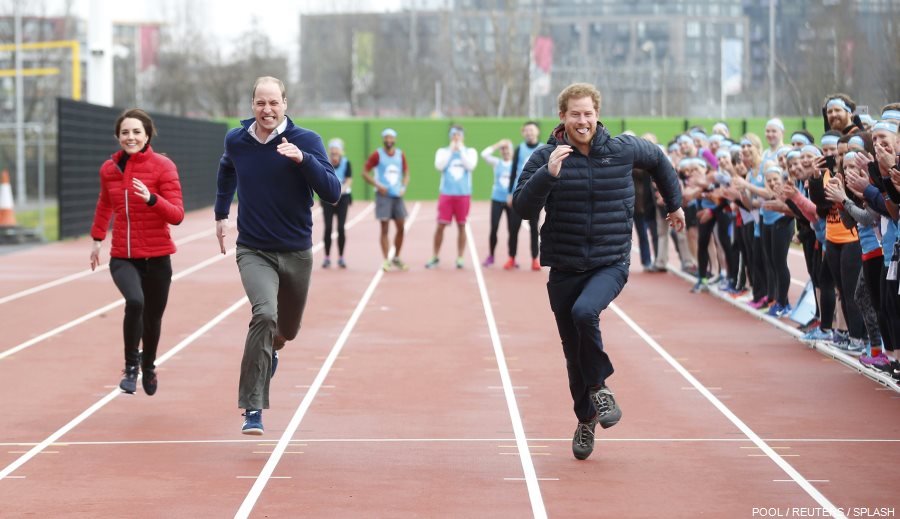 Watch the race:
It looked like it was a fun day!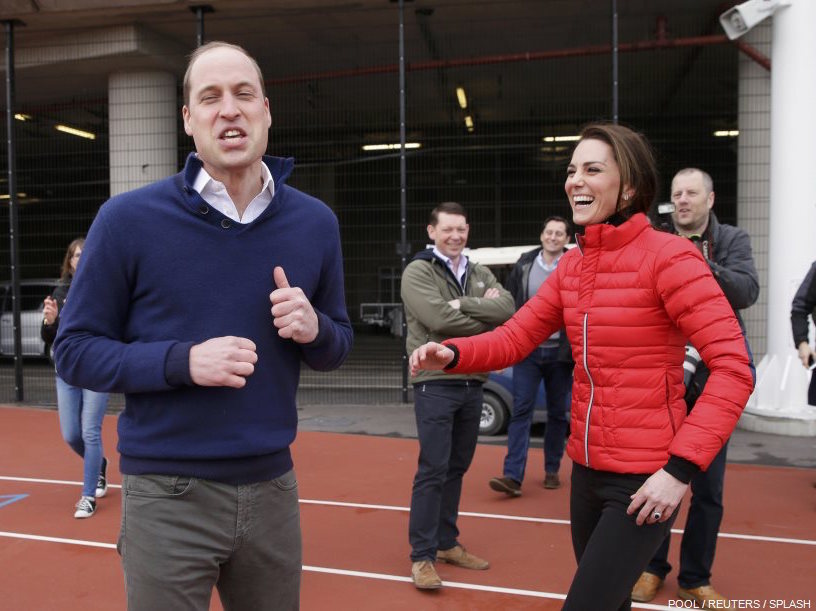 During the Heads Together raining session, runners received advice on nutrition, running and stretching, plus plenty of encouragement. William, Kate, Harry and the Heads Together team also urged runners to "lead from the front" when it comes to starting conversations on mental health in the build up to the marathon.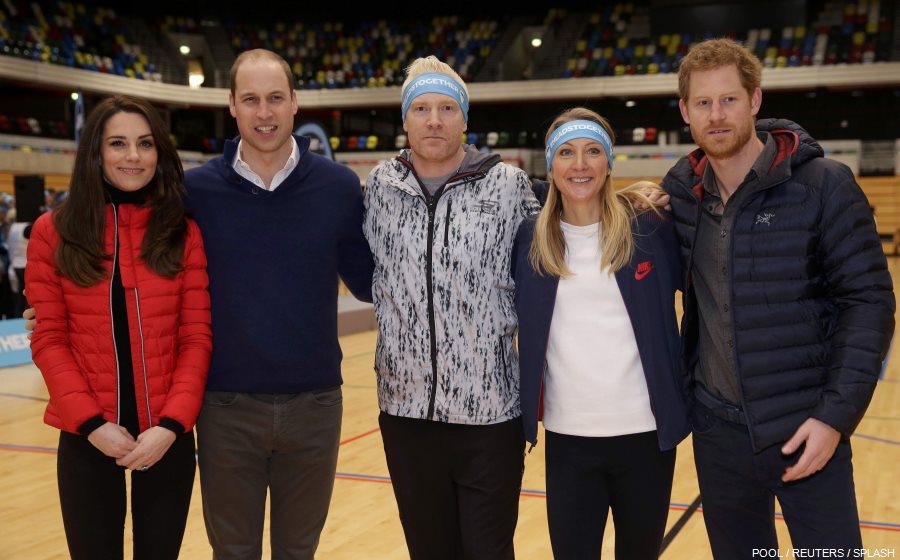 Marathon World Record Holder and three-time London Marathon Winner Paula Radcliffe attended today's event too. She provided the runners with plenty of support and advice.
Kate's outfit:
You probably noticed Kate's pillar box red ski jacket right away!  It's by a company called Perfect Moment. The exact style name is "Mini Duvet II".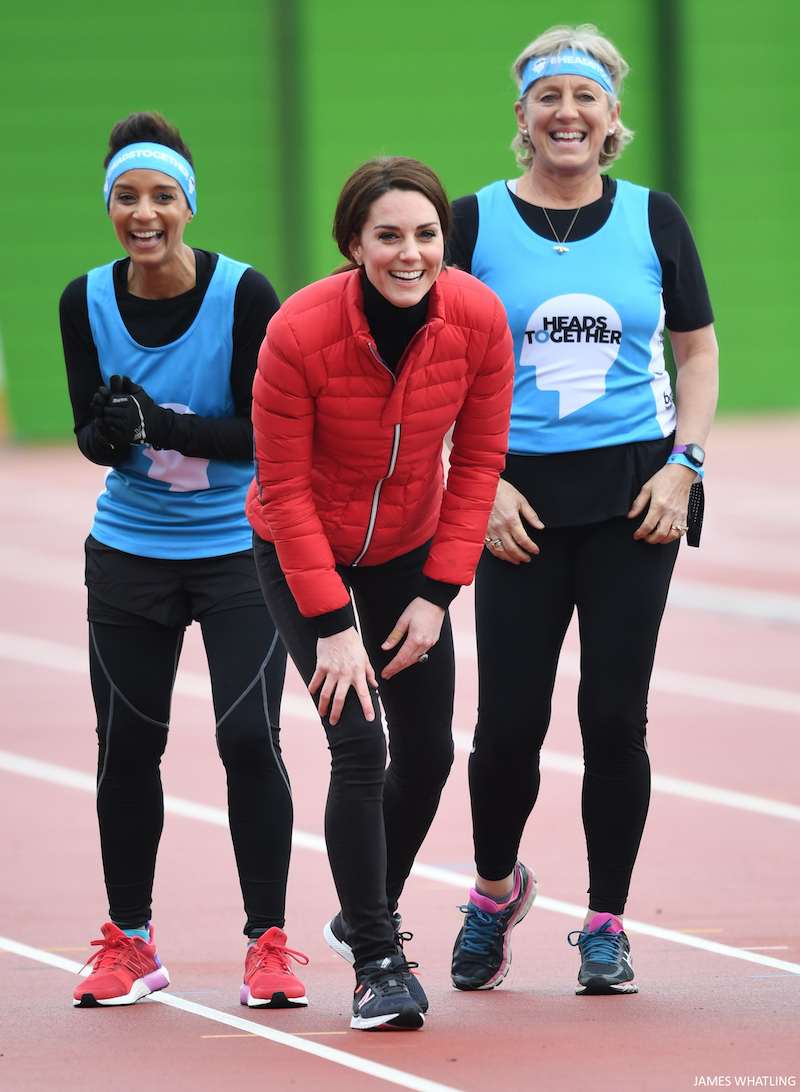 Net-A-Porter.com say the jacket will make you "easy to spot in whiteout conditions". It is cut from mid-weight durable Airtastic EX shell, it's padded with insulating down, has a protective high neck and is finished with soft ribbed cuffs in black.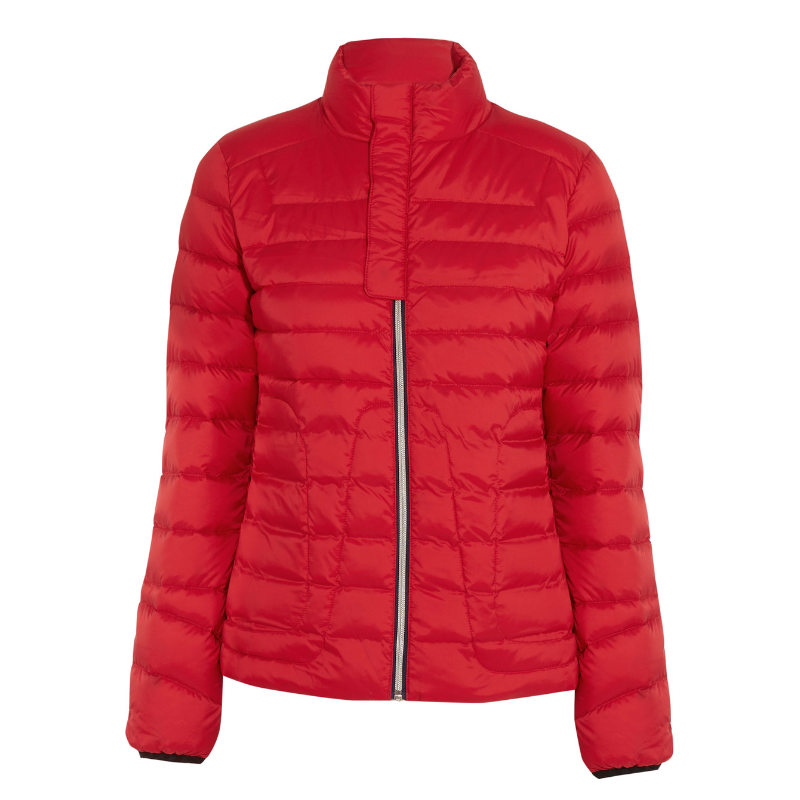 The jacket also has navy blue pads on the elbows.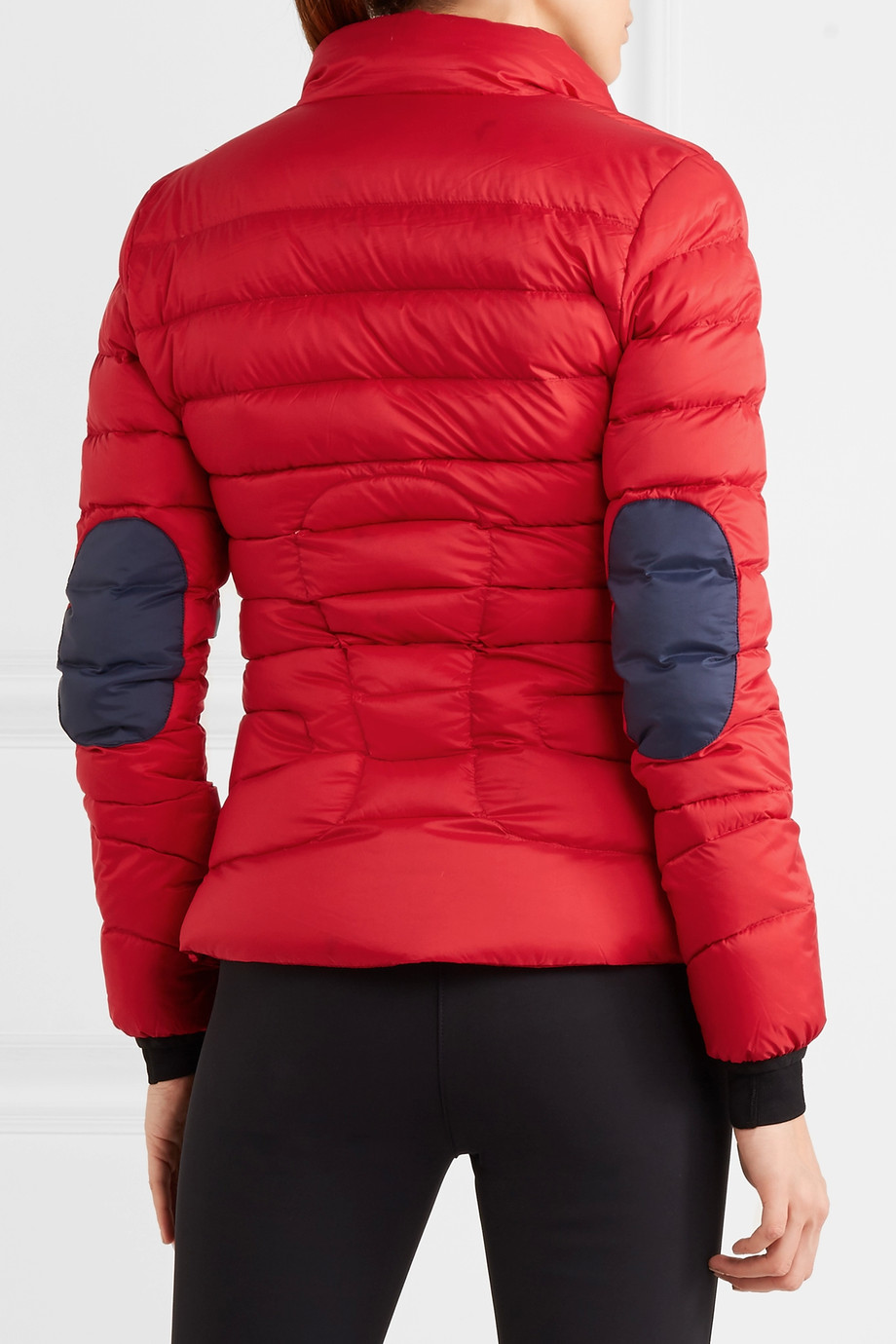 Net-A-Porter sold the jacket for $420 / £280 (it's now out of stock).  Limited sizes remain at  Shopbop and Lane Crawford.  (Though other colours are available too).

You might also be interested to learn that the company sell a slightly older version of the jacket, called "Duvet" (Kate's is called "Duvet II").  The only different appears to be a magnetic flap that closes over the zip and the colour of the zip itself.  Bluefly sell the jacket in medium and large from $199.99.  Click here to shop.
Pssst… looking for a similar jacket for a cheaper price?  New Look has a fantastic option for just £44.99.  Take a look here.
Many of you will have spotted the giant N on Kate's running shoes today.  Of course, that's the New Balance logo.
Kate's wearing the Vazee Transform style in a colourway that is exclusive to Sweaty Betty.   They cost £90 GBP / $ 145 USD.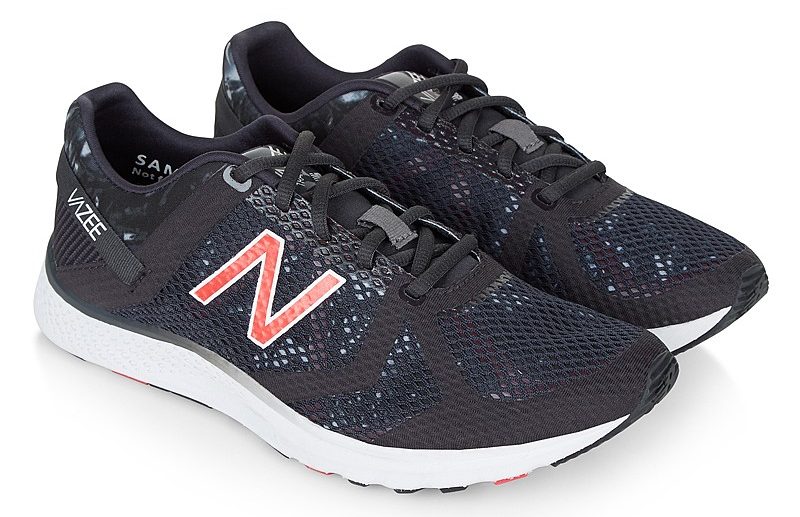 Sweaty Betty named the style as "Majorelle Garden Print Black".
The company say the running shoe is "lightweight, well-cushioned and technical" and built for "fast, lateral movements".

New Balance Vazee trainers/sneakers can be purchased in a range of other colours, which means you'll find the perfect shade to match your workout gear!  Plus, some of the other colours are much cheaper!  Check out our widget below:

Amazon.com and Amazon.co.uk also stock the Vazee Transform shoe in similar colours.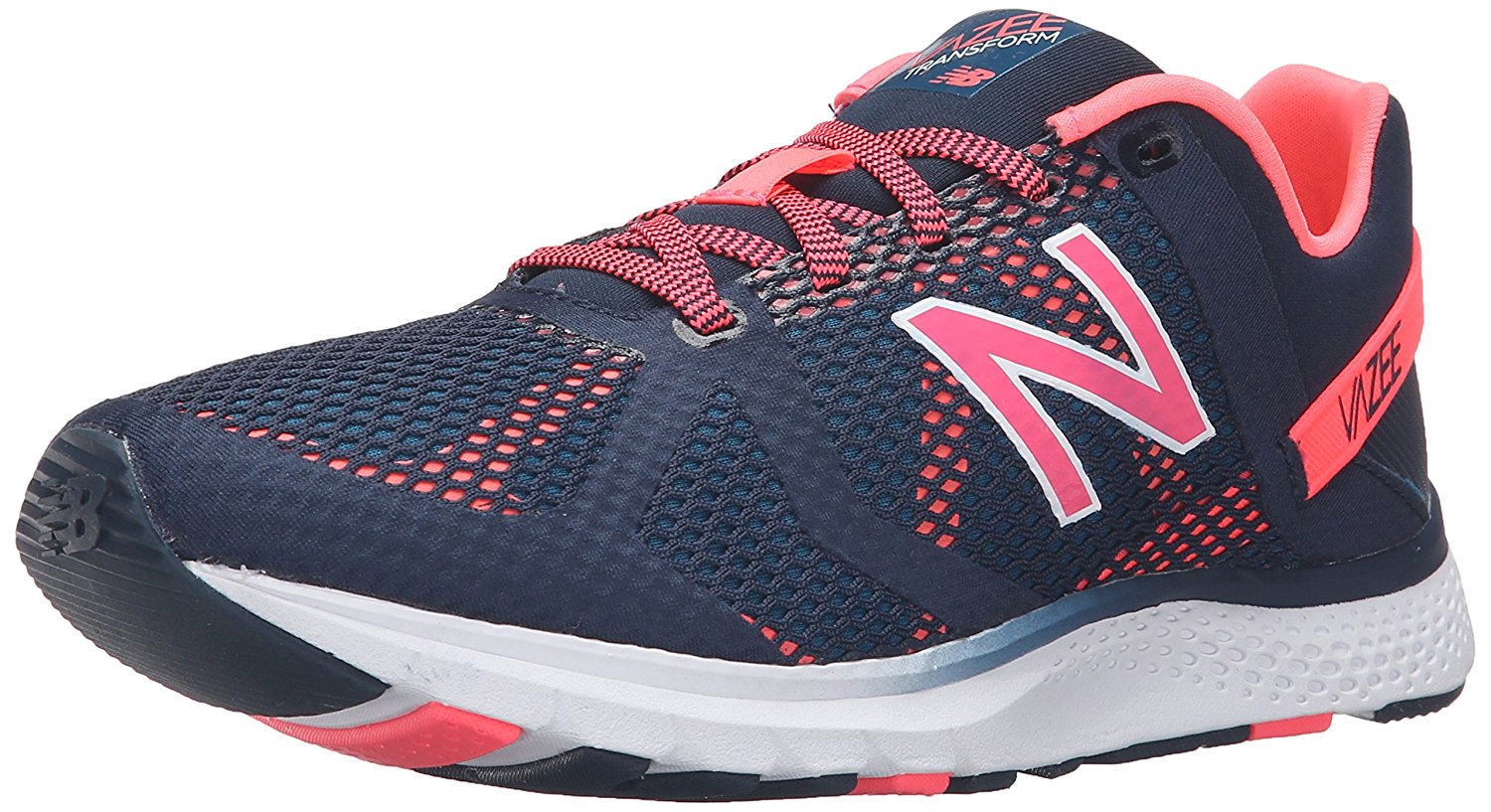 Kate chose a new pair of earrings for today's visit to the Olympic Park.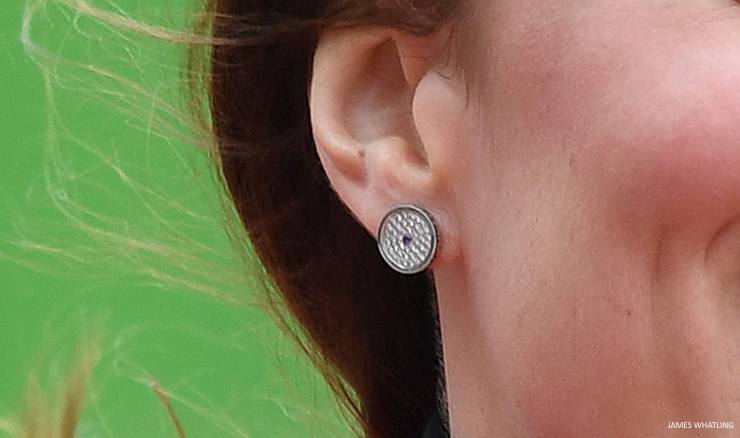 If you've followed Kate's style since the Canada tour in 2011, you may have recognised them straight away.  They're by Asprey and the style name is "167 white gold earrings".  They cost £2,950.
They match the button pendant Kate debuted in Ottawa on Canada Day: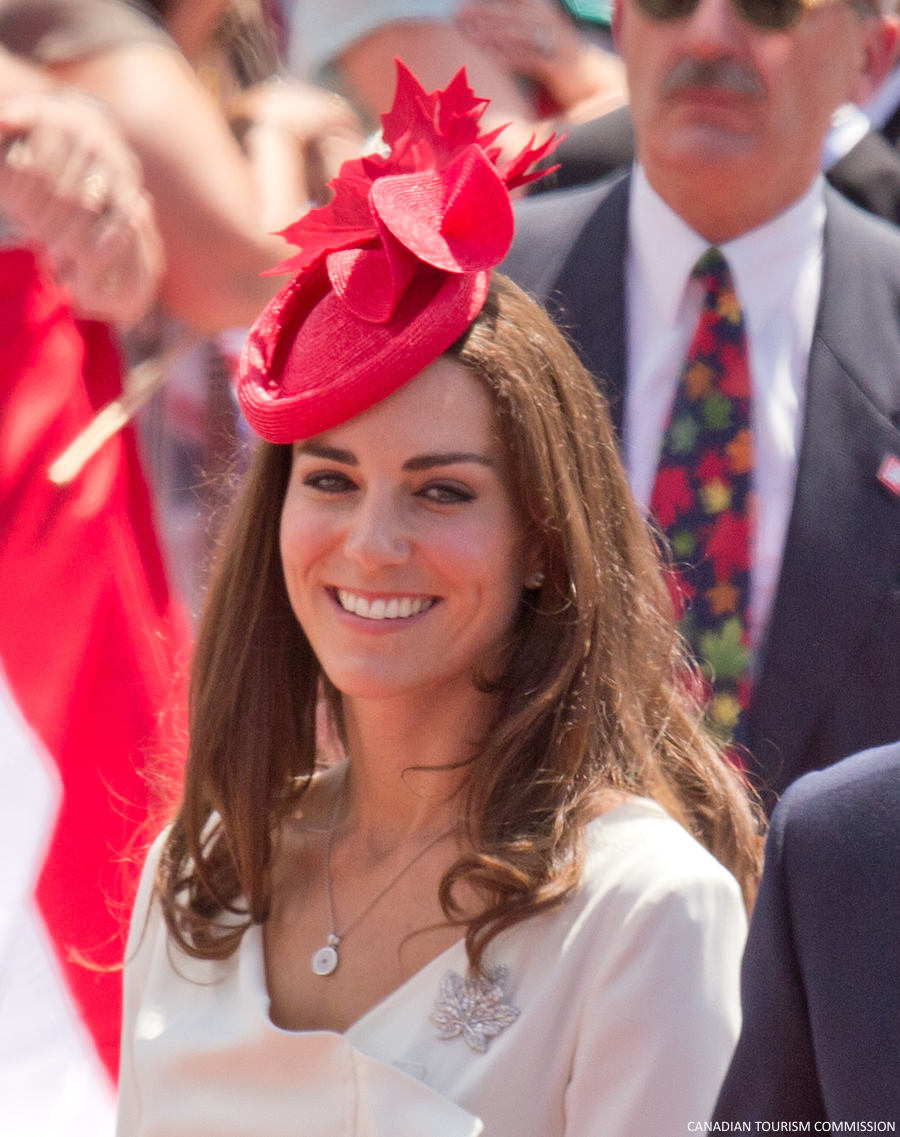 Kate wore a black polo neck jumper underneath the red coat.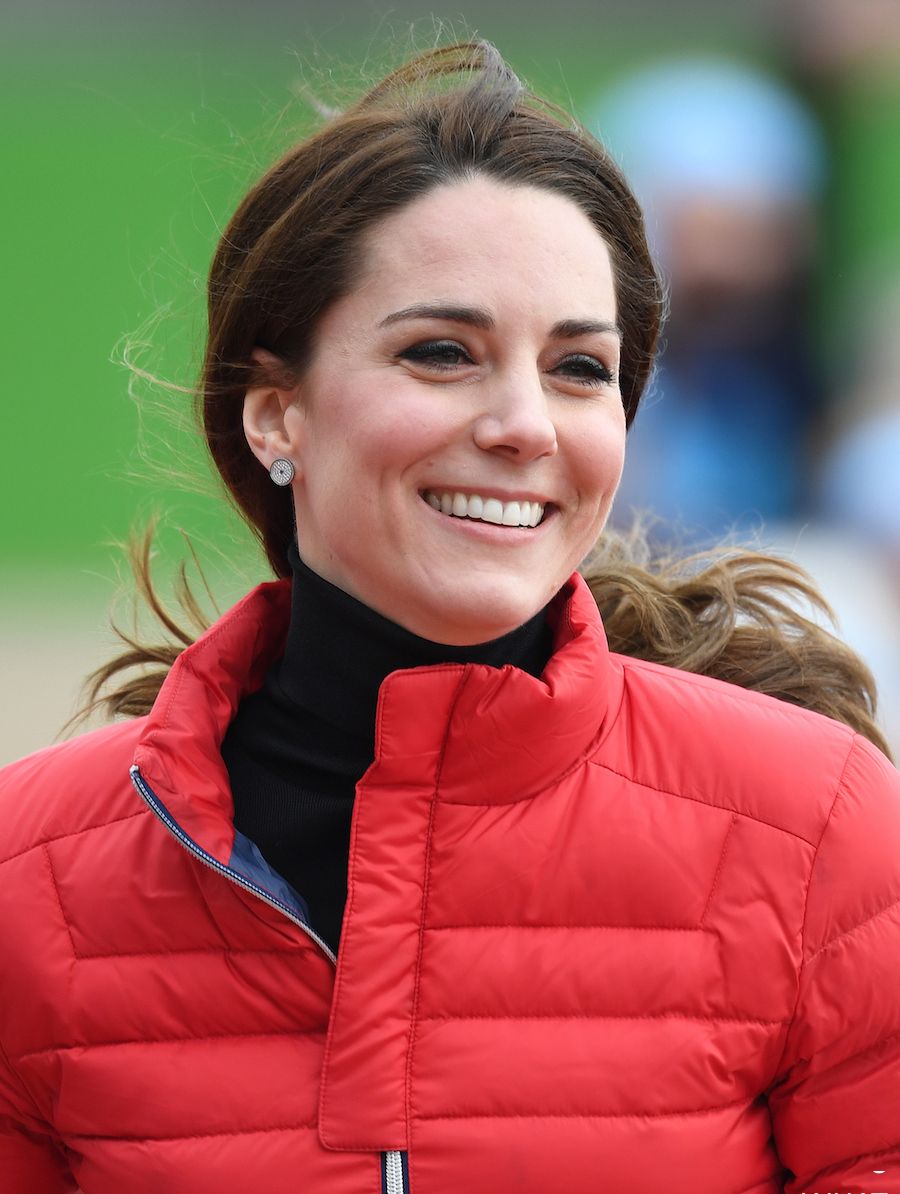 Unfortunately, I do not have any details about this top or Kate's jeans/jeggings at the moment.
Of course, Kate could be wearing the same black polo neck from the Edinburgh visit last year.