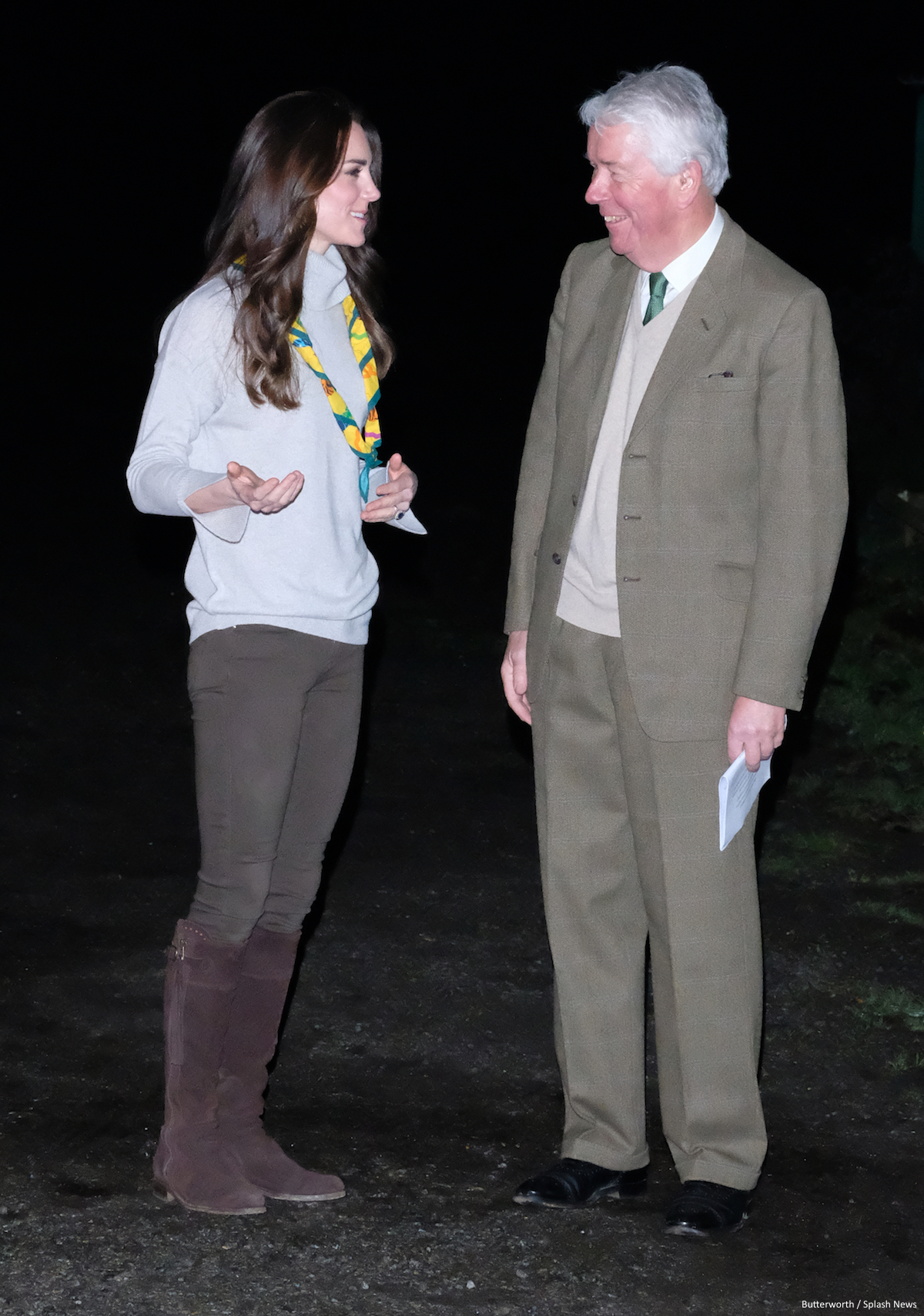 This evening, the Duchess of Cambridge (Kate Middleton) visited the North Wootton scout hut in Kings Lynn, Norfolk.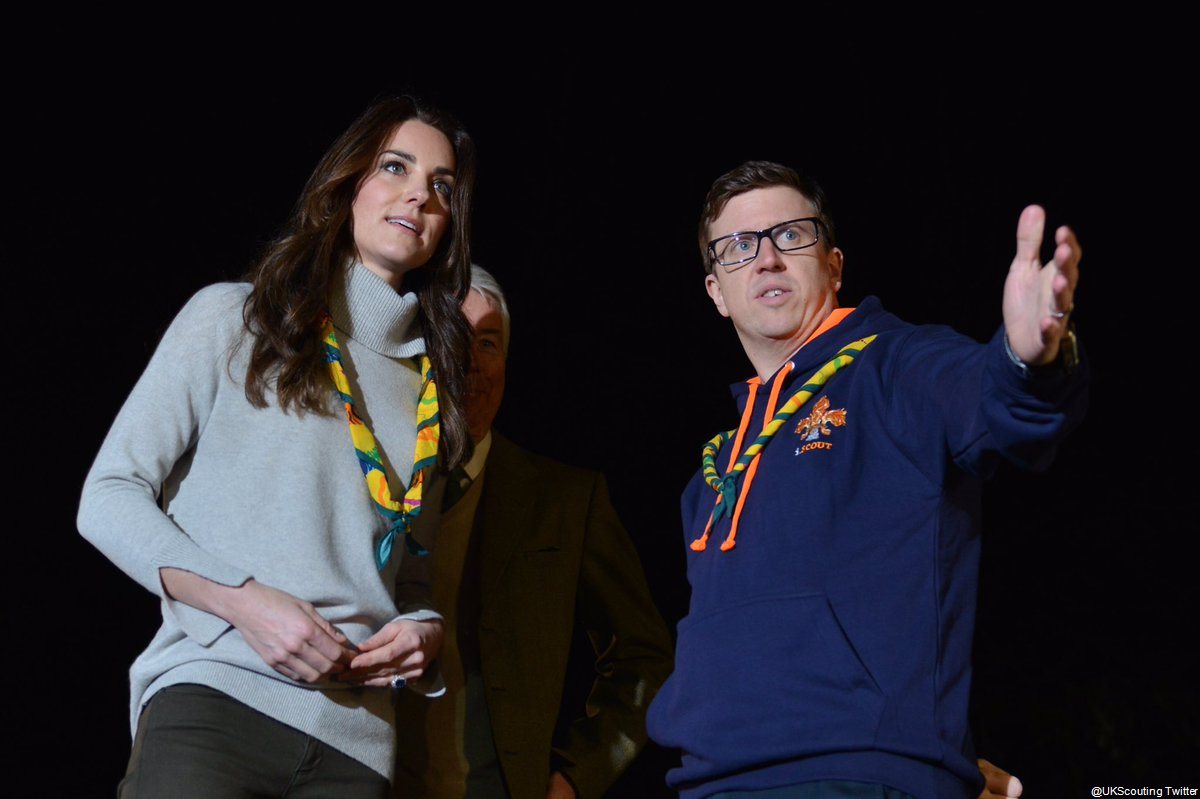 She helped the group celebrate the Cub Scouts' 100th anniversary.
Kate took part in a range of activities during the special anniversary party. Each activity is designed to help the Cubs learn vital life skills.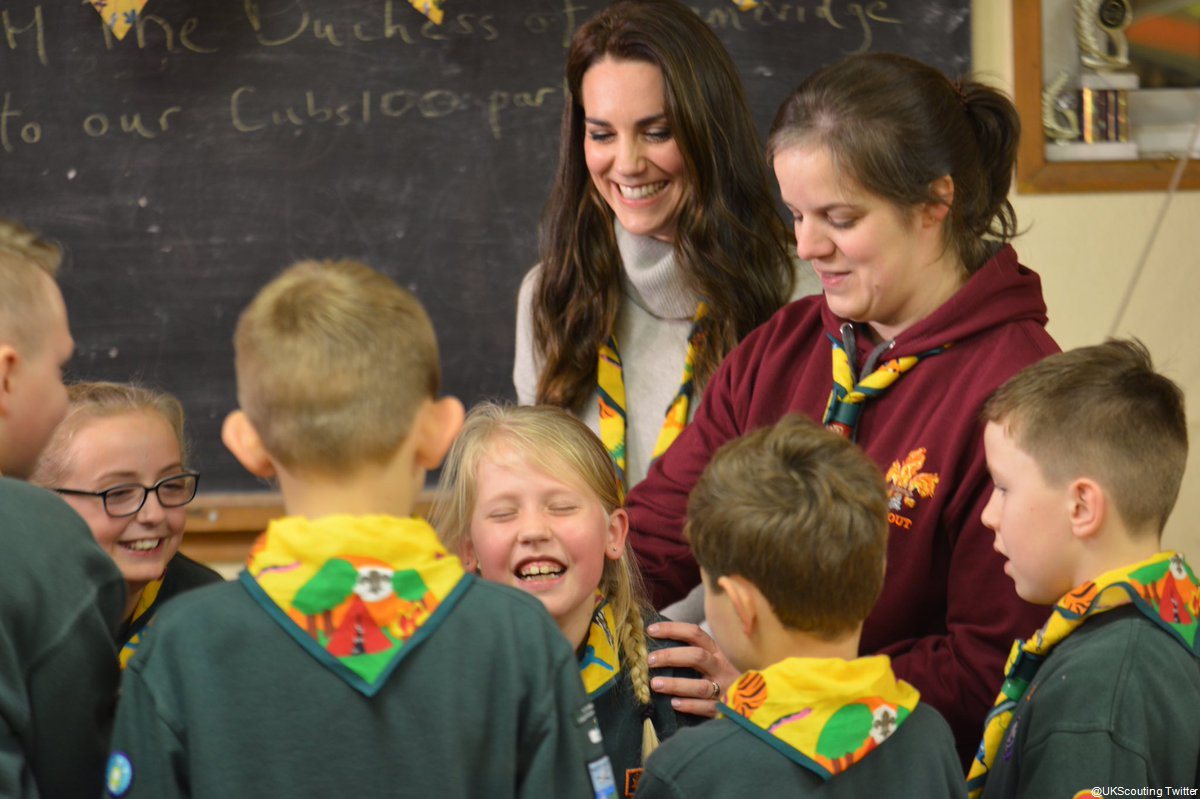 Kate took part in the parachute game. This game helps the Cubs work together as a team and learn new skills.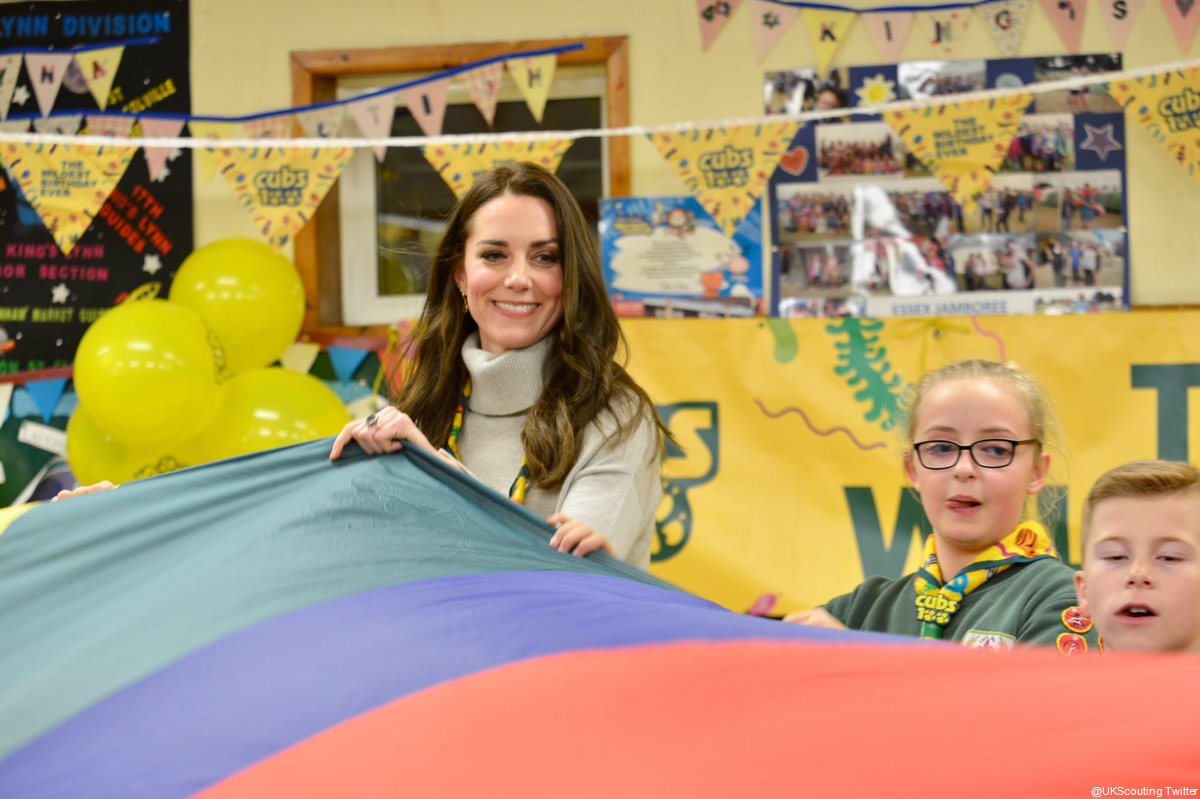 Then, Kate helped the children ice special "Cub cakes".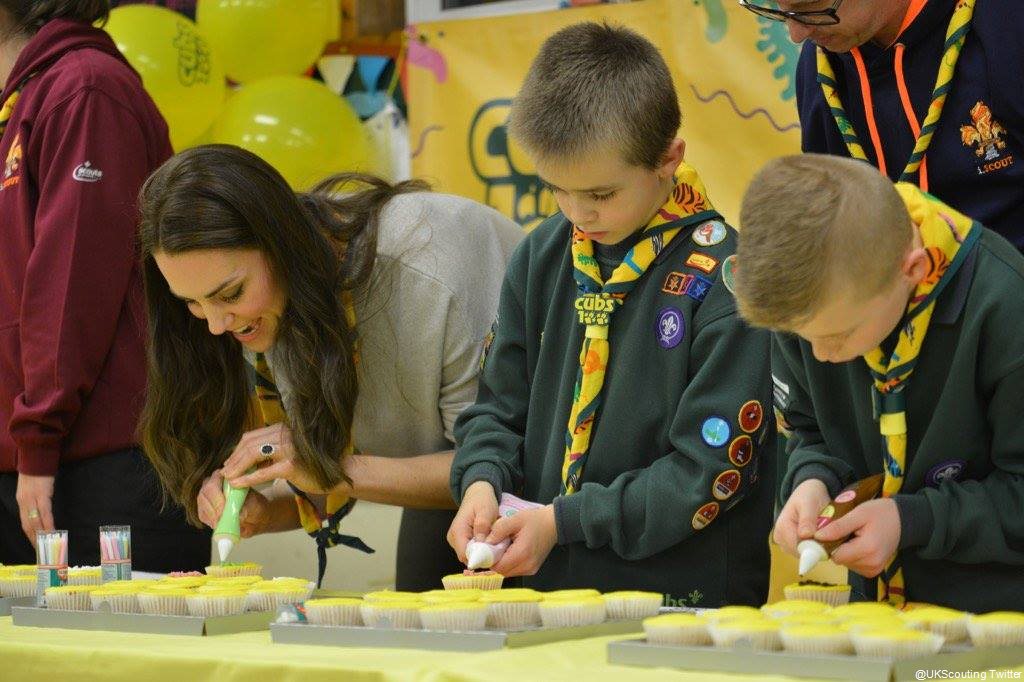 Next, the Cub Scouts Pack worked together to create a "wall of positivity." This activity teaches Cubs to respect themselves and others. Each Cub needs to write down things they're good at and promises to help other people.  Kate helped two girls with their messages: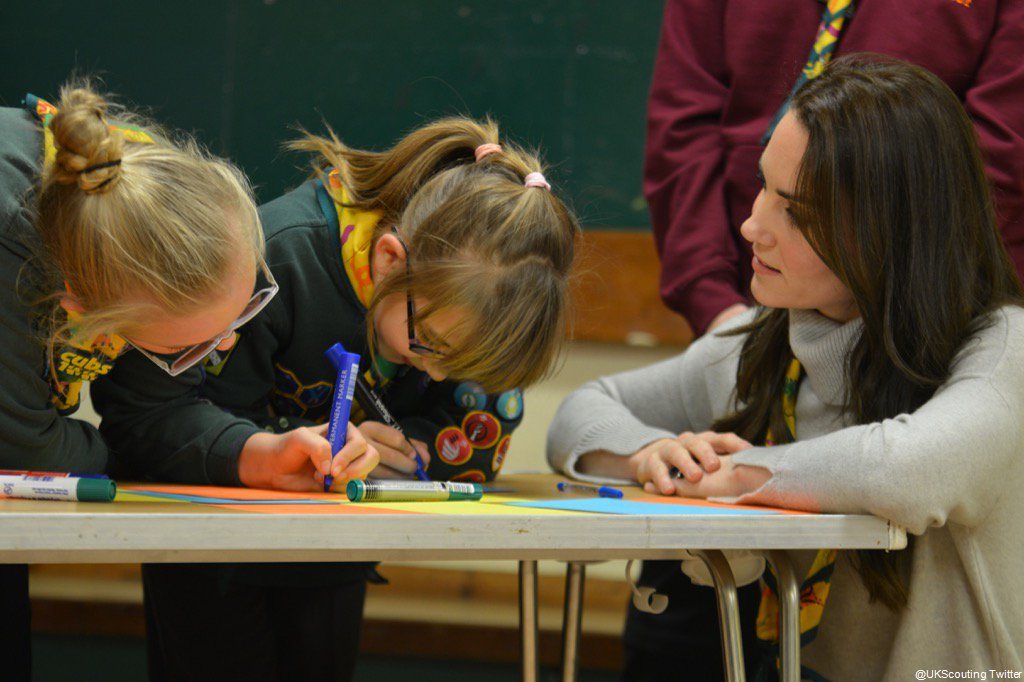 Kate added her own message too, writing that she's good at "building campfires".
Next, Kate took part in a first aid lesson. The Cub Scouts learned how to tie a sling, which is a skill that can make a real difference in an emergency.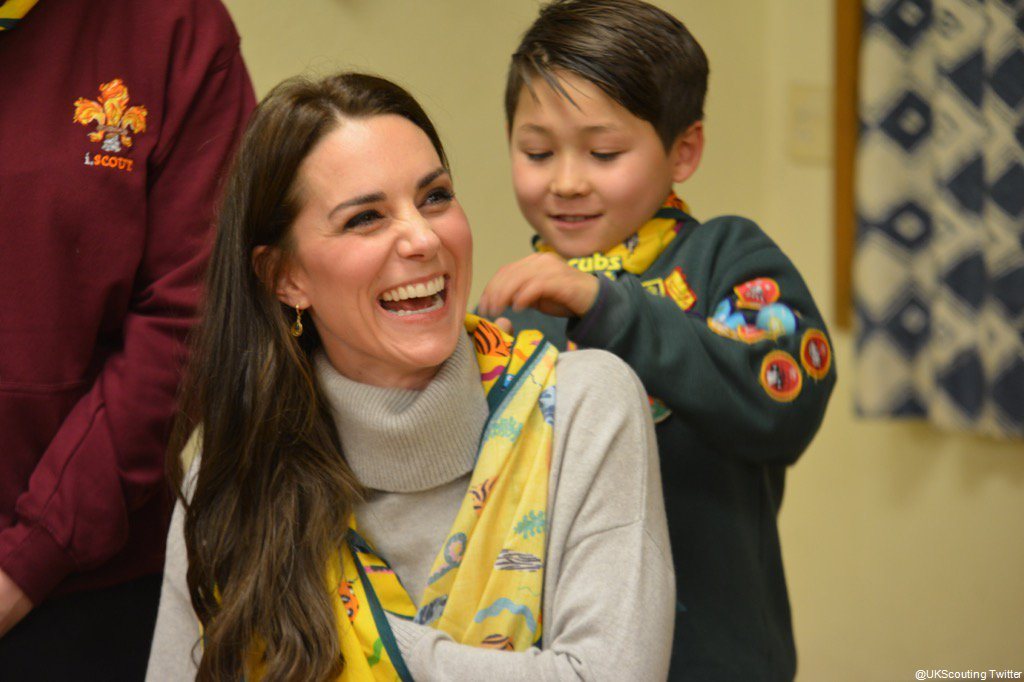 Nearly 160,000 Cubs across the UK renewed their Cub Promise this week for the organisation's 100th anniversary. Kate helped these Cubs renew their promise too: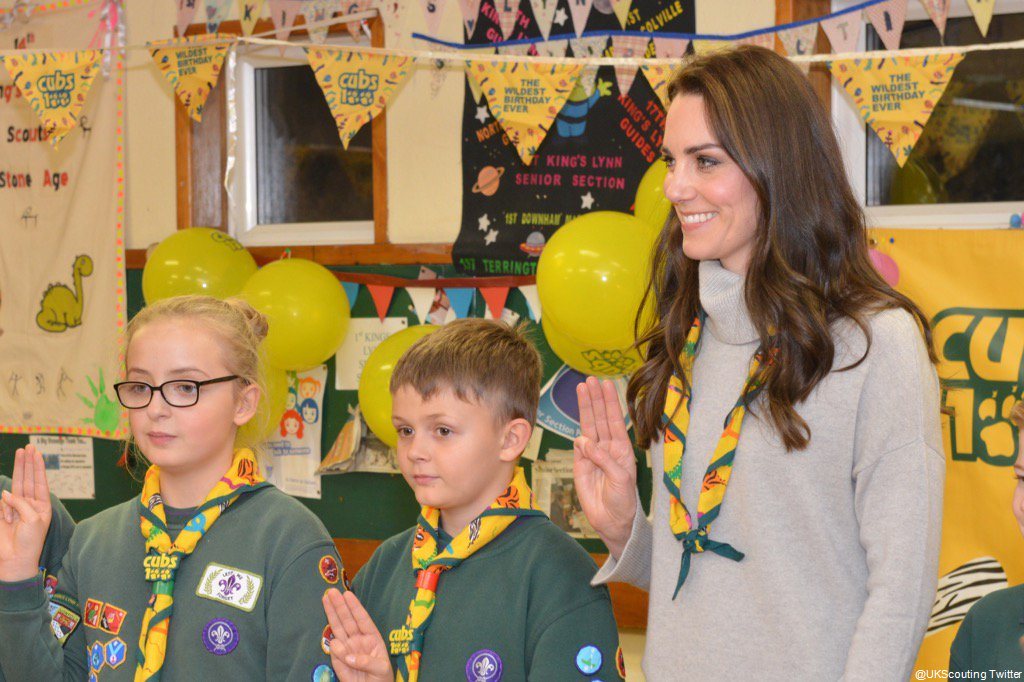 Kate's outfit:
Kate dressed in a casual outfit for the Cub Scout party.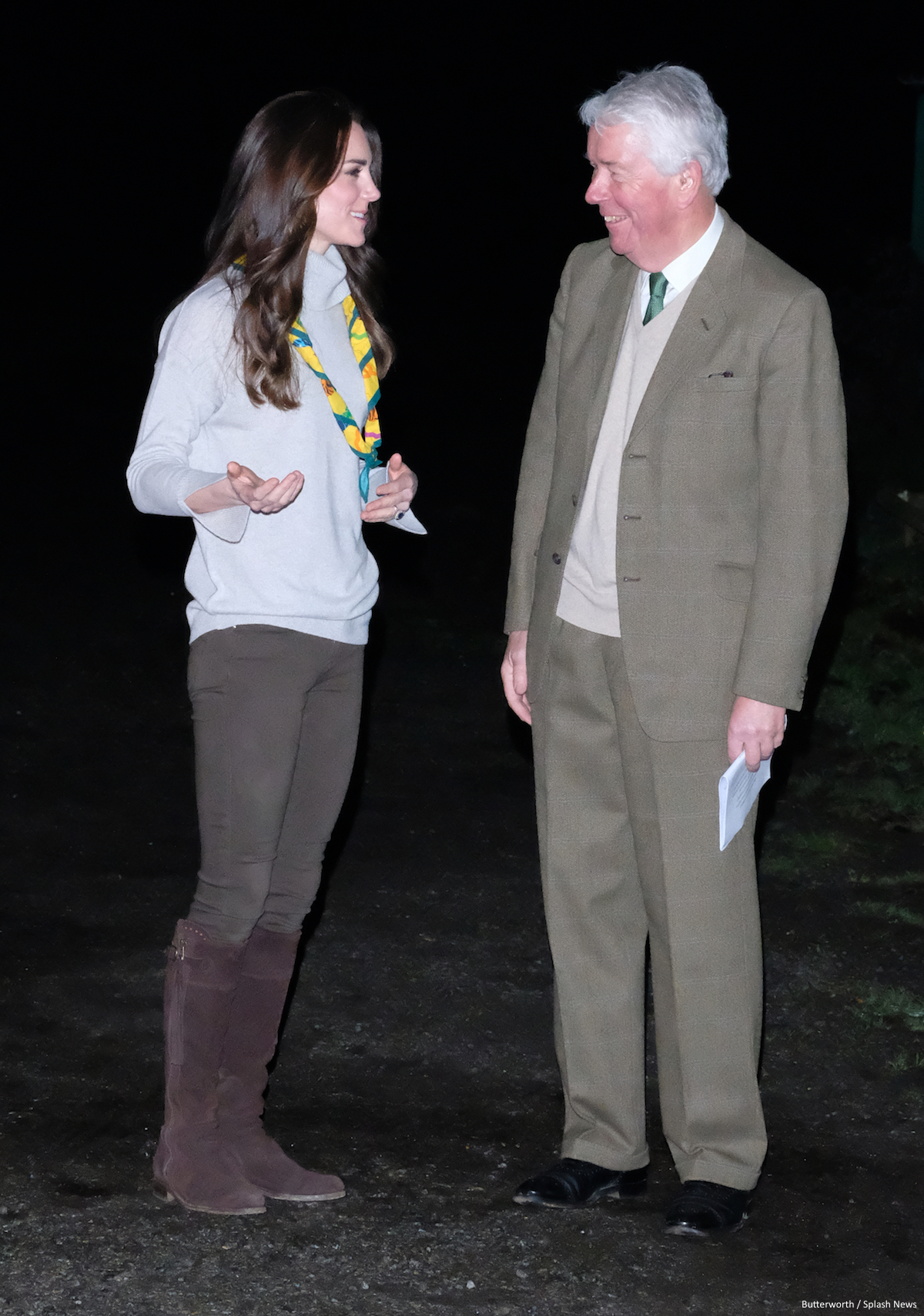 She wore a new sweater by Iris & Ink. It's the label's Grace Turtleneck Sweater in light grey.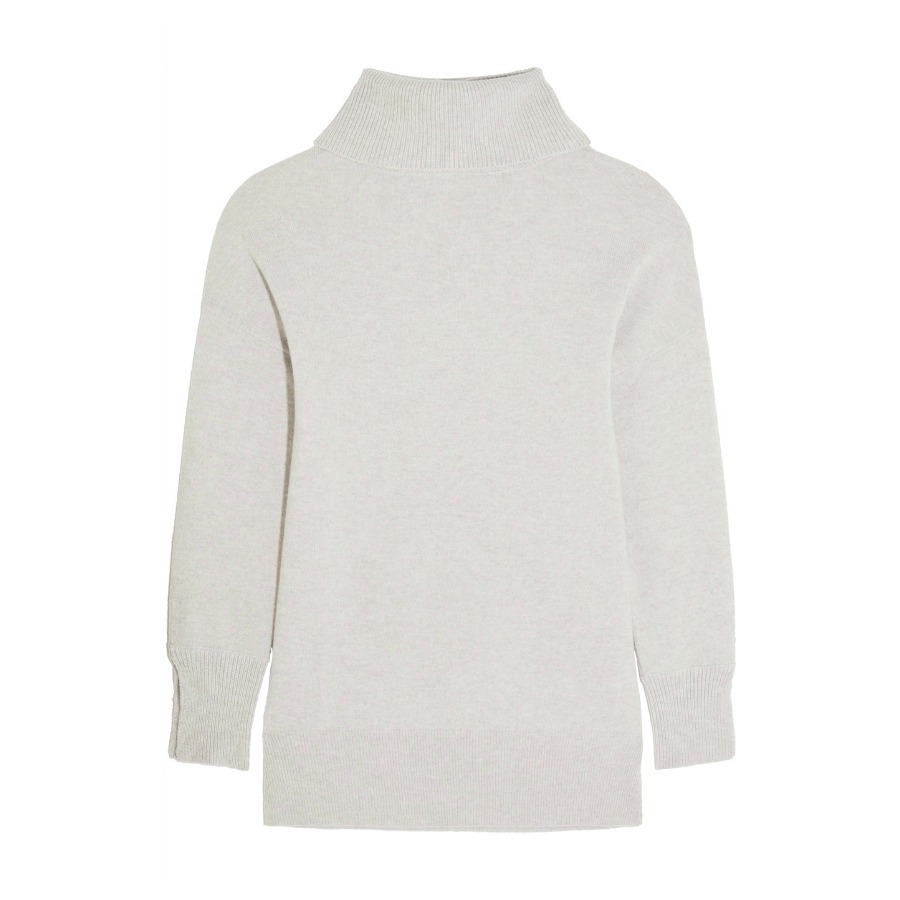 The relaxed fit sweater is made from light grey mid-weight cashmere and features ribbing detail on the turtleneck, cuffs and hem. The sleeves are split open at the cuffs too.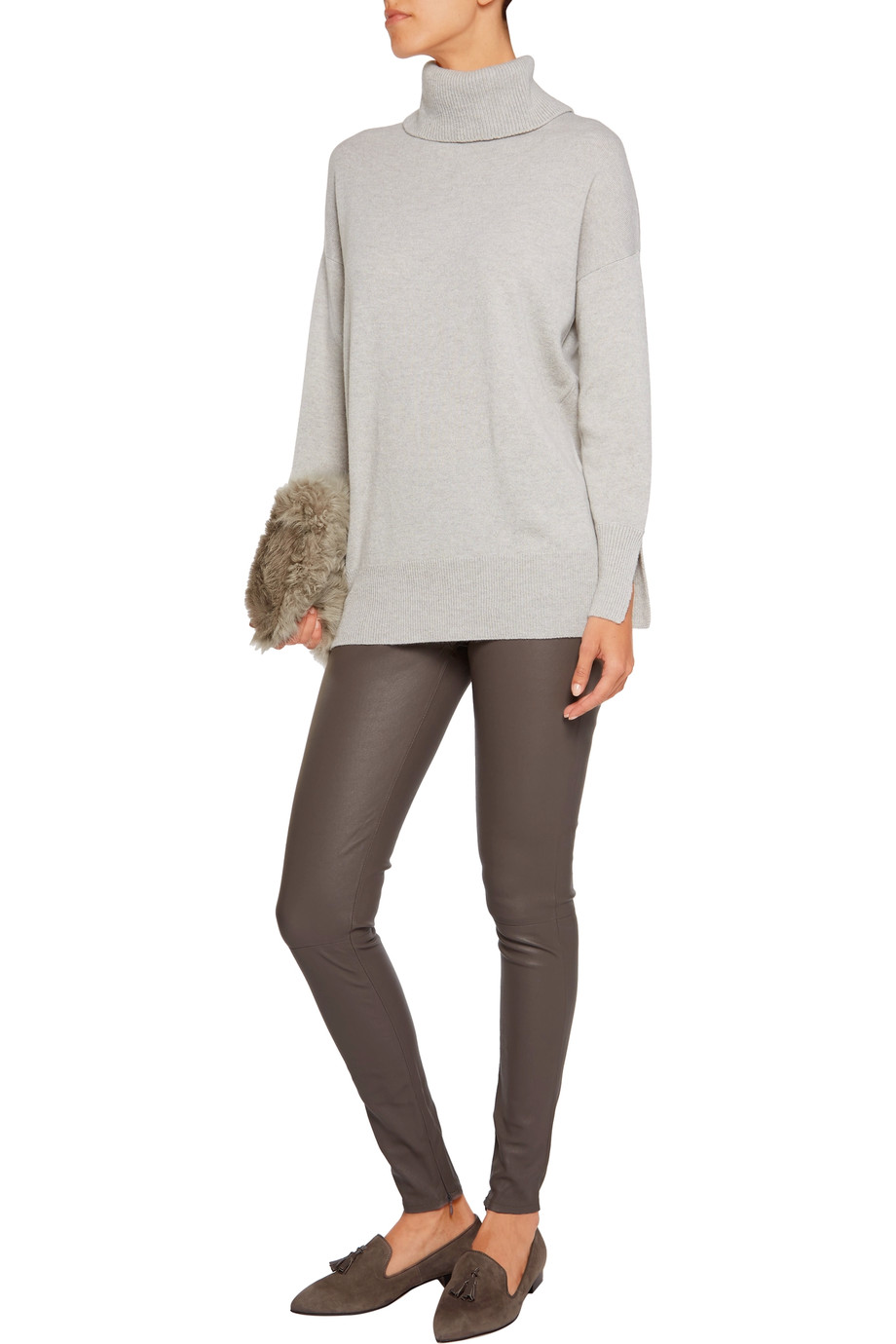 The sweater is exclusive to The Outnet. (Iris & Ink is The Outnet's in-house fashion label. The Outnet is a part of the Net-A-Porter group).
The Kate effect strikes again!  The sweater sold out within around three to four hours.  It did cost $210 USD / £170 GBP.
You may be pleased to know that the darker grey version is still available for purchase: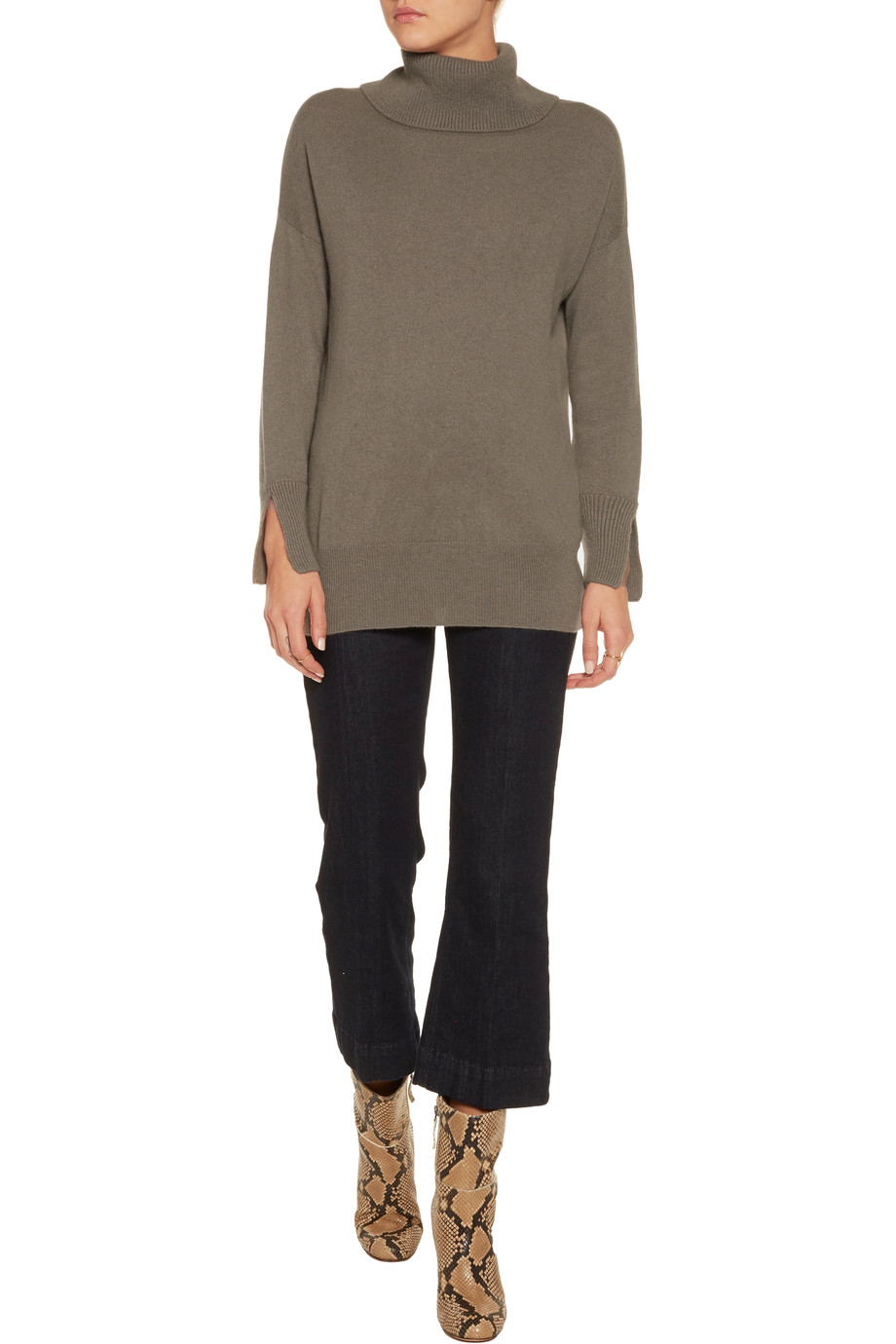 Get free express shipping at The Outnet with the code SHIPITNOW.  Code ends on the 27th December in the UK and the 20th December in the USA.  (I'm not 100% sure if the code works outside of these two countries).
Kate wore her Zara jeans for the Cub Scouts meeting.  I believe they're this pair:  Skinny Mid-Rise Trousers in Khaki.  They cost £25.99.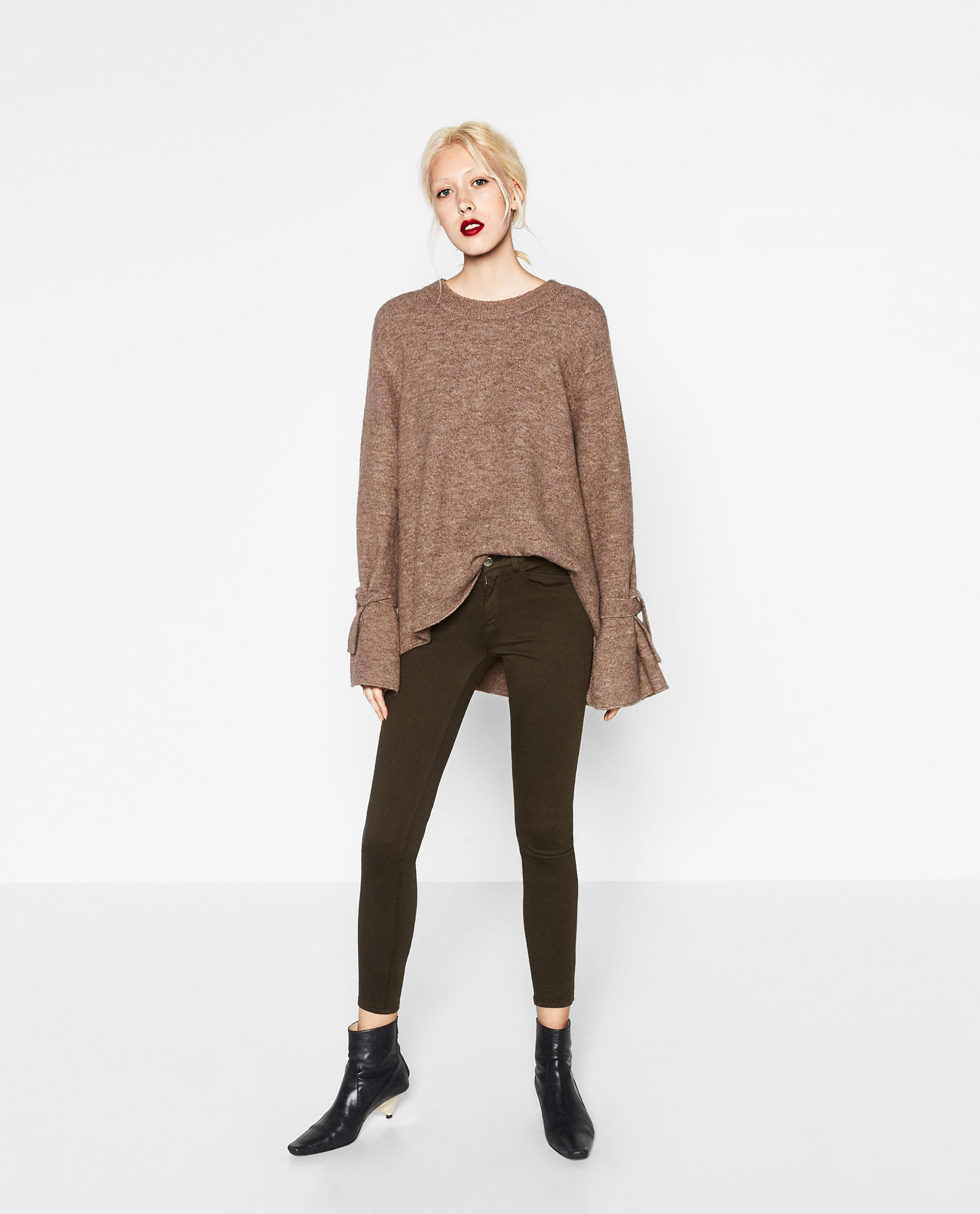 Kate chose her Really Wild Spanish Boots in 'chocolate' brown suede.  The handmade boots cost £315 and can still be purchased from the brand's website.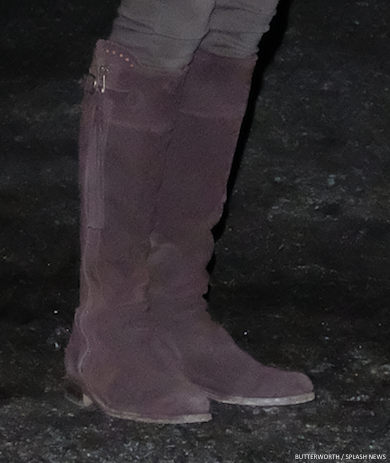 Most Kate fans will instantly recognise the earrings she is wearing!  They're the Kiki McDonough citrine pear drop earrings from the designer's Classic Collection. The 18ct yellow gold earrings can be purchased from the designer's website for £495 or from Neiman Marcus for $740.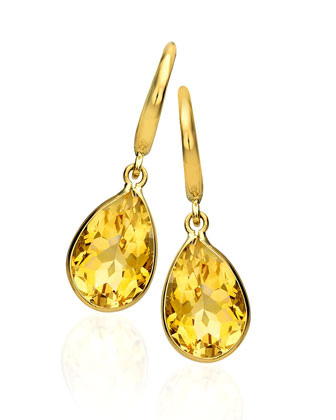 Kate's yellow scarf is from the official Scouts shop. It can be purchased for £2.50.