The Queen Mary's Lover's Knot Tiara has become Kate Middleton's go-to for state occasions. It's a staple in the Princess's glittering accessory repertoire.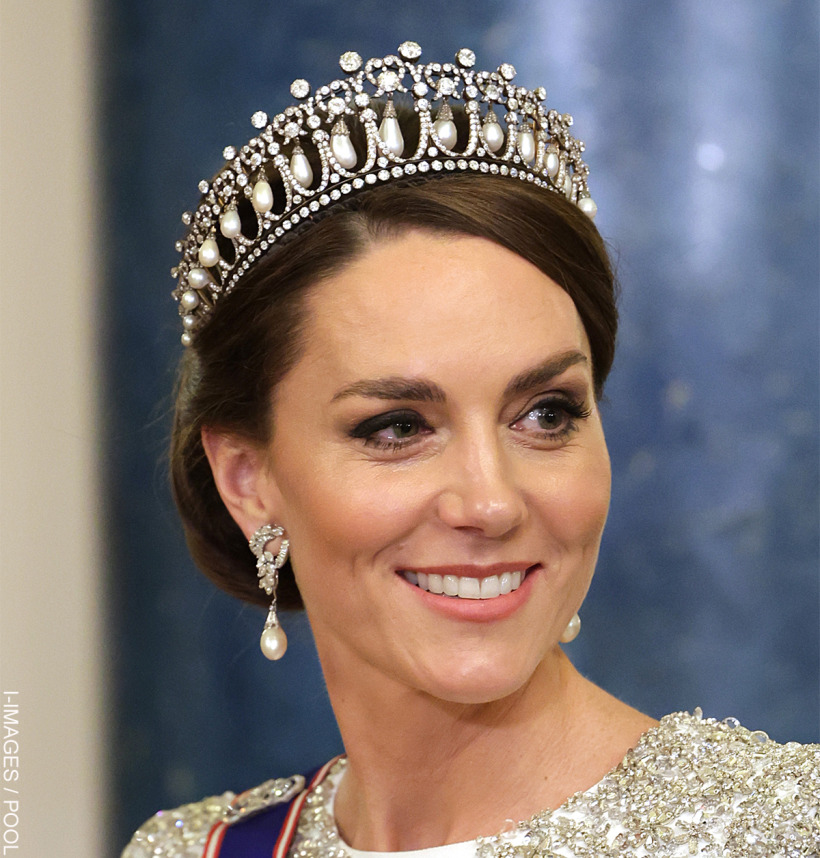 Kate's worn the dazzling pearl and diamond tiara 11 times in public to date, between 2015 and 2023.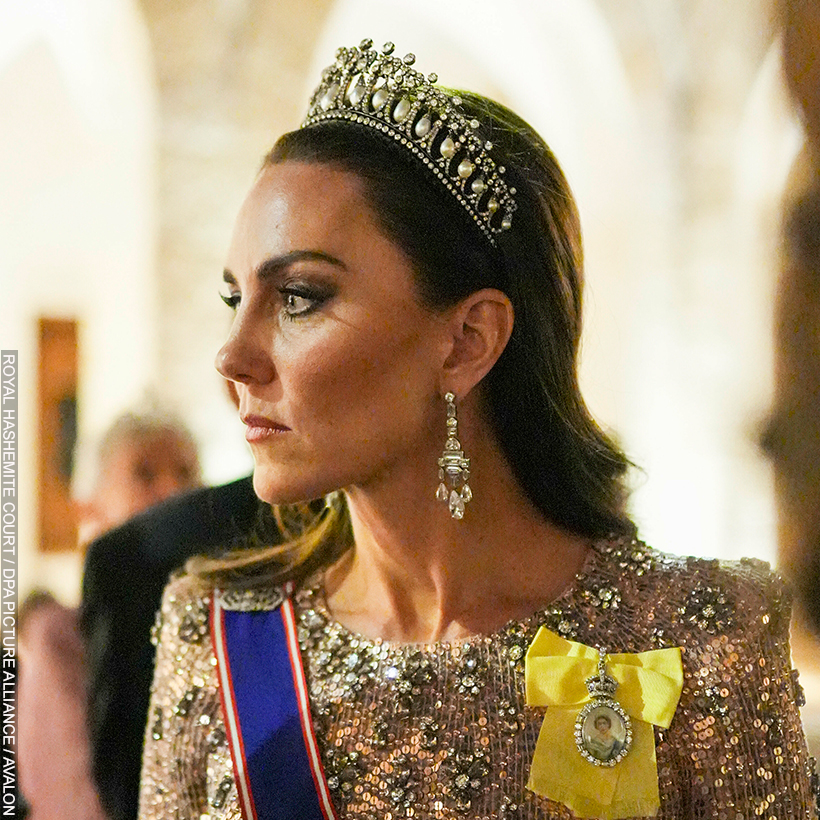 Most recently, the Princess wore the Lover's Knot tiara for the 2023 Diplomatic Reception.
Lover's Knot Tiara Design:
This stunning tiara features a design of intertwined lovers' knots and diamond arches with large drop pearls hanging from its base.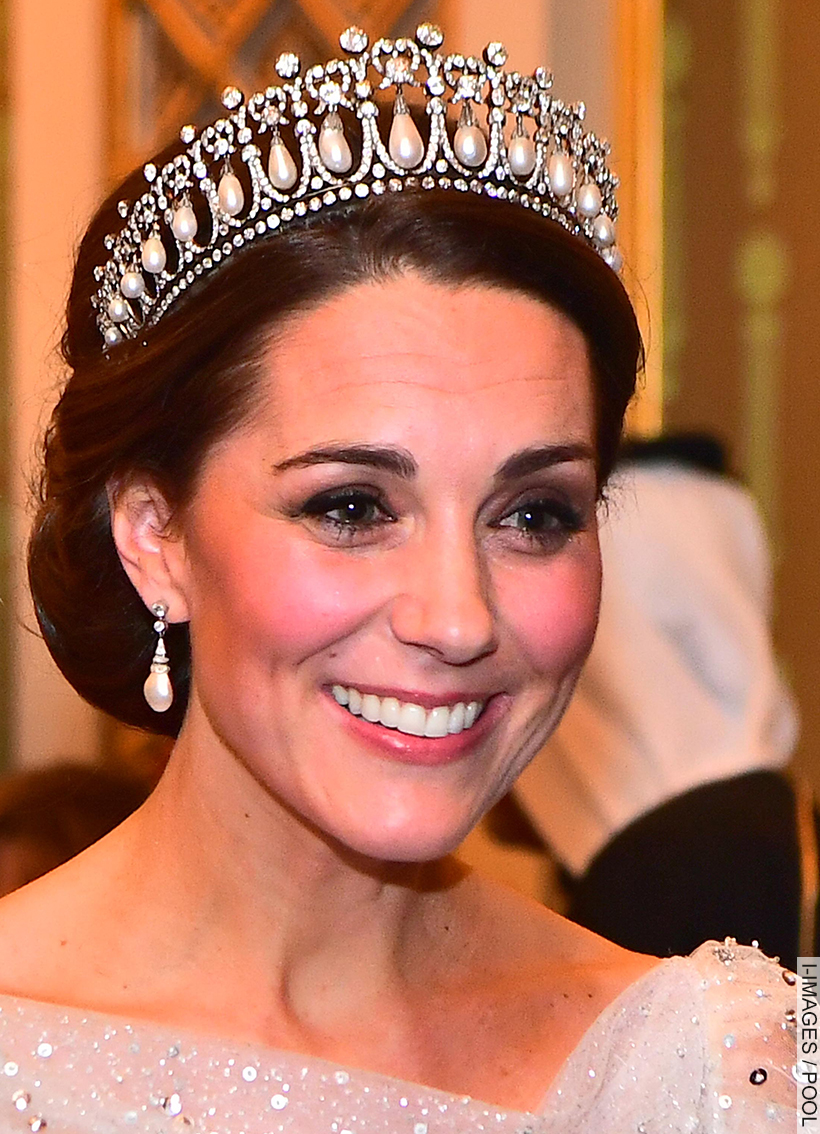 When first commissioned, the tiara looked somewhat different—continue reading to find out how and when it changed!
History of the Queen Mary's Lover's Knot Tiara:
Queen Mary's Lover's Knot Tiara is a royal treasure steeped in history. It was originally crafted in 1913 by the House of Garrard for Queen Mary.
But did you know, it was actually a copy of another tiara? The Cambridge Lover's Knot Tiara (pictured below).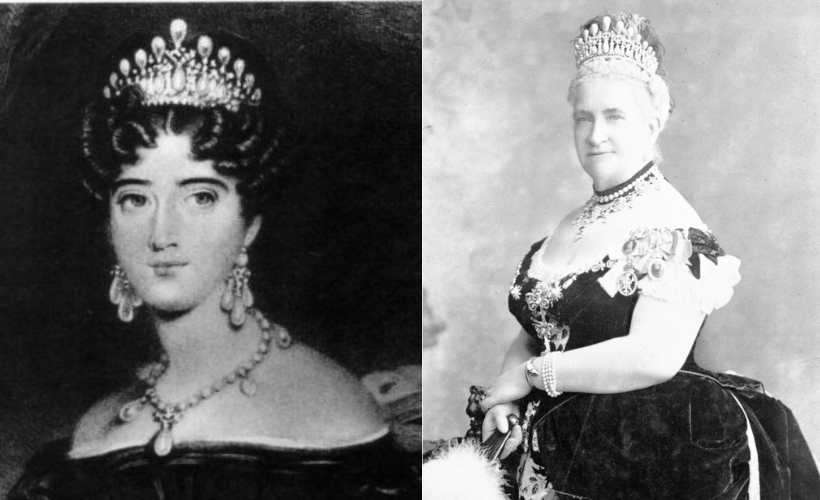 The following history of the original Cambridge Lover's Knot tiara comes from the Christie's website:
The tiara was originally created in the early 19th century as a wedding gift for Princess Augusta of Hesse Cassel, Duchess of Cambridge. It passed onto her daughter, the Grand Duchess of Strelitz, and her great granddaughter, Princess Jutta of Montenegro, before its sale at Christies in 1981.
Queen Mary—the Grand Duchess's niece—took a shine to the original tiara and commissioned her copy in 1913/1914.  Upon her death, the tiara was left to Queen Elizabeth II. This is the version that Kate wears today.
Both tiaras featured shimmering diamond lover's knot bows, from which large oval pearls dangled, plus an extra row of upright pearls set atop each of the tiara's diamond arches.
Yes— both tiaras had not one but TWO rows of lustrous pearls. Here's a painting of Queen Mary wearing the Lover's Knot Tiara she commissioned—the one Kate wears today. You can see the double row of diamonds clearly in the painting: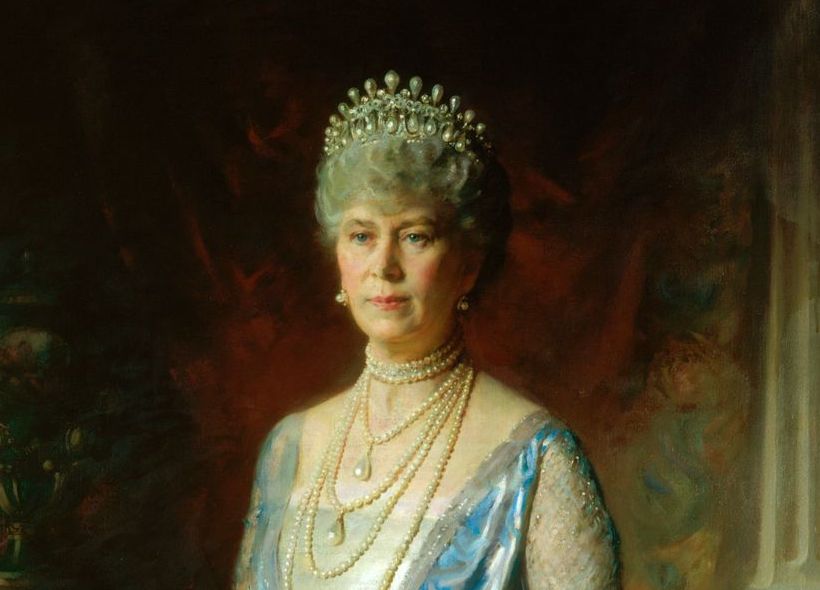 Over time, Queen Mary made the decision to remove the upright pearls from her tiara, which achieved a more streamlined appearance. The resulting design showcases the elegance of the lover's knots more prominently, while still retaining its Edwardian charm and grandeur.
Today, Kate continues to wear the tiara with only the bottom row of pearls.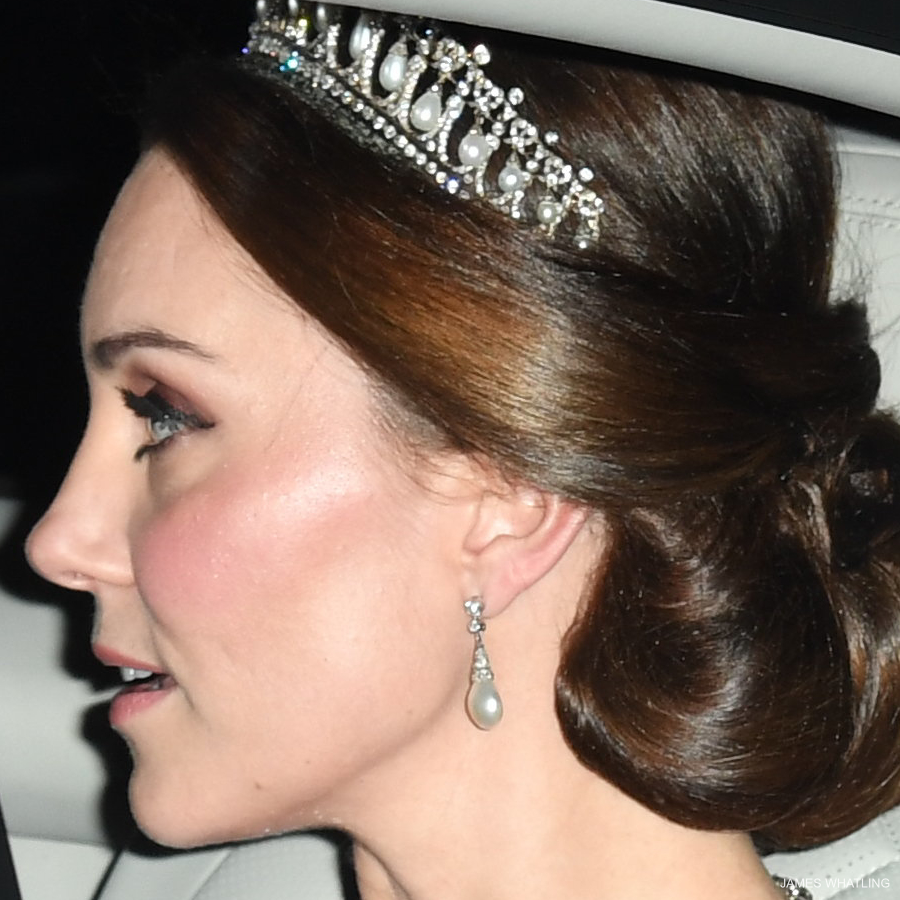 Fun fact: Queen Mary's tiara isn't the only copy in circulation:
Did you know Queen Mary's Lover's Knot Tiara is not the only copy of the Cambridge Lover's Knot Tiara? There are at least THREE more versions in existence, according to Christies.
The auction house say that two other models were produced in the early 19th century, one still belongs to the Bavarian royal family today and is housed in a museum, and the other disappeared with no trace after the Russian Revolution. There's also one—possibly two—other versions that were worn in the 1900s. Christies sold one version in 1985, but it's unclear if the second exists. (There were two sightings, but they might have been the same tiara. Or not! We don't know!)
FAQ: What is a "Lover's Knot"?
In jewellery terms, a "Lover's Knot" refers to a decorative knot design that symbolises eternal love and unity. The design intertwines two loops to form an intertwined, heart-like shape. Over the centuries, it has been a popular motif in brooches, necklaces, and rings, symbolising the unbreakable bond and connection between two individuals. Given its romantic connotations, pieces featuring the Lover's Knot are often gifted between couples or cherished as heirlooms.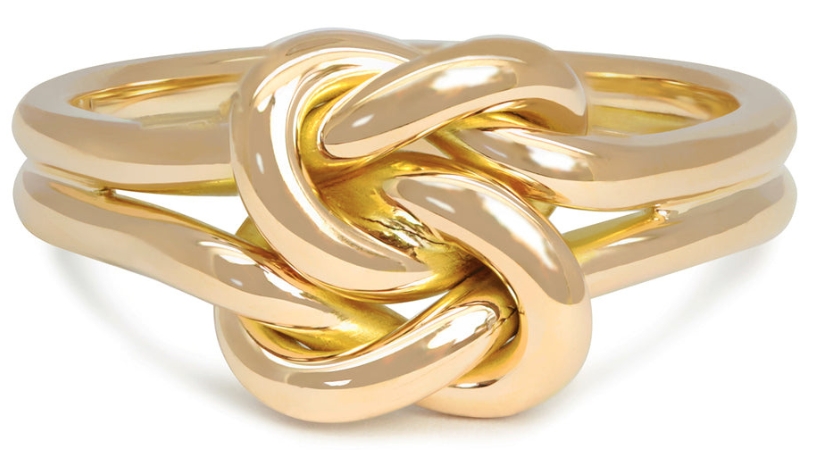 When & Where Kate Wore the Lover's Knot Tiara:
Princess Diana and the Lover's Knot Tiara:
According to many reports, the Lover's Knot Tiara was available to Princess Diana for her wedding day, but she opted for her family's tiara instead.
Queen Elizabeth II did loan the sparkling tiara to Princess Diana, who wore it often, notably with her 'Elvis dress' on a visit to Hong Kong in 1989.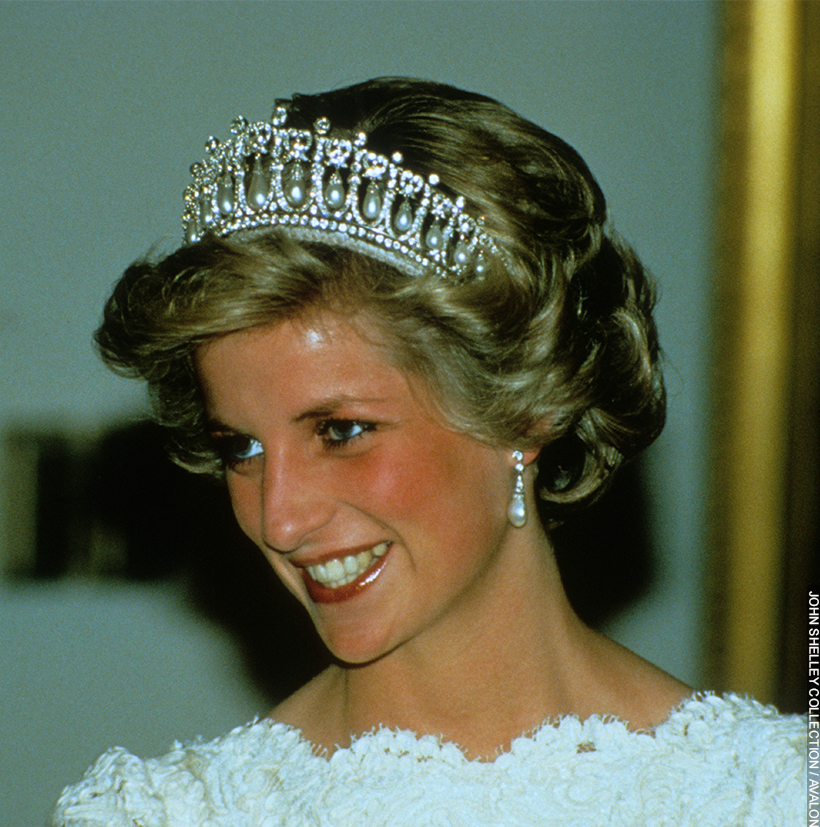 Upon her divorce from Prince Charles the tiara was returned to Elizabeth, who later loaned it to Kate.
Did Queen Elizabeth II Ever Wear Queen Mary's Lover's Knot Tiara?
Yes, Queen Elizabeth II wore the Queen Mary Lover's Knot Tiara several times in the 1950s, including to the Royal Ball, Brisbane in 1954.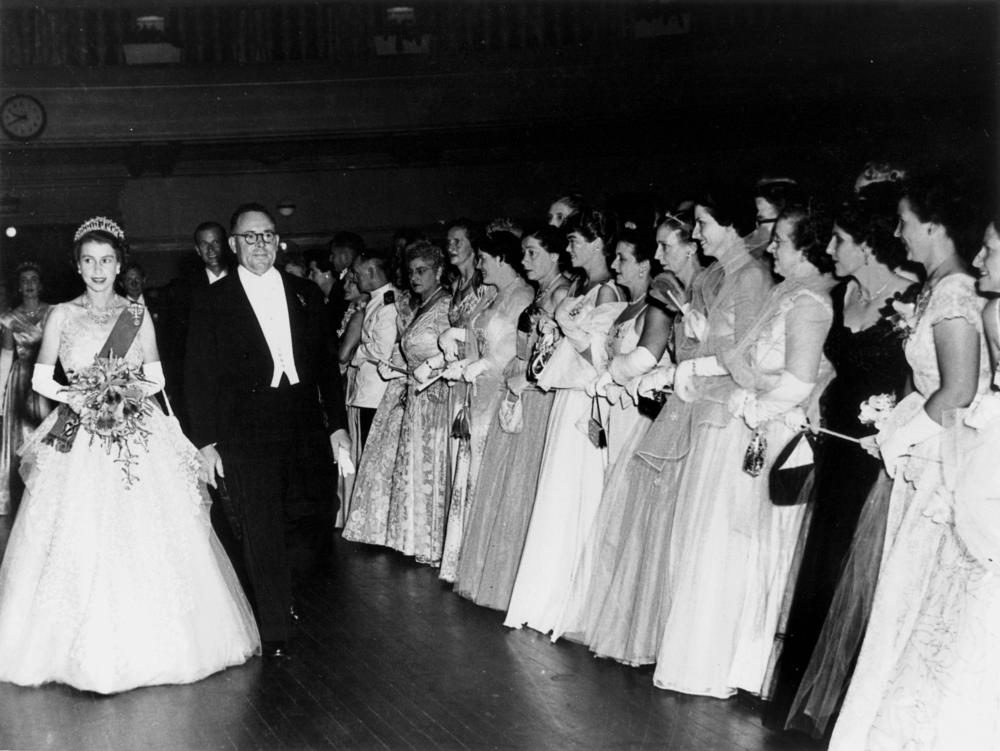 Why does Kate Middleton always wear the lovers knot tiara?
I have three theories that could explain Kate's penchant for the Queen Mary's Lover's Knot Tiara!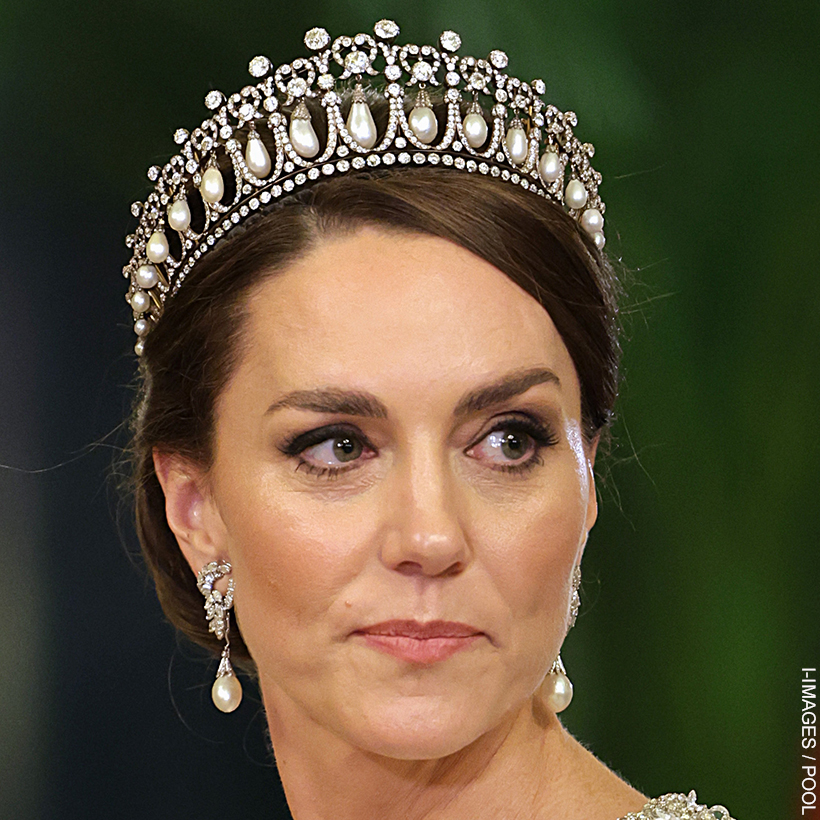 1). She wears it on repeat for practical reasons:
Jewels of this calibre aren't exactly kept in a jewellery box. They reside in secure vaults and are loaned out for significant events. While the mechanics of tiara allocation are hush-hush, it's reasonable to assume that practicality plays a part too. Perhaps Kate initially chose the Lover's Knot and had it adjusted by either Garrard (the creators), G.Colins & Sons (former Crown Jewellers) or Mappin & Webb (current Crown Jewellers), to ensure an impeccable fit. Navigating such an arrangement is no small feat—from getting the OK to move the tiara, to arranging secure transportation, to the work itself. It would make sense that Kate limits her tiara selections to those already tailored to her.
2). Because of sentimentality and historical significance:
Kate's choice might be emotionally charged, given the tiara's history. Famously worn by her late mother-in-law, Princess Diana, the piece gains additional significance.
Additionally, the Lover's Knot Tiara has inherent connections to the "Duchess of Cambridge" and "Princess of Wales" titles. Not just a favourite of Diana, the piece was originally commissioned by Queen Mary, who also held the titles of both Duchess of Cambridge and Princess of Wales before becoming queen consort. The tiara could well have been loaned to Kate as a symbolic gesture, linking her to a legacy of distinguished women who've graced the title. For such historical resonance, Kate might opt to keep this iconic piece in rotation.
3). There's status consideration at play:
Wearing the same tiara on repeat could be a strategic move to avoid overshadowing higher-ranking royals. Kate knows that wearing a new tiara is a potential headline grabber.
As her position evolves, I think her tiara choices will too—the Princess might add a different tiara to her rotation in future, when she feels the time is right.
I do wonder if she'll rewear the Cartier Halo tiara again one day (her wedding tiara) but save it specifically for a moment that demands a dazzling style moment? Possibly.
Garrard & Co. – Jeweller Spotlight:
Garrard & Co. is a name synonymous with regal opulence, a British jewellery house with a storied history dating back to 1735. They've crafted some of the most iconic pieces for the British royal family.
The firm was responsible for the creation of the sapphire cluster engagement ring originally given to Lady Diana Spencer by Prince Charles; the same ring now adorns the finger of Kate. They're also behind the Queen's diamond fringe tiara, worn by Queen Elizabeth II, Princess Anne and Princess Beatrice on their respective wedding days.
Garrard had the distinguished role of Crown Jeweller for an impressive 160 years, a title initiated by Queen Victoria in 1843. Their reign came to an end when G. Collins & Sons, also personal jewellers to Queen Elizabeth II, took over the esteemed position.
Since 2017, the title of Crown Jeweller has been held by Mark Appleby, who leads the jewellery workshop at Mappin & Webb. Appleby took the reins from Martin Swift, also of Mappin & Webb, ensuring the title stayed within the firm since 2012.