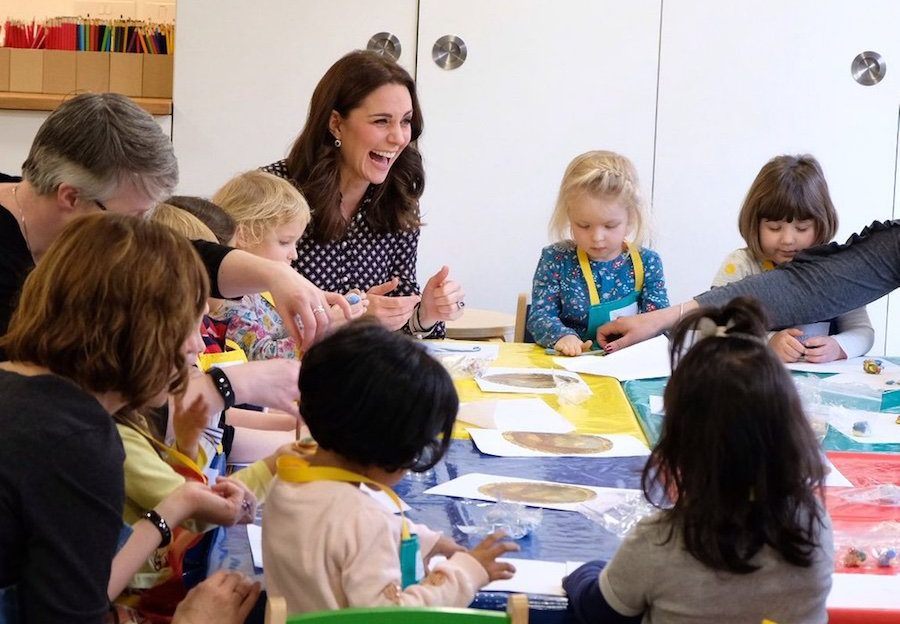 Today (28th November 2017), Kate visited the Foundling Museum in London, which explores the history of the Foundling Hospital, the UK's first children's charity and the first public art gallery.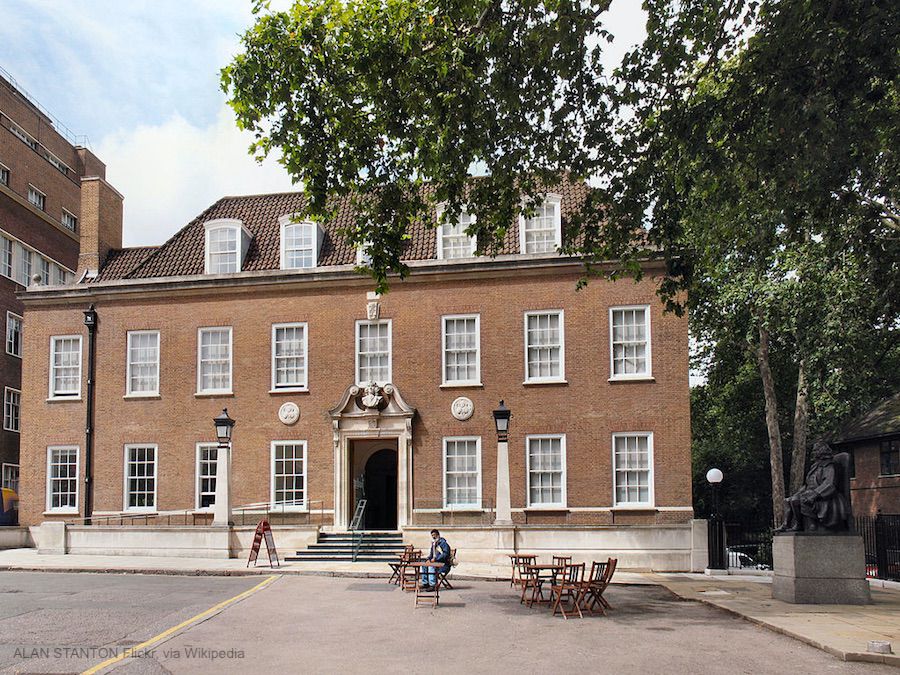 The Foundling Hospital, which opened in 1739, cared for and educated around 25,000 children who were abandoned, usually as babies.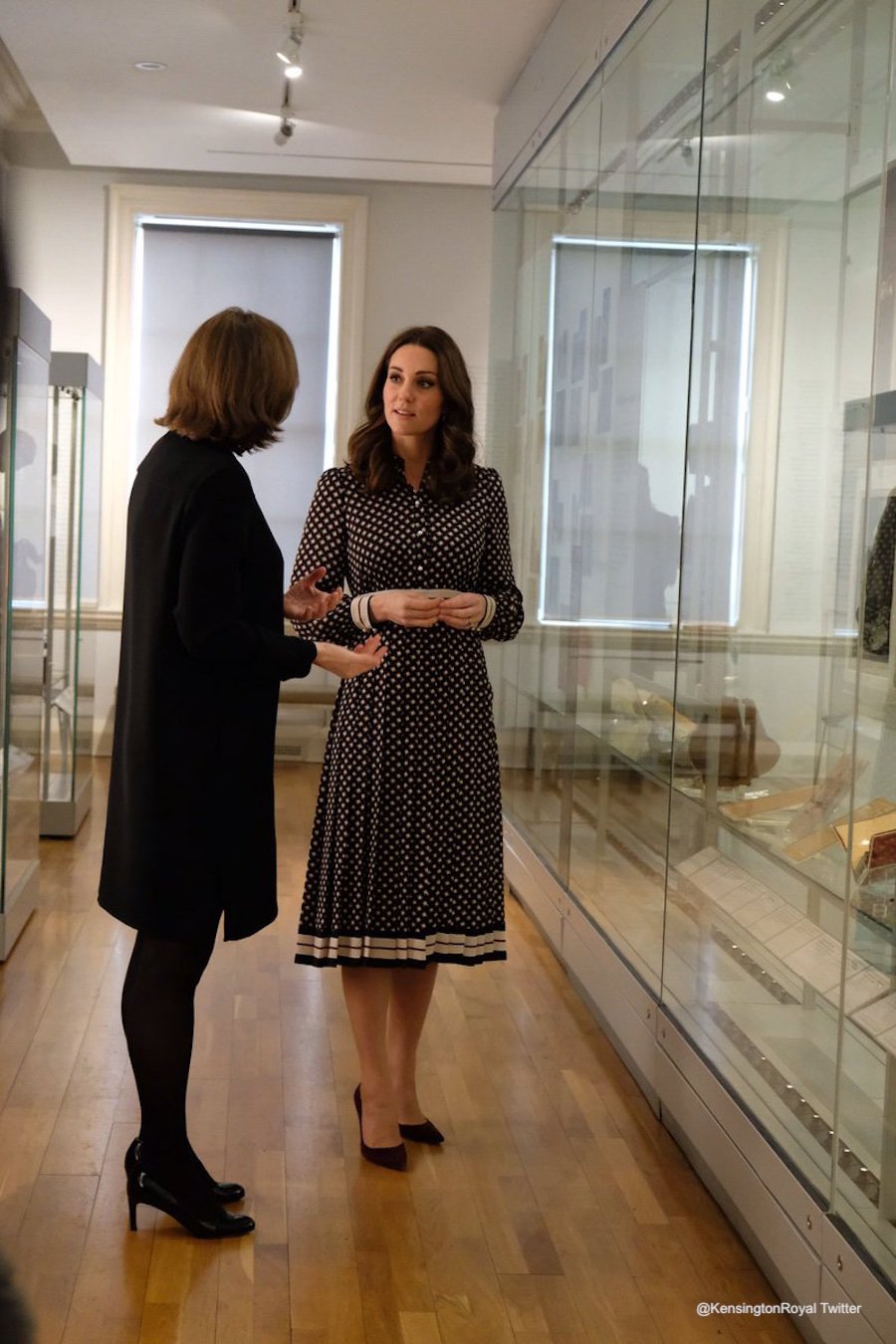 The museum examines the world of the hospital's founder, philanthropist Thomas Coram, as well as the artist William Hogarth and the composer George Frideric Handel, both major benefactors of the institution.
In addition to exploring the Hospital's history, the museum hosts the Foundling Hospital Art Collection as well as the Gerald Coke Handel Collection, the world's greatest privately amassed collection of Handel memorabilia.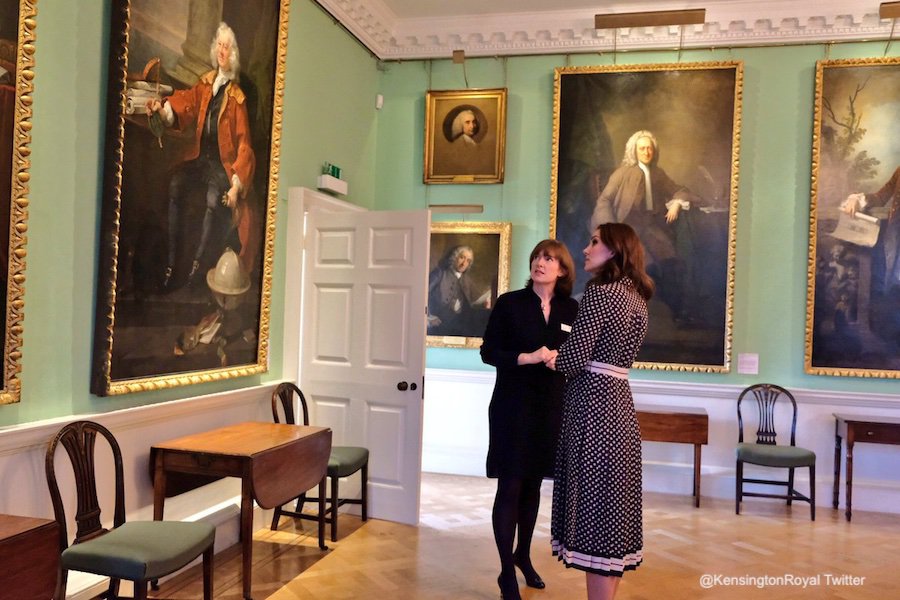 Foundling is a historic term, applied to young children and babies who were abandoned by their parents, discovered and cared for by other people.  "Foundlings" were not uncommon in the 18th century when the hospital was established:
By the early 1700s the situation for struggling parents was particularly acute in London. Economic migration from the countryside had led to a population explosion, which put parish-based poor relief under immense strain. Mothers unable to care for their children as a result of poverty or illegitimacy had few options, leading to some abandoning their babies on doorsteps, outside churches and even on rubbish heaps. It is estimated that around a thousand babies a year were abandoned in London alone. This was the situation that confronted Thomas Coram on his return from America in 1704. It would take Coram seventeen years of dogged campaigning before he finally received a Royal Charter, enabling him to establish a Foundling Hospital 'for the care and maintenance of exposed and deserted young children'.  FoundlingMuseum.org.uk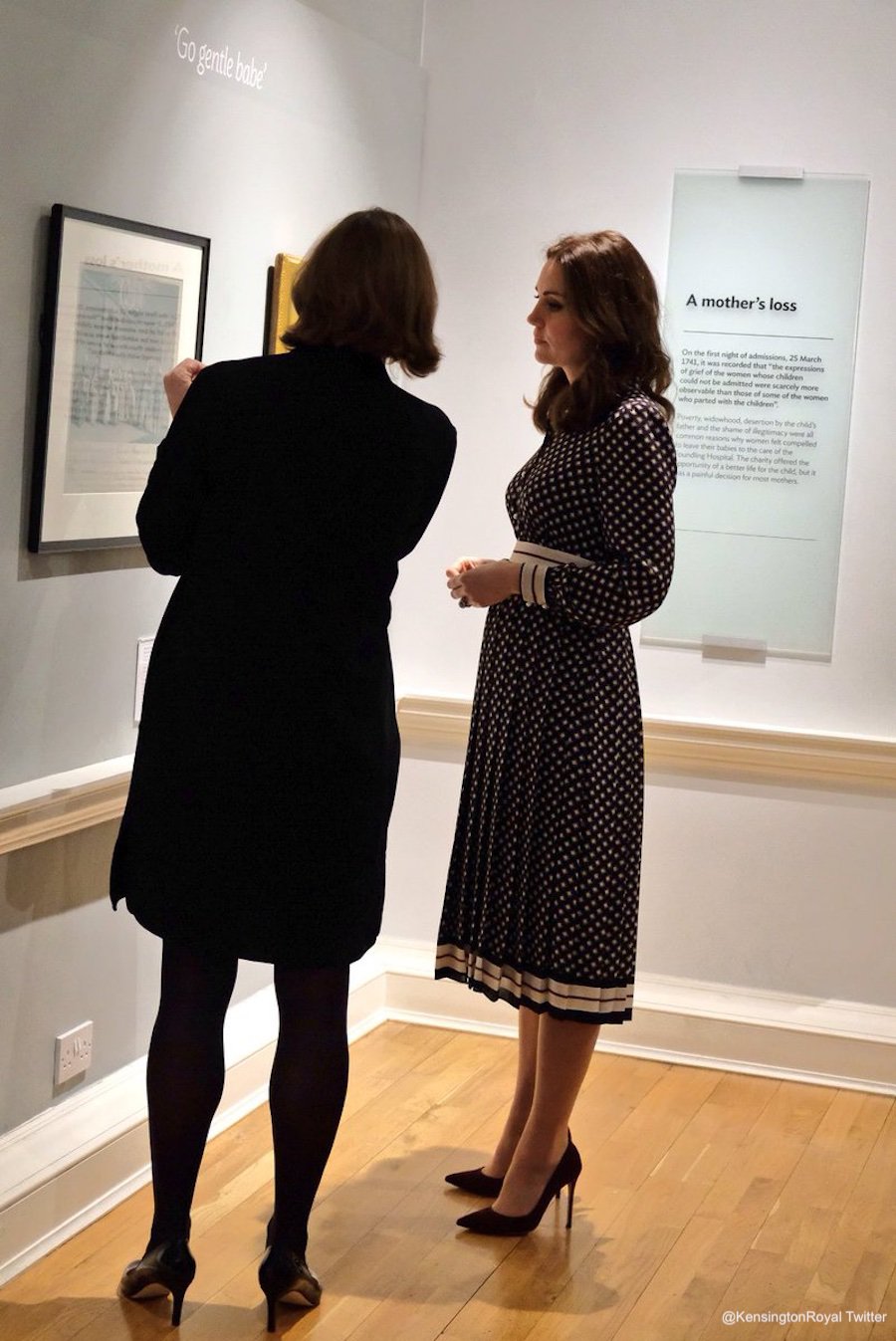 Today, the Foundling Hospital still helps children through a child care organisation called Coram.  The charity assists more than one million children, young people, families and professionals every year.
Coram's vision is that every child has the best possible chance to live a fulfilling life. We support children and young people from their earliest days to independence, creating a change that lasts a lifetime. We help build their confidence; we help them to develop skills; we uphold their rights and we find loving adoptive families for the most vulnerable. Coram.org.uk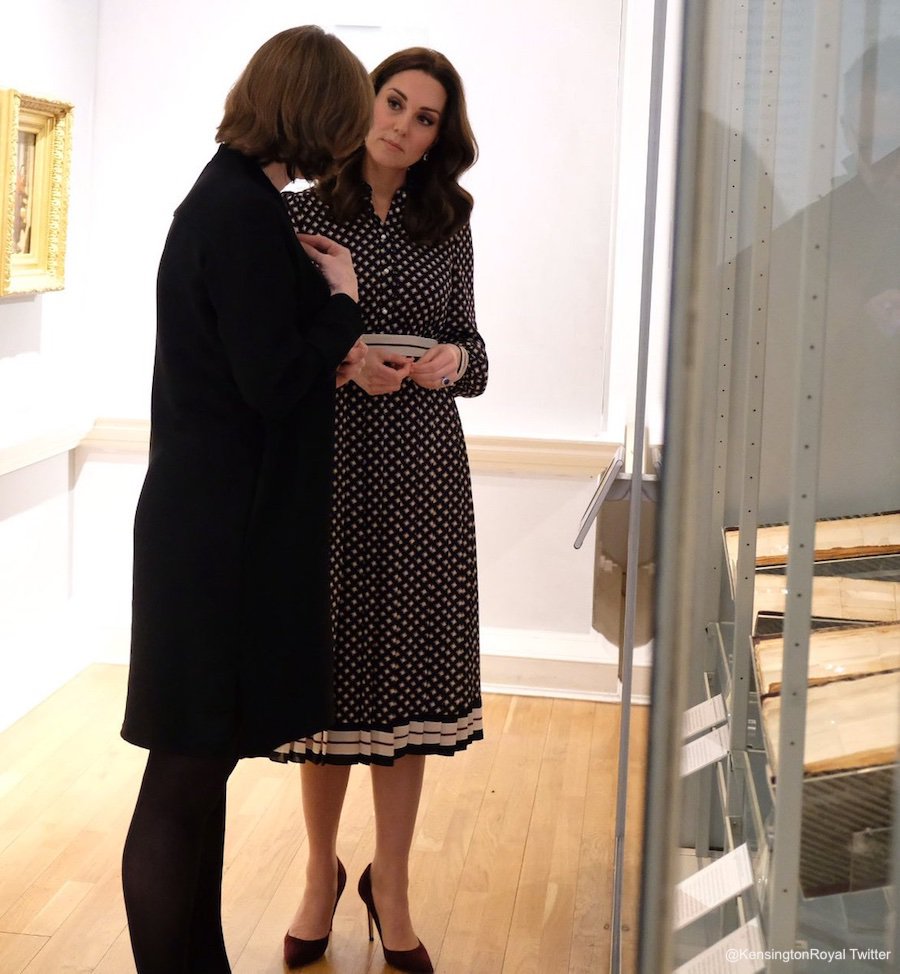 During her visit, Kate learned about the museum's history and the way it continues to focus on its founding principles today through the Coram organisation.  She browsed the museum's exhibits, including a display of tokens that were left by mothers with their baby at the Hospital, so they could identify them.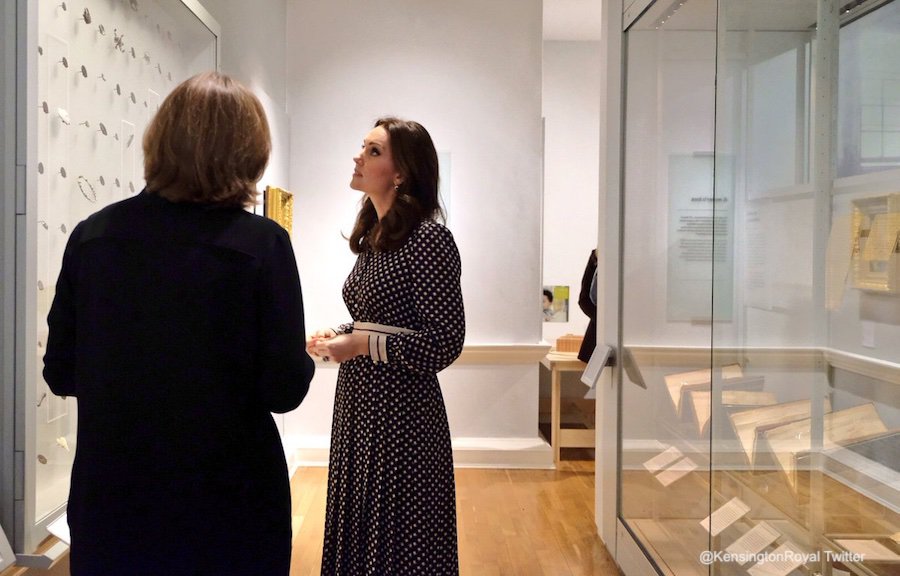 A closer look at the tokens: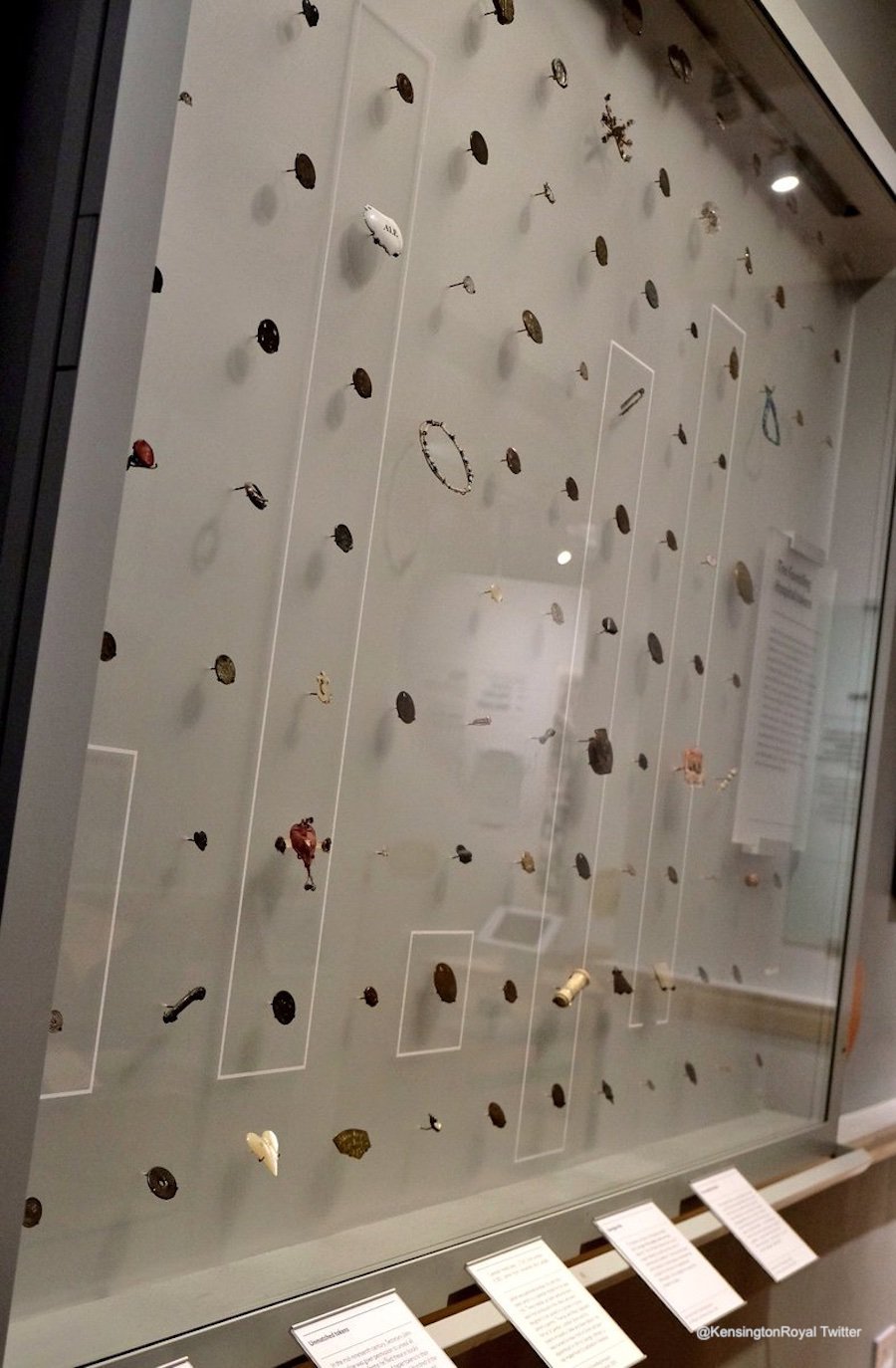 The Duchess also met with families and children who have benefited from the museum's education and outreach programmes and young care leavers who are being trained to run their own creative workshops. She also met with children from The Thomas Coram Nursery, which is next door to the Foundling Museum.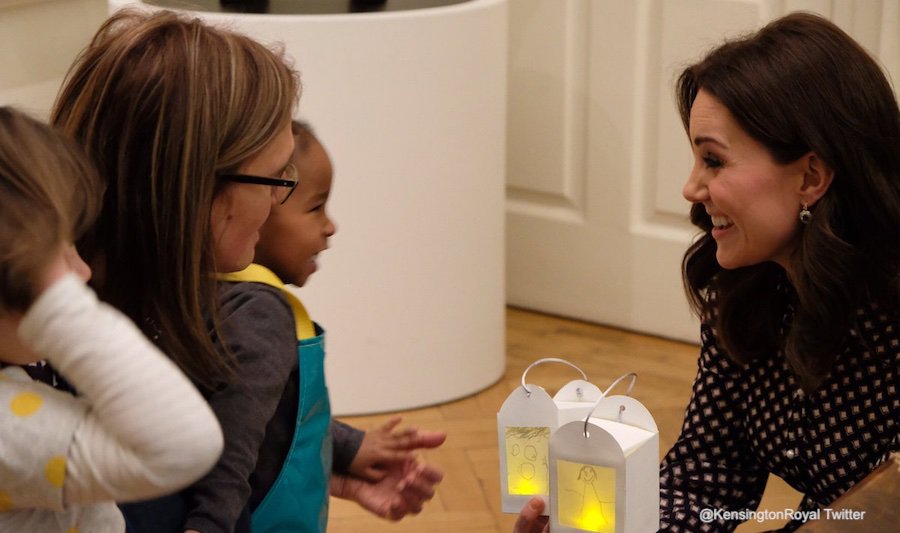 Kate sat with the nursery children and took part in a few creative activities.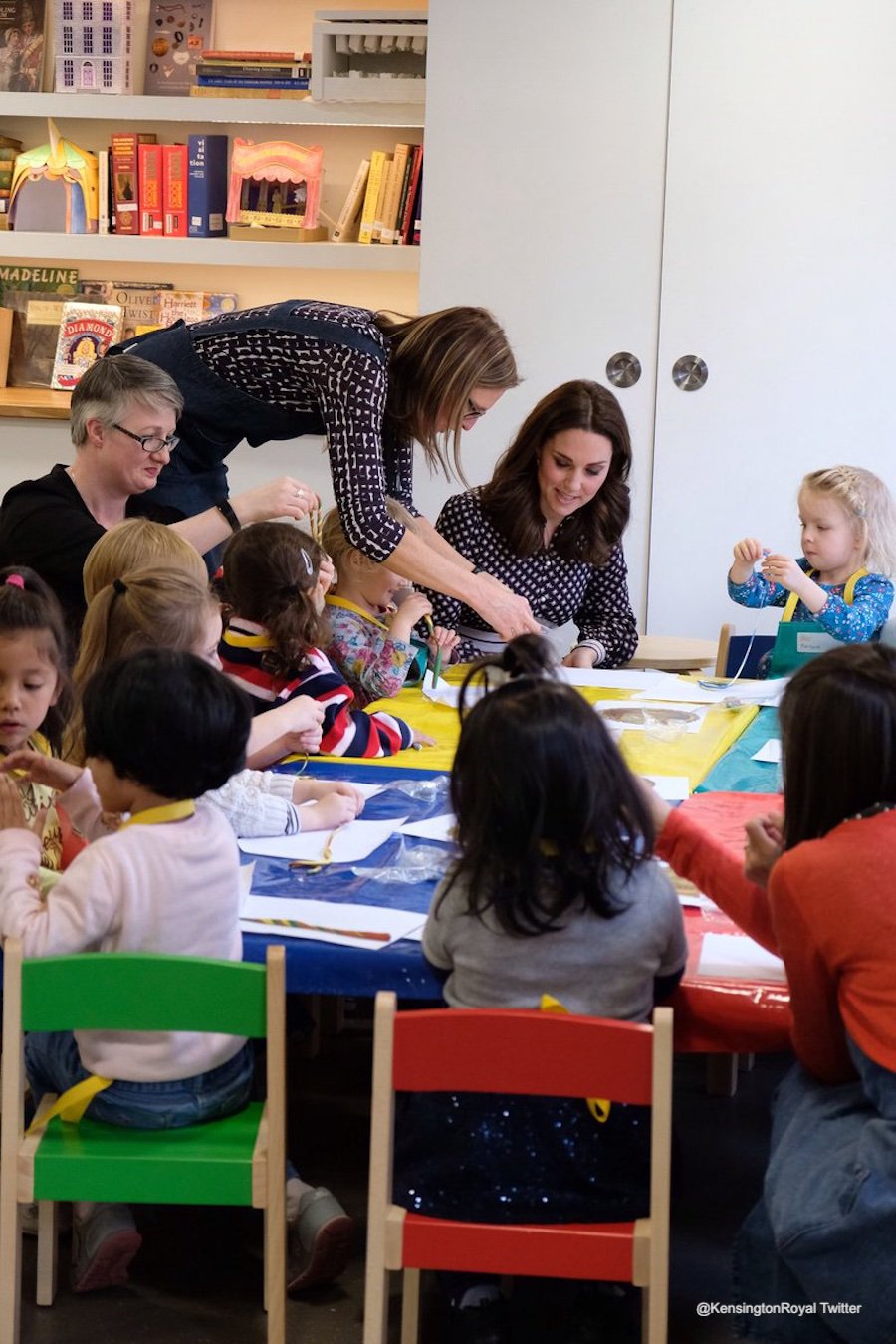 She also met with young children from Argyle Primary School: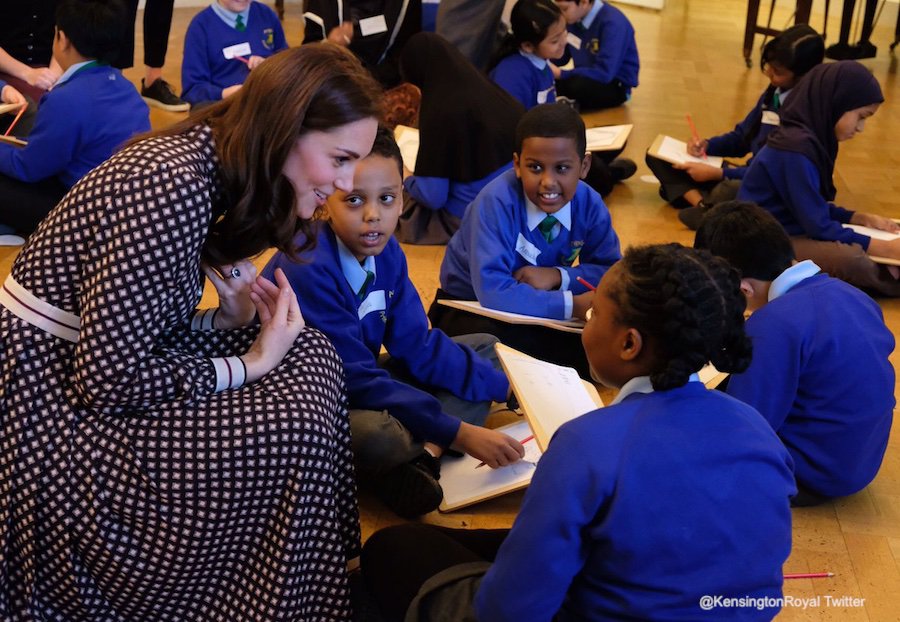 On her way into the Museum, Kate was asked about her brother-in-law Prince Harry's engagement to Meghan Markle, announced just yesterday.  She said:
William and I are absolutely thrilled.

It's such exciting news.

It's a really happy time for any couple and we wish them all the best and hope they enjoy this happy moment.
A short video of Kate giving the statement:
I'm keeping this page updated with all of the latest details about the engagement.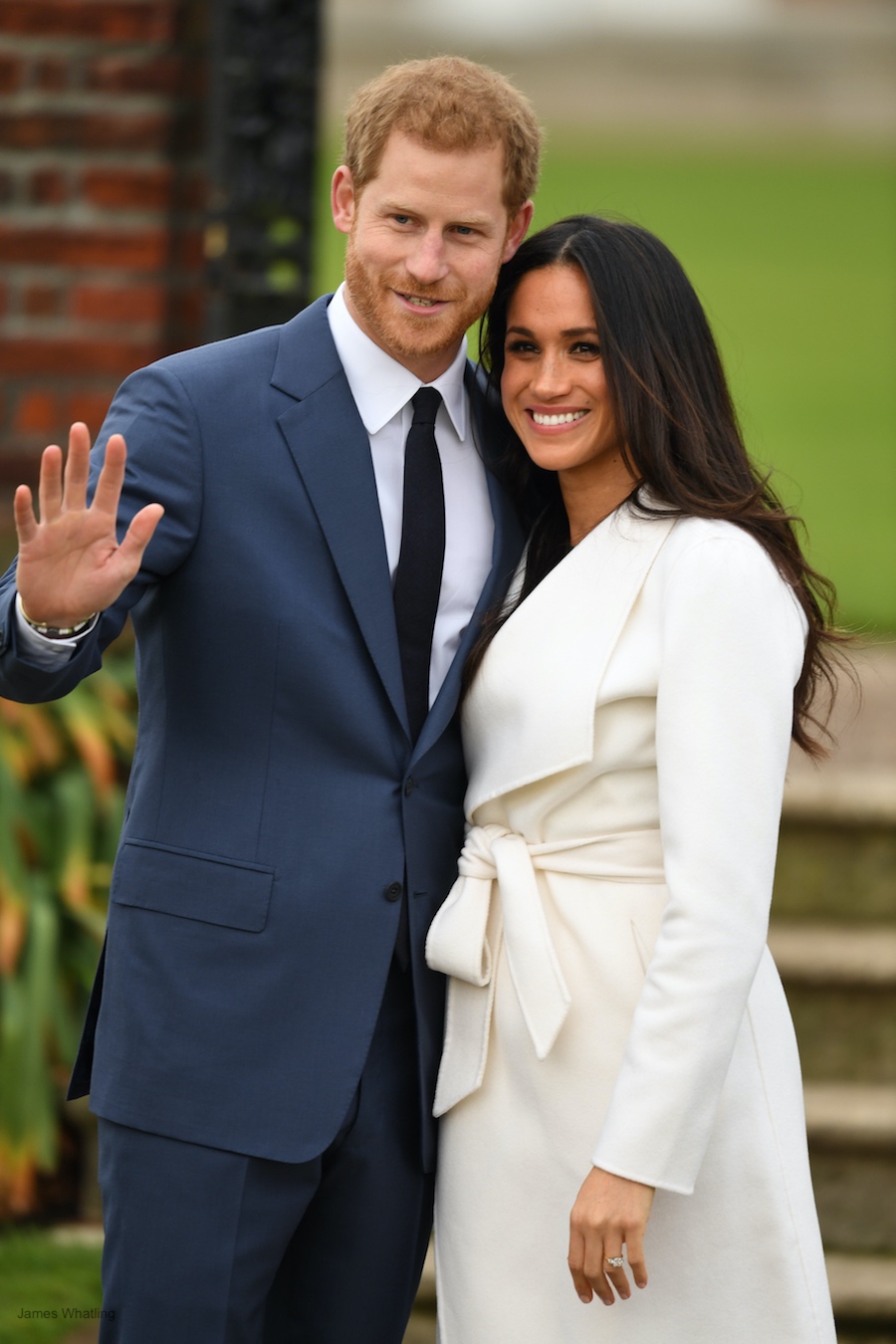 Kate's outfit:
For the visit to the Foundling Museum, Kate wore a blue, burgundy and white dress by Kate Spade New York.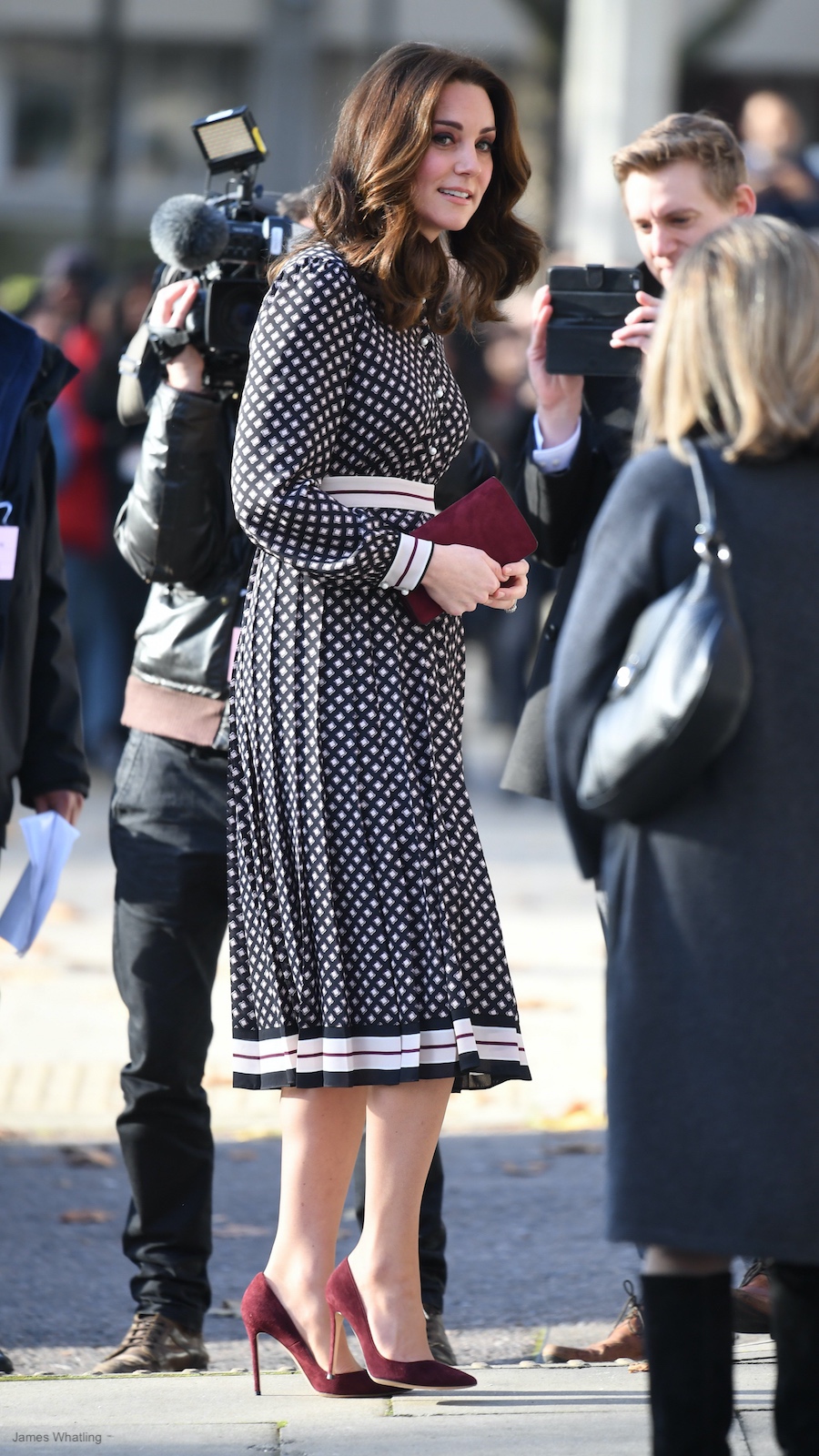 The button front midi dress features a collar, striped waistband, stripe detailing on the cuffs and on the hem of the skirt.  The fabric is decorated with a repeating diamond pattern (see below).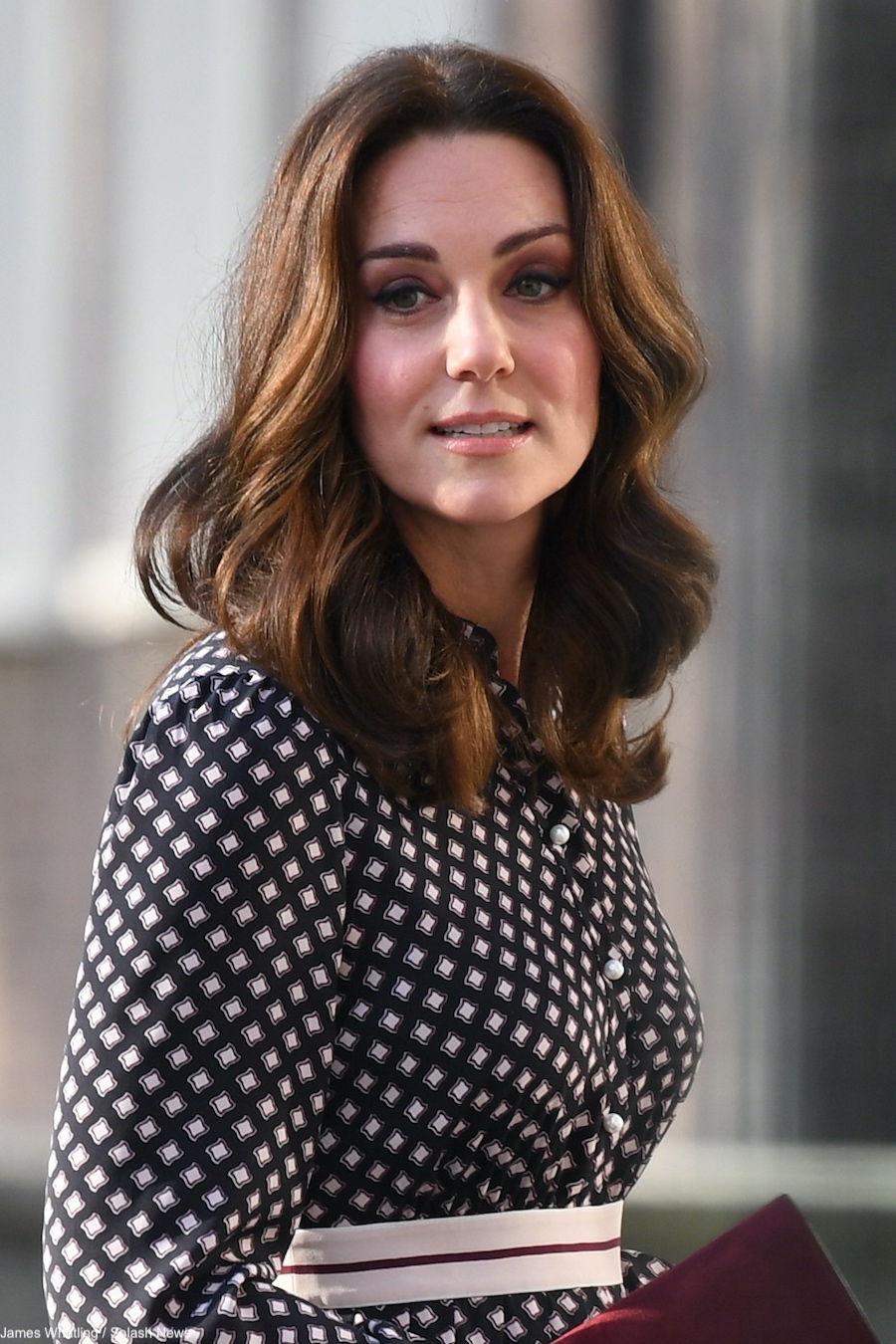 The dress is from the designer's forthcoming Resort 2018 collection. UPDATE:  Kate Spade has now added the dress to their USA website and it is available for purchase.  It's called the Diamond Pleated Shirtdress.  Click here to buy.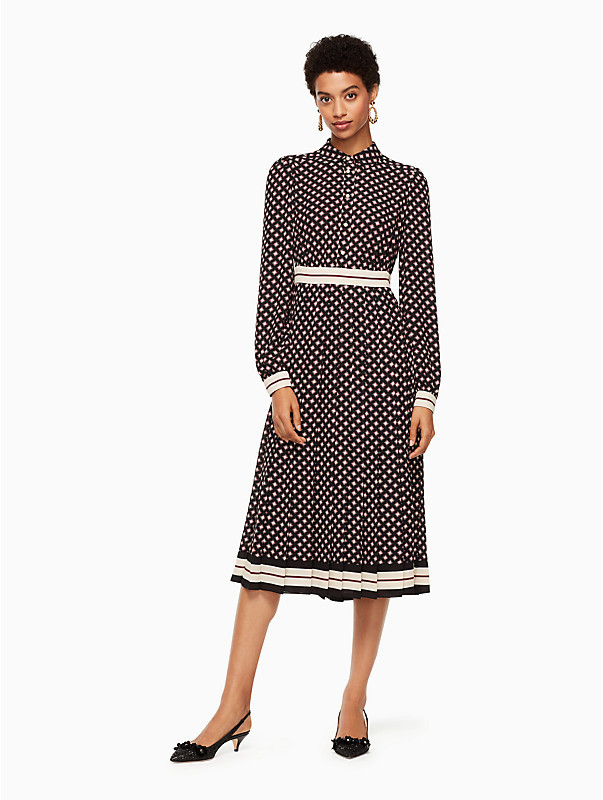 The diamond-patterned shirtdress has a pleated silhouette and a feminine tie-neck that knots into a bow.  The dress is made from polyester.
The rest of Kate's accessories will be very familiar to our regular readers.  She wore her Gianvito Rossi pumps in burgundy. (She owns them in multiple colours!)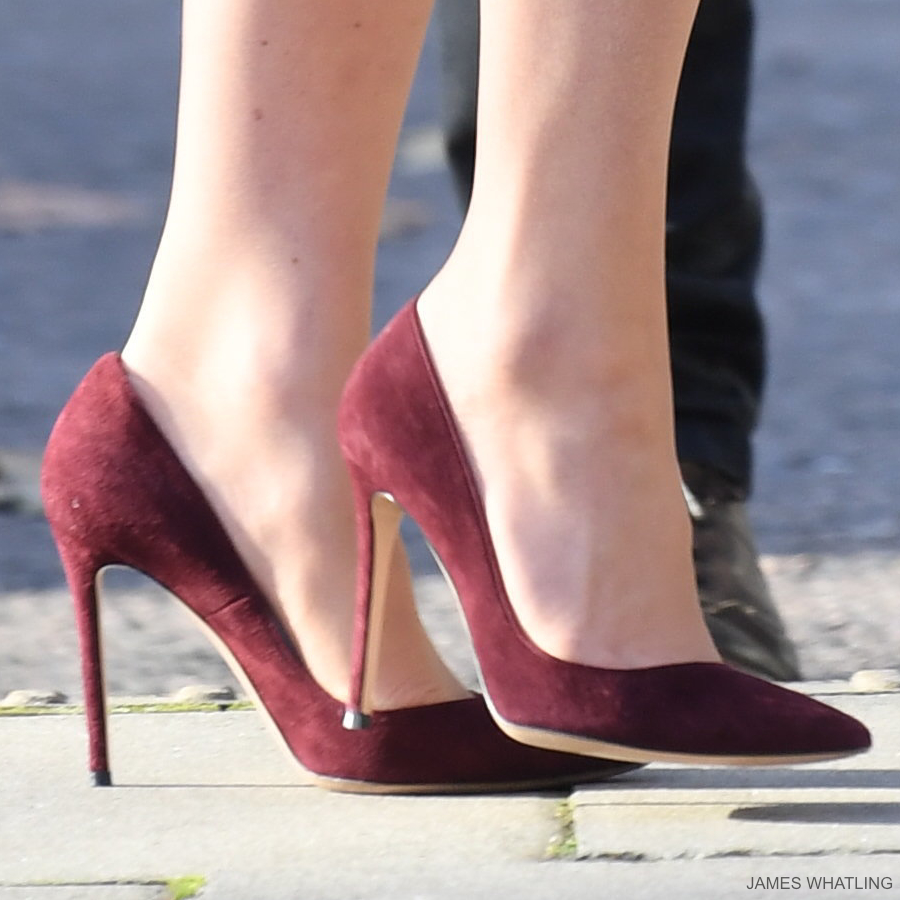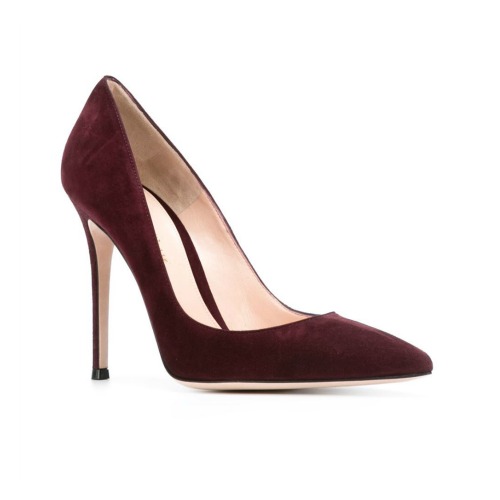 The chic, classic pumps feature a stiletto heel and an elegantly streamlined toe.  At the time of writing, the burgundy colour worn by Kate can be purchased from MyTheresa.com.
Kate carried her Mulberry Bayswater wallet in Conker suede.  Again, she owns this in multiple colours too.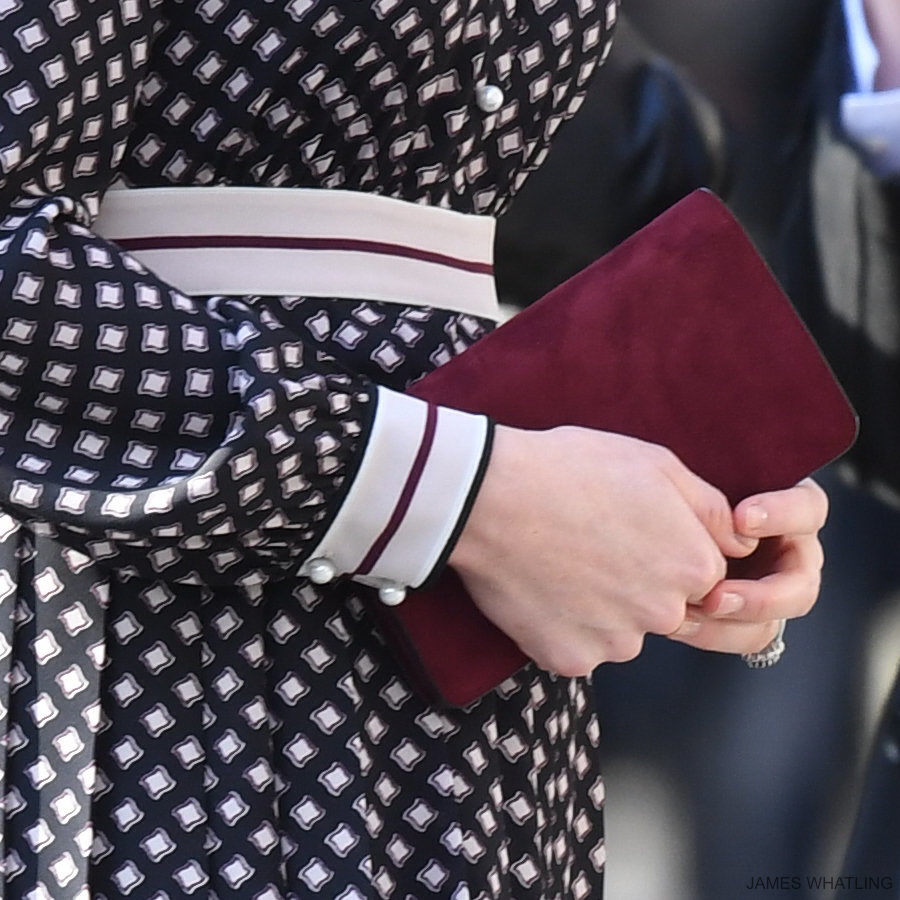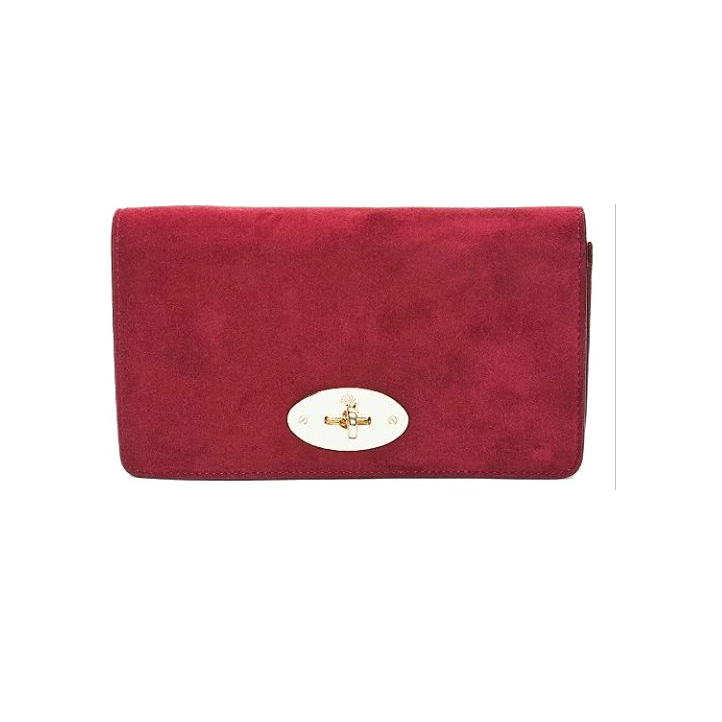 The burgundy suede bag features a gold-tone closure on the front.  It's ultra slim with plenty of pockets and slots inside.
Unfortunately, the Bayswater clutch bag is sold out at Mulberry.com.  Though, you can still find the bag on eBay in multiple colours.  Or, try the Mulberry Darley clutch (pictured below in oxblood and deep oxblood croc) if you want to copy Kate's style.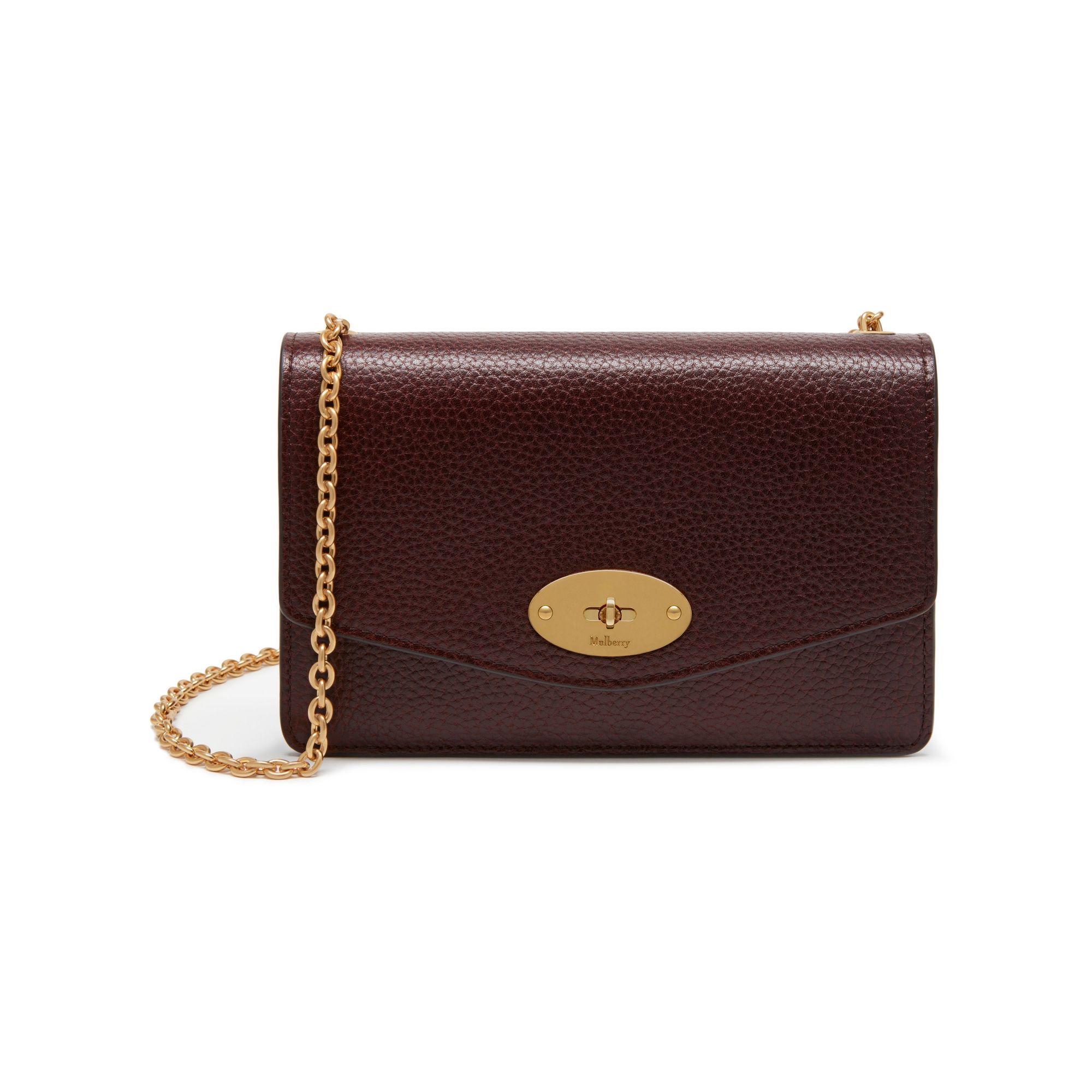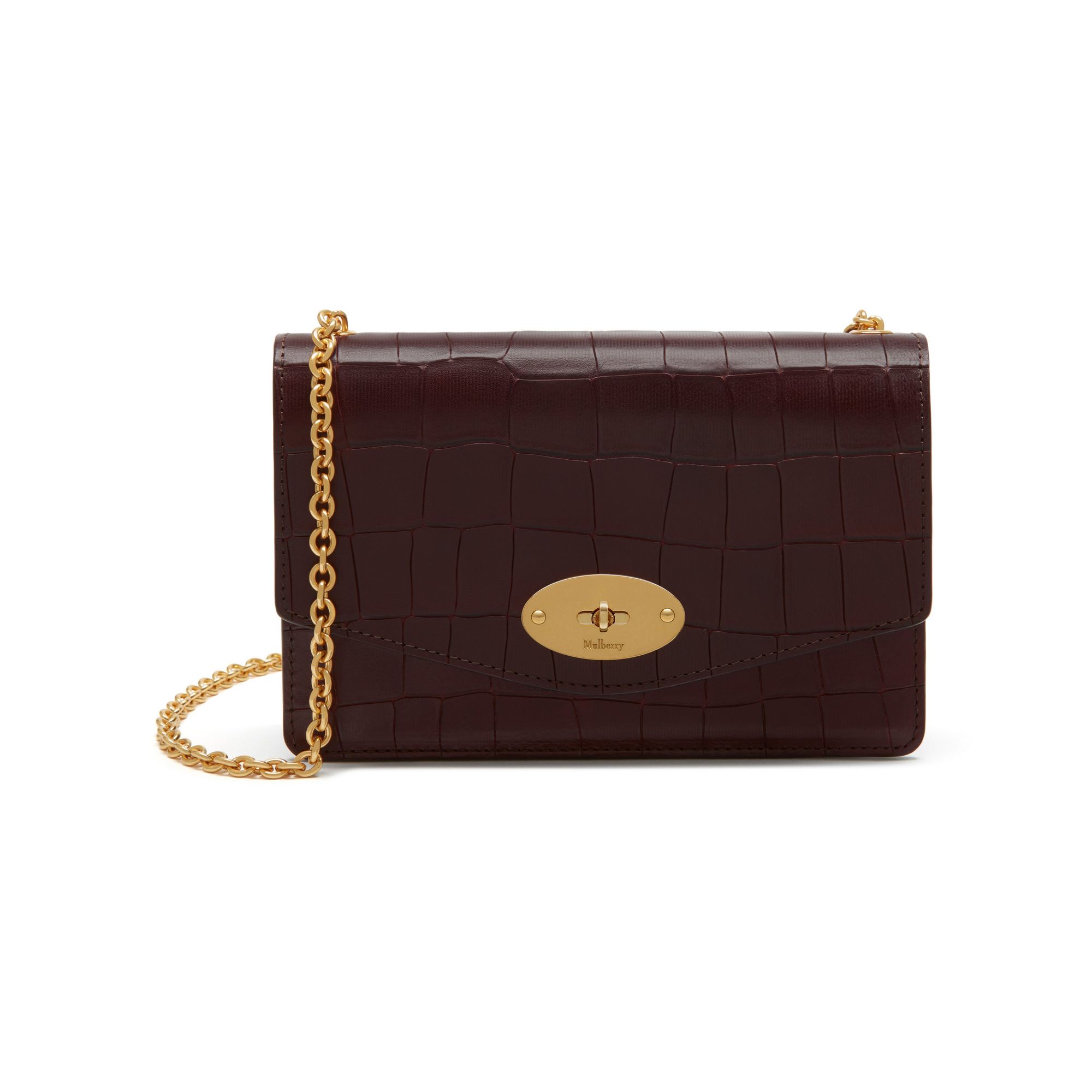 Finally, Kate wore her sapphire and diamond earrings, thought to be adapted from a pair owned and worn by Diana, Princess of Wales.  (For more information, click here).  Pictured below on another occasion: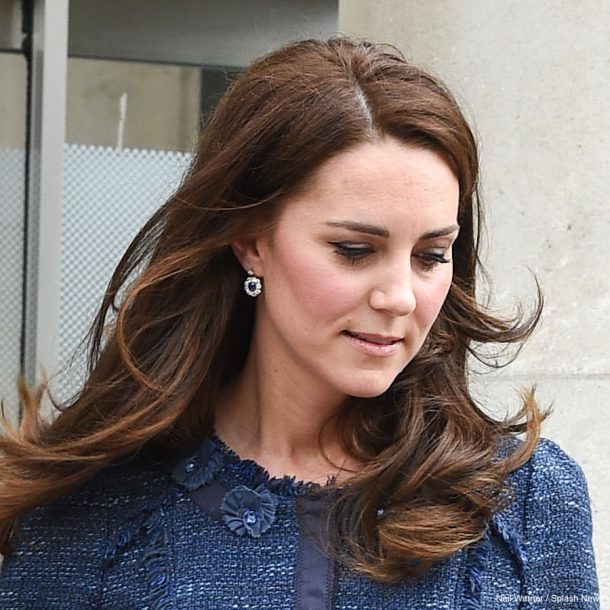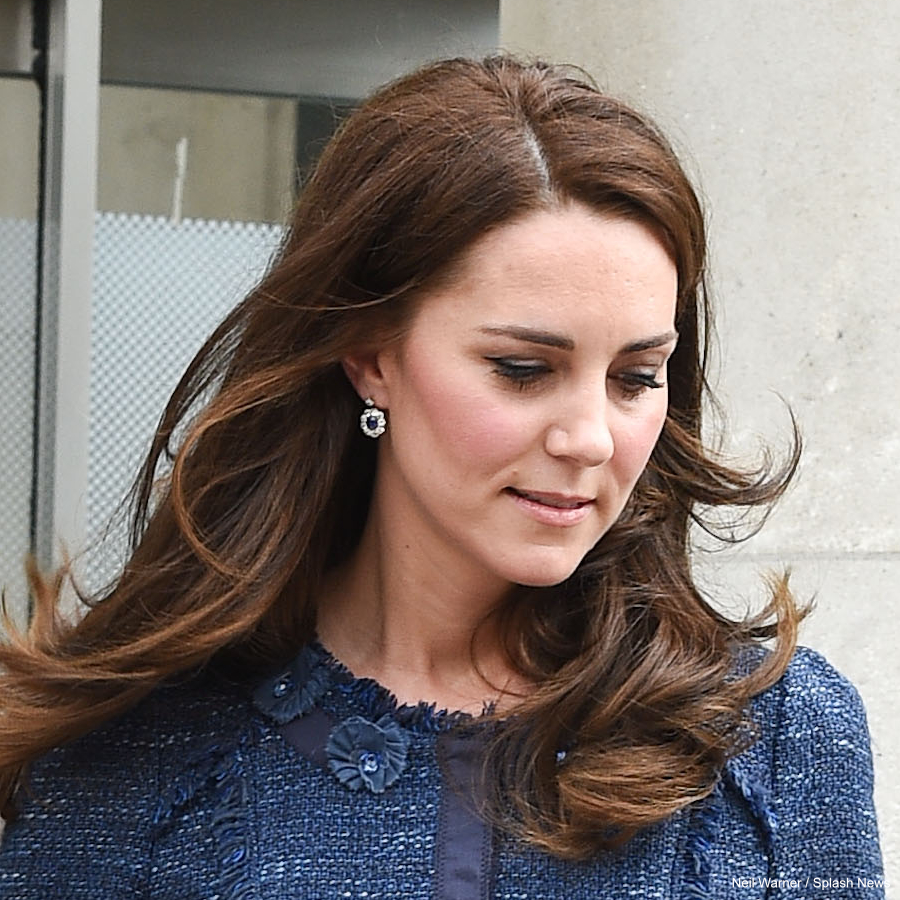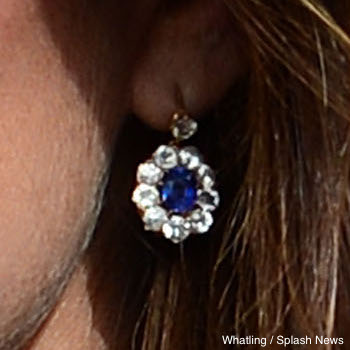 We'll be back tomorrow for Kate's visit to Robin Hood Primary School.  She will help the Royal Horticultural Society celebrate the ten year anniversary of their School Gardening campaign.