William and Kate took to the green carpet on Sunday, 17th of October 2021. The couple joined a host of stars at the inaugural Earthshot Prize awards ceremony.
The Earthshot Prize is Prince William's ambitious initiative to find solutions to repair the planet. Through The Royal Foundation, over the next ten years, Earthshot will award millions of pounds to people trying to solve the world's greatest environmental problems. Five prizes will be awarded at the ceremony, annually, until 2030. This year's judges included Sir David Attenborough, actress Cate Blanchett, singer Shakira and Queen Rania of Jordan.
Some newspapers dubbed the awards ceremony the "Eco Oscars". As you may expect, the ceremony, which was filmed by the BBC and aired a few hours later, had a huge focus on sustainability. No guests were flown in from overseas, the awards themselves were upcycled from waste materials, there was a paperless policy, no plastic was used to build the stage and all canapés were plant-based. Plus, guests were asked to make sustainable clothing choices for the evening. (For example, re-wearing an item from their closet or renting from a sustainable brand.)
The duchess re-wore a dress from her first red carpet debut ten years earlier (full details below).
The stage changed throughout the evening, but we show it with a globe projection above. The second image provides a closer look at the gold leaves, inspired by Earthshot's logo, which trailed across the show space.
Lots of celebrities walked the vibrant green carpet, including footballer Mo Salah, who presented one of the awards and footballing legend and Earthshot Prize Council member Dani Alves with his wife Joana Sanz (she looked stunning!)
And here are the ceremony's hosts, Dermot O'Leary and Clara Amfo with performer Yemi Alade. Plus, rapper/singer KSI. Actors and activists Emma Watson and Emma Thompson, who also both presented awards at the ceremony.
Emma Thompson re-wore what she referred to as her "dame suit" (the suit she wore to receive her damehood), while Emma Watson made headlines by having an outfit created from 10 items of clothing purchased at Oxfam.
Musicians Ed Sheeran and Shawn Mendes performed during the evening. Coldplay opened the show, their performance took place outside of Alexandra Palace. Their equipment used energy powered by 60 cyclists.
Sir David Attenborough, who launched The Earthshot Prize with Prince William in December 2019 and judged the nominations, delivered a few remarks during the show. The natural historian insisted there is an urgency to act now, but that there is also hope:
Our Finalists all give us hope which, we are told, springs eternal. But we don't have eternity. We need to do this now. And over the next ten years, if we all put our minds to it, I believe we can.

Sir David Attenborough
The name Earthshot was inspired by President John F. Kennedy's Moonshot programme, which united millions of people around the goal of putting a man on the moon and catalysed the development of new technology in the 1960s. Earthshot has a similar mission: to unite people in meeting five simple but ambitious goals for our planet, which if achieved by 2030 will improve life for us all, for generations to come. The five goals are to protect and restore nature, to clean our air, to revive our oceans, to build a waste-free world and to fix our climate. Earthshot awarded one million pounds to an initiative in each category.
Kate presented an award during the evening, awarding £1m to the Republic of Costa Rica who were finalists in the Protect and Restore Nature category.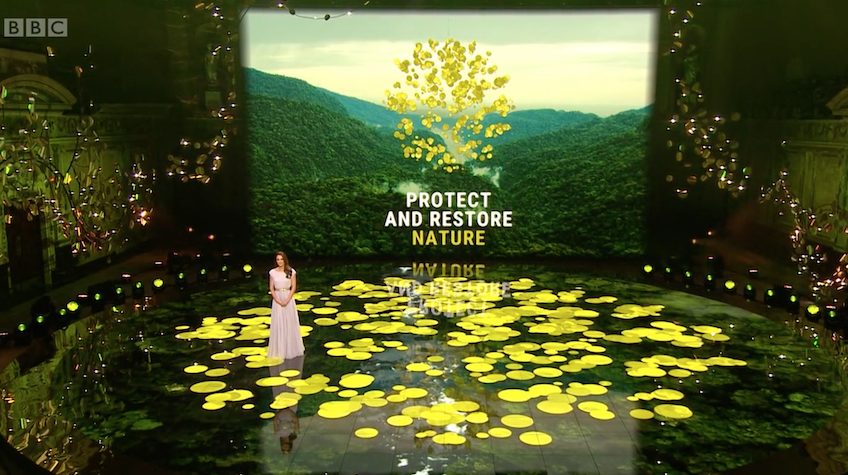 She also delivered a heartfelt speech about the importance of nature and how a thriving natural world is vital to our physical and mental health, urging us to act quickly to reverse some of the damage we've caused by neglecting our wild spaces:
If we don't act now, we will permanently destabilise our planet and we will rob our children of the future they deserve. Our Earthshot Prize Finalists show us however that we can, by 2030, see the natural world growing, not shrinking, for the first time in centuries.

The Duchess of Cambridge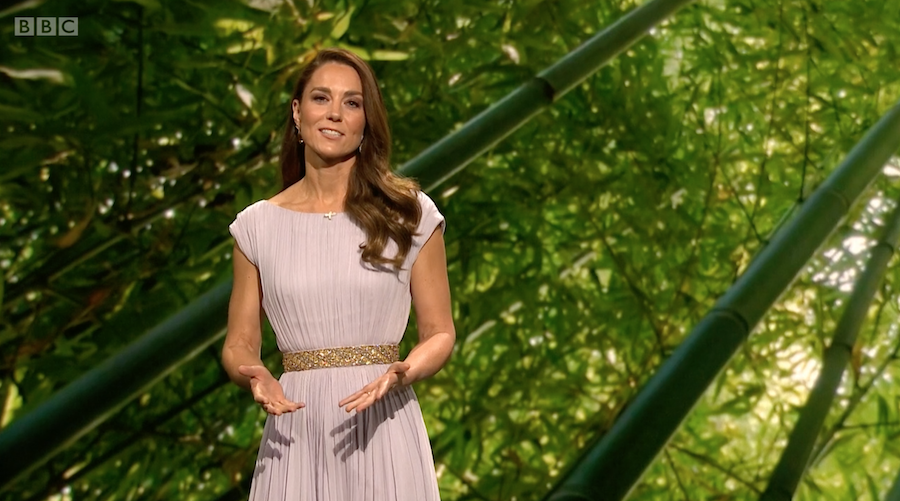 The other winners included cutting-edge technologists, innovators and a pioneering city. More about the winners, via the BBC:
Protect and Restore Nature:
The Republic of Costa Rica: Costa Rica was a country that once cleared most of its forests, but it has now doubled the number of trees and is seen as a role model for others to follow. The winning project is a scheme paying local citizens to restore natural ecosystems that has led to a revival of the rainforest
Clean our Air:
Takachar, India: A portable machine created to turn agricultural waste into fertiliser so that farmers do not burn their fields and cause air pollution
Revive our Oceans:
Coral Vita, Bahamas: A project run by two best friends who are growing coral in the Bahamas, designed to restore the world's dying coral reefs. Using special tanks, they have developed a way to grow coral up to 50 times faster than they normally take in nature
Build a Waste-Free World:
The City of Milan Food Waste Hubs, Italy: Another challenge is waste – and the city of Milan in Italy wins a prize for collecting unused food and giving it to people who need it most. The initiative has dramatically cut waste while tackling hunger
Fix our Climate:
AEM Electrolyser, Thailand/Germany/Italy: A clever design in Thailand using renewable energy to make hydrogen by splitting water into hydrogen and oxygen. Hydrogen is a clean gas but it is usually produced by burning fossil fuels

The five winners were selected by The Earthshot Prize Council and were chosen for their ground-breaking solutions to the greatest environmental challenges facing our planet and their ability to scale their impact globally in response to the urgent challenges we face.
Kate's outfit:
As we shared above, Kate adhered to the sustainable dress code and brought back a familiar dress for The Earthshot Prize awards ceremony. It's the lilac-coloured Alexander McQueen gown she first wore to the LA BAFTA event ten years ago. A look at Kate wearing the gown at the ceremony in 2021: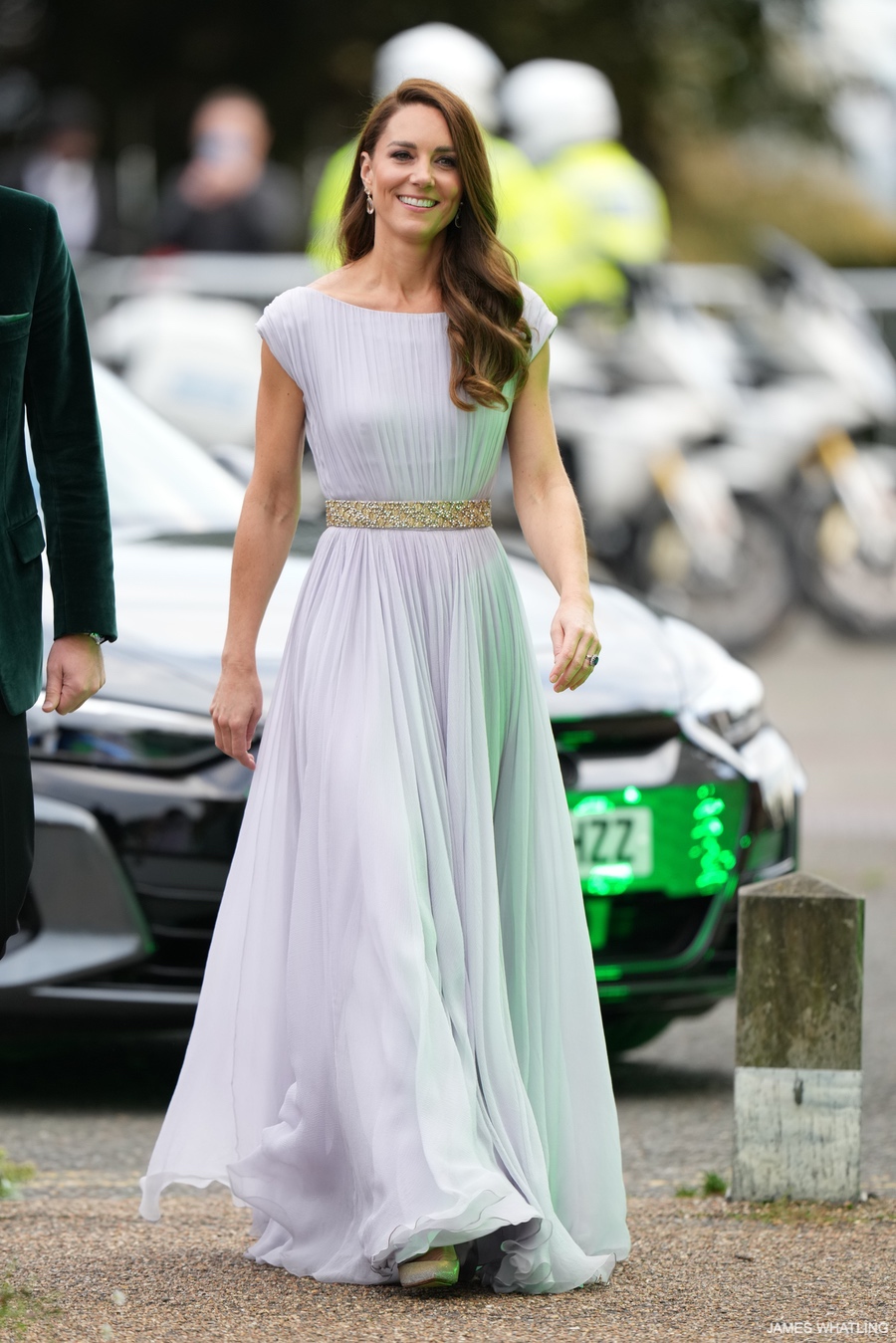 And the BAFTA event in 2011:
Kate's BAFTA appearance was a real showstopper moment for royal fans. It was her first glitzy red-carpet event and only the second time we'd seen her in gown since marrying into the Royal Family. We loved the colour and were captivated by its sweeping pleated skirt. The sparkling accessories were the cherry on top! It was lovely to see the dress for a second time a decade later and reminisce.
Back in 2011, the palace told journalists the dress was by Alexander McQueen. Fashion fans hunted high and low the exact dress but it wasn't found. We assume it was a bespoke piece, created just for Kate. Perhaps based on this similar gown from the label's 2011 ready-to-wear collection (below).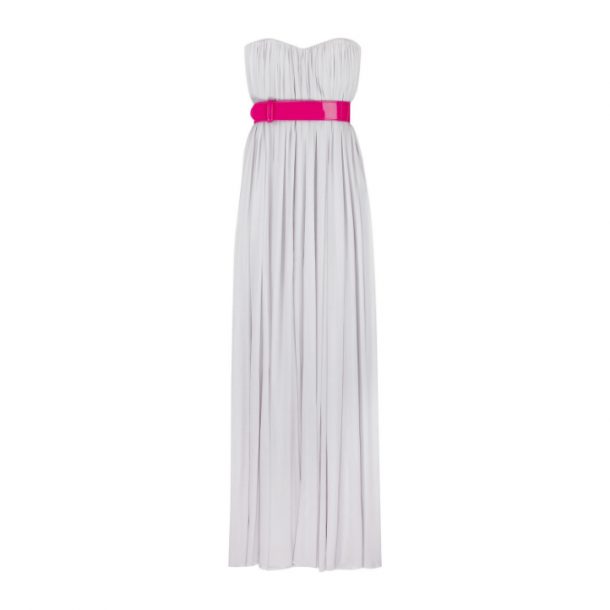 The Grecian-inspired pleated gown featured all-over pleating. Kate had the top modified, adding a scoop neckline and cap sleeves.
Back in 2011, the ready-to-wear version of the dress sold for $2,741 USD / £1,573 at Net-A-Porter. As you'd expect a decade later, it is no longer available to purchase.
However, if you're looking for a statement dress for an upcoming event, you may be pleased to read that Farfetch currently stock this Alexander Mcqueen dress. It comes without the belt but otherwise looks very similar to the 2011 ready-to-wear piece. Choose from pink, another shade of pink, a third iteration of pink, blue, green and black. Prices vary.
In 2011, Kate wore the lilac gown with a shimmering glittery belt. Fast forward ten years and she switched things up a bit. She chose a gold woven belt with a honeycomb design and beaded detailing. CoutureAndRoyals recognised the piece from Jenny Packham's 2018 bridal collection. It's referred to as the 'Magic' belt. Sadly, I cannot find any further information about the belt online or any higher quality photos.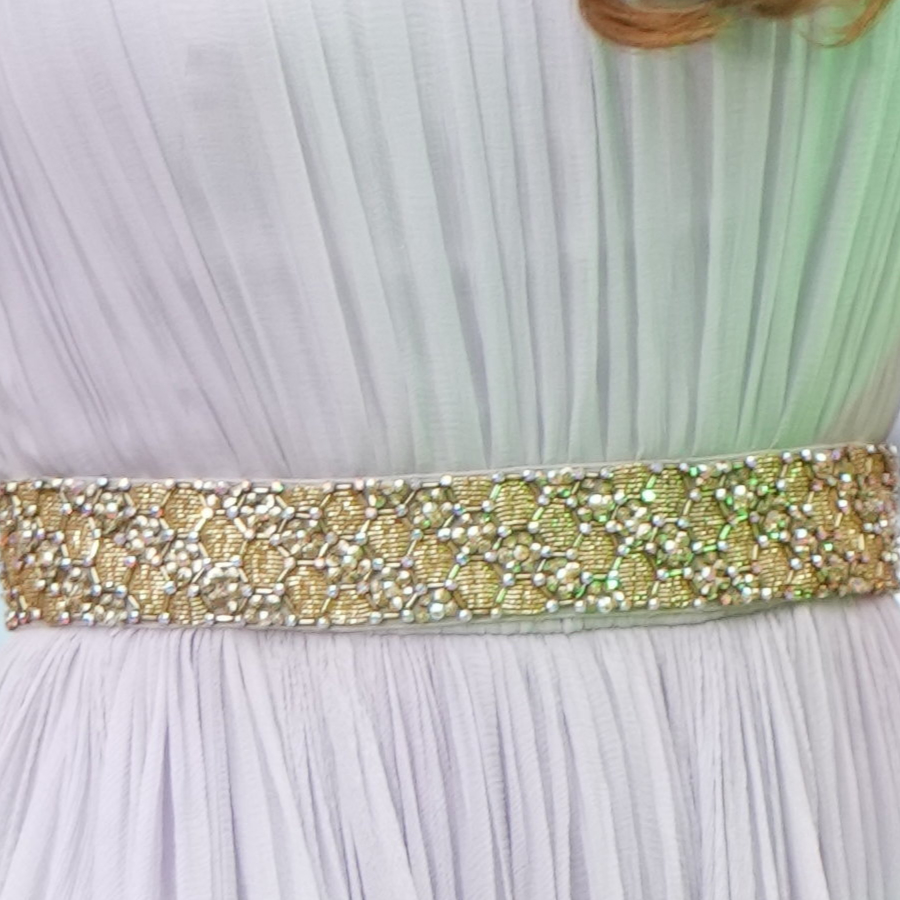 I'd say Kate's version looks slightly slimmer in width—if you count the honeycombs, you'll notice Kate's has fewer than the ready-to-wear version from the catalogue. This isn't too unusual, I'd figure Kate commissioned the belt at some point, perhaps to go with for another outfit she wore to a private event. This not uncommon, Kate owns many bespoke items by Jenny Packham.
Kate's footwear choice added further sparkle to the evening. She wore her Oscar de la Renta Cabrina pumps, which are made from a glistening lamé fabric in a stunning platinum colour. They feature a 100mm heel, a pointed toe, scalloped sides and a raised back detail.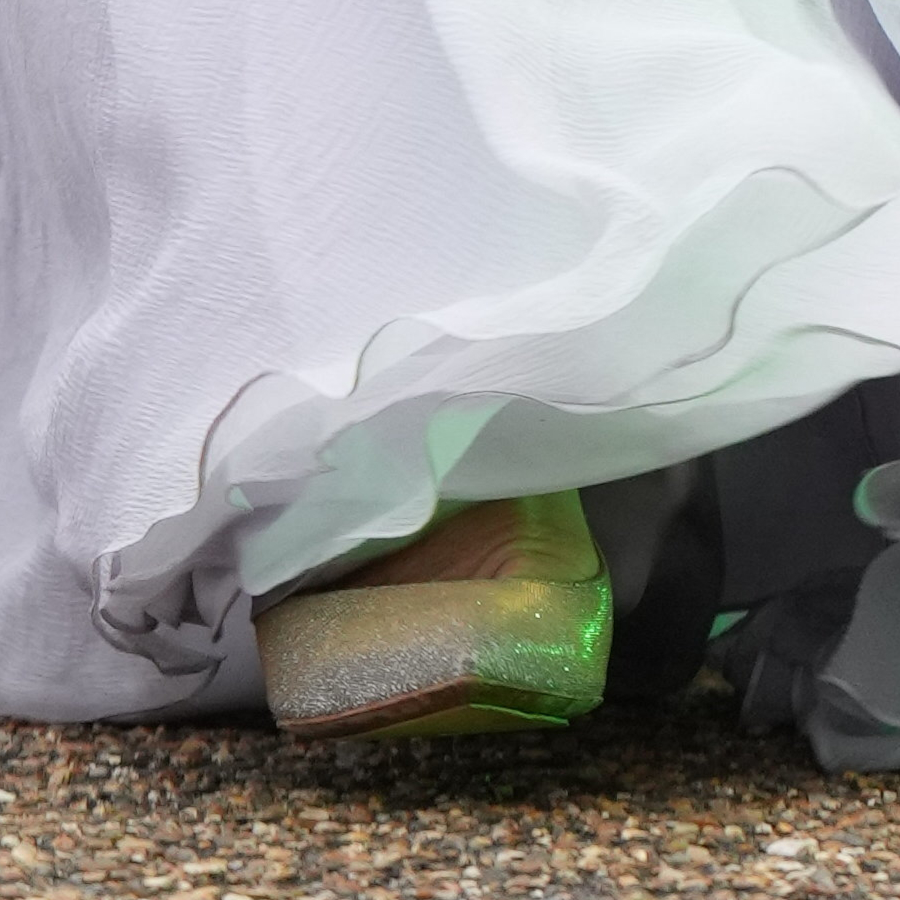 Kate's worn the shoes to a handful of public engagements since their debut in 2017. Back then, the shoes could be purchased from Oscar de la Renta's website for $690 USD / £592 GBP. They're sold out now but do pop up on eBay from time to time.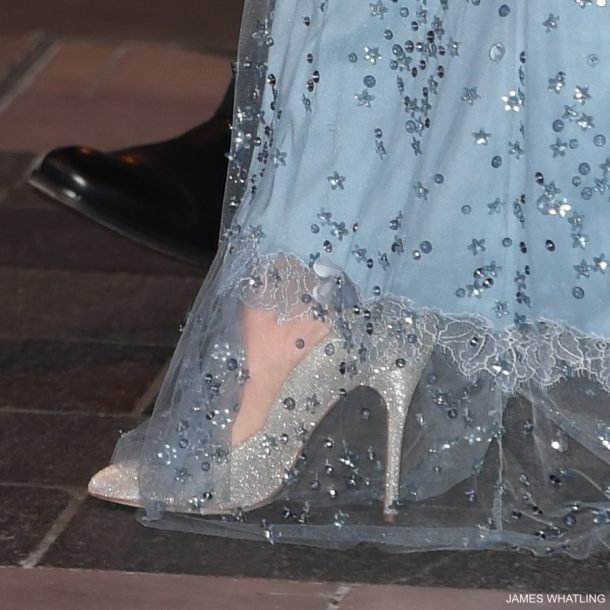 Kate finished her glitzy look with a pair of pink gemstone earrings. They're her pink morganite earrings by Kiki McDonough. The earrings feature an oval gemstone suspended from a matching post, both surrounded by diamonds.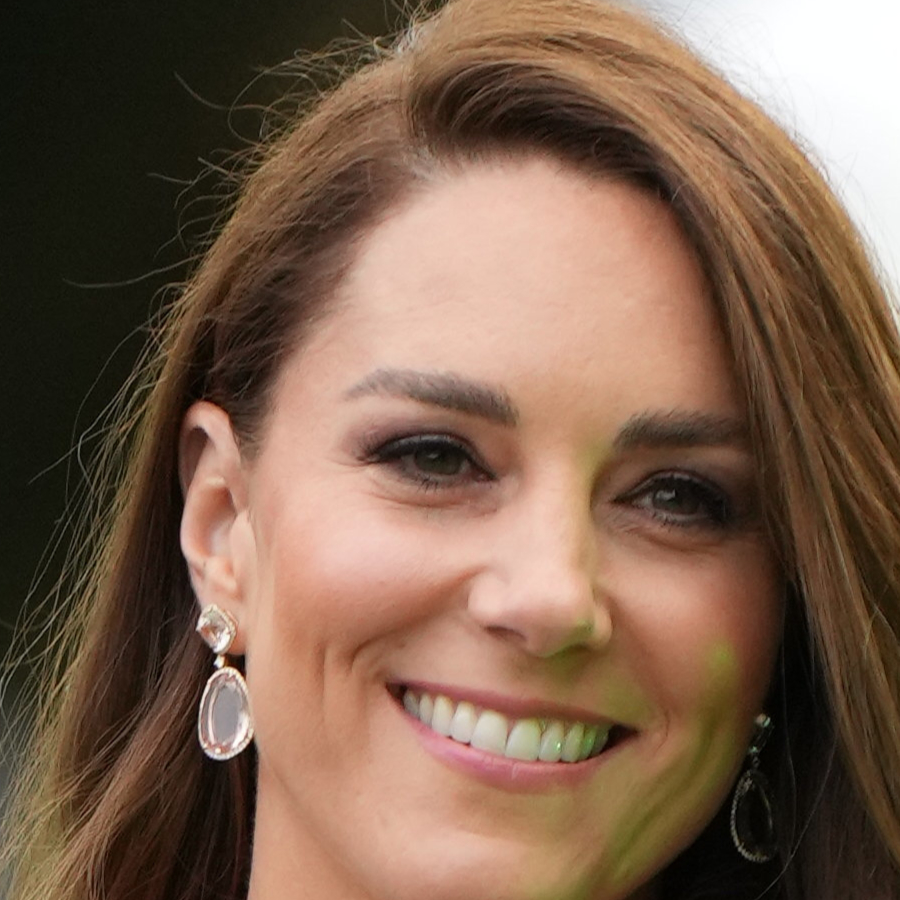 We first spotted Kate in the pink earrings at her sister Pippa's wedding in 2017.  At the time, the designer uploaded a picture of the earrings to her Instagram page explaining they were part of a 'Special Editions' collection. 
In an Instagram post, Kiki McDonough calls the earrings "pretty and elegant". They're not listed on Kiki's website to buy but the designer does offer a bespoke service, so I'd assume you can contact the company should you wish to own the same earrings.