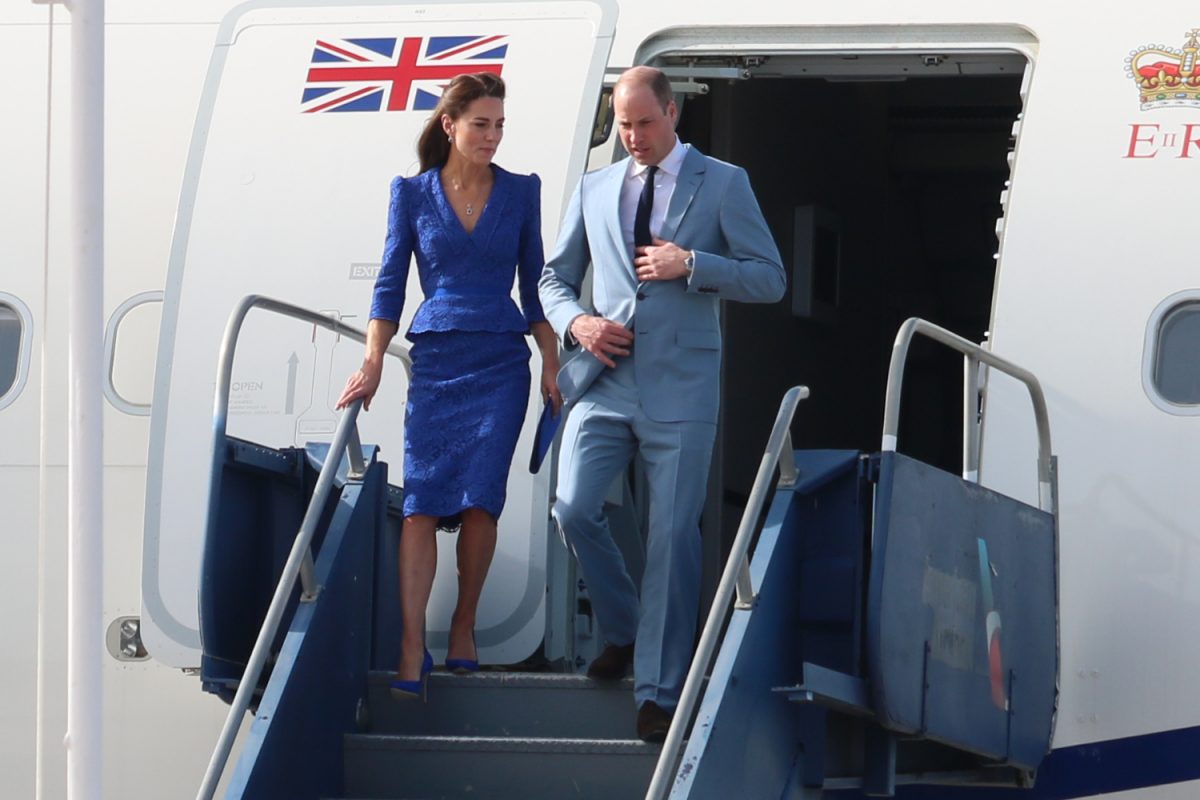 Saturday 19th March 2022—William and Kate have arrived in Belize for the first leg of their Caribbean Tour. I expected Kate to dress in blue for her arrival in Belize—it's the primary colour on the country's flag and one of the three colours found in the Union Jack. 🇧🇿 🇬🇧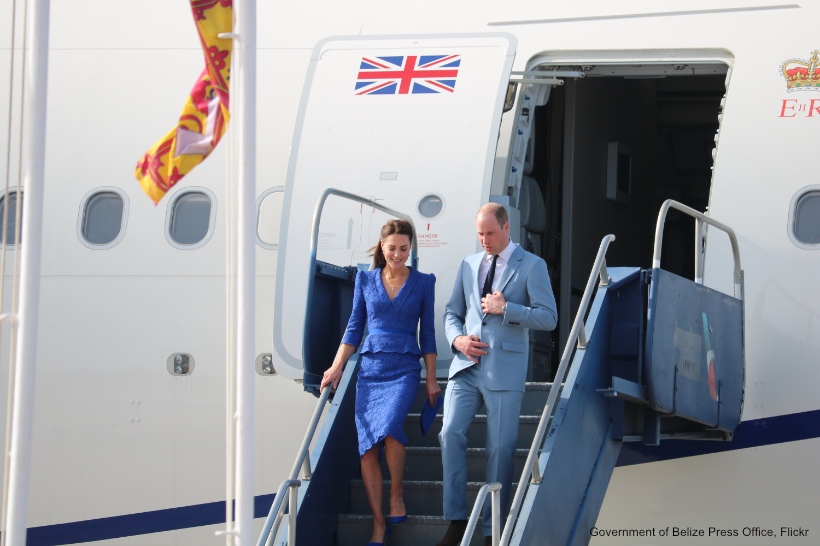 The Duchess dressed from top-to-toe in the bright hue—from her dress to her shoes to her jewellery. I'll discuss her outfit fully further down the page ⬇️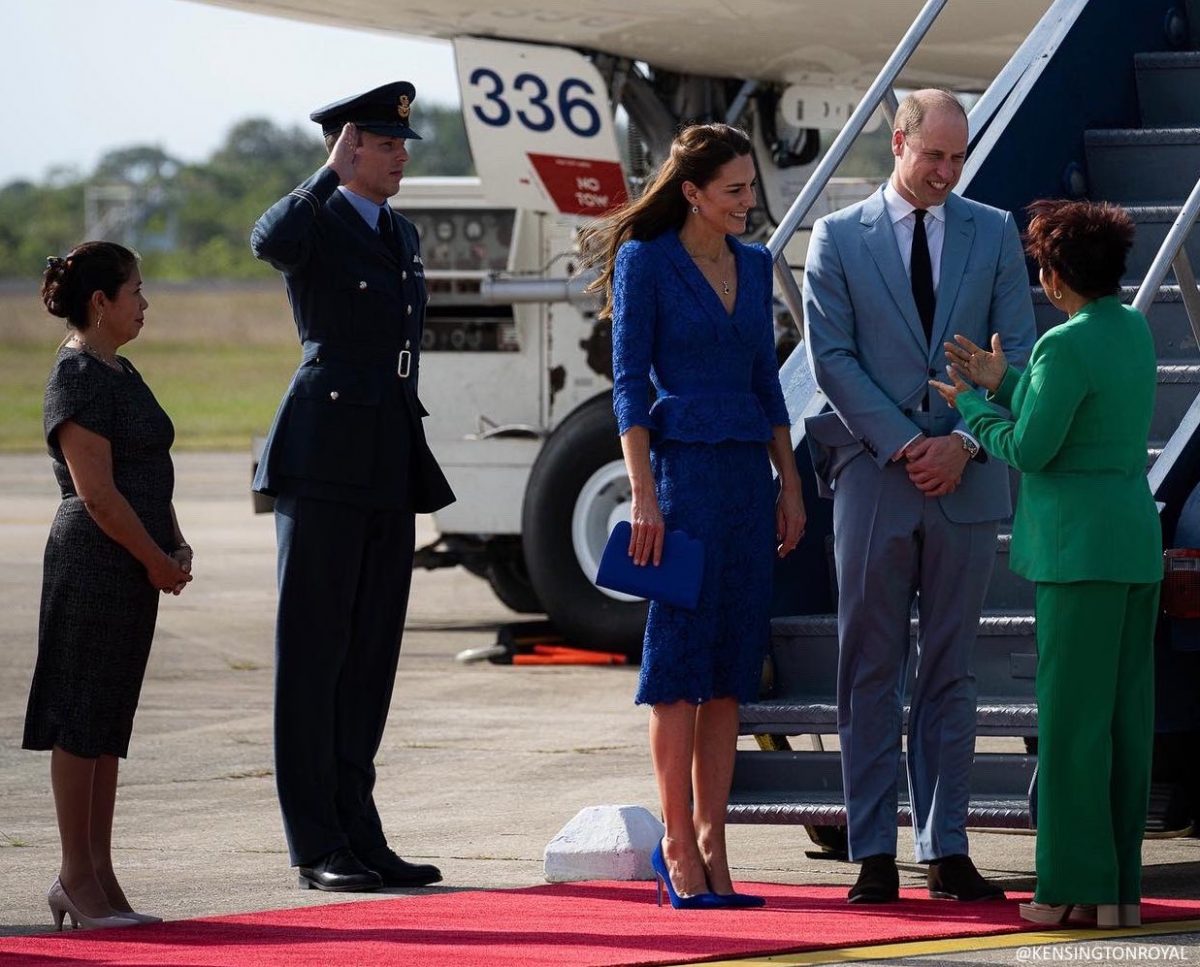 The Duke and Duchess's planed landed at Philip S.W. Goldson International Airport in Belize City at approximately 3.20pm local time.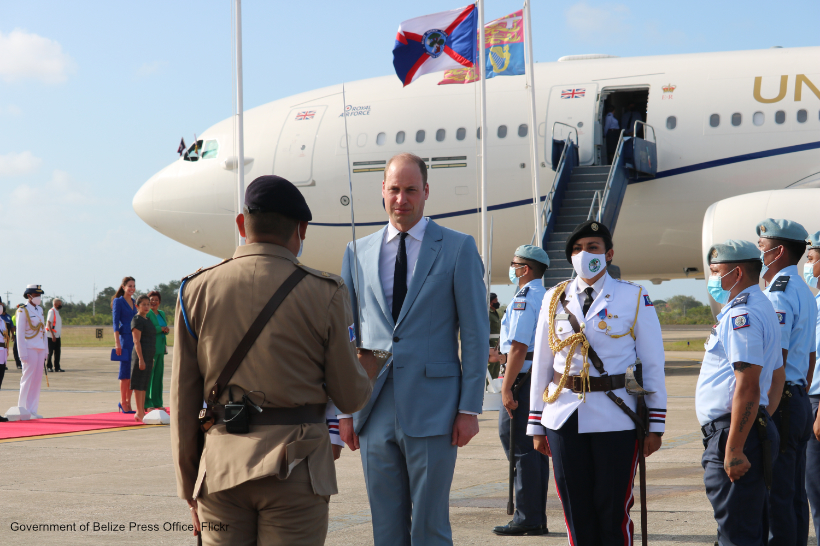 Upon disembarking the plane, the couple were greeted by local officials.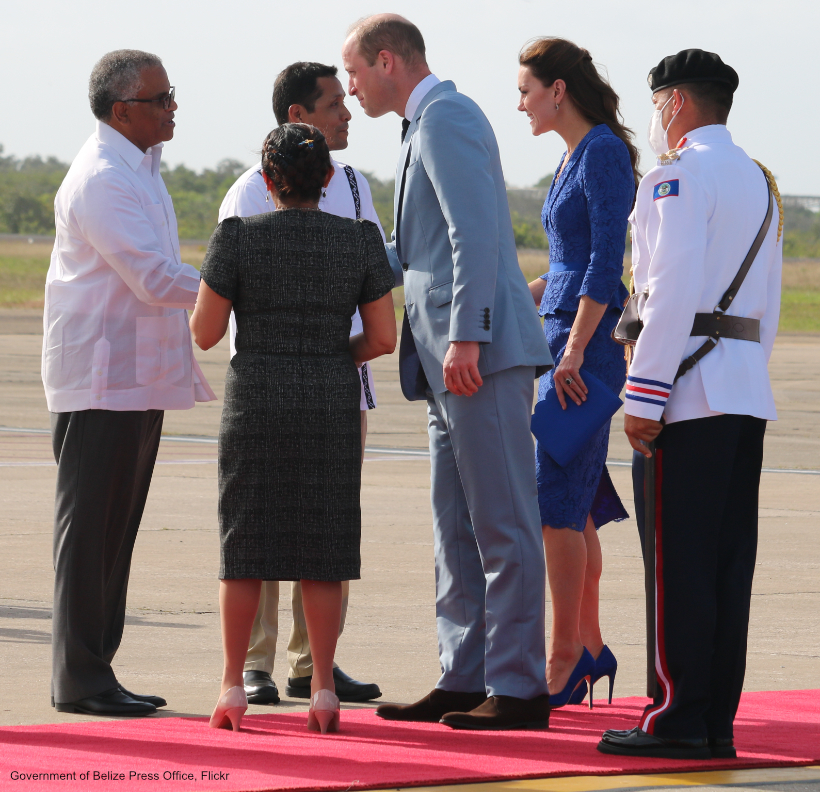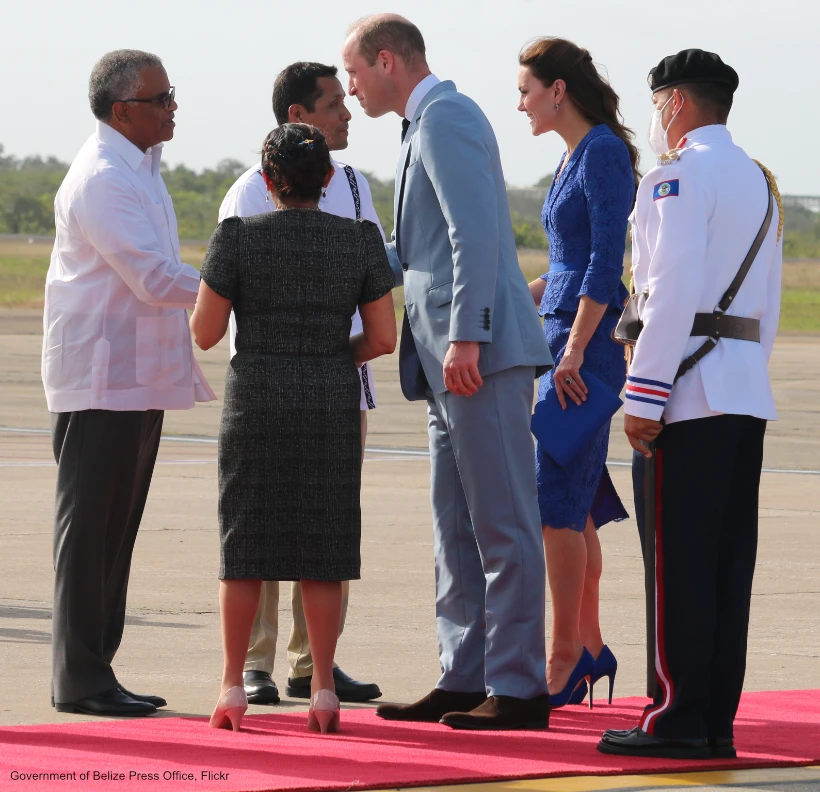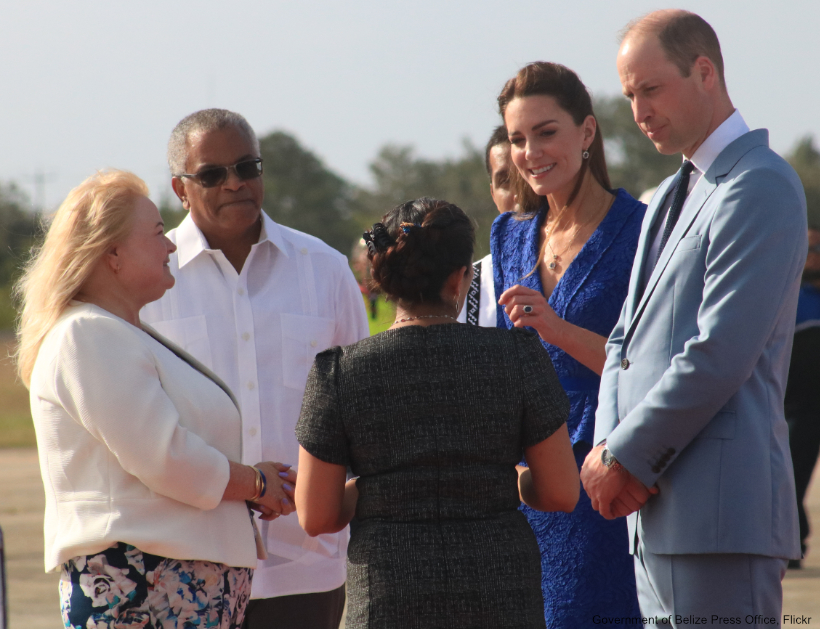 The Belize Defence Force waited on the tarmac and formed a guard of honour. The unit's band played music to welcome the couple.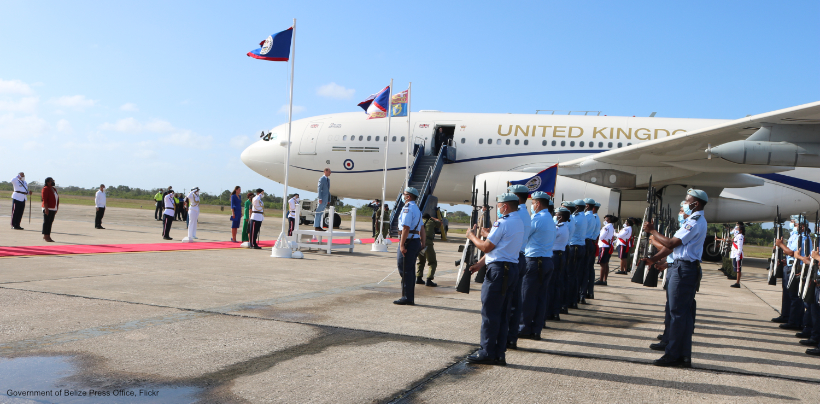 William inspected the personnel.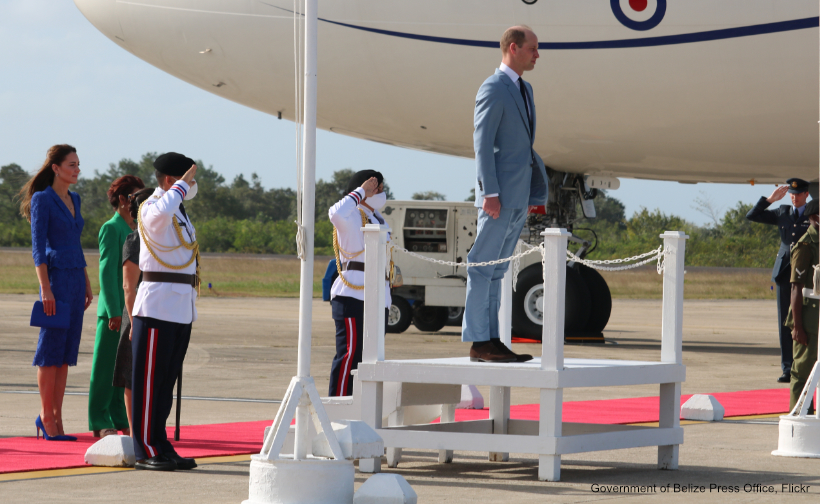 Next, the royal couple travelled to Laing House to meet the country's Prime Minister John Briceño and his wife, Mrs. Rossana Briceño.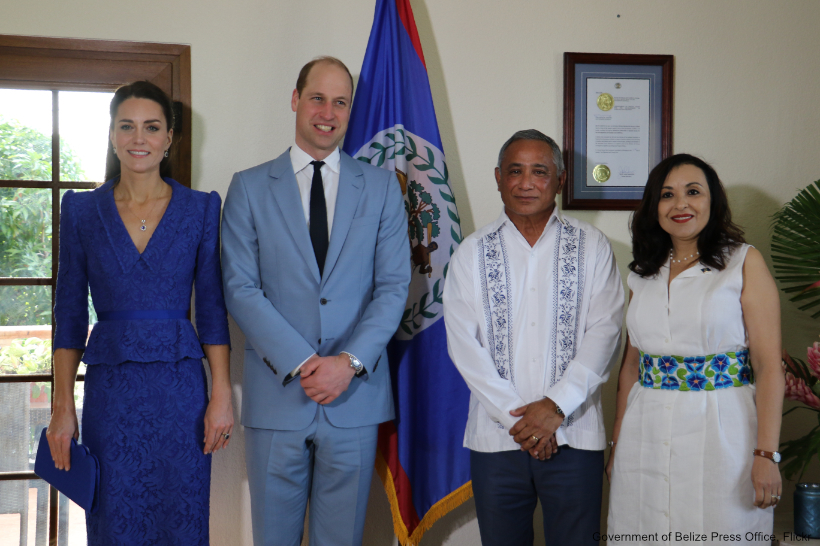 The Duke and Duchess spent an hour with the Prime Minister and his wife before retiring for the night.
William and Kate will stay in Belize until Tuesday. After, they'll travel to Jamaica. Then the Bahamas, the third and final location on their tour itinerary.
William and Kate are visiting the Caribbean on behalf of the Queen. The tour marks Her Majesty's Platinum Jubilee—the 70th anniversary of her accession to the throne. In a press release shared ahead of the tour, Kensington Palace said the Duke and Duchess will "take the opportunity to commemorate Her Majesty's Platinum Jubilee" throughout the tour.
The palace added that the couple are keen to understand how the region has been impacted by the pandemic, and they've requested to meet as many local people as possible. In addition, lots of the scheduled engagements will touch on themes both William and Kate are passionate about, including conservation, the early years and mental health.
Kate's outfit in Belize:
The Duchess arrived in Belize City wearing a blue lace dress by Jenny Packham. As I mentioned at the top of this article, it's assumed Kate chose this bright shade to recognise her host country. The majority of Belize's flag is blue.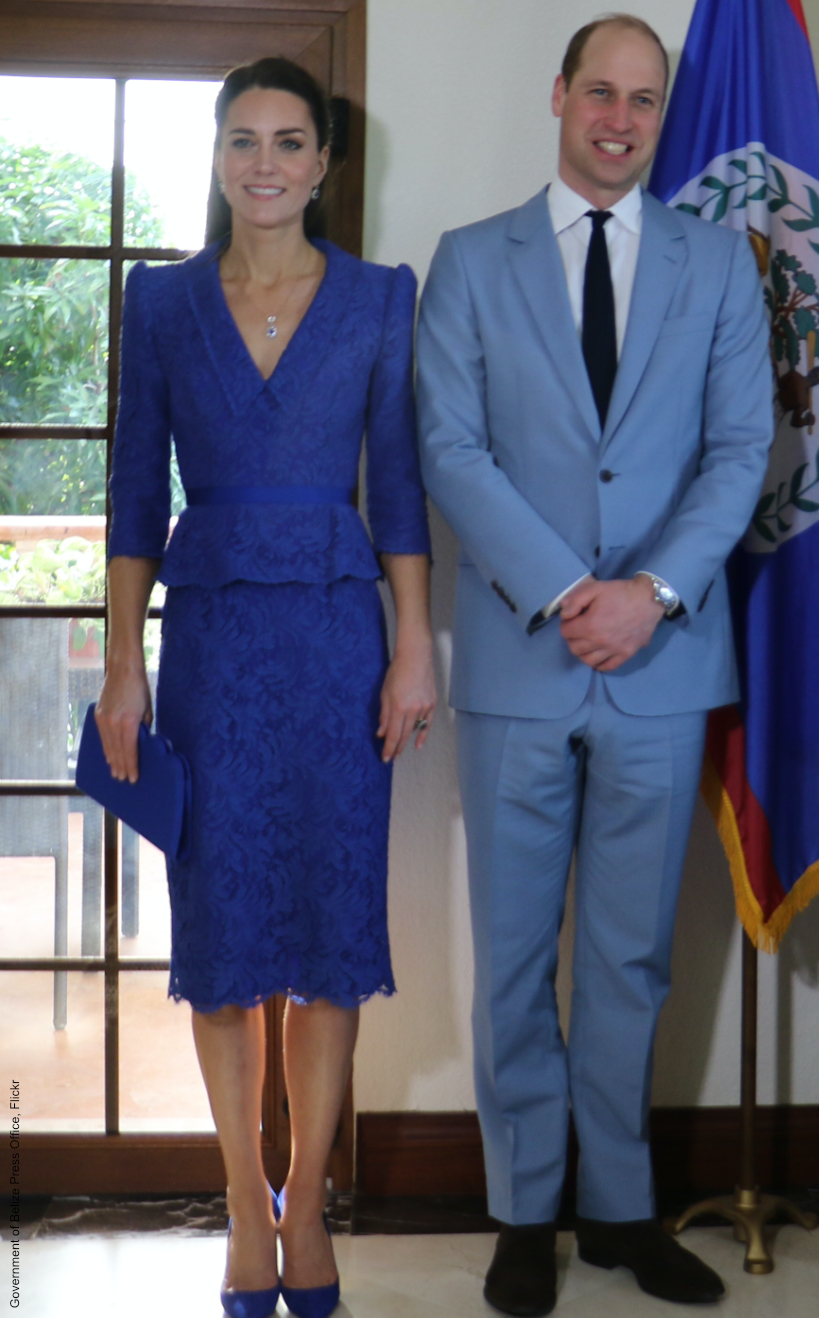 (Notice the blue of Kate's dress is almost identical to that of the Belize flag, shown above William's shoulder.)
Kate's dress features a v-neckline with a Chelsea collar, a peplum and ribbon detail at the waist, a knee-length pencil skirt and elbow-length sleeves with high shoulders.

Kate's arrival look immediately took me back to both Canada tours: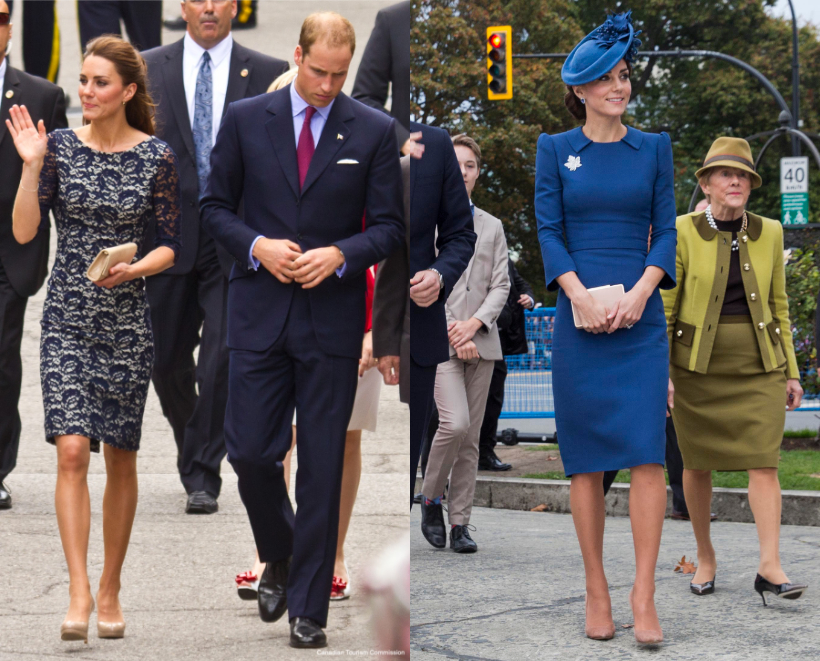 Left: Kate wearing a blue lace dress by Erdem on arrival to Ottawa, Ontario in 2011. Right: Kate in a blue dress by Jenny Packham on arrival to Victoria, British Columbia in 2016.
Meanwhile, eagle-eyed fans on Twitter noticed the blue lace dress Kate wore on arrival in Belize closely resembled another Jenny Packham piece. The Duchess wore a very similar dress during a visit to France in 2016: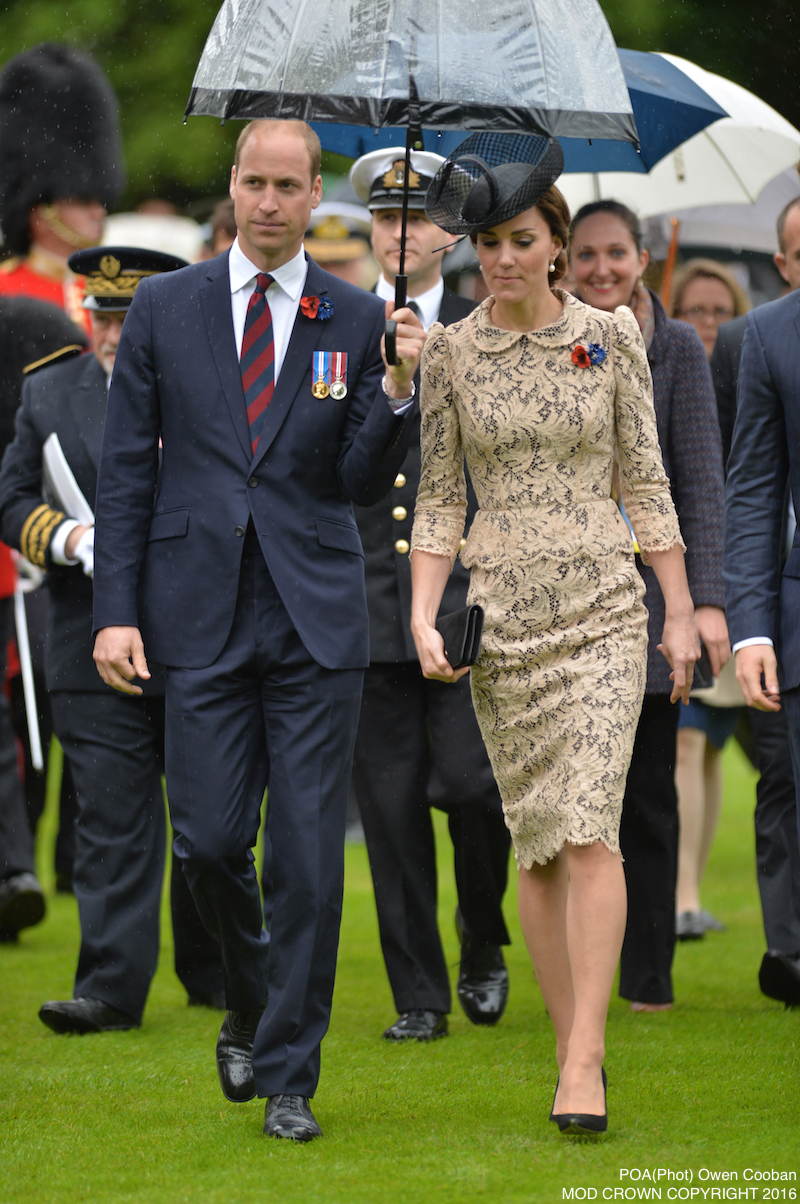 That dress was also by Jenny Packham. You'll notice both have the same scalloped hem, sleeves and peplum. It's also has a very similar silhouette to the blue Jenny Packham dress worn by the Duchess in Canada in 2016. A look at all three dresses side-by-side: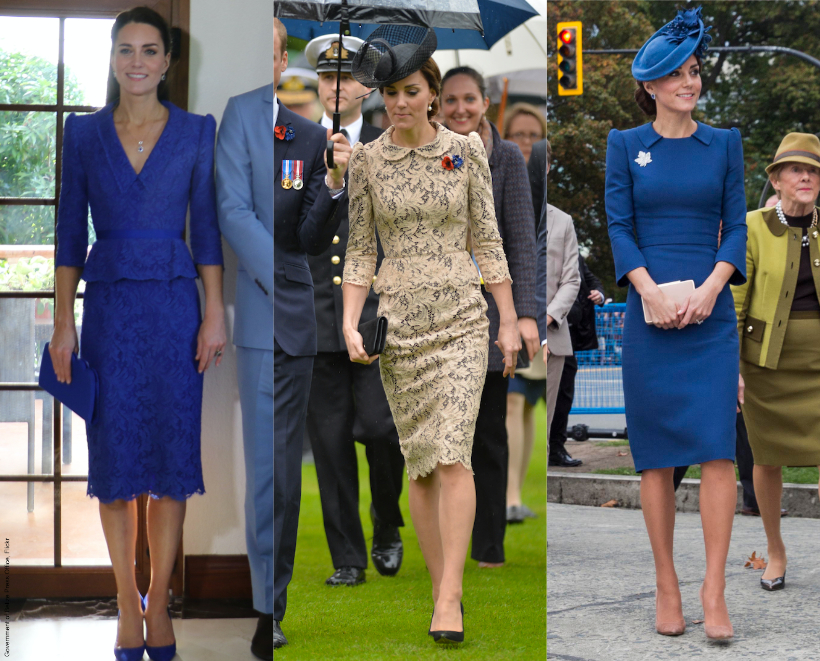 French lacemakers Sophie Hallette confirmed they made the lace on the France dress. We suspect the Belize dress uses the same lace.
Sophie Hallette provides lace for most major fashion houses, including Burberry, Erdem, Dolce and Gabbana and Givenchy. Kate's worn several designs made using their lace over the years.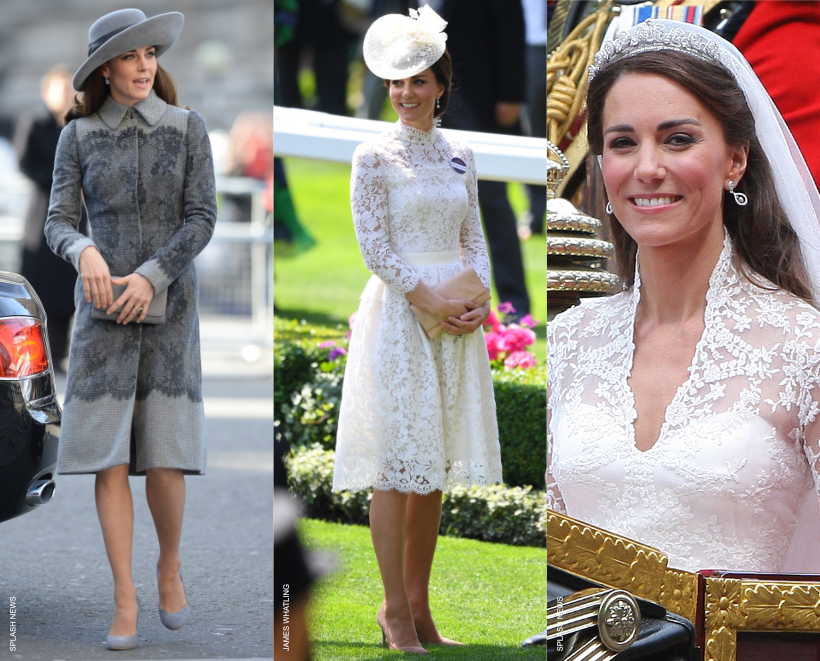 Sophie Hallette confirmed Kate made the lace on this Erdem coat from the Commonwealth Day Observance Service in 2016 and this Alexander McQueen dress from Ascot in 2017. Hallette was one of three companies that provided lace for Kate's wedding gown and shoes too.
We were very likely to see Kate wear at least one Jenny Packham design in the Caribbean. The Duchess has worn many of Packham's gowns and dresses over the last 11 years to high profile occasions, including during royal tours. Here's just a small sample:
Kate chose coordinating blue accessories to match with her blue lace dress.
We haven't seen her blue bag before, it is likely new. It features scalloped detailing around the top/closure. My friend Susan suggests it is made from a textured cotton or silk sateen fabric. We have no further details about the bag, but it was probably made for Kate by Jenny Packham to match the dress. (This isn't confirmed though.)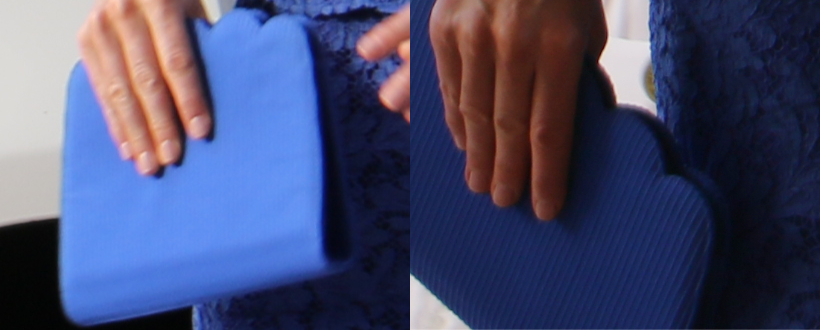 Kate's shoes are new too, we haven't seen her wear them in public before. It looks like they're the Rebecca style in Cobalt Blue by Emmy London. (Credit for ID: Susan and UFO No More.)


The electric blue court shoes feature a pointed toe and a 105mm straight heel. The shoes are handmade to order in Portugal from suede and leather. RRP: £415.
Kate's a big fan of these shoes, we know she owns them in at least SIX other colours. (Wow!) Below, we show her wearing them in forest green during a visit to meet the Aga Khan in 2019.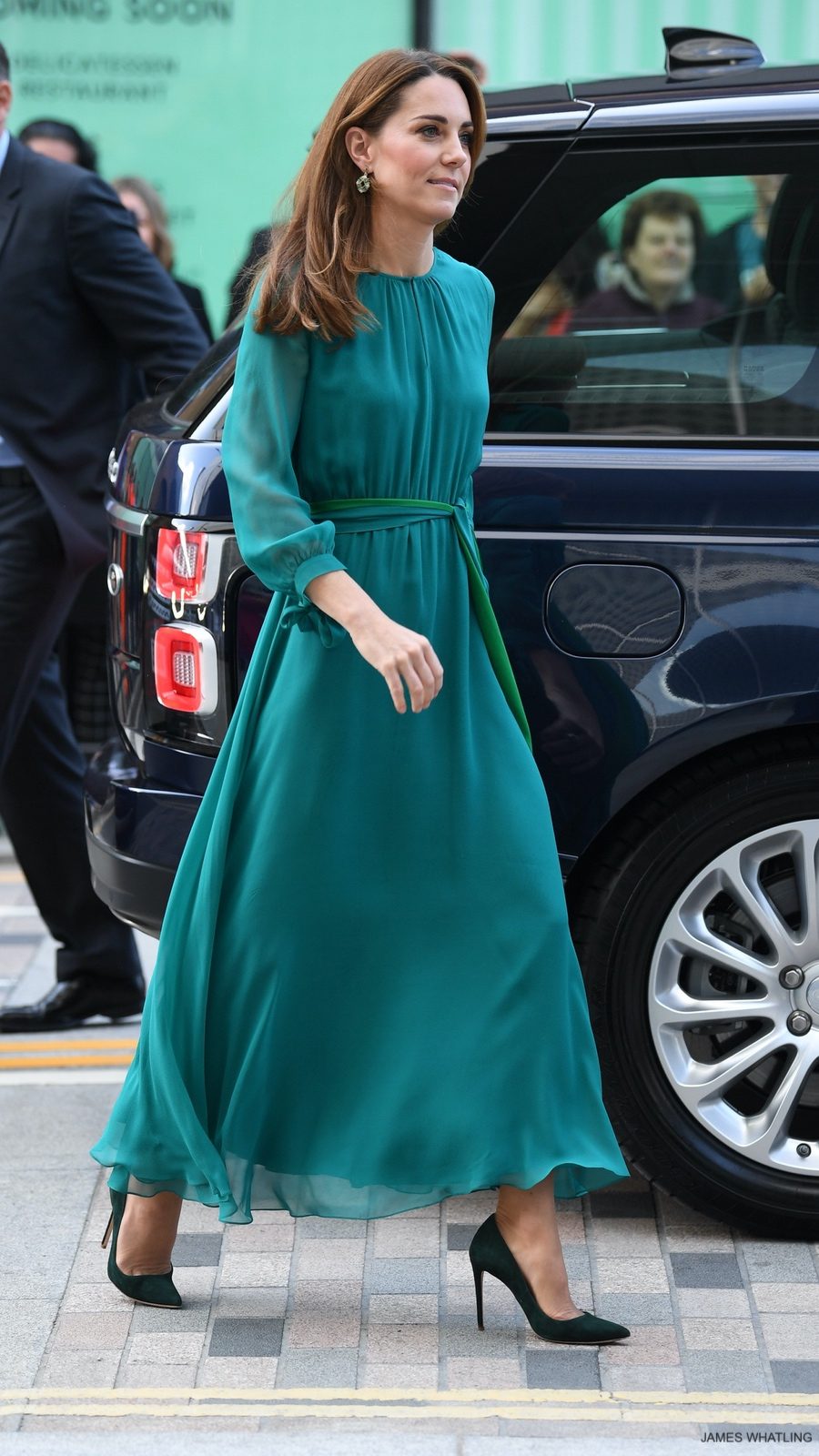 Kate wore her sapphire earrings and matching necklace with the blue outfit.

The Duchess has worn the earrings regularly since 2011. This is only the fourth time we've seen the necklace.
There's a lot of speculation that both pieces are re-fashioned from jewellery once owned by Princess Diana. One writer who covers the Royals' jewellery disagrees.