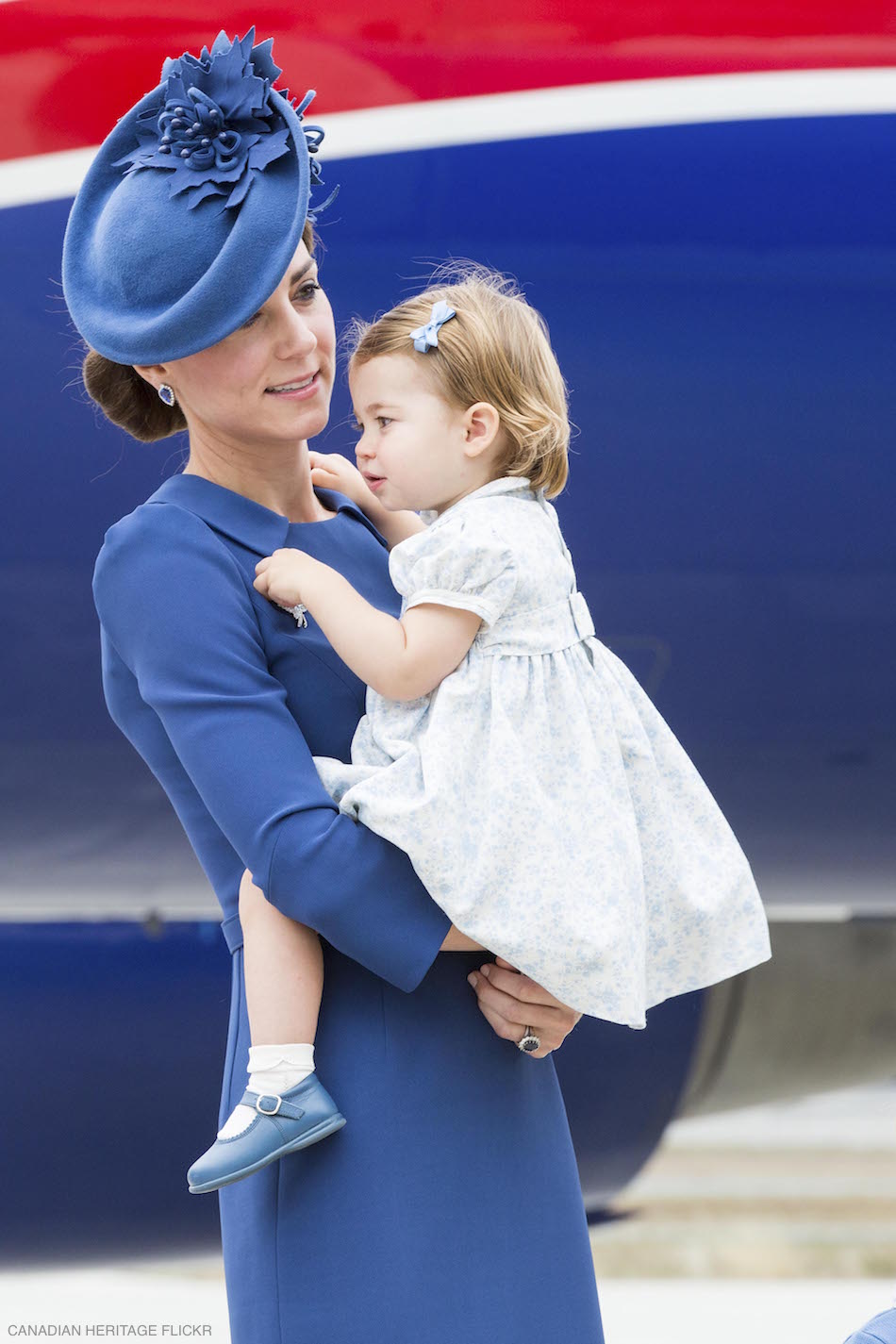 On the 24th September 2016, William and Kate began their second official tour of Canada. The royal couple and their two children arrived in Victoria, the capital of British Columbia, on board a Royal Canadian Air Force plane at approximately 4pm local time.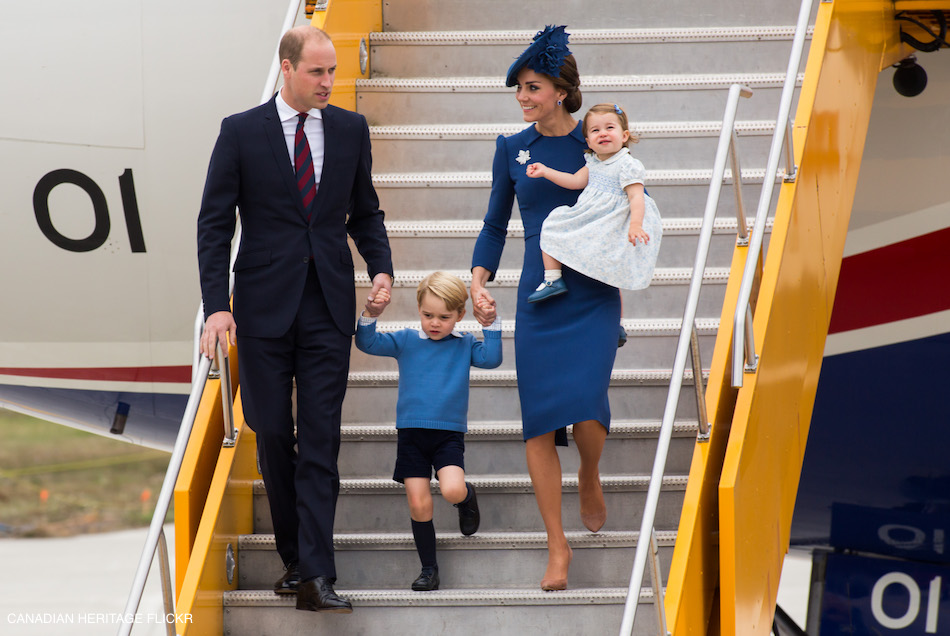 Canadian Prime Minister Justin Trudeau and his wife Sophie met the Cambridge family at Victoria Airport.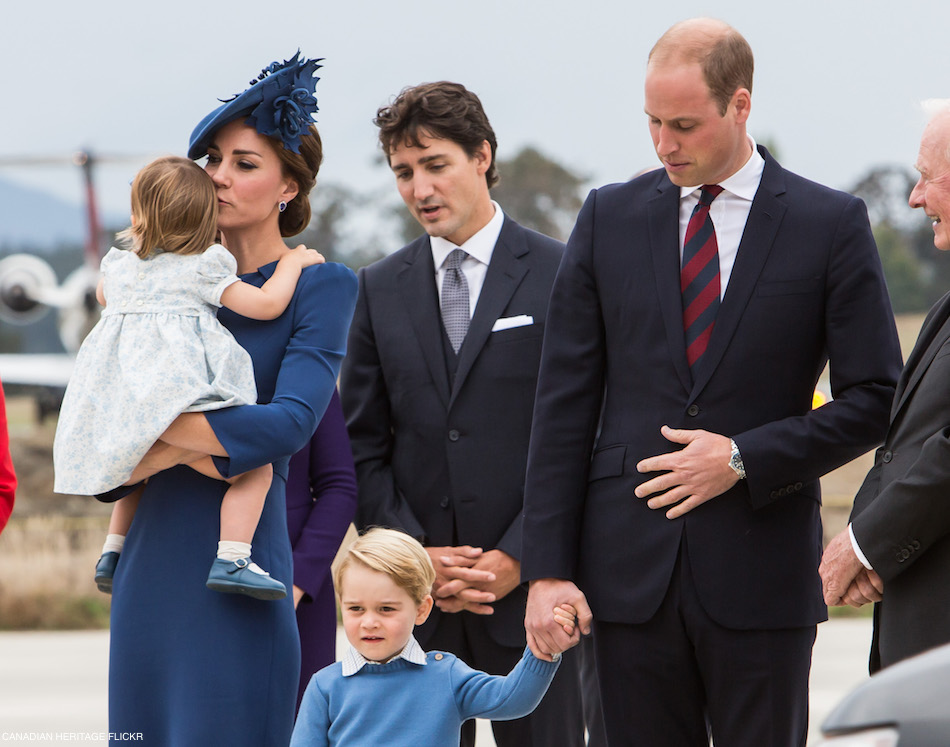 British Columbia Premier Christy Clark and her son, Hamish, and the Governor-General David Johnston and his wife, Sharon also formed part of the welcoming party.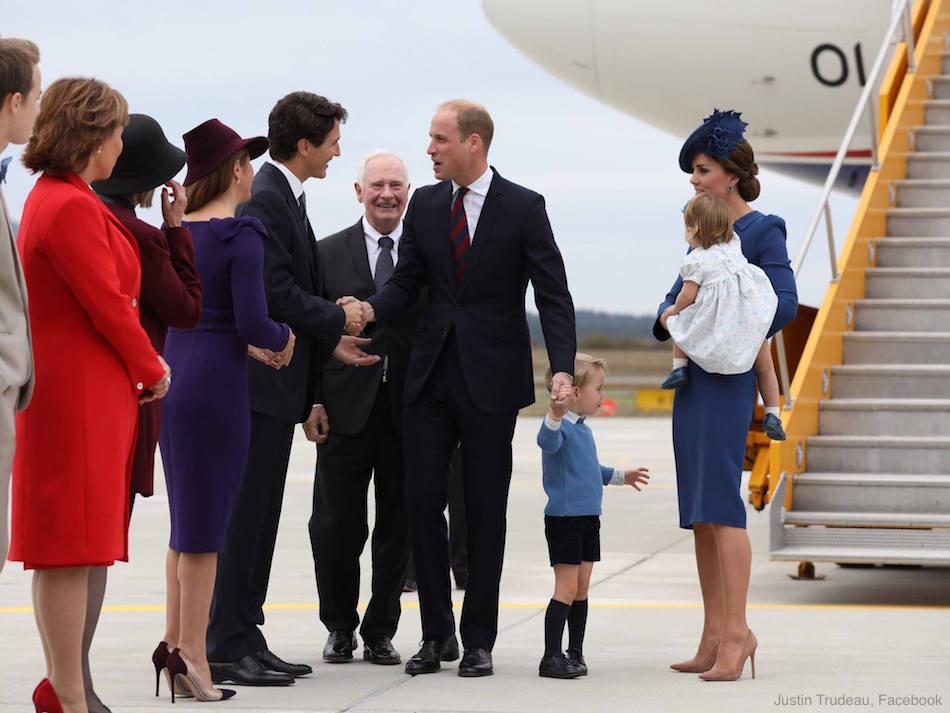 Prince George and Princess Charlotte took it all in their stride. The two children were very well behaved and quite alert considering the difference in time zones between Canada and the UK (it would have been after midnight back home in London).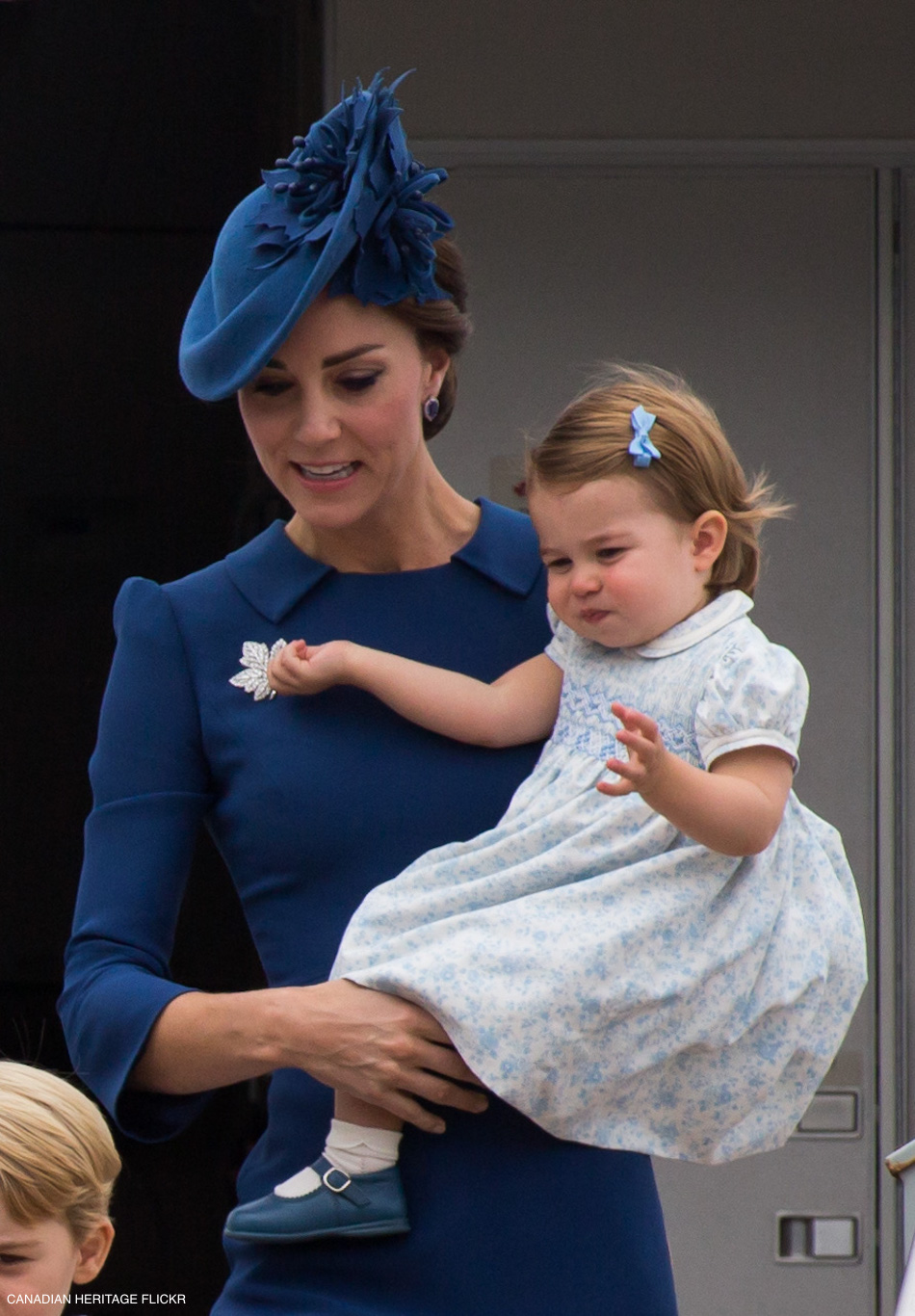 After arriving at Victoria Airport, the family travelled to Government House (where they stopped for the duration of the tour) to settle George and Charlotte, leaving them with their nanny.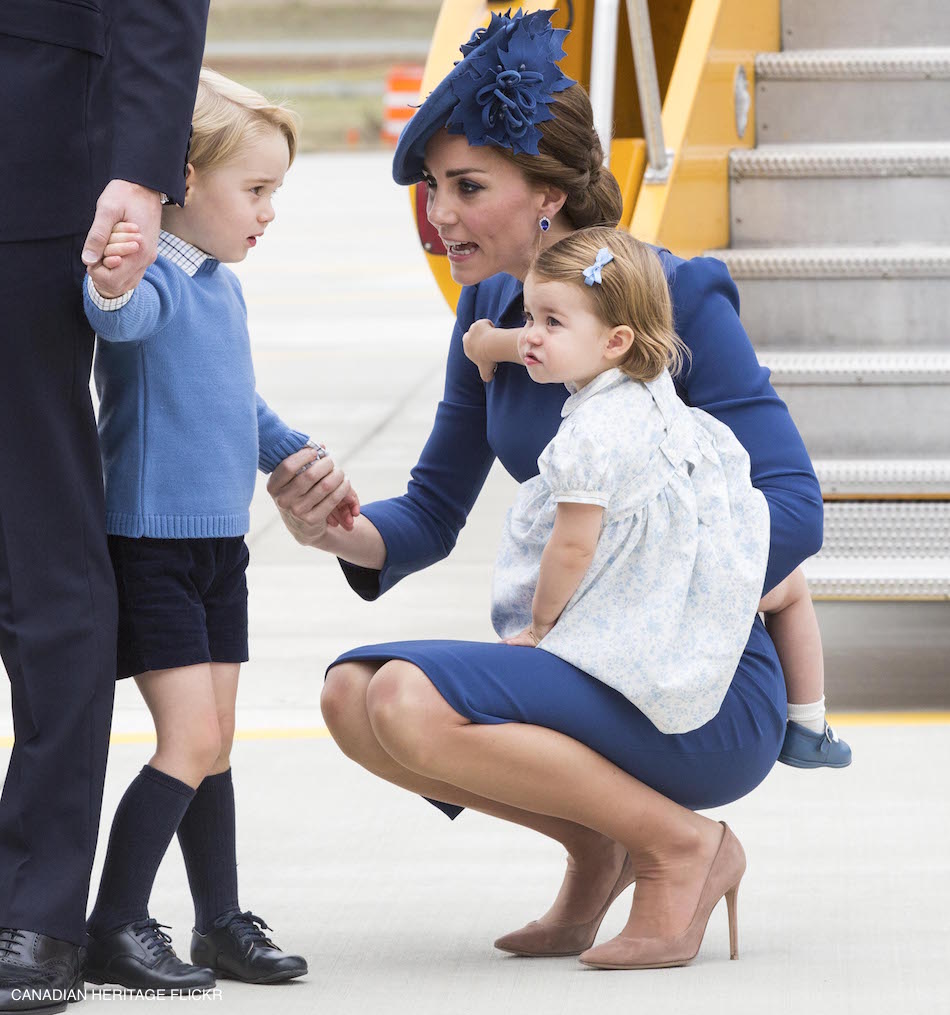 Next, the couple went to visit British Columbia's Parliament Buildings for an official welcoming ceremony, stopping en route to lay a wreath at the nearby Cenotaph. They also unveiled a new plaque to honour the veterans of Canada's involvement in the Afghanistan conflict.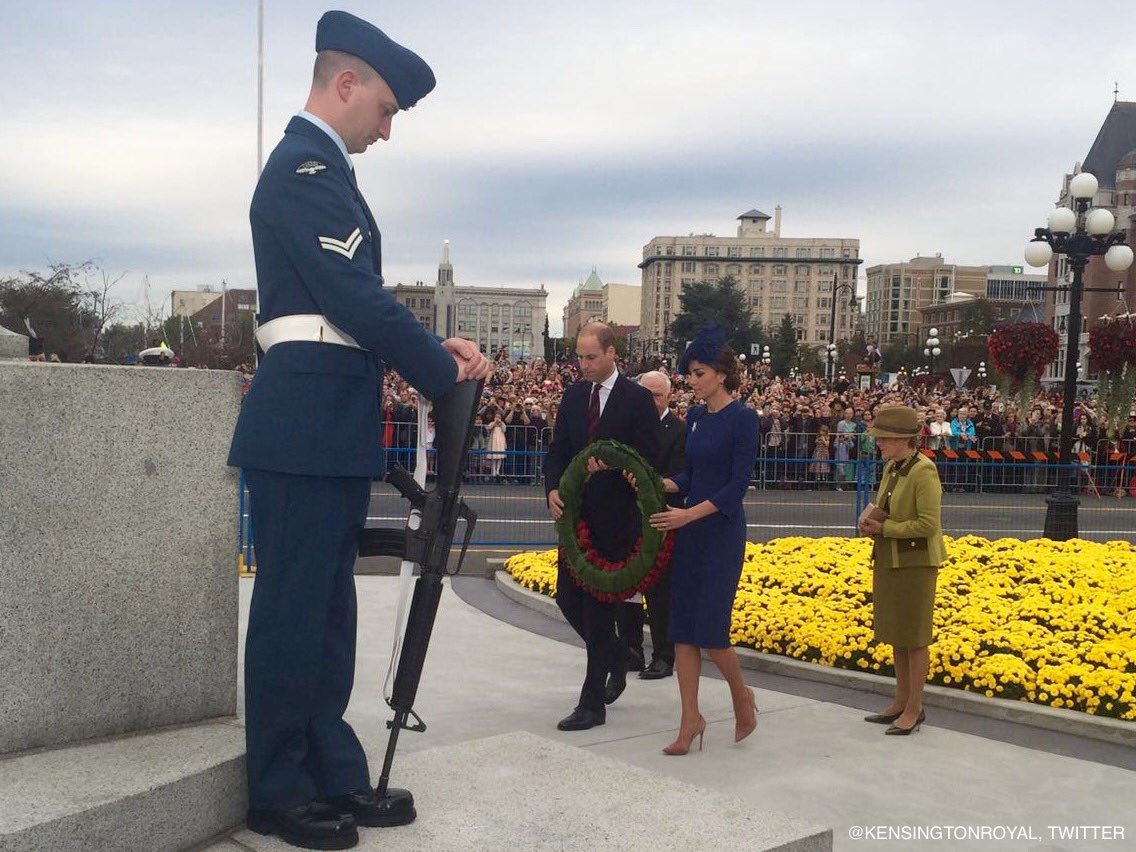 At the British Columbia Parliament, a guard of honour and a 21-gun salute welcomed the couple. The couple also took part in a brief walkabout, meeting with local Canadians.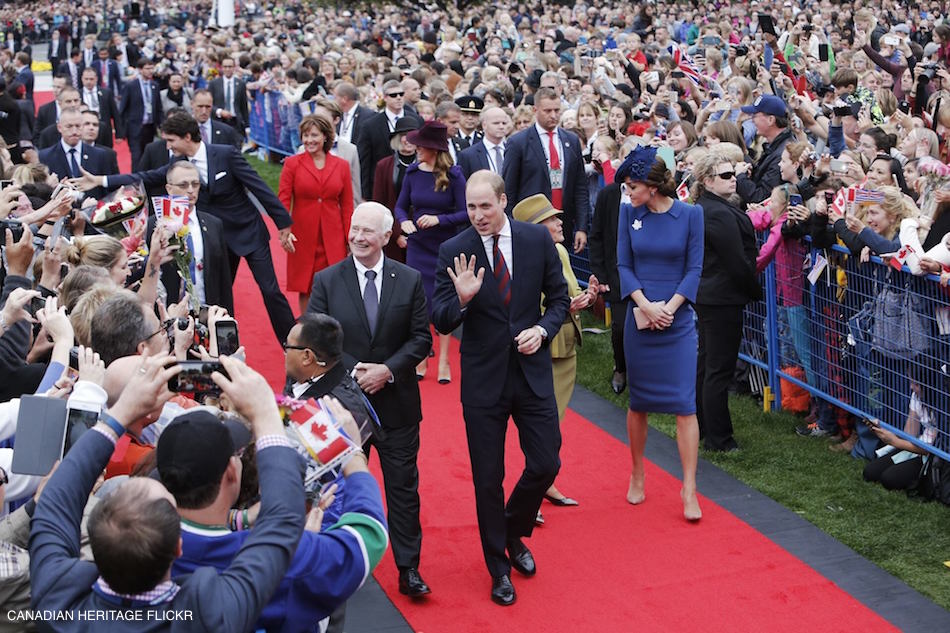 The royal twosome chatted and shook hands with other officials before posing for photographs. They also listened to the national anthem being sung.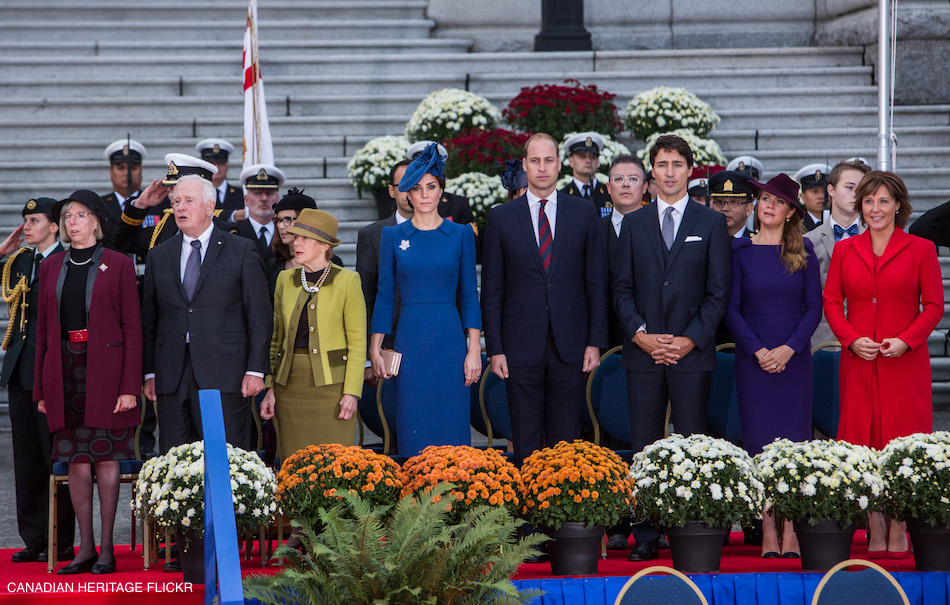 Kate received a posy of flowers from 14-year-old Victoria Foster from Ottawa. The teenager has Cystic Fibrosis, a disease that affects her lungs and digestive system. Each day, Victoria has to go through nearly two hours of treatments per day and is very dependent on medicine to assist with the digestion of food. Victoria was given this opportunity to meet the Duchess through the Make a Wish Foundation of Canada, National Capital Chapter. Victoria loves the Royal Family and has visited Buckingham Palace, Windsor Castle and has seen the crown jewels at the Tower of London. Plus, she has memorised the names of each King and Queen of England, in order. Pretty impressive!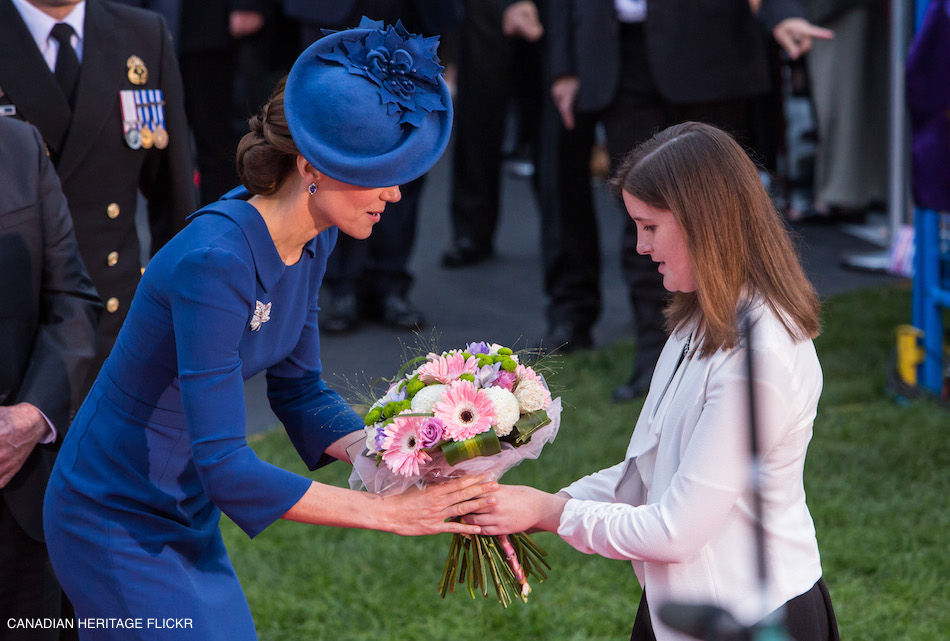 Later, the Canadian Prime Minister took to the stage. In a speech, Trudeau joked that William and Kate are now learning how difficult it is to travel with children (they were 40 minutes late to the ceremony), before thanking them for introducing George and Charlotte to the country.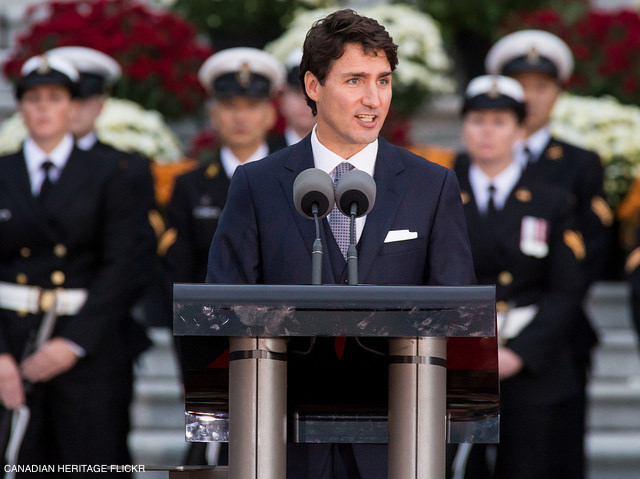 Then it was William's turn to speak:
"Catherine & I are delighted to be back in Canada. We are so pleased that George and Charlotte can be with us… beginning their own lifetime of friendship with this wonderful country. Catherine and I have asked to meet as many people from as many walks of life as we can while we are here."
William delivered the final part of his speech in French, but not before apologising for being a little "rusty". You can read the full speech here.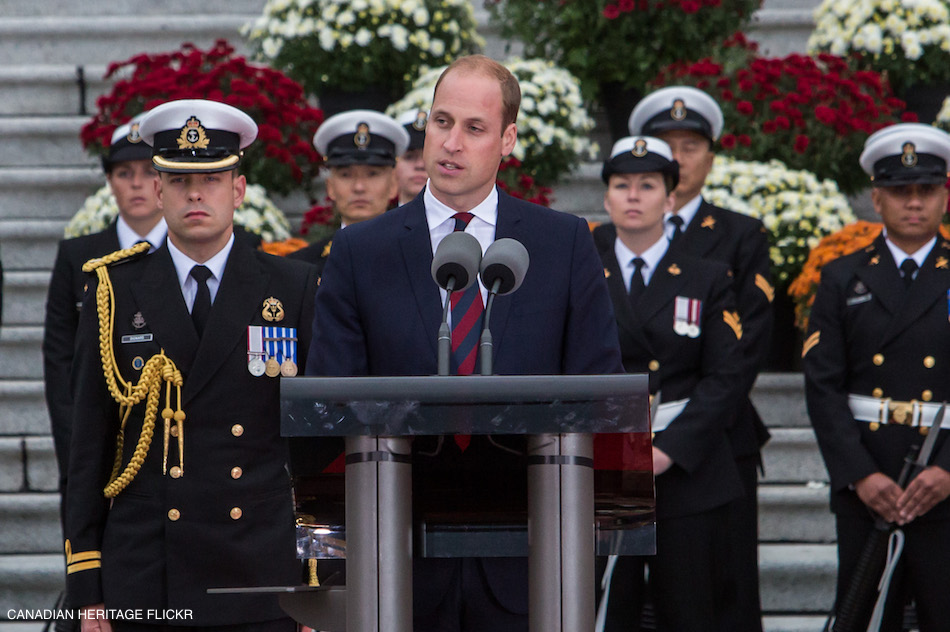 After the speeches, the couple departed for Government House where they took part in meetings with senior Canadian leaders, including PM Trudeau and his wife Sophie: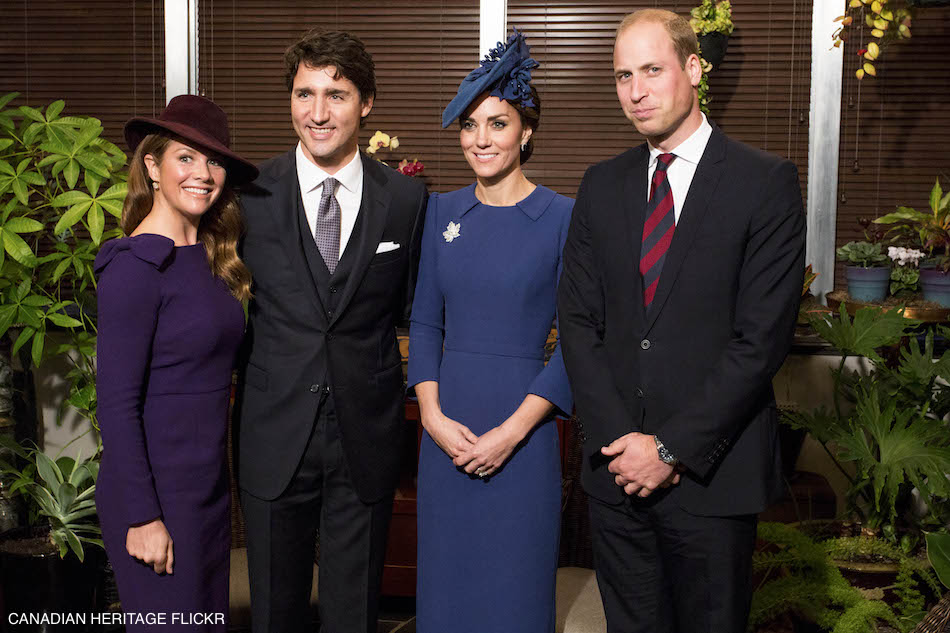 Kate's outfit:
Kate opted for a chic all blue outfit by designer Jenny Packham. Reporters confirmed the piece is bespoke.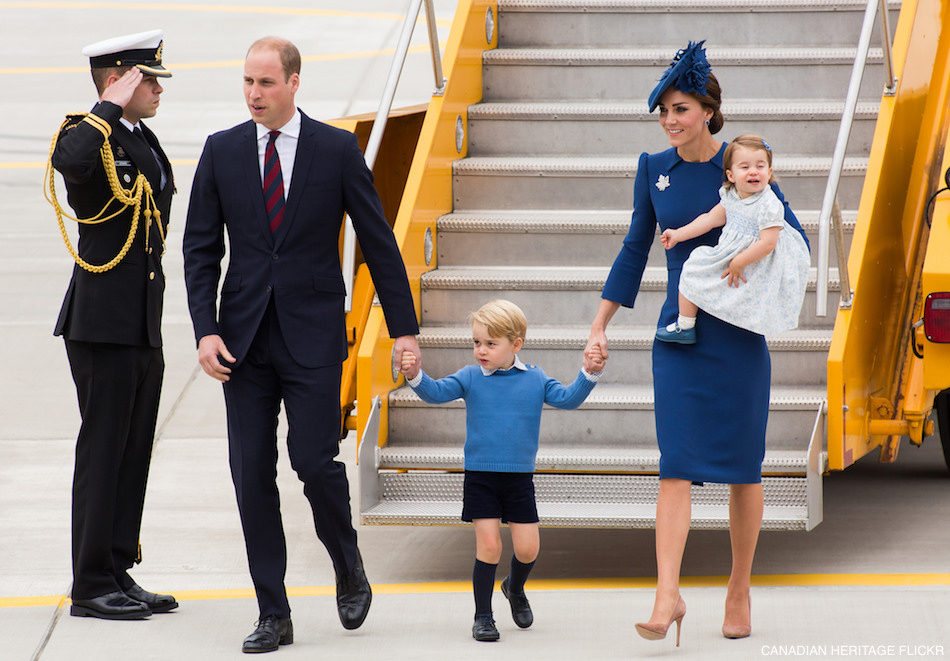 The gorgeous dress featured structured shoulders, a pencil shaped skirt and waistband detailing. The dress had a spread collar at the front: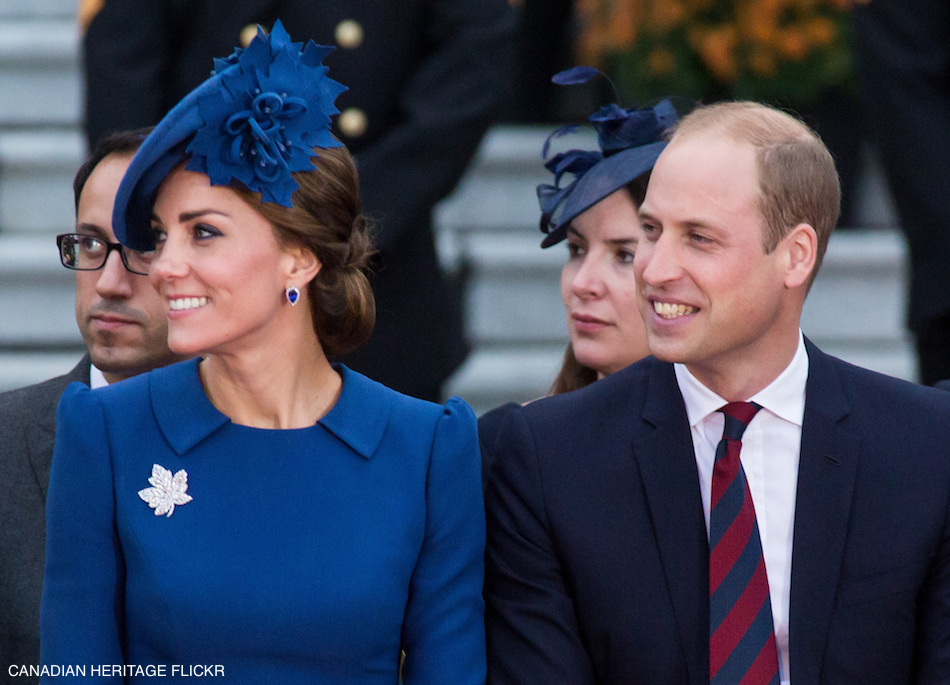 The collar folded over to the back of the dress. After grappling with words to try and describe the collar, I asked Twitter for advice. One person came to my rescue, describing the collar as the Chelsea style in reverse, which seems correct. Here's a closer look: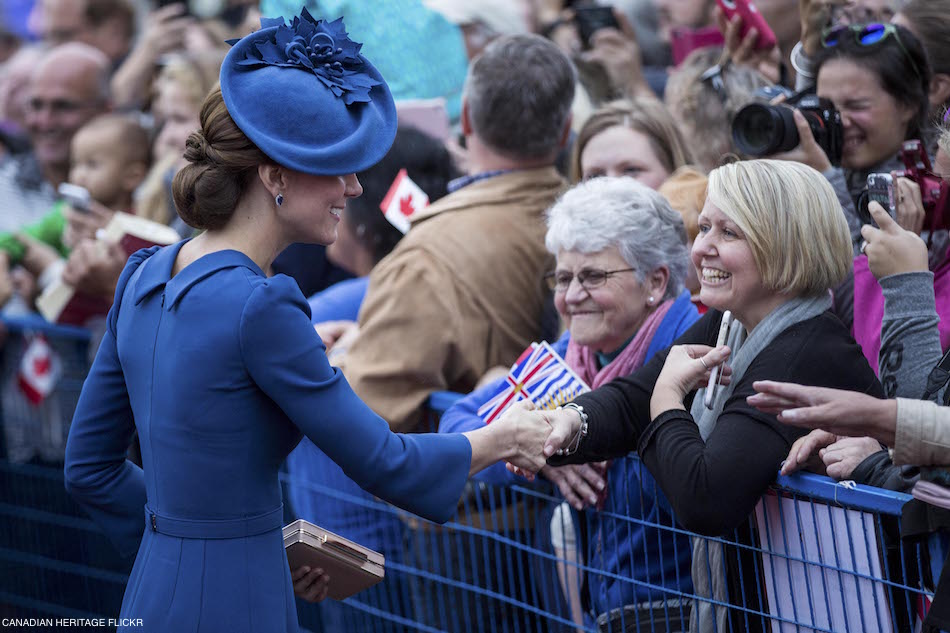 In the photo above, you can see the blue dress also featured bracelet length fluted sleeves.
Anna from My Small Obsessions noticed the blue Jenny Packham dress looked similar to the brown and cream lace frock worn by Kate in France earlier in the year (namely the structured shoulders and shape of the skirt):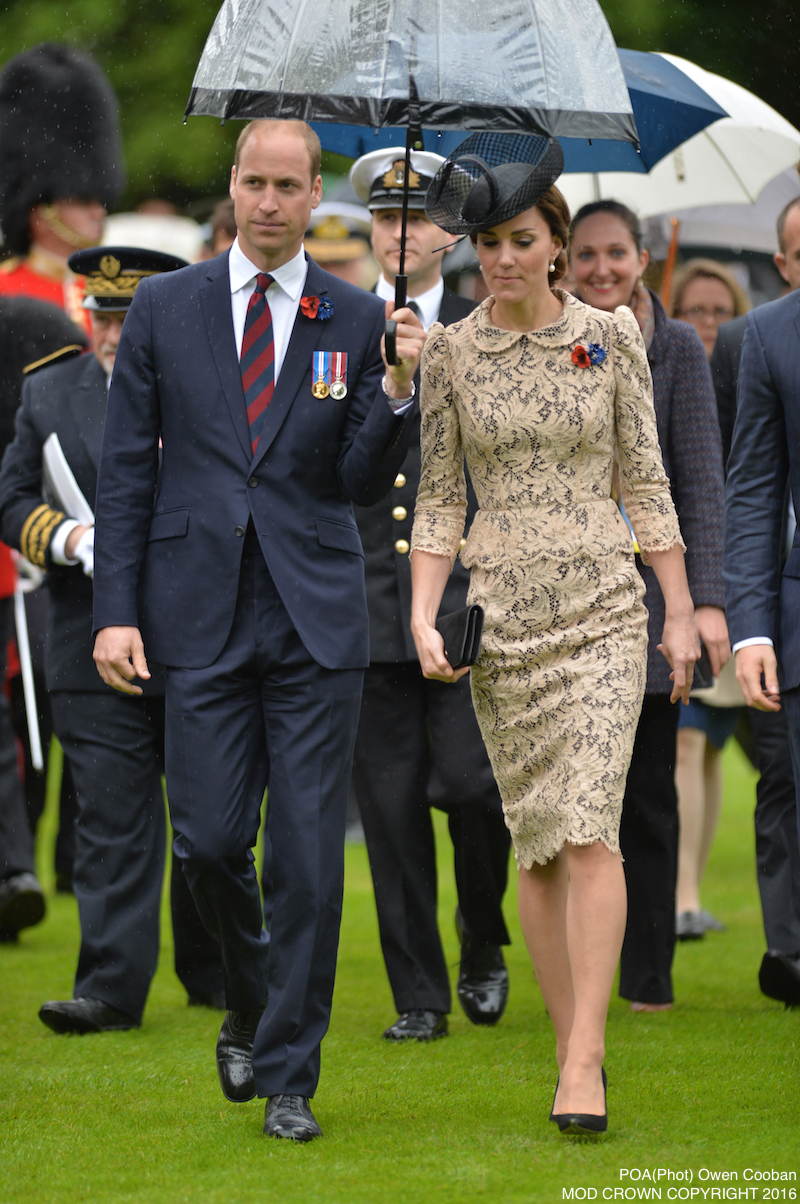 As you'll recall, the Palace didn't reveal the name of the designer on that occasion, due to the sombre nature of the event. I'd now guess that piece was also by Jenny Packham. UPDATE: Jenny Packham confirmed she designed both dresses.
Back to the Canada tour now. Kate chose to wear her hair up in a chic chignon with a blue hat by Sylvia Fletcher for Lock & Co. I believe it's a bespoke piece, made especially for Kate. It's adorned with a cluster of blue maple leaves (a nod to the host country).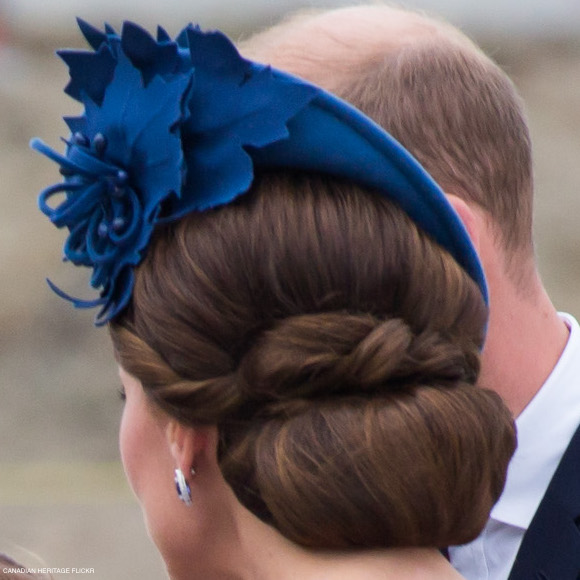 You'll recall that Kate chose a maple leaf adornment to top her hat during the first visit to Canada too? It's by the same milliner.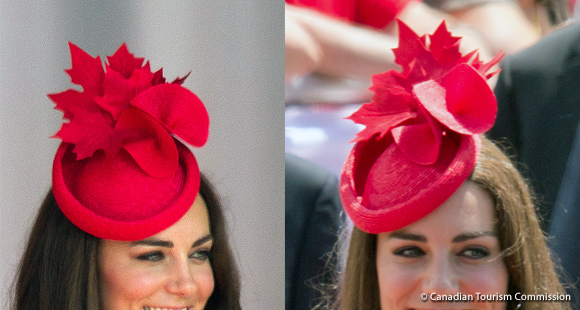 Kate's blue hat is very similar to another piece designed for Kate by Sylvia Fletcher and Lock & Co, worn by Kate to the Queen's Jubilee river pageant in 2012.
Kate opted for a pair of coordinating blue earrings for the visit: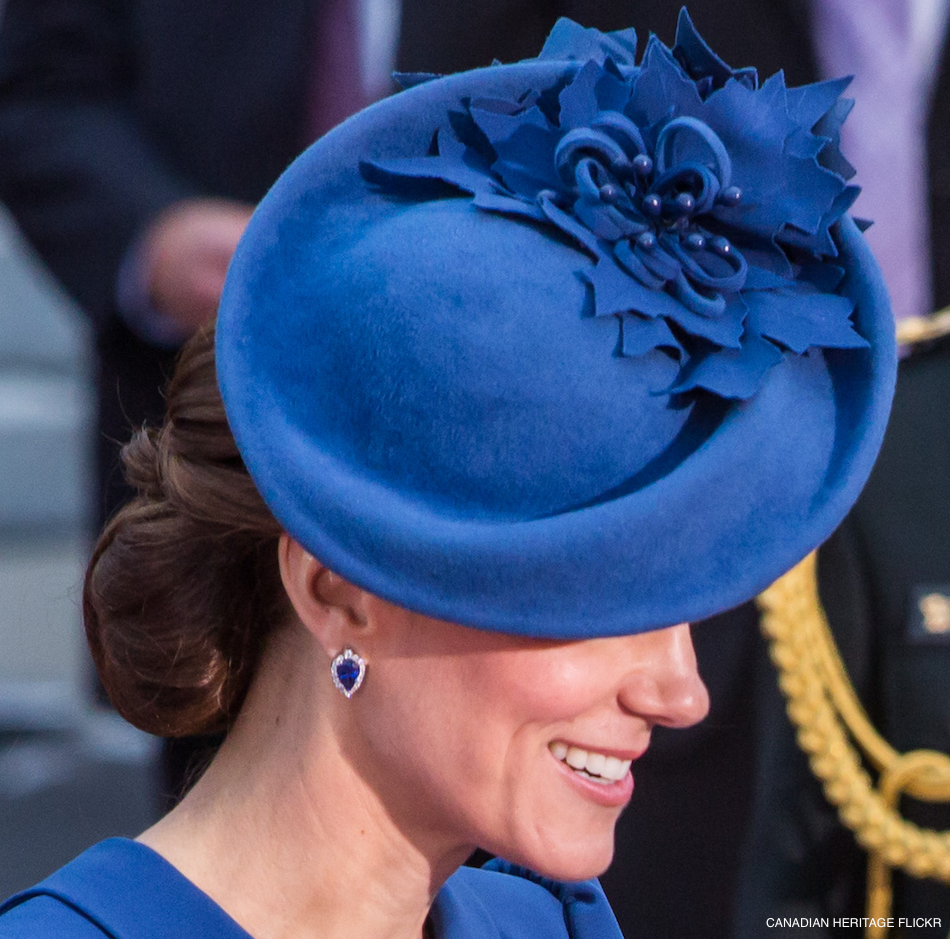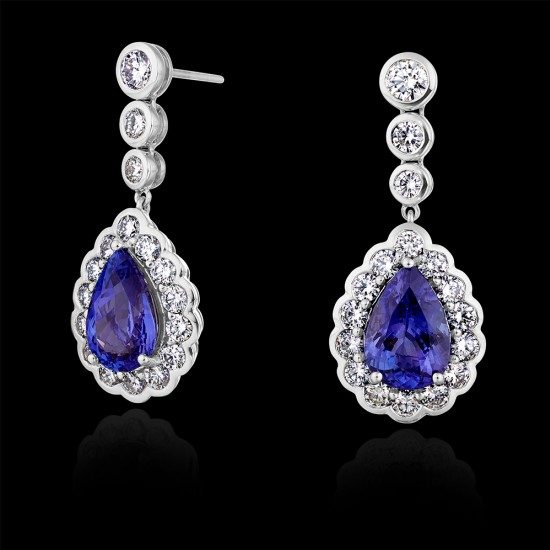 They're a pair of Tanzanite earrings surrounded by diamonds and set in platinum. They're designed and made by G. Collins & Sons. Pictured below, a similar pair of earrings suspended from diamonds drops made by the same company:
Kate first wore the blue earrings in March 2015 to St Paul's Cathedral in London for a service of commemoration to mark the 13 years of UK military operations in Afghanistan.
Kate's shoes will feel familiar to some of our regular readers. As you may recall, they're the Gianvito Rossi pumps in Praline.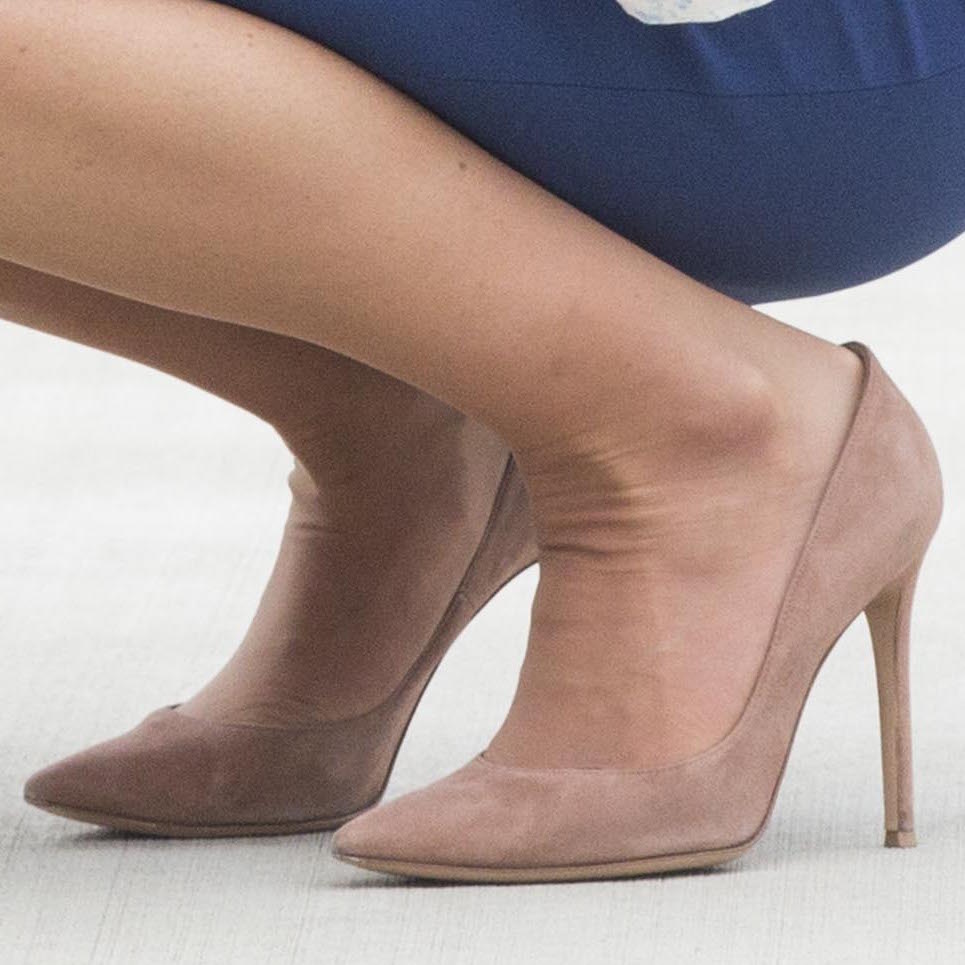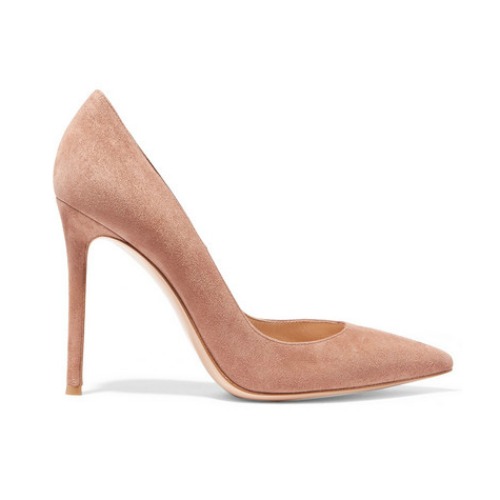 Good news if you like the shoes! They can still be purchased from Net-A-Porter and Selfridges. Kate owns these shoes in four different colours and you can read all about them here.
Kate chose her L.K. Bennett Nina clutch to coordinate with the bisque suede shoes: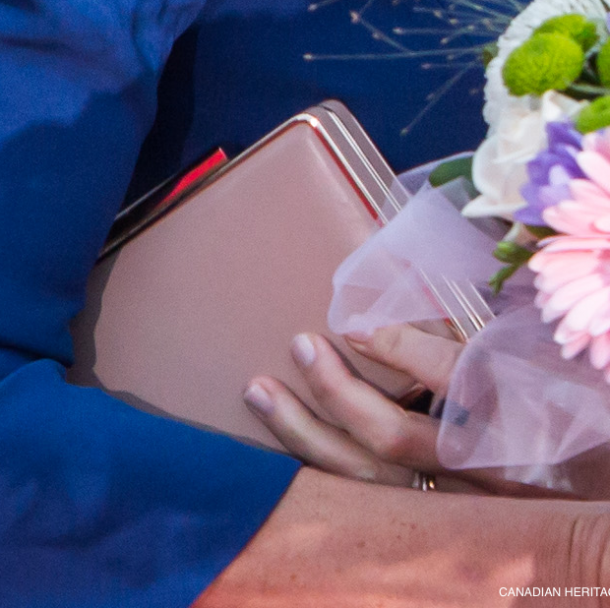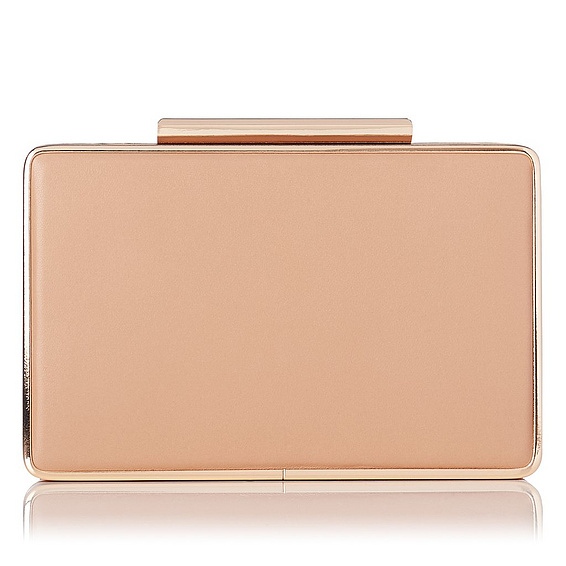 Now a staple in Kate's closet, she's carried it regularly for the last 6 months. The clutch bag costs £185 GBP / $325 USD. It's part of L.K. Bennett's core offering, and regularly restocked in the USA and Canada and everywhere else.
If you followed Kate's style during the 2011 North America tour, you're likely to recognise the silver maple leaf brooch she chose for the occasion?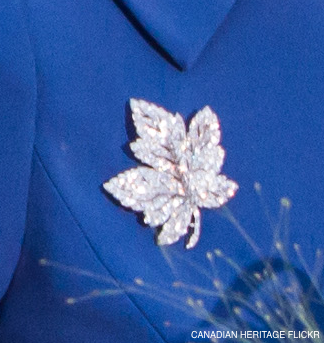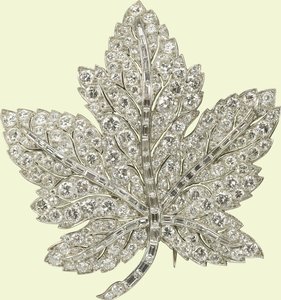 You might remember it from the 2011 tour: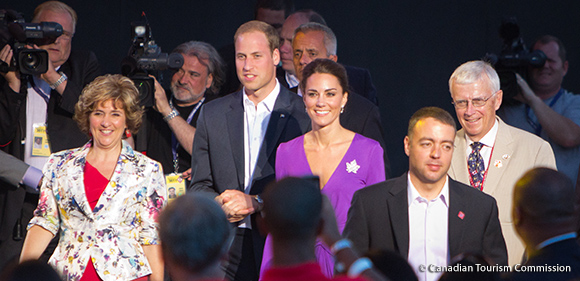 Back in 2011, the Duke and Duchess's press office confirmed the Queen loaned the broach to Kate.
My initial impression is that the royal blue ensemble was very well received by Kate fans and fashion critics on Twitter. I received a number of positive tweets about the overall look.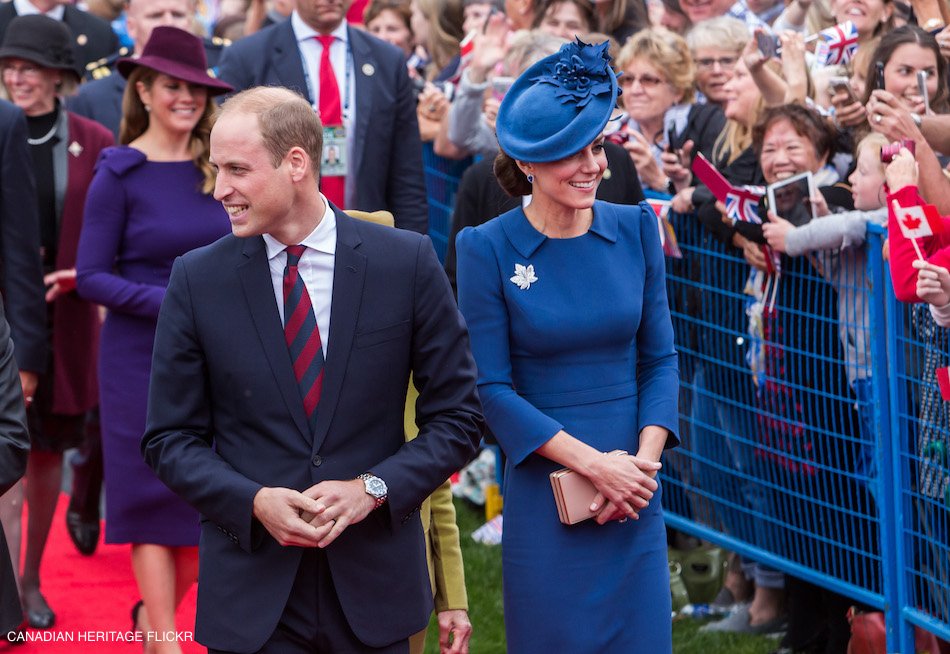 Kate opted for a similar colour on her arrival to the Canada back in 2011. On that occasion, she chose a blue lace dress by Canadian-born designer Erdem: