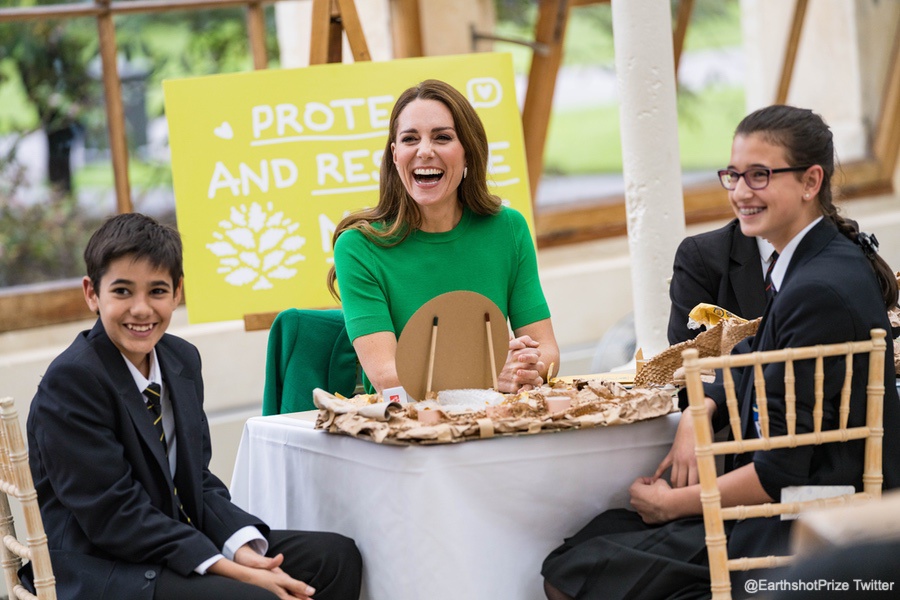 13th October 2021—As we know, Kate is the queen of literal dressing (she'll wear blue to launch nursing campaigns, military-inspired outfits to meet the armed forces, a country's national colour on tour…etc) So, nobody was surprised when she turned up to a Generation Earthshot event at Kew Gardens wearing a vibrant green ensemble topped with a pair of earrings that benefit an endangered animal charity (full details below).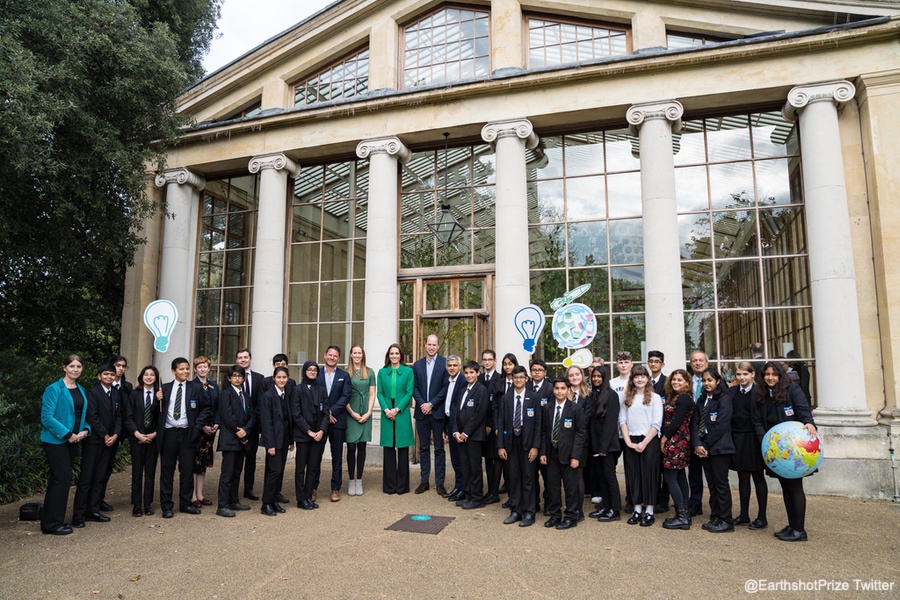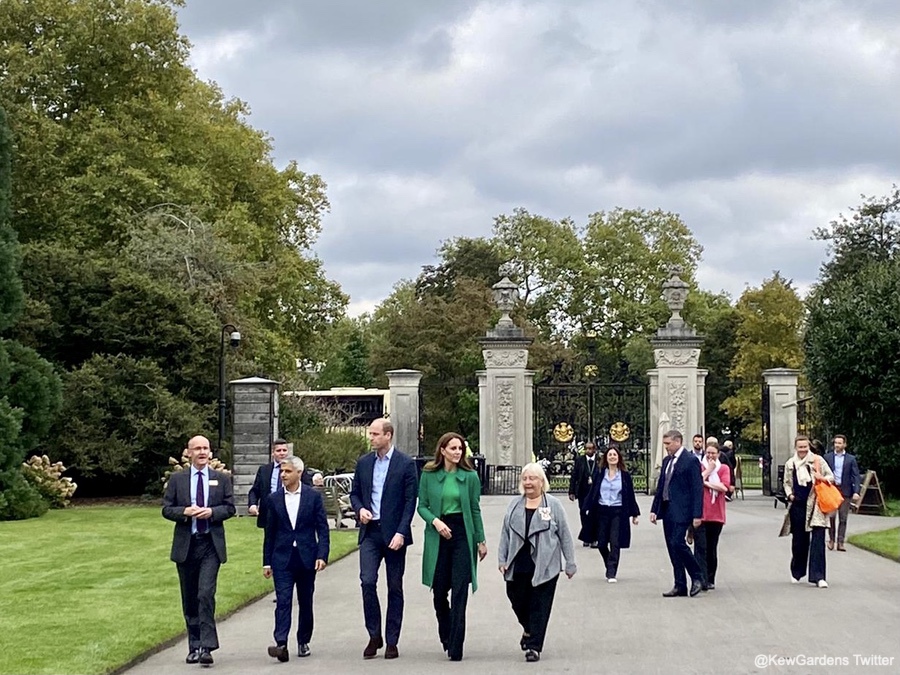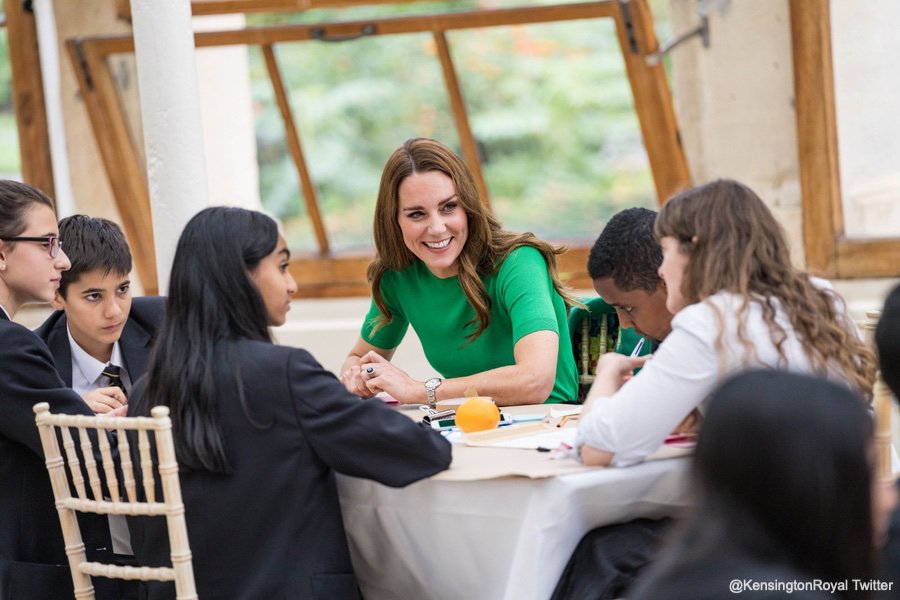 During the special Generation Earthshot event, schoolchildren took part in a series of fun, engaging and thought-provoking activities designed to help them generate big, bold ideas to repair the planet and spark a lasting enthusiasm for the natural world.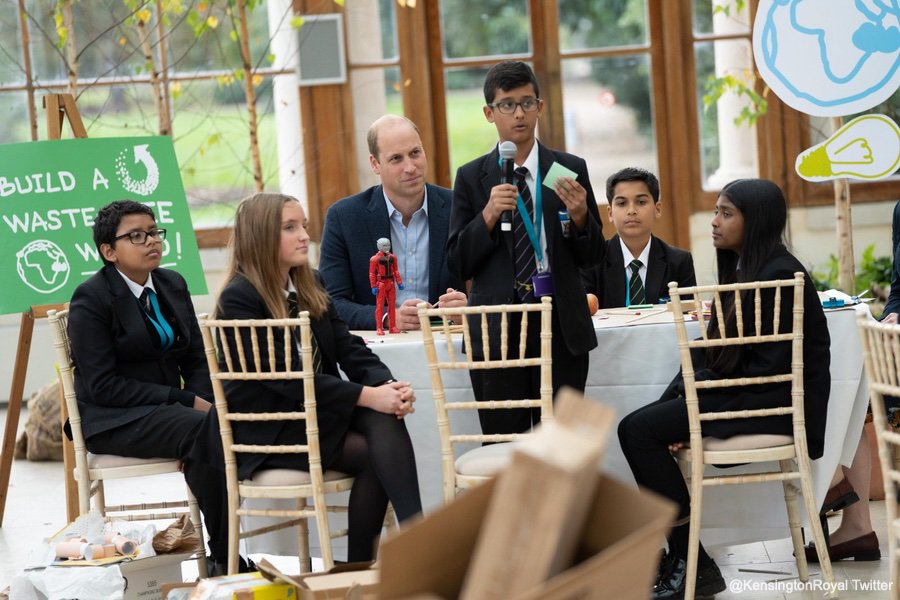 William, Kate and the schoolchildren joined Mayor of London Sadiq Khan, naturalist and presenter Steve Backshall MBE and Olympian Helen Glover for the one-off event.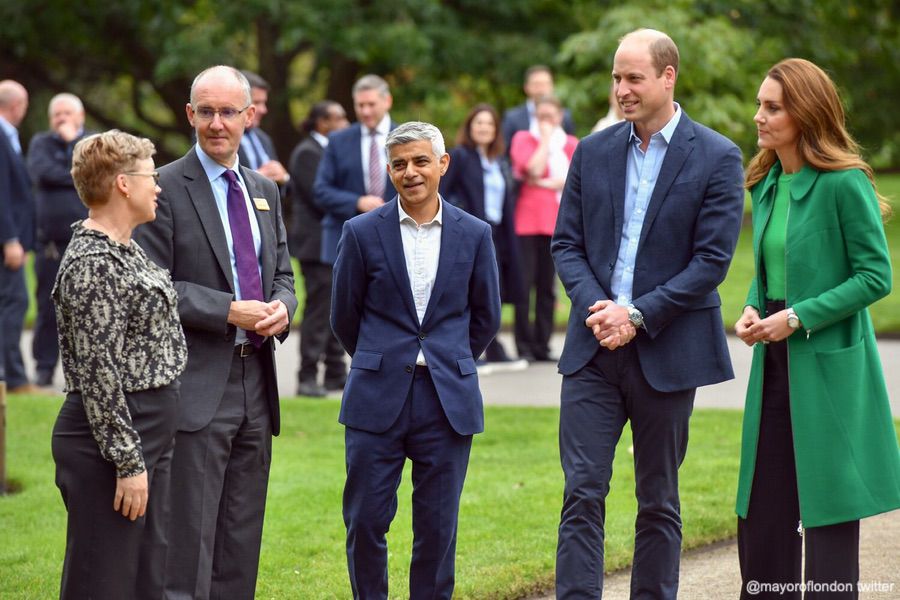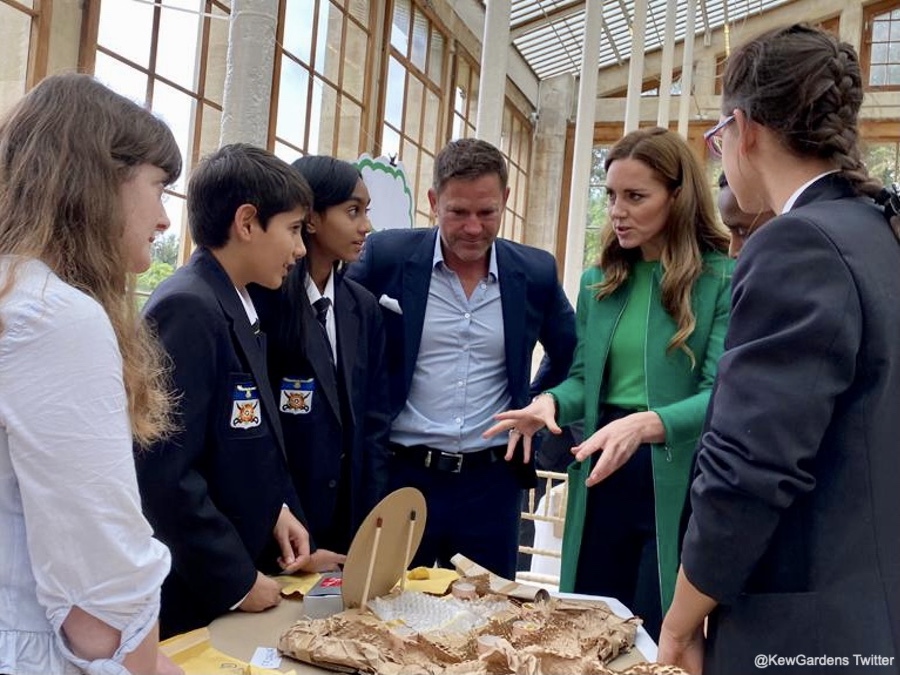 Generation Earthshot aims to unlock the potential of the next generation of inventors, innovators and leaders, and inspire in them the enthusiasm to develop new solutions to the greatest environmental challenges. It's an offshoot of The Earthshot Prize, launched by Prince William and The Royal Foundation. The Earthshot Prize wants to help repair our planet over the next ten years. Each year for the next decade, Earthshot will award five one million-pound prizes to individuals and teams who offer innovative solutions to environmental challenges facing our planet.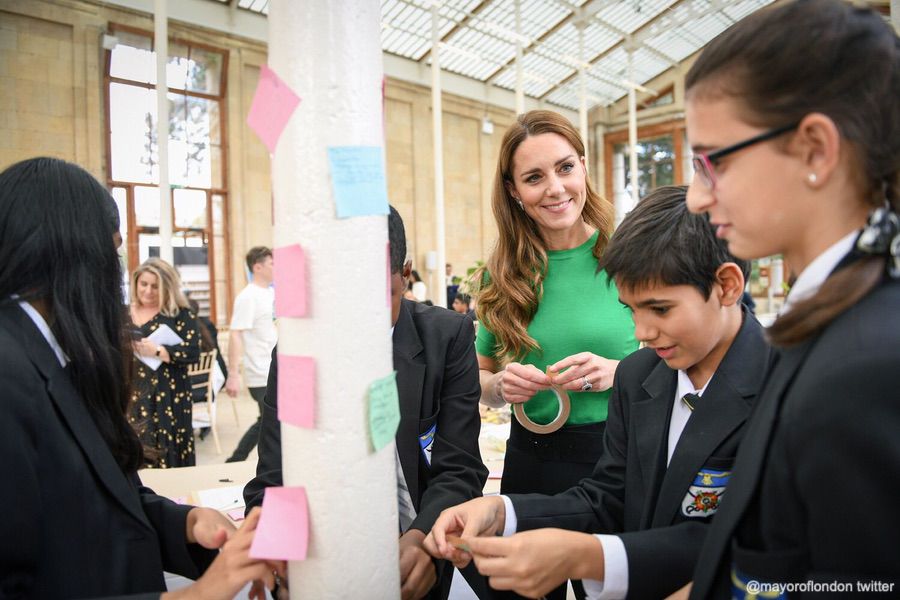 Kew Gardens is a world-famous botanic garden and designated UNESCO World Heritage Site in southwest London. It is a centre for scientific research and houses the largest and most diverse botanical and mycological collections in the world.
Kate's outfit:
Kate brought back her Erdem Allie coat for the visit to Kew Gardens.
The bright green coat features multiple visible seams and tabs at the waist, both of which work together to create a flattering silhouette. There are exposed silver zippers along the front and at the cuffs, which give the knee-length coat a unique finish. The green coat also features a collar and front pockets. It's made from a 100% wool-crepe fabric and it's lined with silk fabric printed in Erdem's signature florals. The piece originally sold for £1,765 at MyTheresa.com ($2,953 USD in 2014 and $2,426 today).
Kate's worn the coat during three other public engagements during her life as a working royal: during the Australia and New Zealand tour in 2014, for the Tour de France launch in Leeds, England later in the year. Then in 2016 for a meeting with mental health campaigner Jonny Benjamin.
Under the coat, Kate wore a tonal green sweater. It looks like the Basic Short Sleeve Sweater by Zara. (Thanks to M on Twitter for this ID). The round neck sweater features short sleeves and ribbed trims at the cuffs and waist.
Of course, this is not a new brand for Kate. She wears clothing from Zara fairly regularly.
I love how Kate paired the green coat with a top in the same hue. She's experimented with tone-on-tone layering a few times this year. I think it looks really sleek and polished. (Below, Kate wearing pink-on-pink during a school visit. Kate wearing an all tan ensemble during a visit to an ambulance station, both in March 2021.)
Onto her earrings now. They will feel familiar to some. They're by Patrick Mavros, the designer's Pangolin Haka style. We first saw them last year (2020). She wore them to meet with Sir David Attenborough.
The Sterling silver earrings are tapered to look like a Pangolin's tail. Pangolins are one of the world's most trafficked animals and are nearly extinct. Mavros donates 10% off all sales of the earrings to The Kikki Hywood Trust, a charity dedicated to rescuing and rehabilitating endangered animals, including Pangolins. Clearly, Kate made a conscious choice to wear the earrings to the Generation Earthshot event, which focused on generating ideas to protect and repair the planet. She knows her position as a global fashion icon will increase sales of the earrings and therefore donations to the charity—helping endangered animals by simply wearing jewellery. Brilliant!
The earrings come in two sizes: 2.5cm for £160 and 3.5cm for £180. It's impossible to know which pair Kate wears for certain but the consensus is that she plumped for the bigger option.
Patrick Mavros is a family-run business based in Africa. The company's owners have a passion for nature and wildlife. To our knowledge, Kate owns another three pairs of earrings from the brand. There are paparazzi pictures of her wearing Mavros's Ndoro Dangle Silver Earrings back in 2009. She also owns the brand's Silver Crocodile Studs and Ocean Tides Milky Quartz Earrings.
Kate's belt is by Hobbs, it's the Alisha style. The wide black belt is made from 100% suede leather. It features a matching black buckle. This is a new ID but Kate has worn the belt in the past. (I think M on Twitter is responsible for this ID too!) It looks like Kate wore it during her visit to Pakistan in 2019.
Kate finished the look with a pair of long black trousers and a pair of pointed pumps. The trousers feature a distinctive seam detail on the front, I believe she has worn them a few times over the last year or so. Sadly, there's no further information known about the wide-legged trousers.
Kate's shoes could be the Gianvito Rossi Piper style. (Shown below on another occasion).