On the 8th of December 2014, on their second evening in New York, William and Kate officially launched a partnership between the NBA, United for Wildlife and the Royal Foundation.  The couple first attended a reception before watching a basketball game.  Kate wore a pair of Crocodile Stud Earrings by Patrick Mavros. You can see them in the video below:
About the earrings:
The unique earrings literally feature a crocodile crafted from Sterling silver set on studs. They measure 5cm x 1cm.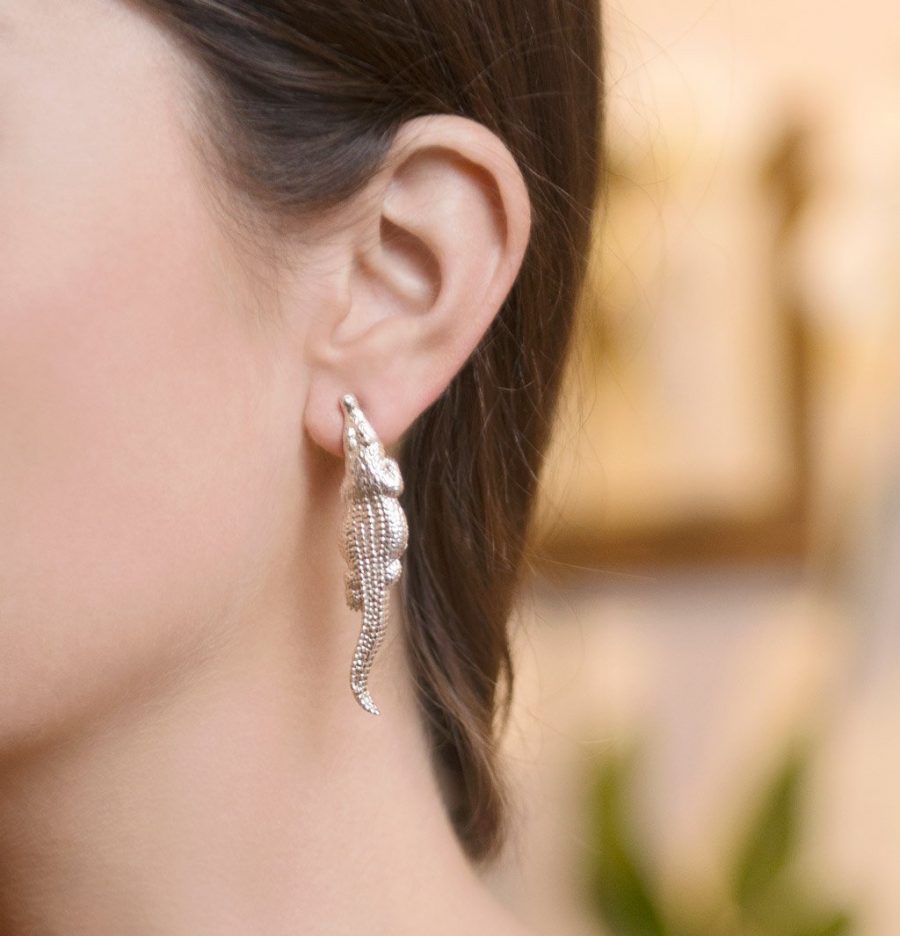 As a family, we have a deep fascination for crocodiles. They are remarkable creatures that have remained physiologically unchanged for a hundred million years. The element of danger surrounding crocodiles has always intrigued us. This range of jewellery captivates an ancient African mystique and the tactile feel of each piece has an exciting and exotic appeal.

patrickmavros.com
About Patrick Mavros:
Patrick Mavros is an African family business that sells handmade luxury jewellery, sculptures, homewares and gifts inspired by safari, adventure and romance.
The Mavros family has a passion for nature and wildlife. This is demonstrated through both their products and their dedication to support the conservation of endangered species. The company has raised lots of money for conservation charities through its special wildlife collections.
Kate Middleon and Patrick Mavros:
We have spotted Kate wearing four pairs of earrings from the designer to date. They include these crocodile studs, the Ndoro Dangle Silver Earrings, the Ocean Tides Milky Quartz Earrings and the Pangolin Haka Earrings.
Hello! magazine report that Kate fell in love with the brand when she worked for Jigsaw, six years before marrying into the Royal Family. They also credit the Duchess for introducing the Countess of Wessex to the Patrick Mavros jewellery.