On Monday 27th November 2017, we had confirmation that Prince Harry proposed to his girlfriend Meghan Markle in London earlier in the month.  The couple are officially engaged!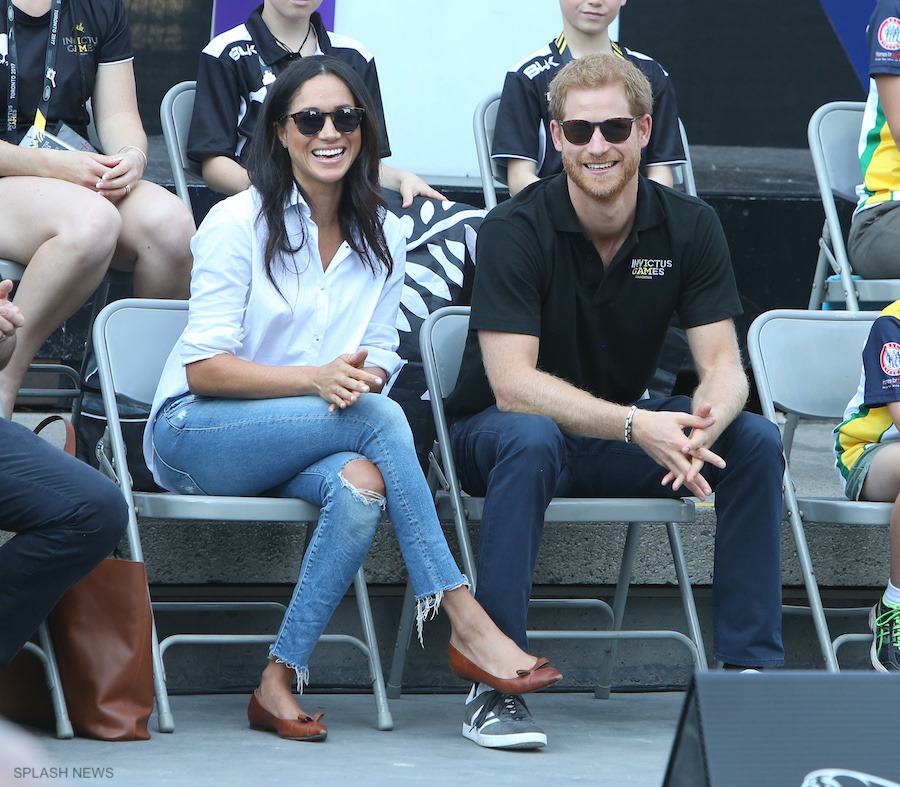 From the official press release:
His Royal Highness The Prince of Wales is delighted to announce the engagement of Prince Harry to Ms. Meghan Markle.

The wedding will take place in Spring 2018. Further details about the wedding day will be announced in due course.
According to the press release, the Queen and other members of the Royal Family were informed in advance.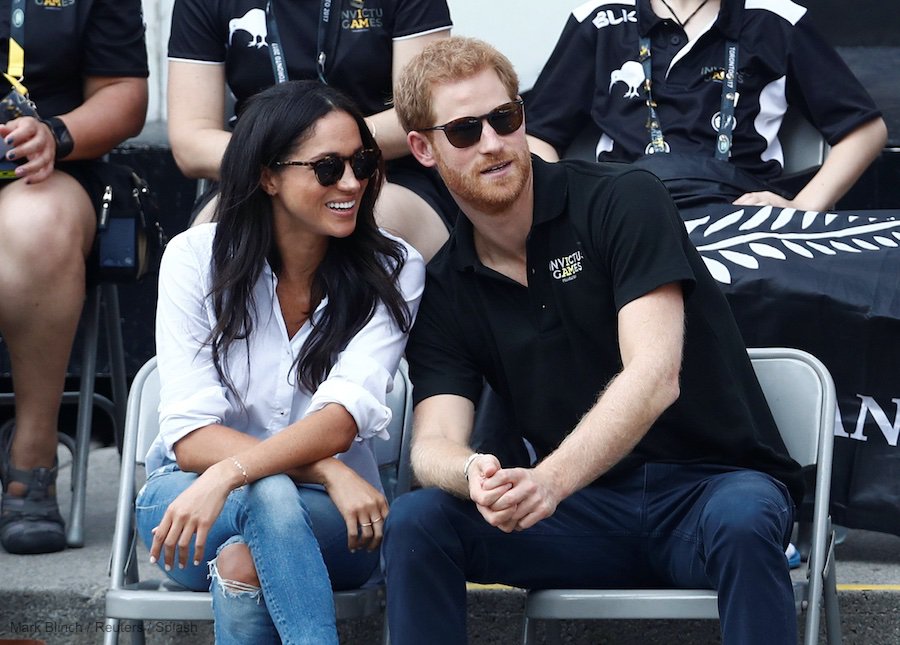 Harry also sought and received the blessing of Meghan's parents before the engagement.  They released a joint statement today:
We are incredibly happy for Meghan and Harry.  Our daughter has always been a kind and loving person.  To see her union with Harry, who shares the same qualities, is a source of great joy for us as parents.

We wish them a lifetime of happiness and are very excited for their future together.
William and Kate also released a statement after the Palace announced the news:
We are very excited for Harry and Meghan. It has been wonderful getting to know Meghan and to see how happy she and Harry are together.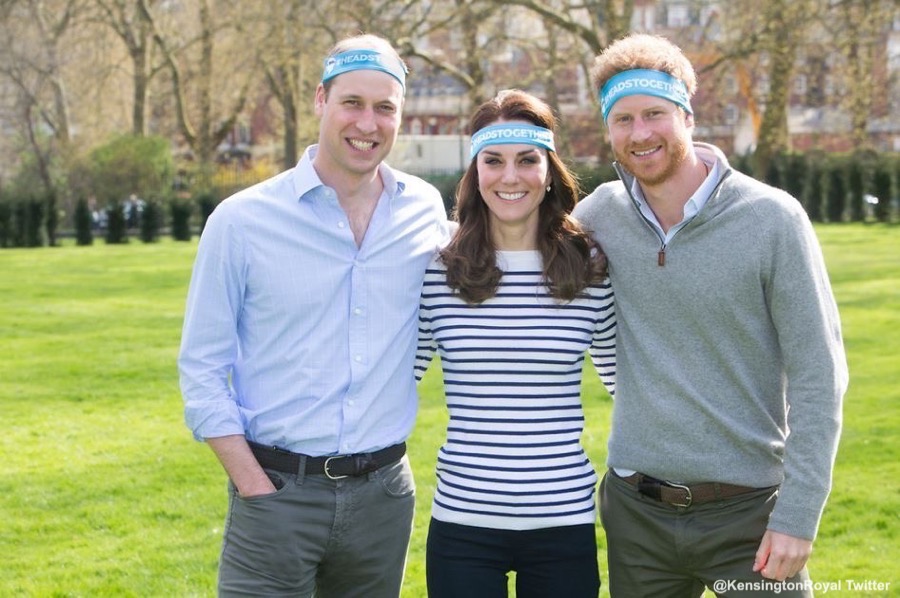 Clarence House confirmed that Harry and Meghan will live together in Nottingham Cottage at Kensington Palace, though many royal commentators believe this will be only temporary, as the couple will require a bigger home.  Nottingham Cottage was also William and Kate's first official home.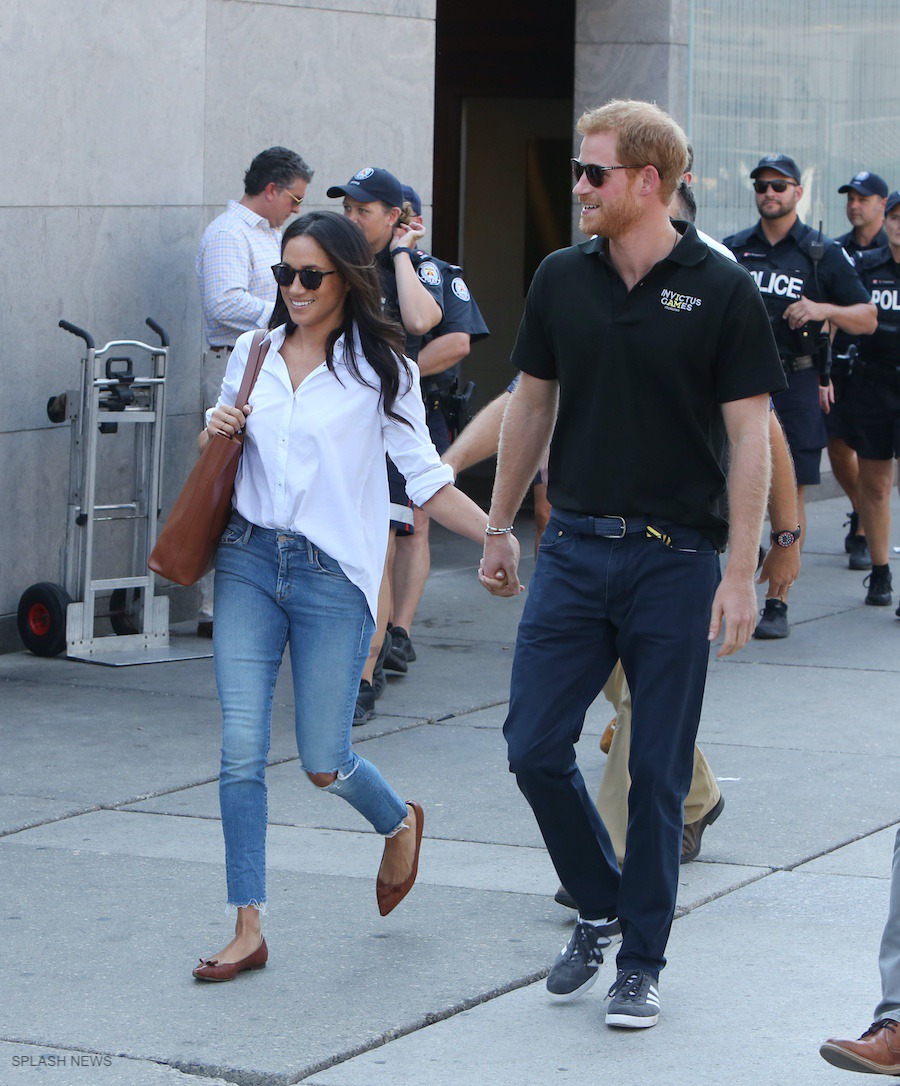 At 2pm on Monday (27th Nov), the couple made a brief public appearance together, attending a photocall in the Sunken Gardens at Kensington Palace, apparently one of Princess Diana's favourite places to spend time.
Harry told the press that he knew he wanted to marry Meghan the first time he met her.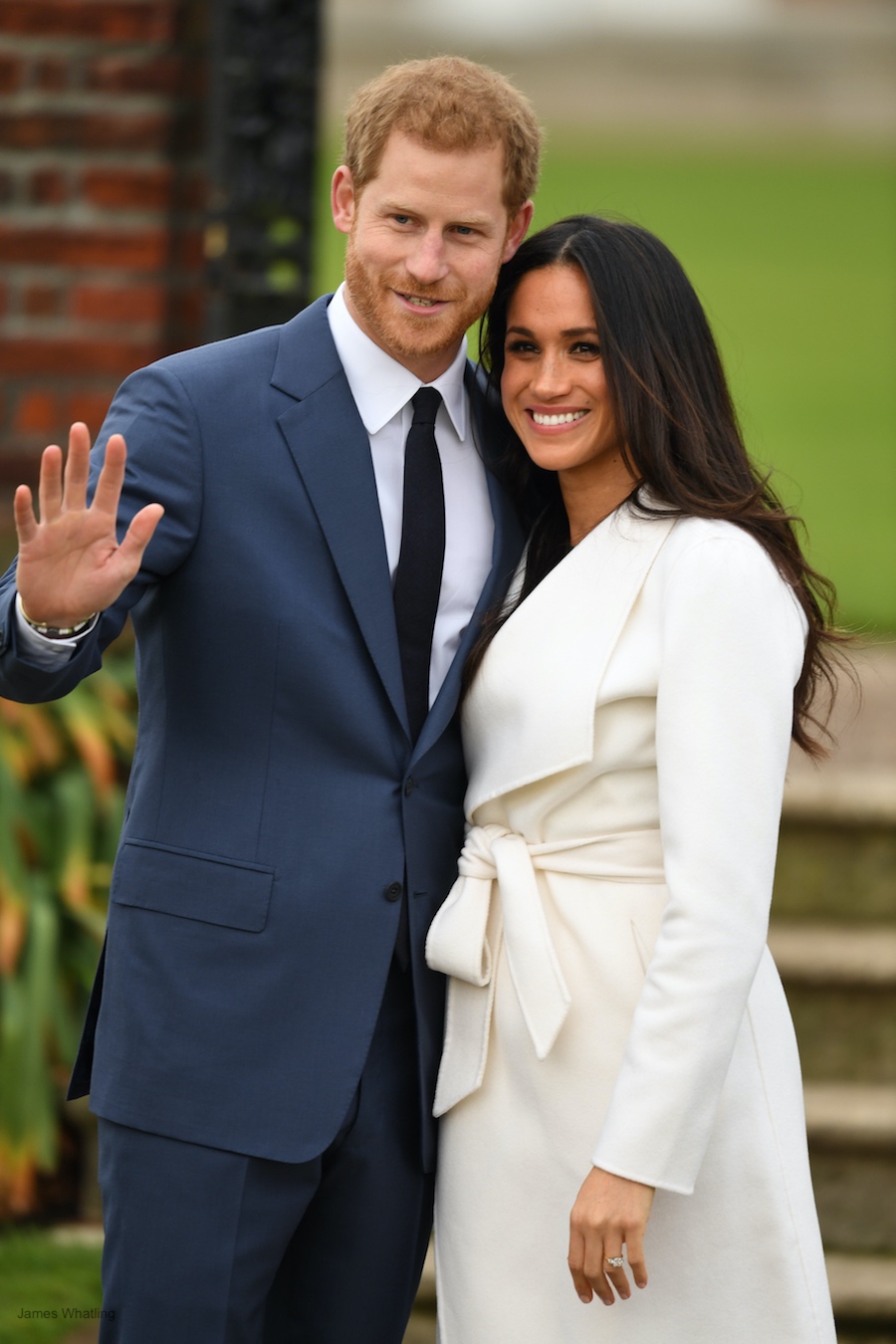 During the photocall, The assembled journalists asked Meghan and Harry if the proposal was romantic.  Harry replied, "of course it was!".  Meghan said "very!"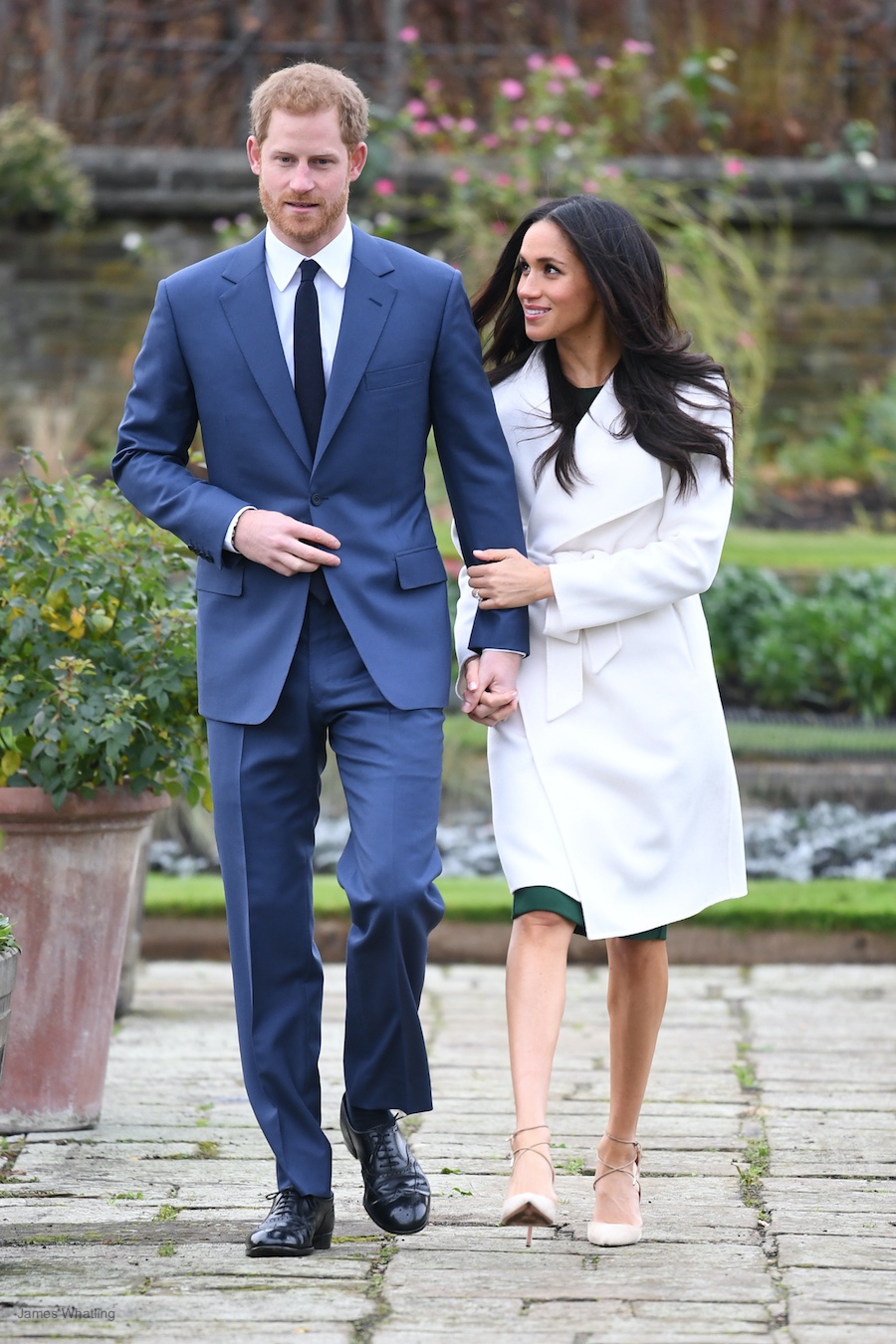 Prince Harry designed Meghan's engagement ring.  It was made by court jewellers and medalists to the Queen, Cleave and Company.  It features one stone from Botswana (a place Harry loves and has visited numerous times and somewhere with personal significance to the couple) and two diamonds from Princess Diana's personal collection. It also has a gold band, which is Meghan's favourite according to the Prince.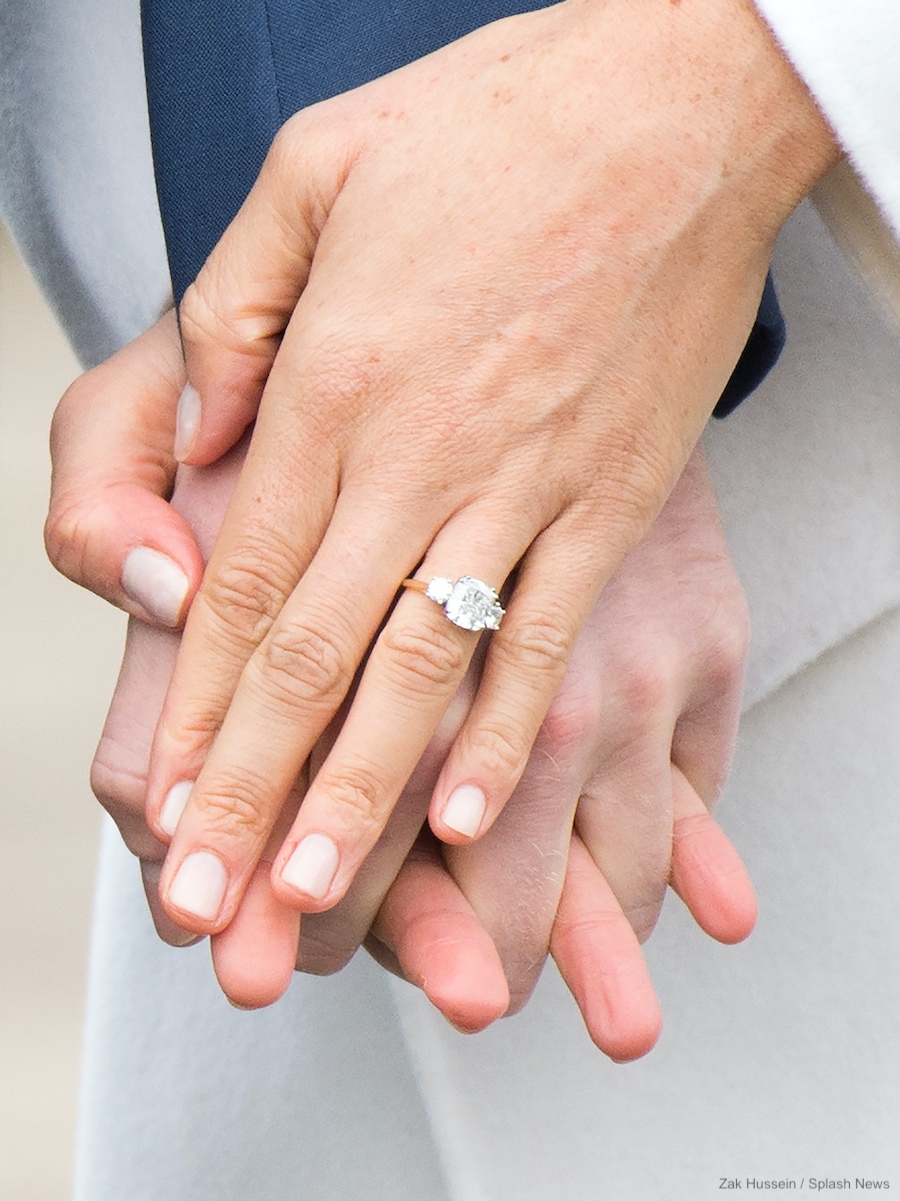 A short video from the photocall:
Meghan and Harry also gave an interview to the BBC's Mishal Husain.  Sat together on a sofa inside Nottingham Cottage, the couple spoke about when they first met, how Harry proposed and about meeting each other's families.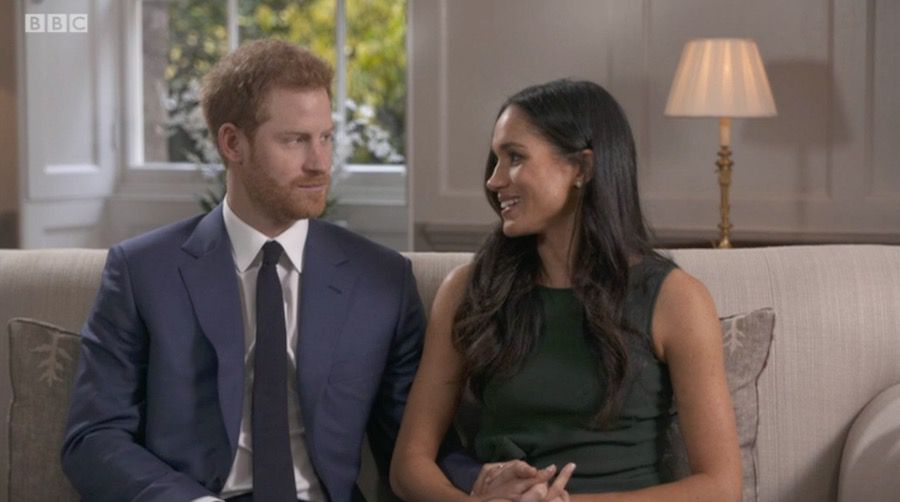 The couple revealed they'd been set up on a blind date by a mutual friend.  Harry revealed he'd never watched Suits, nor had he heard of Meghan before.  Meghan knew of Harry but didn't know much about him.  She asked their friend if he was nice because "if he wasn't kind, it didn't seem like it would make sense".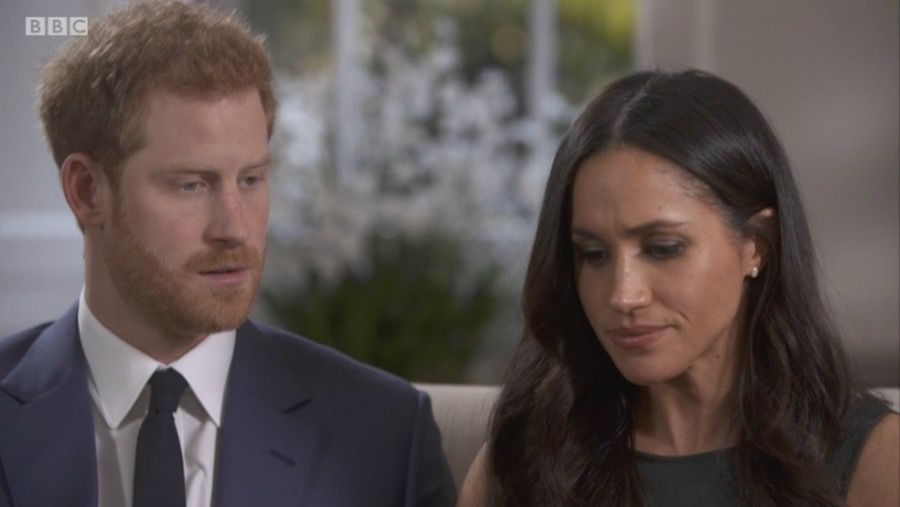 After a couple of dates in London, Harry persuaded Meghan to join him in Botswana and they camped out under the stars together for a total of five days.  
Harry proposed inside Nottingham Cottage while roasting a chicken.  Meghan called the proposal sweet and romantic, adding that she said yes instantly.   In fact, she said she could barely let Harry finish proposing before she said yes.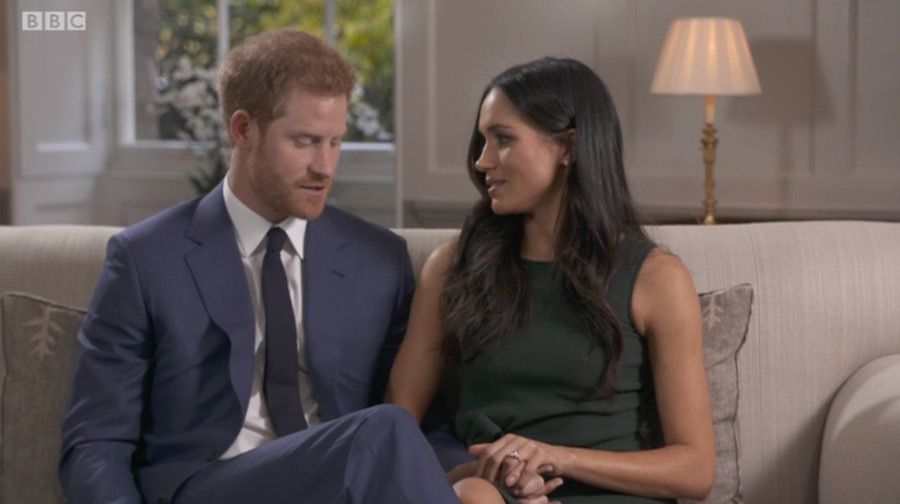 You can watch the full 20+ minute interview below:
Updated: During a visit to a museum on Tuesday, Kate expressed her happiness for Meghan and Harry in a short interview with the media. She said "William and I are absolutely thrilled. It's such exciting news. It's a really happy time for any couple and we wish them all the best and hope they enjoy this happy moment."
UPDATED:
Kensington Palace has confirmed the couple will get married in May 2018 at St. George's Chapel in Windsor.  The exact date has not yet been announced.
Harry and Meghan will also undertake their first official engagement together this Friday (1st Dec).  They'll attend a civic welcome at the National Justice Museum, followed by a walkabout to meet the public for the first time as a newly engaged couple.
Next, Harry and Meghan will visit the Nottingham Contemporary, an international art centre for World Aids Day.  They'll attend a charity fair organised by the Terrence Higgins Trust and meet representatives of organisations supporting people living with HIV/AIDS.  The event is an "upbeat, fun event that will highlight the work to smash stigma".
Then, the newly engaged couple will speak to staff and mentors at Nottingham Academy.  They'll chat with mentors from the Full Effect programme which and learn how the organisation is helping to prevent young people from turning to violence and crime.
The Palace also revealed that Meghan intends to become a UK citizen as soon as possible.  She'll give up her current charity patronages but will continue with similar interests in the UK.
Meghan's outfit:
For those interested in Meghan's style, you'll be interested to know she wore a white wrap coat by Canadian brand Line the Label for the photocall.  It's from the company's Fall 2017 collection.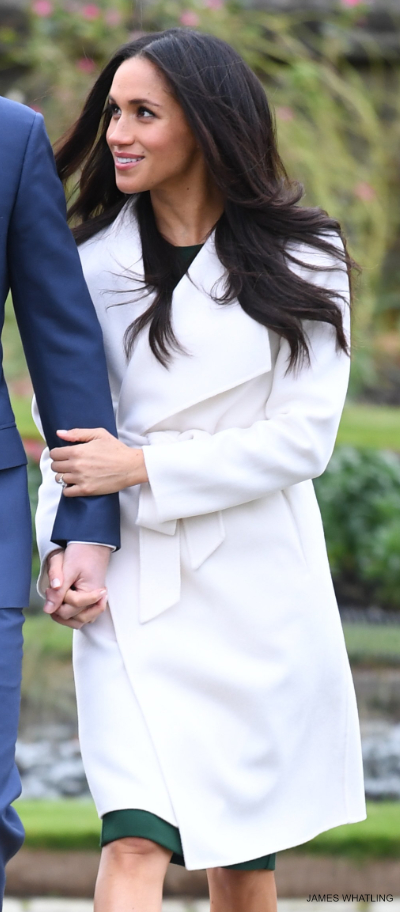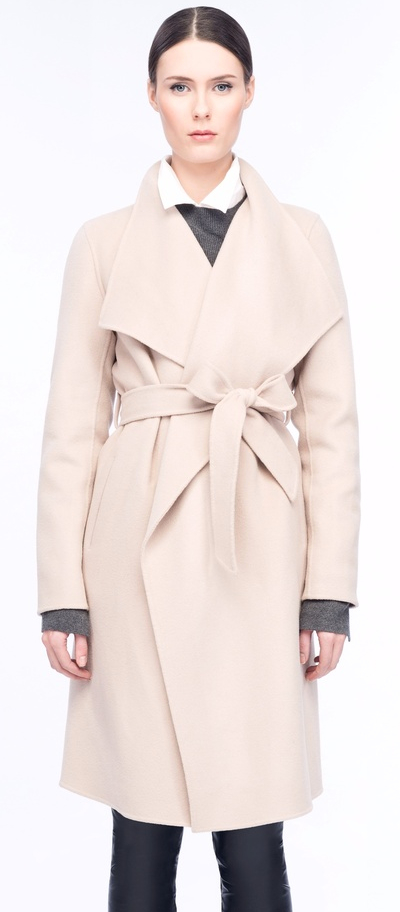 Underneath, she wore a green dress by P.A.R.O.S.H, an Italian company.  The sleeveless wool dress featured a round neck and a fitted silhouette.  It has a bow detail at the hip (which you can just see below) and a straight hem.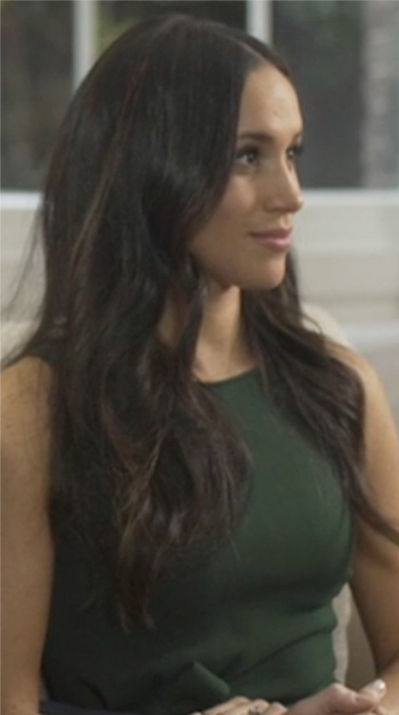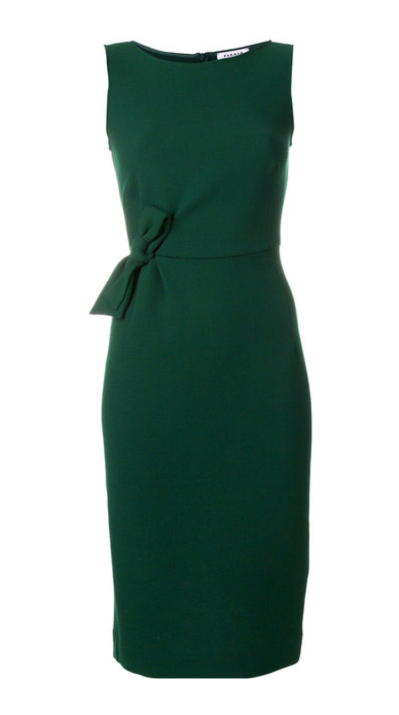 Meghan wore her Aquazzura Matilde Crisscross Pumps.  The nude suede pumps feature crisscross straps at the ankle. They feature 4" covered heel.  Meghan loves them so much, she owns them in black too!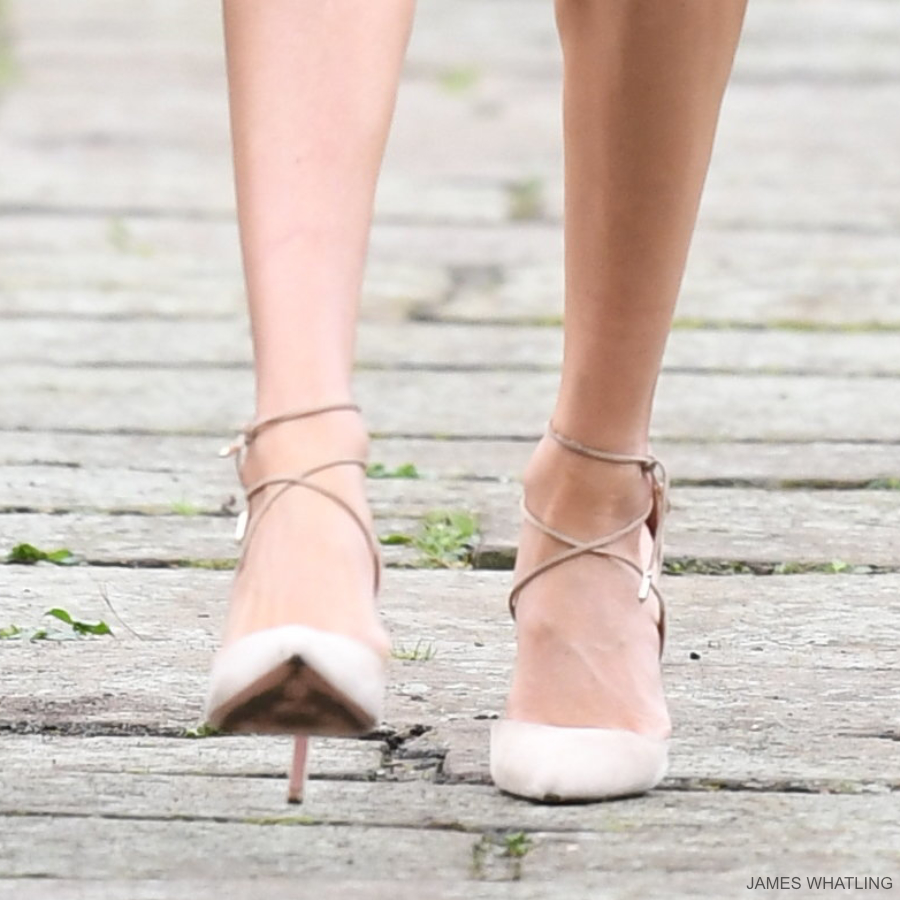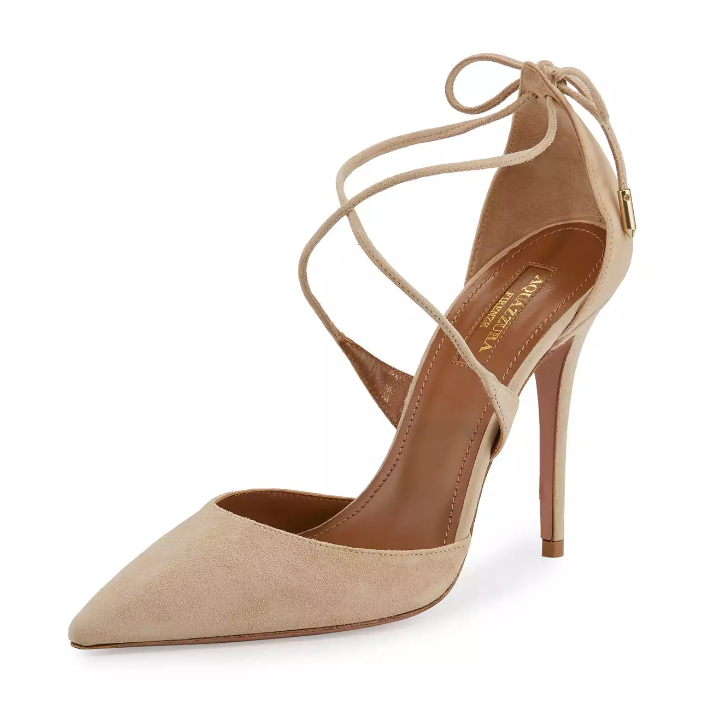 Finally, Maison Birks confirmed Meghan wore their earrings.  The earrings cost $995 and they're made of 18ct gold and white opal gemstone.  They're from the designer's Les plaisirs de Birks collection.   You can view them here.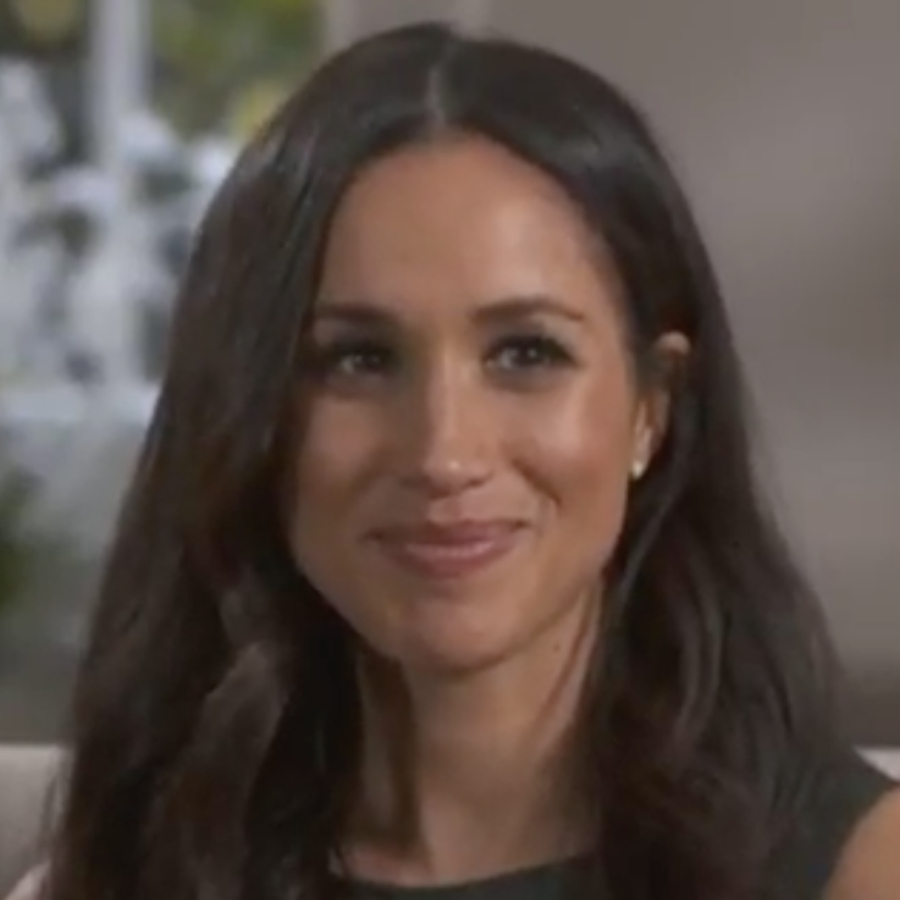 Mason Birks is a jewellery company with headquarters in Quebec, Canada.  They have stores throughout Canada and the United States.  You can also get the earrings from Goldsmiths in the UK.
With thanks to @meghansmirror for help identifying Meghan's clothing.
About Meghan:
Meghan Markle is an actress from the United States.  She is best known for her role in the US TV series Suits.  She's also known for her humanitarian campaigning and charity work.
Meghan was born in Los Angeles, California but until last week, she lived in Toronto, Canada to film her TV show Suits.
Meghan and Harry properly started dating in July 2016.  At the time of the engagement announcement, the couple had been together for roughly 16 months.
Learn more: