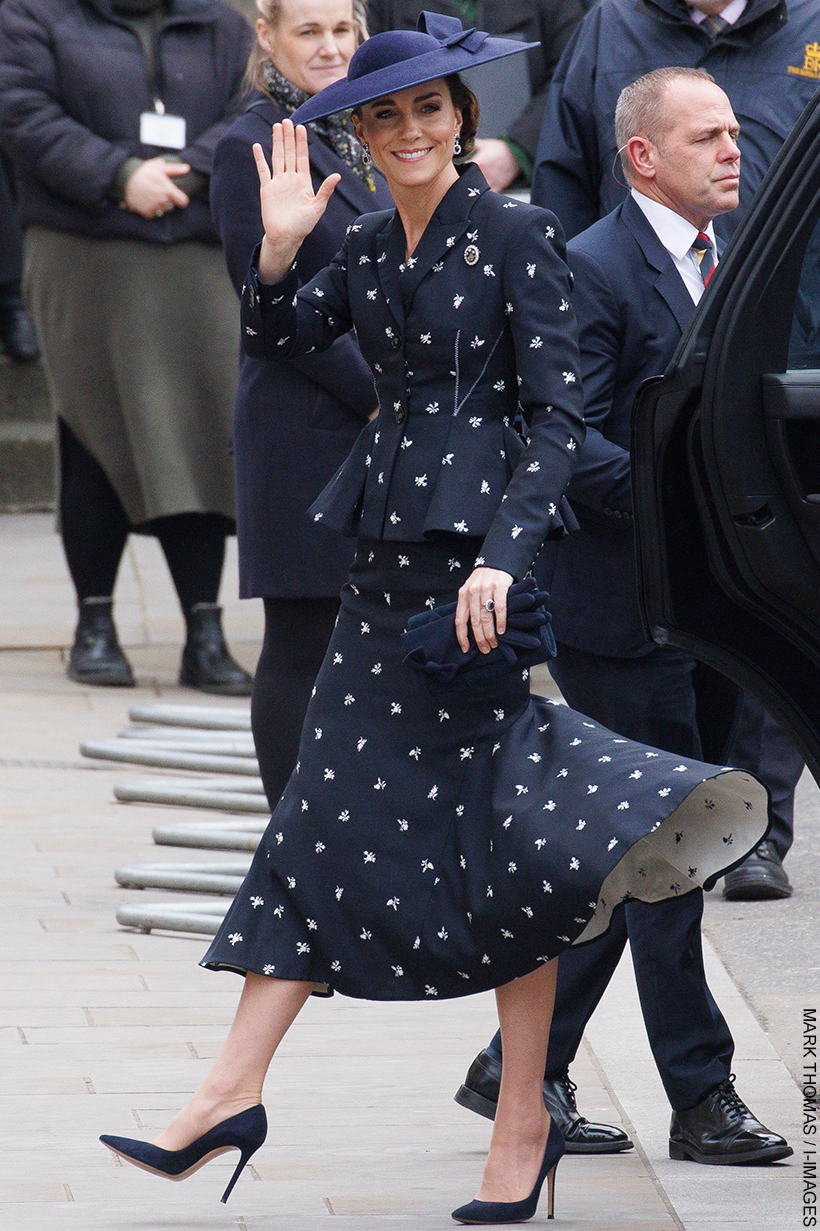 Kate Middleton looked sensational in a floral separates by Erdem for Commonwealth Day Service on Monday (13th March 2023). The Princess of Wales joined a host of royals—including her husband the Prince of Wales, King Charles and Queen Camilla—at Westminster Abbey for the multi-faith celebration of the Commonwealth of Nations.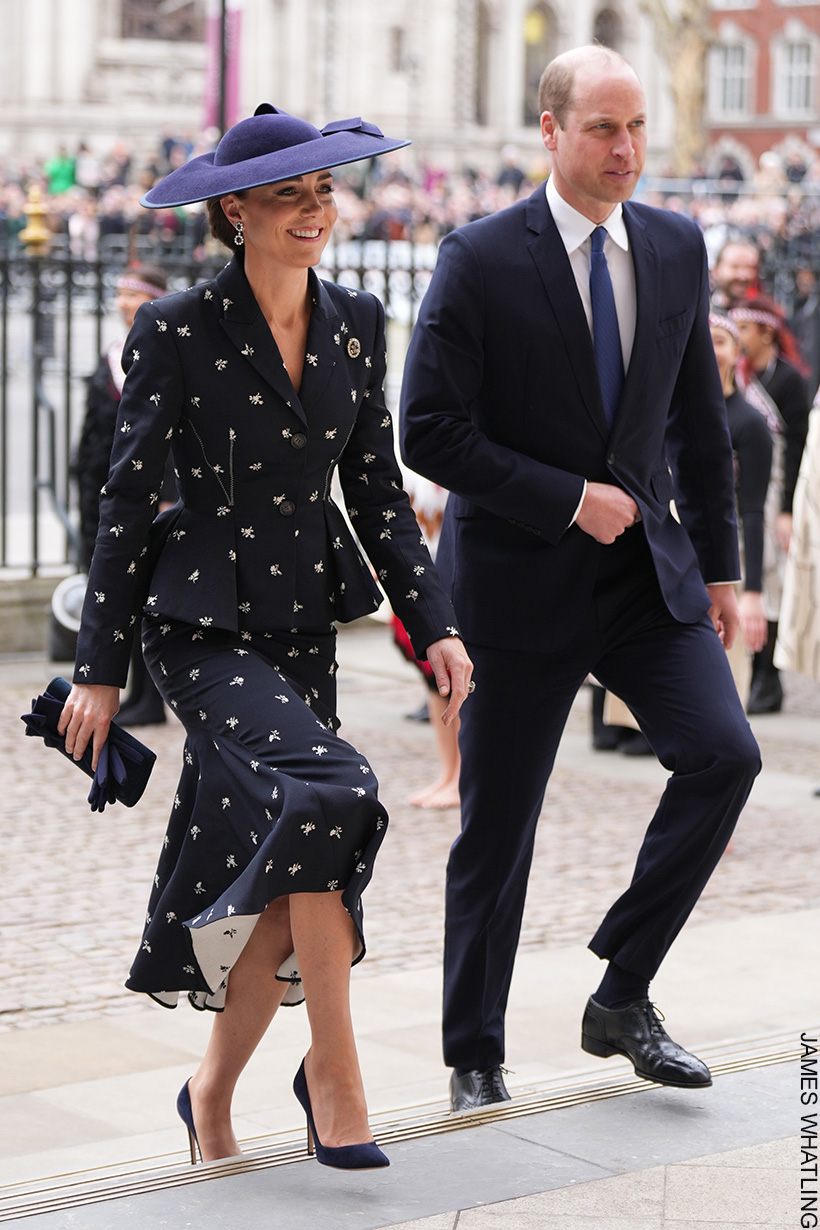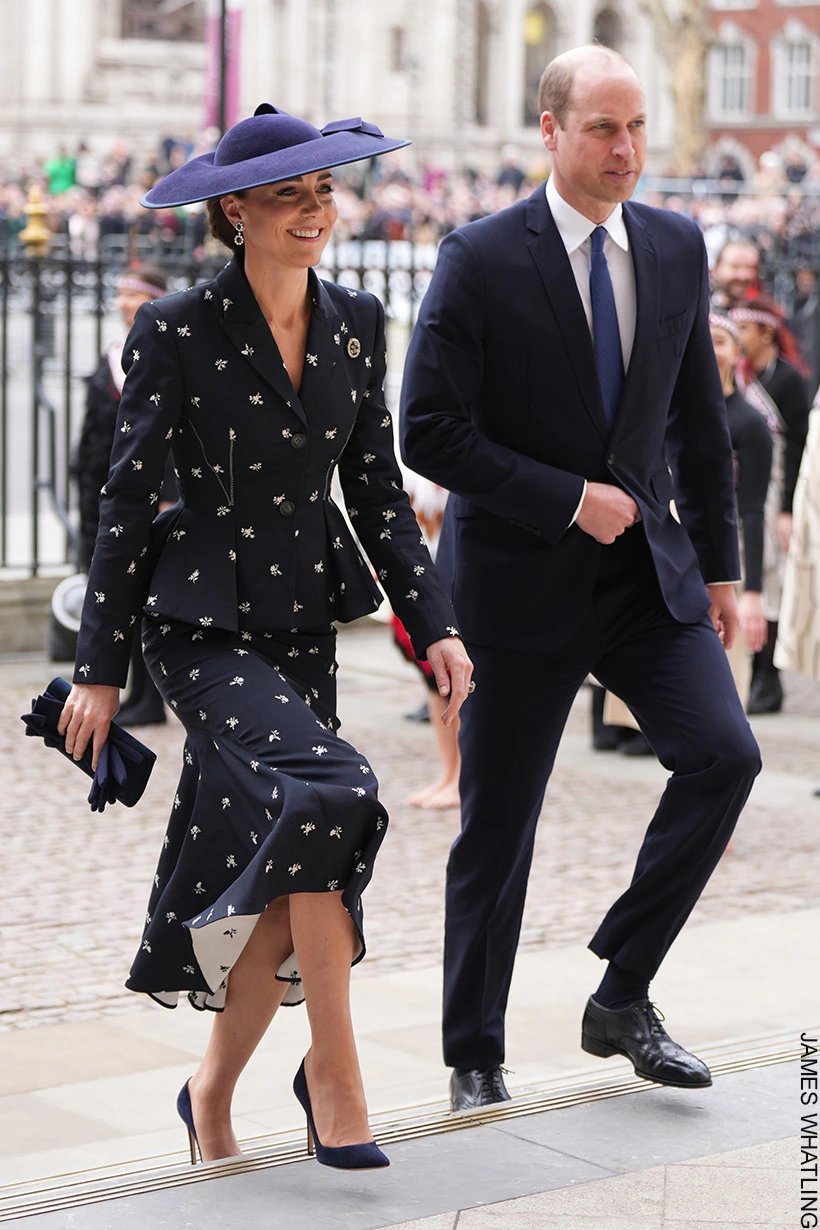 The Commonwealth of Nations is a voluntary association of 56 independent sovereign states, mostly former territories of the British Empire, home to 2.5 billion citizens—around a third of the world's population. Commonwealth Day falls on the second Monday in March each year.
The spectacular event contains musical performances, speeches and readings from all around the world. The services begins with a procession of young flag bearers representing each of the 56 nations.
Members of the royal family, the Commonwealth diplomatic community, and other dignitaries attended, as usual. The event aims to promote the Commonwealth's shared values and goals, including democracy, human rights, and economic development.
This is the first time King Charles has attended the Westminster Abbey service as the head of the Commonwealth association. Of course, Queen Elizabeth held this role prior to her passing last year.
Each year, Commonwealth Day has a theme. This year, the theme is 'forging a sustainable and peaceful common future'.
The theme combines the active commitment of member states to support the promotion of peace, prosperity and sustainability, especially through climate action, so as to secure a better future for our young people and improve the lives of all Commonwealth citizens.

The governments and people of our richly diverse family of 56 Commonwealth nations connect at many levels through extensive and deep-rooted networks of friendship and goodwill. Together we tackle climate change and its impacts, and work to find sustainable ways of using the natural resources of our planet, its land and the ocean that connects us, so that the environment is protected. We work to build peace and harmony through social and political development, and encourage inclusive economic empowerment and fair trade so that all people, particularly women, youth and marginalised communities, are able to share the fruits of progress and prosperity.

TheCommonwealth.org
I thought Kate would reflect this theme with her style choices, opting for a rewear to make a statement about sustainability. I also wondered if she'd choose to wear green for the same reason. I was wrong on both counts!
Let's look at what she did wear:
Kate Middleton's Outfit at 2023 Commonwealth Day Service:
As I wrote in the opening of the article, the Princess chose Erdem separates for the Commonwealth Service—fitting for the occasion given that Erdem's founder is Canadian-born and Canada has ties to the Commonwealth.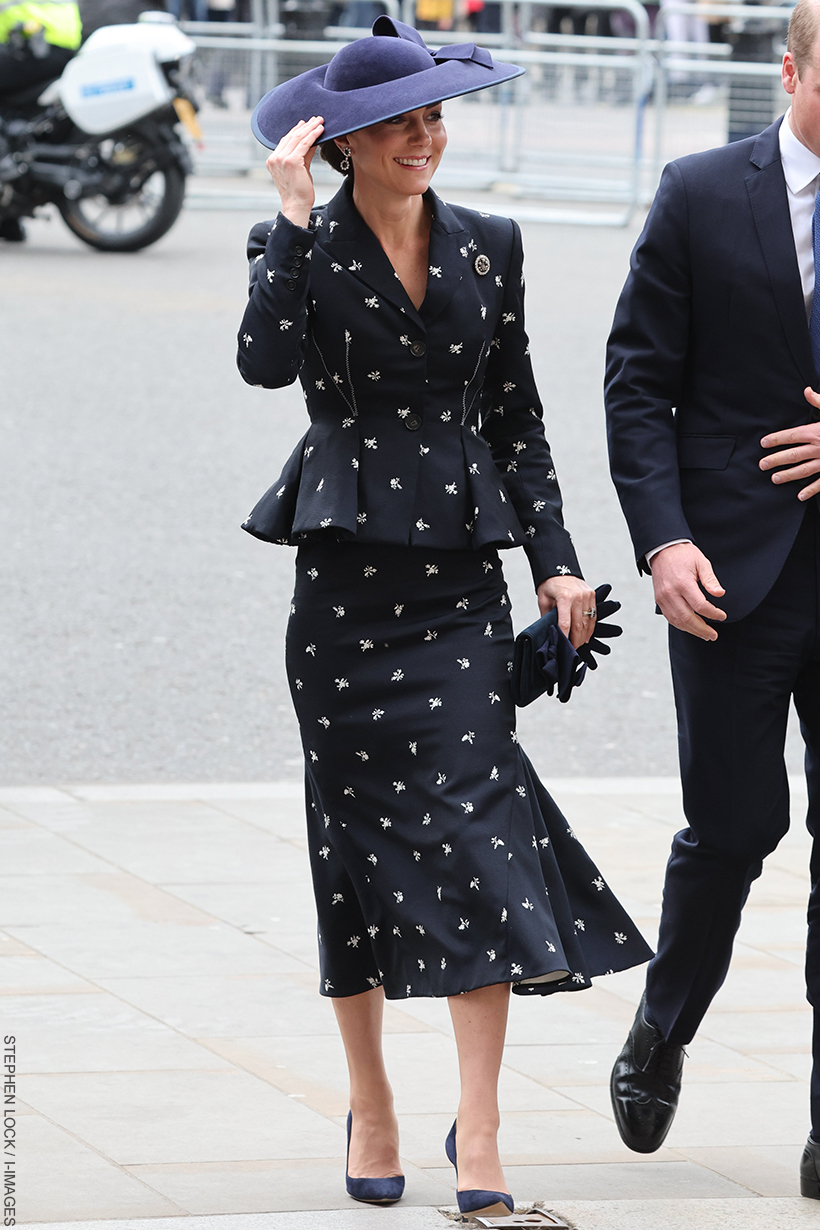 The peplum jacket and flared skirt are both from Erdem's Pre-Fall 2023 collection. They were exclusively available to pre-order from a trunk show at Moda Operandi, though we understand Kate and her office have a working relationship with Erdem and will have likely sourced the pieces through the label directly.
A look at the Princess's outfit from the back—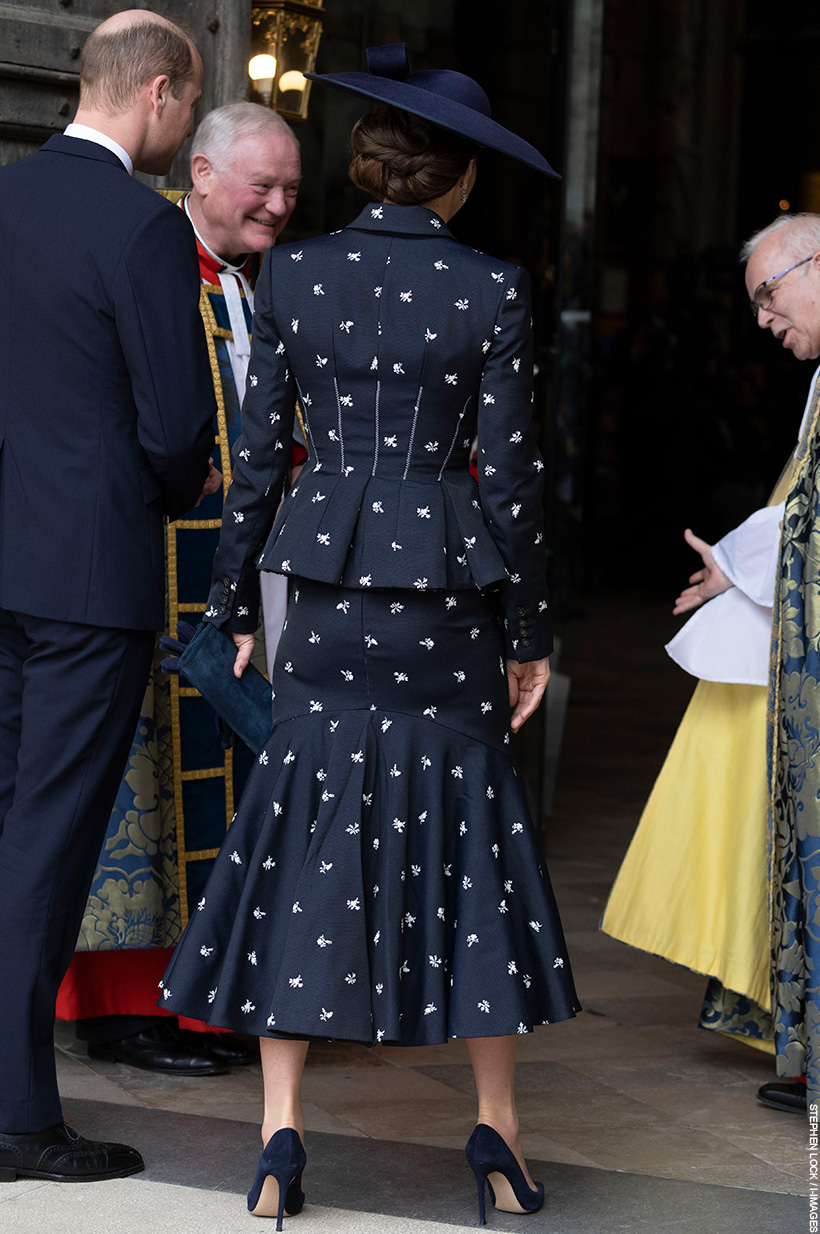 The jacket is called the 'Ottoman Jacquard Peplum Jacket'. The slim-fitting jacket features two buttons on the front, peak lapels and long sleeves. It has a pleated peplum at the waist, which creates a feminine silhouette. The contrasting white zig-zag stitch on both the front and rear of the jacket adds a bit of an 'edge'. According to Moda Operandi, the jacket is made in the United Kingdom.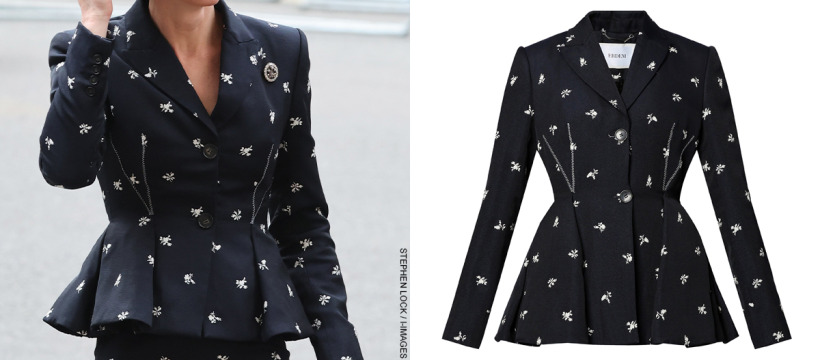 The matching skirt—the Ottoman Jacquard Flared Midi—has a lovely fit-and-flare shape. It's also decorated with a contrasting floral design.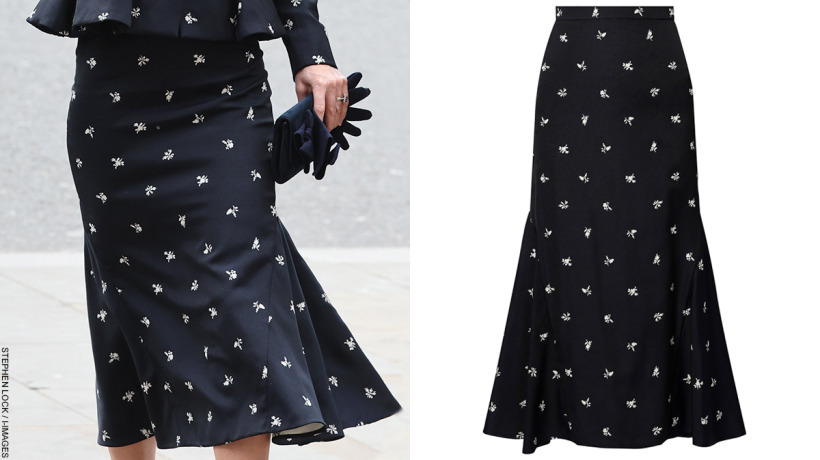 With thanks to Laura for quickly identifying both the skirt and jacket.
Kate has been a longtime fan of Erdem. Unless I'm mistaken, we first saw her wear the brand during the couple's official visit to Canada in 2011. While Erdem is not one of the Princess's go-to designers, I'd say she still wears the label fairly frequently.
Erdem is a high-end fashion brand known for its romantic, feminine aesthetic, including signature floral prints and elegant silhouettes. The label has become a favourite of celebrities and royalty alike. Erdem's collections offer a range of beautifully crafted, statement pieces.
The Princess wore a new (to us) hat. The navy chapeau features a large saucer brim and is finished with a generous bow.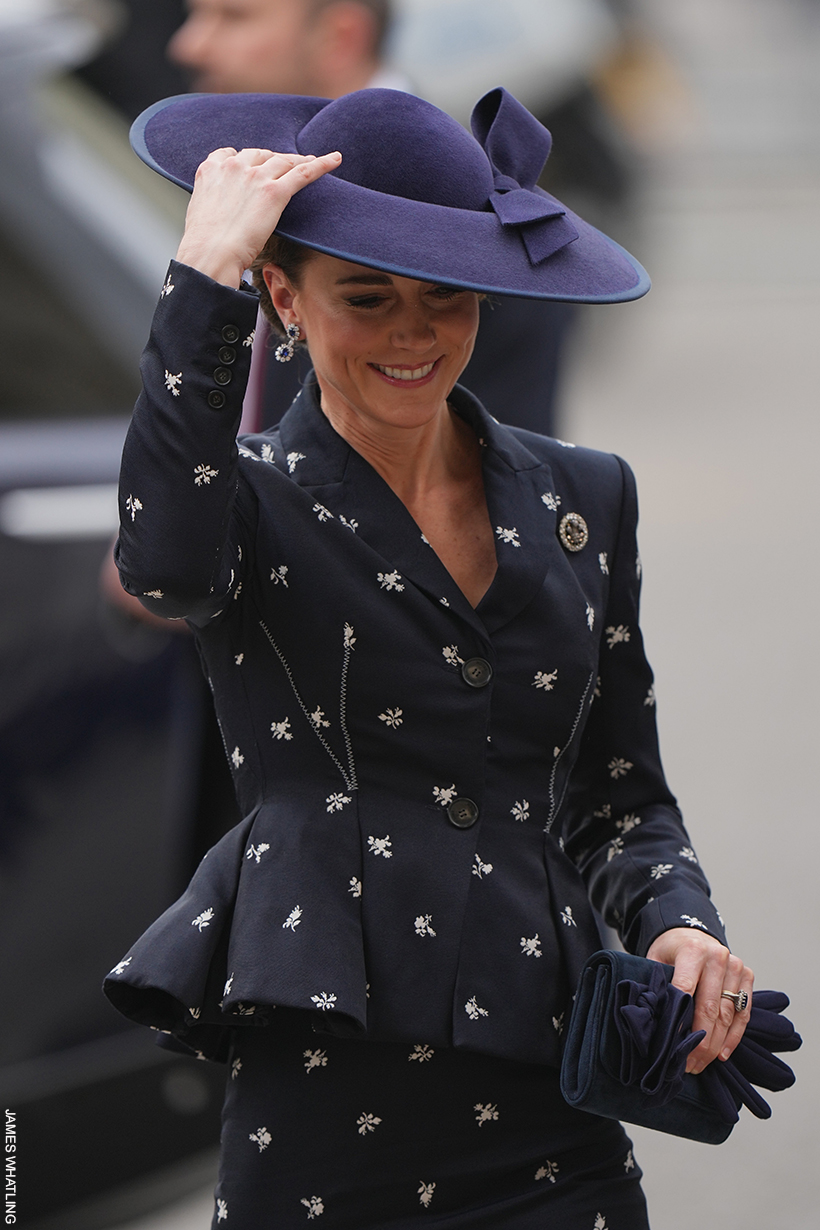 Emma suspects it's by the same designer who created Kate's hat for the Queen's funeral last year and I think she's correct. That was reported to be a Philip Treacy piece at the time, but the rumour was never confirmed. It's since been confirmed that both hats were made by the same milliner—but not Philip Treacy. They were by Sean Barrett.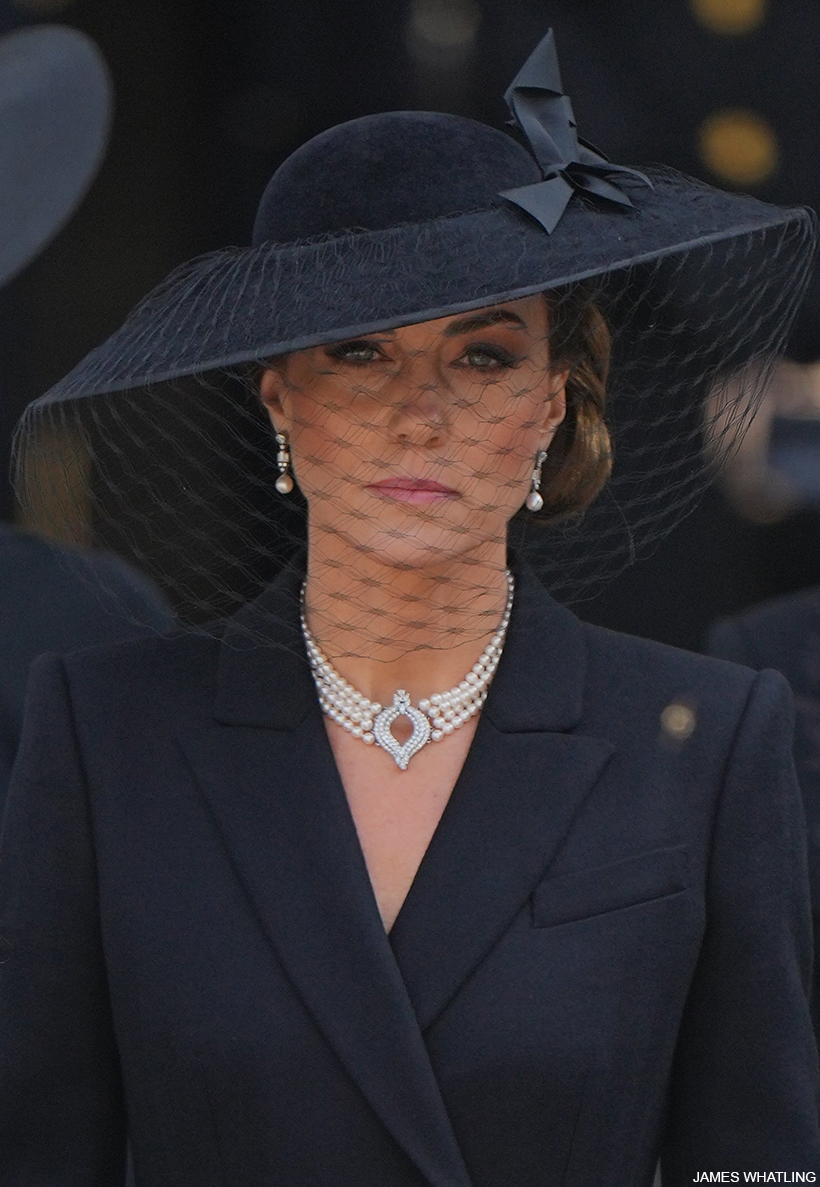 I can tell you the Princess has worn at least three other Sean Barrett creations to date.
Sean Barrett's work has featured in well-known fashion, lifestyle and society publications including Vogue, Harper's and Queen.
The milliner mostly works in the entertainment industry for designers in theatre, film and television. His hats have featured in a number of high-profile theatre plays, award-winning movies and hit television shows.
Let's look at Kate's jewellery now. She wore Princess Diana's sparkling double-drop sapphire and diamond earrings.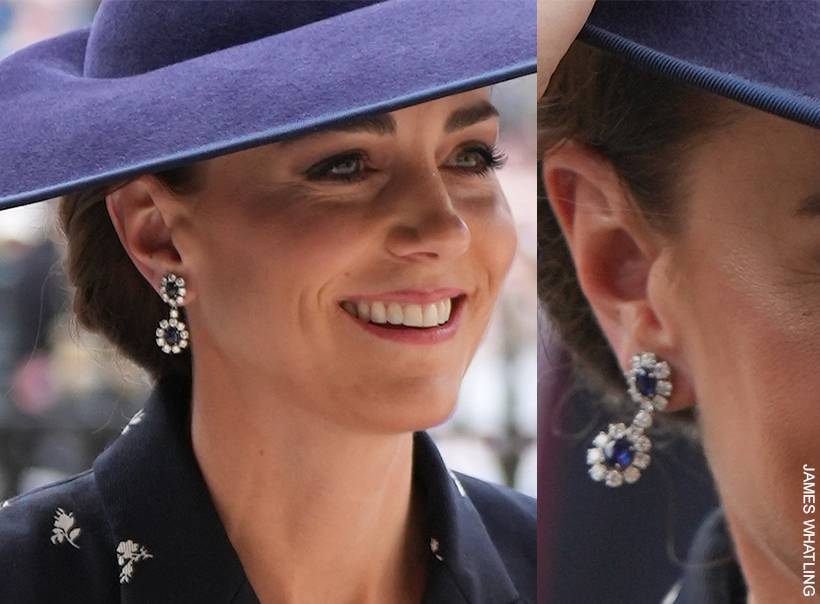 This is the third time we've seen Kate wear the earrings to date. She debuted them at Trooping the Colour last year, then brought them back for a visit to Boston in late November.
The earrings were a favourite of the late Princess of Wales. She wore them on many occasions, including to the Met Gala in 1996. Here she is wearing the earrings during a high profile visit to the USA in 1985: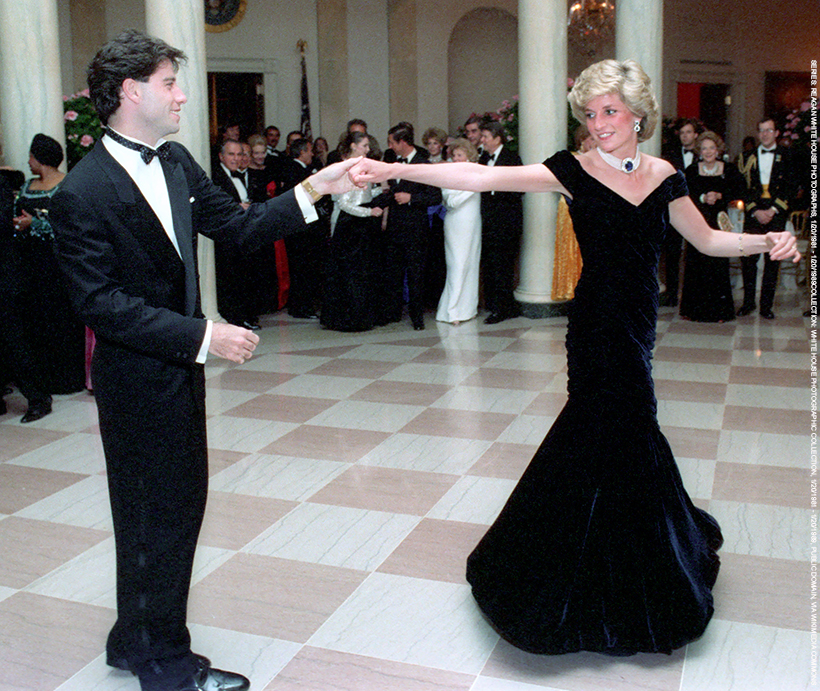 The Court Jeweller describes the glittering gems as "diamond and cabochon sapphire earrings, with a stud and drop design."
Let's move on to Kate's brooch. Rebecca English, the Daily Mail's Royal Editor, says the brooch is reported to be the Prince of Wales Feather Brooch—a gift from King Charles.

The Tiara Mania blog has a page on jewellery associated with the Princess of Wales that belongs to the Royal Family. It's quite a handy primer on the jewels Kate might wear in her new role.
From that page, I've learnt more about the brooch. It's made by Garrard and was a gift to the then Princess Alexandra of Denmark from the 'women of north Wales'.
The jewel features the 'Prince of Wales's feathers'—the heraldic badge featuring three ostrich feathers encircled by a coronet—sat on top of a ribbon inside an oval of diamonds and emeralds. The ribbon reads "Ich Dein" or "I Serve" in German. The brooch can be worn with or without the emerald drop at the bottom. (Kate removed it on this occasion but kept it for the South African State Visit last year, below.)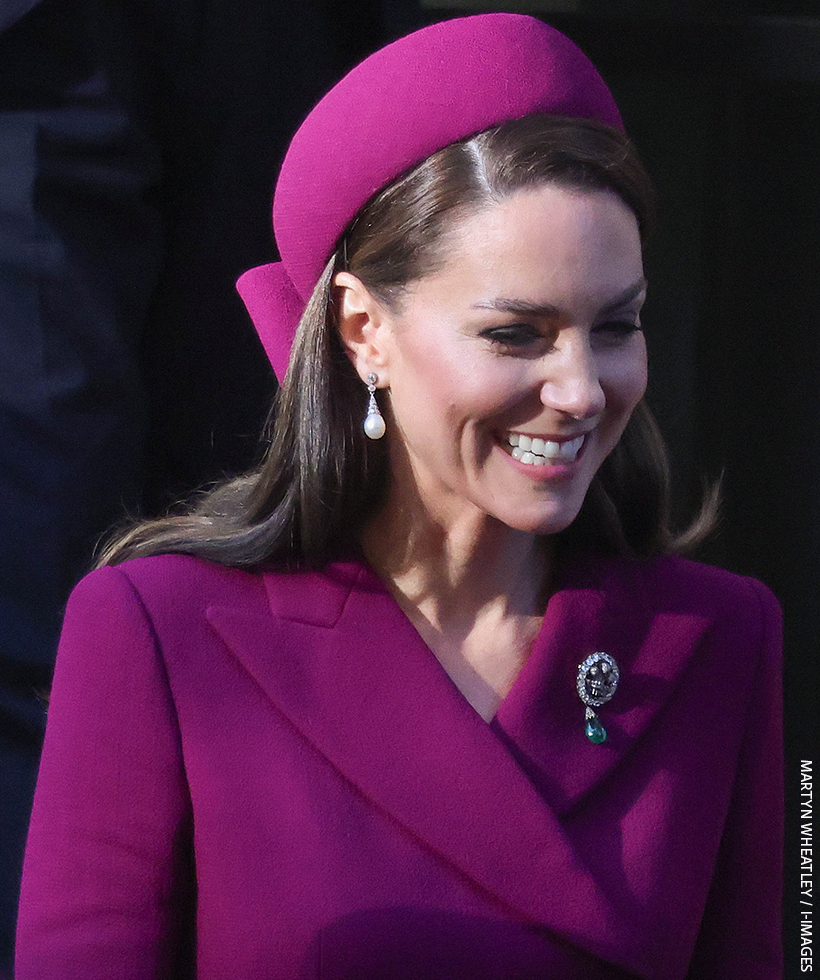 The Queen Mother acquired the Princess of Wales jewellery and passed the brooch along to Diana upon her engagement to Charles. The late Princess mainly wore it as on a chain, as a necklace (see below at a state banquet held by the King of Morocco at Claridges Hotel in 1987) both with and without the emerald drop. Camilla—who became Princess of Wales upon marrying Charles but never used the title as it was so closely associated with Diana—has worn the brooch too (see below, at Ascot in 2013).
Kate's bag will look familiar to anybody who follows her style closely. It's the Emmy London Natasha clutch in Midnight Navy. The Princess owns 12 of them!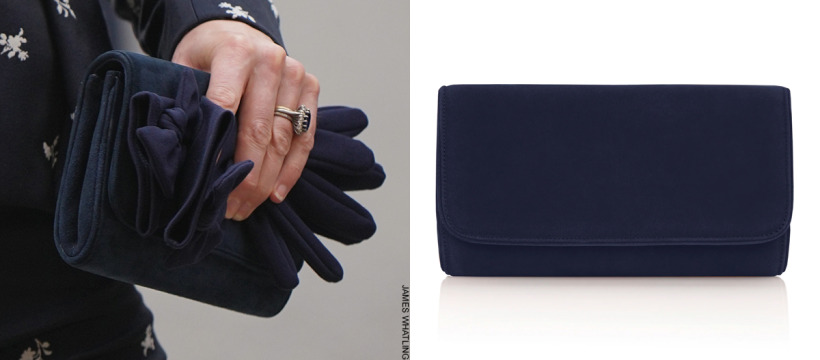 Kate debuted this particular colour in 2021 and this is only the third time we've spotted her carrying the item.
The clutch is crafted with a large fold-over flap and a secure magnetic popper. The spacious bag is lined with luxurious oyster-coloured suede fabric, and it features a convenient zip pocket for storing essentials. The bag comes with a detachable chain strap— Kate removes hers for a sleeker look.
Emmy London is definitely one of Kate's favoured brands. We've spotted the Princess wearing 13 pairs of shoes and carrying 12 clutch bags from the company over the last twelve years. (In the picture below, Kate is both wearing Emmy pumps & carrying an Emmy clutch).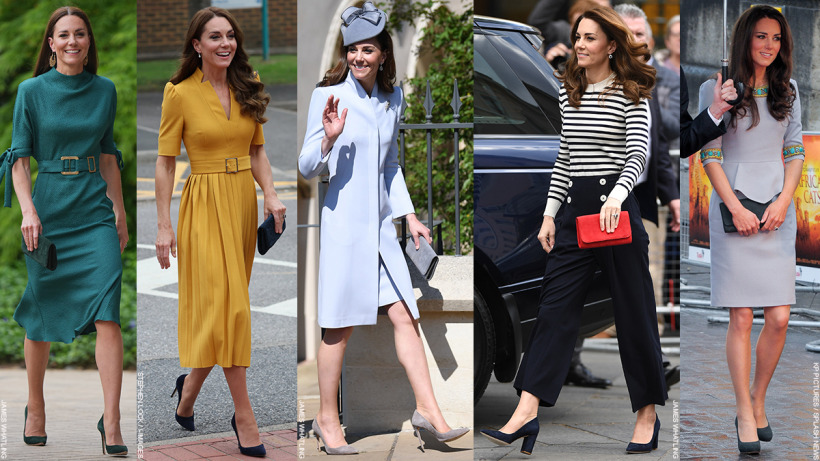 Emmy Scarterfield, the brand's Creative Director and designer, is a self-confessed shoe obsessive with an impressive design pedigree. After studying at London's prestigious Cordwainer's College—fellow alumni include Jimmy Choo, Linda (LK) Bennett, and Rupert Sanderson—Emmy launched her career at Marks and Spencer before heading to Milan to design for Giorgio Armani and Bottega Veneta.
She later launched her own brand, adding the popular Natasha clutches to her offering.
If you want to add a touch of royal sophistication to your wardrobe, head to EmmyLondon.com, where you can purchase the Natasha clutch for £395 / $420 (other currencies and locations available using the country switcher option on the top left of the website).
Let's look at the Princess's blue suede heels now. They're from Gianvito Rossi. They're the Italian designer's Gianvito 105 pumps in navy suede.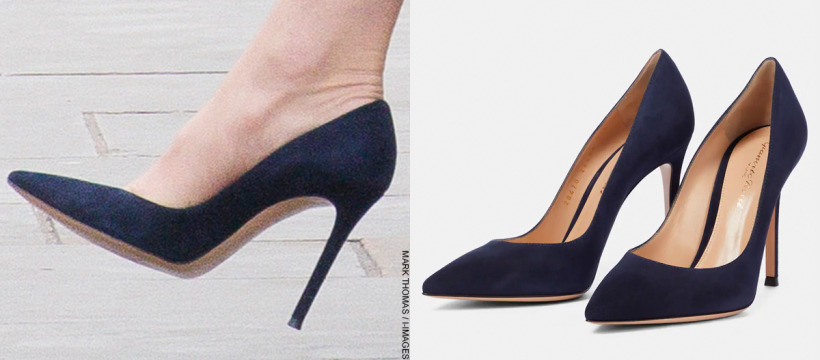 The pumps feature a pointed toe and a 105mm stiletto heel. They're made in Italy from high-quality suede and leather.
Zoom in and you'll see the vertical logo and leather symbol that Rossi stamps onto the shoes' soles: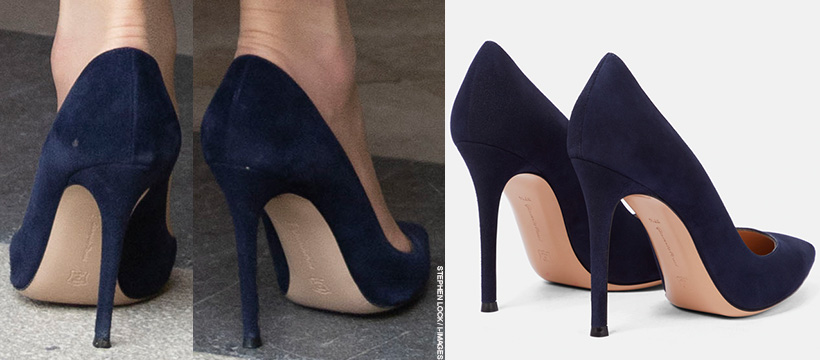 Kate first wore the navy blue 105 pump during a visit to Cardiff, Wales for the Queen's Jubilee celebrations in June 2021. This is the seventh time we've seen her wear them in public to date.
Want to copy Kate's effortless style? The suede heels can be purchased from various retailers: Net-A-Porter, Farfetch and MyTheresa.
EXACT MATCH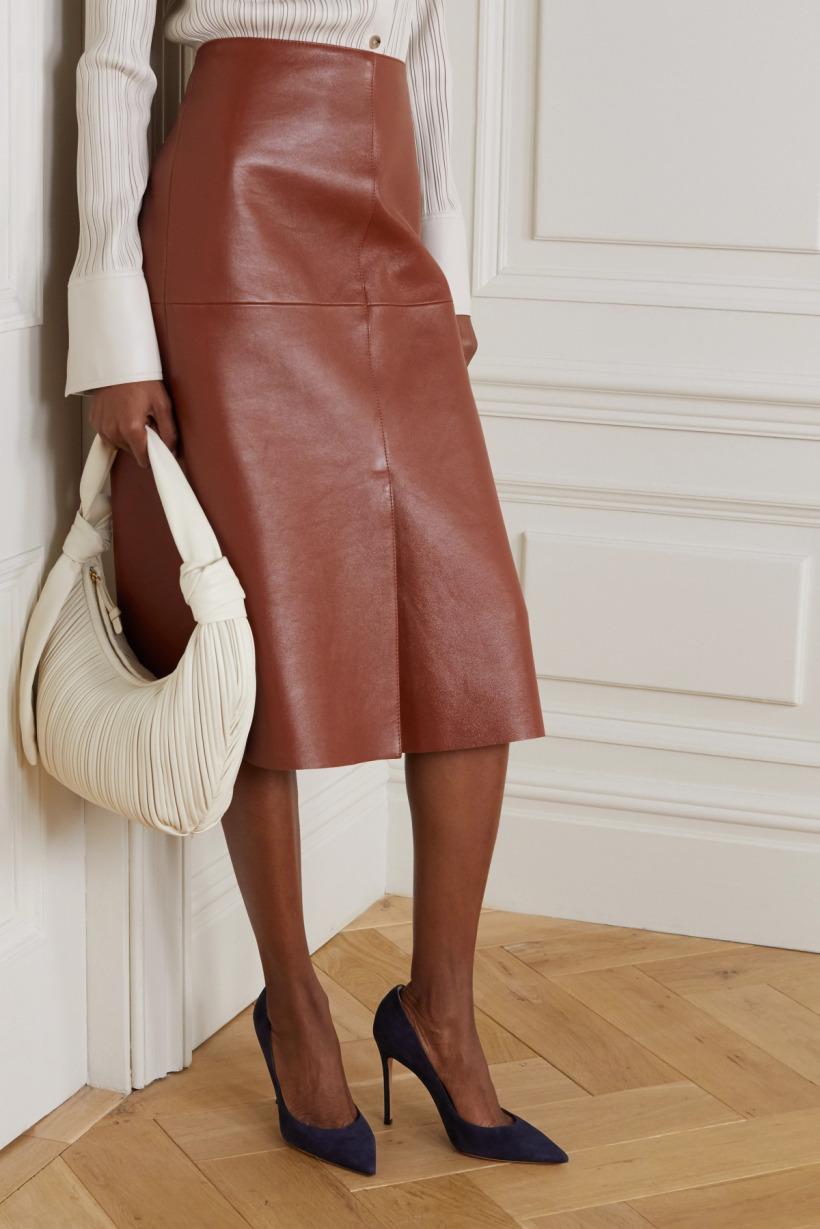 Gianvito Rossi 105 Pumps in Navy Suede
Step up your shoe game with Gianvito Rossi's midnight-blue pumps, the perfect contemporary yet versatile alternative to classic black styles. Hand-finished in the label's Italian factory, these smooth suede pumps boast a cushioned leather footbed for ultimate comfort. Whether you're pairing them with tailored office wear or skinny jeans for a night out, these pumps will elevate any outfit.
I think it's safe to say Gianvito Rossi is one of Kate's go-to footwear designers. The Princess owns 18 pairs of the master shoemaker's heels, boots and sandals. Rossi's iconic Gianvito 105 style is a clear a favourite, Kate owns it in eight colours total—see below! Kate wearing the pumps in praline, red, burgundy, bisque, white, silver ,navy, and black.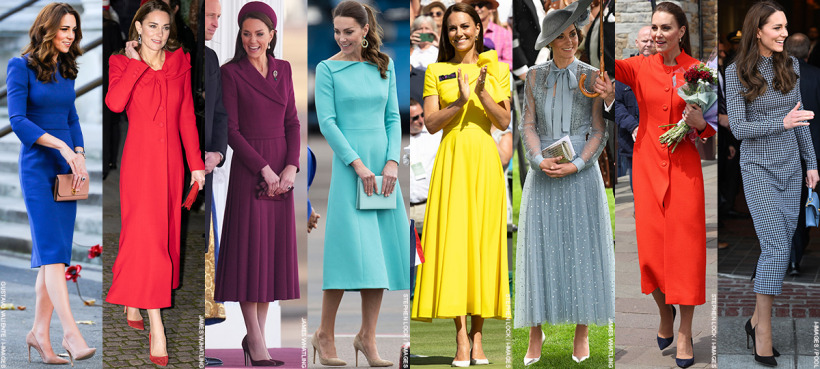 The designer, Gianvito Rossi, is the son of acclaimed footwear designer Sergio Rossi. Known for his devotion to purity of design, Gianvito Rossi has built his eponymous shoe brand with a thoughtful approach to the feminine silhouette.
Finally, let's look at Kate's gloves. She's owned them since at least 2013. Back then, we saw a report that they were designed by Andy Sheils for Dents, glove makers that that hold multiple Royal Warrants, in association with The Worshipful Company of Glovers in London. The blue gloves feature a bow on the wrist.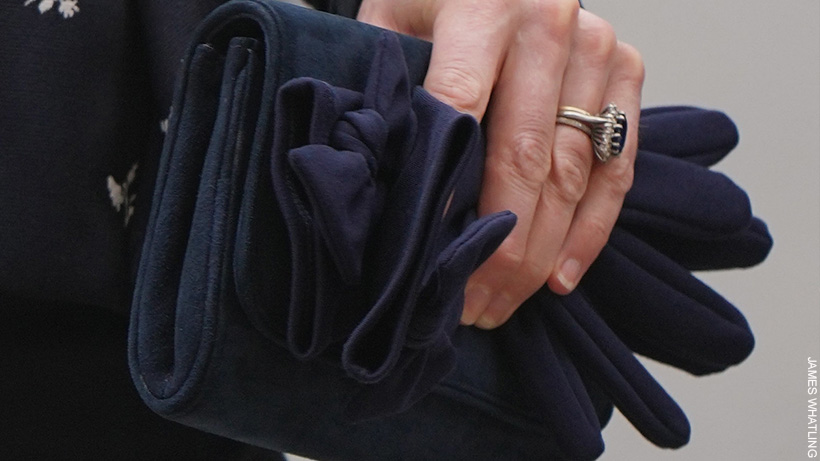 Kate Middleton at Previous Commonwealth Day Services:
While we're here, let's take a brief look at all of Kate's colourful commonwealth outfits to date.
Kate made her debut in 2015 while she was pregnant with Princess Charlotte. She wore a pink Alexander McQueen coat, carried a Prada clutch, a Jane Taylor hat, pink satin Prada shoes and finished the look with a pair of Kiki McDonough morganite cushion drop earrings.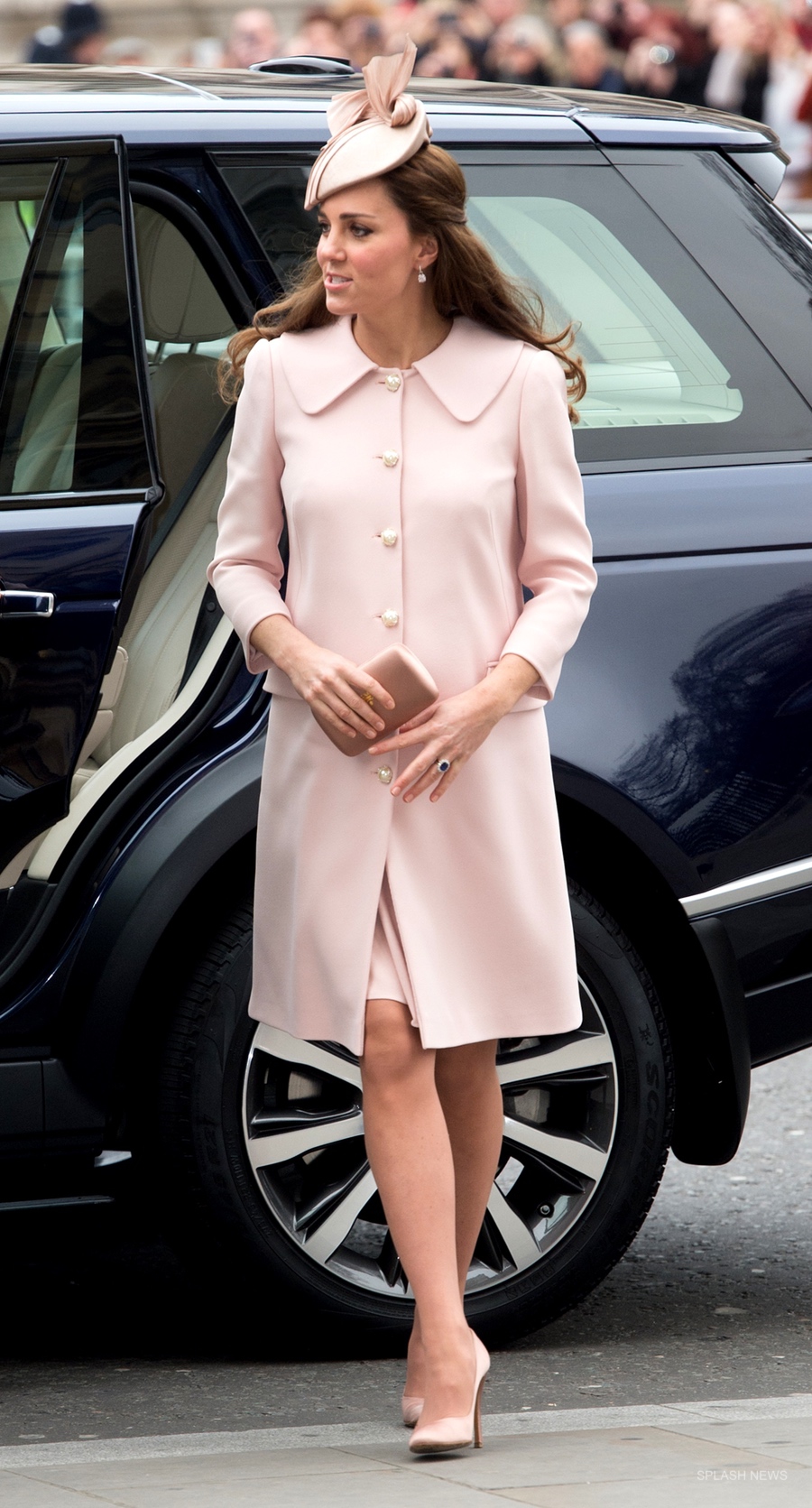 In 2016, Kate opted for a tonal grey coat with lace overlay by Erdem. Her shoes were from Rupert Sanderson, she carried a bag from Emmy London, wore a John Boyd hat, and finished the look with a mystery pair of drop earrings.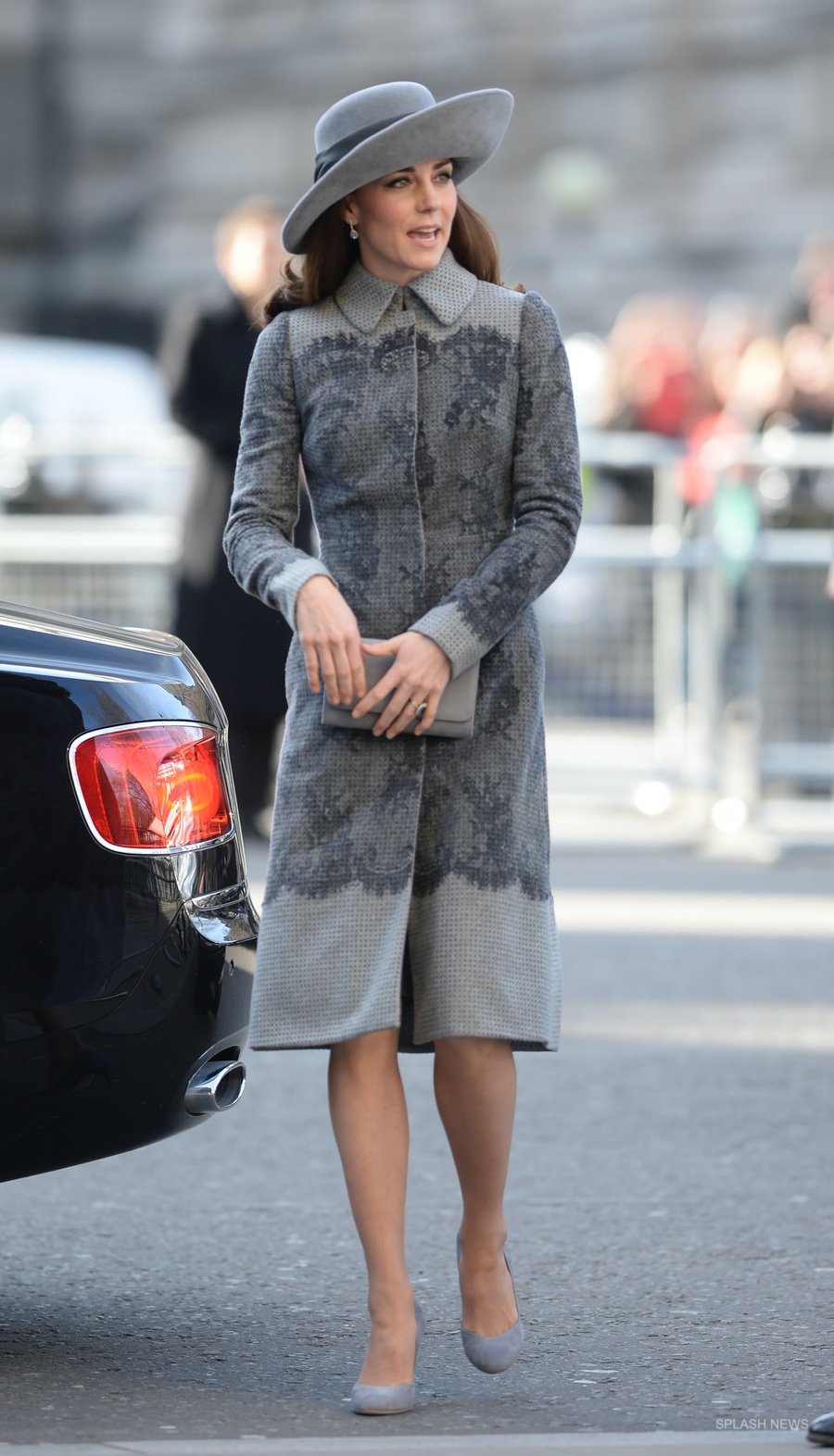 In 2018, Kate was pregnant with Prince Louis. For this year's service, she chose Beulah London's Chiara coat in navy topped with a Lock & Co hat. She wore a pair of Rupert Sanderson shoes, carried a Jimmy Choo clutch and wore a mystery pair of earrings.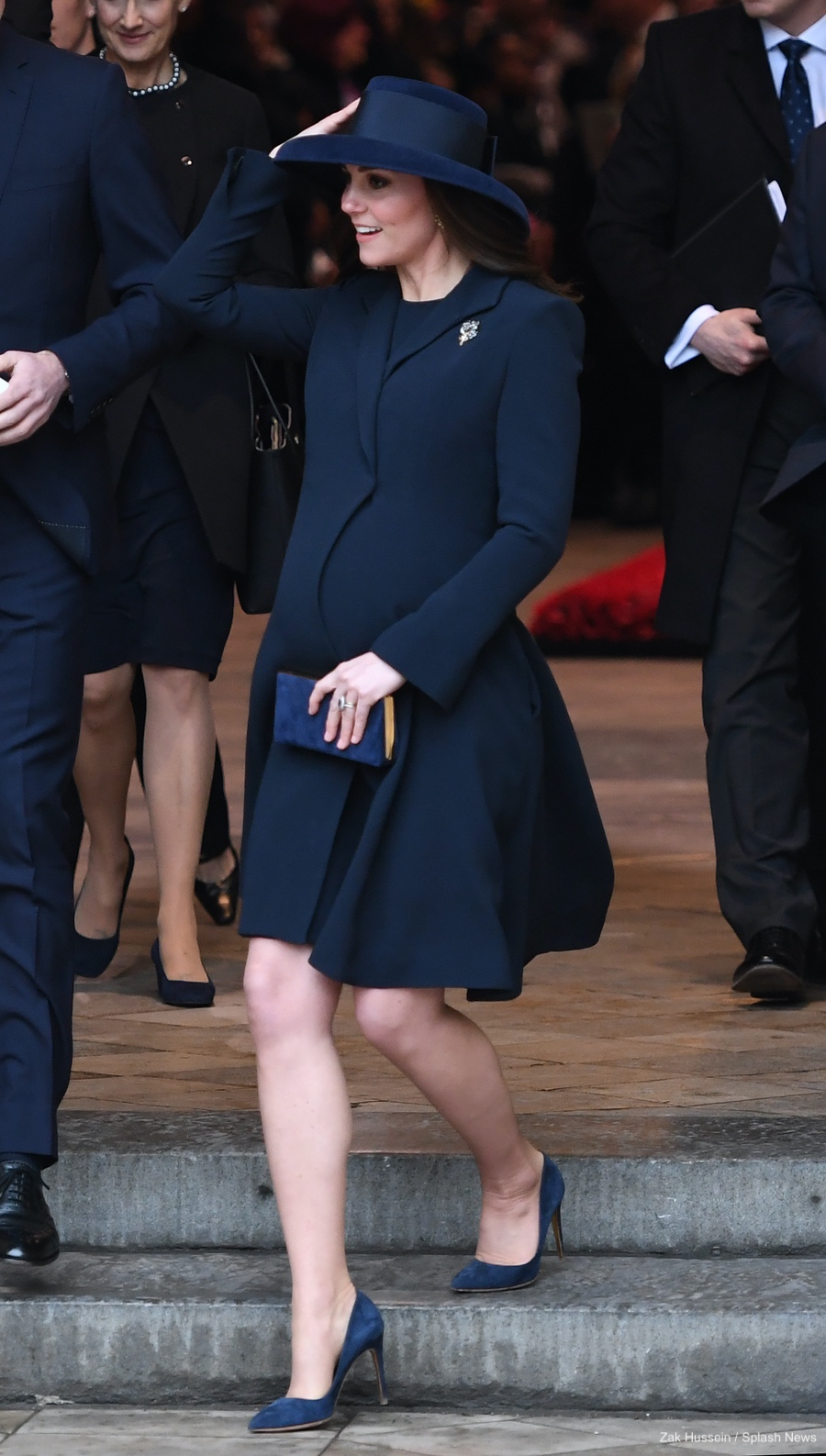 In 2019, Kate re-wore a red coat by Catherine Walker from the 2016 tour of Australia and New Zealand. She paired it with Emmy London accessories, the Natasha clutch and Rebecca heels both in the colour Cinder. We don't know the designer of her hat or earrings, unfortunately.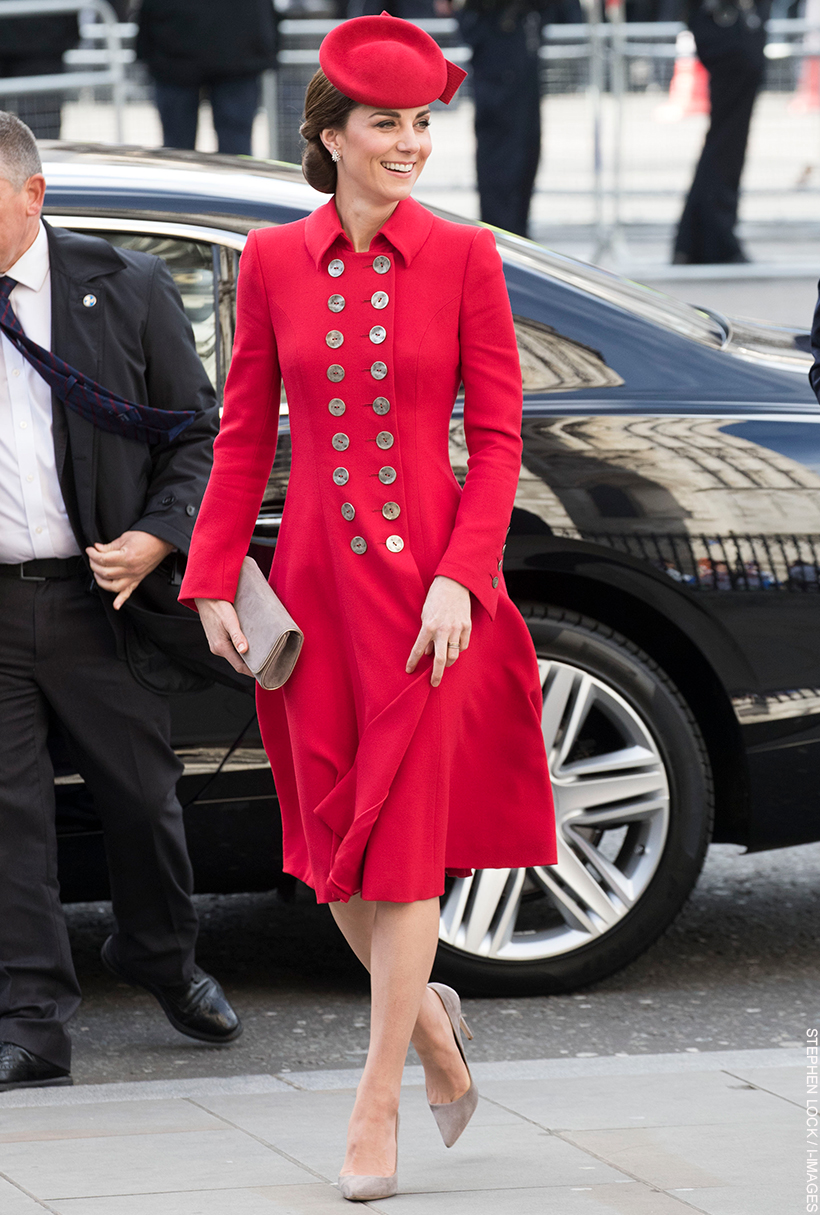 In 2020, Kate repeated another red Catherine Walker coat for the Commonwealth Day service. She accessorised with a red Prada clutch, her Gianvito Rossi burgundy suede pumps, a floral design hat by Sally Ann Proven and added some bling with a pair of Mouawad statement earrings.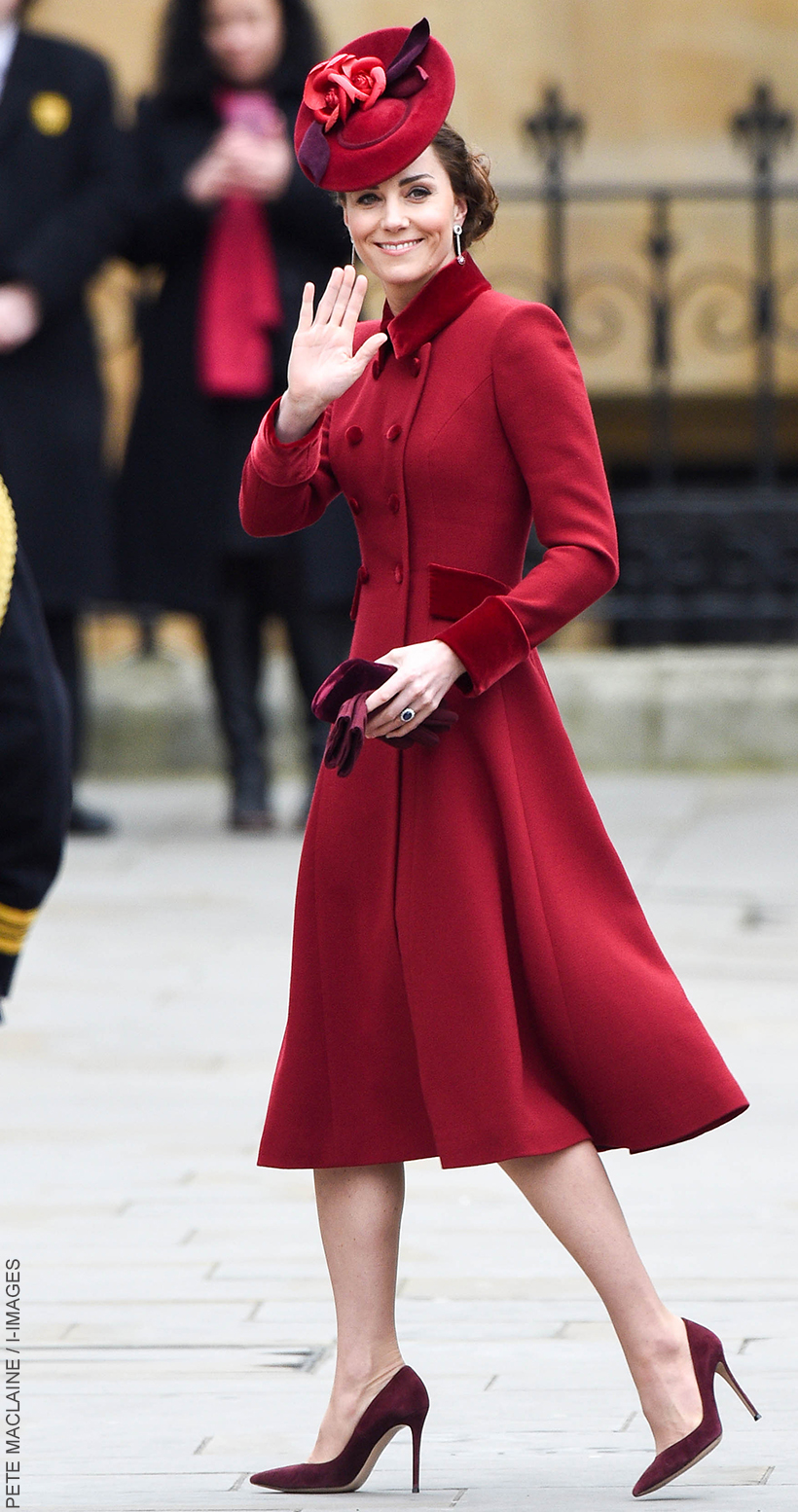 Last year, in 2022, Kate opted for a vivid blue look, featuring a cobalt-coloured coat—another piece from Catherine Walker. The Princess added a hat in a matching hat from Lock & Co, carried a clutch from Jimmy Choo, and wore a pair of dark blue Rupert Sanderson pumps. She finished the look with diamond/sapphire jewellery.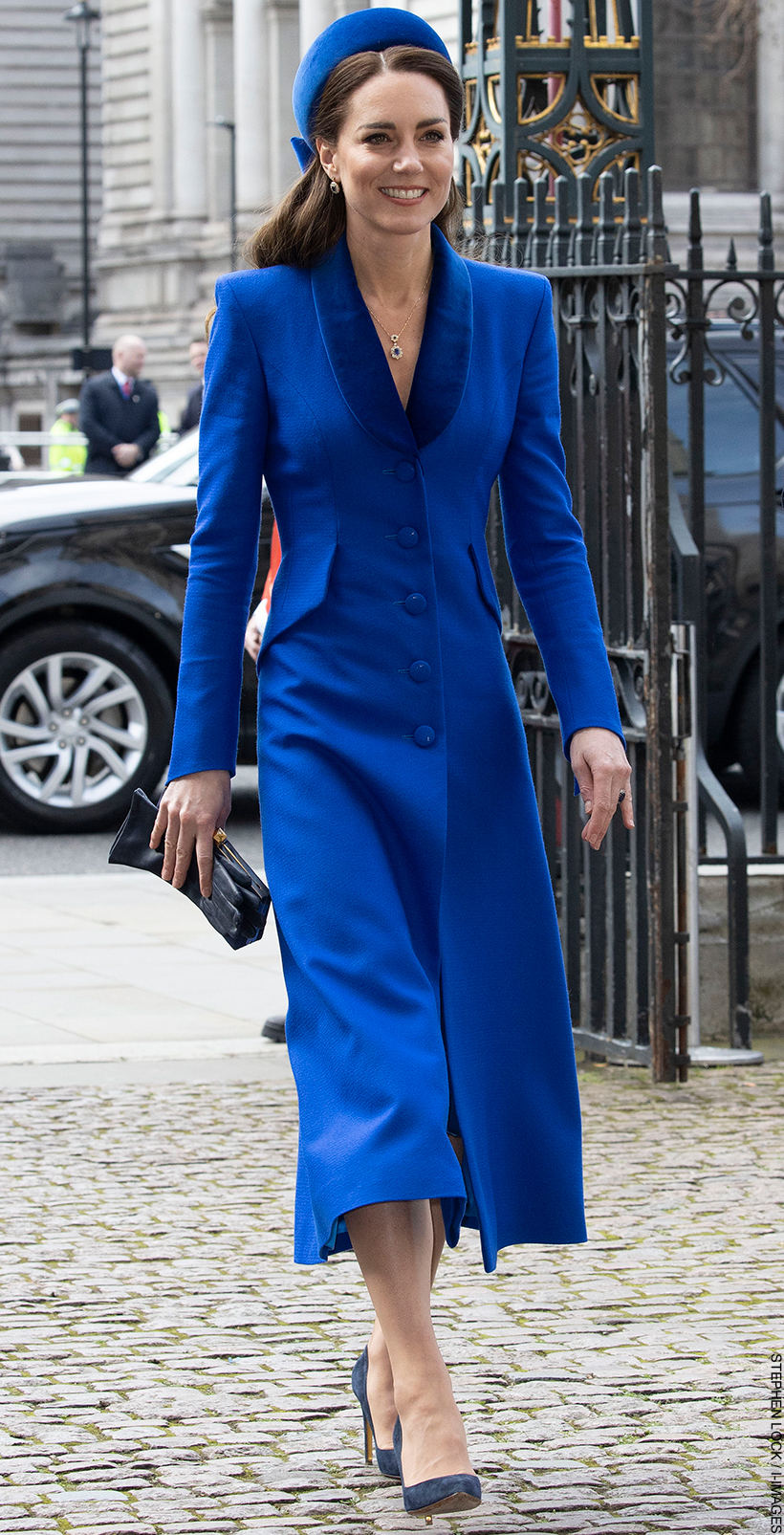 The service did not take place in 2021 due to the pandemic. Royal watchers will probably remember that William and Kate did not attend in 2017—it was pretty controversial at the time!