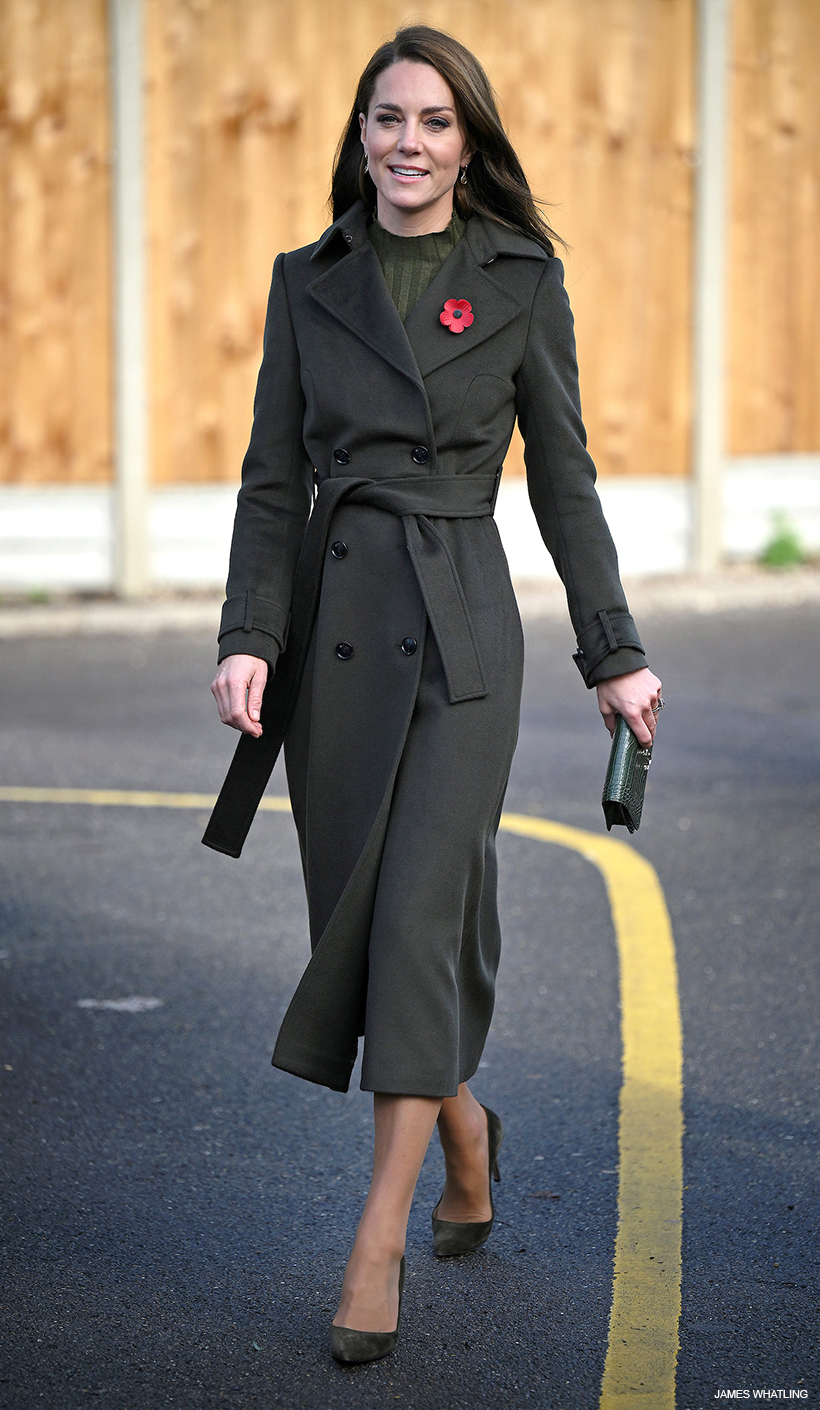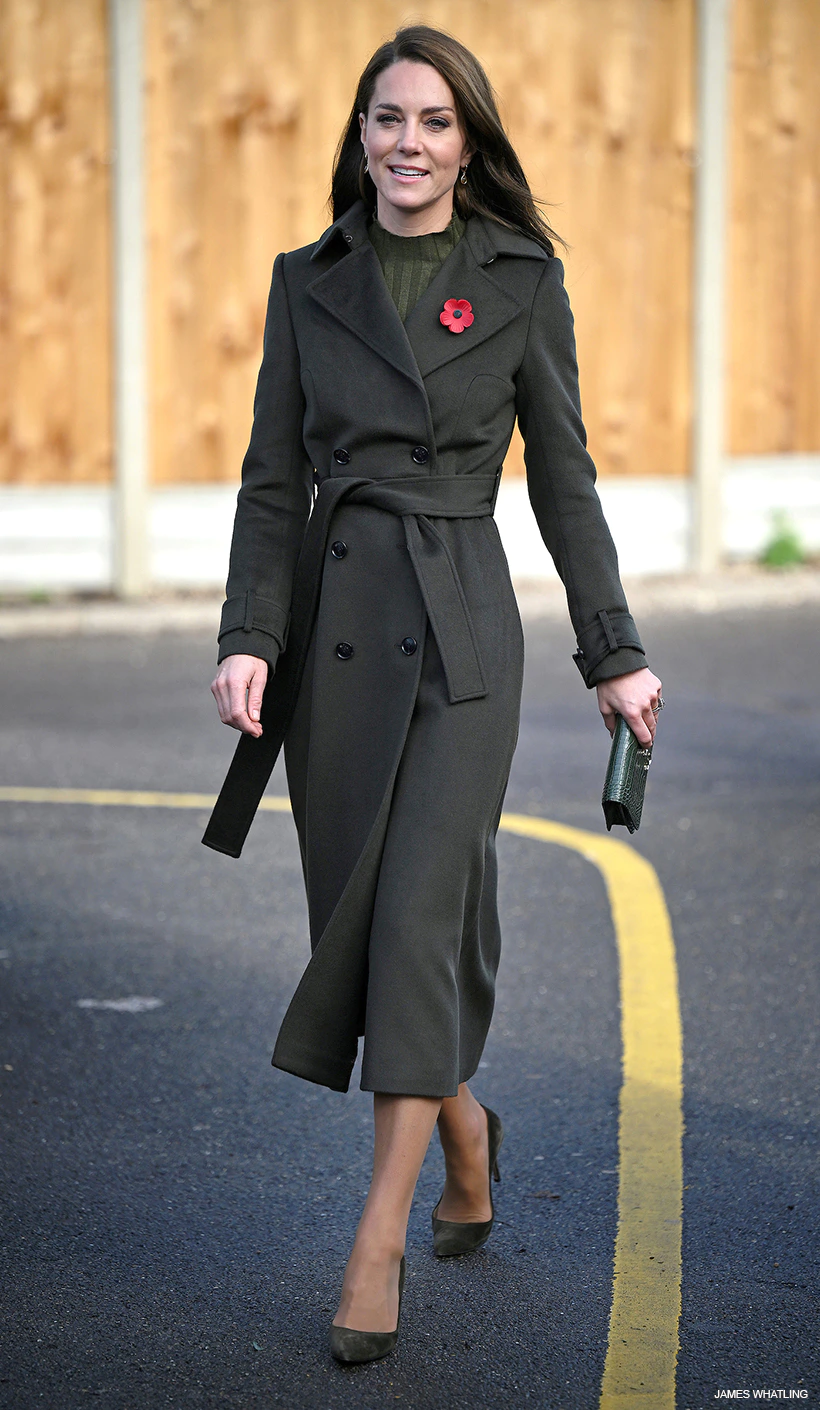 Kate Middleton returned to a tried and tested styling trick today, monochromatic dressing. The Princess of Wales wore olive green top-to-toe during a visit to the Colham Manor Children's Centre in Hillingdon, West London (9th November 2022).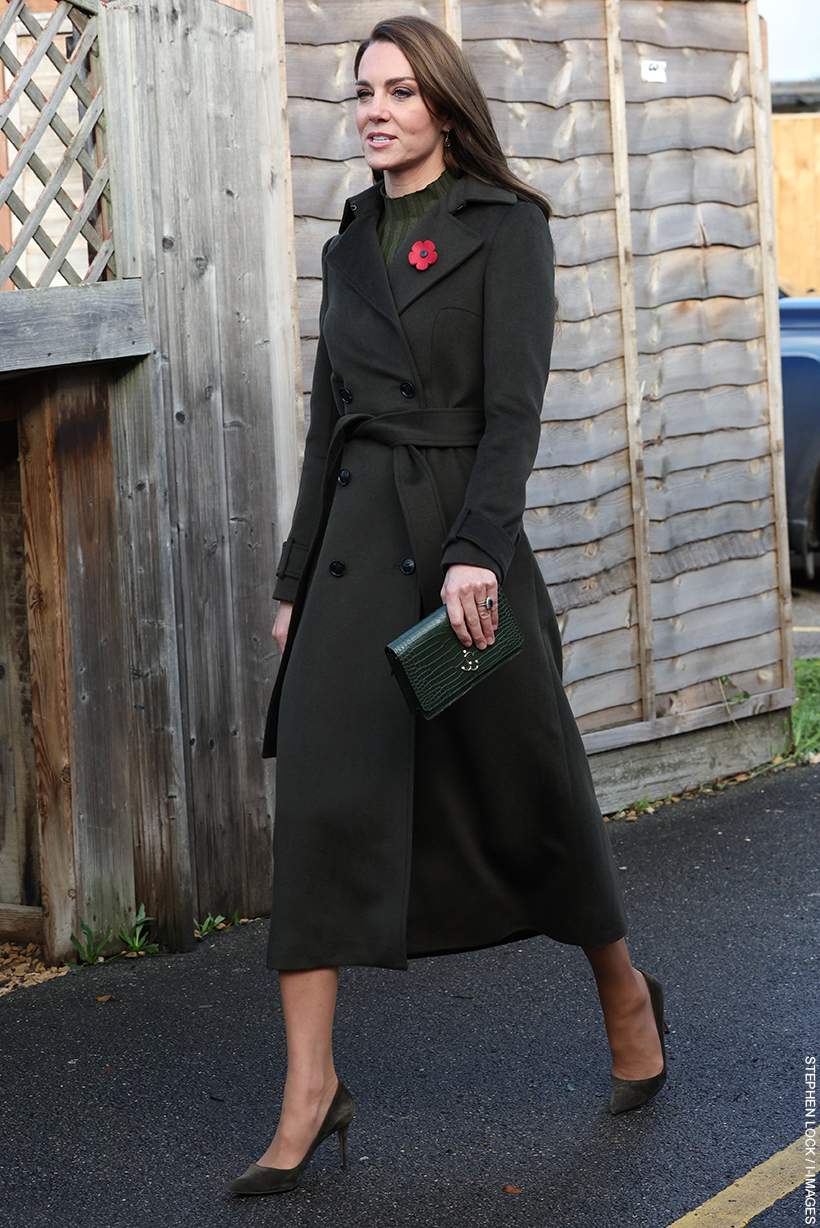 Kate'a been a fan of tone-on-tone ensembles for a while now. I don't think she'll be ditching the look any time soon!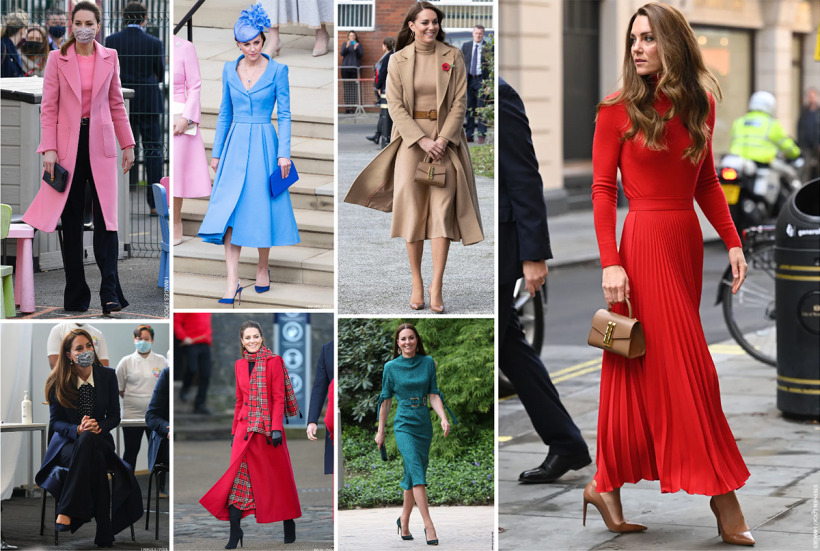 And she's not the only one! Vogue noted the SS22 runways were full of monorchrome styling, "a bevy of designers went all in", they wrote.
Designers struck a perfect balance between understated silhouettes and exciting color to make monochrome feel modern, polished, and effortless.

Vogue
It's easy to see why the Princess is such a fan of the look.
Kate also returned to mixing high street brands (Hobbs, Mango) with luxury (Jimmy Choo, Kiki McDonough, Gianvito Rossi, Ralph Lauren). I suspect Kate (or her team) intentionally chose high-street brands for the visit. It wouldn't send the right message to visit a children's centre clad in costly designer gear during a 'cost of living' crisis.
Or, perhaps the Princess knew the visit would involve toddlers with sticky fingers and craft activities (she joined in with a mother and child session and I spotted one table set up with play dough). Opting for (relatively) cheaper items makes sense in this instance.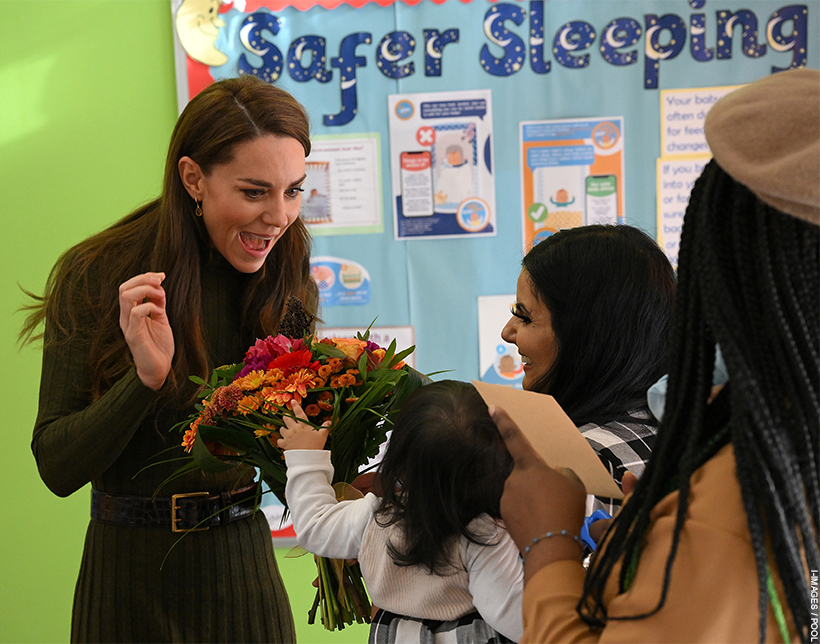 Kate visited the children's centre to hear firsthand about the services and support it provides to families in the local community.
The centre brings midwives, health visitors, social workers, charities and specialist psychiatrists under one roof to help vulnerable mothers navigate their children's early years.

The Telegraph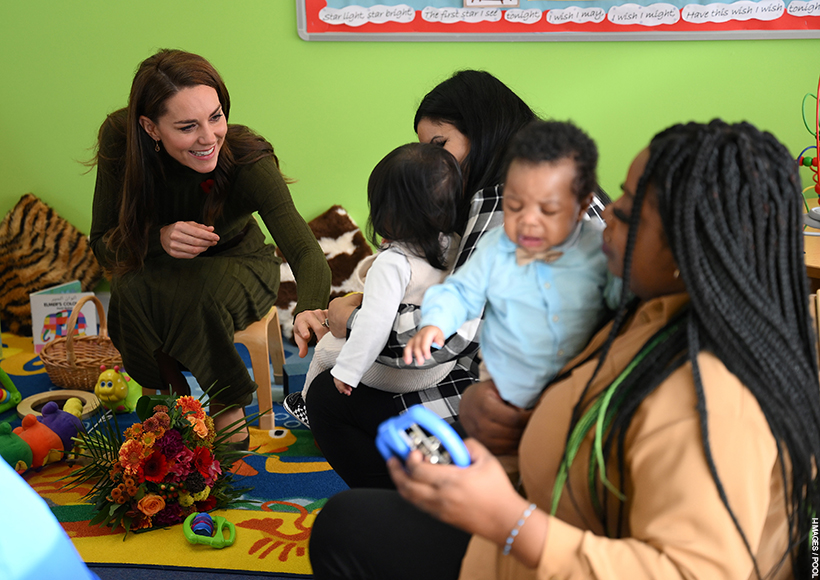 Kate wanted her visit to highlight the benefits of the unique Children Centre—a relaxed environment where mothers-to-be and parents can be signposted to relevant organisations for assistance where needed. Kate thinks other communities should adopt this exemplary model:
"I think more places like this would be so valuable in communities, bringing people together," the Princess said.

"It's fantastic what's being done here. It's not about having more services, it's actually about being able to integrate them."

Princess of Wales via The Telegraph
During a round-table discussion, Kate met with representatives working across perinatal services in the area. She learned that the service has developed to meet the needs of most vulnerable mothers in their community.
The Children's Centre supports local families and carers with children aged 0-5 years by giving parents access to groups, sessions, courses and workshops that span a range of topics.
The centre also connects families with partner organisations, including the Midwifery Team, the Perinatal Mental Health Team, dieticians and more. Kate spoke to some mothers who'd received mental health support as a result of attending the Children's Centre.
The Maternal Mental Health Alliance (MMHA) invited Kate to the Children's Centre. Longtime readers will remember the Princess became Patron of the MMHA earlier this year——the MMHA is a UK-wide charity made up over 100 partner organisations.
The Princess' patronage of the organisation aligns with her ongoing work on the importance of early childhood development through The Royal Foundation Centre for Early Childhood, raising awareness of and promoting collaborative action on the early years to transform society for generations to come.

royal.uk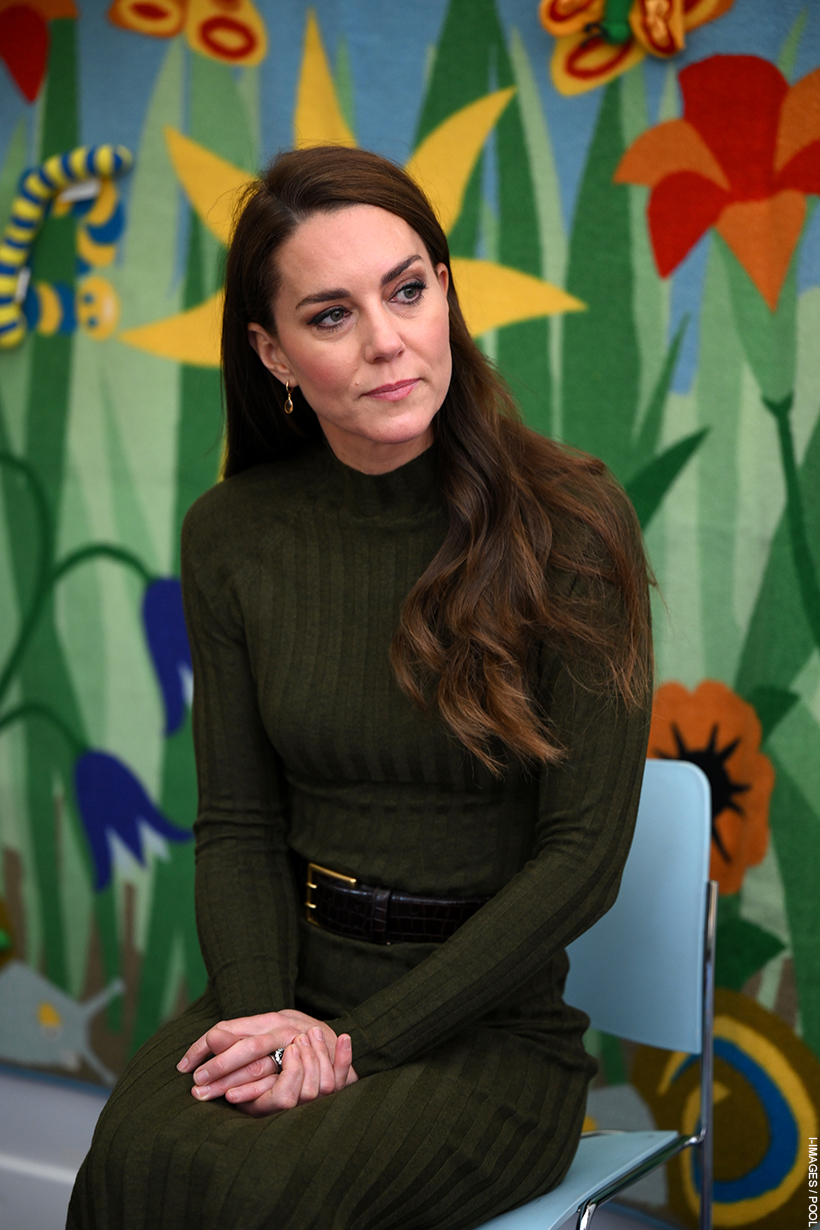 At the end of the visit, Kate offered her poppy to a little boy. After he asked her name, she unpinned the poppy from her coat, spoke to him about what the paper flower signifies and then handed it over. Watch the sweet moment below:
Let's circle back to the fashion now.
Kate Middleton's Olive Outfit:
The Princess of Wales selected an all olive ensemble for the visit. The dark green hue is the perfect tone for autumn-winter.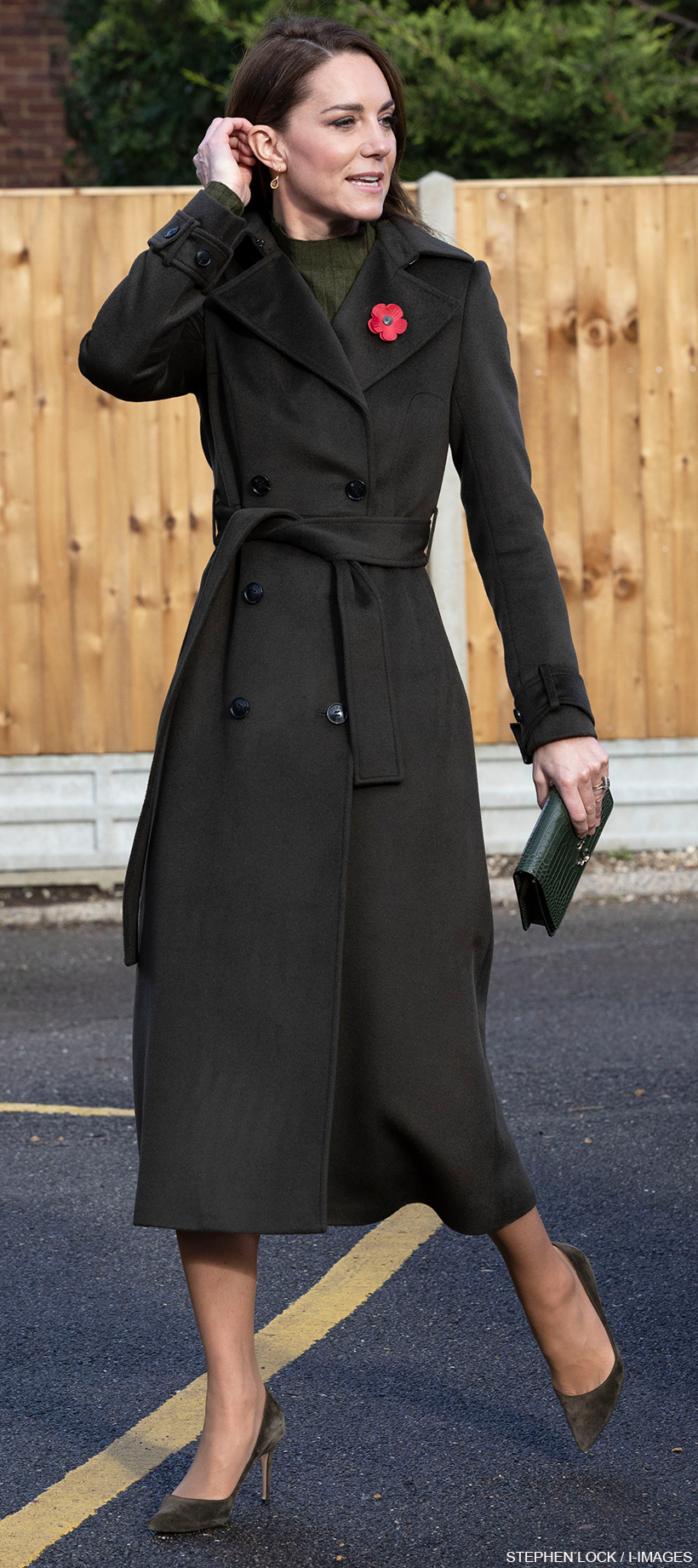 I think it's fair to say this one of Kate's favourite colours. She wears it quite frequently:

Let's take a look at her coat. When the photos first emerged, I zoomed in and noticed the buttons read 'Hobbs London'. I tweeted this and minutes later, my friend Elizabeth had found the exact piece: The British company's Lori Belted Long Coat in Olive Green.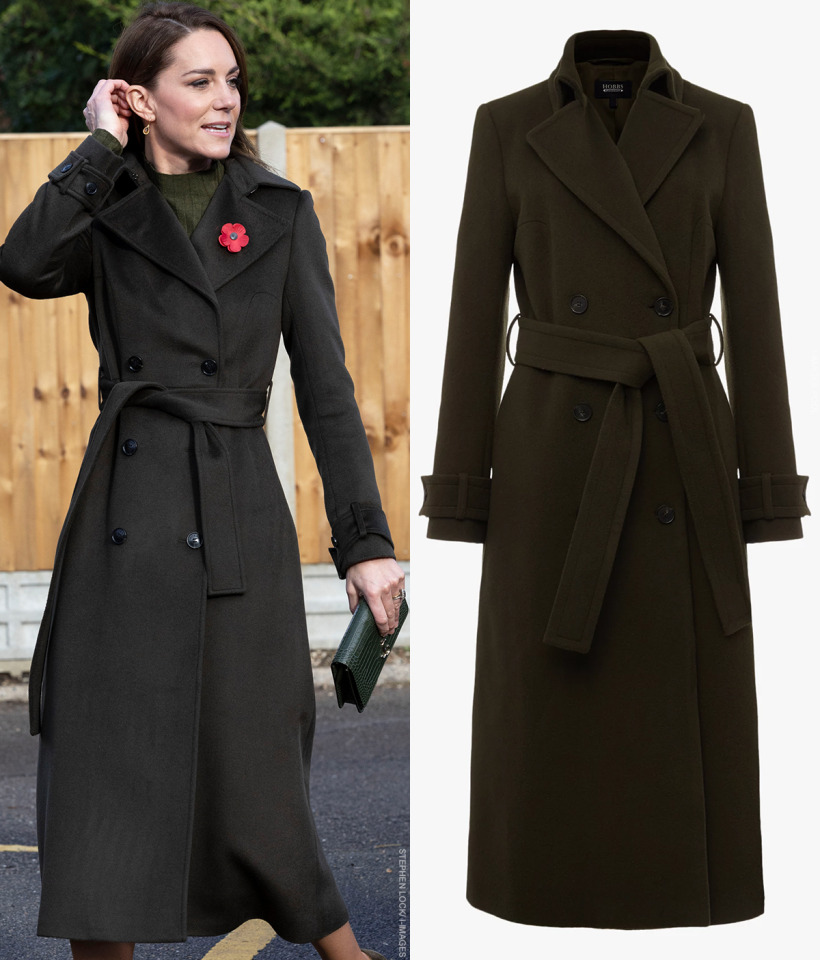 The military-inspired coat is double-breasted with wide lapels, cuff detailing and a cinching belt at the waist. It's made from a wool-cashmere-polymide mix fabric.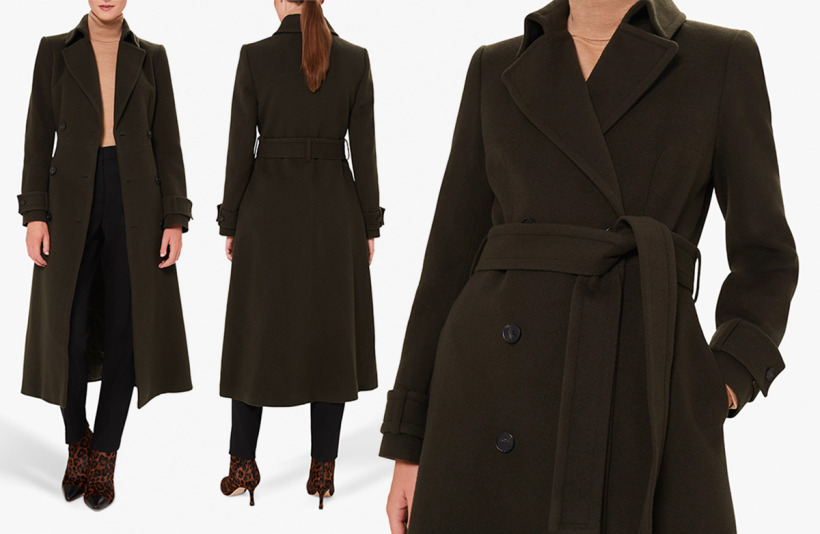 A cached page in Google shows the coat retailed for £369 before Hobbs reduced it by £100 in their sale. Unfortunately, the coat is no longer available to buy. It sold out prior to Kate's outing.
I doubt Hobbs will reissue the garment (though, they've just re-released the burgundy coat Kate wore a decade ago, so who knows!)
Kate's worn dozens of items from Hobbs London since joining the Royal Family, including several coats, sweaters and a suit. Here's just a small selection:
The womenswear brand say their name is "synonymous with the best of British design."
Psst… love the colour of Kate's coat? Looking for a similar belted design? Check out the options below:
GET THE LOOK: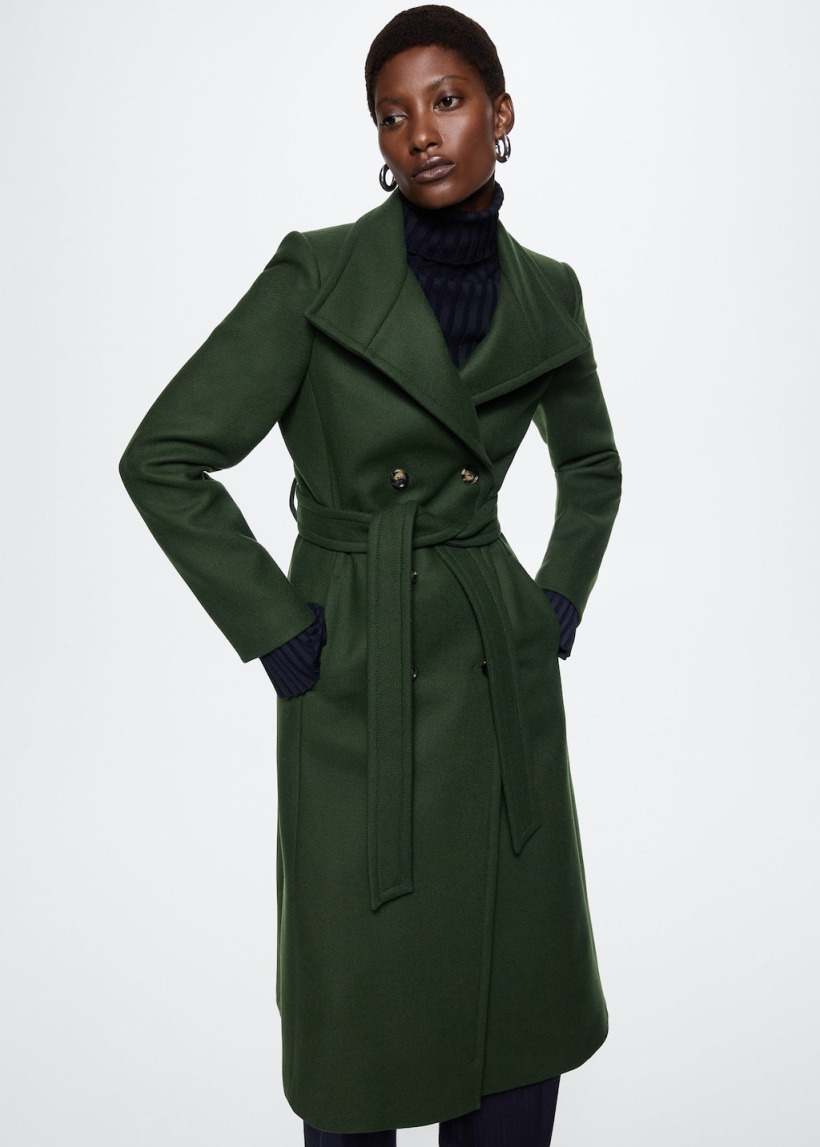 MANGO WOOLLEN COAT WITH BELT IN GREEN
If you're trying to copy Kate's look, this green coat ticks ALL of the boxes. It's double-breasted, crafted from wool, has a wide collar, a self-tie belt and comes in a fetching shade of green.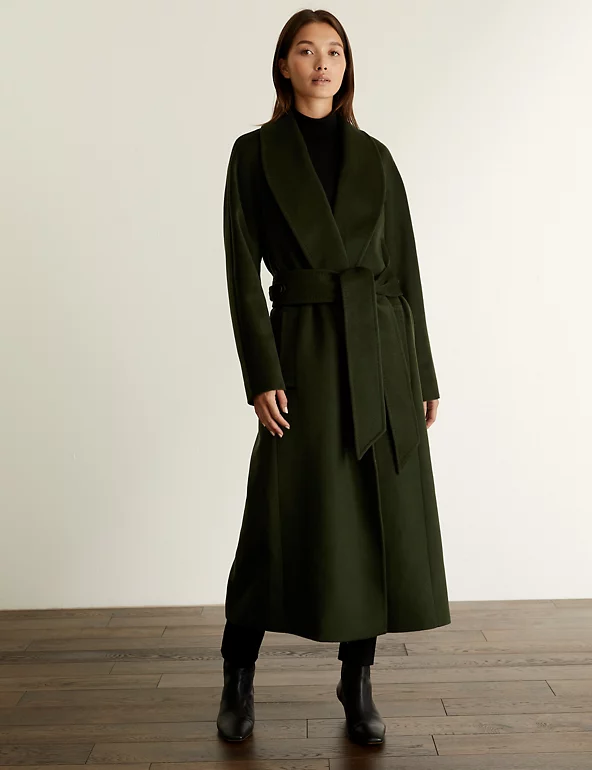 JAEGER PURE WOOL LONGLINE WRAP COAT, OLIVE GREEN
This longline pure wool coat features a self-tie belt and a shawl collar neckline. It's sleek, stylish and versatile. Wear over a khaki midi dress for a Kate-inspired look.
OK, let's move onto Kate's khaki coloured dress now. My friend Natasha identified the piece. It's the Knitted Perkins Neck Dress from the Spanish brand Mango.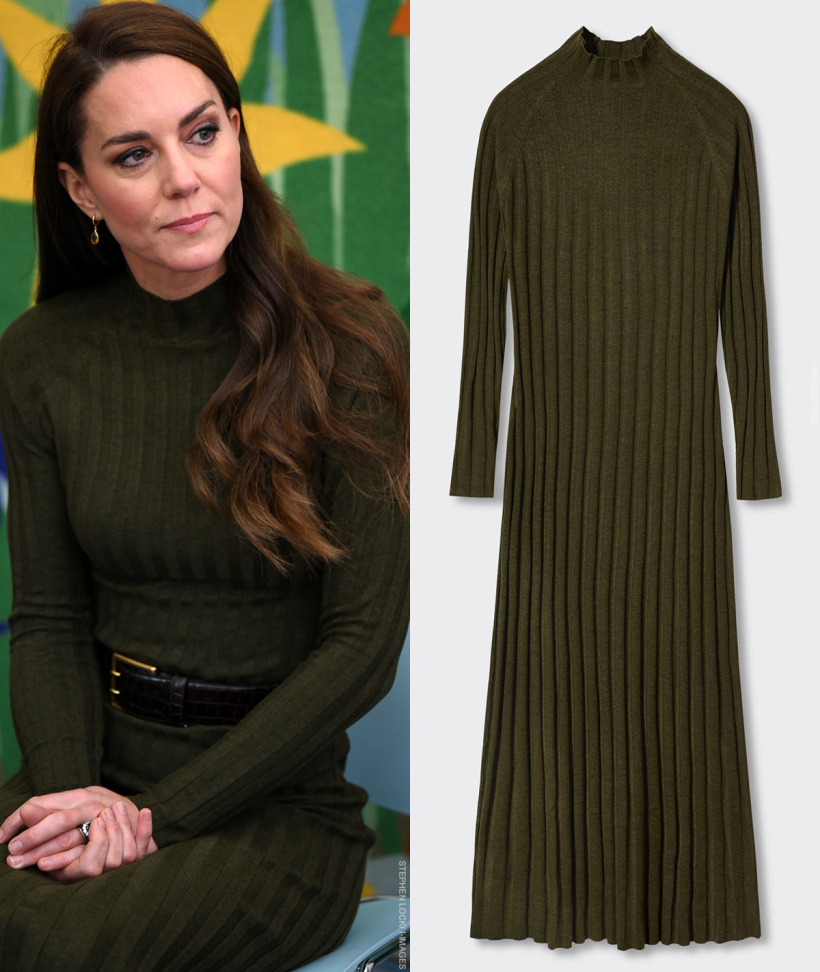 The green knit dress is from Mango's Committed Collection—their clothing produced using sustainable fibres or processes to reduce environmental impact. The garment features a tailored silhouette in an evasé design—a sort of graduating A-line style—with a high neckline and long sleeve.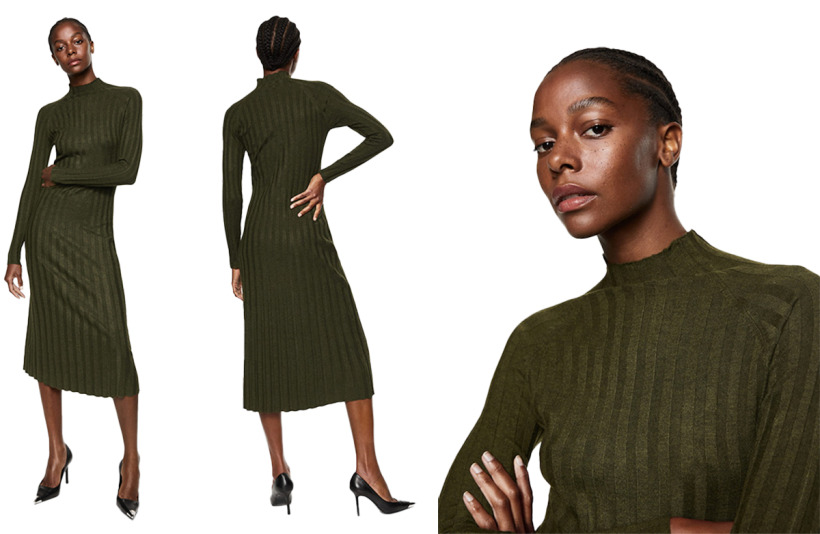 Sadly, the dress is not available for purchase at this time, it was also sold out prior to Kate wearing it in public. Which is a shame, as I know a lot of fans would love to get their hands on the garment thanks to the affordable price point and the fact it's very 'wearable.'
Good news though, the dress is still available (in limited sizes) in another colour at Mango, see below: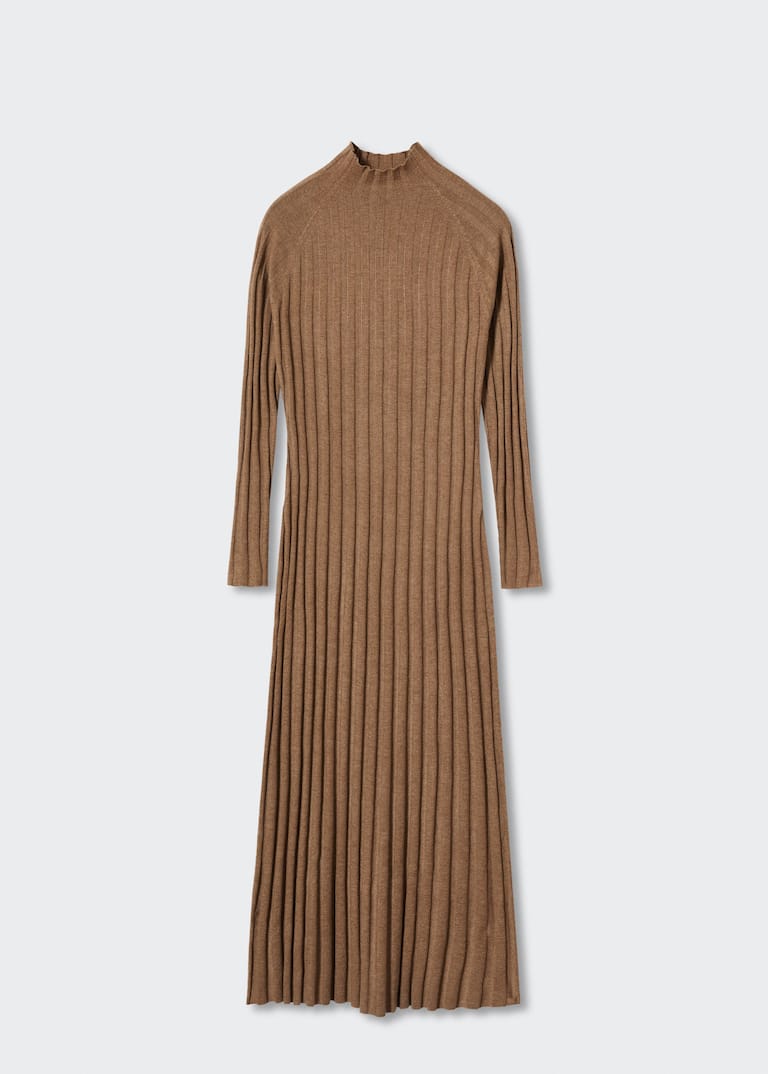 Same Dress, Different Colour
Buy it in caramel: Sadly, the khaki version of Kate's midi dress is long sold out. But Mango still sell it in caramel (in limited sizes). Style it with toffee-coloured accessories and a camel overcoat for a Kate-approved look!
Mango isn't a brand we see Kate wear too often. I recall that she owns one of their green sweaters and a dress that she wore prior to joining the Royal Family.)
Let's take a look at her footwear and accessories next. We believe the Princess has owned these earrings since at least 2009, they're the Kiki McDonough Citrine Pear Drops.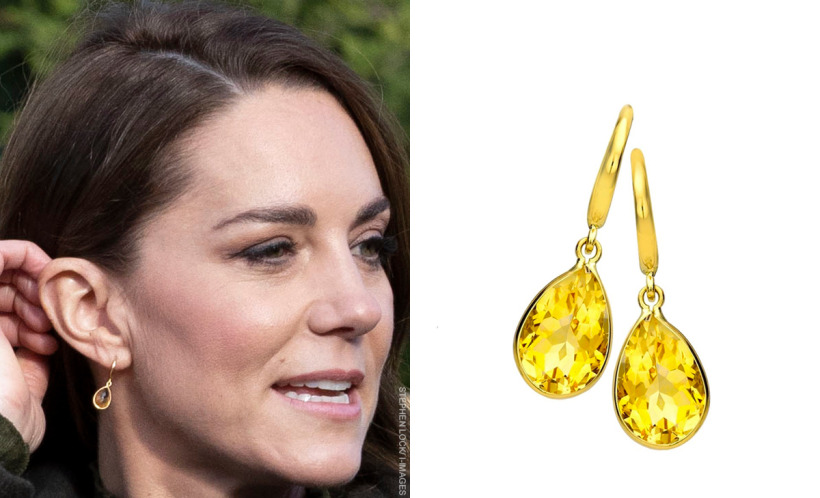 They're one of her most-worn pieces of jewellery to date! Kate has worn the Citrine Drops to nearly 40 official engagements since joining the Royal Family in 2011 (source: Data Duchess). This might not sound a lot, but for context, we've only seen her wear some pairs of earrings just once or twice!
The earrings feature yellow citrine pear-shaped gemstones suspended from an 18-carat gold hoops. Kiki McDonough describes the earrings as a "simple and extremely wearable style… perfect for adding a touch of colour to the face."
You can purchase them directly from Kiki McDonough's website, RRP: £550.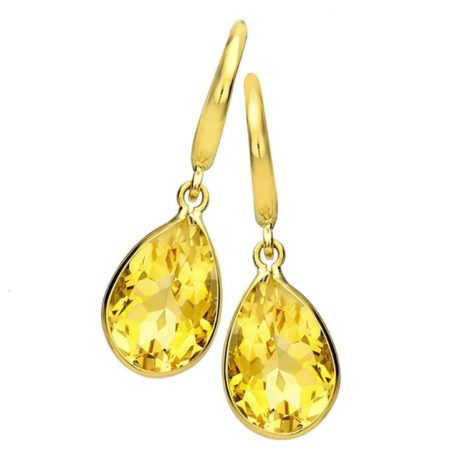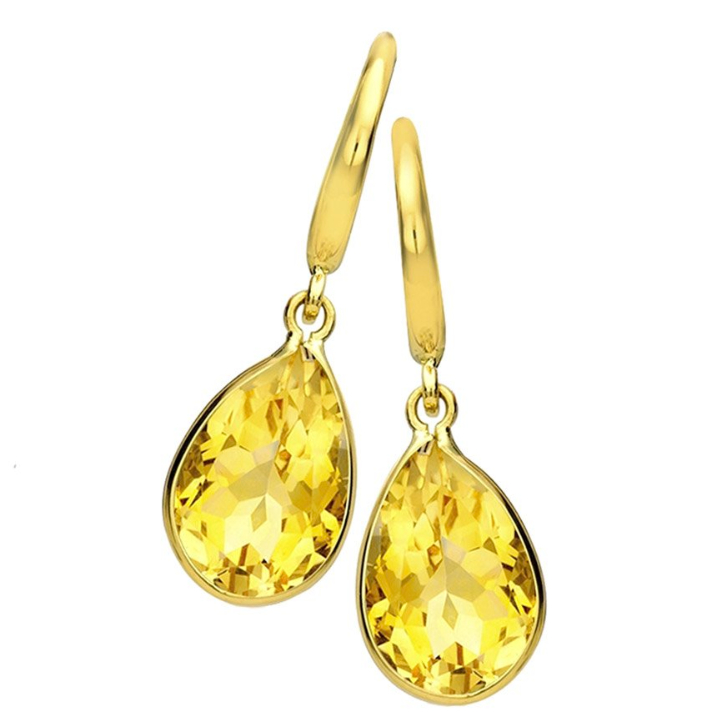 KIKI MCDONOUGH CITRINE PEAR DROP EARRINGS
EXACT MATCH – Emulate the Duchess with this pair of citrine drop earrings. They're brilliant all-rounders that'll you'll wear for years to come.
Kiki McDonough is a British jewellery designer—Kate owns over 20 of her pieces.
Kate's bag is also a repeat, though one we've only seen her carry once before. It's by Jimmy Choo, it's the Palace Clutch in Embossed Green Croc.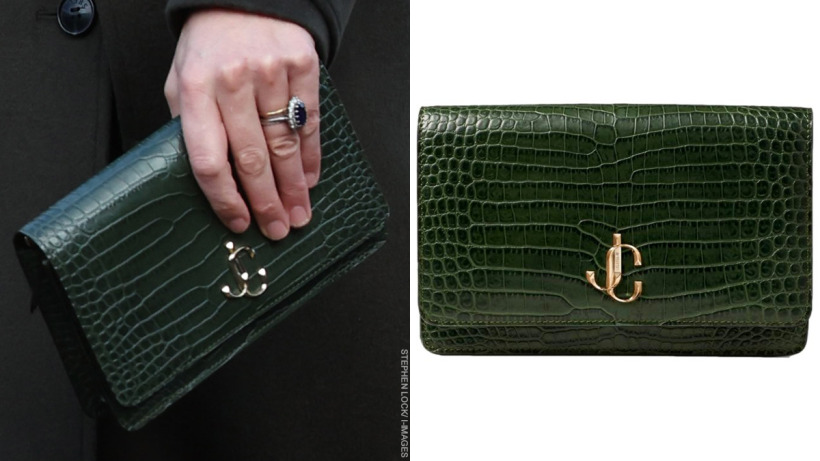 Kate first carried the bag during a visit to the Republic of Ireland in 2020. It is crafted from croc print leather in a shade of green the company refer to as 'dark clorofilla.'
The piece features a removable chain crossbody strap and a magnetic snap closure. The brand's interlocking 'JC' monogram sits on the front in gold. The interior features an interior zip pocket, slip pocket and card slots.
The bag retailed for $695 in the USA. I can see FarFetch carried the black leather version for £495 GBP. It's not available to buy today, I'm afraid. You can see similar alternatives below:
SHOP SIMILAR BAGS: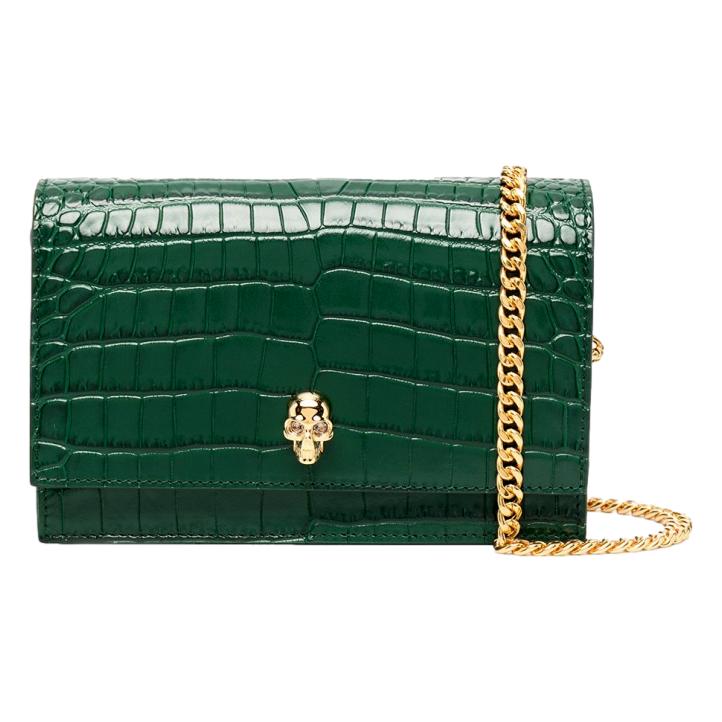 ALEXANDER MCQUEEN
Mini Skull Bag in Green Croc Effect
Click to buy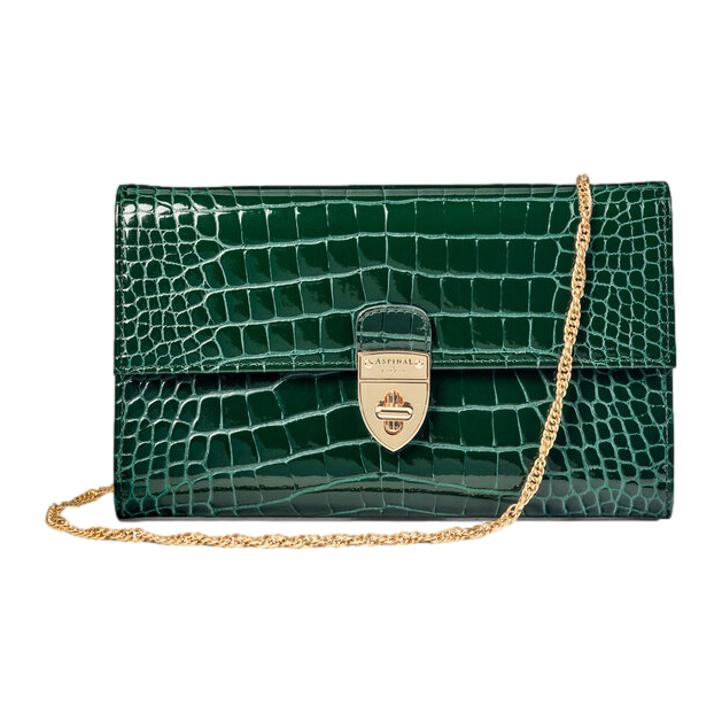 ASPINAL OF LONDON
Mayfair Clutch in Evergreen Patent Croc
Click to buy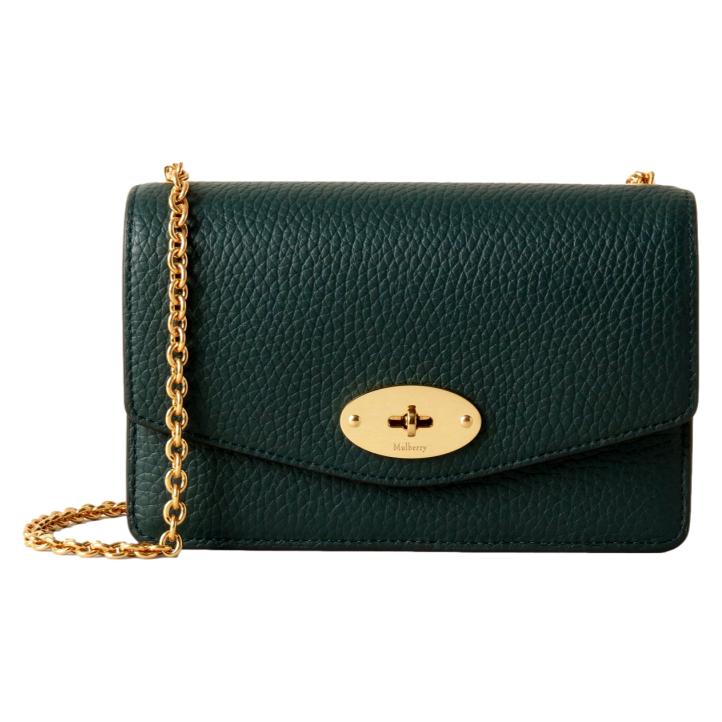 MULBERRY
Darley Bag in Mulberry Green
Click to buy
Jimmy Choo is a luxury brand that's become synonymous with the most stylish of women, including royalty and celebrities alike. Kate's love of Jimmy Choo shoes and accessories is well-documented.
Gianvito Rossi is another luxury brand we've seen Kate wear on repeat. She wore the designer's 'Gianvito 85′ pumps in Olive Suede on this occasion.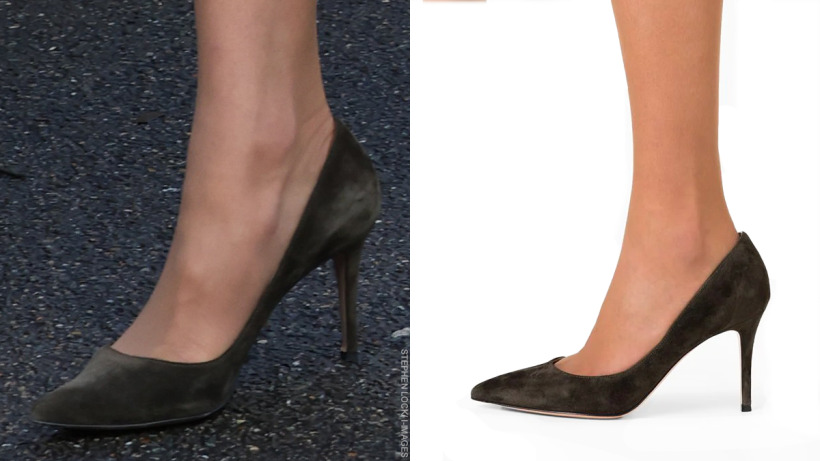 The shoes aren't new, the Princess has worn them on a handful of other occasions.
The olive green shoes are made from suede and lined with leather. They feature a pointed toe and an 85mm stiletto heel. The designer's gold logo is stamped on the insole.
At the time of writing, Farfetch stocks the Gianvito 85 shoe in this particular shade of olive green shoes (RRP: £560 GBP). Limited sizes remain available. Net-A-Porter sells the same style in other colours in a wide range of sizes.
Let's finish by looking at Kate's new belt. It's by Ralph Lauren. (thanks to Ashley for finding the item)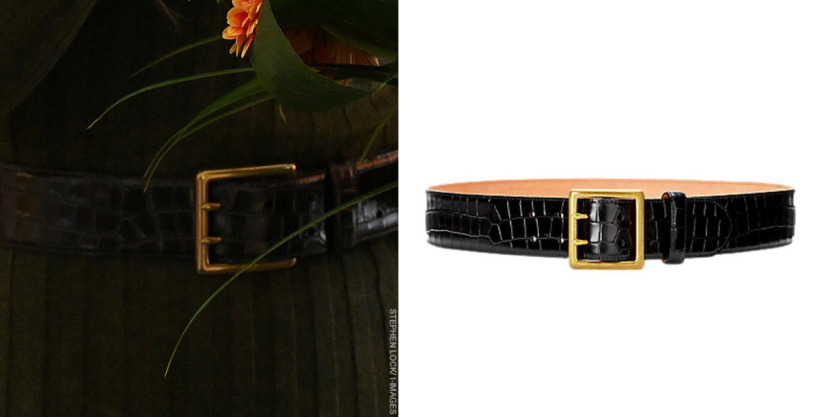 The leather belt is finished with a crocodile-embossed print and features a double-prong buckle crafted from solid brass. Ralph Lauren UK currently stocks the belt in a few different sizes (RRP £149). I think the belt is out of stock in the USA.