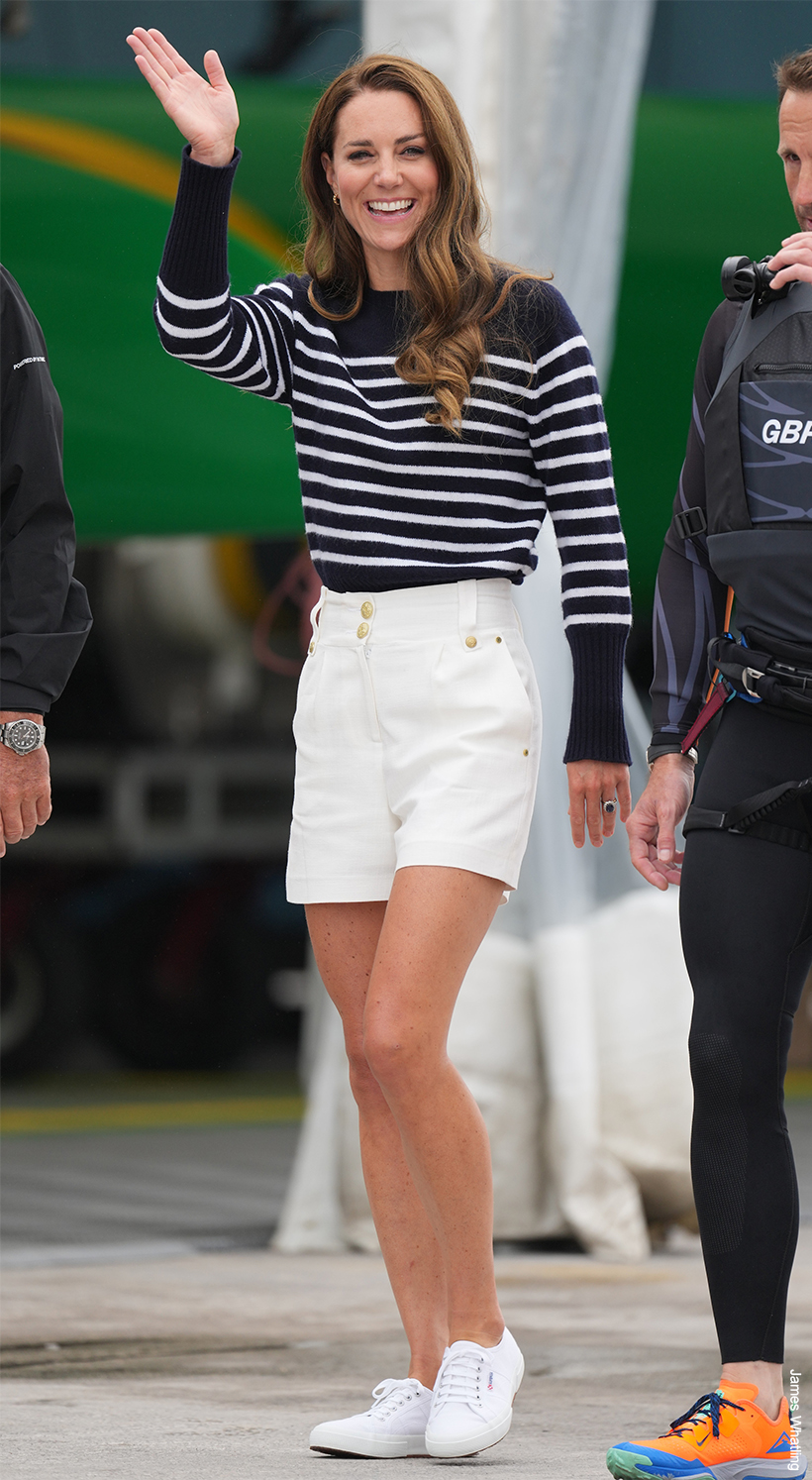 Kate Middleton took part in sailing-related engagements in Plymouth on Sunday 31st of July. During the afternoon, she switched between casual clothing and sporting gear, giving us three different outfits to discuss!
The Duchess began her visit wearing a pair of high-waisted shorts by Holland Cooper, a striped sweater by Erdem and her white Superga sneakers as she chatted to young people taking part in a seagrass planting activity arranged by the 1851 Trust.
The charity creates exciting educational experiences for 11- to 16-year-olds. Sir Ben Ainslie launched the 1851 Trust in 2014—Kate became its Patron in the same year.
Then, the Duchess changed into a wetsuit, Adidas Pureboost sneakers and a Team GBR hat as she hit the water with Sir Ben Ainslie and the Great Britain SailGP Team on an F50 catamaran.
Onboard, Kate took the wheel of the boat briefly, helping steer the team to victory in a special 'friendly Commonwealth Race' against New Zealand.
Kate ended the visit wearing a black SailGP jacket and a pair of blue hiking shorts by Helly Hansen. She also changed back into her white Supergas.
SailGP is an international sailing competition using high-performance F50 foiling catamarans. This year, teams from nine different countries— including Spain, Switzerland and Denmark—are competing for the title.
Now, let's take a closer look at the three outfits Kate wore during the afternoon.
Kate Middleton's three outfits:
Kate arrived in Plymouth wearing a nautical-inspired outfit. She paired a navy striped top with cream shorts and white sneakers. The smartly tailored high-waisted styling looked modern and sophisticated, giving her that perfectly polished edge she's known for.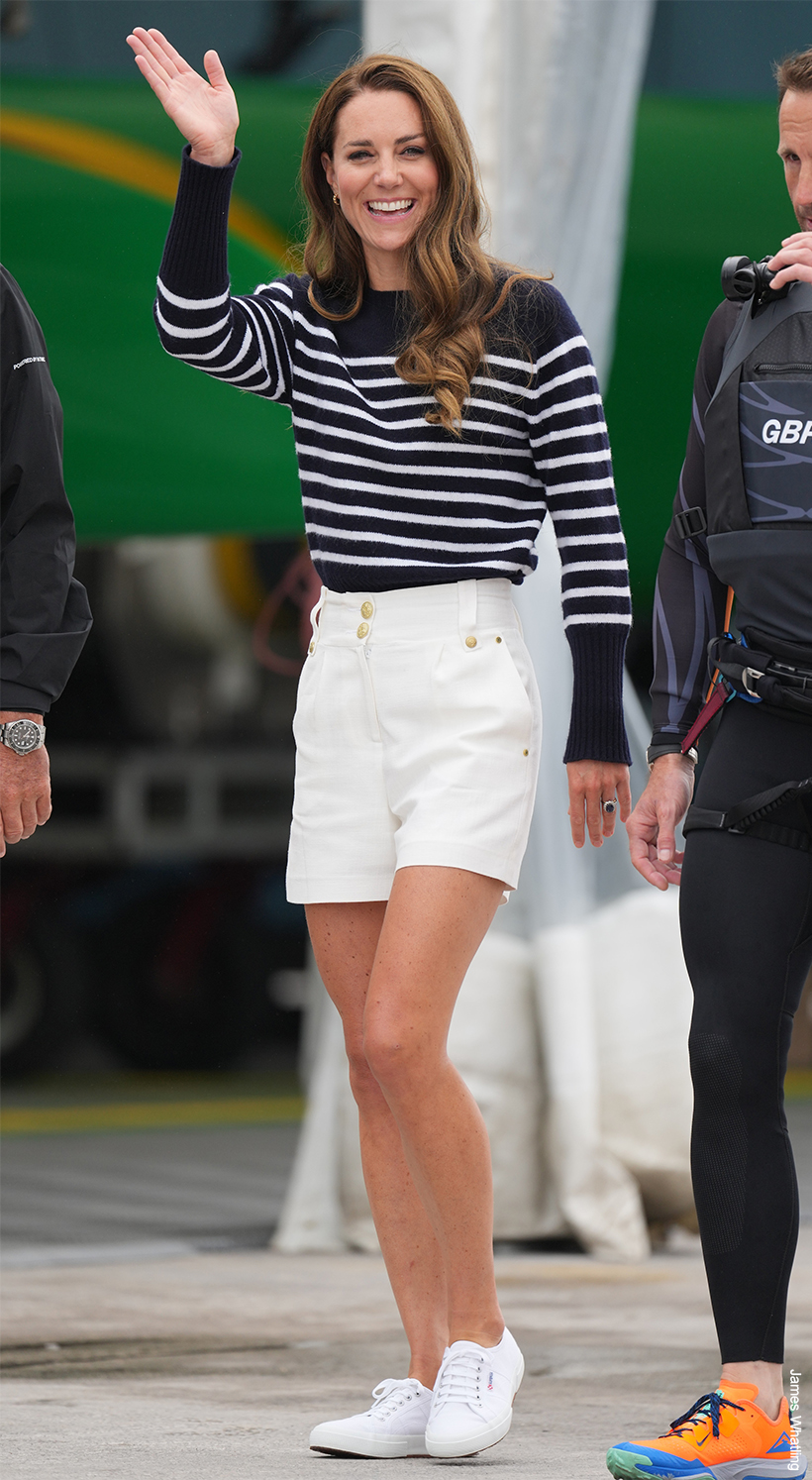 Let's start with the sweater. It's the Lotus style by Erdem. The piece was knitted from cashmere wool in Scotland. It features dropped shoulders, ribbed edges and a crew neckline.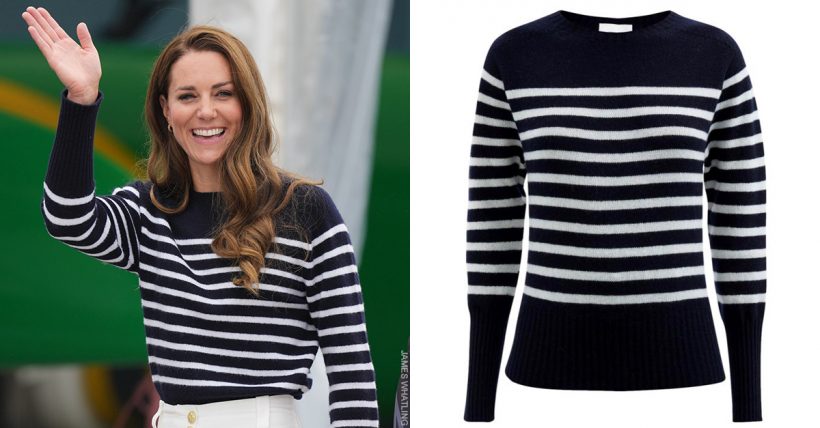 Matches Fashion sold the garment, describing it as "an updated take on the traditional marinière, a striped top originally worn by French sailors and later adopted by 1960s style iconic such as Brigette Bardot and Jane Birkin." Unfortunately, the sweater is from a past season and is no longer available to purchase.
In 2021, Kate wore the Erdem Lotus sweater in a reverse colourway during a visit to St Andrews in Scotland.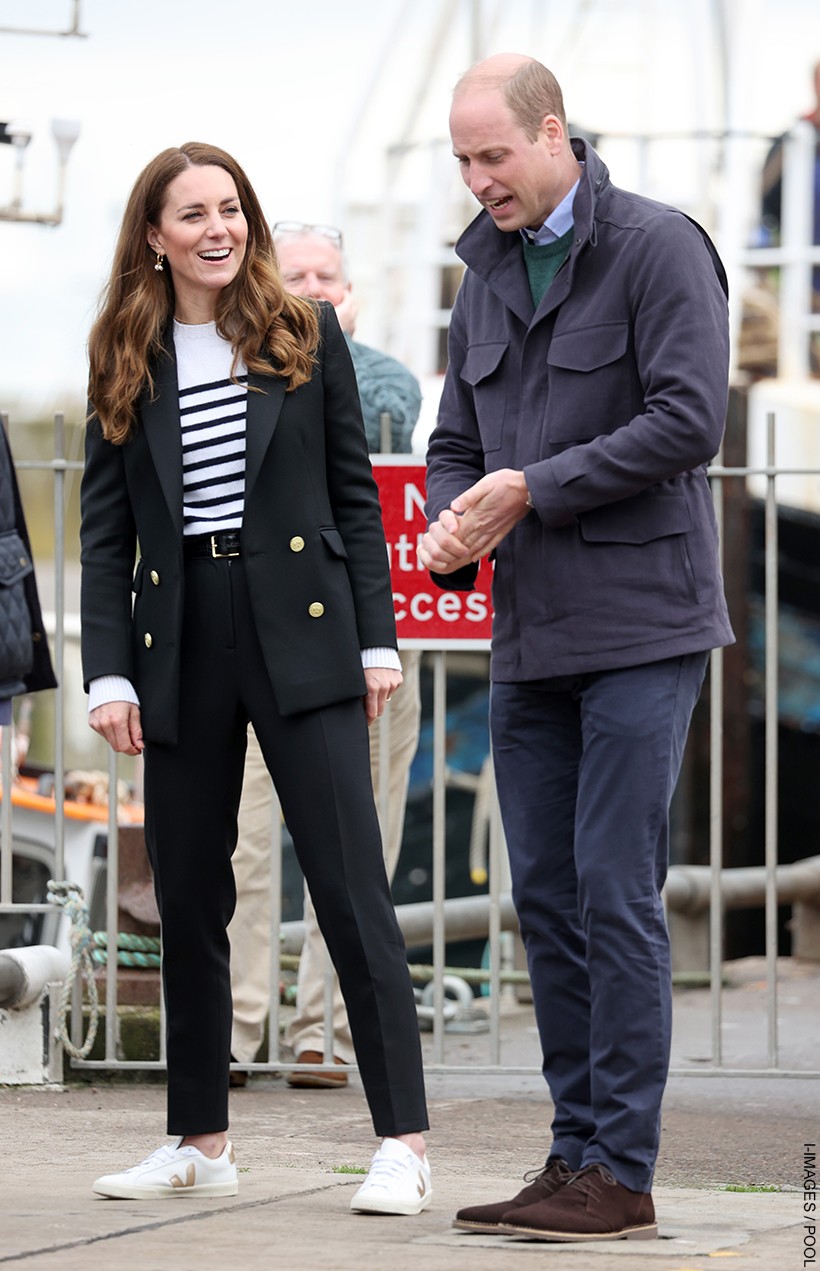 Kate's no stranger to Erdem.  The Duchess has worn the London-based designer's clothing for dozens of tours, engagements and events over the last 11 years.  
Founder Erdem Moralıoğlu is known for his bold prints, colourful designs and sweeping dresses. The half-Turkish and half-British designer grew up between Canada and England. He chose to launch his eponymous label in London in 2005. Browse Erdem at Net-A-Porter.com.
Let's look at Kate's cream shorts now. They are from the British heritage brand Holland Cooper, the Tailored Shorts in a colour described as Oyster Linen. (Identified by innominate_93 on Twitter.).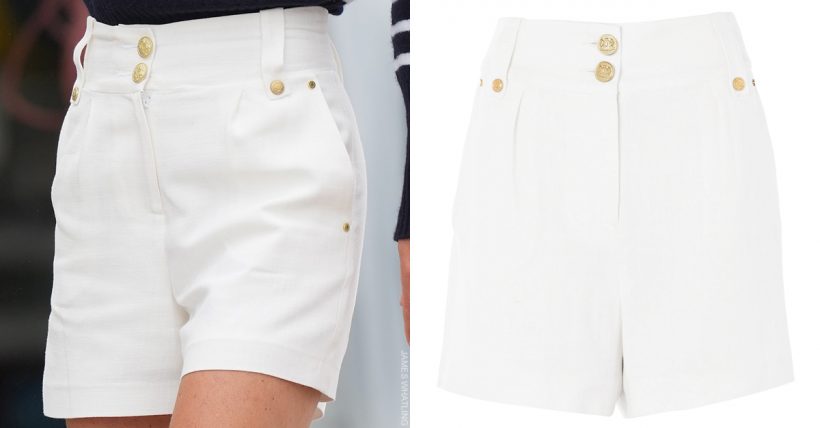 The shorts are high-waisted, made from oyster-coloured luxury linen and feature two single knife pleats under the waistband for a flattering fit. The shorts are finished with Holland Cooper's signature gold metal buttons and rivets.
The shorts can only be purchased on Holland Cooper's website (£199). They are custom-made to order, so you must allow up to 21 working days for delivery.
Kate has worn a fair amount of Holland Cooper clothing over the last few years (pictured below, wearing the brand's Marlborough Trench during a visit to Scotland in 2021).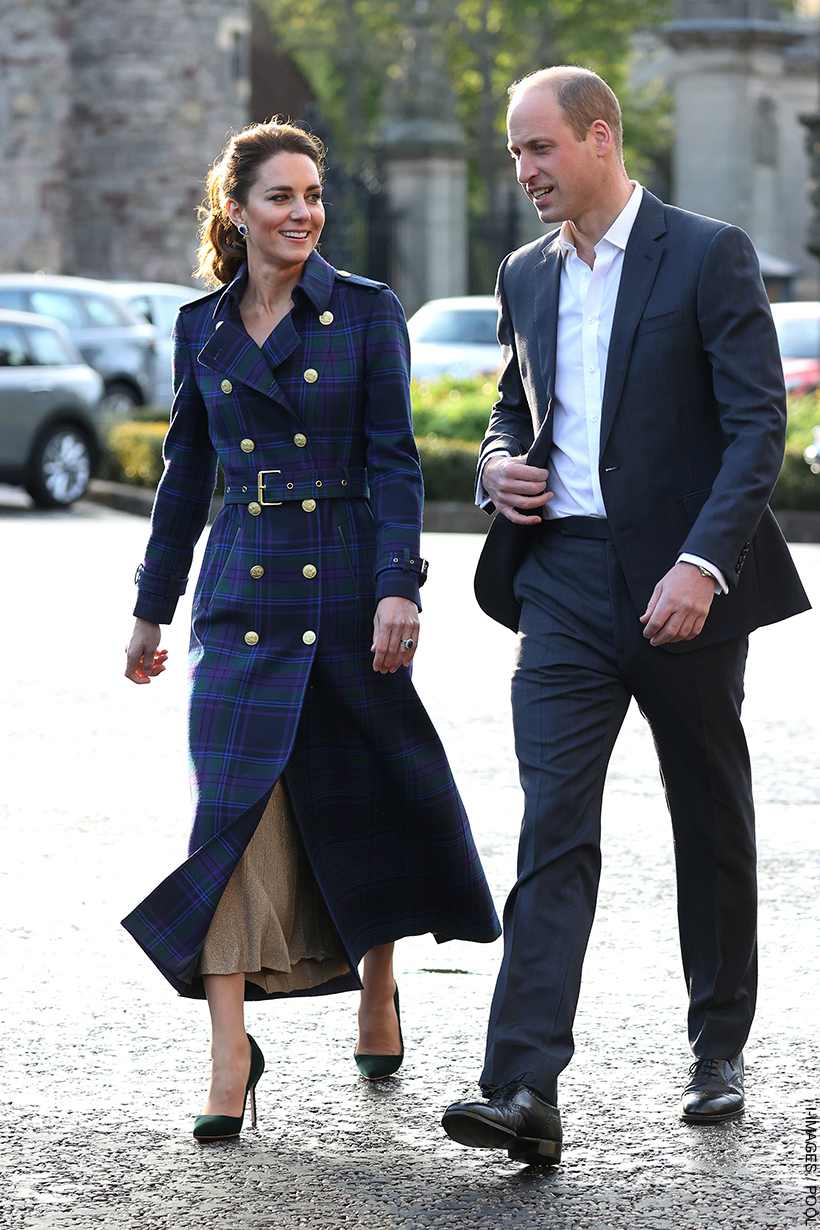 I suspect the Duchess likes Holland Cooper's quintessentially British styling and contemporary designs. Plus, a great deal of the company's clothing is made here in the UK—I'm sure this appeals to Kate who is known to champion homegrown, slow fashion brands.
In an article with Drapers, founder Jade Holland Cooper confirms the Duchess is a repeat buyer and orders clothing online "while at her home in Amner Hall in Norfolk." Holland Cooper founded the company in 2008, then only 21. Fun fact: the fashion designer is married to Julian Dunkerton, CEO and co-founder of Superdry.
Kate wore a pair of white Superga sneakers with her sweater and shorts. They're the 2750 Cotu Classics.

Although Kate's worn the style before (to 13 public engagements) it looks like this particular pair is new. The pair Kate wore during the Caribbean Tour in March had five eyelets. These have six. See the comparison image below: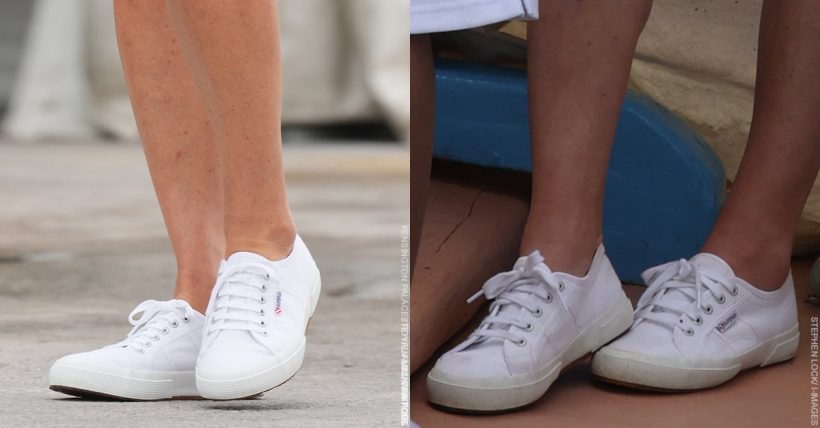 I think Superga have updated the Cotu Classic shoe recently, adding the extra eyelet. (It'd also explain why Kate's trainers looked so clean in Plymouth—as you can see, they looked a little dirty after the engagement in The Bahamas earlier in the year!) Hat tip to Susan from What Kate Wore for spotting the subtle change.
The lightweight canvas shoes are crafted from fully breathable cotton and vulcanised gum rubber. They retail for around £59 / $65. You can buy them from Nordstrom, John Lewis, Amazon and of course, Superga.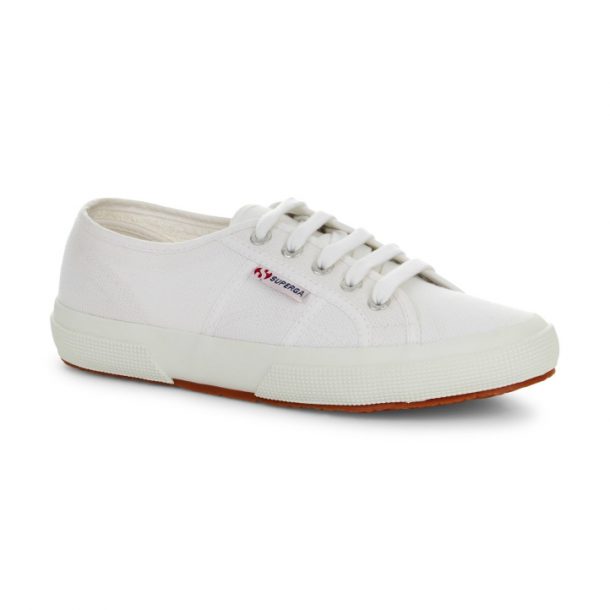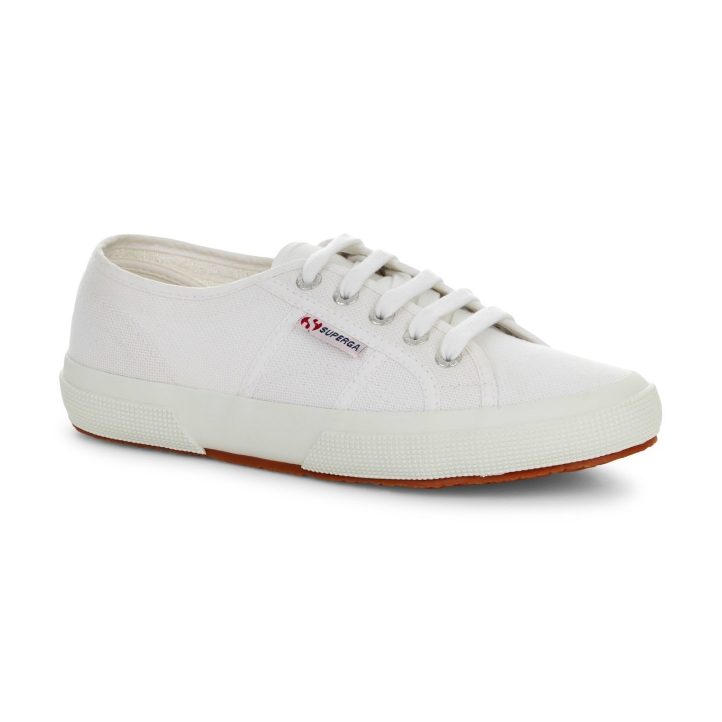 Superga Cotu Classics in White Canvas
EXACT MATCH – Copy Kate and upgrade your casual shoe collection with a pair of Superga's Cotu Classics. The stylish white shoes will elevate any casual look—throw them on with culouttes, jeans, a dress…
Kate's worn the casual shoes to public engagements since 2016.  She owns a second pair in dark forest green too. 
Fun fact: Princess Diana also wore the 2750 Cotu Classics in navy blue canvas during a visit to Angola in 1996. (And yes, I counted… her shoes had six eyelets too!)
Superga is an Italian footwear brand that's over 100 years old. Today, they have stores all around the globe.
After the 1851 Trust activity, Kate changed into a wetsuit to board the catamaran.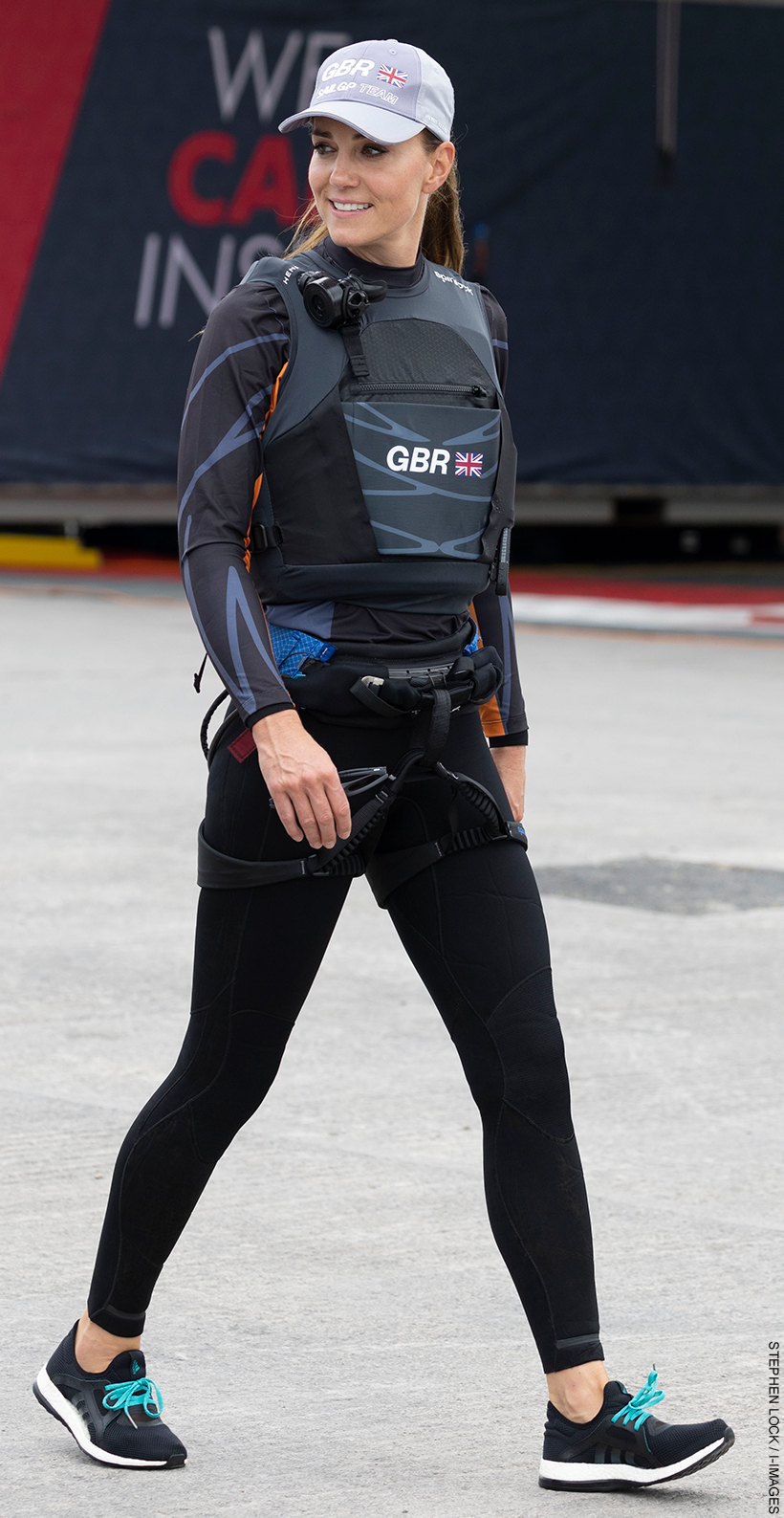 UFO No More spotted the logo on the back of the wetsuit—it's by O'Shea, a British company that builds and sells equipment for water sports like surfing and paddleboarding. The piece is black with orange and grey detailing. Unfortunately, I cannot tell you anything further about the item.
Kate changed her footwear too. She swapped the Supergas for a pair of Adidas running shoes. The PureBoost X sneakers in black with 'shock green' laces.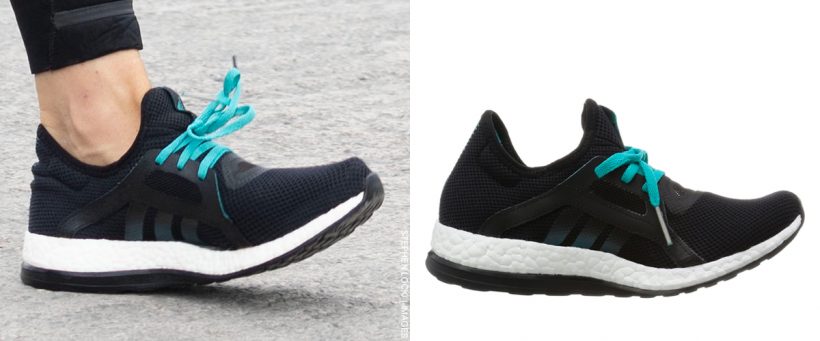 Adidas designed the high-performance after studying the female foot and watching how it moves during running. The unique floating arch allows a comfortable and supportive fit. The shoes are made from a synthetic textile and sit on a grippy rubber sole.
Adidas no longer manufacture and sell the PureBoost X shoe. Though, they do sell other PureBoost styles, which you can view here.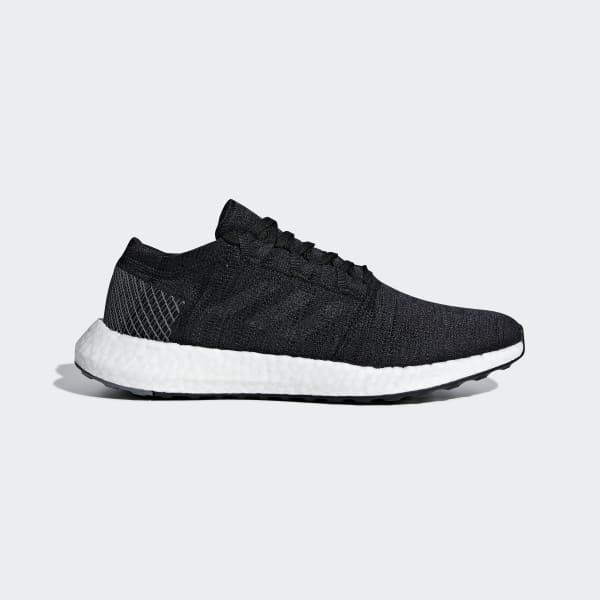 Adidas PureBoost Go Running Shoes
SIMILAR! Sadly, Adidas no longer sell Kate's PureBoost X running shoes. If you'd like to copy the Duchess's style, try this alternative shoe from the same company. It's the Adidas PureBoost Go. At the time of writing, they're on sale! Sadly, they don't come with contrasting turquoise laces (though you could add your own).
The Duchess has worn the black running shoes (publicly) once before, at another 1851 Trust event with Sir Ben Ainslie in 2016.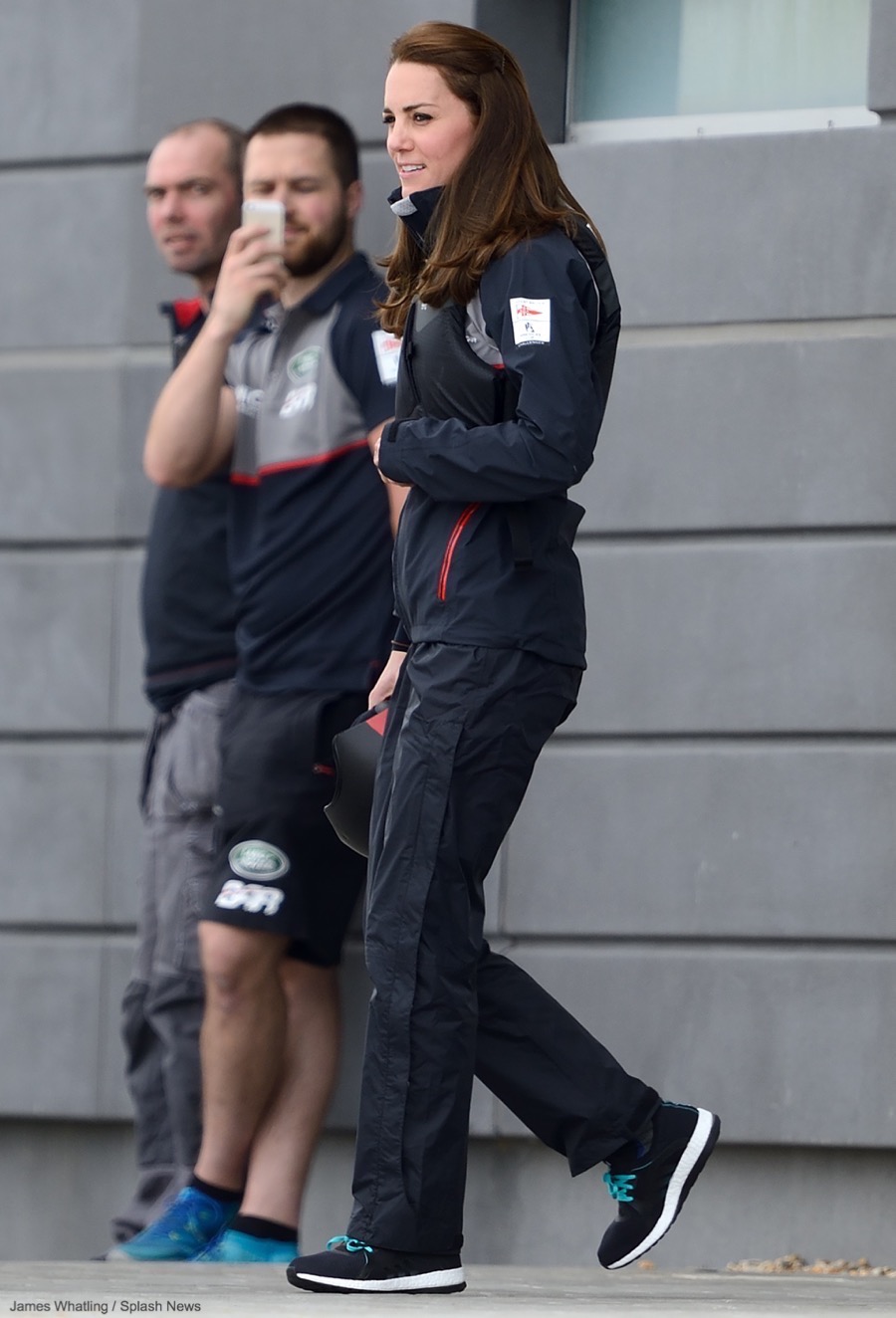 We've spotted Kate wearing various Adidas items before, namely, during the 2012 Olympics—the sports manufacturer sponsored the Games.  The Duchess wore a fair amount of Adidas' TeamGB gear throughout the sports competition.
Adidas is the largest sportswear manufacturer in Europe and the second largest in the world (after Nike).  It's a German company, founded in 1949. 
Kate finished the looks with a couple of SailGP accessories, a Henri Lloyd Cap and a pair of sunglasses by SunGod.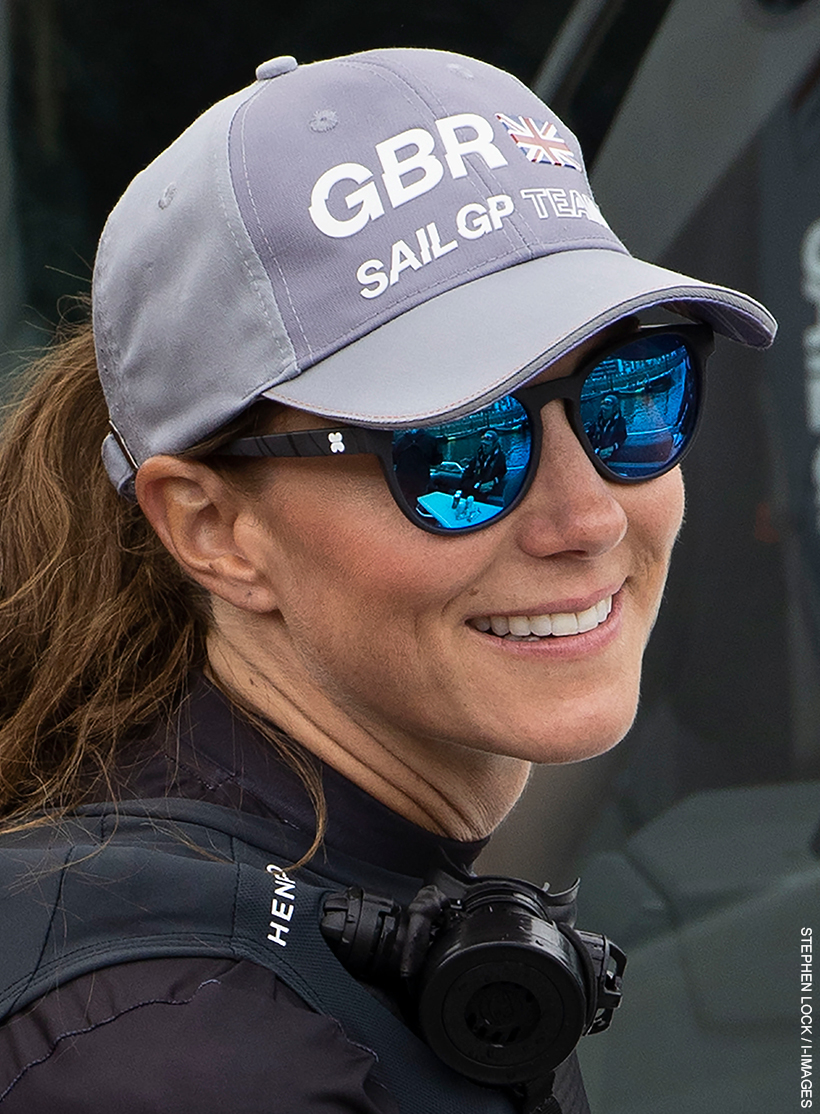 The Sail GP GBR Team cap, which is listed on Henri Lloyd's website for £35, is made from rescued and recycled plastic bottles. One cap is created from eight plastic bottles that are crushed into small chips, spun into yarns and then woven together.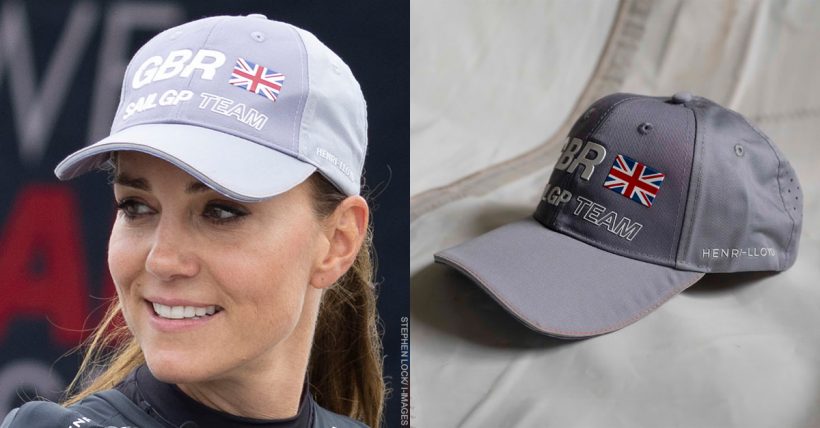 If anybody would like to support the British team and protect their eyes from the sun, the hat is still available to buy in the grey colour worn by Kate and a darker shade too. You can purchase it from the company's website, here.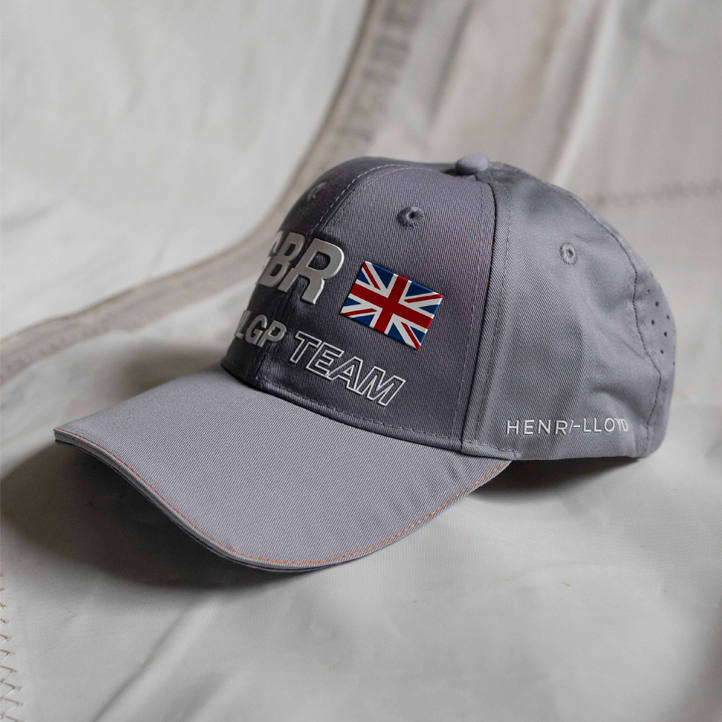 Henri Lloyd SailGP Team GB Baseball Cap
EXACT MATCH! Copy Kate and support the British SailGP team with this baseball cap from Henri Lloyd. The hat is made from eight rescued and recycled plastic bottles.
Kate's worn other Henri Lloyd sailing clothing during past engagements with Sir Ben Ainslie and his team. Henri Lloyd have sponsored the competitive sailor since 1996.  They also served as the official clothing supplier for two America's Cup bids led by Ben Ainslie—which has Kate supported.
Henri Lloyd is a British clothing brand that specialises in sailing apparel, established in the 1960s. It was known for pioneering the use of new technologies and fabrics in early clothing lines. The company was acquired by a Swedish firm in 2018.
In Plymouth, Kate wore sunglasses SunGod, the Sierras style. They're a special limited edition pair designed in collaboration with the Great Britain SailGP team.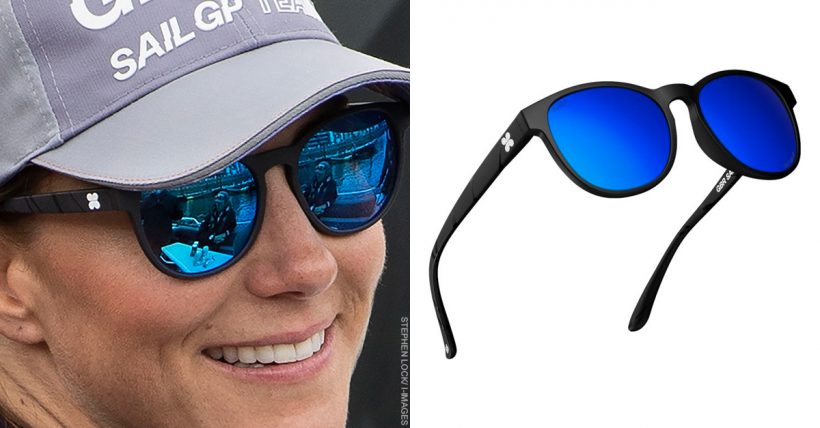 10% of every purchase supports the 1851 Trust's Protect Our Future educational programme. They're created from recycled plastic and feature 8KO blue lenses. I quite like that the frames are covered by SunGod's Lifetime Guarantee, if they break (or you break them) the company will repair them free of charge.
You can purchase the sunglasses from sungod.co for £85 / $80+. SunGod is a British performance eyewear brand. They sell sunglasses and goggles for sports like cycling, running, skiing and snowboarding.
Kate changed into a pair of blue hiking shorts by Helly Hansen after the sailing activity—the Meridalen style. (I scoured Google images to find them—my first ID in a few months!). Helly Hansen describe the style as "classic, durable, quick-dry cargo shorts with a feminine fit—designed for all your outdoor adventures".
The shorts are crafted from an extremely lightweight quick-dry stretch fabric. They feature several handy pockets.
At the time of writing (6th August 2022), the shorts can be purchased from HellyHansen's website for £52 / $53 in three different colours. (They're actually marked down in price too—they should cost £65 / $75.). Note: Helly Hansen offer worldwide delivery, I just list the two currencies most popular with my readers.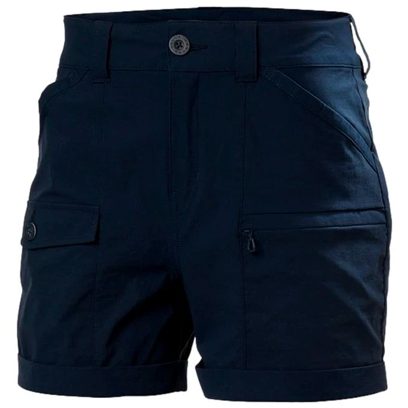 Helly Hansen Shorts
EXACT MATCH! Wear these blue shorts for all of your favourite outdoor persuits—whether you're into sailing, hiking or something else. Not sporty? No worries. Don them to walk the dog—ideal if you like to look polished on the park! Plus, the extra pockets will come in handy for spare dog treats.
I believe this is the first time we've spotted Kate wearing Helly Hansen (though Prince William was snapped leaving a club wearing a Helly Hansen fleece back in 2013 so the royals are clearly no strangers to the brand!) The company is Norwegian, founded in 1877. They manufacture and retail clothing and sports equipment.
Kate paired the blue shorts with a black jacket zipped over a white tee. The jacket is another Henri Lloyd piece created for SailGP. Sadly, I do not have any information about the jacket as it's not listed on the SailGP section of Henri Lloyd's website (though a different jacket is listed).
Kate also continued to wear her Henri Lloyd SailGP GBR cap (as described above).
The Duchess changed back into her white Cotu Classics (as described above).
Kate wore a pair of gold earrings for her afternoon of engagements, which she removed before boarding the catamaran. They're the Chain Huggie Hoops by Orelia London.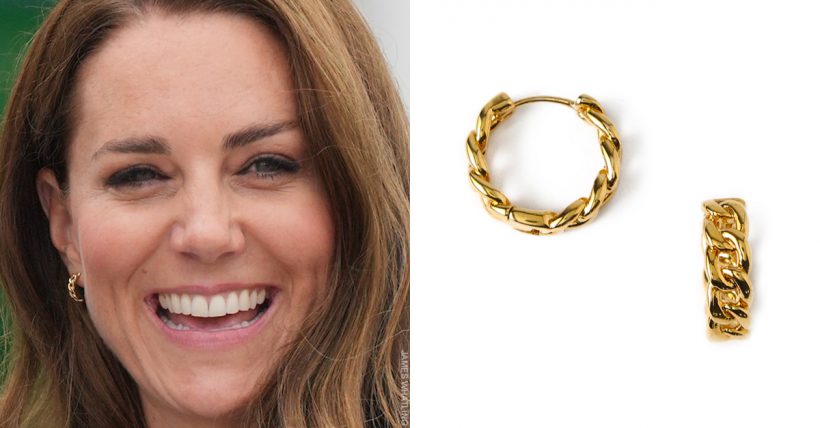 The chain design earrings are rendered from brass and plated with gold to provide a high quality at an affordable price—they cost just £18 / $23 / €24. You can purchase them from ASOS here, or directly from Orelia's website.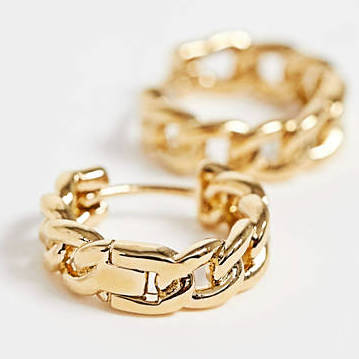 ORELIA CHAIN HUGGE HOOPS in GOLD PLATED
EXACT MATCH! Finally, a bit of bling that we can afford! These budget-friendly earrings cost just £18 / $24—a lot less than some of the heirloom jewels Kate is known to wear. Throw them on with anything. They'll become your everyday earring.
The gold hoops are fast becoming one of Kate's go-to styles. She's worn them 10 times in public since their debut in 2021 (which doesn't sound a lot but relatively speaking, it is when compared with other pairs in her jewellery box.)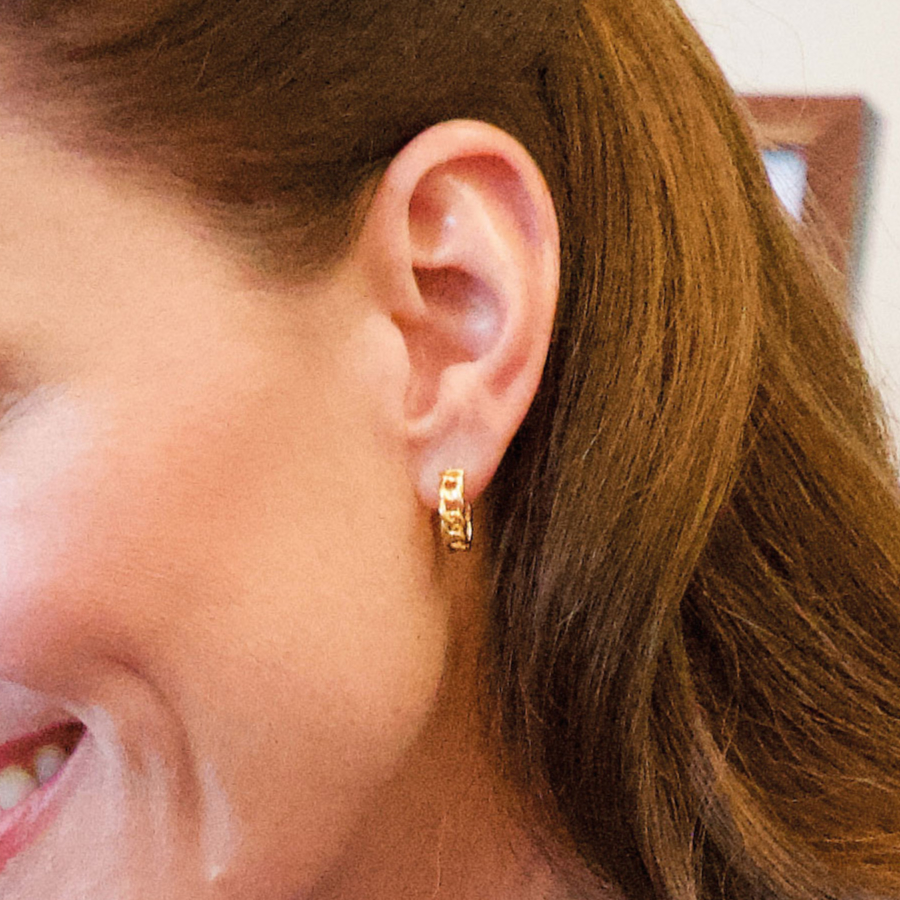 Orelia London is a Brighton-based British brand that creates aspiration and beautiful costume jewellery, accessories and clothing.