· Royal couple partake in dragon boat race
· Kate's wears nautical colours all day
· Lots of shoe & accessory changes
After spending the morning at Province House, Charlottetown wearing a cream Sarah Burton dress, Kate changed into something more befitting for a rainy afternoon consisting of activities involving water!
Kate opted for a pair dark blue cropped trousers, a navy trench coat, red scarf and cream shoes for most of the afternoon, which started with a 'waterbirding' demonstration at Dalvay-by-the-Sea.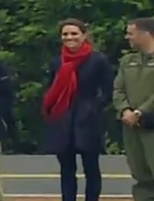 Nearly an hour later, Kate joined a Dragon Boating team and raced William across Dalvay Lake, which ended with various cultural performances and activities.  I'm not sure if Kate wore the same jeans or changed into a different pair for the race, but did change into a sporty jacket: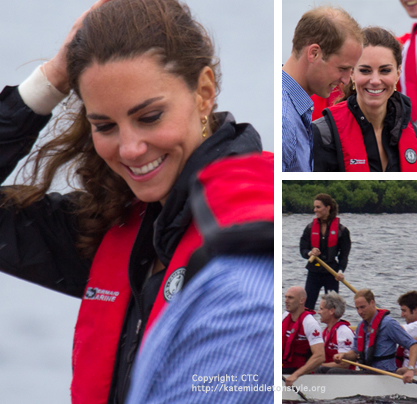 You can see clearly that Kate is wearing her Kiki McDonough Citrine Drop earrings here.
As the Duchess of Cambridge Style blog reports, Kate wore the following Nike jacket for her boating experience:

(click the image to visit Amazon for more info)
A picture of Kate post-Dragon boat racing: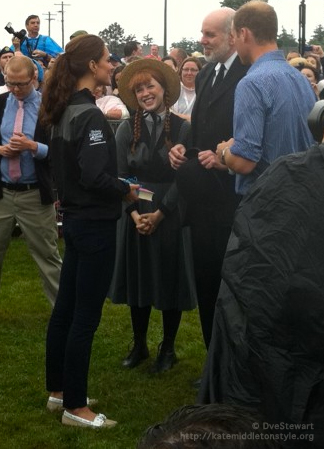 Image courtesy of the lovely @Dvestewart
Search and Rescue Demonstration, Summerside:
Back to the day's events: Post-dragon boat racing, Kate arrived at Summerside for various activities, including a search and rescue demonstration and meeting families and survivors of those who had been rescued.  For this, I am informed by the Facebook community that Kate wore her blue trench again, but changed into her black slingback wedges.
Kate arriving at Yellowknife:
After the search and rescue demo, Kate and William arrived at Summerside Airport by helicopter, ready for their flight to Yellowknife.
Upon arriving at Yellowknife, Kate had changed outfits once again and emerged from the plane wearing her blue trench coat with a pair of really gorgeous navy heels/pumps (see below). You can see a small amount of cream under Kate's coat, which suggests she has either changed back into this morning's dress, or is wearing a new cream dress entirely.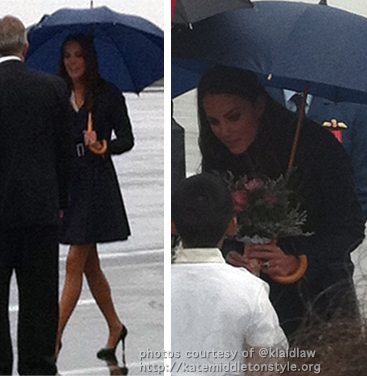 Image courtesy of @klaidlaw
Kate looks absolutely stunning considering her body clock must be so messed up right now!  She arrived at Yellowknife Airport at 7.40pm MT, which is 2.40am in Great Britain.  We hope the Royal Couple managed to get a god night's sleep and a lie in before today's festivities.  At least the pair have most of tomorrow off to retreat and recoup.