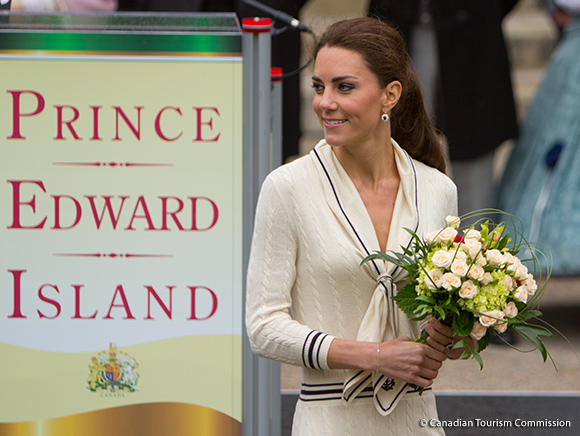 On day five of the North American tour in 2011, Kate and William visited Charlottetown, the capital city of Prince of Edward Island.
The city is known as the "Birthplace of Confederation" after the historic 1864 Charlottetown Conference which led to Confederation.
The royal couple began their tour of the city with a stop at Province House.
Kate's outfit:
Kate chose to wear a nautical-themed outfit, designed by Alexander McQueen's Sarah Burton.
Trivia:  Sarah Jessica Parker also wore the same dress in navy blue.  Click here to see the picture in a new window.
As you can see from the pictures on this page, Kate's dress appears to have a cable-knit pattern repeating through the material (though the material does not look heavy like wool.)  Kate's silk scarf has a cute little anchor symbol printed on it, you can just spot it at the bottom in the following picture, partly hidden away.
The National Post described Kate's dress very eloquently:
"The dress fabric has a subtle repeating cable-knit stripe motif and dark trim on the hem, collar and at the waist. It's a little nautical, a little 1920's bourgeois tennis court.

To my eye Kate's retro, country club style is a nod to both the era of Anne of Green Gables and to Prince Edward Island's grand Victorian and Edwardian seaside resort heritage, as epitomized by Dalvay-by-the-Sea (a Queen Anne structure built ion 1895 and featured in Road to Avonlea)."
Picking up on the "Anne of Green Gables" comment above, we noticed a tweet by Royal Photographer @RegalEyes:

If you take a look at the dress Regaleyes is referring to, you can certainly draw some parallels.
The 'Anne of Green Gables' story was written by Canadian author Lucy Maud Montgomery in 1908 (set in 1878) and based around her own experiences on Prince Edward Island.  It is speculated that Kate requested this stop-off during the tour of Canada, as it's widely understood this was one of her favourite books when growing up.
Back to Kate's style, we notice Kate wore her hair pinned up with soft curls falling around her neck. We assume this is because of the drizzle and rain on the day, though it could be to accentuate the sailor-esque neckerchief on the dress.
Kate accessorised the dress with her navy blue suede Alexander McQueen pumps.
Kate wore her blue diamond earrings, thought to be customised from Princess Diana's own jewellery and received as gift.
Finally, Kate also wore her Tiffany & Co. "Diamonds by the Yard" bracelet from the Elsa Peretti collection.