After spending a long weekend in the Swiss Alps for a friend's wedding, Kate is now back to the UK, and she spent today carrying out a string of engagements in the seaport town of Grimsby, located in the north east of England.
Late Kate!
Due to poor visibility and thick fog affecting her travel arrangements, Kate was running over an hour late today.  According to reports, despite her lateness, she also ran 100 minutes over schedule too!  It's safe to say she did not cut any of her engagements short to make up time, as people might have expected!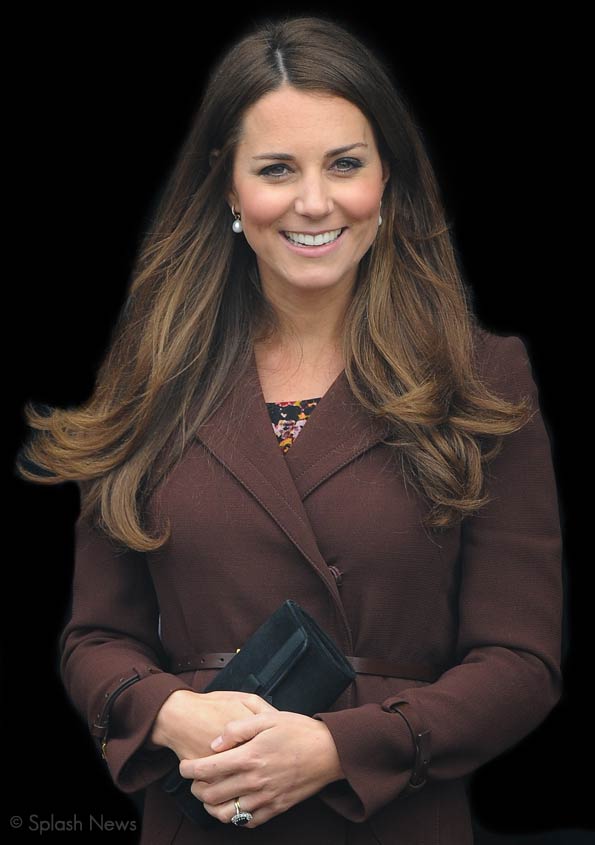 Engagement 1:  The Fishing Heritage Centre:
Kate arrived at her first engagement at the Grimsby Fishing Heritage Centre shortly before 1pm.The Fishing Heritage Centre promises a look into the town's fishing and maritime history with a range of interactive displays – complete with authentic sights, sounds and smells!   After a tour of the museum, Kate met former trawlermen and discussed environmental issues.  According to ThisIsGrimsby.co.uk, prior to the event Kate requested that she'd like to talk with somebody about sustainable fishing, so the centre made sure their resident expert was on hand to chat about this topic.
John Vincent, her guide around the award-winning museum spoke highly of Kate:
"She was very knowledgeable and asked some very good questions. We had a bit of a laugh going round too."
After touring the centre, Kate did a walkabout outside, chatting with the crowds of gathered well-wishers.  Many were keen to discuss her pregnancy.  Bobbie Brown (yes, like the make up!) from Grimsby asked if Kate could feel the baby moving or kicking.  She replied "Yes, it is, very much so."
Below, a snap of Kate whose baby bump is visibly showing now at 21 weeks: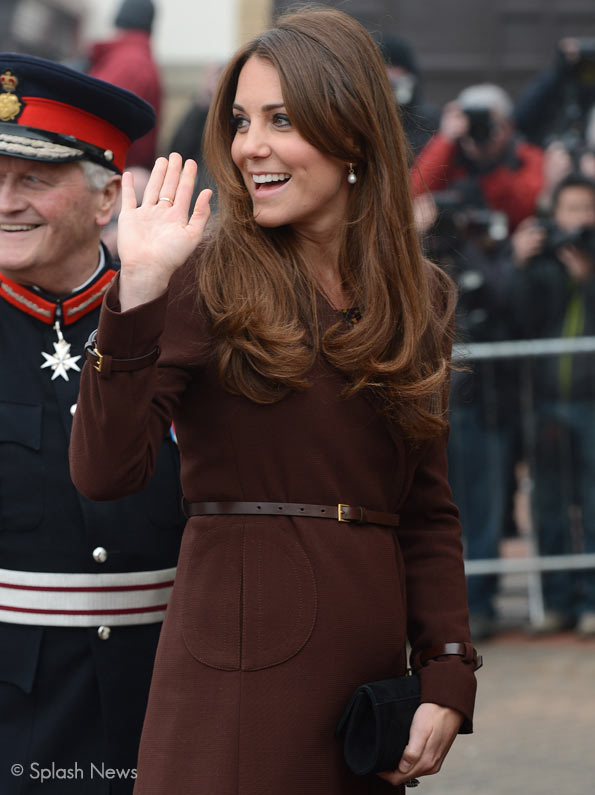 Engagement 2: The Princes Trust & Peaks Lane Fire Station:
Next, Kate made her way over to Peaks Lane Fire Station. Before heading inside, Kate made an unplanned stop to meet 10 adults and children who are patients at the nearby St Andrew's Hospice,who were waiting outside wrapped in blankets.  86-year old Claire Moss-Smith made Kate laugh by saying "I'm waiting for you to be Queen."  Kate replied, "You might be waiting a long time."
Kate's visit to the station marks her first official public engagement with the Prince's Trust Charity.  Of course, The Prince's Trust is Prince Charles' charity, set up to help young people change their lives. You might remember Kate went to a Princes Trust charity concert with the in-laws back in December 2011.
The fire station is part of Humberside Fire and Rescue Service who are working with The Princes Trust to help unemployed 16 to 25-year-olds to build the confidence and skills needed to find employment.  After meeting those who have benefitted from the programme and the crews who worked at the station, Kate was given a tour of the engines.
After seeing the fireman's pole, Kate couldn't help but remark:  "That reminds me of the scene in the Bridget Jones film."
Engagement 3: Havelock Academy:
Later, Kate visited Havelock Academy and officially opened their £18 million new building.  During her visit of the academy, Kate met A-Level photography students, viewed sport's facilities and watched an expressive arts display.
Speaking ahead of the visit, new Principal Nigel Whittle said he was excited to have the Duchess visit his school.  He has been trying to make his students believe they DO matter – and thinks that Kate's visit "proves it" to those children.  He is happy that he can tell students "the Duchess of Cambridge came here to see you and your talents."
Video news report from the day:
httpv://www.youtube.com/watch?v=QRADUUhKOo4
About Kate's Outfit: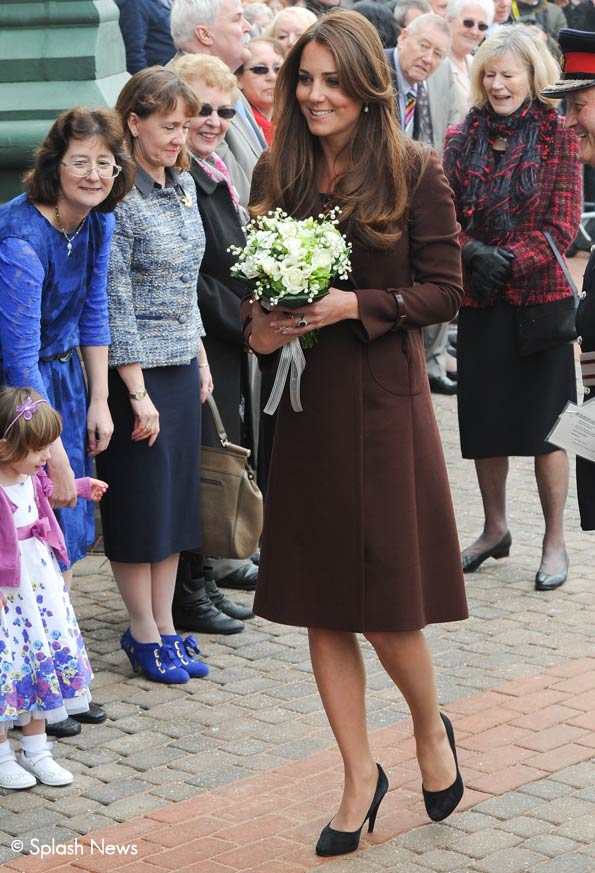 Kate recycled her Hobbs Celeste coat for a third time (for a public engagement, we're sure she's worn it privately many more times!)  You may remember Kate first publicly wore the coat on an engagement in Liverpool on St. Valentine's Day back in 2012, and then again more recently on Christmas Day to the church service she attended with her family.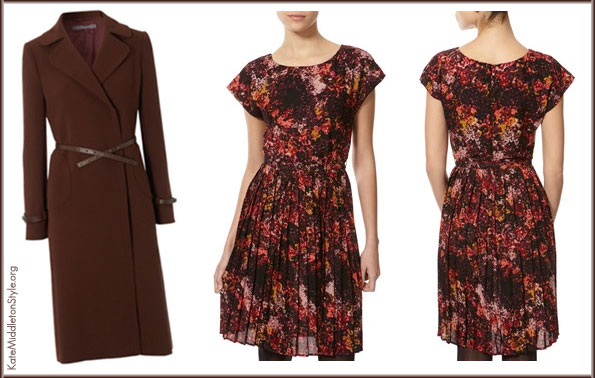 Under the coat, Kate wore a new dress we haven't seen before, the "Cezanne Paintbox Pleated Dress" from Great Plains in Winter Pink.  The dark pink/red dress features a boat neck, short sleeves, pleated skirt and matching black belt.  It is currently on sale at Great Plains for £48 and available in a variety of colours.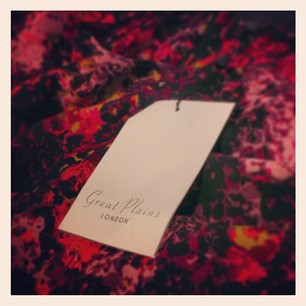 Right: my dress which just arrived, ordered from Brand Alley (but currently sold out in the Winter Pink/red).  They currently have the blue/purple colour in stock though.
Kate also wore her black suede Episode Angel shoes – a pair she must be keen on, as she has worn them several times recently – and her Annoushka pearl earrings on Kiki McDonough hooks.  She carried her 'mystery' black clutch, which is still a "UFO" or "unidentified fashion object".
Pssst…. don't tell anyone… but:
WE'RE GETTING A FACELIFT
There are going to be some HUGE changes on the blog in the coming week.  Here's a description of what I've been working on:
>> Brand new layout – neat, ordered, lots of whitespace and BUNTING

>> Designed to be faster, so the server crashes less when many people visit us at once 😉
>> RESPONSIVE design:  so the site will be mobile/ipad/tablet friendly
>> A new "wardrobe/closet" section, cataloguing popular items Kate's worn
>> A fab events calendar to record Kate's upcoming events
>> Email newsletter, sent out once per month!
>> New galleries of images
>> Updating older posts to be more thorough
>> Adding missed events and sightings of Kate to the archives
>> And much, much more.
I'll be launching the design first, fingers' crossed, on the coming weekend.  I'll gradually add to the wardrobe/closet section and I'll be updating the older posts and adding to the archives periodically over the next few weeks.
Thank yous to:
Nina, Michelle, Anna, What Kate Wore & all the lovely journalists on Twitter.  Hat tip to The Daily Mirror's live blog for filling us in on event information today!