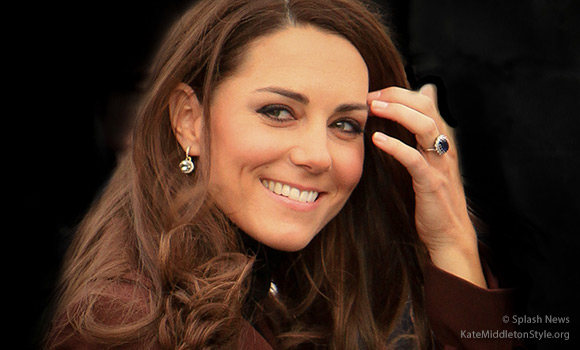 In 2012, William and Kate spent their first Valentine's Day as a married couple separately, as the Prince was on deployment in the Falkland Islands. However, Kate did not let this bother her. Instead, in what I would assume was a conscious and purposeful decision, she spent the day bringing cheer to the hearts of many people in Liverpool, in northwest England.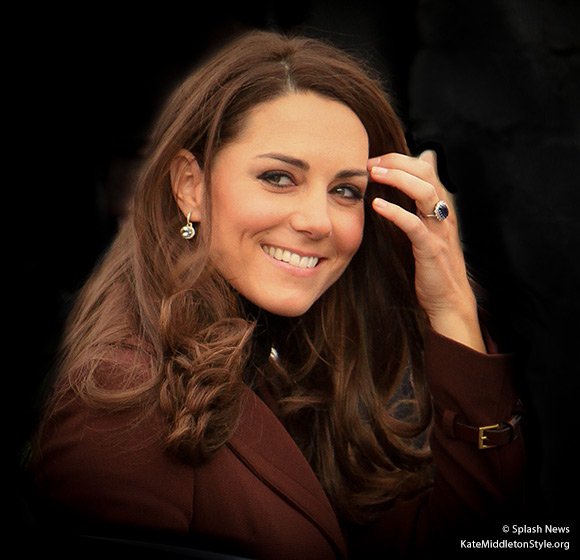 The Duchess had a jam-packed itinerary for her visit. She carried out a number of different engagements across the city. The Prince of Wales website describing this as her first "regional solo day". The day kicked off at around 11.30mam as Kate visited The Brink.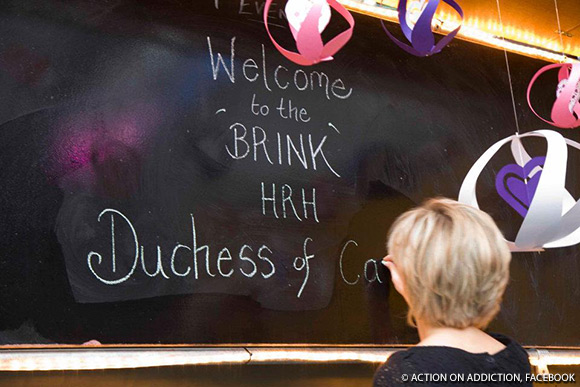 The Brink is an alcohol-free bar run by Action on Addiction, a charity that helps addicts recover from drink and drug dependency. You may remember that Kate became a patron of the charity back in January 2012. At the alcohol-free bar, Kate sampled the charity's new creamy almond cocktail, which was named "The Duchess" in her honour.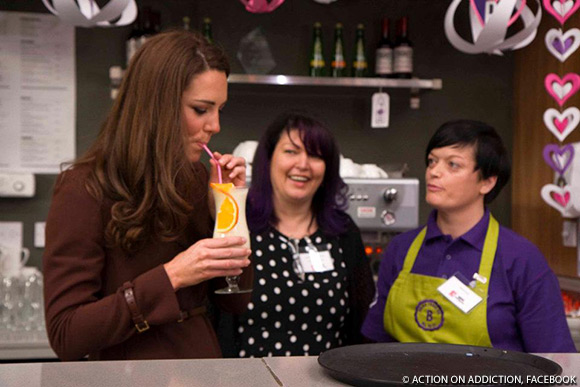 After trying the drink she gave the creator, Paula Carey, a nod of approval before saying, "Amazing, well done." In a video from The Telegraph, you can also hear Kate asking which their most popular cocktail smoothie is, before Miss Carey replies, "you mean, before this one?" Kate giggles and Miss Carey says: "this is the best seller!"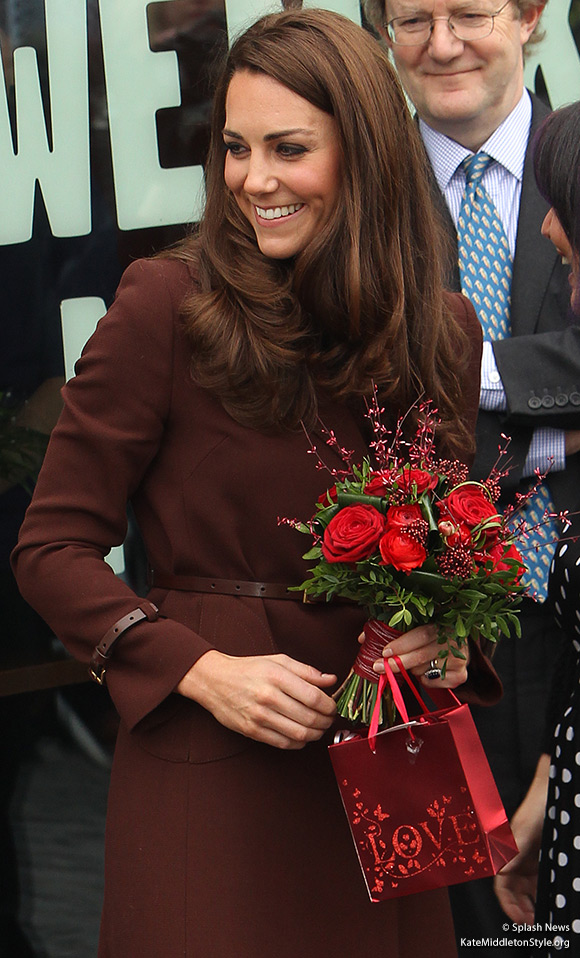 During the afternoon, Kate visited Alder Hey Children's Hospital. Outside, she spoke to families and patients of the hospital, including a seven-year-old girl who has been a patient at the hospital since she was just nine days old.
Inside Alder Hey, Kate met patients and staff from the Burns and Oncology Units. After touring the hospital's facilities, Kate took a look at designs for Alder Hey's new hospital, which is to be unveiled next month to the public.
Kate also visited the Ronald McDonald House at Alder Hey, where she spent time with patients and their families, staff and volunteers. Families of sick patients can stay in the apartments for as long as they need, which provides private space and a sense of normality for families who would otherwise need to spend hours travelling across the country to visit the hospital.  During her visit to Alder Hey, Kate also unveiled a plaque.
Kate's outfit:
Kate looked amazing in the belted "Unlimited Celeste" coat from Hobbs London. The chestnut brown coat is made from 100% wool.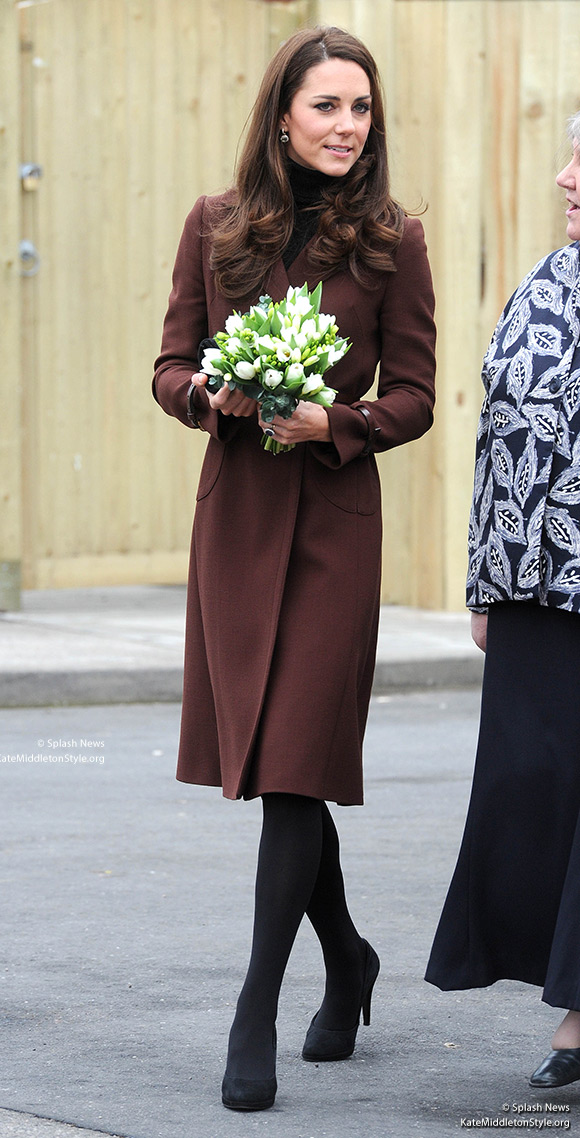 We first heard about the coat back in September, when the author of the blog "Social Beautify" (see image below) visited Hobbs and found out that Kate purchased the coat for full price (£369) in their Sloane Square store.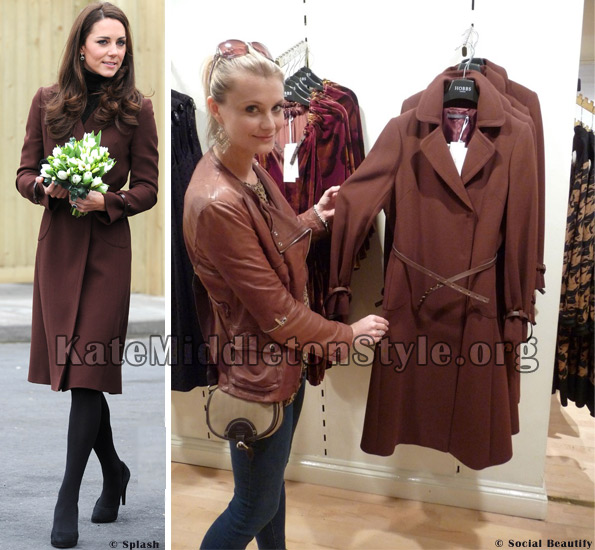 It's also worth noting that Kate appeared to alter the belts on her coat, both those around the middle and on the sleeves. You can see that the original belts have press studs and Kate's coat has buckles – the Hobbs coat does not have a buckle. It appears Kate has purchased three new belts or has had them sourced and made specially to give her coat a unique look: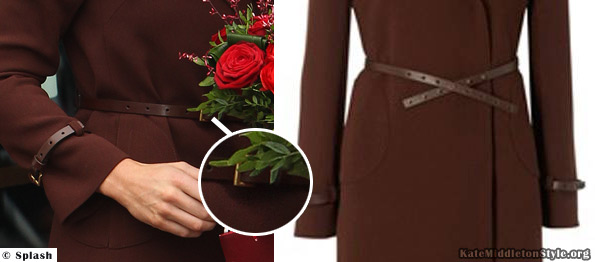 We're thinking that Kate replaced the cheap polyurethane belts with higher quality, longer-lasting leather.
Under the coat, Kate wore a long black polo neck dress which was from high street favourite Oasis (certainly one of my favourite shops!)
Kate wore the dress over a pair of opaque black tights. Oasis confirmed the dress dates back to around 2009:
Oasis [confirmed] that the dress was its own after provenance was confirmed by the Clarence House press office to The Daily Beast. A spokesman said, "It is not a current style. It is at least three years old."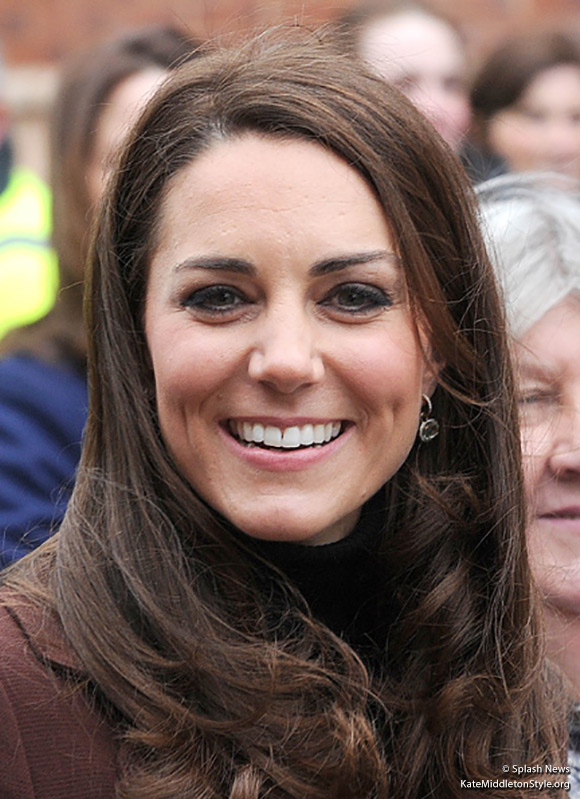 Kate wore the same earrings from Christmas Day. They are by Kiki McDonough.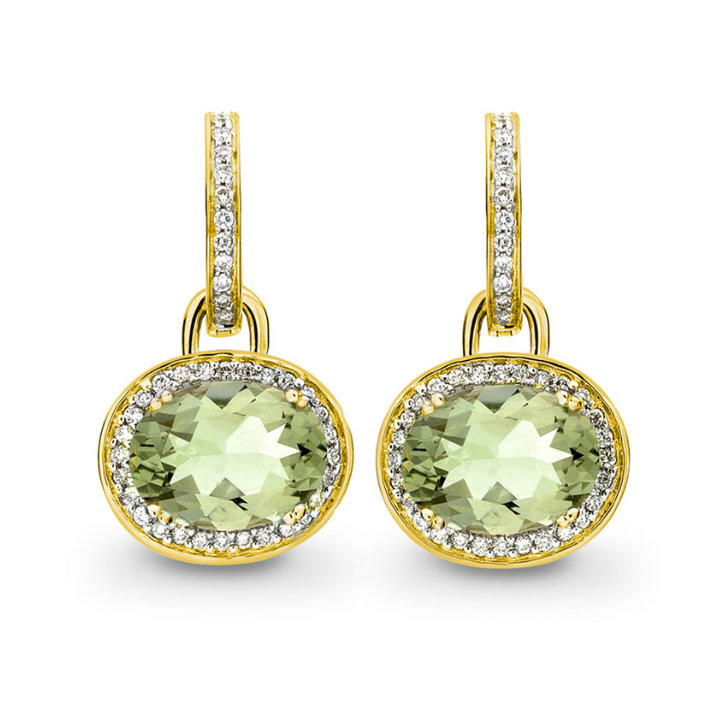 Kate wore her Episode Angel black suede shoes, which feature a small platform sole. The only place you can buy Episode shoes is House of Fraser – though the Angel style has long sold out. (Pictured on another occasion).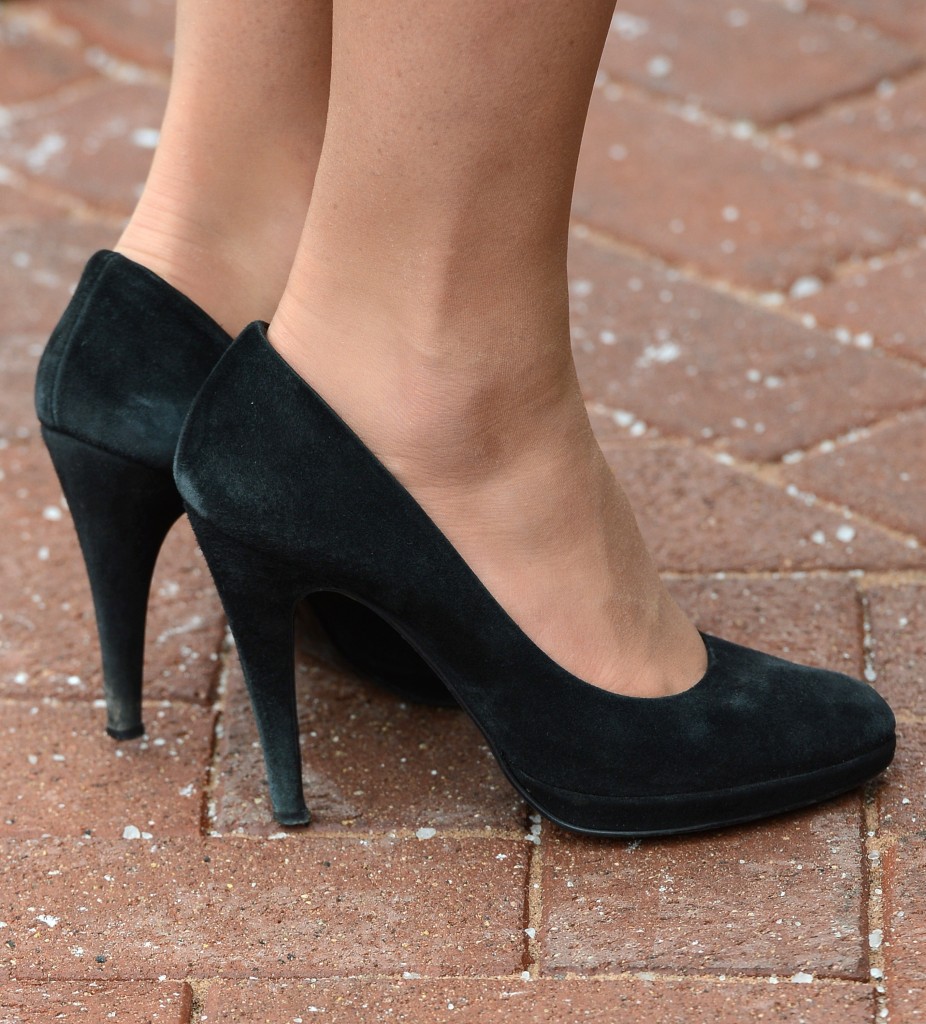 Finally, Kate carried her Stuart Weitzman "Raz" clutch bag (also known as the Russell and Bromley "Muse" bag in the UK). Here we show it in blue: