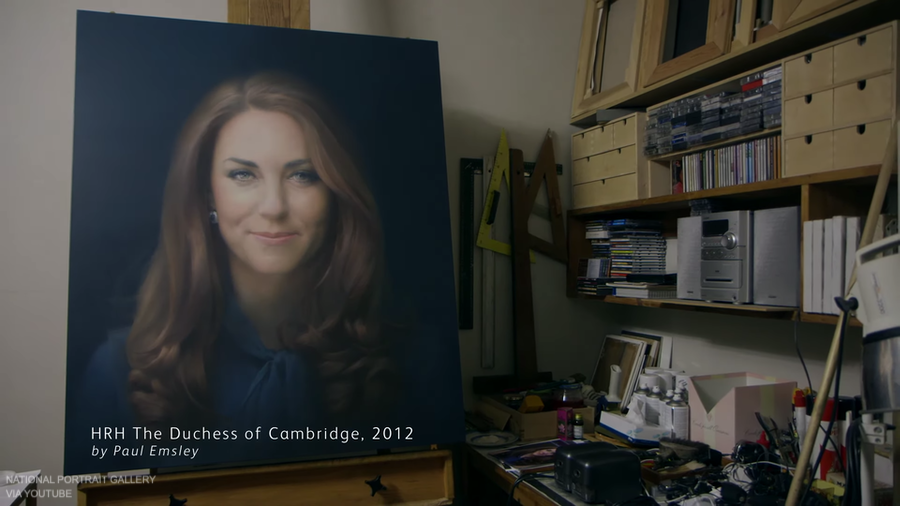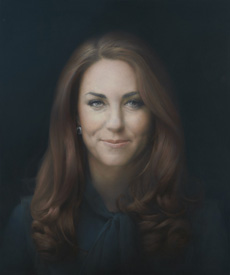 11th of January 2013 — The National Portrait Gallery released a photograph showing the painting of Kate by artist Paul Emsley. (Shown right, image via the NPG).
Kate was able to sit for Emsley twice. Once at Kensington Palace and then again at his studio.
Emsley revealed that Kate wanted to be portrayed naturally.
In a video accompanying the portrait, the artist said:
The Duchess explained that she would like to be portrayed naturally – her natural self – as opposed to her official self. She struck me as enormously open and generous and a very warm person. After initially feeling it was going to be an unsmiling portrait I think it was the right choice in the end to have her smiling – that is really who she is.

Paul Emsley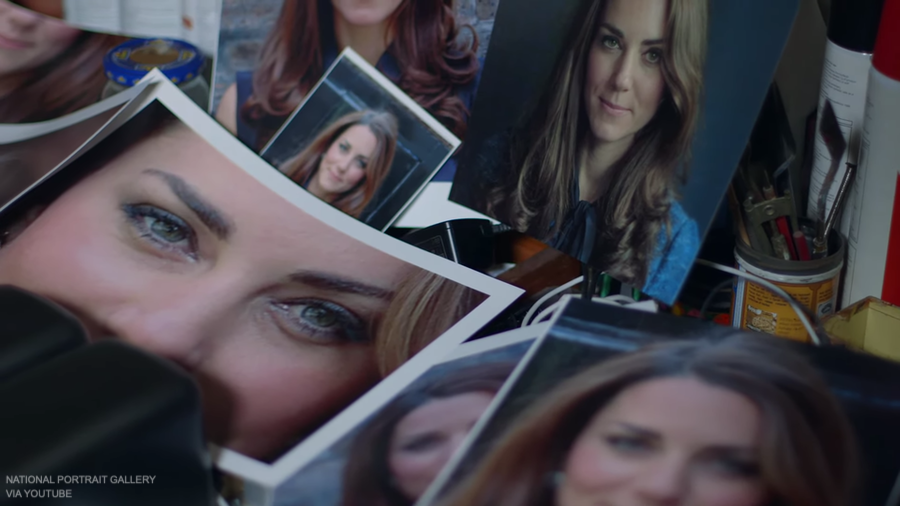 You can watch the video below, or click here to see the portrait on the NPG website.
The blouse Kate's wearing in the painting:
As you can see in the original photographs shown in the video above, Kate wore a silky blue blouse with distinctive short sleeves and a pussy bow neck tie for her portrait painting.  It's widely believed that it's the French Connection "silky tie" blouse.
About the portrait & the National Portrait Gallery:
The picture was commissioned for the national portrait gallery by Sir Hugh Leggatt in memory of Sir Denis Mahon through the Art Fund.
The gallery offers the picture of Kate in postcard format, (also available as a set of six) which you can buy online; they post worldwide. Purchases support the National Portrait Gallery. I believe these are no longer available to buy.
Kate is Patron of the National Portrait Gallery. She attended the gallery's opening of the Lucian Freud Portraits back in February 2012. It was her first solo Royal Engagement.