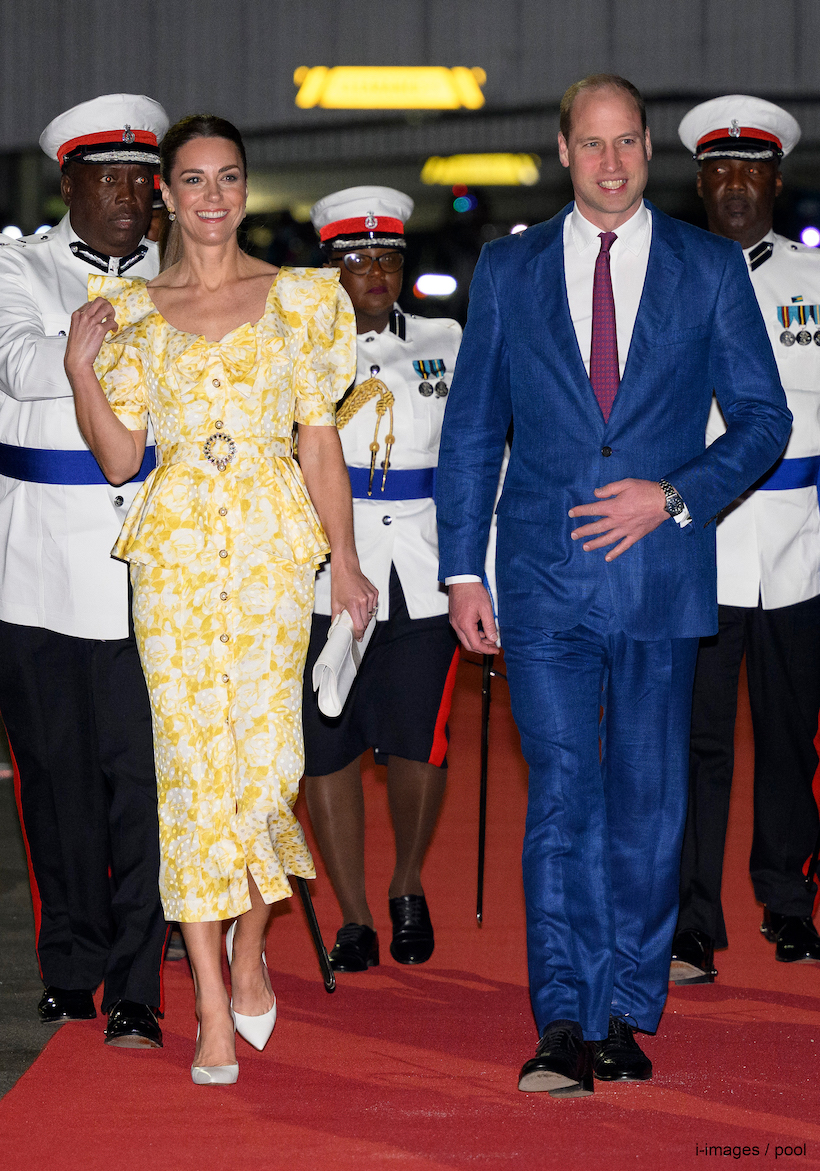 After an eight-day tour of the Caribbean, jam-packed full of engagements and outfits (Kate wore 16 different looks up until their departure), the Cambridges bid goodbye to The Bahamas and headed home.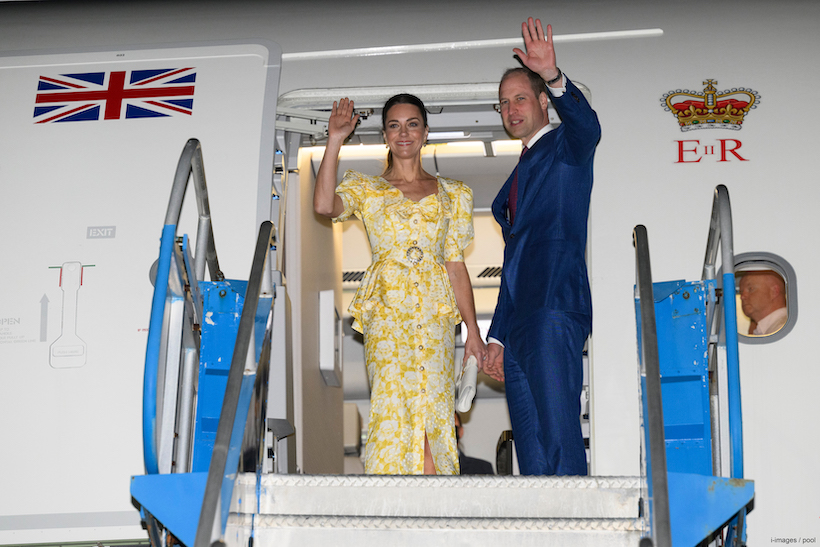 The couple said farewell to the dignitaries who had accompanied them to the airport and boarded their plane, RAF Voyager. The Platinum Jubilee Tour was over.
Kate's outfit leaving the Bahamas:
For the official departure, Duchess chose a yellow puff sleeve dress by London-based designer, Alessandra Rich. (Thank you to Middleton Maven who identified the piece)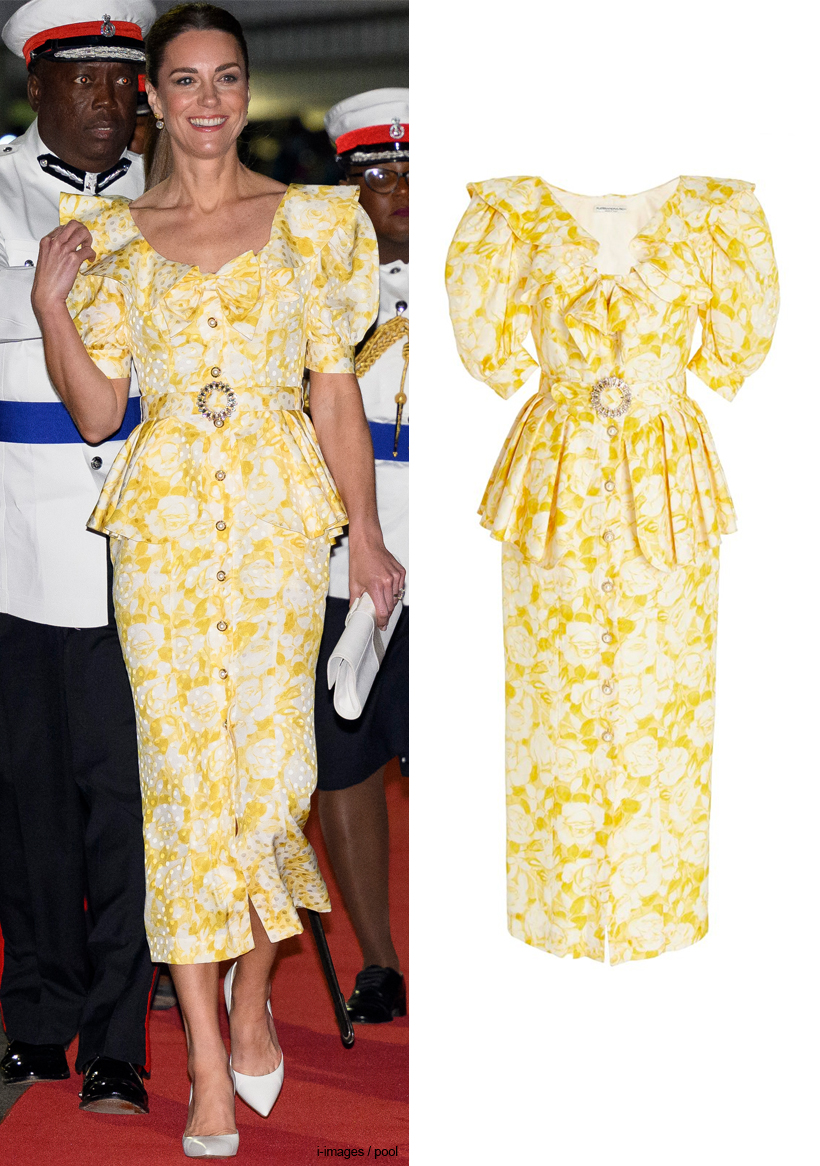 The garment had a bow on the neckline, puff sleeves, a collar, a peplum, faux pearl buttons, a rhinestone belt… not to mention the yellow textured jacquard floral fabric.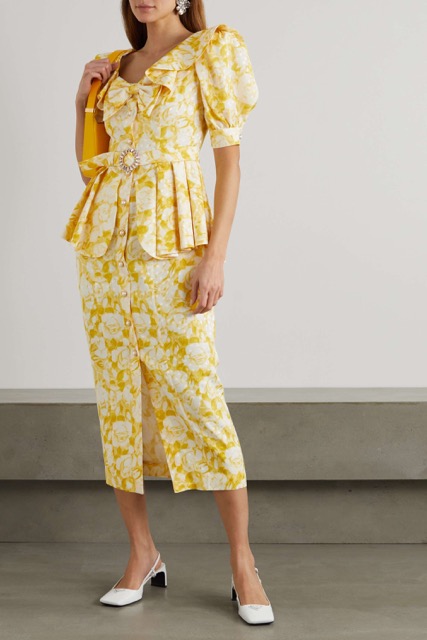 The look divided fans. My social media accounts were equally weighted with those who liked it and those who weren't so sure.
I can understand. I wouldn't pick it for Kate. I wouldn't call myself a fan of the dress. But, it's grown on me. Love The Cambridges on Twitter summed it up perfectly:
At first, I was like "OMG SOOO 80s" 🤨 and then I was like…"OMG SOOO 80s"…🤩"

Love The Cambridges
The dress is still available to buy at Net-A-Porter. I think this is the first available dress that hasn't sold out within an hour in the 11 years I've been writing this blog.
Kate donned pair of white heels with the dress. To nobody's surprise, they're the Gianvito Rossi Gianvito 105 style. (Spotted by Middleton Maven).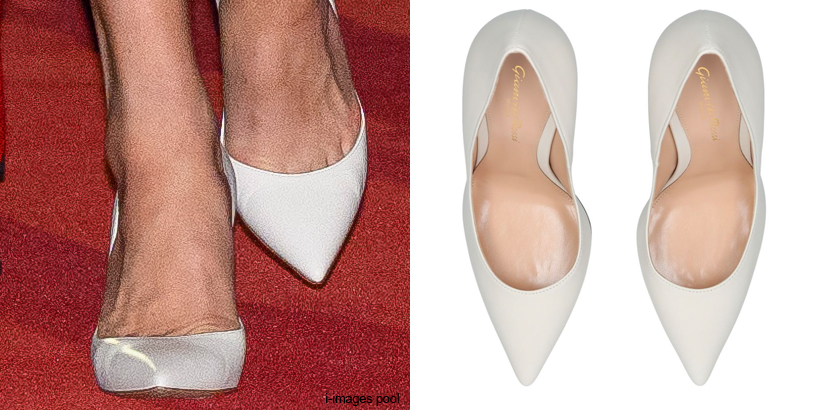 I say "to nobody's surprise" because the Duchess is clear a fan of this style: this must be the seventh pair of Gianvito 105s she owns? She also owns four pairs of the same style shoe with a lower heel too.
The pointed-shoe shoes remain available in stock at MyTheresa, Harrods, SSENSE and Luisaviaroma.
Kate chose a pair of ocean-inspired earrings for her departure from The Bahamas.  They're by Patrick Mavros.  They're the Ocean Tides Milky Quartz earrings.  She's worn them before, on a handful of occasions.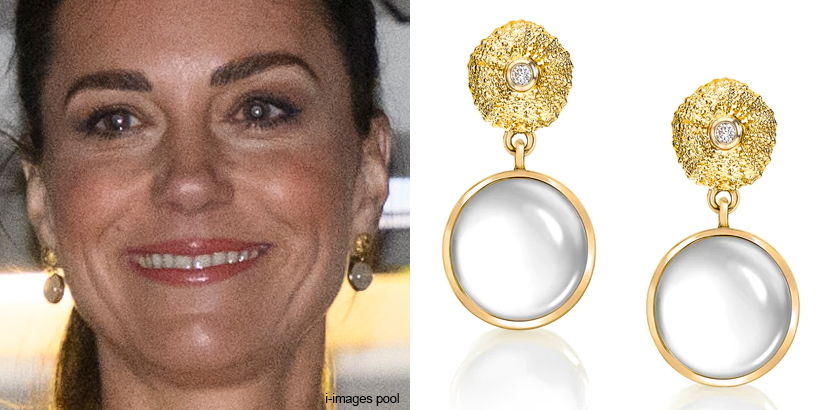 The 18ct gold earrings feature an upper section with a sea urchin design and a diamond in the centre. A milky quartz stone is suspendend beneath. You can purchase the gold earrings from Patrick Mavros' website for £3,400.
The Duchess carried her white Ferragamo clutch bag. She first debuted the piece earlier in the tour, in Jamaica.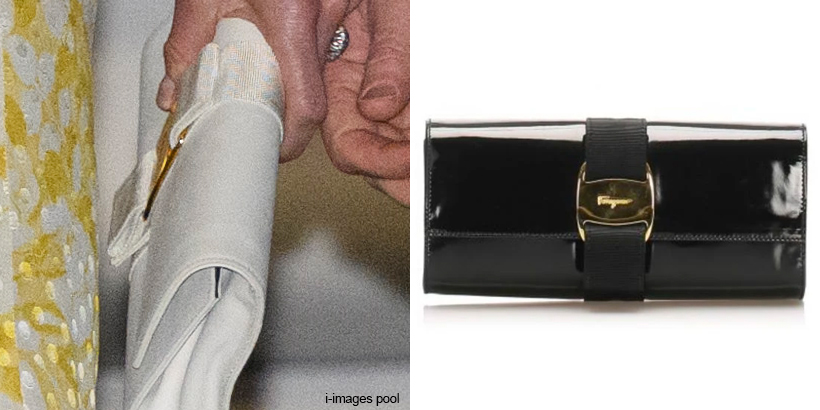 Shown in black above, Kate carries it in white.