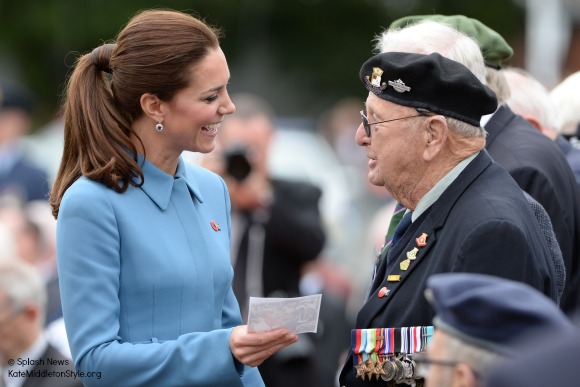 Already read all about today's event in the newspaper and just want to skip straight to Kate's outfit ID?
Click here
.
At around 11:30am local time in New Zealand, The Duke and Duchess of Cambridge both attended a public wreath laying ceremony at the Blenheim War Memorial and the Clock Tower in Seymour Square.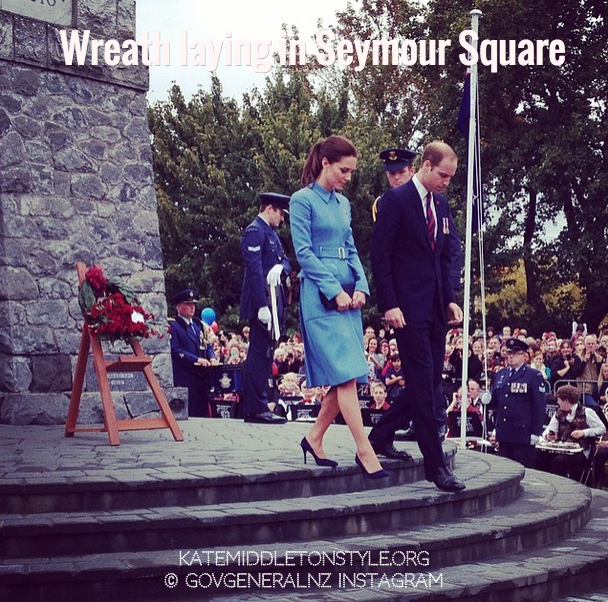 ITV Royal News Editor Tim Ewart posted a photo of the couple's wreath, and their personal message:
Below is a picture of Kate meeting with veteran Wilton Sterritt, who fought for the Royal New Zealand Navy in the Second World War.  The pair began giggling as Mr Sterritt showed Kate a picture of him with the Duke of Edinburgh in 1974, taken as part of the Commonwealth Games committee organising shooting events.  According to Mr Sterritt, Kate giggled and said: 'You've changed a bit!', she also remarked that Prince Philip had changed a lot too!
After the royal pair laid the wreath and paid their respects, they briefly conducted a public 'walkabout', meeting and greeting local residents who'd waited in the streets to catch a glimpse.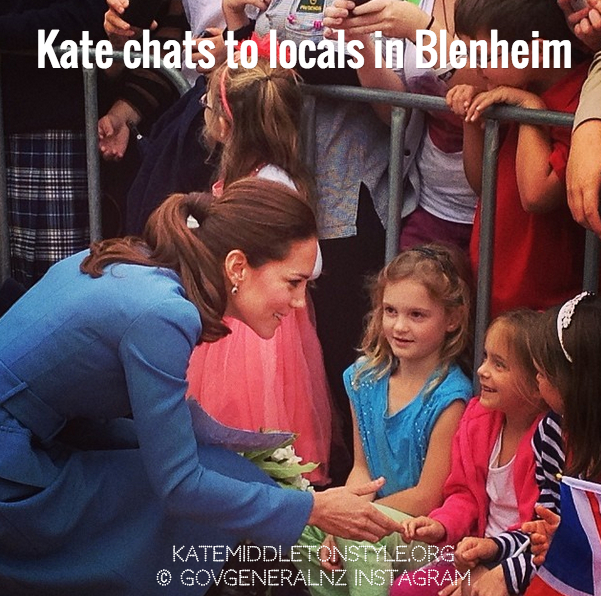 The Duke of Cambridge is seen here chatting with young children who had waited to see him and Kate.  In this photo he's wearing a friendship bracelet given to him by one of the children, so cute!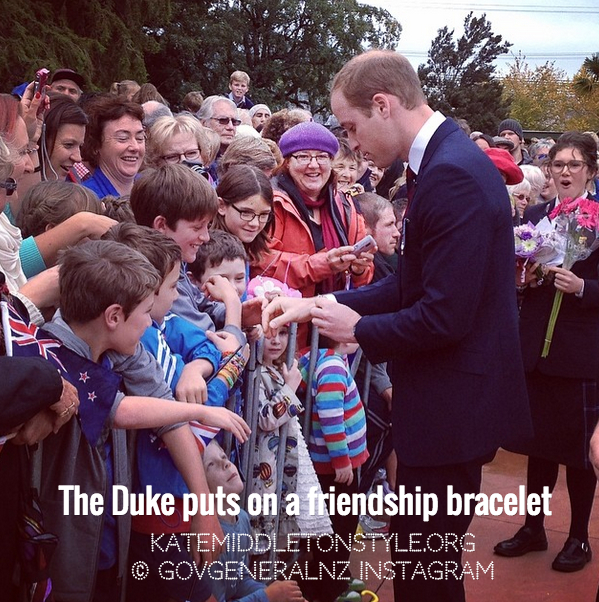 Notably, Prince George was not with his mum and dad today; instead, he was resting up with his new nanny after his exciting playdate yesterday.
Omaka Heritage Aviation Centre:
Later, both Kate and William visited the Omaka Heritage Aviation Centre and met film veteran Sir Peter Jackson, known for directing and producing the Lord of the Rings Trilogy.
Sir Peter led William and Kate on a tour of his vintage aircraft collection, housed at the aviation centre.
No doubt, William was in his element at this event.  The Duke is no stranger to a cockpit as a former Search and Rescue helicopter pilot.  William strolled through the exhibition and couldn't resist trying out the cockpit of a First World War biplane.  The Daily Mail's Rebecca English was at the event, she wrote:
"The Duke of Cambridge climbed in and out of the cockpit of vintage biplane Sopwith Pup, with Kate looking on, at first doubtful, then laughing as he struggled to fit his long legs in the cockpit."
Apparently, when William was in the plane Kate peered in at the controls and asked what the different levers did.
William also was overheard saying, "'It's perfect, start her up!'
However it wasn't all plain sailing!  Rebecca English notes that the Duke had difficulty getting out of the plane:
"Getting into the plane was relatively easy compared with when the Duke had to dismount, doging wires which criss-crossed between the wings, causing him to say, 'Oh dear, there's no dignified way of doing this, is there?'. Even so, the dismount went relatively smoothly."
According to the same Daily Mail story, during the event William and Kate met 93-year-old Harcout 'Bunty' Bunt, a celebrated Second World War Spitfire pilot.  He explained one of the most daring escapes depicted in the museum:
The diorama showed New Zealand's highest scoring ace of the First World, Lieutenant Keith Logan 'Grid' Caldwell standing on a wing and guiding his stricken plane down from 7,000 ft after a mid-air collision in September 1918 before jumping off seconds before it crashed.

'He just brushed himself down and walked away. The plane was a write off,' said Bunty.

'Did he ever talk about his experience later?' Kate asked. 'I bet he dined out talking about it for several years,' said William. 'Wow, what a story.'

'This is a hero's story. Boy's Own stuff,' said Sir Peter.
Read the rest of Rebecca English's story for further details on the planes and exhibitions William and Kate got to see during their tour of the Aviation Centre.
Kate's outfit:
Kate wore a cornflower blue coat by designer Alexander McQueen.  It's thought it is a bespoke piece, customised especially for Kate.
It features a peplum pocket detail, a coordinating belt and a collar.  The design is very similar to several of the coats from McQueen's ready-to-wear collection: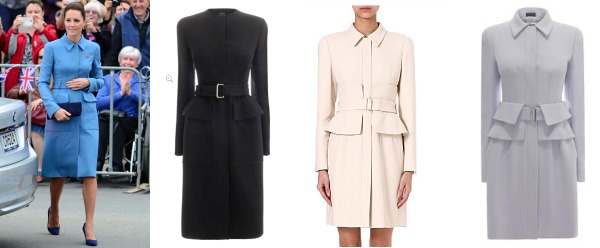 From left to right:
Utility coat dress, black – Peplum waist coat, sand – Utility peplum coat dress, powder blue
Here is a closer look at the back of Kate's blue coat too:
Hat tip to Susan from What Kate Wore (or tip of the tiara as she'd say!)  Susan blogged the powder blue utility peplum coat dress before the tour, choosing it as a possibility for Kate.  I remember remarking to Susan that it was the perfect style for Kate!
A look at Kate's blue suede accessories:
Kate wore her blue suede pumps, which we first saw her wear during the 2011 tour of North America.   It has been confirmed that they are by Alexander McQueen.
Kate also carried a coordinating blue suede clutch bag, known as the Muse from Russell and Bromley.
The Duchess had her hair tied back in a high ponytail and accessorised with her blue sapphire earrings, speculated to be from the late Princess Diana's collection.
Finally, Kate wore a small poppy pin on her coat.
The poppy pin is the symbol of New Zealand WW100.  The symbol is derived from the Flanders poppy, and was designed to be "sign of war remembrance the world over".  The symbol is used by those organising projects and activities to mark the centenary anniversary of First World War.  On the WW100 website, the organisation write that the pin was a gift to the royals:
Many New Zealanders and viewers around the world will have seen the Duke and Duchess of Cambridge, and other people at today's royal visit to Blenheim, wearing a small red poppy pin on their lapels.

The pin was gifted to members of the official party and veterans by the New Zealand government's WW100 Programme Office. It displays the symbol of the First World War centenary programme in New Zealand.

This programme aims to foster appreciation and remembrance of how the First World War affected our nation and its place in the world, both at the time and since. The centenary officially starts in August this year, but activities are already beginning to take place in communities throughout the country.