Are you ready for another royal round-up?  Today we're getting excited about 'Royal Baby Watch (The Sequel)', plus a bargain not to be missed on Pied-A-Terre wedges and a rather excellent repliKate for the Jaeger dress Kate wore in the video message yesterday.  Without further ado, let's begin!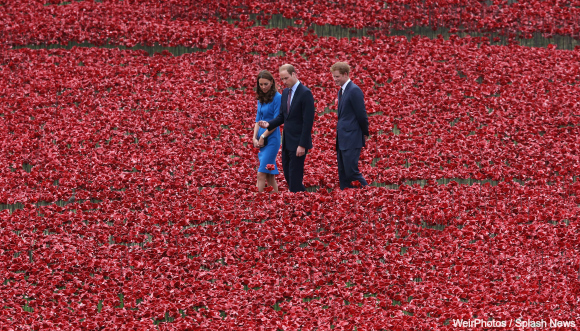 Is Kate's baby due earlier than we expected?
Last week, artist Paul Cummins told The Sunday Times that The Duchess of Cambridge almost didn't visit his iconic poppy installation at the Tower of London in August last year, because her pregnancy was already making her feel ill:
"Kate was not going to come as, though it had not been announced, she was already pregnant and suffering.

"But she insisted.

"It was her last public outing for a while."
This is news to fans of the Duchess.  As Cummins says, Kate's pregnancy wasn't announced to the media until later.
Kate's visit to the poppy installation was on August 5th 2014, her pregnancy was announced a month later, in early September.  The Palace later confirmed the royal baby is due in April 2015.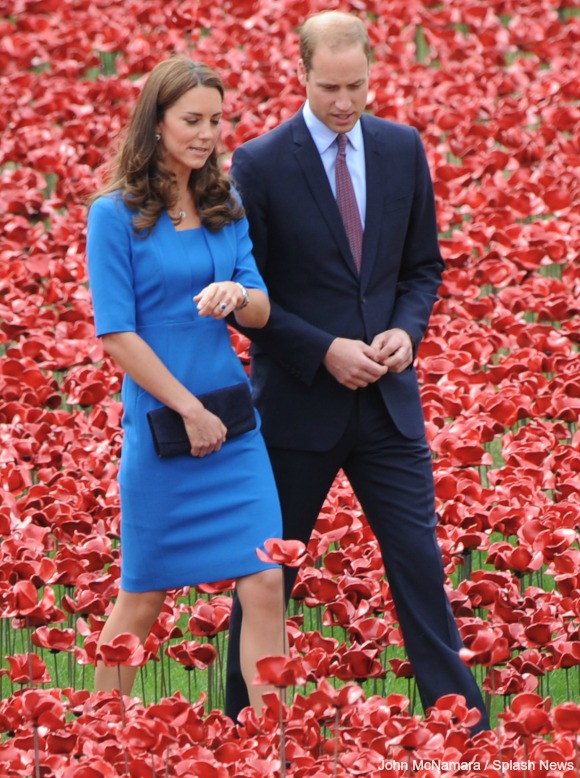 Up until the Sunday Times published Cummins' interview last week, it was widely assumed that Kate's baby was due in late April.  Now it appears  her second baby is probably due in early April.  I am aware that we're splitting hairs here, and that it doesn't really matter – but it's all important for Royal Baby Watch (The Sequel!)
I say it's important, but it's really not!  All that matters is Kate and baby are healthy!  It's just hard not to be excited at the prospect of another little cute prince or princess coming soon!
Source: Mirror.co.uk
– – – – –
Pied-A-Terre Imperia Wedges on Sale – Perfect for Spring!
Do you like Kate's Pied-A-Terre Imperia wedges?  If so, you may be interested to read they're now on sale at Dune.com but only in red.  This sale is the perfect timing with spring and summer on the horizon!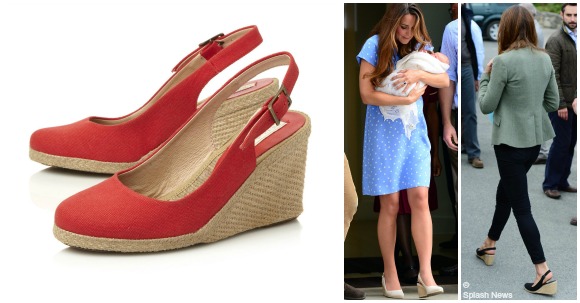 The Imperia wedges are reduced to £42 / $68 from £85 / $140.  At the time of writing, a large number of sizes are still available.  Click here to buy.
– – – – –
A Great RepliKate for the Jaeger Shirt Dress:
If there's one place you can guarantee you'll find a great repliKate, it's Kate's Closet.  The team tweeted out this beauty earlier in the week.  It is a great alternative to the Jaeger printed shirt dress worn by Kate for the video released yesterday.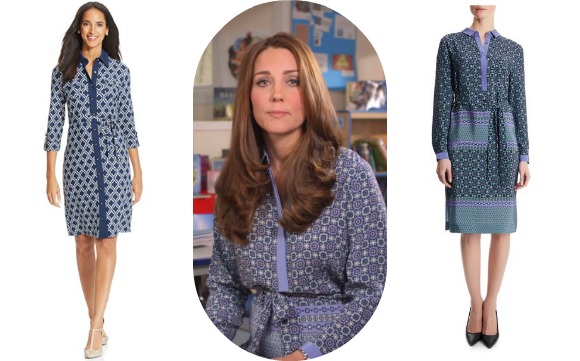 It is available from Macys.  It appears to be on sale for $32.99 – so a snip at the price of the real thing.  I say it still has the princess factor.  Perfect for spring and summer!
Shop it at Macys by clicking here.
– – – – –
A Royal Surprise for A Young Fan:
If you love cute stories, this will be right up your street!  A schoolgirl dressed up as Kate for a school play, then wrote to the Duchess about her experience.  She received a letter and photograph in reply.  Read the full story here.
– – – – –
What it's really like to learn Kate's wearing a dress YOU designed:
The WhatWouldKateDo.com ladies tweeted a fun interview with Nicky Zimmermann in Glamour Magazine, which I thought I'd share.  You may recall Kate wore the white Zimmerman Roamer Day dress in Australia during the tour last year: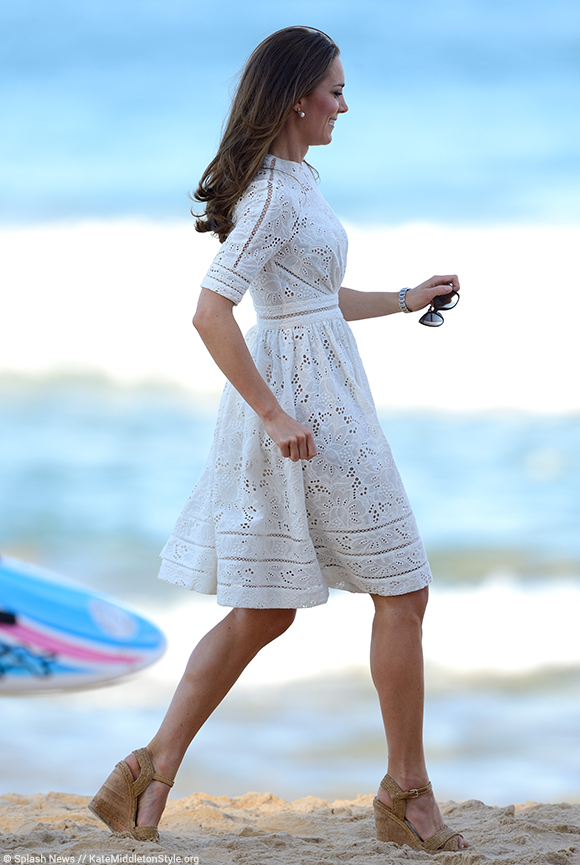 The writer asked Nicky a couple of questions about what it's like to find out the Duchess is wearing a dress from your collection. Nicky Replied that it's one of the biggest things that's happened to her in 20 years of business.  She continued:
I got back to the house and every person that I was with, their phones were going berserk. We flipped on the news and 'Kate Middleton Wears Zimmermann on Manly Beach' was the title."
You can read the rest of the article here.
– – – – –
We'll be back tomorrow with another post.  Kate's travelling up to the Midlands tomorrow, to visit Staffordshire.  She'll be calling in on the Emma Bridgewater Factory and visiting a Children's Centre in the region.  You can read more about the engagement here.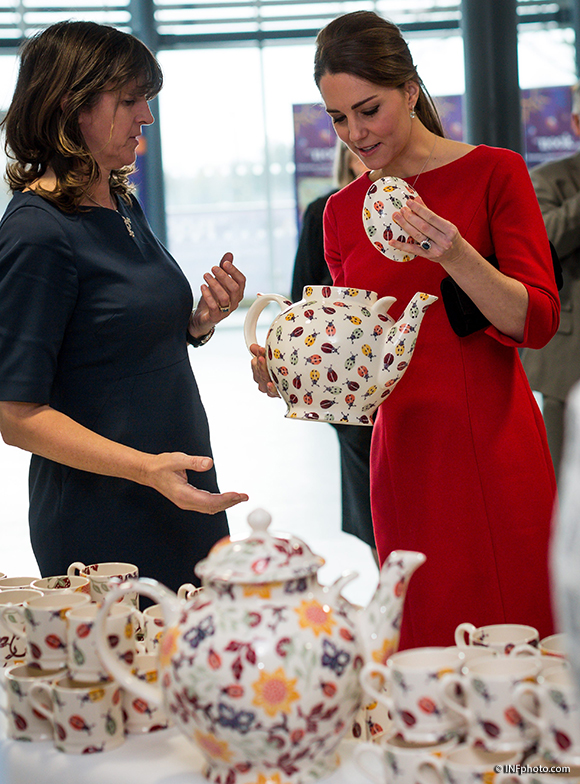 See you then!