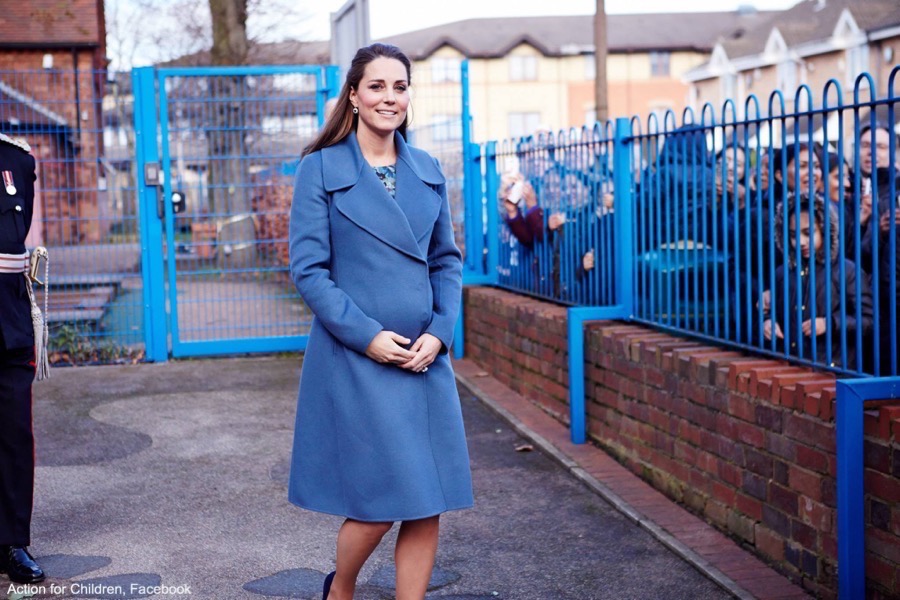 On the 18th of February 2015, the Duchess of Cambridge travelled up to the West Midlands for two engagements.  The first took place at the Emma Bridgewater factory in Stoke-on-Trent, Staffordshire.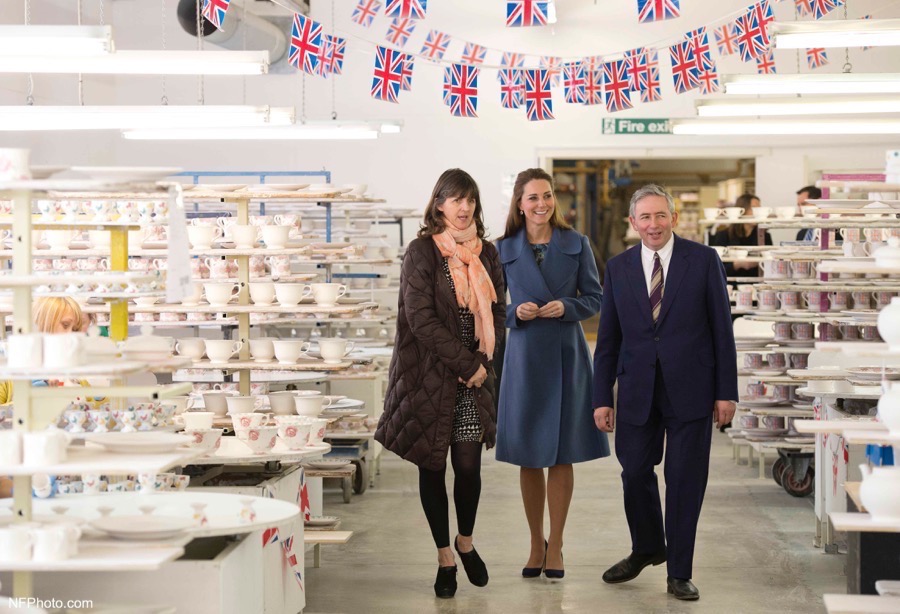 Stoke-on-Trent is famous for its pottery. Since the 17th century, Stoke has been home to a number of industrial-scale pottery manufacturing companies including Royal Doulton, Spode, Wedgwood and of course, Emma Bridgewater.
In November last year, Kate visited Norfolk Showground to attend the launch of East Anglia's Children's Hospices' nook appeal. You may recall that Kate met with Emma Bridgewater during the launch event, and it was announced two new printed mugs would be released to benefit the appeal?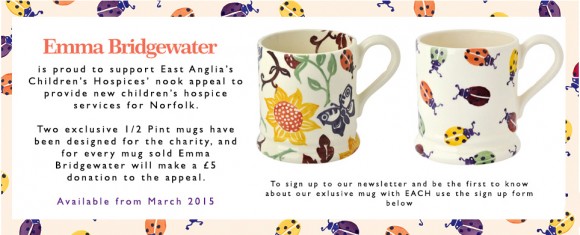 Kate visited the factory today, to see the mugs in production. For every mug sold, Emma Bridgewater will donate £5 to the nook appeal. The mugs will be launched on the 2nd of March, but you can pre-order it from today. Update: Emma Bridgewater no longer sells the mugs.
During the visit, Kate joined EACH staff and families from Stoke-on-Trent's local children's hospice, The Donna Louise Children's Hospice, for a ceramic painting workshop. Here's Kate with some of the family members: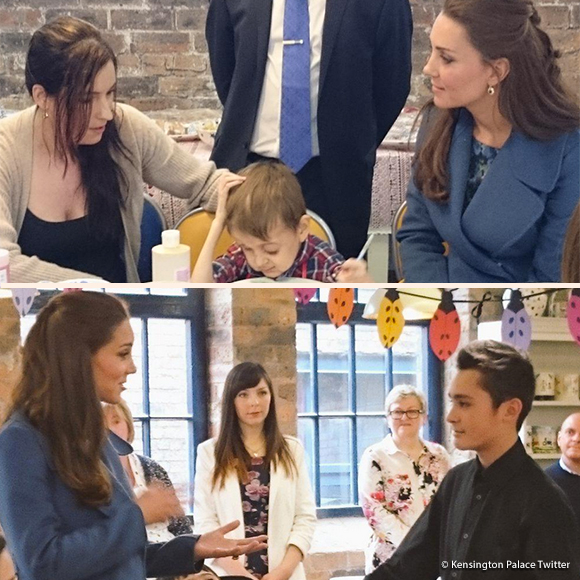 Kate was also presented with this fantastic picture of the lake district, painted by the talented Chloe (pictured) –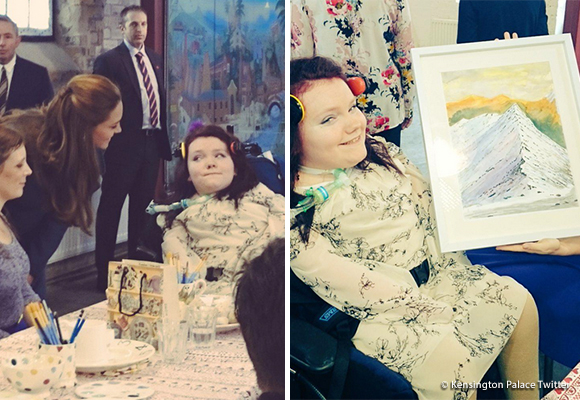 During her visit, Kate did a little painting. She said her ladybirds looked like "little blobs".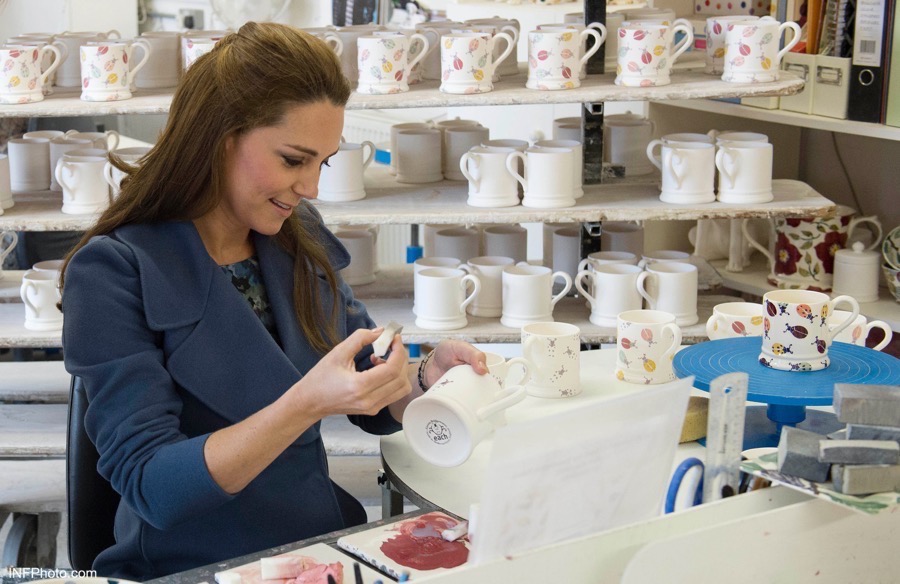 The Duchess also tried some of the other traditional techniques that Emma Bridgewater use in their pottery, photo via Kensington Palace's twitter stream: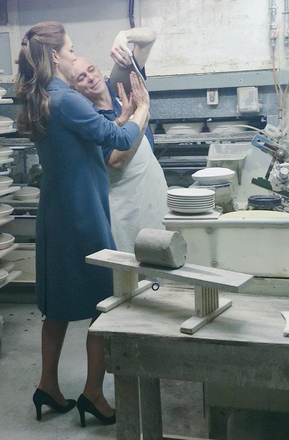 According to the Eastern Daily Press, Kate had a go at making flatware, which involved "the precision throwing of a piece of clay onto a machine." She told on-lookers to "watch out" and even managed to hit the mark first time! She remarked, "it's a little lop-sided". Staff at the site disagreed. Andy Davies, who supervised Kate, said her technique had been near-perfect. "There's nothing wrong with that," he said.
During her visit, Kate also unveiled probably the prettiest commemorative plaque I've ever seen. Photo by David Wilkinson (@DWilkinsonCNN on Twitter).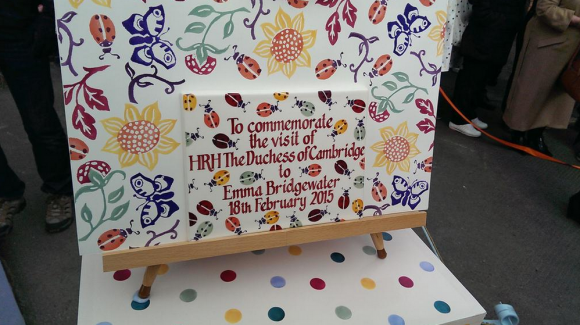 Emma Bridgewater was interviewed by the Eastern Daily Press shortly after the visit. The business owner said that Kate is "delightful" and has a "very good unhurried feeling." She continued:
"She's very friendly, easy-going, jolly, and very practical. She gives so much time to people, and makes each person she talks with feel they are the sole focus."
Awww!
I'm a big fan of Emma Bridgewater pottery, it's very popular here in the UK and sold at a number of retailers, including John Lewis and Liberty London.
All Emma Bridgewater pottery is made from cream-coloured earthenware – a traditional Staffordshire product which is made in the company's own Victorian factory in Stoke-on-Trent. Photos via Kensington Palace Twitter feed: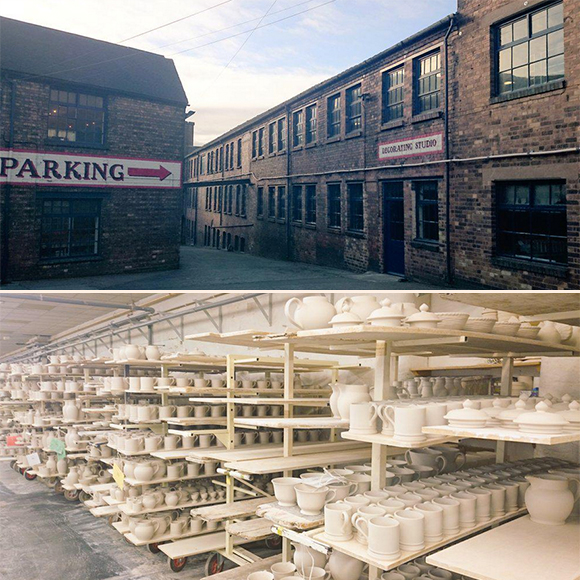 Most of the production work is still done by hand and the company is proud to be one of the largest employers of potters in the area. Again, photos via Kensington Palace: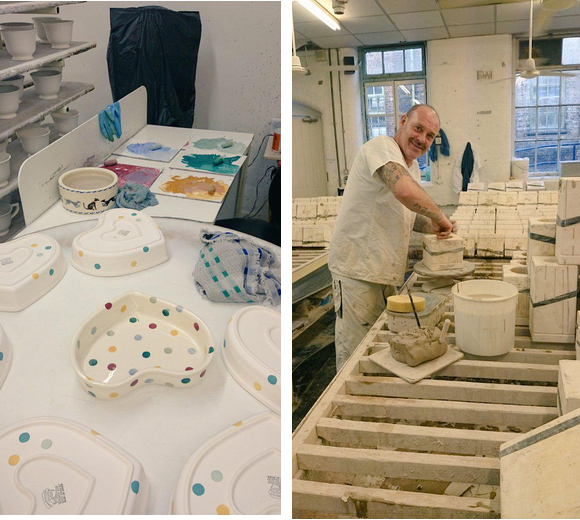 Kate left Emma Bridgewater, chatted to the crowds waiting outside. She was presented with a posy of flowers before making her way to a waiting helicopter.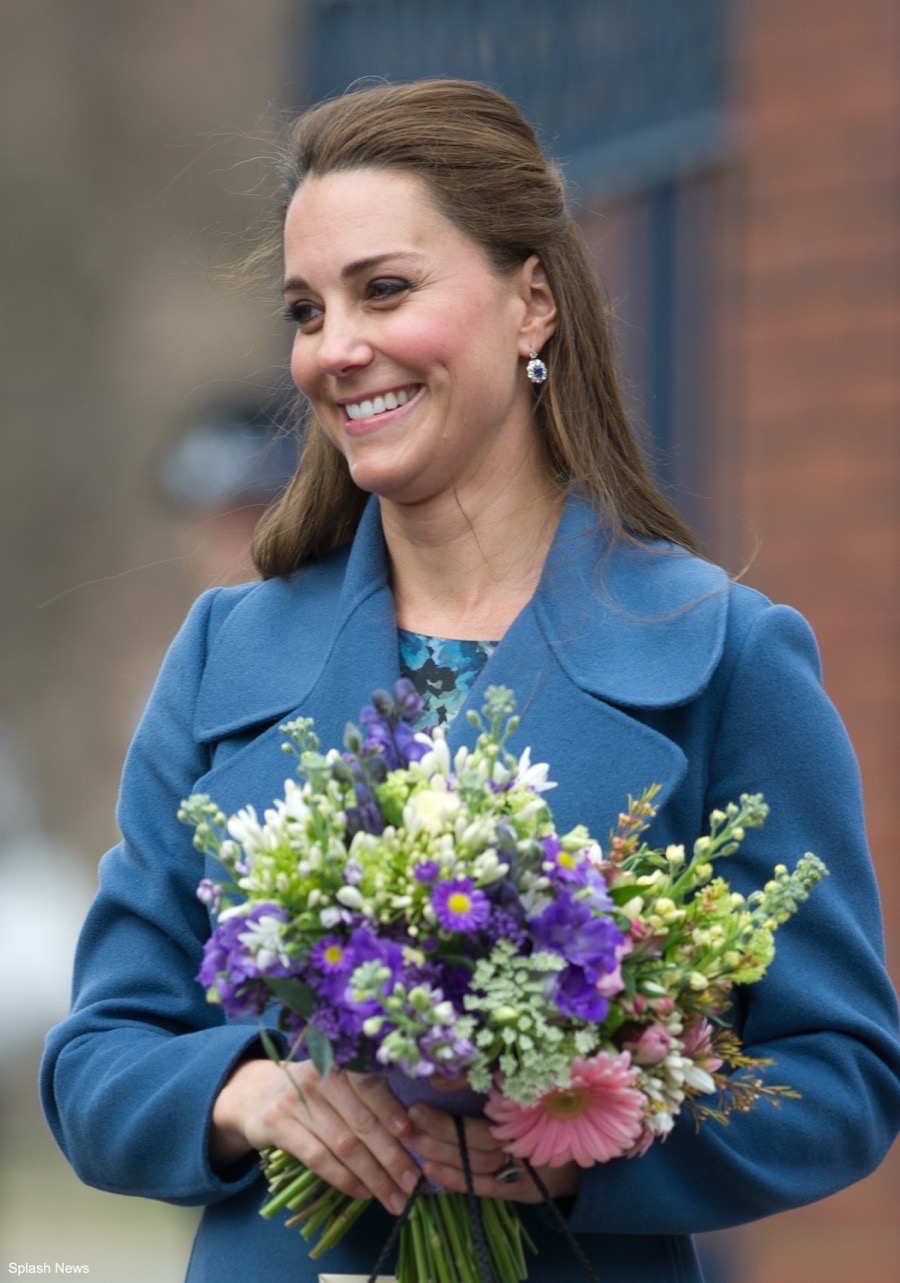 The helicopter took Kate over to the nearby town of Smethwick. Here, Kate visited a children's centre run by Action for Children, a national charity that supports and speaks out for the most vulnerable and neglected children and young people.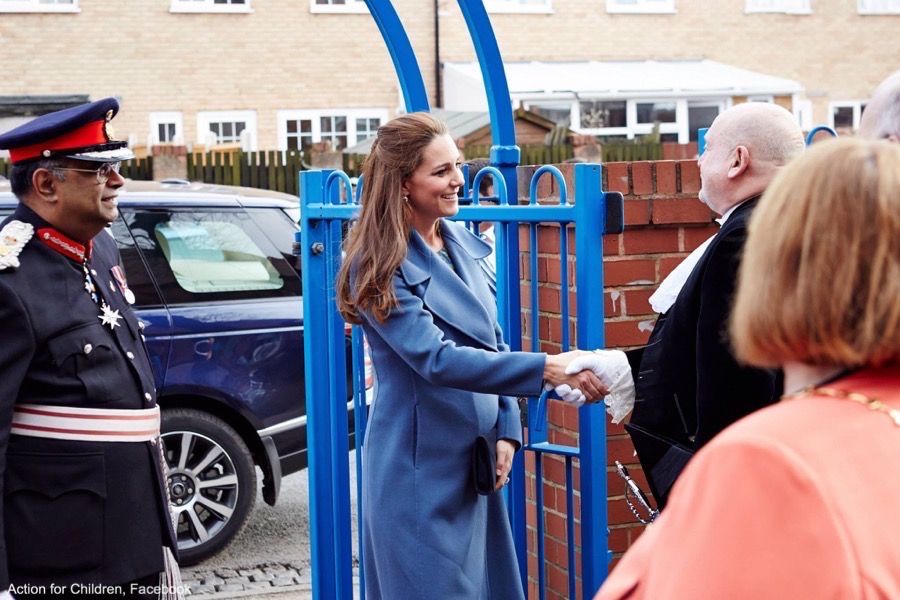 The charity runs Cape Hill Children's Centre in Smethwick on behalf of Sandwell Metropolitan Borough Council. Cape Hill is one of seven children's centres run by the charity in Sandwell. Action for Children operates more than 200 children's centres across England.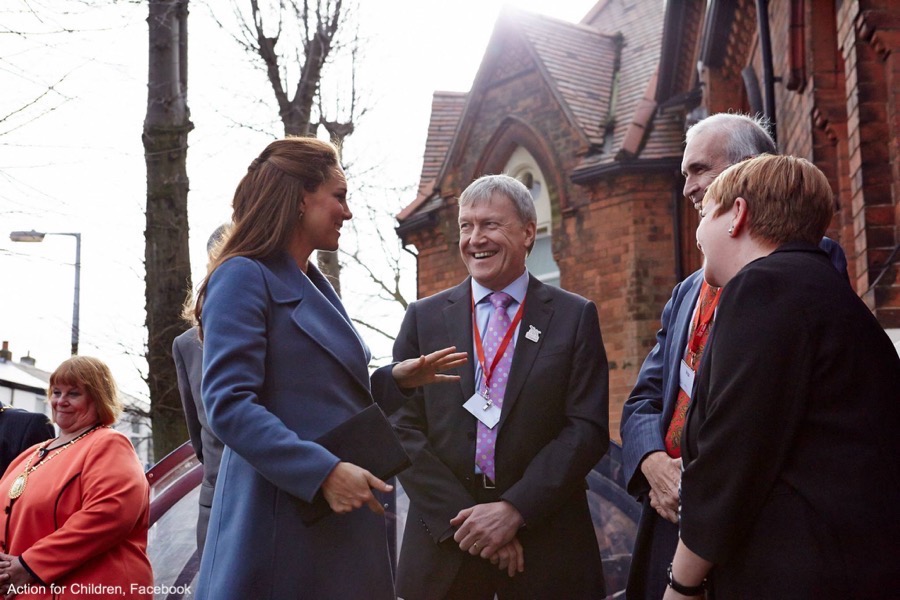 As the 12th most deprived local authority in England, Sandwell has large numbers of vulnerable children and high levels of neglect, mental health issues, abuse and dysfunctional family units.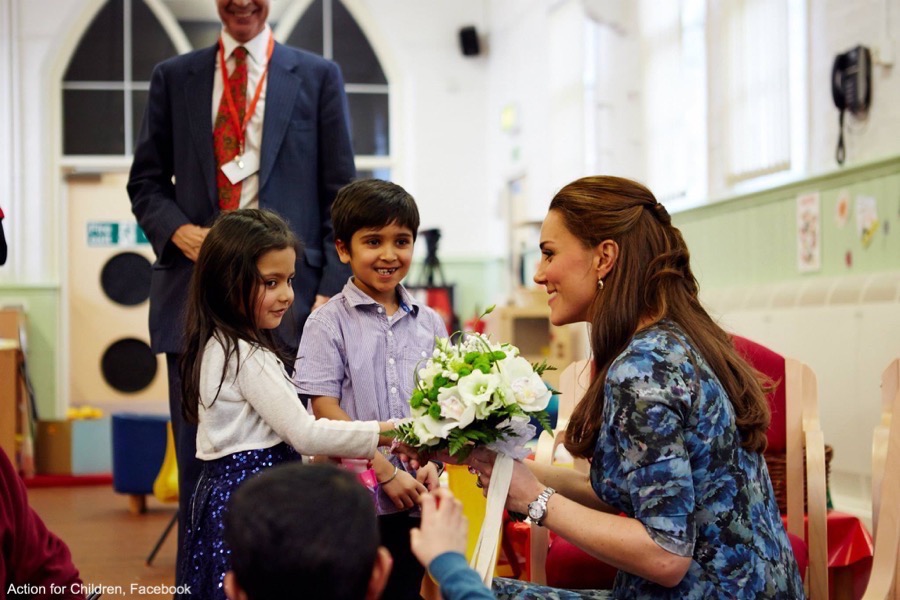 It's plain to see from the recent video Kate recorded, and her list of patronages that she has a large interest in these topics, and she uses her profile to publicise related charities and bring awareness to their work.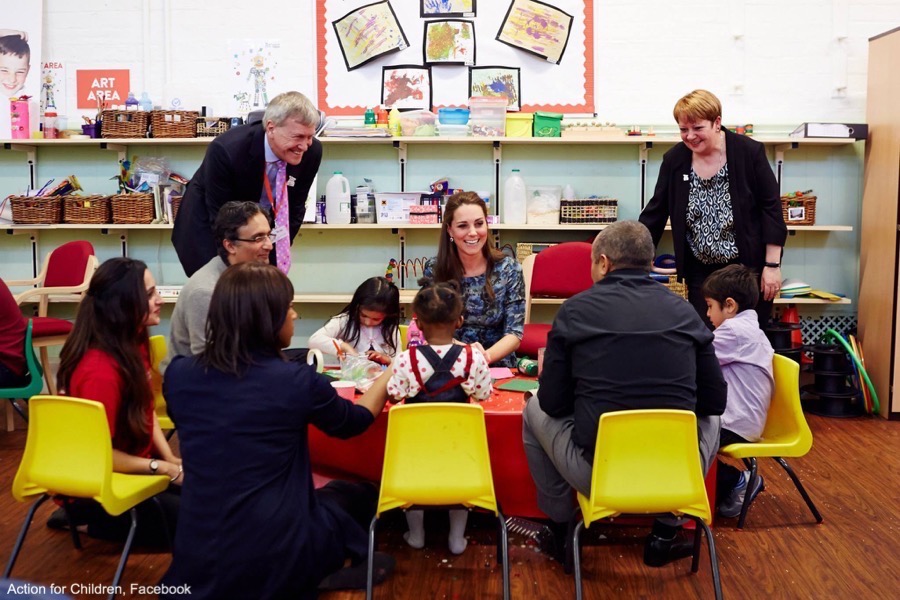 During her visit to the children's centre, Kate learnt more about the charity's work in supporting vulnerable children and their families. She met with staff members and volunteers.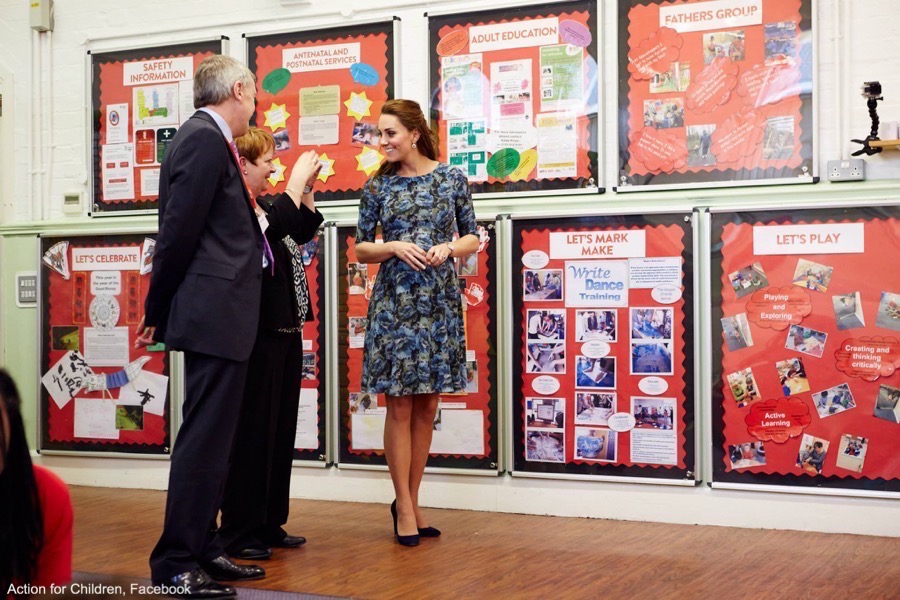 She attended a private roundtable discussion with families who have accessed Action for Children services including the organisation's Sandwell Family Partners programme, which is based at the children's centre.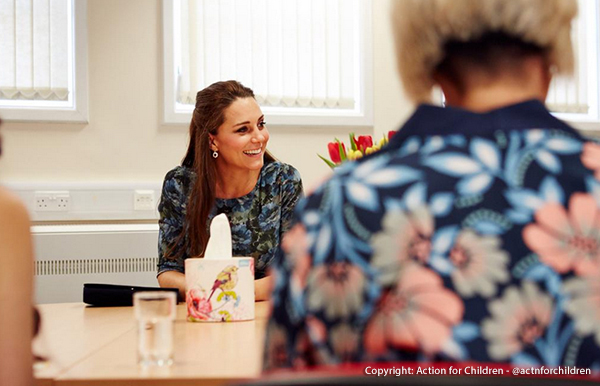 After, the Duchess watched a play session and meet the children and parents who use Cape Hill Children's Centre.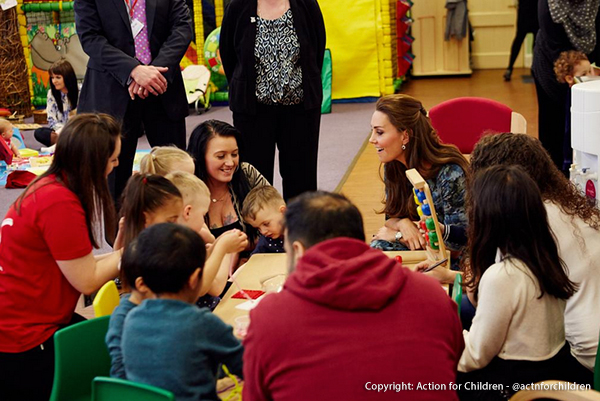 Birmingham Mail reporter Sophie Jamieson tweeted this photograph of the Duchess that shows her baby bump: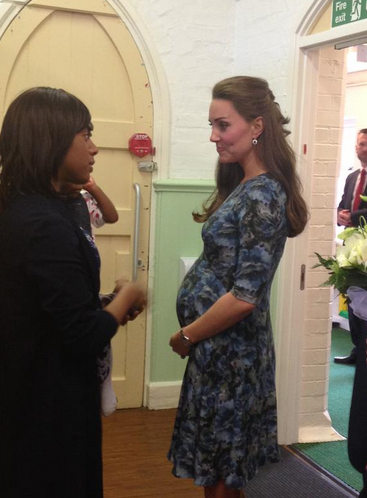 Kate's outfit:
Today, Kate wore another coat from MaxMara's Sportmax line.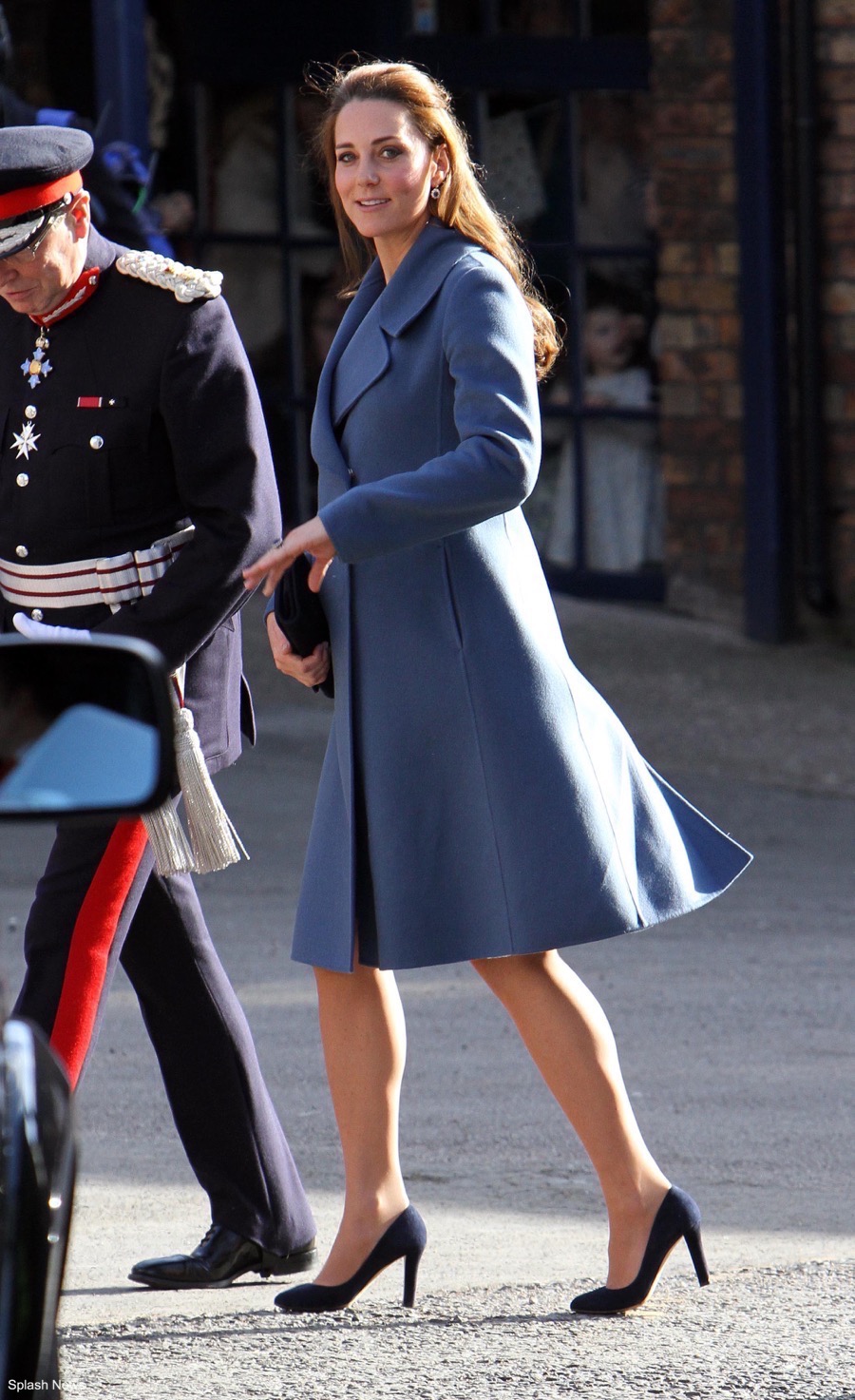 The image on the left is from Action for Children's Twitter stream: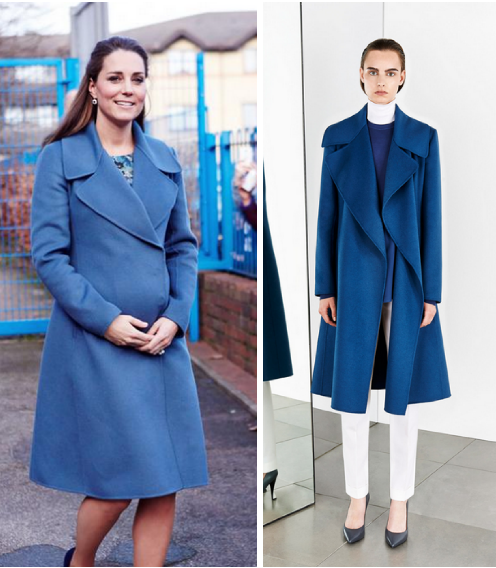 MaxMara confirmed Kate wore their Sportmax Gerbera coat from the Autumn-Winter 2014 collection.  
Here's how Matches Fashion describes Sportmax:
As part of the illustrious Italian luxury group Max Mara, Sportmax is the brand's slick, urban line. Graphic dresses in bold prints, precision tailoring and crisply cut jackets and trousers amp up city dressing for the fashion conscious.
You may recall the Duchess wore a Sportmax jacket during a visit to Place2Be, back in November 2013.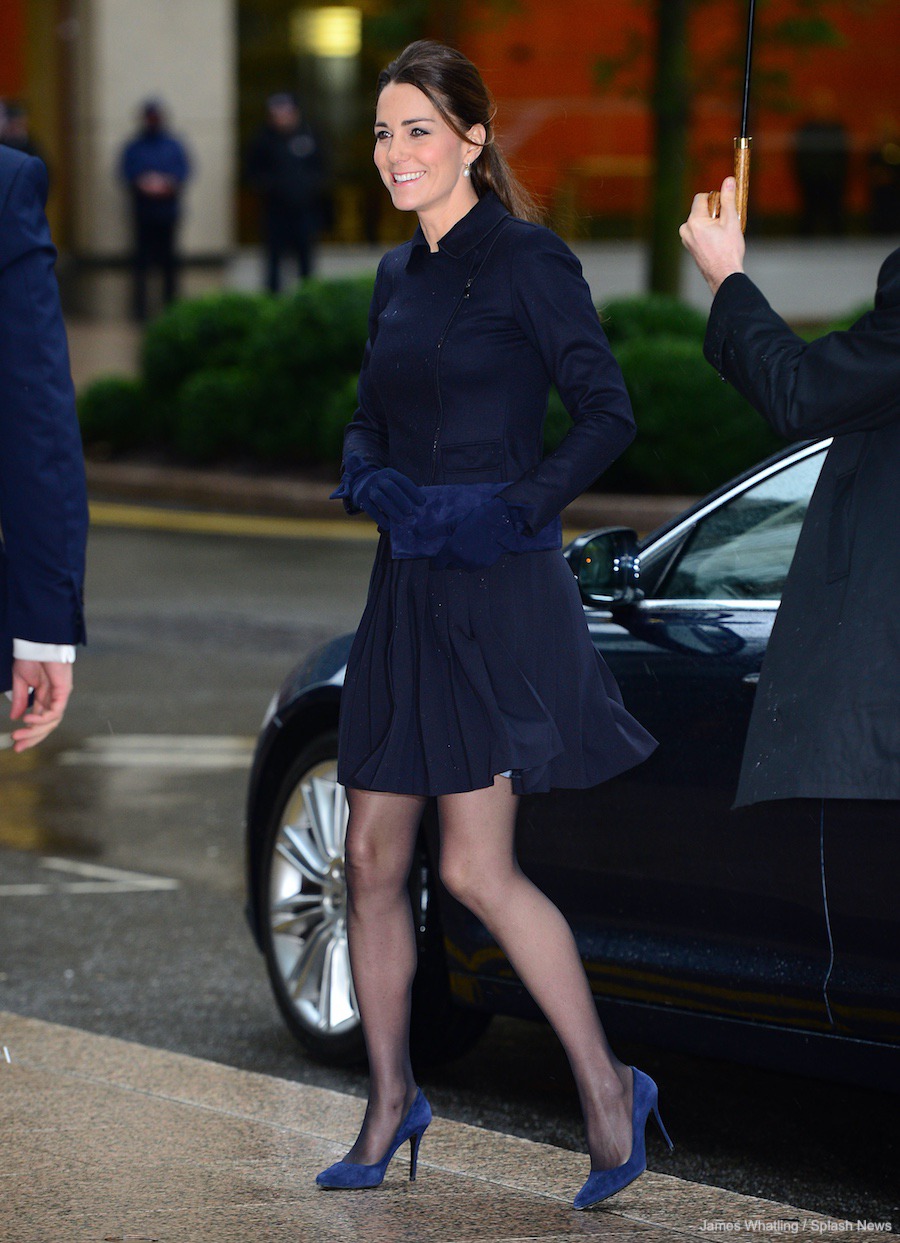 Kate's floral printed maternity dress will be familiar to our regular readers. Kate wore it earlier in the year, during a visit to Family Friends in Kensington (pictured below) –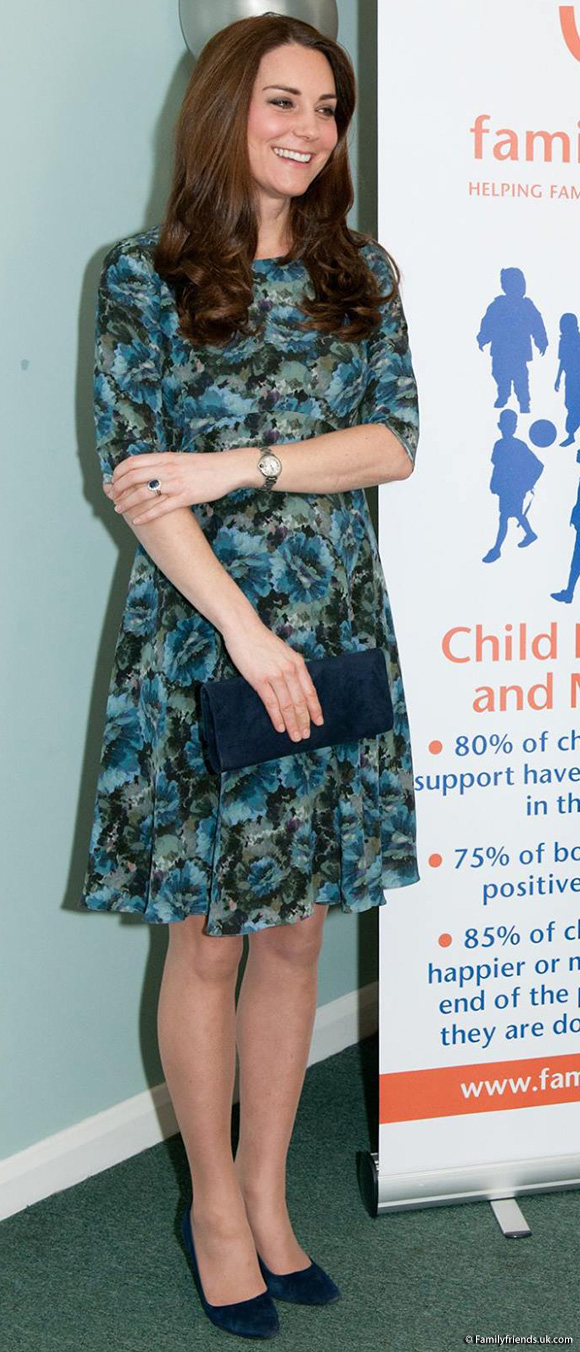 It's the Seraphine Maternity "Florrie" Dress in "marine ocean" blue: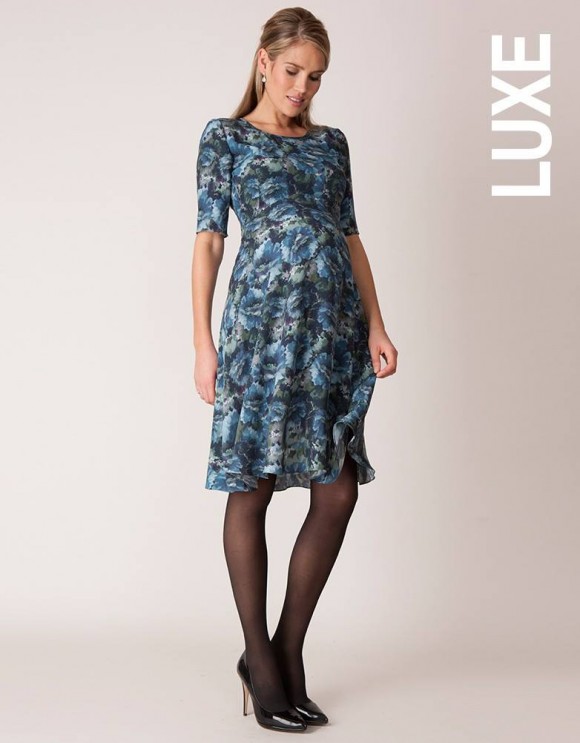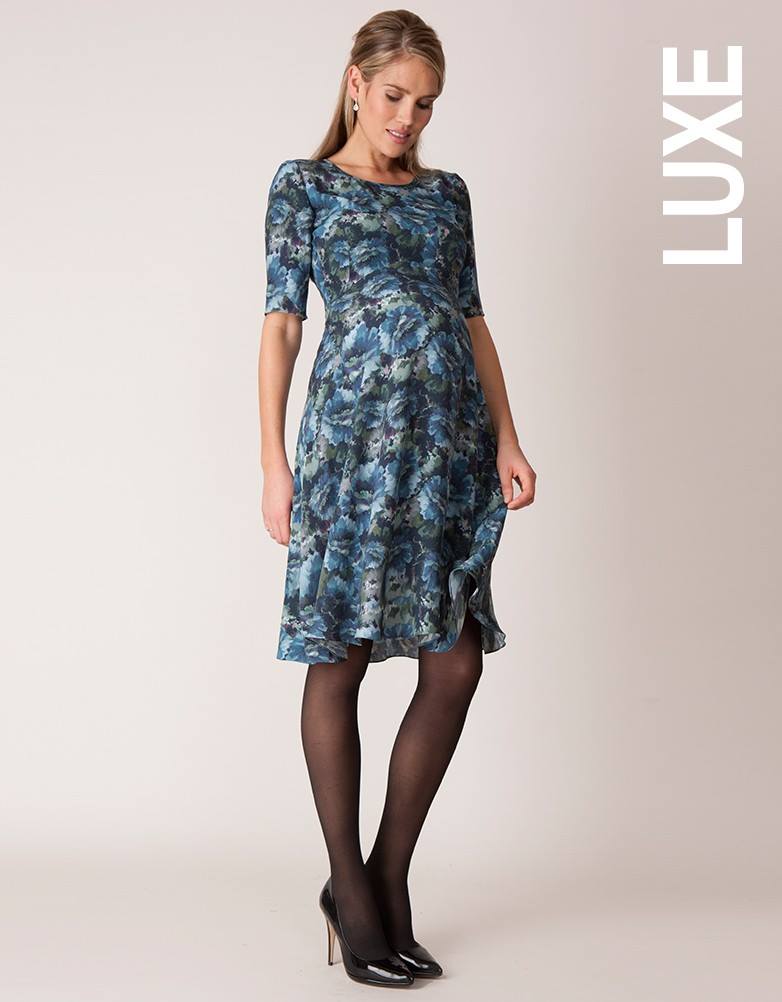 The Florrie's floral design is digitally printed onto crepe de Chine fabric.  The dress is part of the brand's SS15 LUXE collection.  
Kate repeated the same blue suede accessories from last week's visit to Portsmouth: her L.K. Bennett Frome clutch bag and coordinating Jimmy Choo Georgia heels.
Kate wore her hair partially up, which showed off her diamond and sapphire earrings. The Duchess has worn these earrings regularly since at least 2011, they're believed to have been a gift from William, refashioned from pieces in his mother's private collection: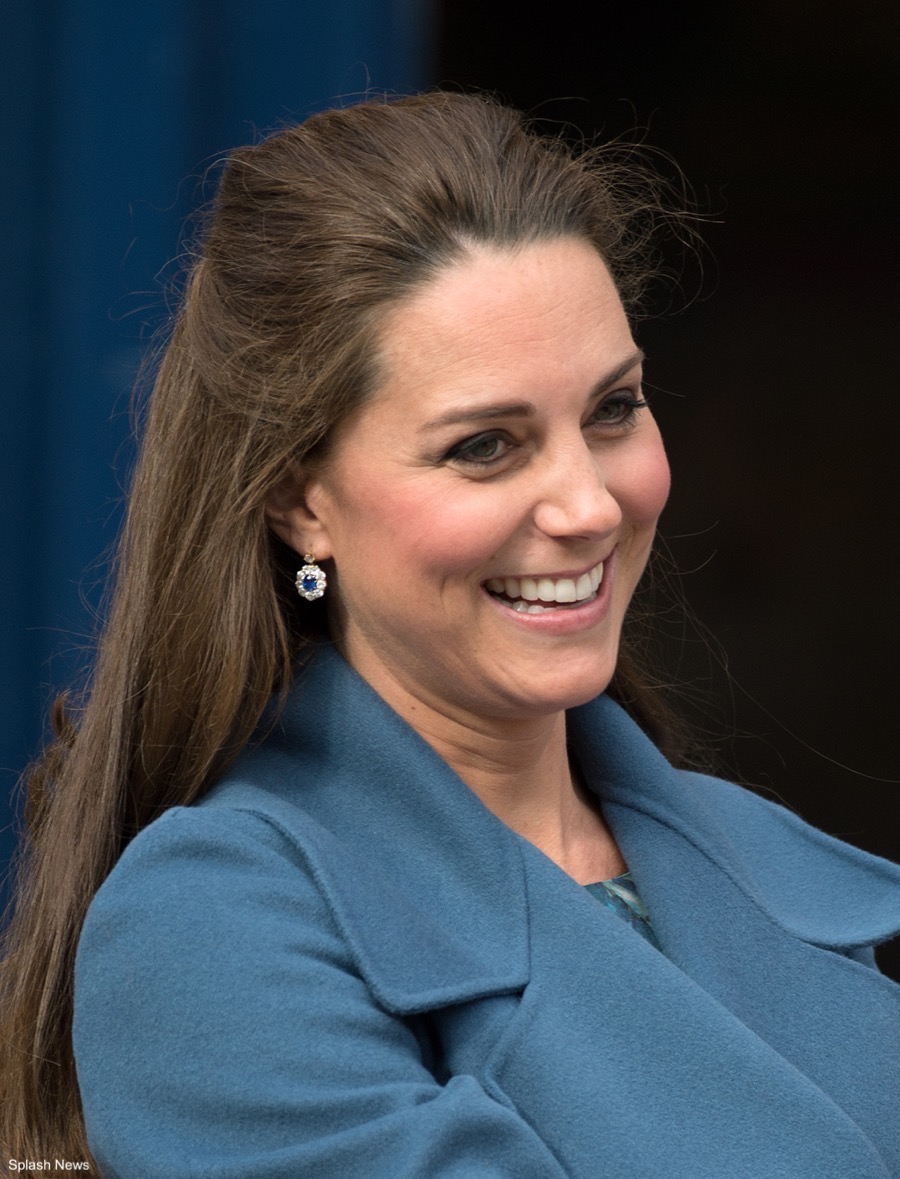 Finally, Kate wore her Cartier "Ballon Bleu" watch (33cm) – it should be familiar to fans, she's worn this constantly since Prince George was born.