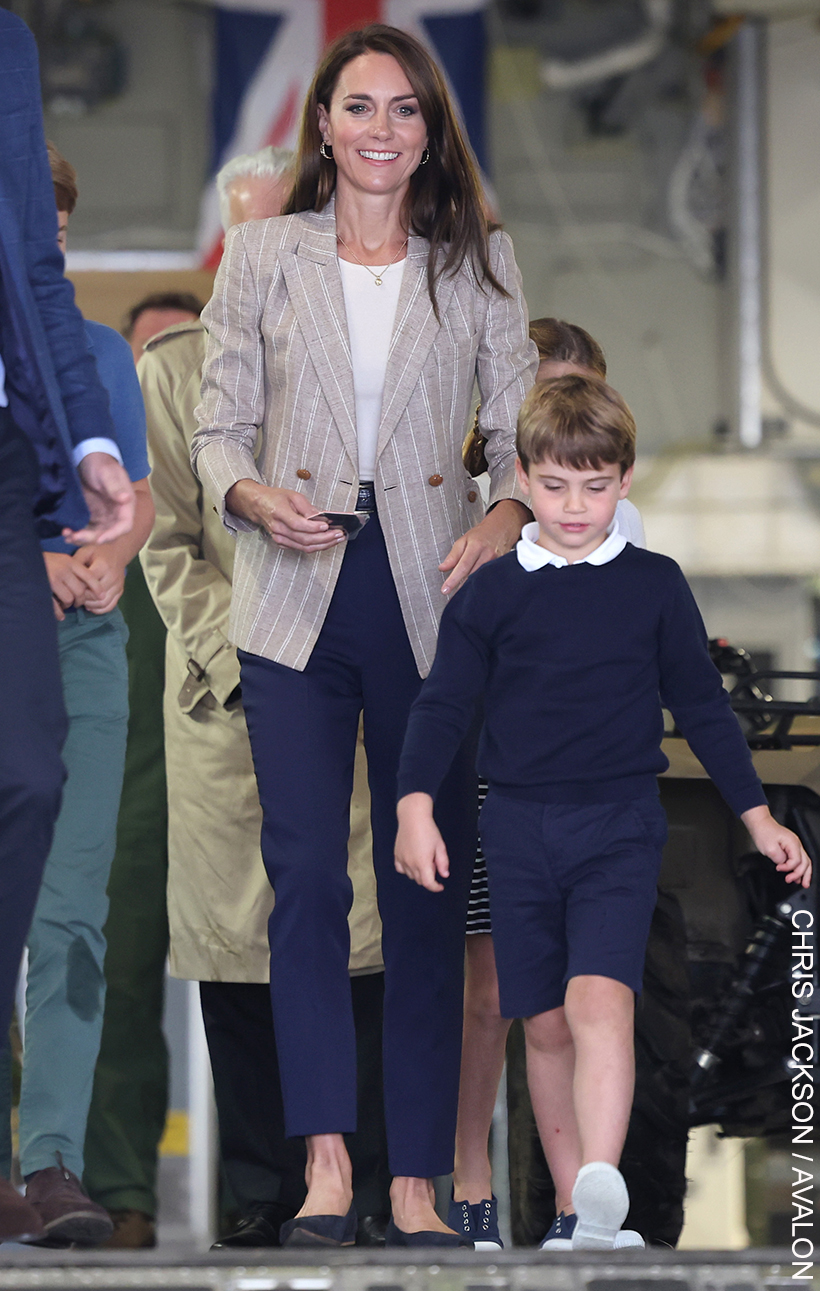 Kate Middleton brought her fashion A-game to the Royal International Air Tattoo on Friday. The Princess of Wales, wearing a chic beige pinstripe blazer by Blazé Milano, spent the afternoon exploring the popular airshow with her husband and three children.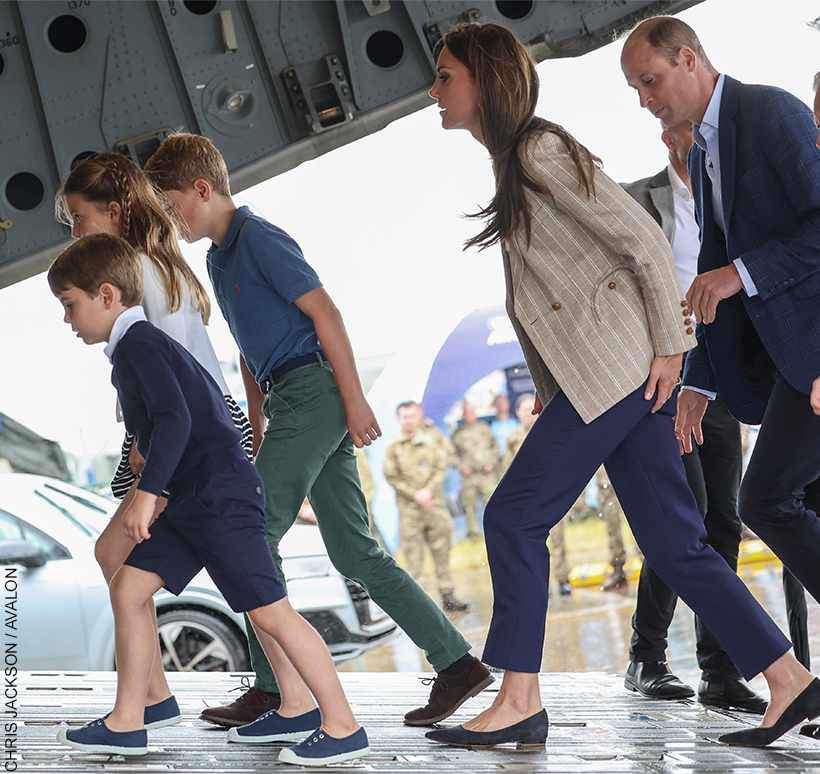 For the surprise family visit, which took place at RAF Fairford in Gloucestershire, Kate accessorised with a pair of sensible navy flats by Emmy London.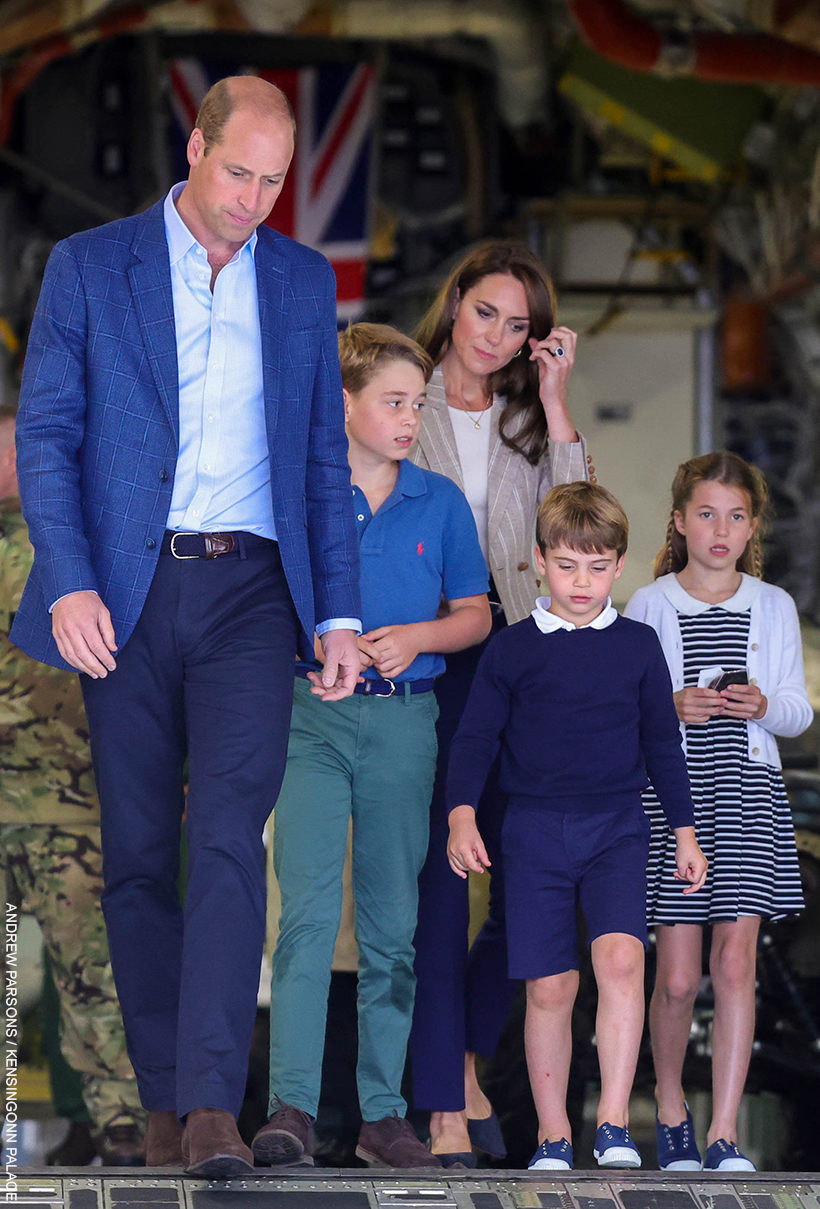 She finished her outfit with a touch of sparkle, in the form of a citrine necklace by Daniela Draper and her gold Bruna earrings from Sézane.
The Royal International Air Tattoo, known for its grand display of military aircraft, offered the perfect backdrop for the family's day out. The five royals immersed themselves in the world of aviation.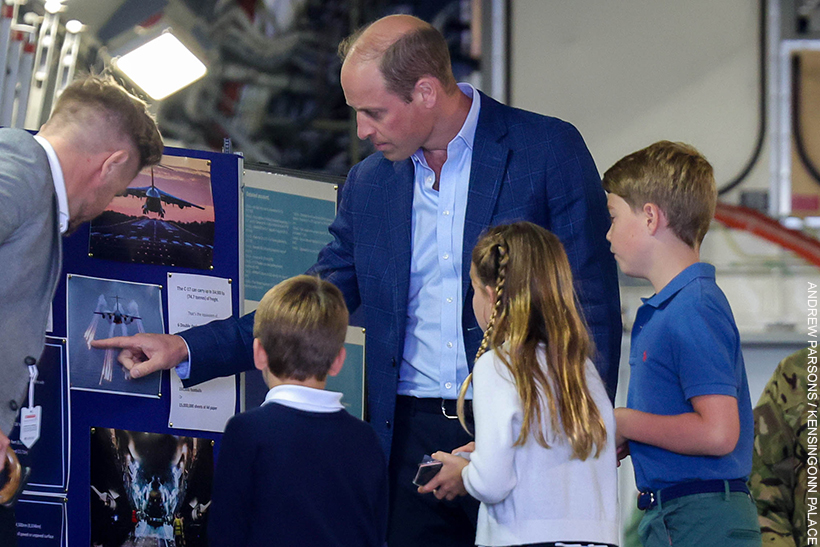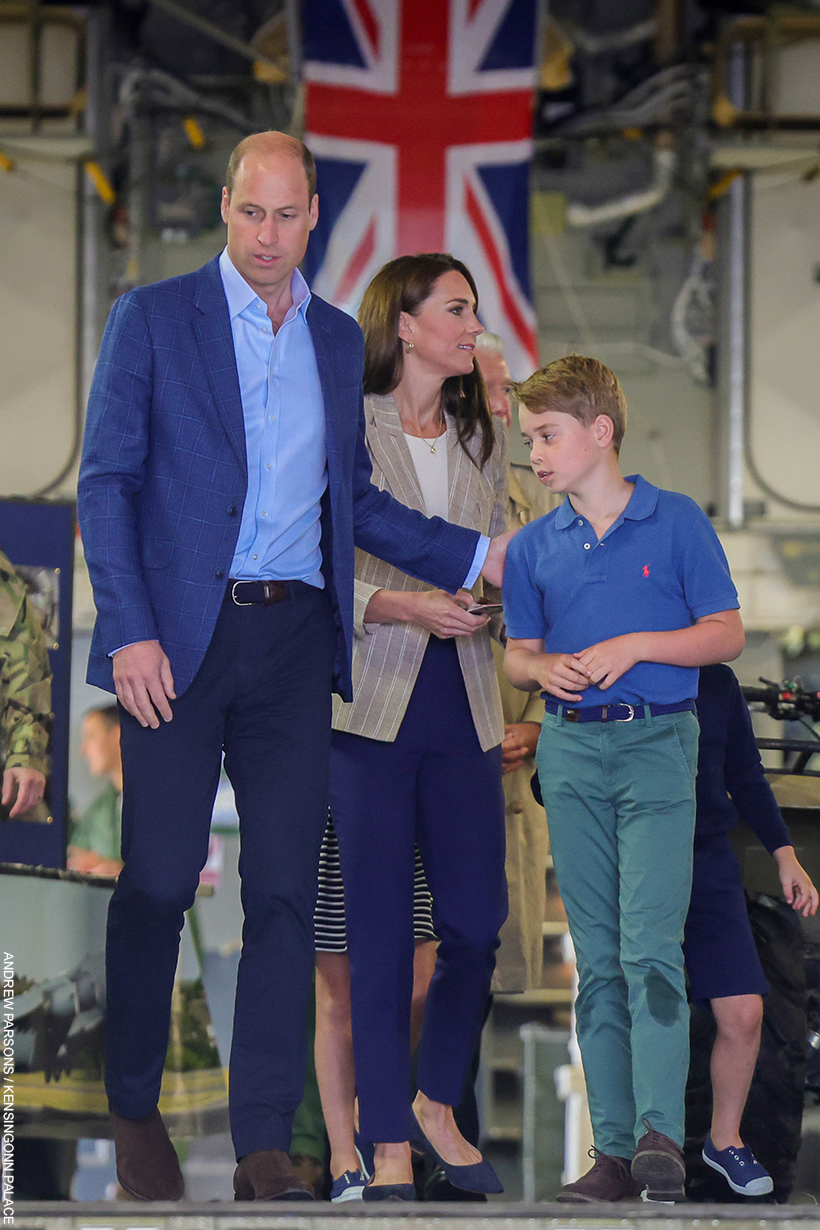 Prince George, Princess Charlotte, and Prince Louis enjoyed exploring the various jets, helicopters, and historic planes on display.
They didn't let the torrential rain hamper their fun, as they sat in the pilots seats and pressed buttons.
Prince George, who shares his father's interest in aircraft, was given the opportunity to partially raise the ramp of a C-17 transporter aircraft. The young prince pressed the button as his father watched on.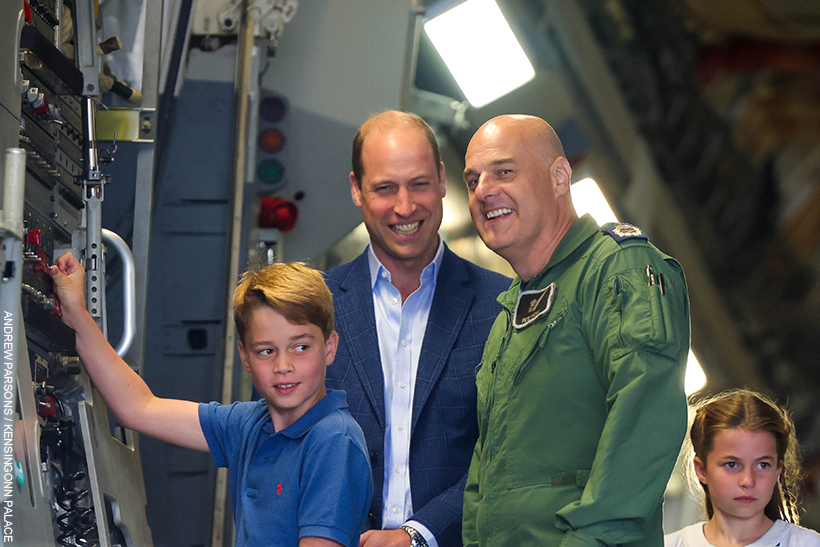 Meanwhile, Louis got to jump on a quad bike and said "hello" over the PA system.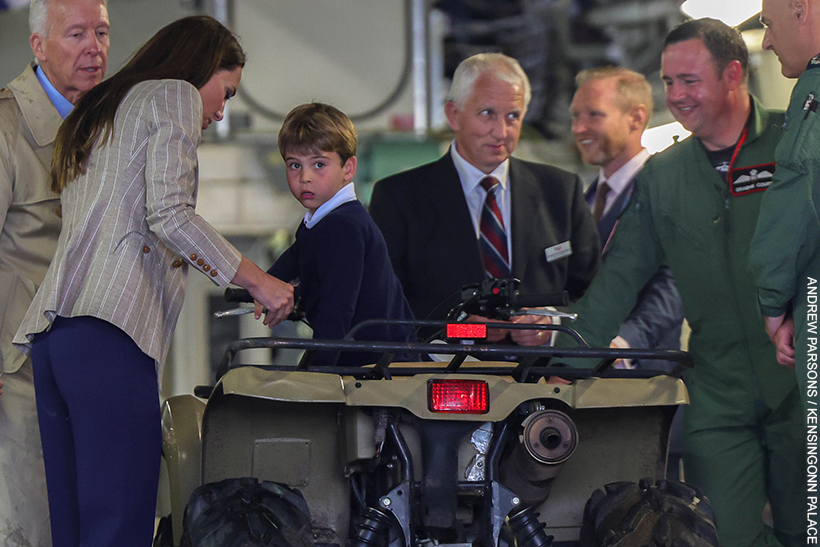 William will have felt right at home touring the aircraft. The prince once served with the Royal Air Force as a search and rescue pilot. Today, he's the Honorary Air Commodore of RAF Coningsby.
Kate has a connection to the RAF too. She is Honorary Air Commodore of the Air Cadets. Prince Philip relinquished the role in 2020 and Kate took it on — it was her first military appointment.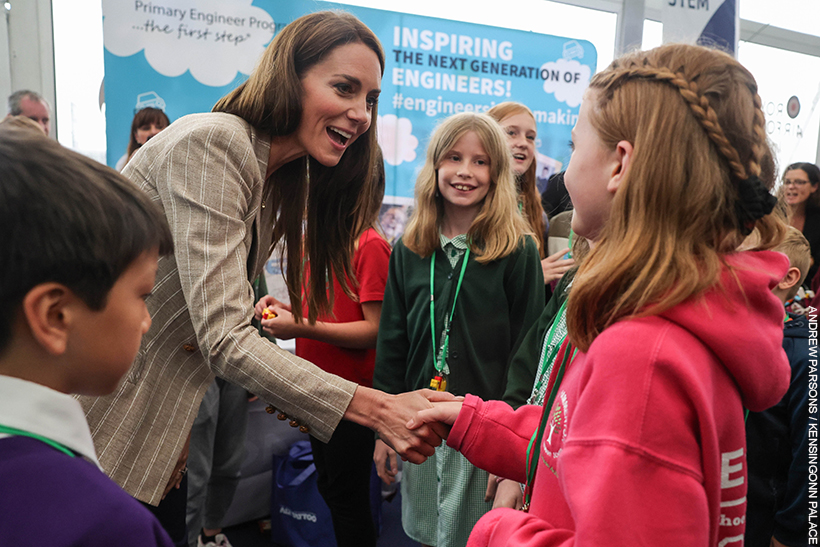 In her role, the Princess met a group of Air Cadets who are planning to become the youngest team to row across the Atlantic in 2025 and chatted with another who has learnt how to fly but hasn't yet passed his driving test!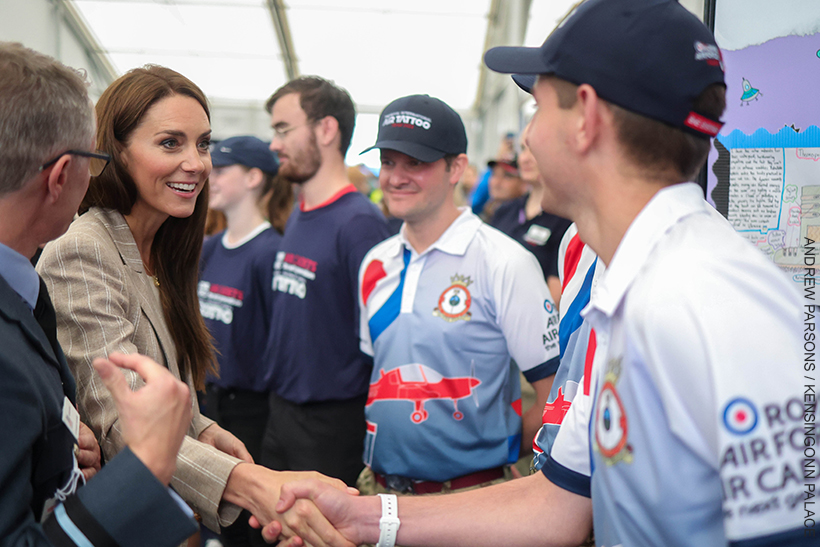 Kate broke away from her family for the solo visit, which took place in the airshow's tech zone. Children and teenagers had gathered to learn about the science and the engineering behind aviation.
Let's take a full look at Kate's outfit now.
Kate's outfit at the Air Tattoo:
I think we can all agree this is not a standout outfit. I can't deny it works for the Princess and for the occasion. But it's fairly unremarkable. I think we've seen her wear the beige blazer and trouser uniform a few times now—in fact, she wore a near-identical look to on an RAF visit two years ago.
And I've lost track of how many beige blazers Kate owns now.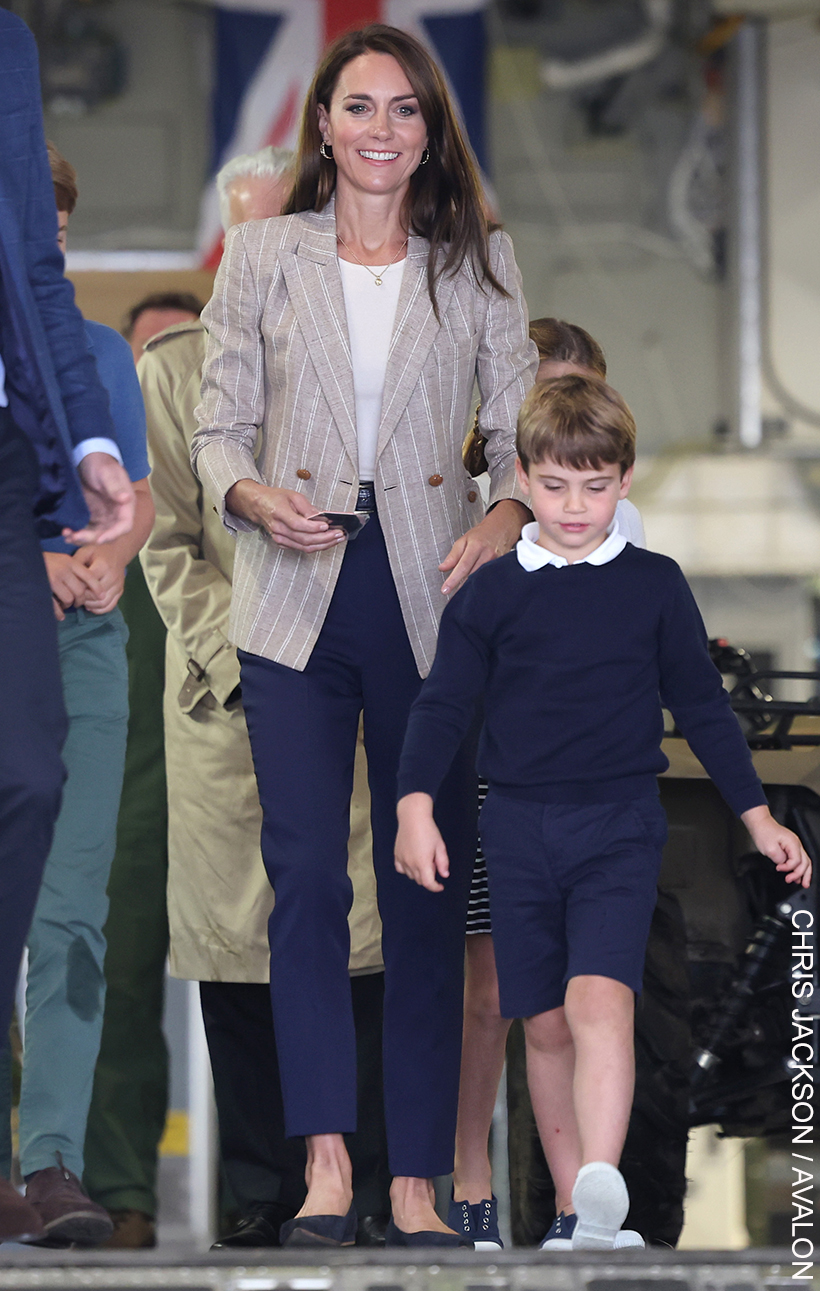 It's not a criticism. Many of us, myself included, have our own go-to outfits. I wear a reliable combination of jeans and a t-shirt most of the week, I own several pairs of the same jeans and one top in 5 different colours, and I mix and match them. It's a practical approach for a busy mum and makes dressing effortless. It's one less chore to think about! So yep Kate, I totally get it.
It's just not always fun to write/read about. Which might be the point, to be fair. She probably keeps the outfits sober, on the right side of boring, until she needs to pull out the big guns (think: The Earthshot Awards, launching a campaign for her Centre for Early Childhood, etc). It makes sense.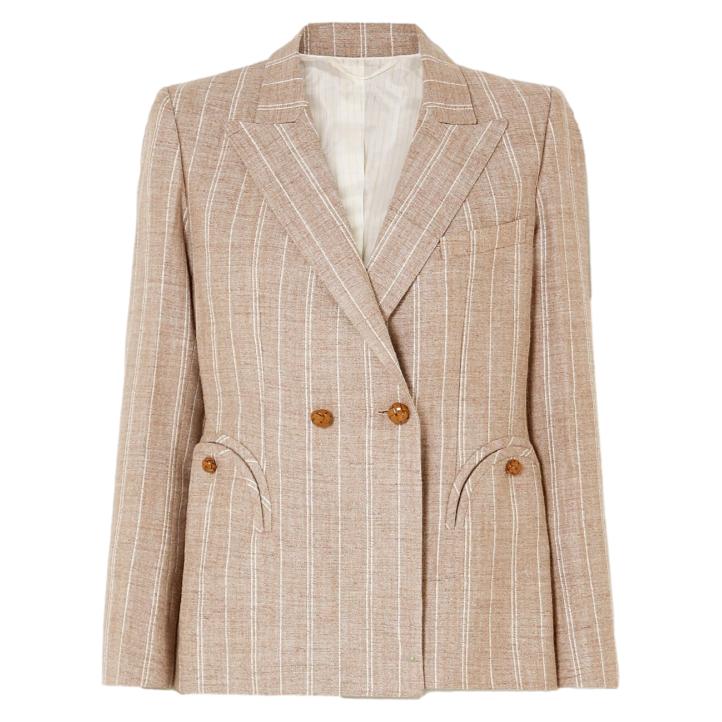 The blazer has its merits! It's sleek, professional and stylish. I like it.
A closer look at Kate in the style: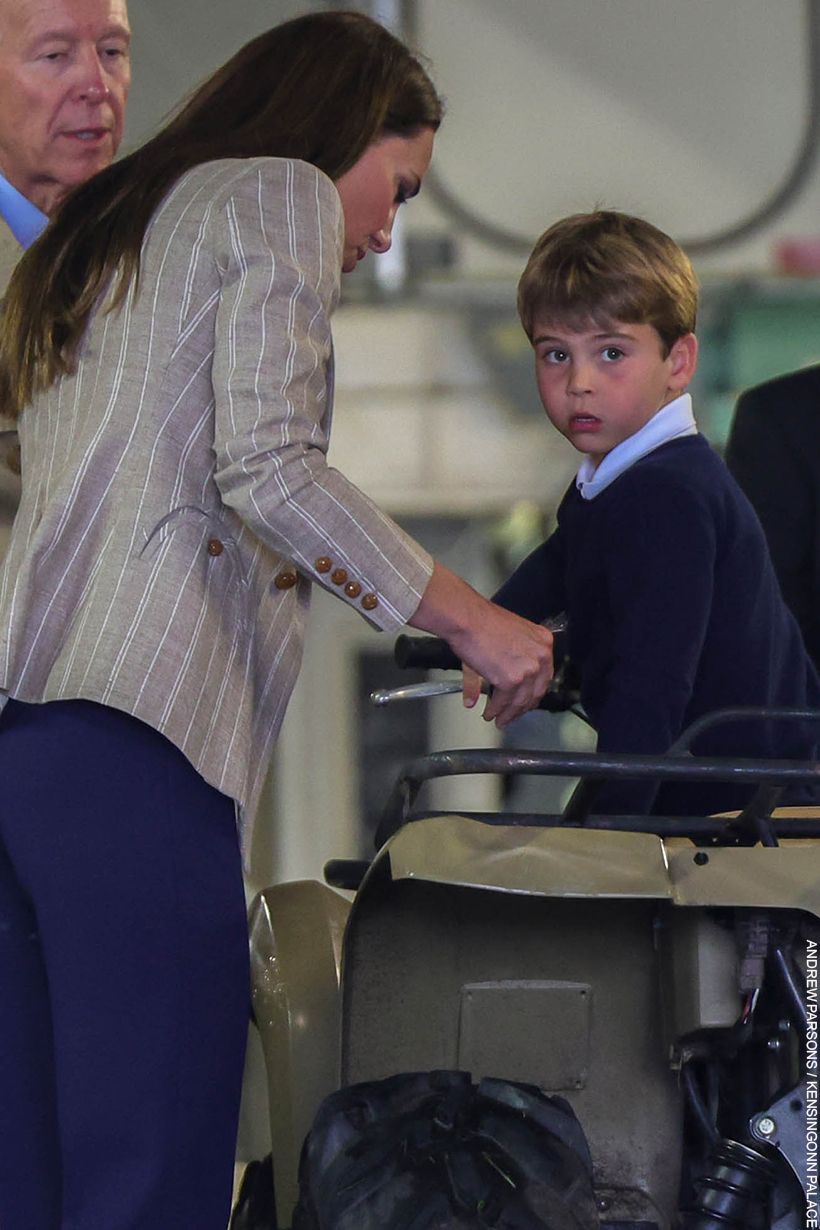 It's called the 'Wind Hunter Charmer Double-Breasted Pinstriped Grain De Poudre Blazer' from the brand Blazé Milano. It's tailored from grain de poudre, a fabric known for its fine texture and durability, woven with silk and linen—I'm guessing the fabric is lightweight and breezy for summer. A sensible choice. Even if she has a few similar styles already hanging in her closet.
The creamy pinstripes add a touch of sophistication to the garment. The double-breasted front is finished with attractive brown knotted buttons.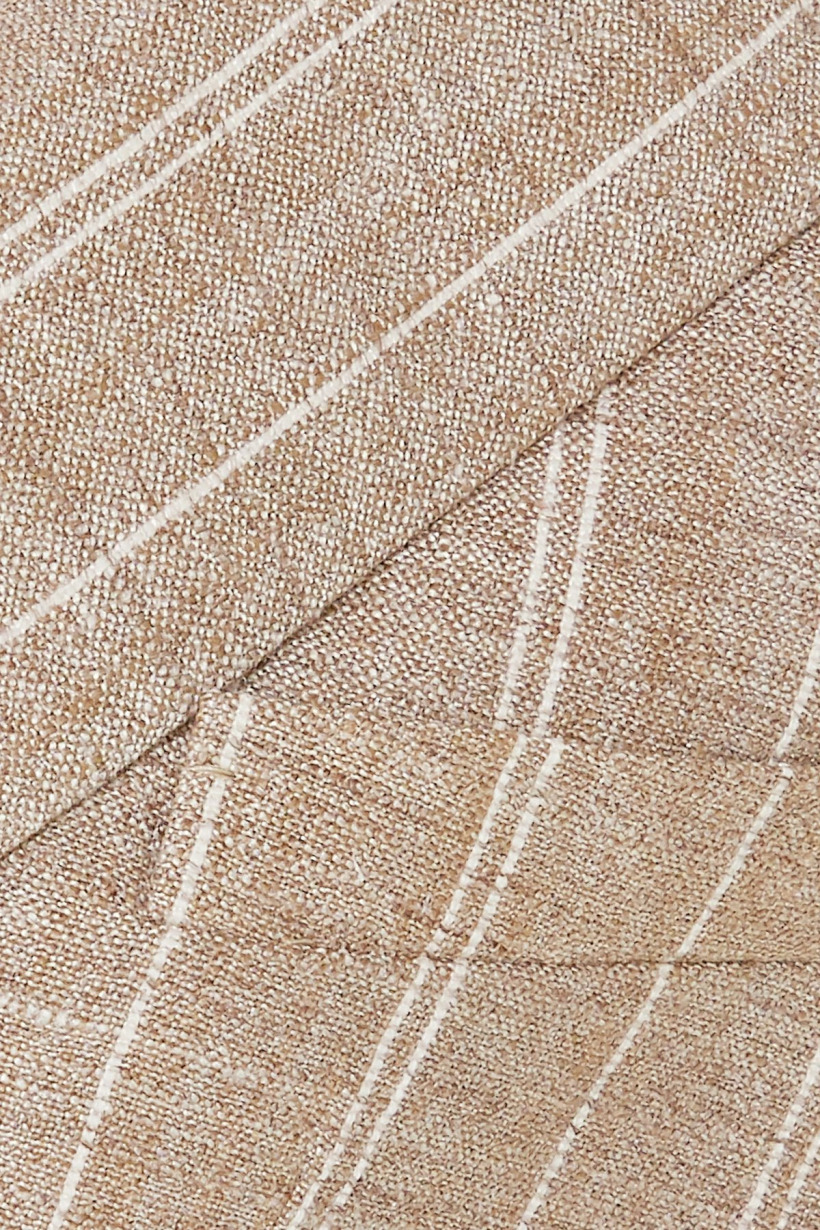 This blazer was from a past season and was exclusively available at Net-A-Porter. It's now sold out. Interestingly, 20% of the profits from the sale of this product were donated to the Association of the Italian Red Cross. Shop other Blazé Milano styles at Net-A-Porter.com.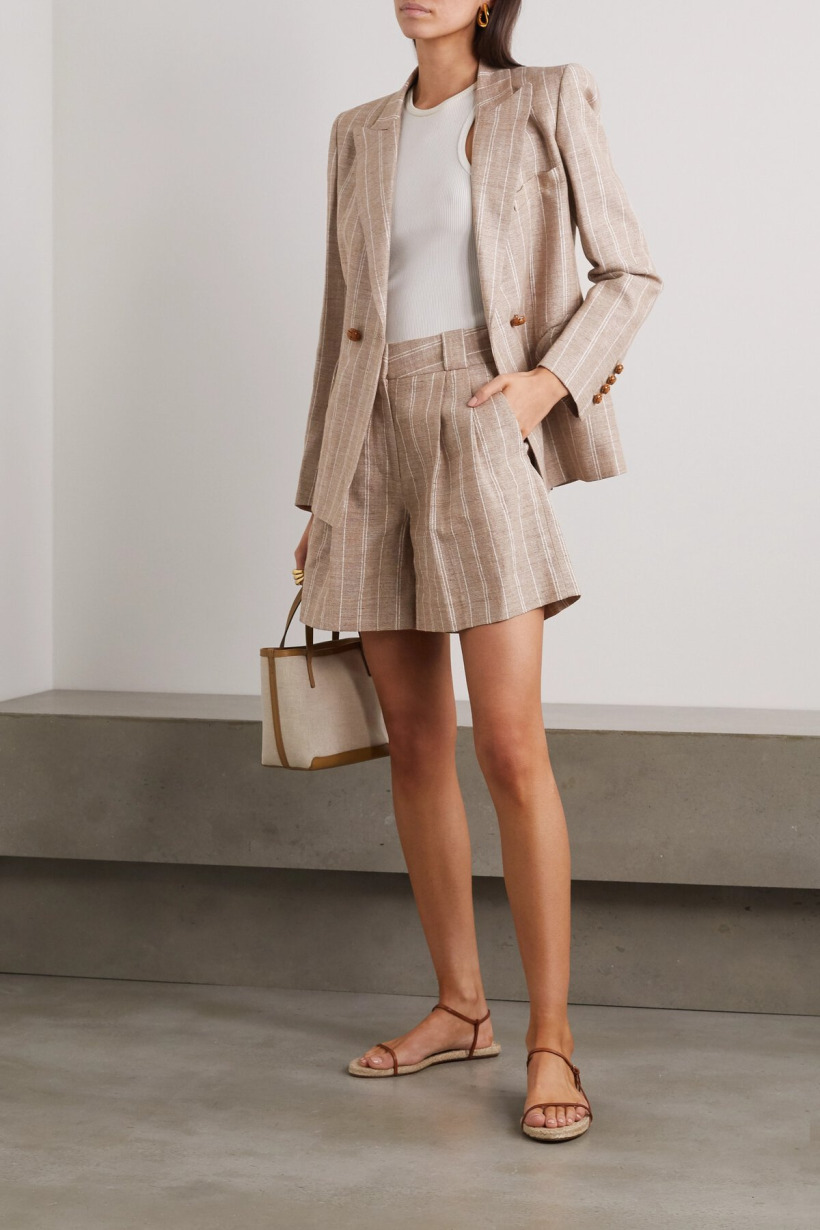 (Side note, I love how it's styled in the model shot above, with the matching shorts and barely there sandals.)
This isn't the first time the Princess has been spotted wearing Blazé Milano. She's worn at least one other blazer from the brand that we know of. A brown checked wool style that she wore on Christmas Day in 2021.
Thanks to UFO No More for identifying and sharing the blazer.
Onto the rest of Kate's outfit now.
Sadly, I don't have much information about Kate's white top, blue belt or blue trousers. They're all unidentified.
The other accessories and shoes I can help with.
Let's start with the earrings. They're by Sézane. The Bruna earrings. The open hoops feature a sort of lattice design hand-set with small glass stones,. They're gold plated.
Pretty.
When Kate first wore the earrings, they were in Sézane's 'spring-summer archives' (essentially an area on their website for discounted surplus stock). They originally cost $100 USD but were listed in the 'archive' for $60 USD. (£75 down to £45 GBP in the UK.)
Sadly, they're no longer available to buy. Sézane carry other chic designs on their website—shop here.
Kate's regularly shops at Sézane. In recent years, we've spotted her wear seven pairs of earrings, a cream sweater, a black belt, a gold bracelet and a cream shirt from the French brand.
Sézane is a relatively young company, founded in 2013 by Morgane Sézalory. It has soared in popularity around the globe in recent years. The company started with just an online offering before opening boutiques in a number of major cities around the world, including Paris, London and New York.
"The idea behind Sézane is simple: create high-quality, perfectly-cut pieces that can be worn forever. Born in Paris & crafted using the expertise of the best ateliers: we offer all women luxury quality at a fair & accessible price. Je ne sais quoi for all."

Sézane
Let's move onto Kate's necklace. It's a Daniella Draper piece. It's called the "Baby Treasure Pendant". It's made from 100% recycled 9ct gold and set with a yellow citrine stone.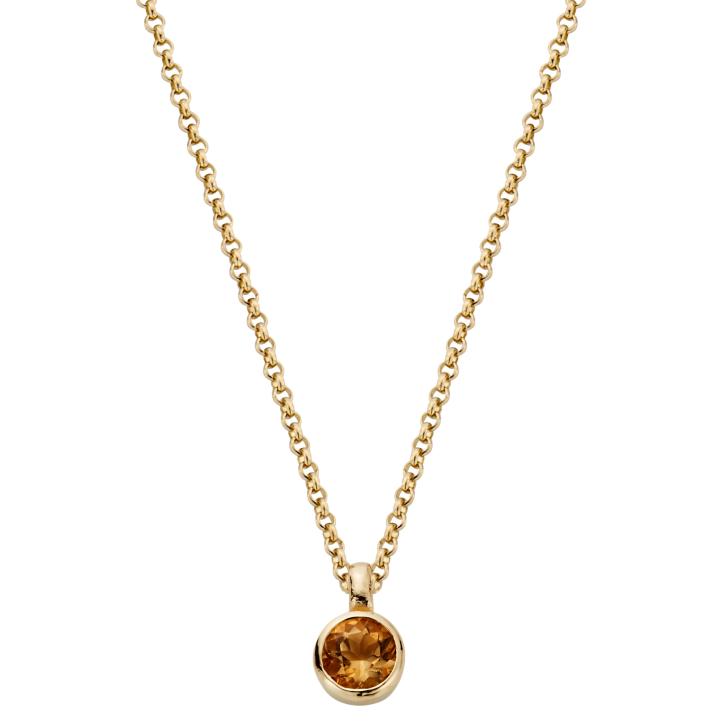 The Princess has worn the necklace five times today. I suspect it was a birthday gift—she debuted it in January this year, shortly after she turned 41.
For anybody wanting to buy the necklace, it's handmade in Lincolnshire. Orders take up to two weeks to fulfil.
You'll find a few Daniella Draper treasures in Kate's jewellery box. The British designer crafts the pieces from recycled gold and silver. Her high quality, timeless pieces draw inspiration from nature, history, travel, and romance. The brand is an independent family-run company, with a commitment to preserving and protecting the natural world.
Finally, Kate's flat shoes. They're from Emmy London. The Lulu flats in navy suede.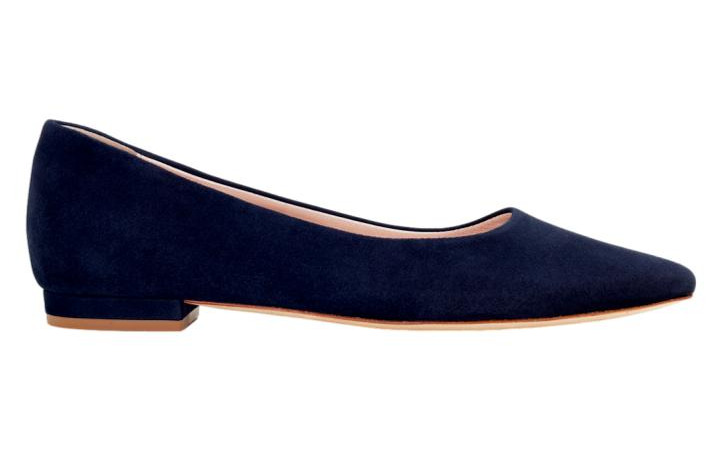 The stylish pointed flats are crafted from midnight blue coloured suede. Emmy London call them a "pretty and practical". The soles are padded for exquisite comfort.
The Princess first debuted the flat shoes last month at the Windsor Family Hub.
You can pre-order the shoes at emmylondon.com for £405 GBP. You'll need to allow eight weeks for delivery.
This is the first pair of Emmy London flats we've seen Kate wear, but the Princess is no stranger to the British company. In fact, they're one of her most-worn shoe brands. We've counted that she owns a whopping pairs by the designer.
Emmy London may not be a household name like Gianvito Rossi or Jimmy Choo, but the luxury British company has certainly captured the attention of the Princess. According to my research, it's the third most popular brand in Kate's collection of heels and pumps. She owns 14 different pairs, worn to 40+ engagements to date.