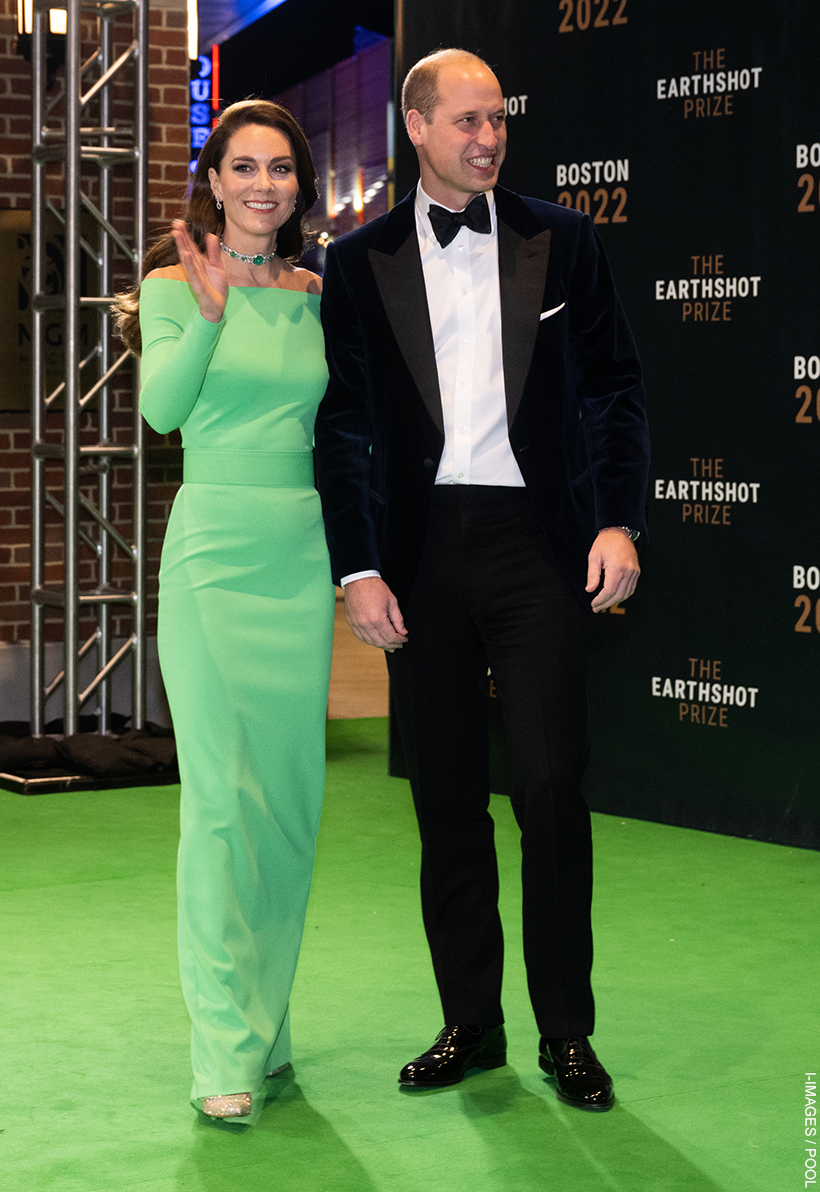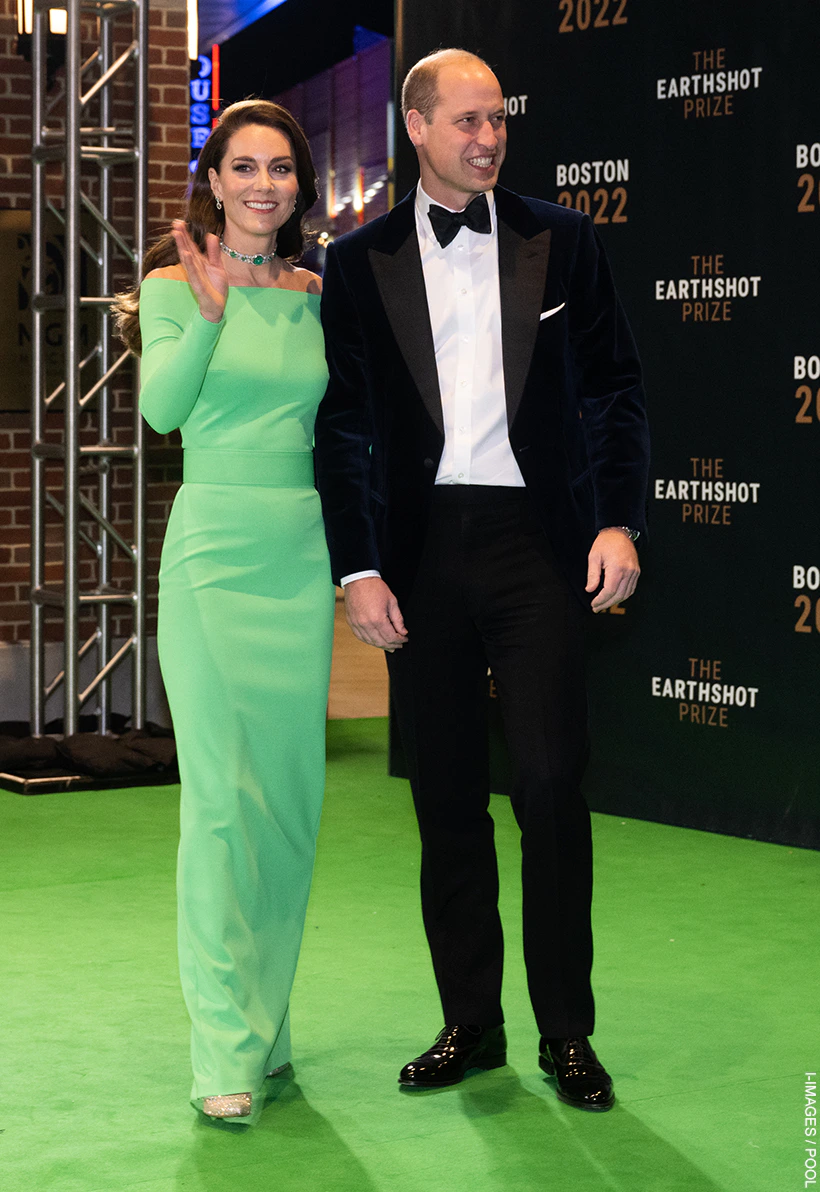 Kate Middleton wowed onlookers in a bright green dress at last night's Earthshot Prize Awards (2nd December 2022). The Princess looked stunning in the off-shoulder fitted gown that featured a deep split at the back. It was one of her most glamorous looks to date—and perhaps one of her most sustainable! The Princess rented the dress, which was from British brand Solace London, for the occasion.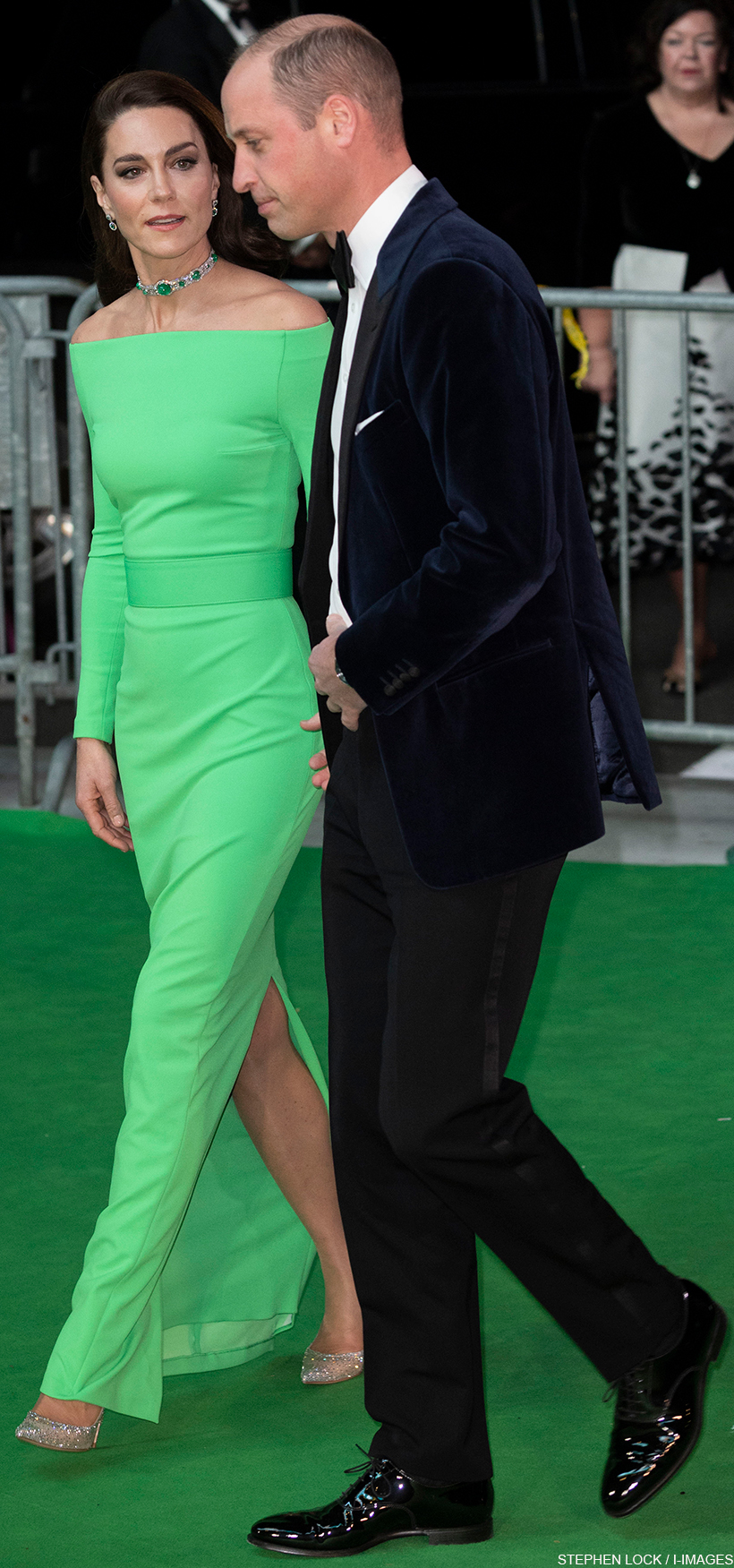 The Earthshot Prize awards ceremony took place at MGM Music Hall at Fenway in Boston.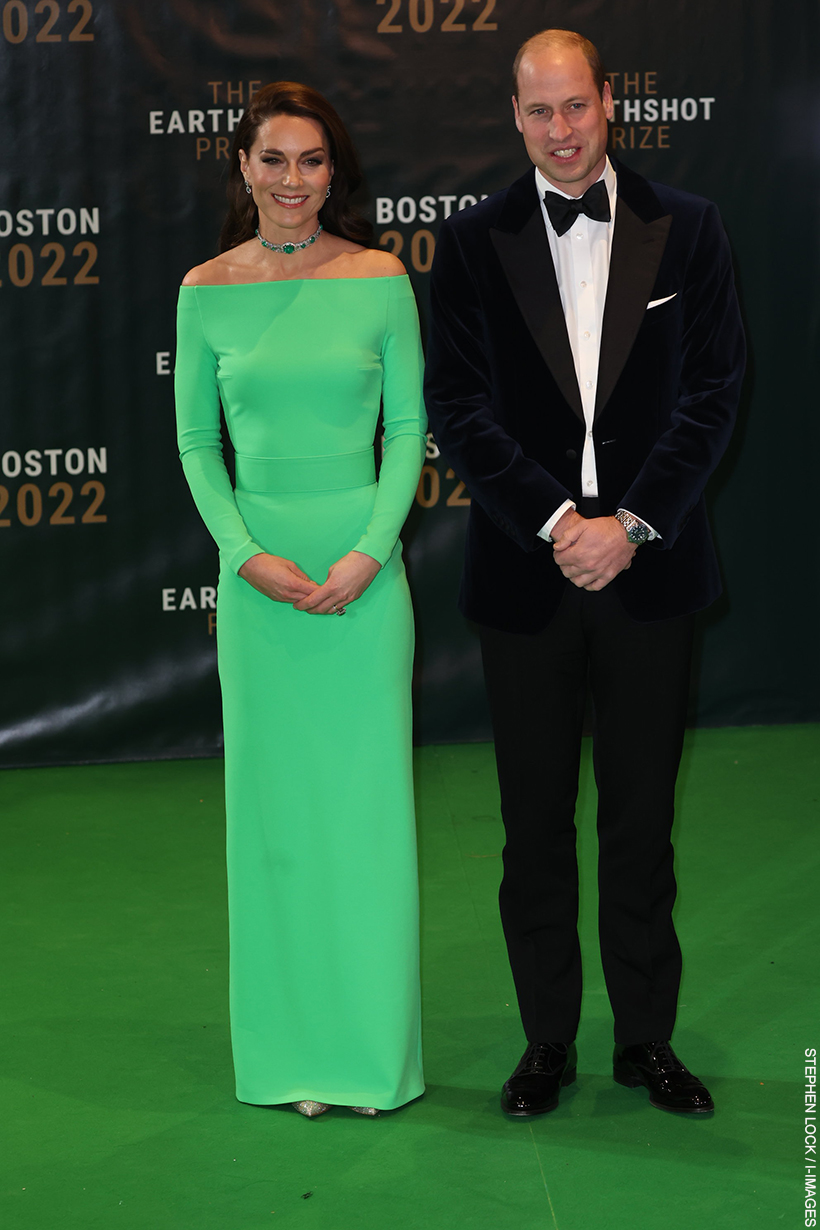 William and Kate joined activists, innovators, policy makers and performers to celebrate the 2022 cohort of fifteen global finalists before the five winners were awarded.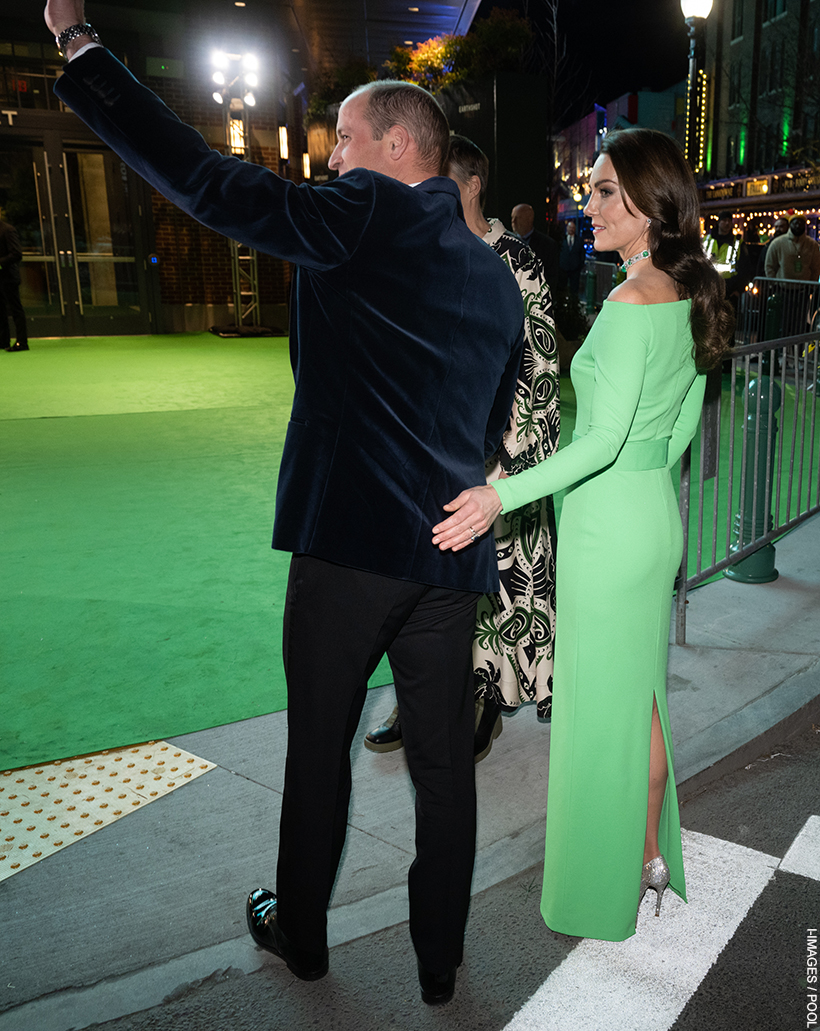 A host of celebrities walked the green carpet including Chloe X Halle, Catherine O'Hara, David Beckham, Sharlene Woodley, Rami Malek, Ellie Goulding and Annie Lennox.
Most were performing or awarding prizes. Here's William and Kate chatting with Ellie Goulding backstage. Ms Goulding sang at the couple's wedding in 2011.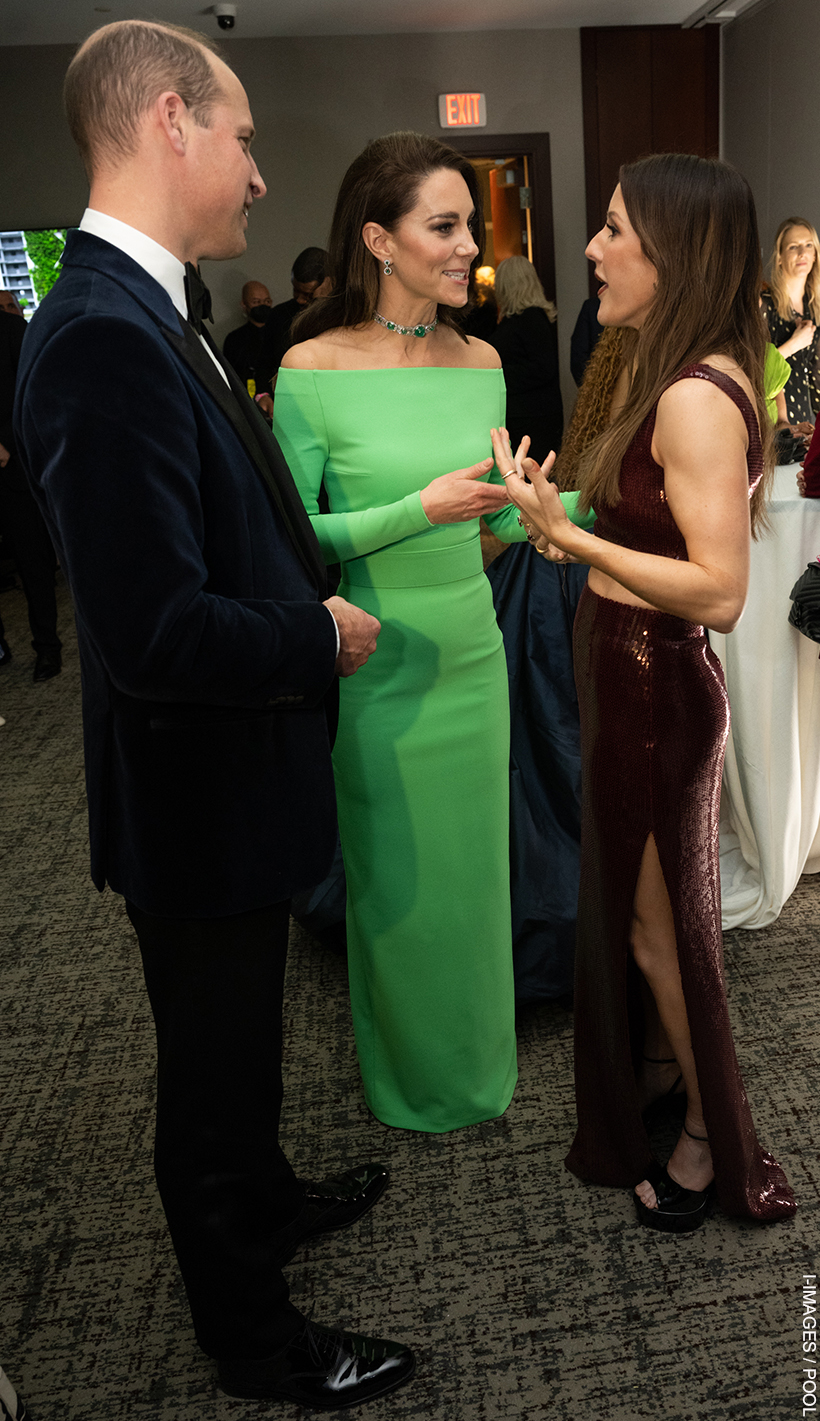 Thousands of organisations and startups entered to win one of Earthshot's five £1 million prizes to help grow and develop their projects to tackle climate change.
The five winners included Mukuru Clean Stoves, a Kenyan start-up that's provided 200,000 women with cleaner-burning stoves to reduce harmful indoor pollution.
Earthshot awarded Indian-based Khyeti with a prize too. The organisation provides technology solutions for small farmers that help increase yield and predicability of produce. Their 'Greenhouse In A Box' system is affordable and uses 90% less water and grows 7 times more food than other methods.
The third prize was awarded to the Indigenous Women of the Great Barrier Reef program in Australia. The indigenous rangers work together using ancient knowledge passed down from generation to generation and modern tools to monitor and protect the Great Barrier Reef.
Notpla from the United Kingdom received the fourth prize. The London-based startup has developed an alternative to plastic packaging from seaweed.
The fifth and final prize went to 44.01 from Oman. The organisation eliminates Co2 from the atmosphere safely by turning it into rock and permanently storing it underground.
During the awards ceremony, William delivered a few remarks outlining his hopes for the winning projects "I believe that the Earthshot solutions you have seen this evening prove we can overcome our planet's greats challenges. And by supporting and scaling them, we can change our future."
The environmentally conscious awards ceremony—which some media outlets have dubbed the 'Eco Oscars'–are about as green it gets. There's no single use plastics, all makeup used on the night is vegan and cruelty free, the trees used to create the set were donated and re-used, and guests were asked to consider the planet with their outfit choices—they were asked to wear vintage pieces, hire outfits, rewear from their closet or buy from sustainable brands).
Earthshot is project spearheaded by Prince William and The Royal Foundation. The ambitious project hopes to find solutions to repair the planet. Earthshot will award millions of pounds to people trying to solve the world's greatest environmental problems.
Earthshot is in its second year. You may remember the inaugural awards, held last year in London? Kate re-wore a stunning decade old dress from Alexander McQueen.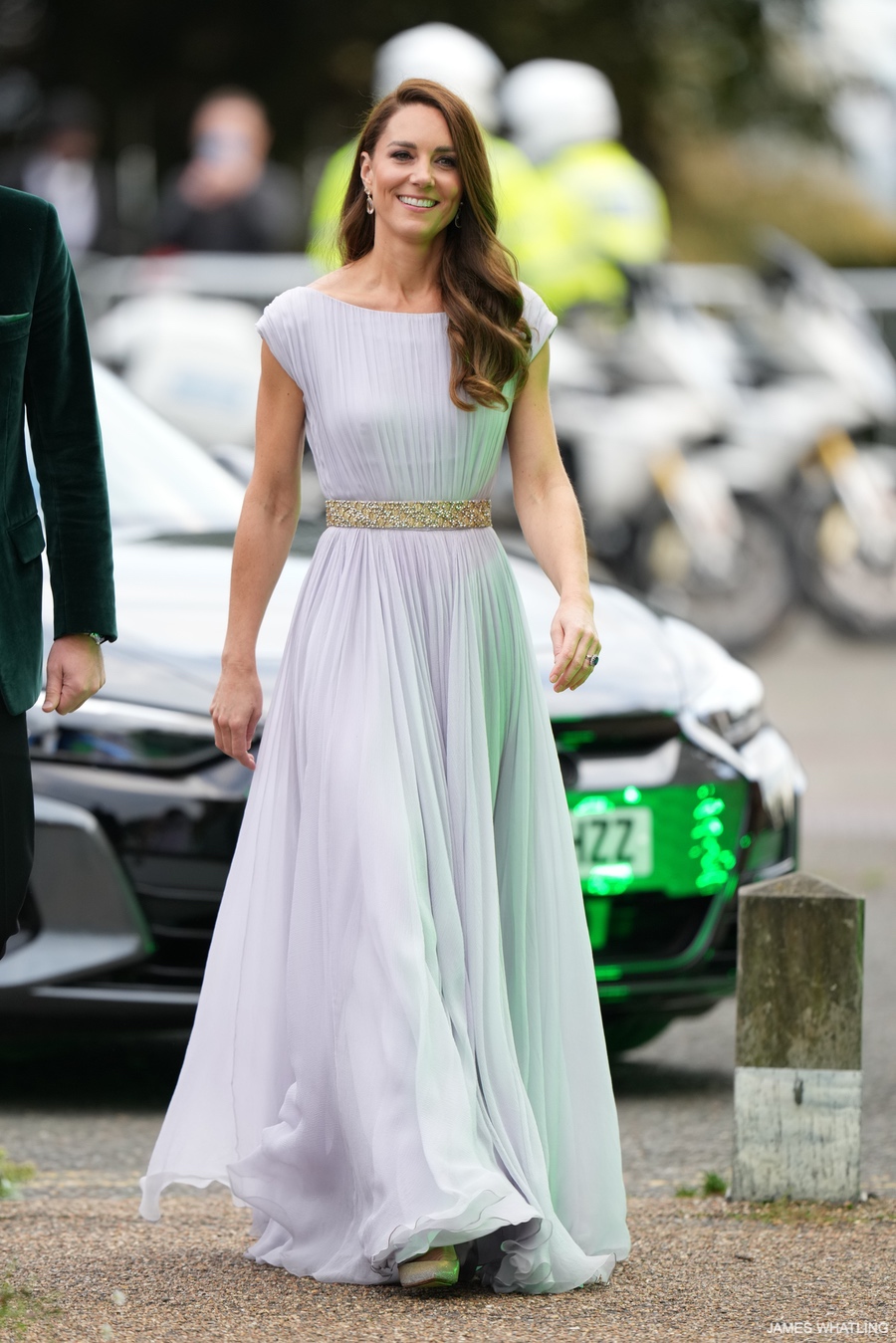 This year's Earthsot awards ceremony was the finale of a three day visit to Boston for William and Kate. The pair spent 72 hours in the city and packed in a lot of visits to projects close to their hearts.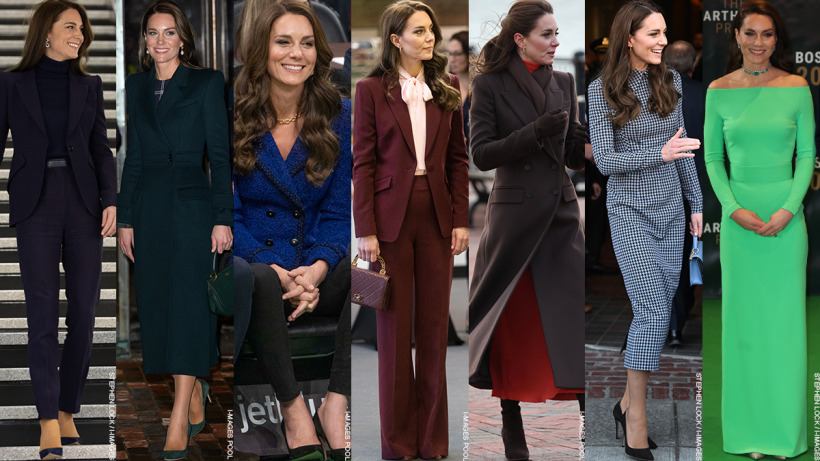 Kate wore a whopping SEVEN different outfits during the short trip. I'm working on my coverage—view what I have so far here.
This was the couple's first official visit to the United States in eight years – the pair last visited New York in 2014 (pictured below).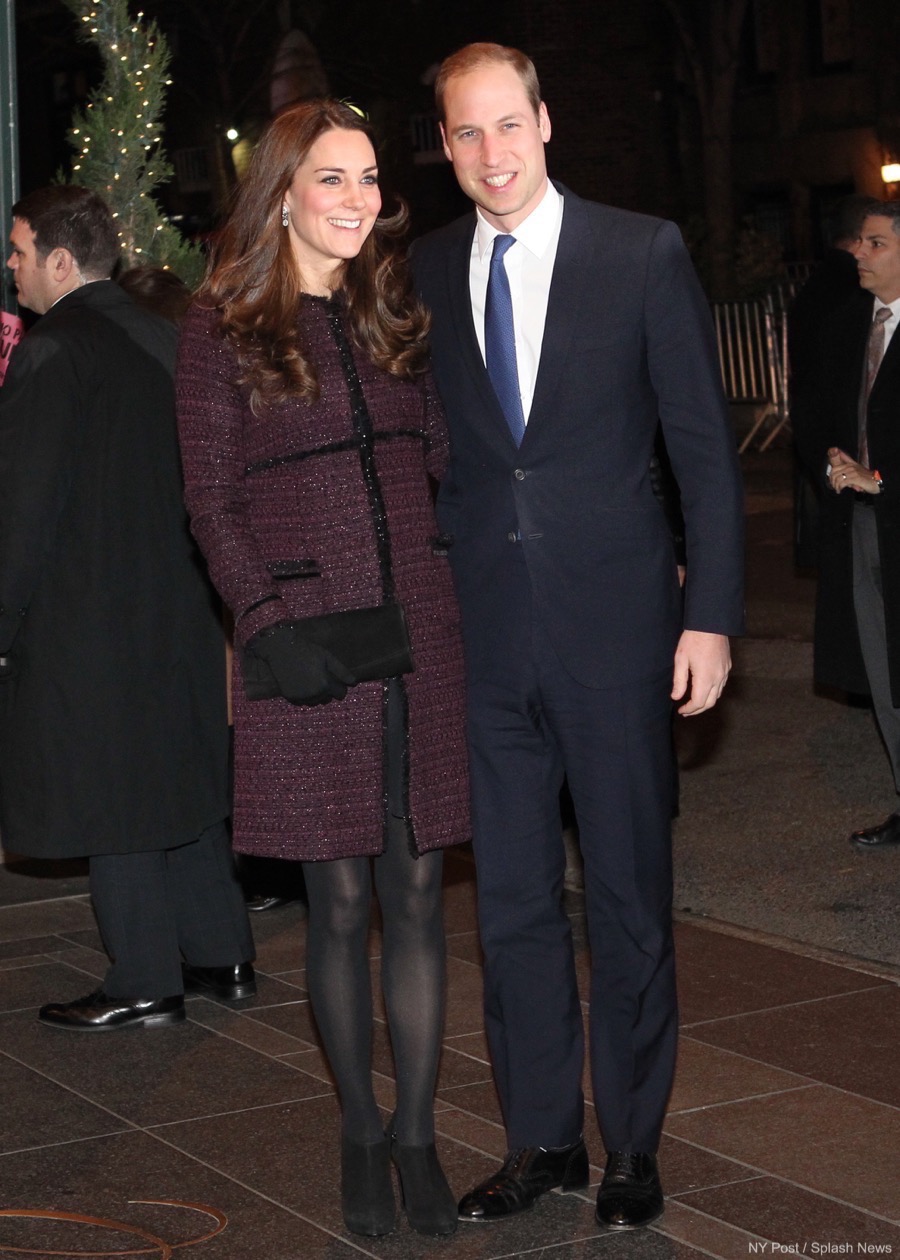 Now, let's dig into Kate's amazing green carpet look.
Kate's outfit at the Earthshot awards:
Kate interpreted Earthshot's green theme quite literally by wearing a dress of the same hue. She looked simply sensational in the vibrant off-shoulder gown, which was designed by Solace London.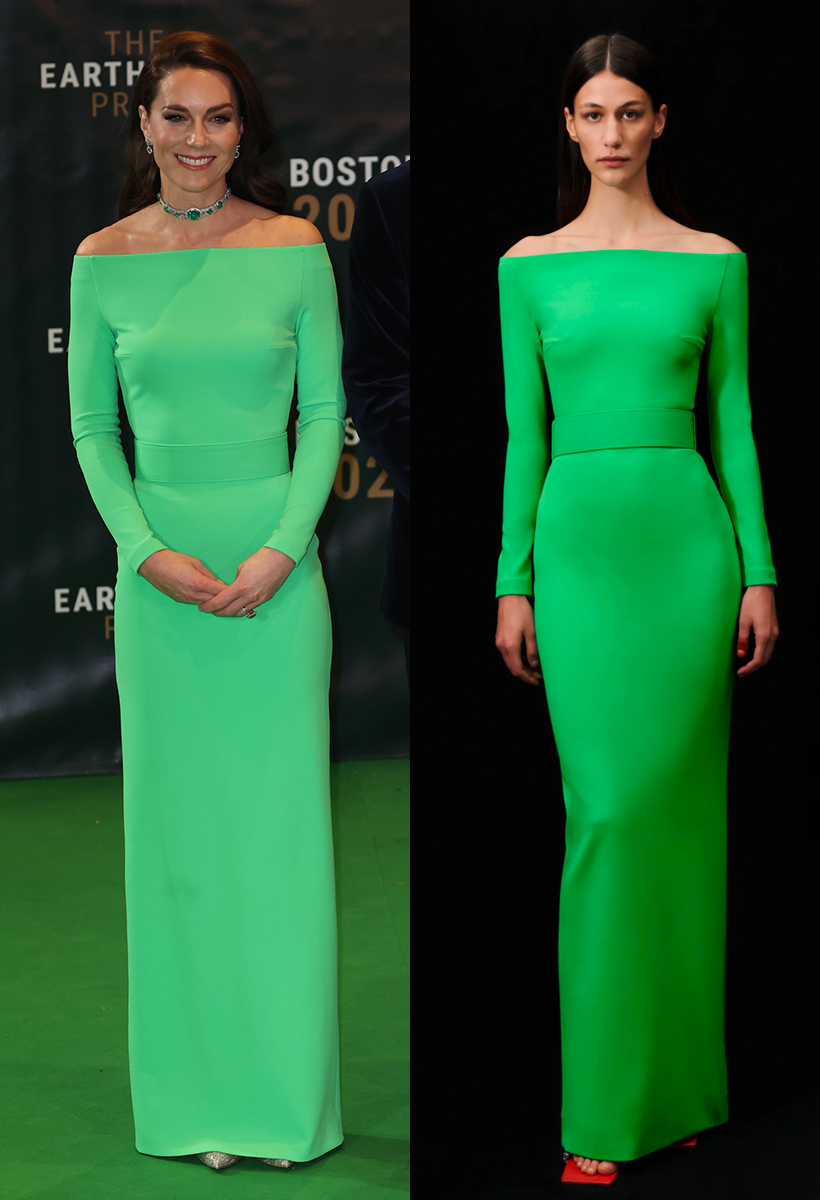 The floor-length body conscious dress features a sizeable high kick slit on the back and a concealed closure belt to define the waist. It's crafted from a medium weight stretch crepe knit fabric and is self-lined.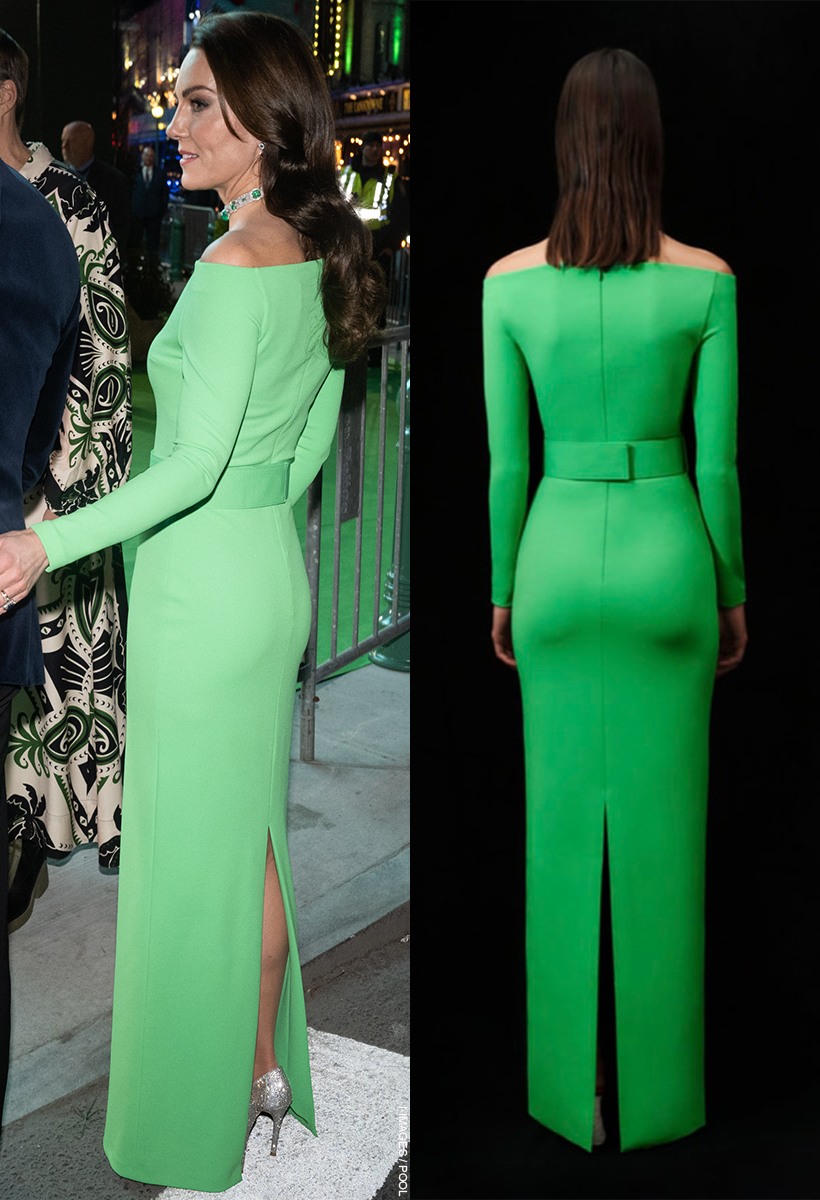 The dress retails for £350—quite affordable compared to some of the designer gowns she wears from the likes of Jenny Packham, Alexander McQueen etc.
Solace London is a British womenswear brand founded by friends and collaborators, Laura Taylor and Ryan Holiday-Stevens. The pair describe the brand as "bold, confident and refined. Modern futurism balanced with timeless minimum."
Back in August, Vogued named Solace as a "party wear brand to watch this season". I think Kate's recent has cemented this prediction!
Solace is a brand I've become familiar with in recent months. I wondered if we'd see Kate in one of their dresses—they do a few designs with capes that I could see the Princess wearing.
SHOP LIKE KATE – SOLACE LONDON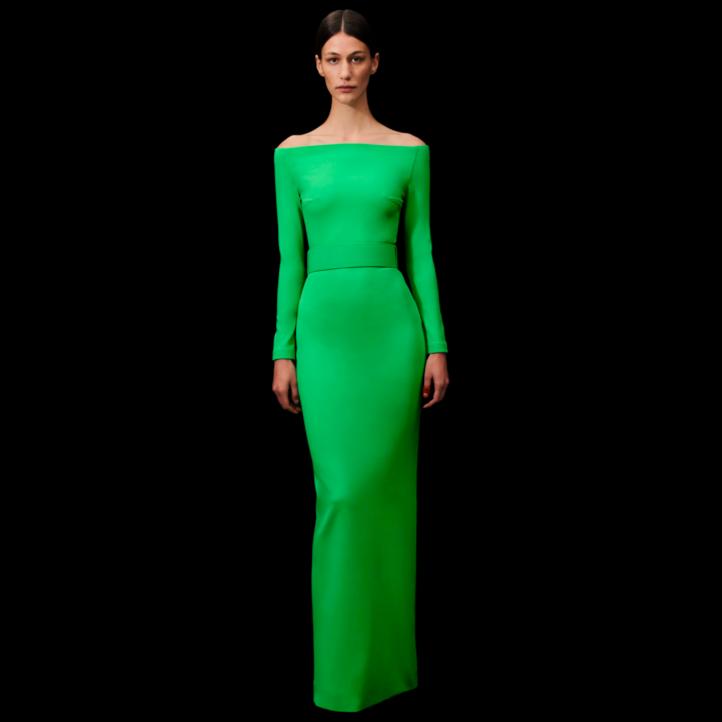 Solace London Sabina Dress
Gorgeous green off-shoulder dress, as seen on the Princess of Wales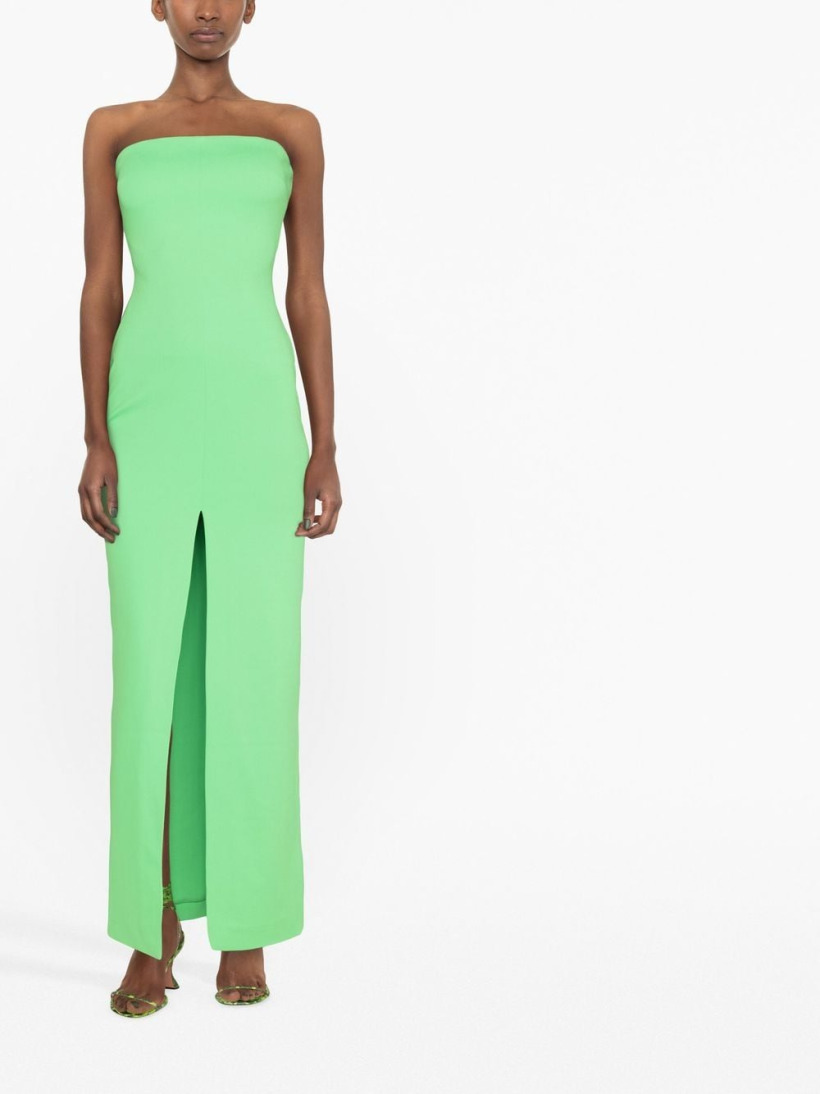 Solace London Bysha Gown
This strapless dress comes in lots of eyecatching hues.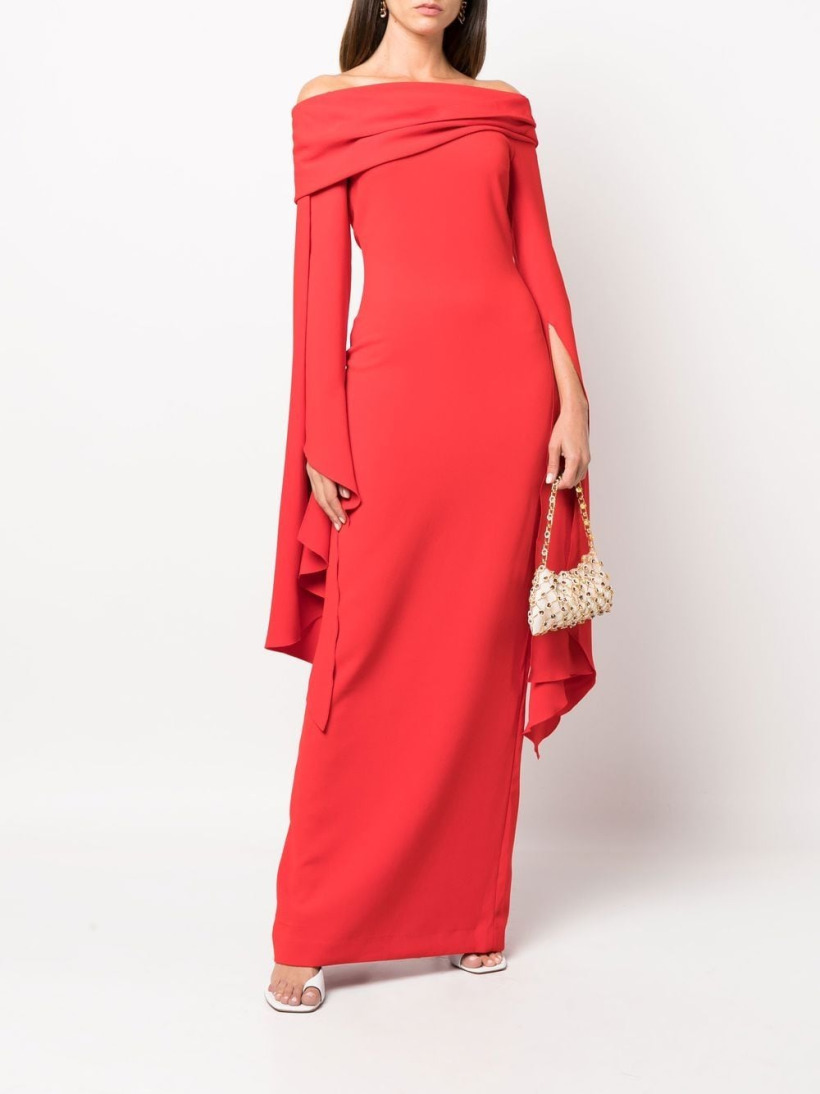 Solace London Arden Off Shoulder Dress
I could totally see Kate wearing this. Love the neck/sleeve detail.
Kate made a sustainable choice by hiring the gown from London-based circular fashion company, HURR. According to HURR, 339kg of CO2 were saved by renting the dress, rather than buying it new and wearing it once. The company say that's the equivalent of 6 trees or driving 1209 miles in a car. Wow. It really makes you think, doesn't it?
This is the first time the palace have confirmed Kate has rented an outfit from HURR.
If you'd like to rent this dress for your next event, you'll be pleased to learn it's available in all sizes on HURR's website. Rental price costs between £72-194.
HURR stock dresses, bags, accessories and more from a wide range of designers. I've spotted a bunch of items and brands worn by Kate, including Self-Portrait, Mulberry, Rixo, Anya Hindmarch, Alexander McQueen, Temperley, The Vampire's Wife, Alessandra Rich…. And many more.
Kate's style is often compared to that of daytime TV presenter Holly Willoughby. Both often wear the same garments and shoes. Holly is a regular user of HURR. It wouldn't surprise me to learn Kate is too.
The Princess paired her gown with a diamond and emerald choker.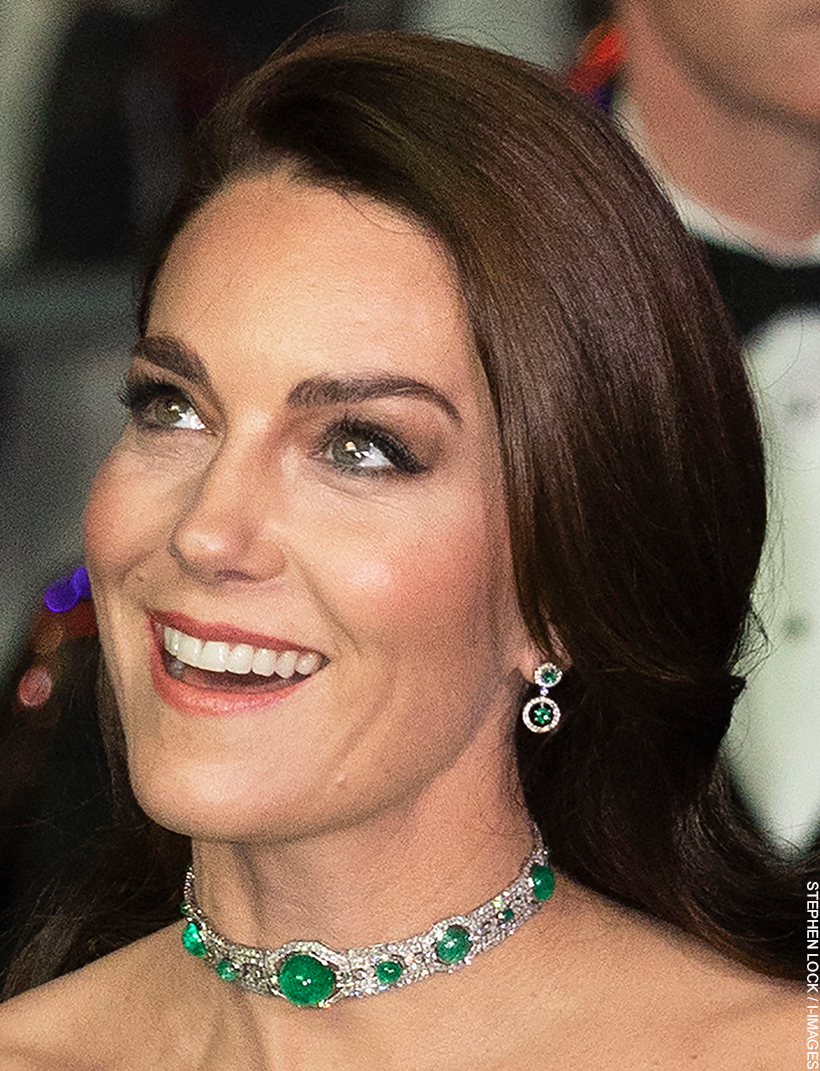 Kate borrowed the necklace from The Royal Collection. Longtime royal fans will know Princess Diana wore the the piece several times, once styled as a headband.
The exquisite necklace belonged to a parure commissioned by Queen Mary of Teck.
The emerald and diamond choker necklace, with an Art Deco design, belonged to Queen Mary. It was one of the jewels presented to her during the Delhi Durbar in 1911, and she later had it remade into its current choker style. Diana also famously used the necklace as a headband during the royal tour of Australia in 1985. After Diana's death, the emerald necklace was returned to the royal collection, and it has been displayed in recent years alongside other pieces of Queen Mary's emerald jewels. The Court Jeweller
The Court Jeweller has a full rundown of the choker's history, which you can read here.
Let's look at Kate's sapphire and diamond earrings now. They're new (to us, at least).

It appears she's wearing this pair of halo earrings from Asprey London (with thanks to Vanessa via UFO NO MORE).
The earrings are set in platinum, and feature four emeralds and 72 diamonds.
Asprey is a British retailer of jewellery, leather, silver and other luxury goods. The company has held a Royal Warrant from every single British monarch—and for several other foreign heads of state.
The Princess is no stranger to the brand—she's worn several Asprey pieces over the years.
Finally, let's look at Kate's shoes. Kate wore her Gianvito Rossi Rania pumps under the neon green dress.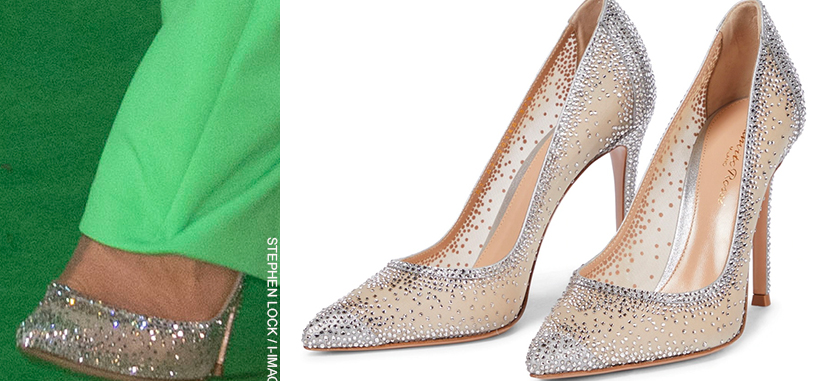 The shoes are made from mesh with suede inserts and are embellished with Swarovski crystals.
With an RRP of £1,750 GBP / $2,496 USD, the shoes are the most expensive Kate has ever worn (in public). (Data Duchess confirmed this on Twitter.)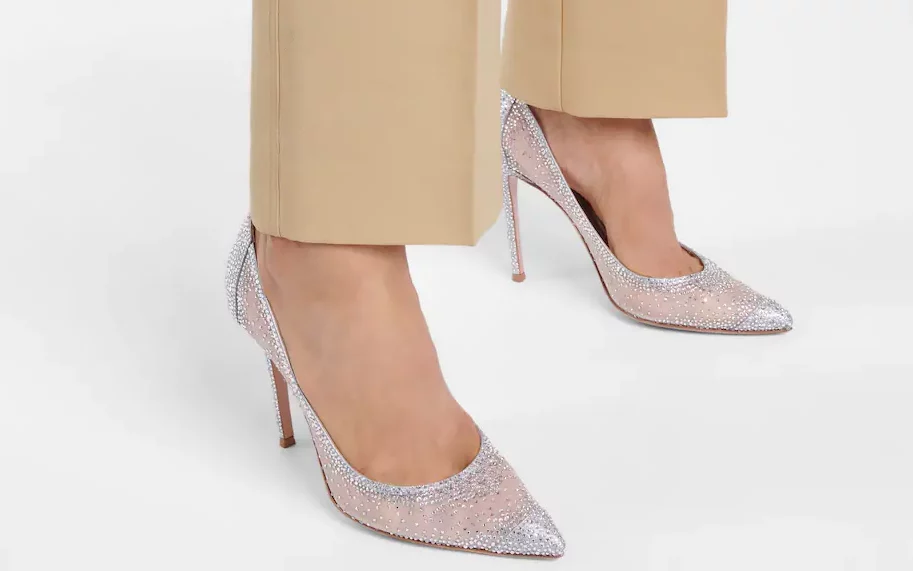 Kate's worn the sparkling shoes twice before, to a reception in The Bahamas and recently, to the UK-South Africa State Banquet.