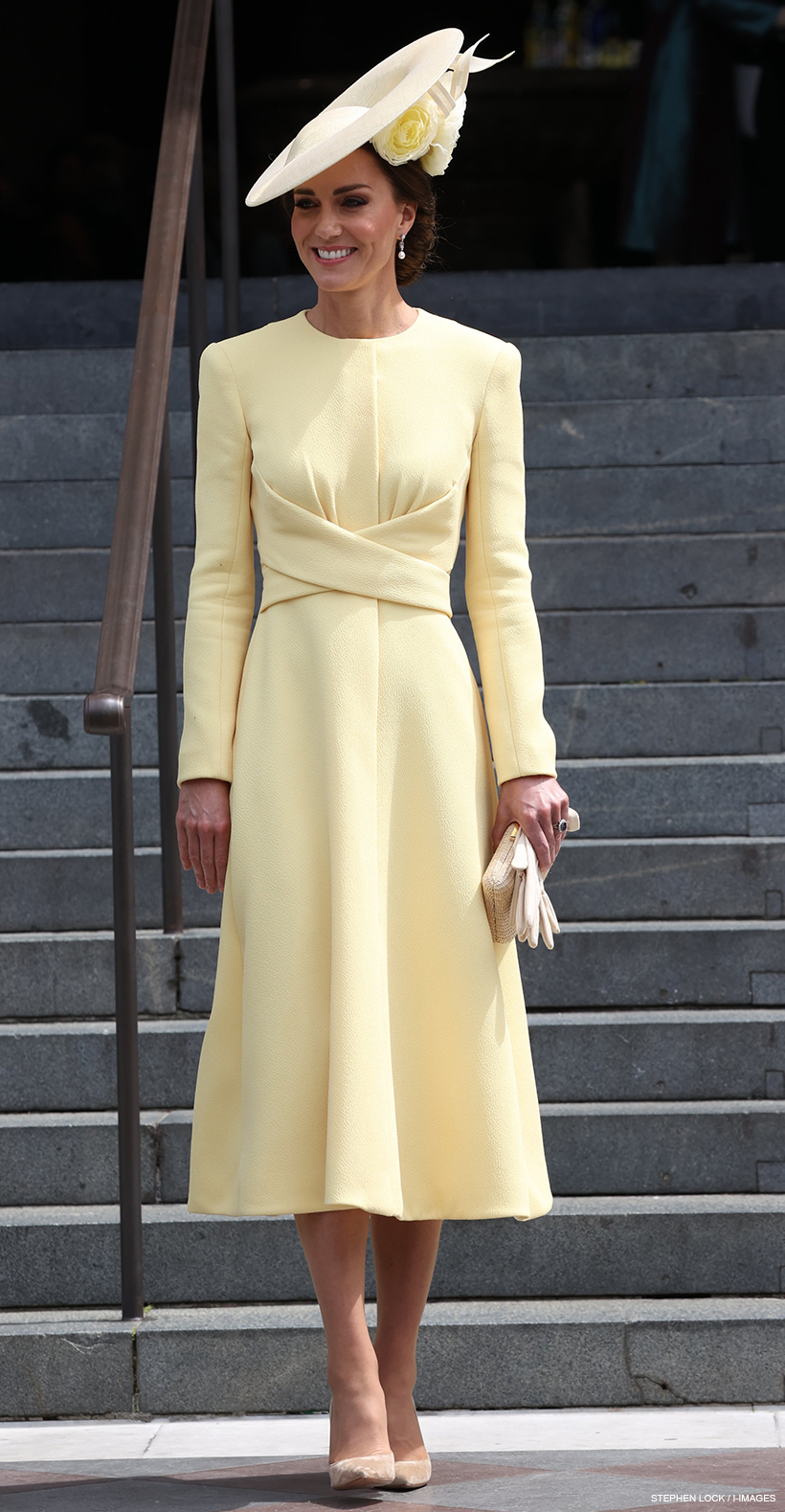 3rd June 2022—The Queen's Platinum Jubilee celebrations continued with a Service of Thanksgiving at St Paul's Cathedral. The Duchess arrived wearing a cheery pastel yellow dress by Emilia Wickstead.
The Queen was not present at the service, despite it being organised in her honour. Understandably, the monarch chose not to attend after experiencing "discomfort" at yesterday's Trooping the Colour parade.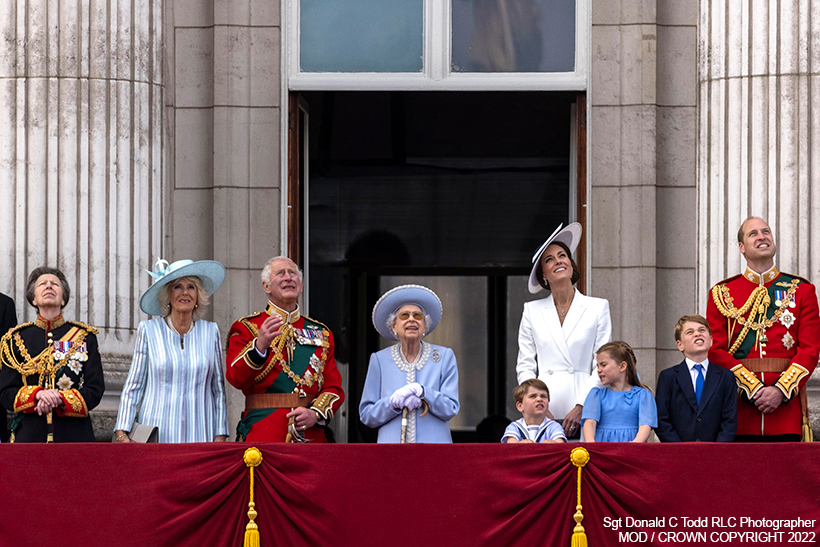 The Queen made the choice "with great reluctance" and had enjoyed the day nevertheless, according to a Buckingham Palace spokesperson.
Taking into account the journey and activity required to participate in tomorrow's National Service of Thanksgiving at St Paul's Cathedral, Her Majesty with great reluctance has concluded that she will not attend.

Spokesperson for Buckingham Palace
If you missed our post on Trooping, click here. Kate wore a lovely white coat dress, assumed to be an Alexander McQueen design. Four-year-old Louis was a character all day: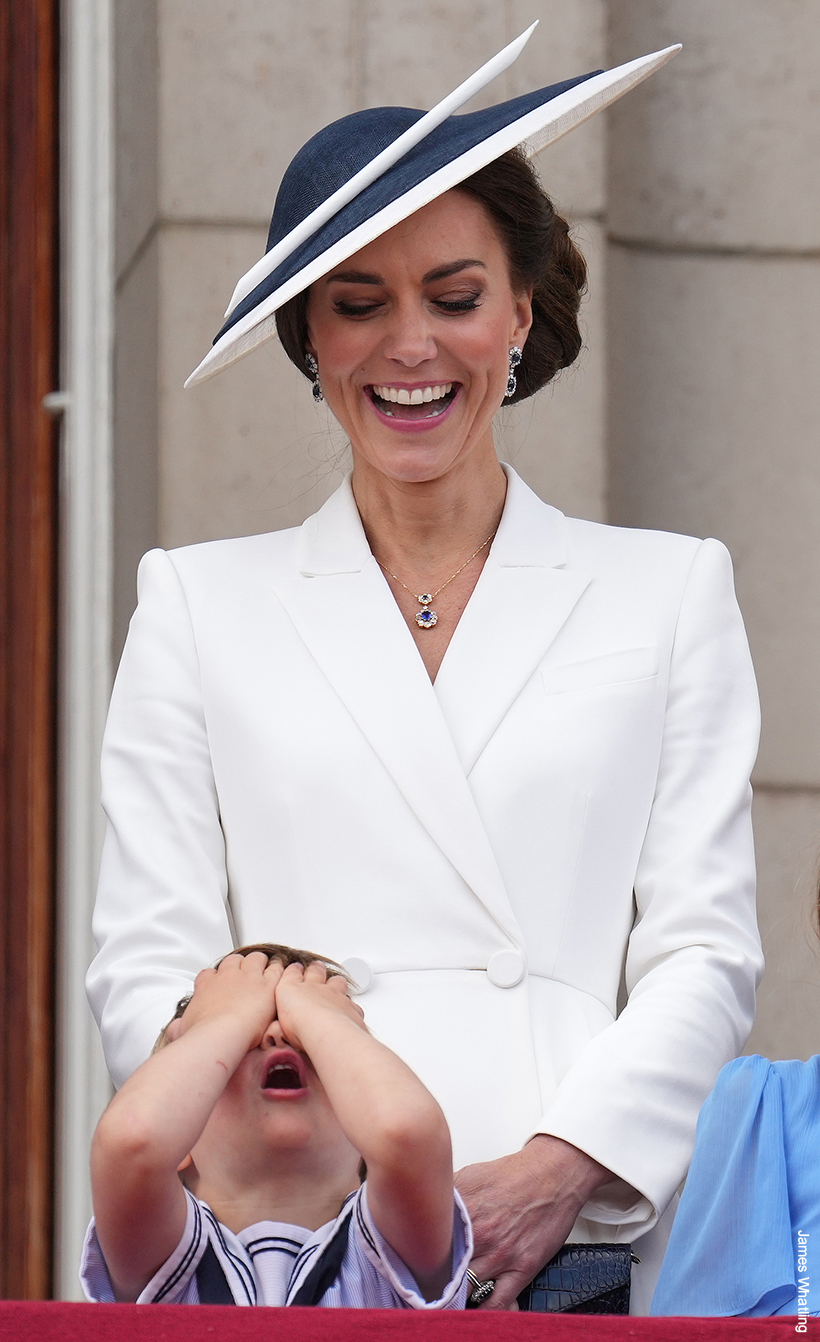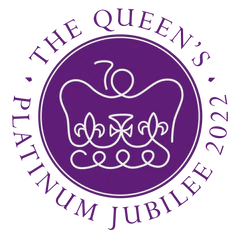 In February of this year, the Queen became the first British monarch to reach her Platinum Jubilee—70 years on the throne. The Service of Thanksgiving is just one of several celebrations marking this historic milestone over the next few days.
William and Kate walking into St Paul's: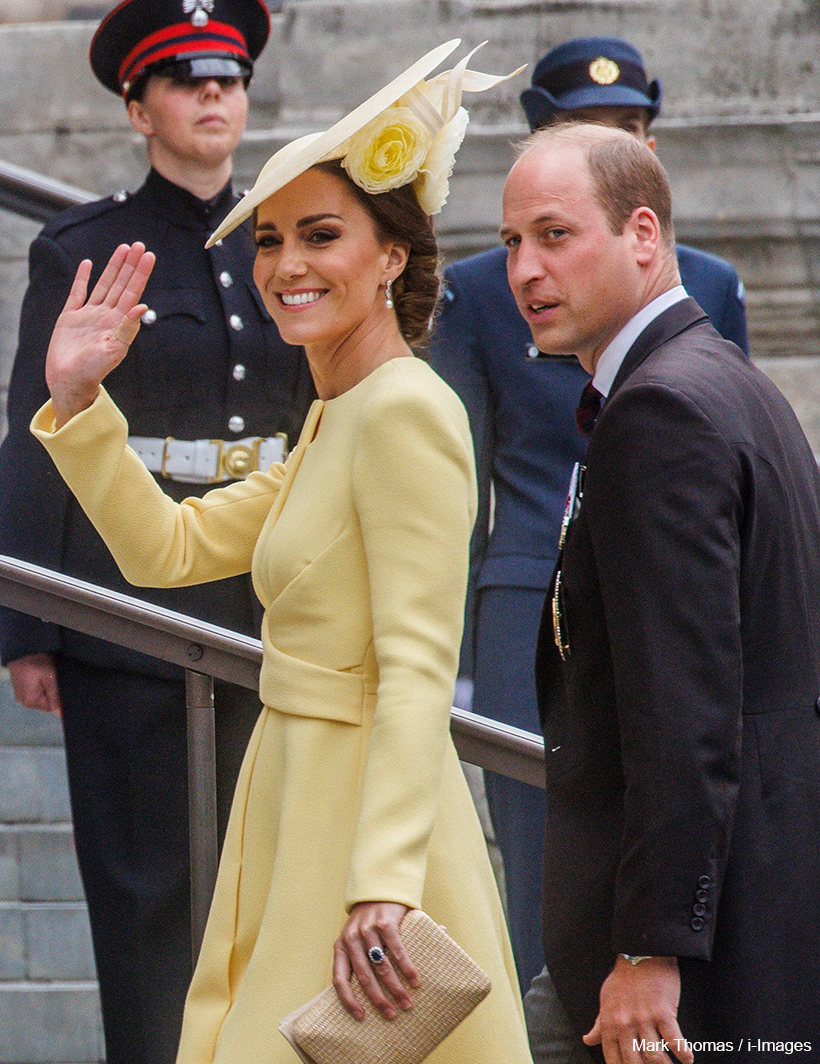 Footage of their arrival:
Inside, chatting with Prince Charles and Camilla. Charles represented The Queen at the service: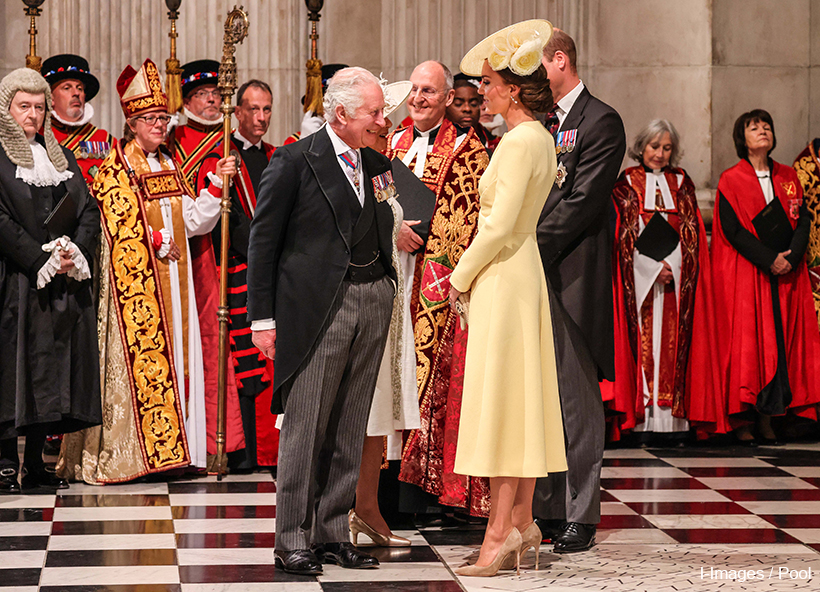 The procession: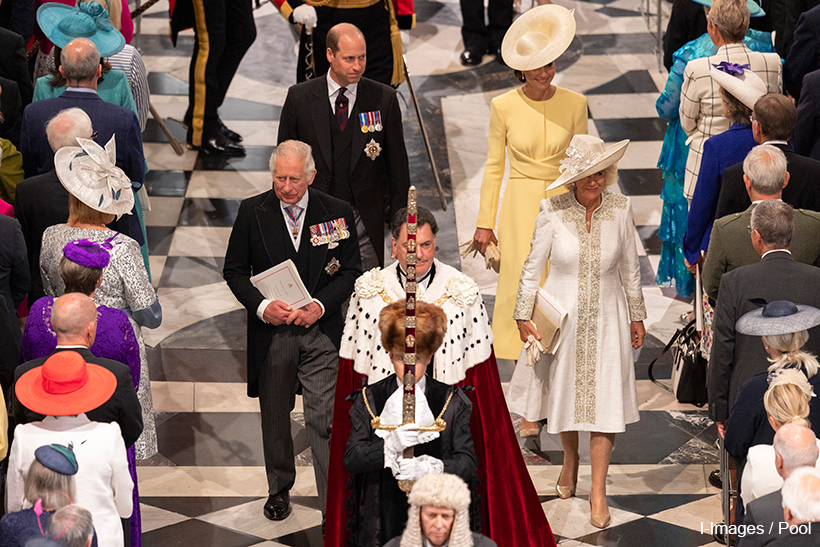 The Service of Thanksgiving celebrated the Queen's seven decades of service to the people of the United Kingdom, the Realms and the Commonwealth. There were hymns, a selection of readings and prayers. You can see a few highlights in the video below:
The service celebrated the Queen, her reign and the wider theme of public service. Over 400 people were invited in recognition of their contribution to public life at both a community and national level, many for their work during the COVID-19 Pandemic.
Several political leaders attended, including five former British Prime Ministers and their spouses.
As you'd expect, there was a sizeable turnout of Royals. Including Princess Anne, Sir Timothy Laurence, The Earl of Wessex, The Countess of Wessex and their children, Lady Louise and Viscount Severn.
A special mention for Zara Tindall, Lady Frederick Windsor (Sophie Winkleman), Princess Beatrice and Princess Eugenie. I thought all four women looked fantastic in their bright dresses. Such lovely, colourful choices!
Sophie and Beatrice are wearing the same dress, the Beulah London Ahana, in different colours! Kate also owns the short-sleeved version in blush. Eugenie's wearing this orange Emilia Wickstead dress and Zara is in Laura Green London.
I also spotted Sophie's Aspinal of London Mayfair bag straight away as Kate owns this in two colours. Zara's bag is also Aspinal—the Lottie in Lavender, I think.
Harry and Meghan also attended. It was their first major royal event since stepping down from duties in January 2020.
The Duchess wore head-to-toe Dior. She wore a "greige" trench, skirt and shirt all from spring-summer 2022 Haute Couture. She also carried a Lady Dior bag, Dior gloves, Dior shoes and a Dior hat designed by Stephen Jones.
Following the service, a number of royals attended a reception and luncheon hosted by the Lord Mayor at the Guildhall. You can watch their arrival below:
Royal watchers were disappointed not to see the three Cambridge children at the service. It was hoped George and Charlotte would attend. Ah well, let's hope to see them at the Pageant on Sunday!
Let's take a look at Kate's yellow dress and coordinating accessories now.
Kate's Yellow Coat Dress & Accessories:
As I mentioned at the top of the post, the Duchess wore a pastel yellow coat dress by Emilia Wickstead—the perfect colour for a springtime celebration.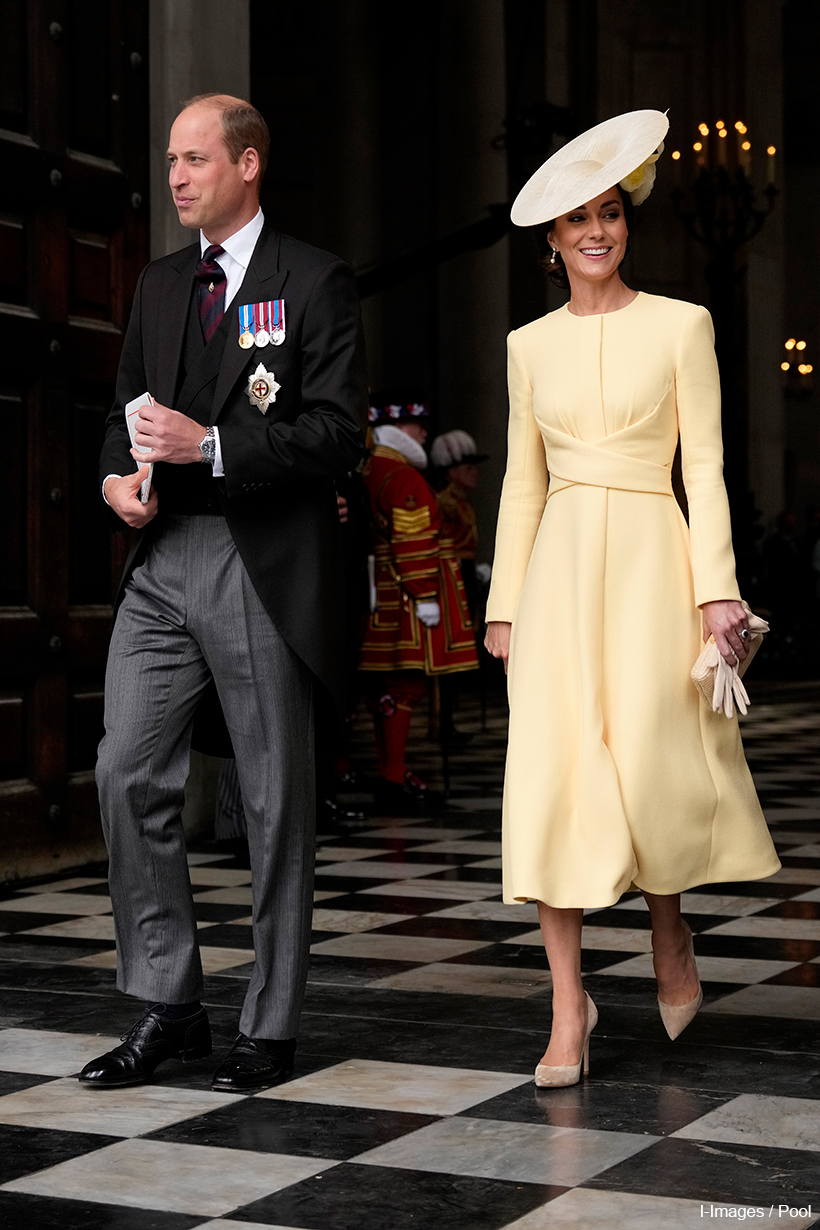 Also, Wickstead is a fitting choice for a celebration of the Queen and her service to the United Kingdom, Realms and Commonwealth—Wickstead was born in New Zealand and is now based in London.
The collarless design features a wrap-over detail under the bust, long sleeves and a mid-length skirt.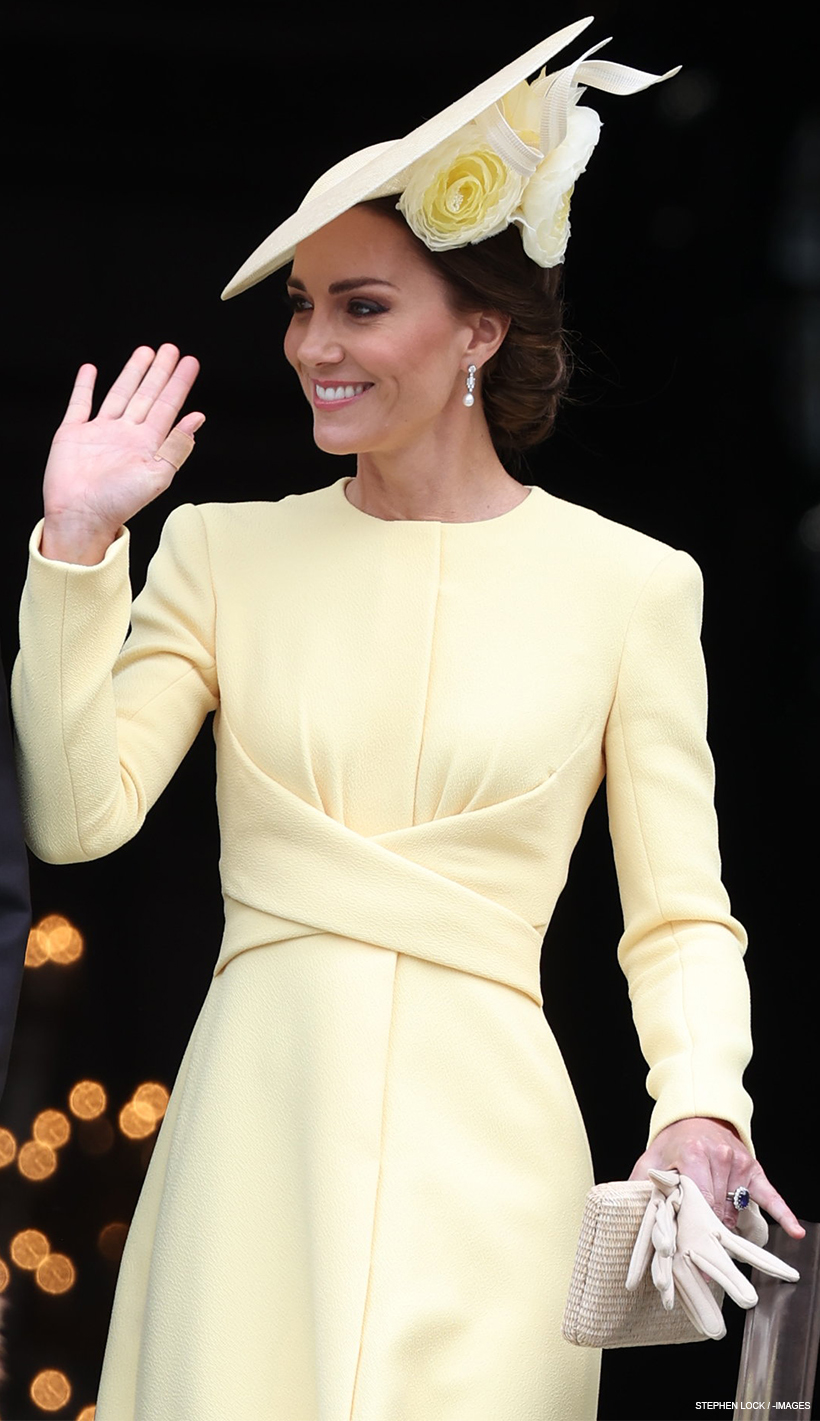 The criss-cross does not continue onto the back: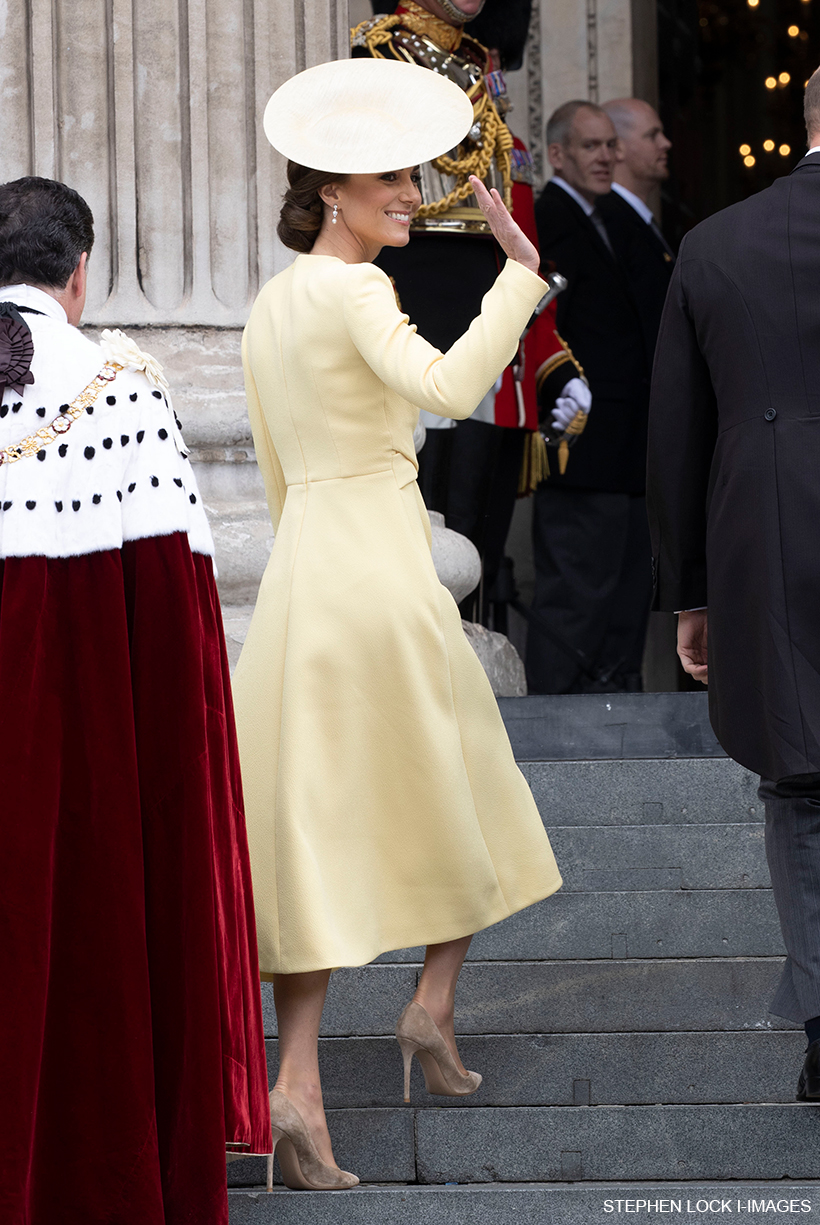 I'd assume the piece is bespoke. Kate will have had it created to order. A quick Google search does not show any similar designs in Wickstead's ready-to-wear offerings past or present. It might be that I missed something though. I'll update if a similar design becomes apparent.
If you're looking for something Kate-inspired for your next big event, check out the yellow Emilia Wickstead dresses below: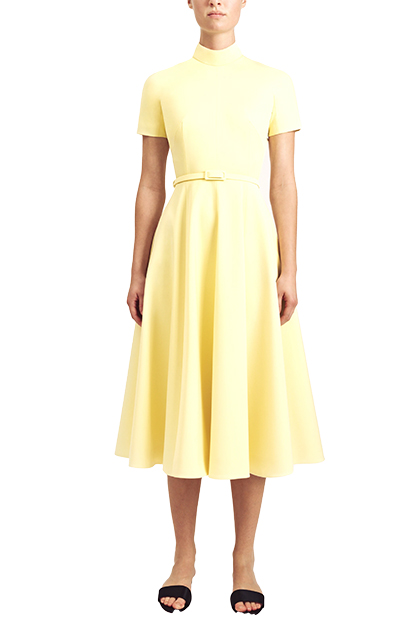 Emilia Wickstead Camilla Dress
Click to buy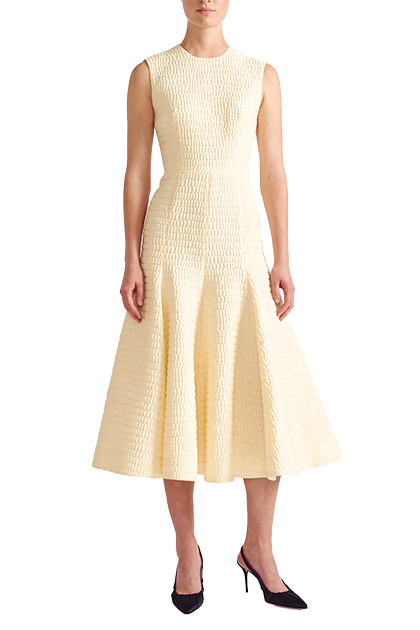 Emilia Wickstead Dellah Dress
Click to buy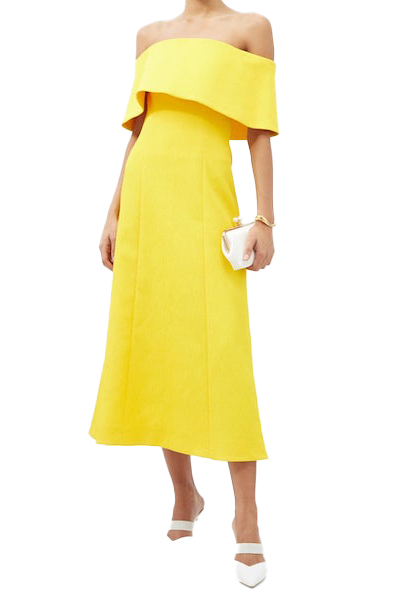 Emilia Wickstead Carita Dress
Click to buy
I think it's safe to say that Emilia Wickstead is one of Kate's favourite designers, the Duchess often chooses her clothing for high profile events and special occasions.
Longtime readers will recognise Kate's earrings—Kate has worn them several times in the past. They're often referred to as the Bahrain Pearl Drops.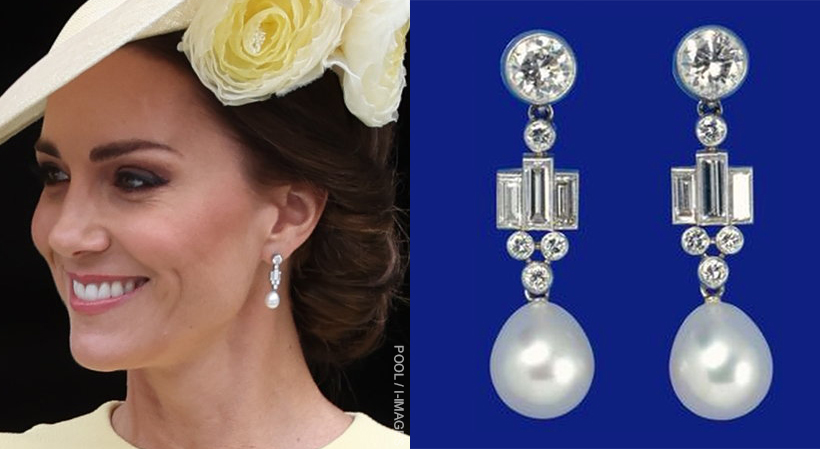 The earrings are fashioned from pearls given to the then-Princess Elizabeth as a wedding gift by the Hakim of Bahrain in 1947. They've been worn by the Queen, Princess Diana and the Countess of Wessex. The Court Jeweller has a pretty detailed blog on the provenance of the earrings with photos of other royal ladies wearing them here, click to read.
Kate debuted a new hat at the service. It's by Philip Treacy—OC 908 from the designer's SS22 collection. The Duchess must have the milliner on speed dial at this point, she's debuted several of his creations in the last month or two. (Thanks to Gabi for the ID.)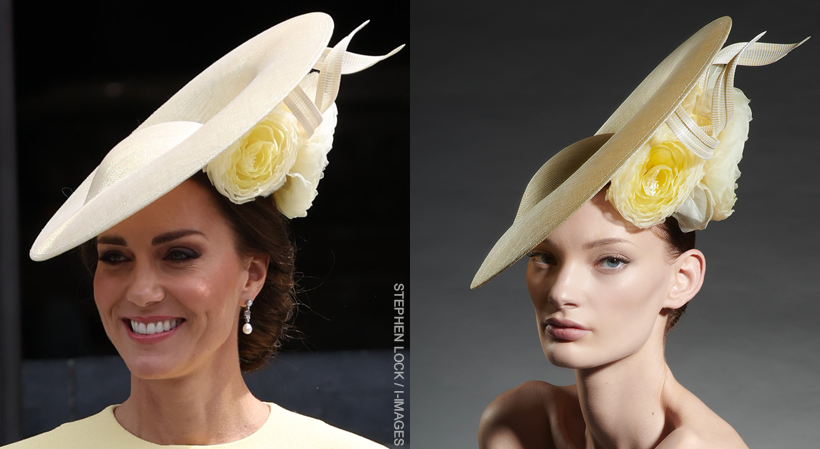 Kate carried a new bag at the service. It's by an Australian company, Forever New. The Lily Woven Clutch in Straw.
The bag features a gold-tone clasp. It's registered with The Vegan Society as being completely free of animal products, byproducts or derivatives. RRP: Unsure. It's sold out.
As Forever New are Australian, I wasn't sure how Kate would come to own it. After a quick search, I realised ASOS stock the brand.
Kate's cream gloves are from Cornelia James. They're the Maud style with leather trim in Parchment. The brand confirmed the information to me in an email. UPDATE: It has come to my attention that Kate might not own these gloves and Cornelia James are mistaken. I am seeking clarification.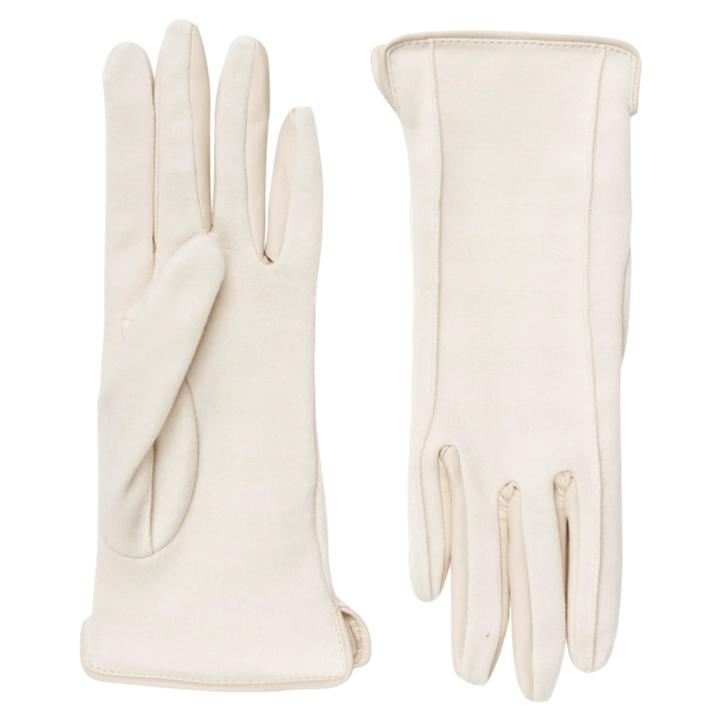 I think they're the pair she wore to the Anzac Day service earlier this year (pictured below). Kate owns several pairs of Cornelia James gloves, the company hold a Royal Warrant.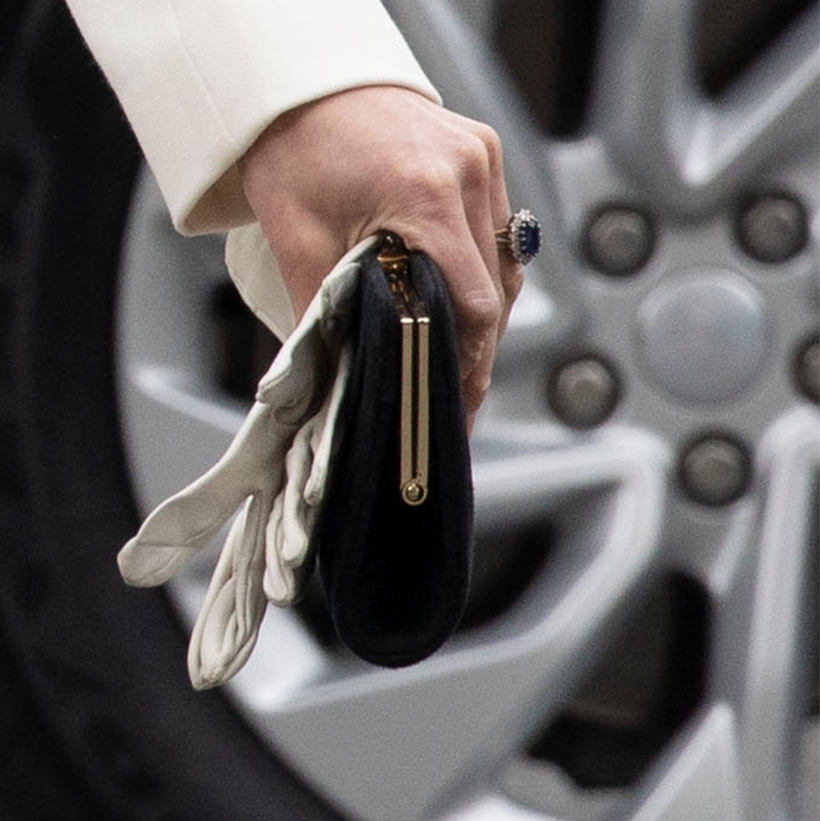 Kate wore a familiar pair of shoes to the service, the Gianvito Rossi 105 pumps in 'Bisque Suede.'

Kate's first debuted the biscuit-coloured heels in the Caribbean earlier this year. This is the third-possibly fourth time she's worn them in public, to date.
The elegant pointed shoes are made in Italy from 100% leather (outer, lining and sole). They have a 105mm high heel. FarFetch call the slip-on shoes an "ode to timeless elegance".
The shoes retail at FarFetch.com for £560 GBP / $725 USD.
Kate owns the style in SEVEN OTHER COLOURS with a 105mm heel and FOUR colours with an 85mm heel.