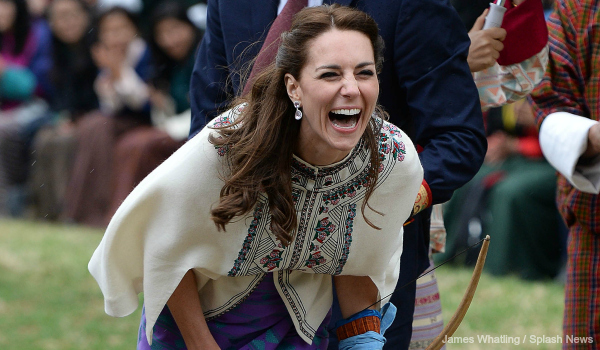 After landing in Bhutan, William and Kate travelled to the Thimphu Dzong (a Buddhist temple) and were received by King Jigme Khesar Namgyel Wangchuck and his wife, Queen Jetsun Pema.
The royal couple were formally welcomed with a traditional Bhutanese ceremony, called a "Chipdrel".
The Duke and Duchess arrive at the Dzong in Thimphu to meet The King and Queen of Bhutan #RoyalVisitBhutan pic.twitter.com/h3i88rmFRv

— The Prince and Princess of Wales (@KensingtonRoyal) April 14, 2016
The procession involved plenty of dancers, singers and musicians dressed in colourful traditional outfits.  This short video gives you a feel for the proceedings:
More video from the Chipdrel or welcoming ceremony #RoyalVisitBhutan pic.twitter.com/5gPKVCx9LL

— Rebecca English (@RE_DailyMail) April 14, 2016
The King and Queen of Bhutan then lead William and Kate across the Dzong's beautifully decorated courtyard to a temple.
William and Kate received a brief blessing and together, the two royal couples lit butter lamps.
Here's another short video of the two royal couples together, posing for photographs:
Video: William and Kate with the King and Queen of Bhutan pic.twitter.com/AfjIv8sWDJ

— Rebecca English (@RE_DailyMail) April 14, 2016
William and Kate said goodbye to the King and Queen before heading to an open-air archery venue to observe a range of traditional games.  Archery is Bhutan's national sport:
Archery is Bhutan's national sport:
"Archery is played during religious and secular public holidays in Bhutan, local festivals (tsechu), between public ministries and departments, and between the dzonkhag and the regional teams. Archery tournaments and performances have also become a significant point of interest for tourism in Bhutan".
The couple took tea with Prince Jigyel Ugyen Wangchuck while watching the impressive archery display.
Of course, both royals are keens sportsmen.  They took the opportunity to try their hand at the traditional games:
#RoyalVisitBhutan the royal archer (target untroubled) #allaquiver pic.twitter.com/BrFLTsmzSd

— Simon Vigar (@simonvigar5) April 14, 2016
According to reporters at the scene, the couple had very little success!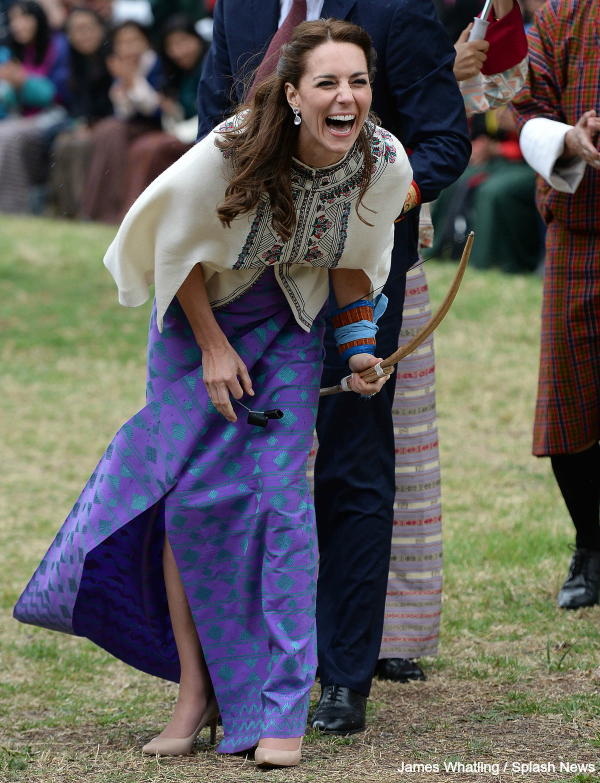 Also, during the visit, William and Kate met with local children from NGOs Draktsho and Ability Bhutan.
Kate's outfit:
When choosing her outfit, Kate took inspiration from Bhutan's national dress for women.
Kate's skirt is modelled on the traditional Kira:
"[A kira] is an ankle-length dress consisting of a rectangular piece of woven fabric. It is wrapped and folded around the body and is pinned at both shoulders, usually with silver brooches, and bound at the waist with a long belt. The kira is usually worn with a wonju (long-sleeved blouse) inside and a short jacket or toego outside."
The Simply Bhutan travel agency told us on Twitter that the traditional dress is often wore to school, offices and monasteries, but the Bhutanese people are "equally comfortable in a pair of Jeans and T-shirt".
Palace officials told reporters that the skirt was made by a seamstress in London. (We refer to him/her as "the mystery seamstress" as they've created at least two other items for Kate).  The seamstress made the skirt using traditional Bhutanese material, handwoven by Mrs Kelzang Wangmo:
This was Mrs Wangmo's reaction when we told her the news: pic.twitter.com/mbgdAKemp1

— The Prince and Princess of Wales (@KensingtonRoyal) April 14, 2016
According to a colleague and translator, Mrs Wangmo is absolutely delighted that Kate chose to wear her fabric.She told People magazine that that the fabric took around 2 months to make.
"Normally the kira is not really a skirt, it is more of a dress because it comes right up to the neck – which is the traditional way of wearing it," explains the translator, sitting by Wangmo's side. "But some Bhutanese women wear a half kira, which is more modern and similarly the Duchess has chosen this style."

Source:  People
Had Kate chosen a more intridcately patterned fabric, it could have taken longer to complete:
Some of these intricately woven kiras can take up to six months to finish, with much care & detailing pic.twitter.com/LJ2b4hlGoh

— Simply Bhutan (@SimplyBhutan) April 14, 2016
Kate paired the Kira-inspired skirt with a beautifully embroidered wool cape by designer label Paul & Joe.
French designer Sophie Mechaly started the Paul & Joe label in 1995, naming it after her two sons.
Here's how Net-A-Porter describes the cape:
Paul & Joe's cape perfectly encapsulates the bohemian spirit of the new season. Cut from lightweight cream wool, it has been intricately embroidered in India with pink, turquoise and red florals. The smooth satin lining ensures it's easy to slip on and off.
The cape retailed for $520 / £340 at Net-A-Porter. It is now totally sold out.
It can still be purchased from Boutique 1 for £393 (approximately $556 USD).  Now sold out.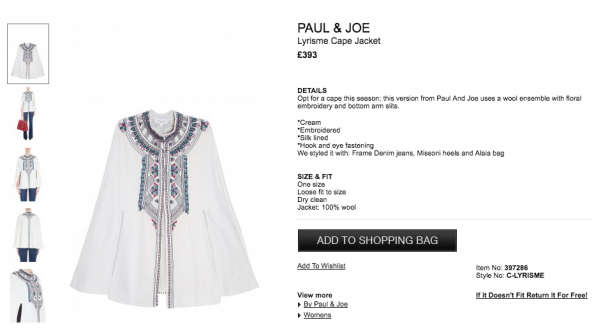 Initially, we thought the Duchess had opted for her L.K. Bennett Fern pumps once again, but eagle-eyed Elizabeth from Kate's Closet noticed the shoe had a slightly lower heel.
Are we sure Kate is wearing Fern pumps with kira outfit? Heel looks shorter? @AnnieElizabethN @WhatKateWore pic.twitter.com/Rn432P7WXd

— Kate's Closet (@katesclosetau) April 14, 2016
I immediately remembered back to the picture L.K. Bennett posted on Instagram on Sunday, when Kate landed in Mumbai.  In the description, L.K. Bennett recommends their "lower heel" shoe, the Floret.  That's the shoe Kate is wearing today.  I think she is wearing the "Trench" colour.


Kate wore a new pair of earrings too.  Once again, she chose a pair from London-based jeweller Kiki McDonough.  The stunning 13ct white gold and amethyst pear drop earrings cost £3,900 (approximately $5,520 USD).