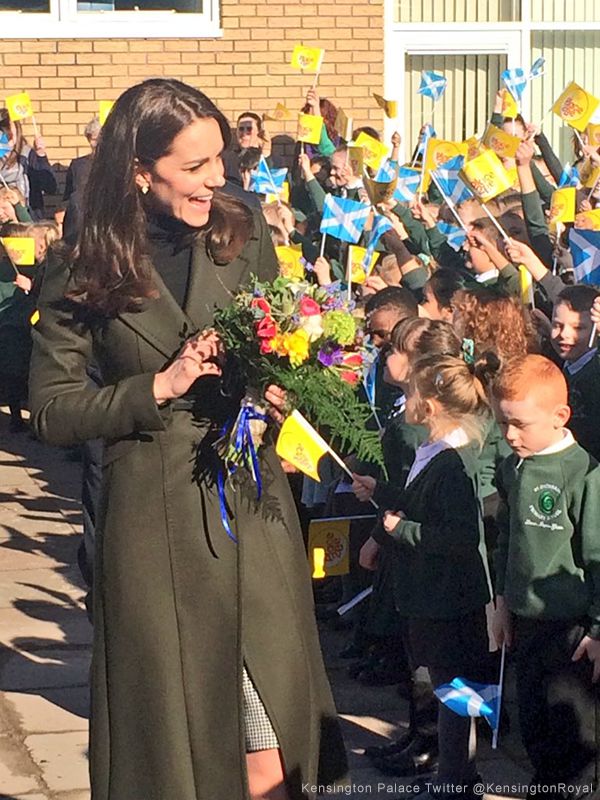 This morning, the Duchess of Cambridge (or the Countess of Strathearn as she's styled in Scotland) visited Edinburgh for a series of engagements.
First on the agenda: a visit to St Catherine's primary school in the Scottish capital city. Here, Kate met with staff and students from the school's Place2Be programme.  Pictured below, Kate is presented with a flower posy by Suranne and Rodney from St Catherine's Primary School.
As you may recall, the charity appointed the Duchess as Royal Patron back in 2013. A quick reminder of what the charity does:
"Place2Be provides emotional and therapeutic services in primary and secondary schools, building children's resilience through talking, creative work and play."
Upon arrival, the school's pupils welcomed Kate with a special assembly. Pictured below, Kate is sat with Lady Elizabeth Drummond, a Place2Be Trustee.
The schoolchildren sang a 'song of welcome' for Kate, which she joined in with.
She sang along with the songs, laughing and gesturing along with the children (pictured below).
After the assembly, two pupils named Nicola and Luke presented Kate with a "quaich".
A quaich is a traditional Scottish gift, dating back centuries:
The quaich, Scotland's cup of friendship, has been used through the centuries to offer a welcoming drink at Clan Gatherings, and other family occasions, and to friends and visitors. "Quaich" is a Scots rendering of the Gaelic word "cuach", meaning cup. The two-handed design of this drinking vessel incorporates trust, on the part of both giver and receiver.
Next, the Duchess spoke with local headteachers to discuss the challenges around mental health in their schools.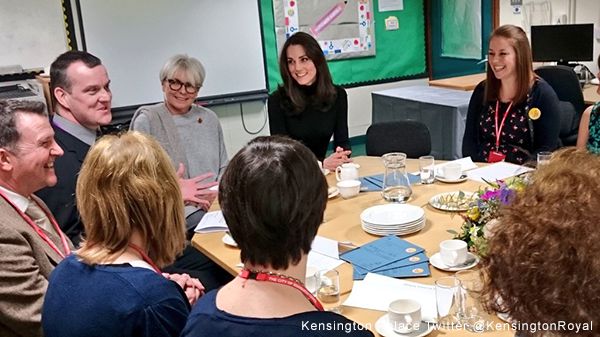 After spending around an hour at the school, Kate waved goodbye to the schoolchildren.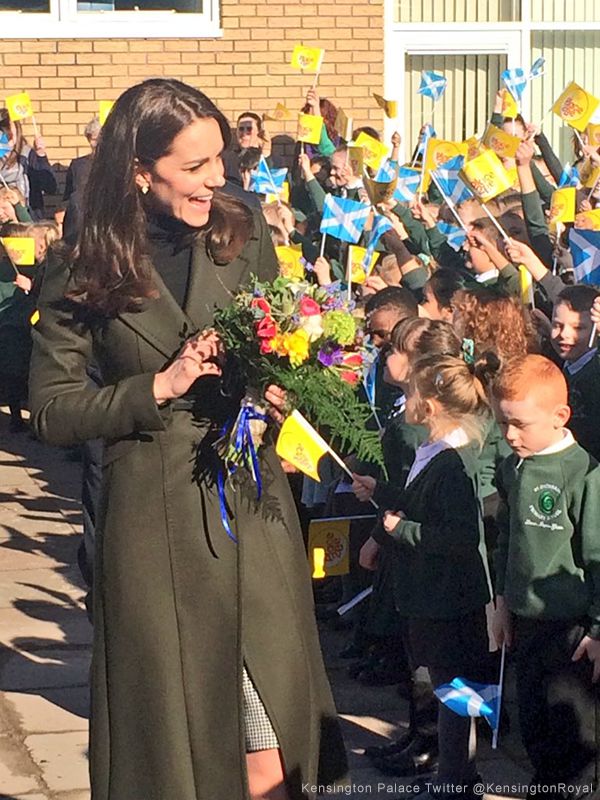 Next, she headed over to the Wester Hailes Education Centre. Here, Kate visited another one of her patronages in action, The Art Room.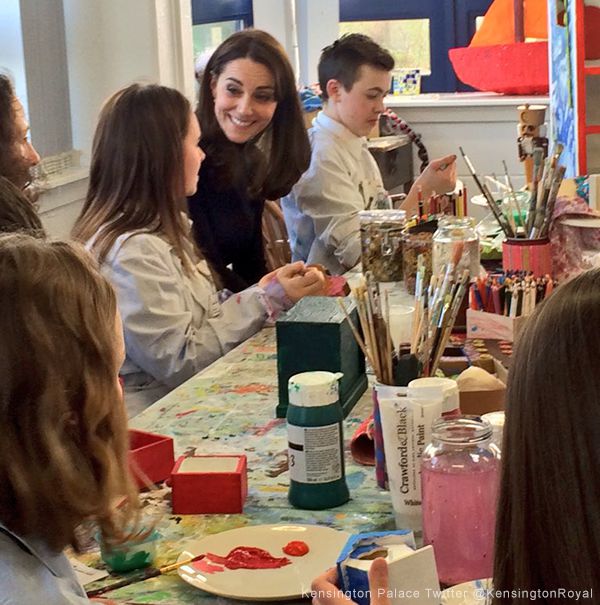 The Art Room is a charity that helps children experiencing emotional and behavioural difficulties. The charity helps children increase self-esteem, self-confidence and independence through art therapy. There are currently eight Art Rooms stationed in schools in Oxfordshire, London and Edinburgh.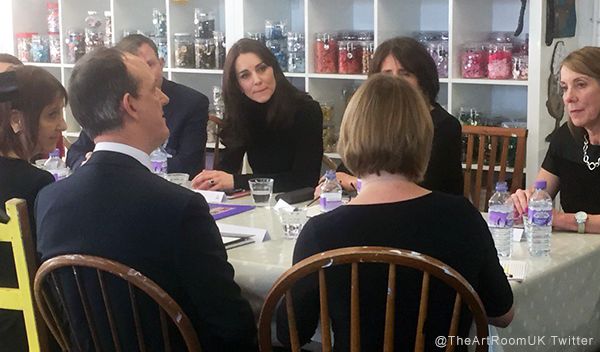 During her visit to the school, Kate took part in a roundtable discussion.  She learned how The Art Room works in close partnership with local support agencies to maximise the impact of its work within the wider Wester Hailes community.
Finally, Kate headed over to Craigmount High School. Here, she took part in a tennis workshop with Judy Murray and the "Tennis on the Road" organisation.
Judy Murray is the mother of Wimbledon champions Jamie and Andy Murray. She's also a former tennis player herself (she holds 64 titles in Scotland!)
Judy founded the Tennis on the Road organisation to give parents, coaches and teachers the tools needed to get kids active. The organisation travels around Scotland, aiming to inspire a whole new generation of children. Tennis on the Road wants to kick-start and develop tennis in the country. (You can read more about Judy Murray and the organisation by clicking here.)
Kate took part in the workshop, even changing into her gym gear before the lesson (see below for specific information about what Kate's wearing). She joined in with some of the organisation's fun games, including "beanbag tennis" and "balloon tennis". Of course, she got to practise her tennis skills with a real ball too.
If you follow the Duchess, you may know that she's a keen tennis fan. She regularly attends Wimbledon.
Kate's outfits:
Kate wore a dark green wool coat by Sportmax (an "urban, sleek" line by the Max Mara label). According to Lyst, the coat last retailed at FarFetch.com for £940 (approximately $1,310 USD).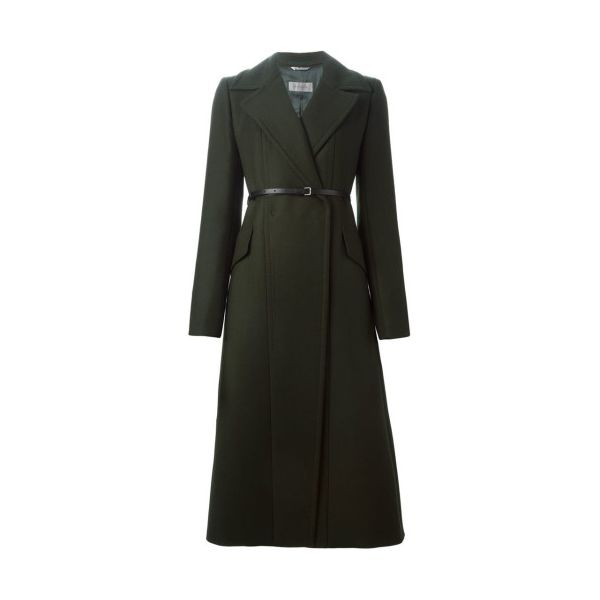 Kate first debuted the coat (in public) on Christmas Day 2015. The coat is from Sportsmax's autumn/winter 2015 collection. It's no longer available for purchase online.
Kate donned a houndstooth pleated skirt from Le Kilt, a London-based company with Scottish heritage.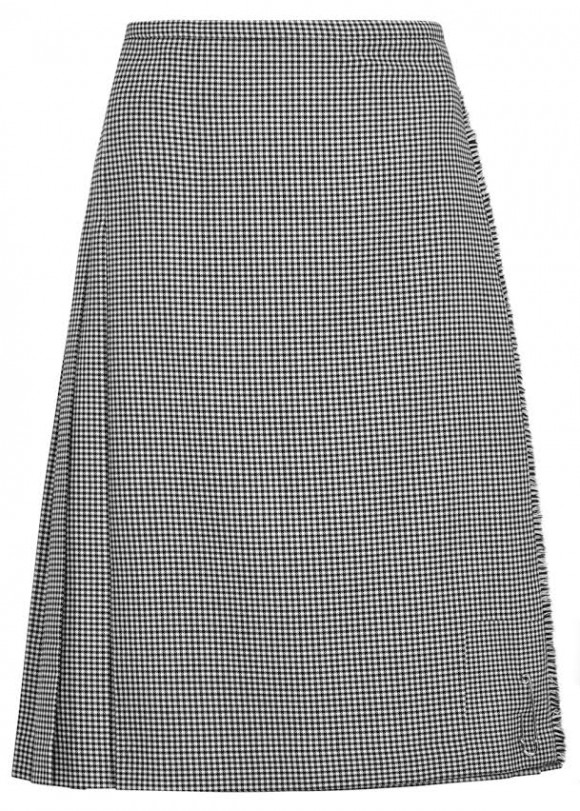 Samantha McCoach founded the company in 2014.
"Samantha's grandmother has been a traditional kilt maker in Scotland for over 40 years and through Samantha's teenage years she would observe her grandmother expertly tailoring Kilts, trousers and other traditional staples from fine Scottish tartan. Samantha has continued the tradition and re-appropriated the style into her modern wardrobe."
Kate wore the company's classic kilt in houndstooth print. Le Kilt has confirmed that Kate wore their long style (they also sell a shorter kilt in the same print).
"This timeless Le Kilt is hand crafted in Scotland, from 100% British wool. The classic pleated A-line skirt features a flat fronted apron fastened with black leather side buckles. Finished with a traditional Kilt pin."
The kilt costs £470 (which is approximately $644 USD) and can be purchased from the company's website. Le Kilt confirms that it'll soon be available to buy from HarveyNichols.com too.
Kate wore a black polo neck sweater with the skirt, underneath her coat. Although Kate has worn the sweater a couple of times before, we do not know any further details about the piece (e.g. designer). It remains a mystery!
Kate wore her Stuart Weitzman Power pumps in black suede.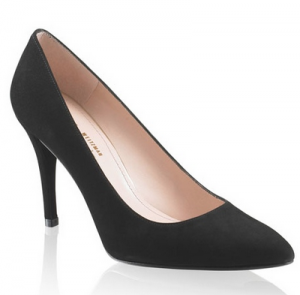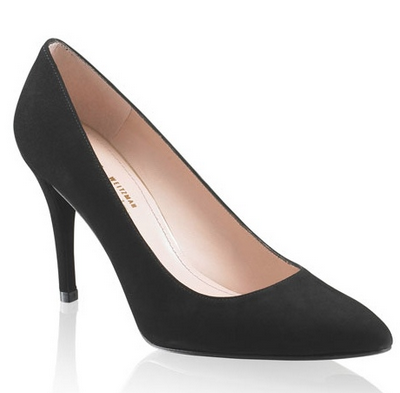 Stuart Weitzman no longer stock the Power pumps in black suede.
She carried her coordinating Mulberry Bayswater clutch, also in black suede (pictured below in black leather) –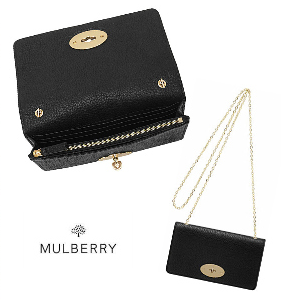 Kate's Kiki McDonough "Lauren" earrings made a comeback: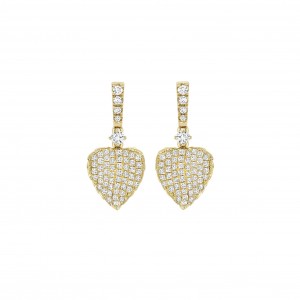 Kate wore her Cartier watch for this engagement too. She wears the 33mm Ballon Bleu style.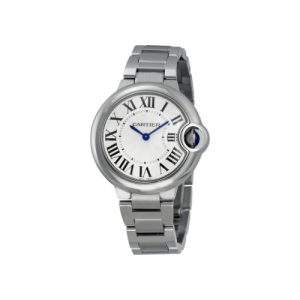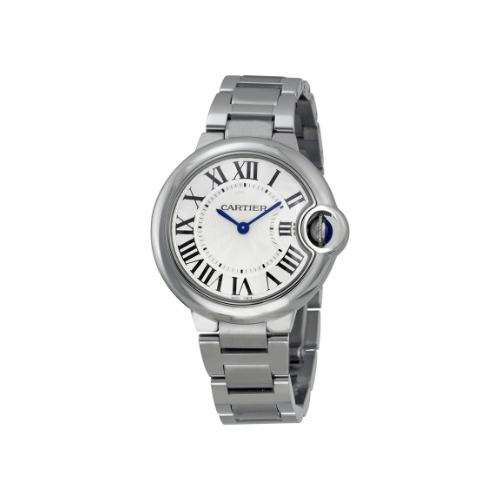 As we mentioned above, Kate changed into her sporting gear for the tennis workshop.
She wore a Nike's Baseline Half Zip tennis top. It costs $70 USD / £40 GBP.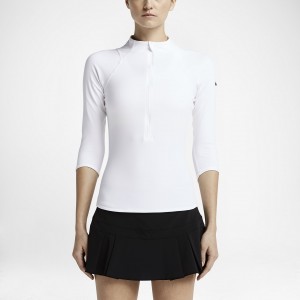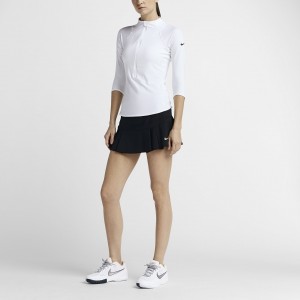 The company claim the top has sweat-wicking properties, and it offers superior comfort thanks to its contoured seams. It appears to be popular on the Nike site too, scoring 5/5 stars and boasting reviews such as, "best tennis top for winter" and "super comfy and stylish".
Kate's tracksuit bottoms are by Monreal London, they're the brand's "Side Panel Track Pants".
If you'd like to copy Kate's sporty style, you're in luck. You can still grab the track pants at Saks Fifth Avenue, where they're on sale. However, only the extra small size remains. They cost $146 (was £365) or £111.51 (was £278.77).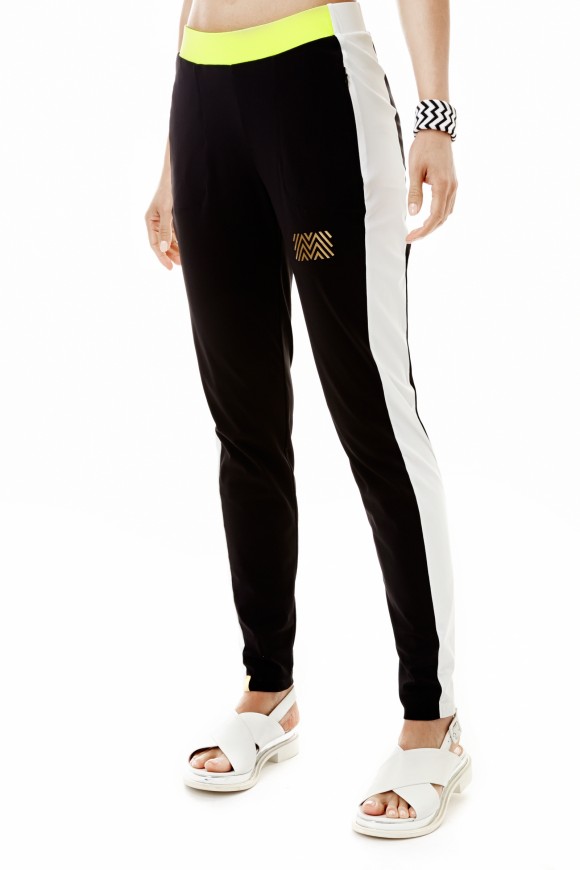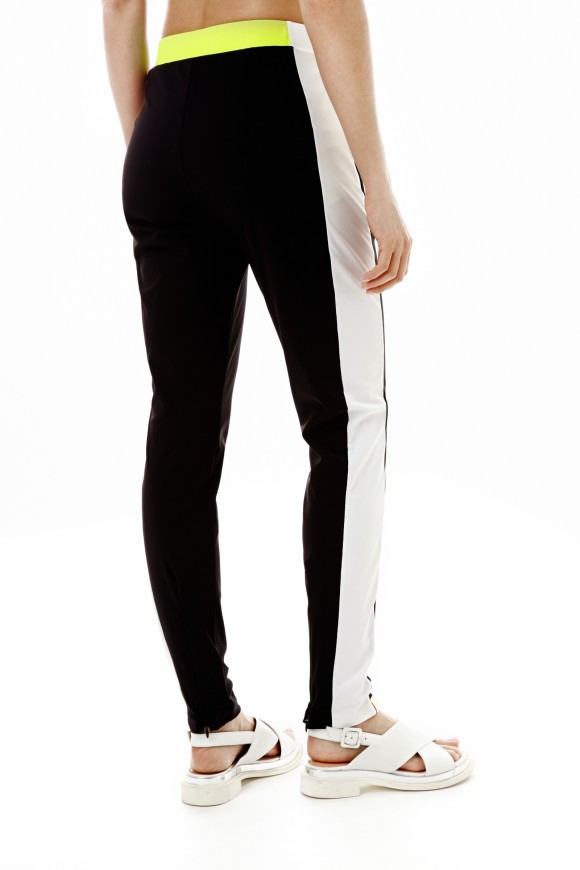 The designer sportswear brand is stocked at a number of stores, including Shopbop, Saks Fifth Avenue and Neiman Marcus.
Finally, Kate debuted a new pair of Asics tennis shoes. She wore the Women's GEL-Solution Speed 3 Tennis shoes in white and blue steel.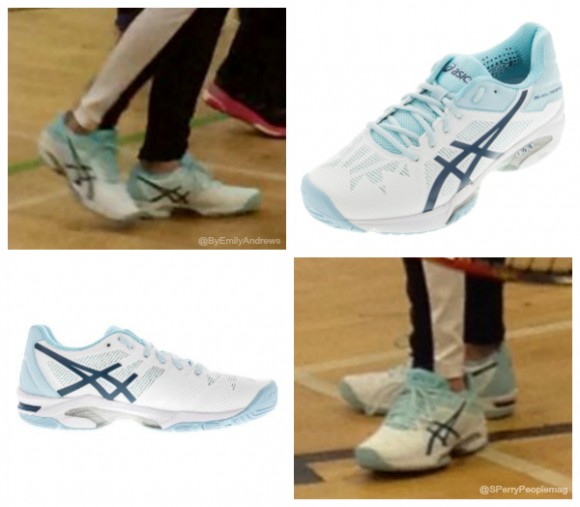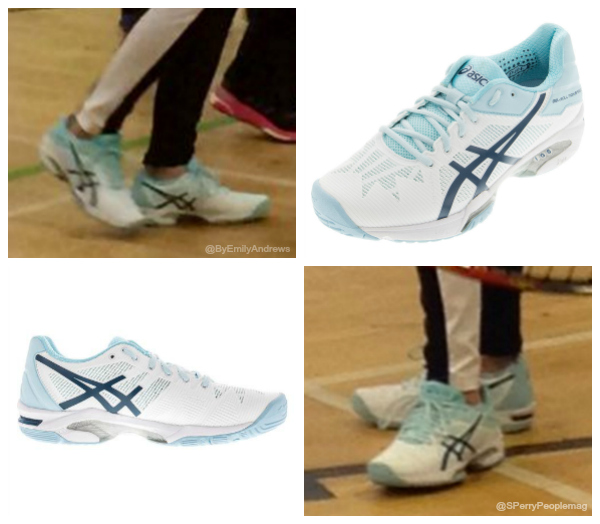 The sneakers apparently offer "superior comfort and support for competitive players on the tennis court". These sneakers are from Asics' current season and at the time of publishing, can be purchased from the Asics website for $130 in the USA. They cost £125 GBP in the UK. However, if you're looking for a deal, head on over to one of the following sites to make a saving: