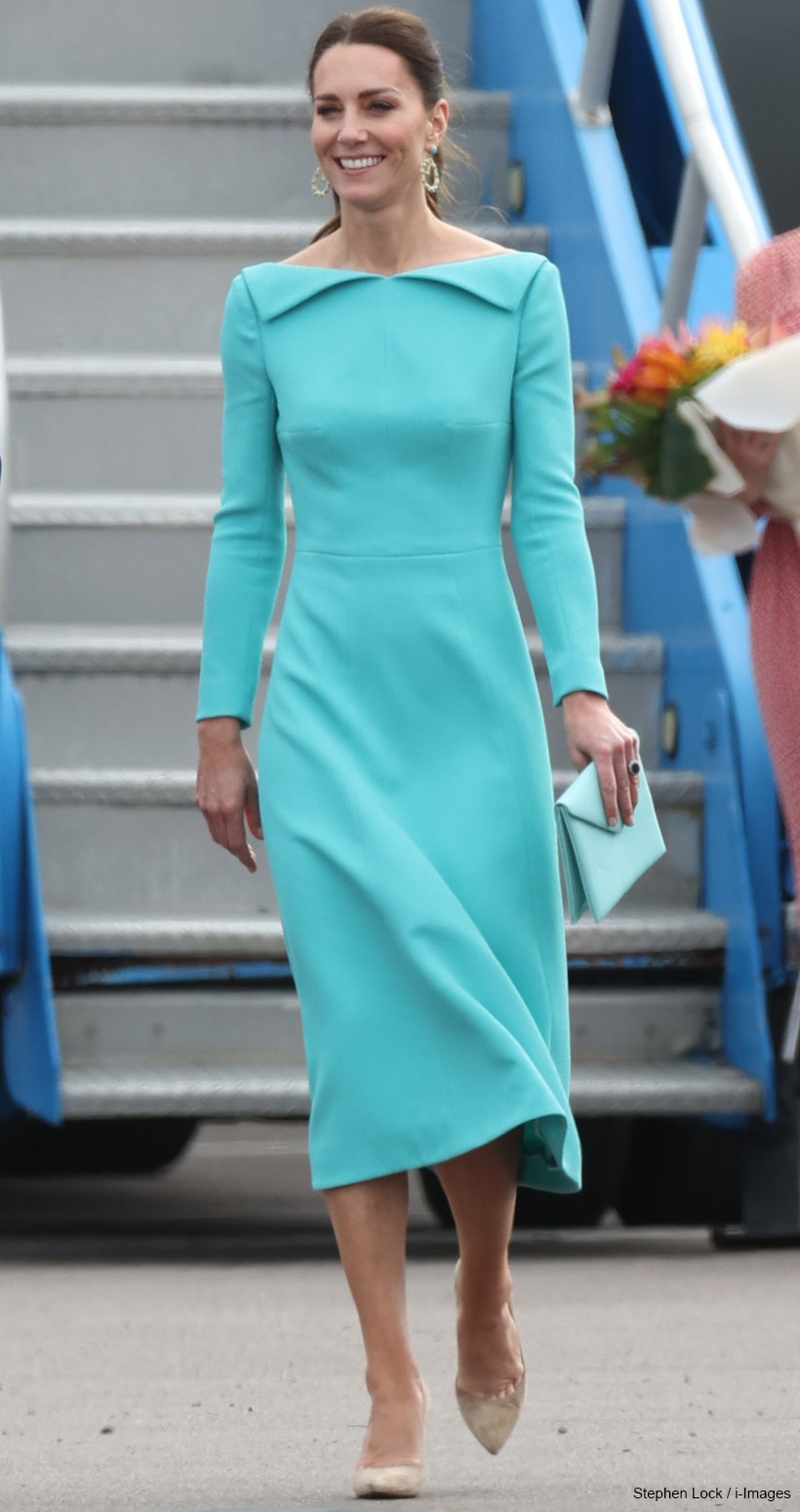 24th March 2022—The Duke and Duchess of Cambridge landed in The Bahamas for the third and final leg of the Caribbean Tour. Kate's arrival outfit—once again—took inspiration from her host country's national flag. 🇧🇸. She chose an aquamarine-coloured dress by one of her favourite designers, Emilia Wickstead (more on Kate's outfit further down the page ⬇).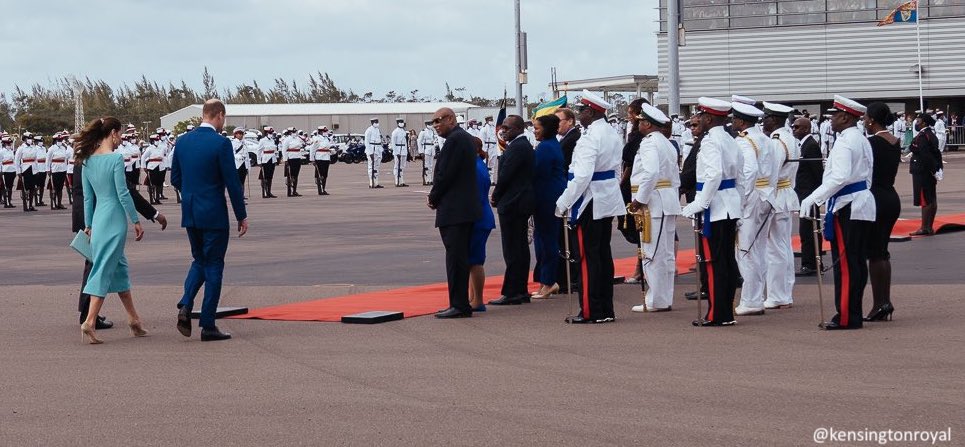 The Duke and Duchess toured the Caribbean to celebrate The Queen's Platinum Jubilee. You view our coverage of Kate's tour outfits on this page.
The Duke and Duchess flew into Lynden Pindling International Airport in Nassau.
There was a brief, traditional ceremony that included The Royal Salute and an Inspection of the Guard. The Royal Bahamas Police Force Band played music.
The couple were met by the Governor-General, the Deputy Prime Minister, the Minister of Tourism and other officials.
Here's Kate receiving flowers from 8-year-old Aniah Moss. Isn't her dress gorgeous!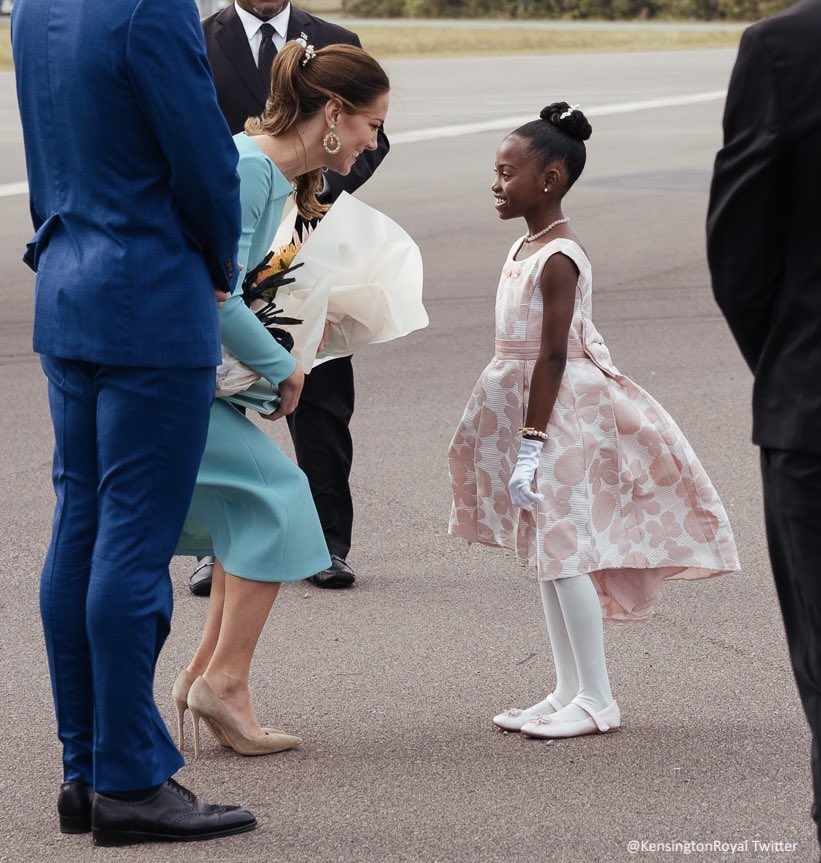 The couple left the airport in a police-led convoy to pay a Courtesy Call to the Prime Minister.
Kate's Aquamarine Dress in The Bahamas:
The Duhess chose a mid-length dress in a vivid shade of Aquamarine for her arrival in The Bahamas, the colour of the country's flag. In a press release announcing the couple's arrival, The Bahamas Ministry of Foreign Affairs wrote that Kate wore the colour as a "tribute to Bahamian waters".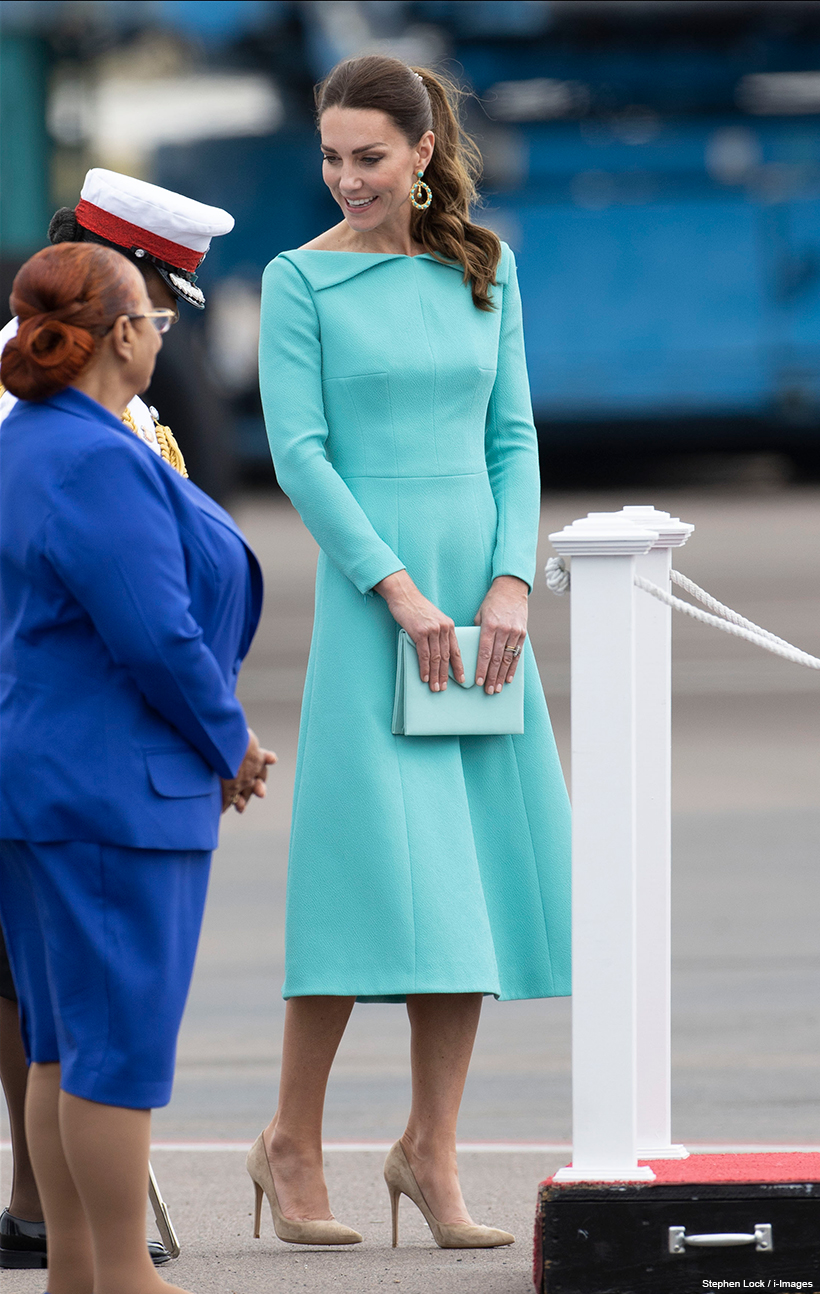 It features a bateau neckline with collar detail, full-length sleeves and a mid-length skirt. It's bespoke by Emilia Wickstead.
The Duchess has worn dozens of Emilia Wickstead dresses over the years, the British designer is a tour favourite. A gallery of Kate wearing Wickstead designs:
Kate's shoes are by Gianvito Rossi. They're the Gianvito 105 style in Bisque Suede. The elegant pointed shoes are made in Italy from 100% leather (outer, lining and sole). They have a 105mm high heel. FarFetch call the slip-on shoes an "ode to timeless elegance".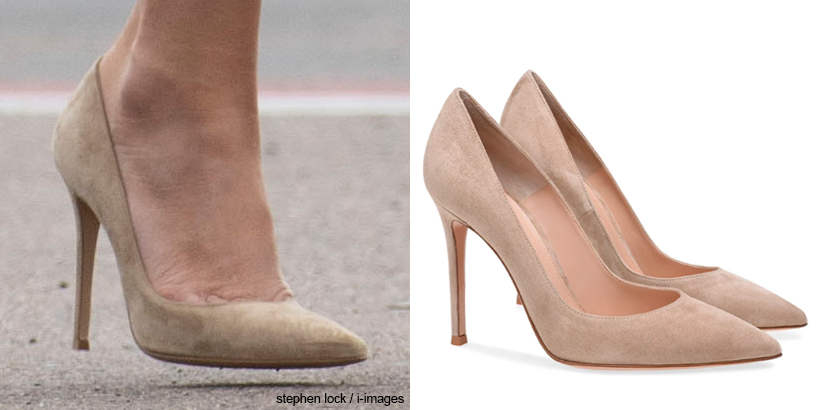 The shoes retail at FarFetch.com for £560 GBP / $725 USD.
Kate clearly loves the Gianvito style pumps. She owns the 105mm style in SEVEN different colours and the 85mm style in FOUR different colours.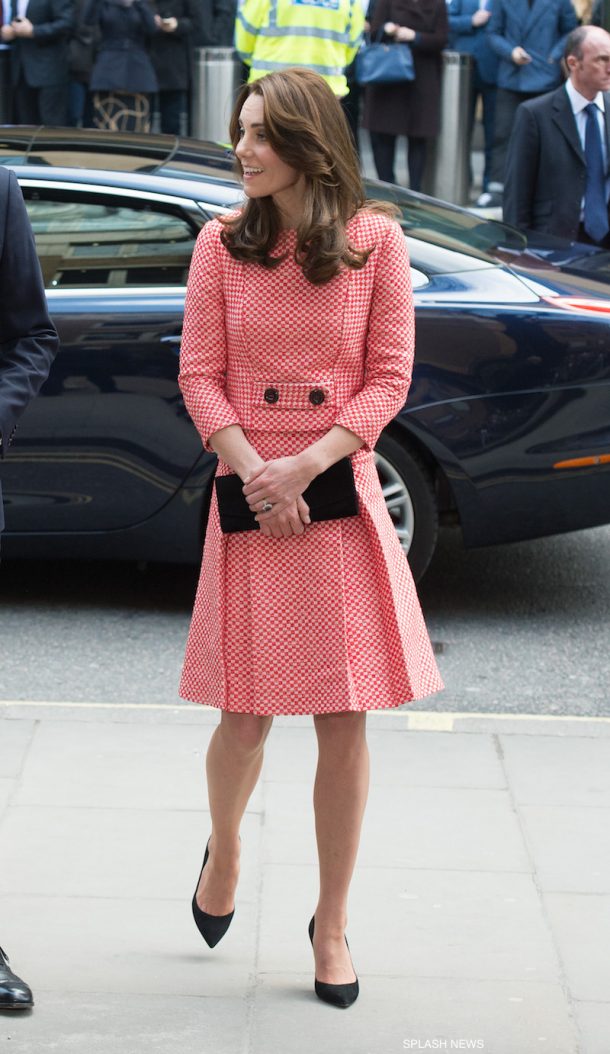 Kate debuted a new pair of earrings from the French brand Sézane. They're the Taylor Hoop Earrings in Turquoise. The pretty earrings coordinated with her dress beautifully.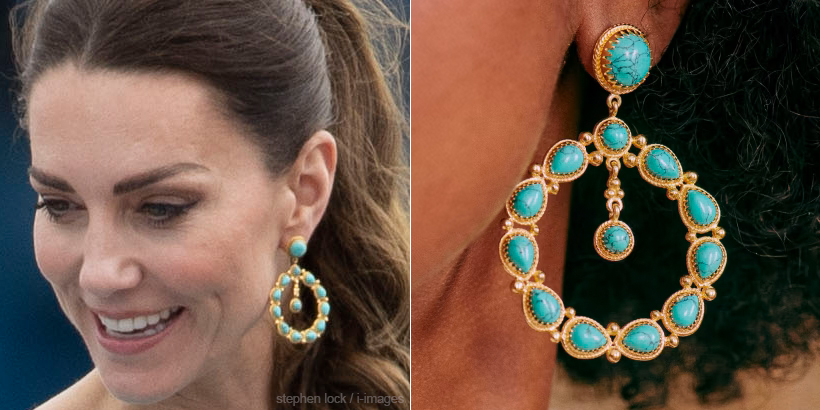 As of the 12th of April 2022, the earrings remain in stock at sezane.com for £100 GBP / $130 USD.
Unfortunately, I have no further details on Kate's envelope-shaped turquoise clutch. I suspect it's custom-made by Emilia Wickstead, to match the dress.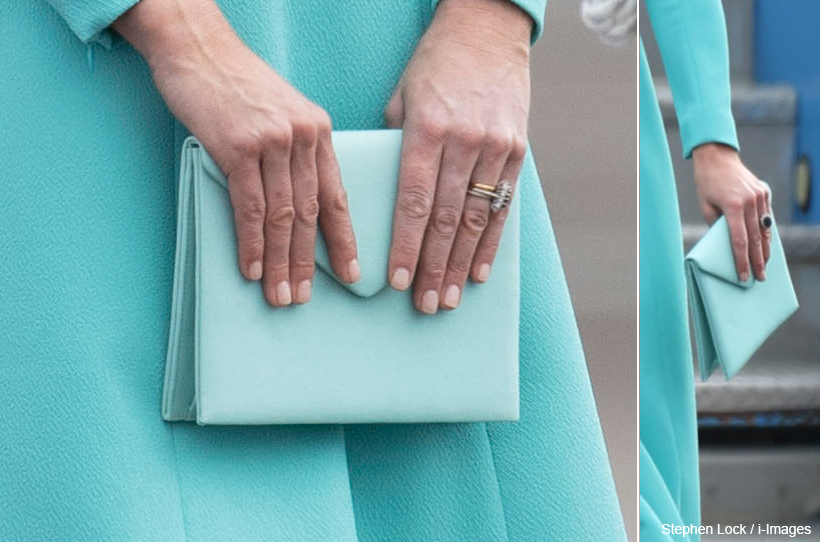 Kate added some pearly hairpins to her up-do.
They're from Bijou Brigitte, the brand confirmed the Duchess wore their 'Glowing Heart' pins to the Royal Fashion Police on Instagram.