First things first: Big birthday wishes for Kate, who turns 34 tomorrow. And many happy returns if you're celebrating your birthday this weekend too.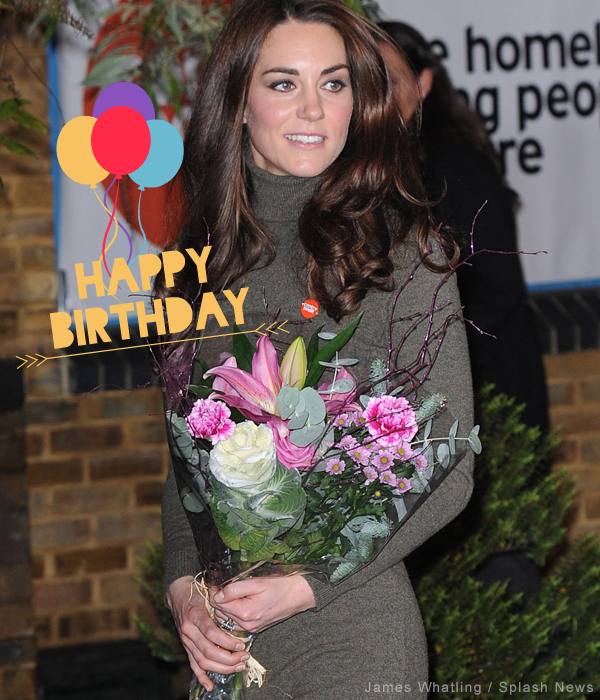 Now onto the the big news – Kensington Palace have announced a new tidbit about the upcoming spring tour.
New tour detail announced:
We found out that William and Kate will visit Bhutan in the spring. The visit will coincide with the previously announced tour of India.  Bhutan sounds like an absolutely fascinating place, as this extract from WikiPedia illustrates:
"[Bhutan is] a Buddhist kingdom on the Himalayas' eastern edge, is a land of monasteries, fortresses (or dzongs) and dramatic topography ranging from subtropical plains to steep mountains and valleys."
Conservation enthusiast William will enjoy this leg of the tour, no doubt.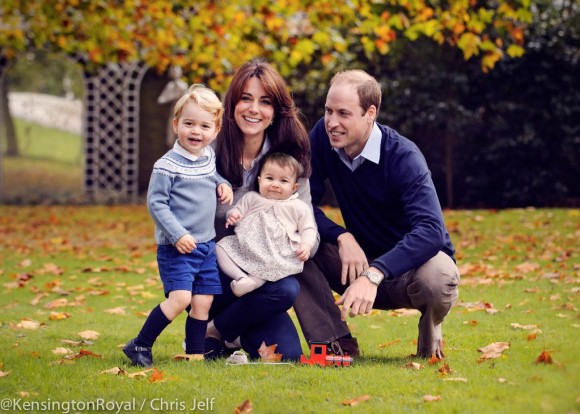 We know very little about the tour of India and Bhutan so far, but here's a little round up of interesting tidbits –
The royal couple will meet the King and Queen of Bhutan, who're expecting their first child shortly
Like Kate, the Queen of Bhutan (Jetsun) is a style icon. She's famed for her bright, colourful and stylish traditional dress
The trip will coincide with the couple's tour of India. Bhutan is located in the Himalayas, between India and China
It's unclear whether George and Charlotte will join the royal couple on the tour. George will be two and a half this spring, while Charlotte will be approaching twelve months. George was nine months old when he visited Australia and New Zealand.
Kensington Palace added the following remarks:
The Duke and Duchess are very much looking forward to their official tours this spring where they will follow in the footsteps of previous generations of their family
Bargains not to be missed:
If you follow this blog on Twitter and Facebook, you may have noticed I've been sharing items of clothing worn by Kate (sometimes in a different colour) that are on sale. As you know, many retailers discount clothing, shoes and accessories after the festive period, so there's plenty to spend your Christmas money on! There are a couple of reductions in particular that you don't want to miss.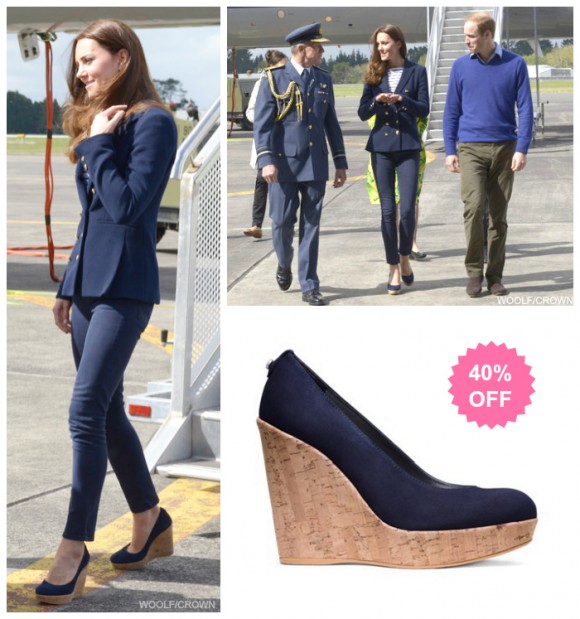 Firstly, the Corkswoon wedges in blue suede have gone on sale at Stuart Weitzman (selected countries only) – a rare occurrence indeed. Stuart Wetizman typically reduce the Corkswoon in different colours and prints, but they rarely discount the exact pair Kate wears.  You can snag these for a whopping 40% off on the company's US website.  The best thing about these wedges is they're very versatile and you can wear them year round.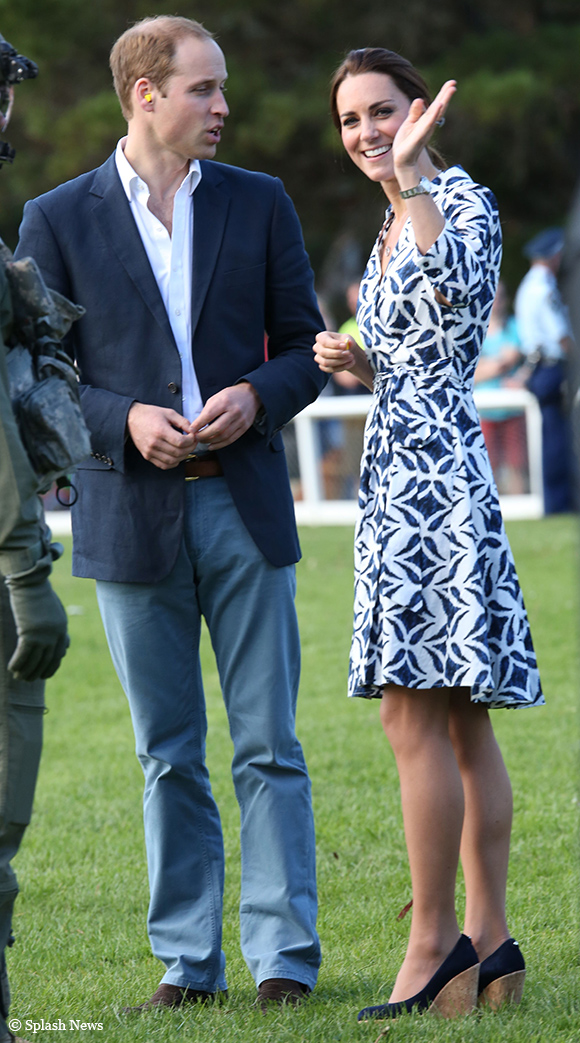 On to another bargain alert now.  The ME+EM Breton stripe top.  Kate owns three of them, in blue, black and white. She's clearly a fan of the style. ME+EM have reduced the top in red.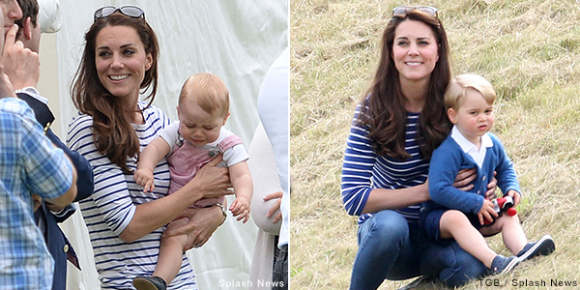 It was £48 but it's now only £33.60. Available in small and large only at the time of writing – click here.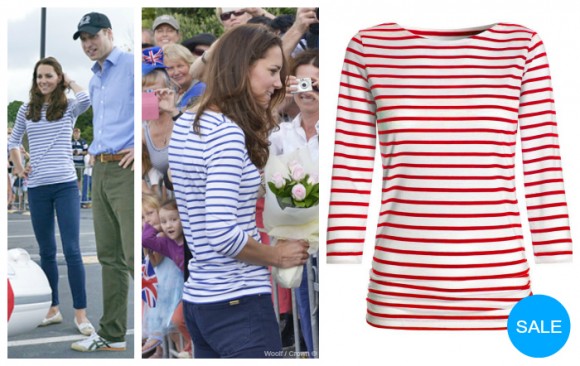 The Anya Hindmarch Maud clutch is also on sale, another rare occurrence!  Kate's carried this bag on a number of occasions since joining the royal family. Most famously, she took the clutch to a meeting with President Obama and his wife in 2011.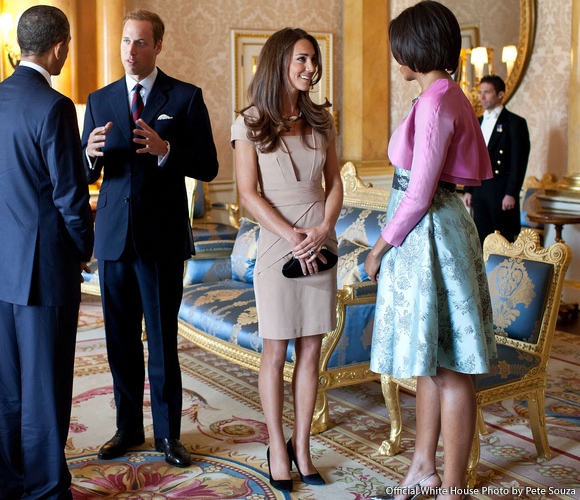 Yoox have been selling the bag at an extraordinarily discounted price. Not surprisingly, the black colour (carried by Kate) quickly sold out on the site, but the dark blue and mushroom colours remain on sale. Full price, the Maud bag can be purchased for £475 (around $700) on Anya Hindmarsh's site.  However, it's currently on sale for $189 on the USA Yoox site with the code YOOXSTYLE, or it is automatically discounted to just £95 on the UK site when you add the bag to your basket. (Yoox deliver all around the world, so you can check how much the bag costs in your own country using the drop down menu.) The special prices are only valid until the 10th of January. View the bag here.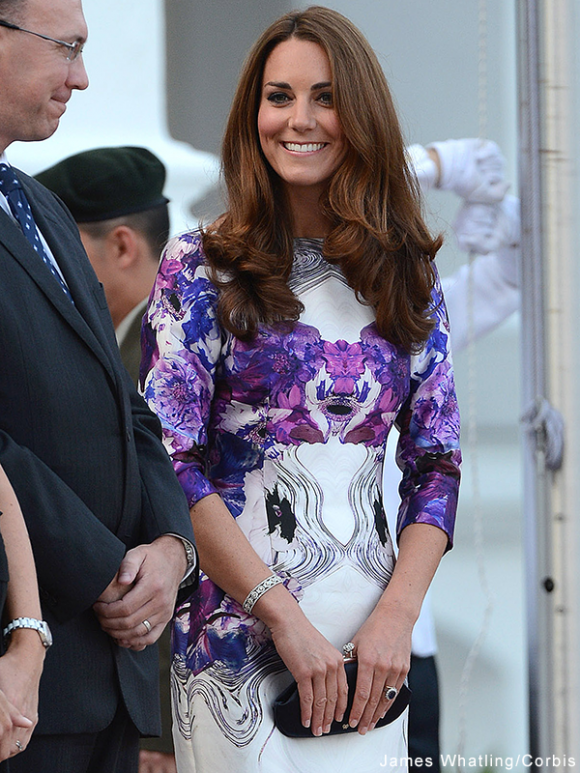 For fans of Kate's Mulberry Bayswater clutch wallet (pictured below), you'll be pleased to know the bag is also on sale in three different colours, peony pink, mandarin orange and poppy red.   Kate carries the bag in black suede.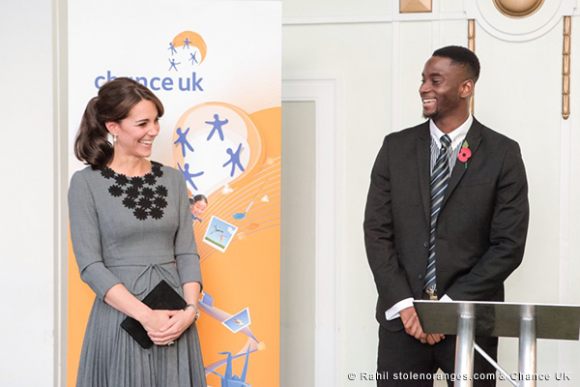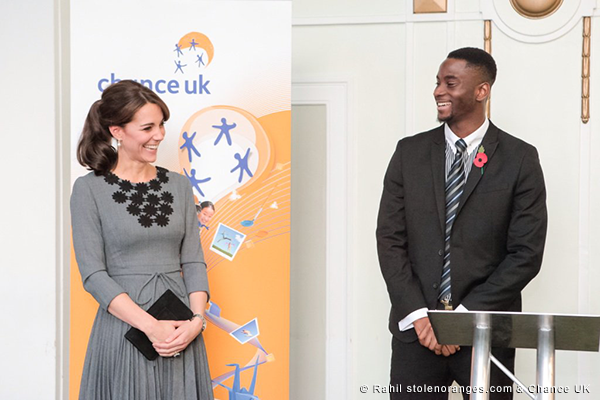 Also, friends of the blog (and occasional sponsor) Beulah London are offering free international shipping for a limited time when you spend over £150. Use the code FREESHIP at checkout.
Rue La La have put together a "royal" edit based on items of clothing Kate's worn, plus brands she regularly wears. There are a few fabulous "repliKates" thrown in there too – well worth a look.  Click here to visit the website.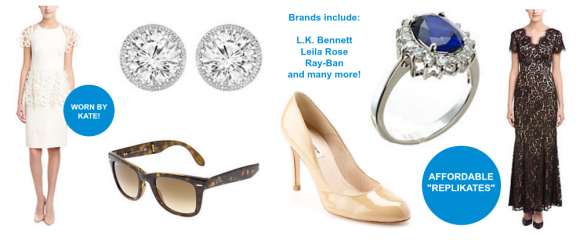 New in at L.K. Bennett:
Some fantastic new season pieces in stock at L.K. Bennett this week. Firstly, the British brand have updated Kate's sledge pumps in a new colour.  They're now available in a pearly champagne colour. I'm thinking these would look GORGEOUS with a wedding dress – anybody getting married this year?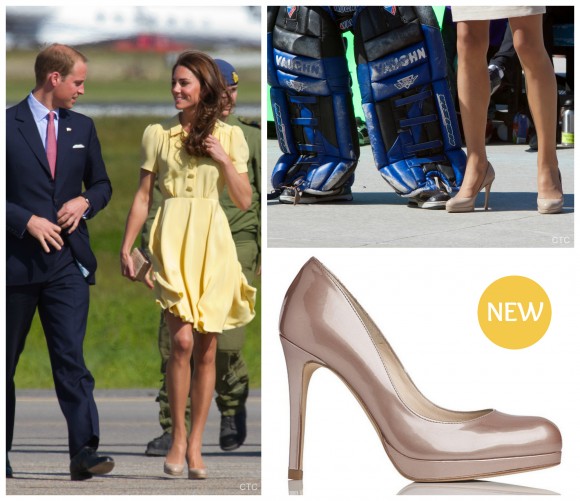 Kate's poppy print "Lasa" dress was a huge hit back in 2014. L.K. Bennett rereleased it on a number of occasions and it always quickly sold out. The brand have released a new dress named "Bree", which is a good option if you're looking for something similar. Perhaps for a formal occasion this spring? The cut appears to be the same (or very similar at least) but there's a new eye-catching blue and red poppy print exploding outwards from the middle section.  Shop it here.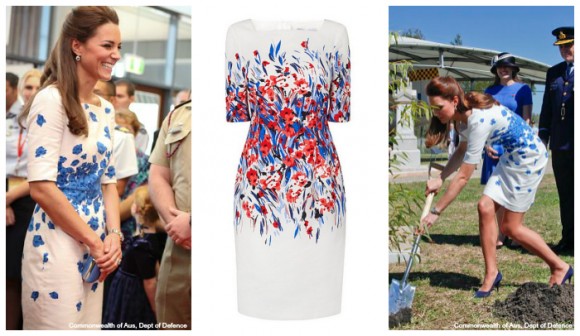 Another dress that's new in – the "Sam". It's a dead ringer for the Detroit dress worn by Kate twice in 2014 – again, another popular piece that sold out several times. It's very similar in cut and colour. A great dress if you'd like to RepliKate.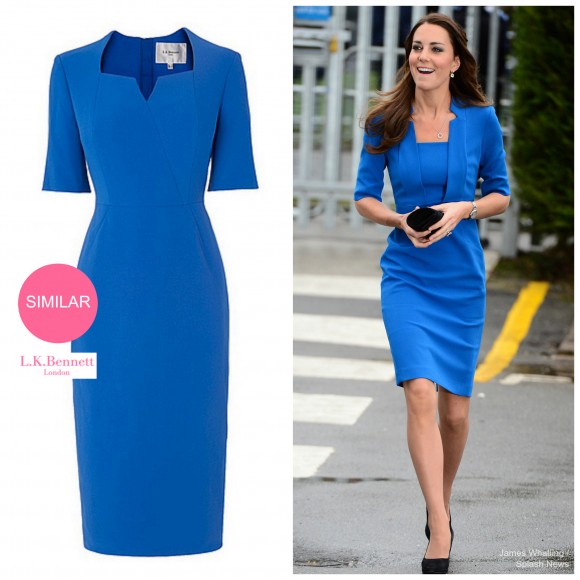 That's all for today…
If you're not quite ready to log off/get back to work/sort your chores, here are a few more updates you might have missed: