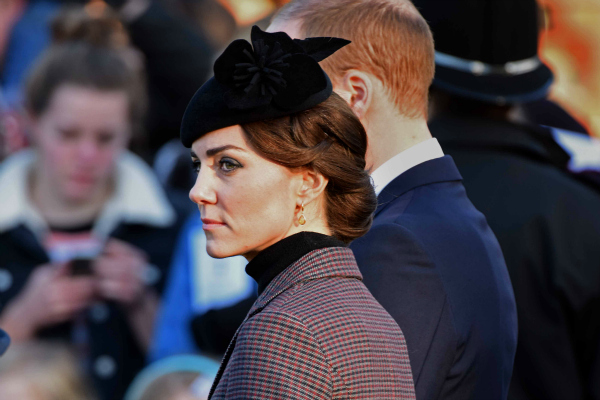 Today, William and Kate joined the Queen, Prince Philip and other prominent members of the British Royal Family for a church service to mark the 100th anniversary of the First World War Gallipoli campaign.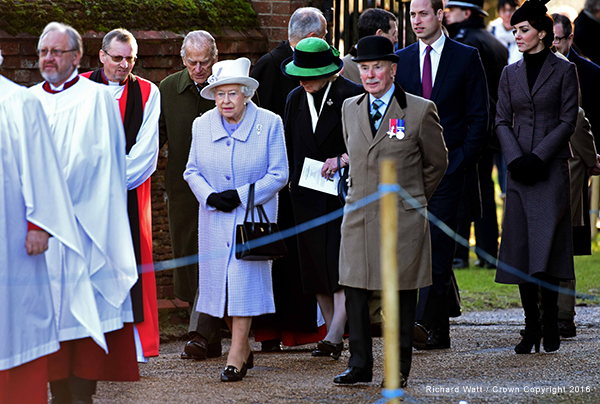 The royals attended the service at St. Mary Magdalene Church at Sandringham to pay their respects to the 58,000 Allied troops who lost their lives on the Gallipoli peninsula in Ottoman, Turkey during the First World War.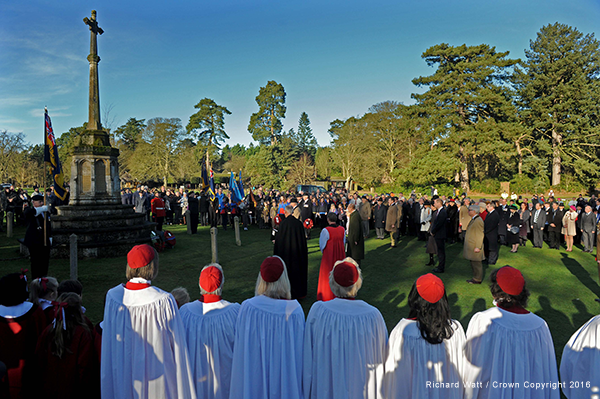 After the service, the Queen and Prince Philip placed floral wreathes at the Sandringham war memorial cross in Norfolk, which was erected by the Queen's grandparents to honour the local men who had died in the conflict.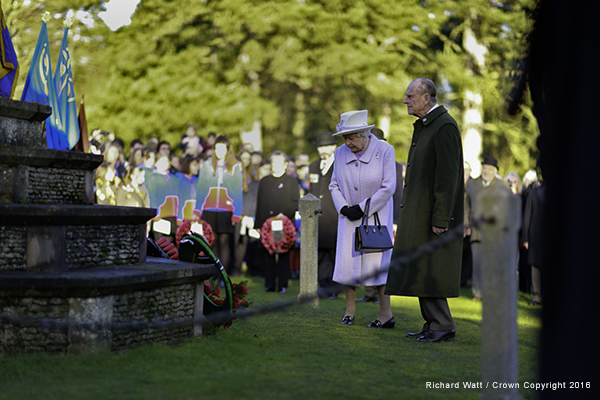 A minute's silence was held in memory of those who lost their lives.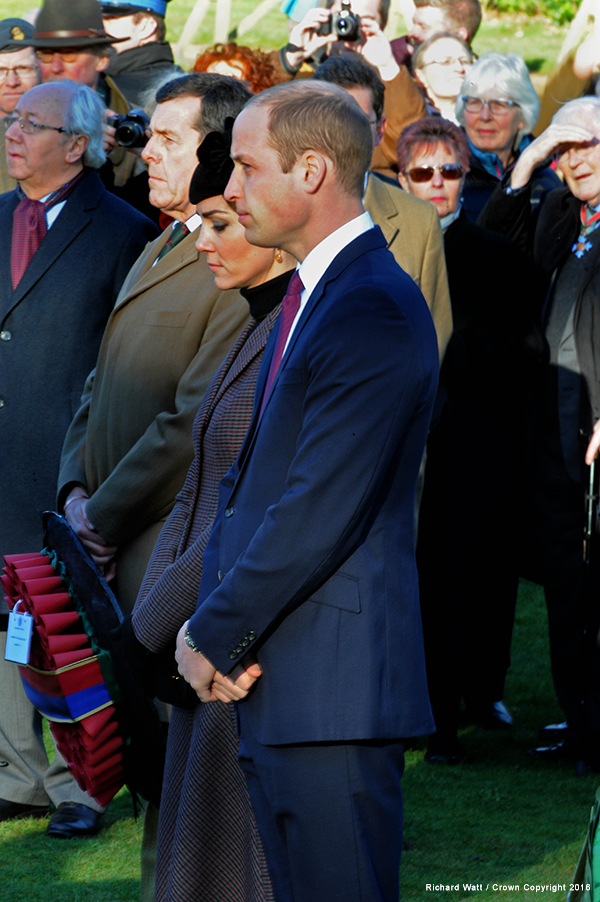 The Middleton family also joined the royals for the church service, suggesting they had perhaps visited Kate for her 34th birthday yesterday. James Meade and Sophie Carter (Princess Charlotte's godparents) also joined the royals for the service.
Kate's outfit:
For the service, Kate wore a brown wool blazer and skirt by Michael Kors.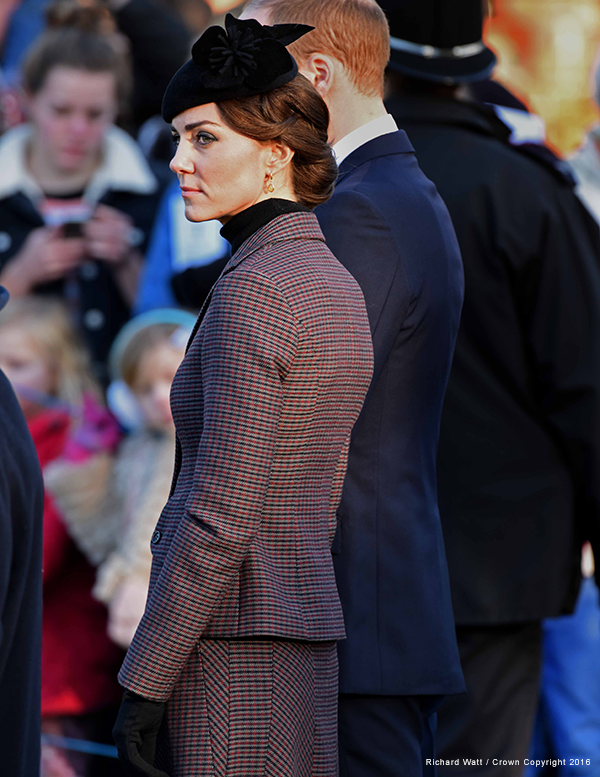 Specifically, Kate is wearing the Michael Kors Collection Virgin Wool Plaid Blazer and the matching Guncheck Wool Trumpet Skirt.  Both pieces are now widely sold out.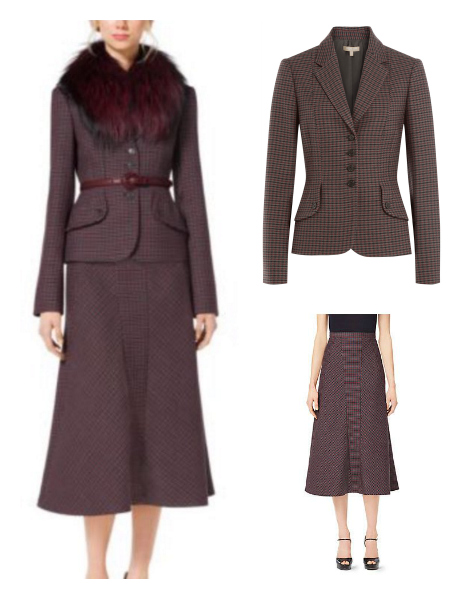 You may recall Kate wore this exact outfit to a church service at the same church on Sunday 27th December (pictured below)
This time, you may have noticed, Kate has her hair in an elegant up-do.
Kate's had should feel familiar, it's the Fairy Tale hat in black, designed by Sylvia Fletcher for Lock & Co. She's worn it on a number of occasions previously.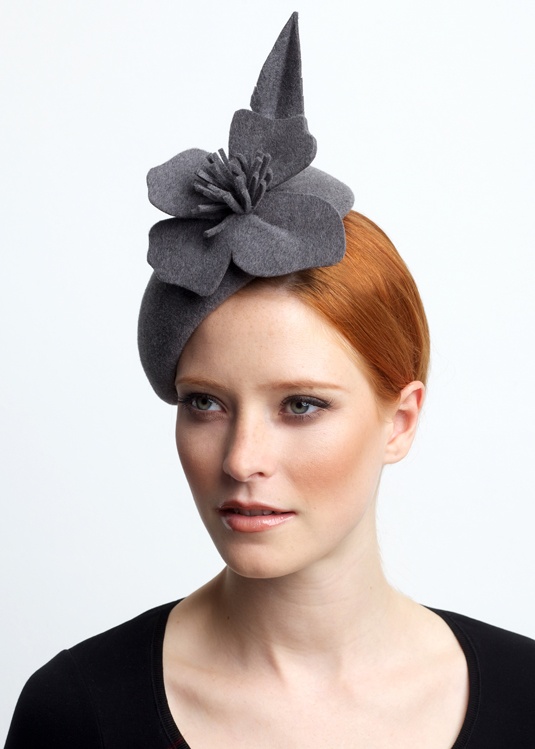 Kate's Kiki McDonough Citrine Drop earrings made a reappearance too. The Duchess has been wearing these since at least 2011.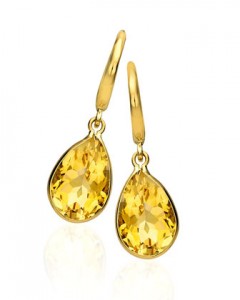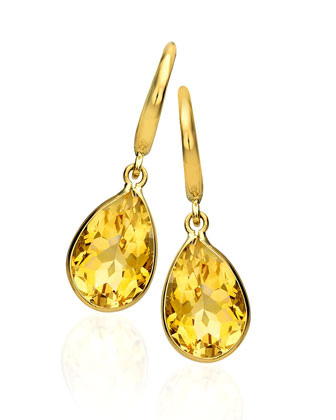 Kate carried her black Mulberry Bayswater clutch bag in black suede. Pictured below in black leather.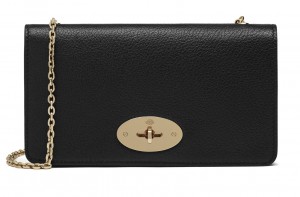 You may be interested to know this bag is currently on sale at Mulberry.com in three different colours, peony pink, mandarin orange and poppy red.  Click here to shop.
Finally, Kate wore her Aquatalia Rhumba boots (pictured below on another occasion) which regular readers will recognise.  Kate wears them often.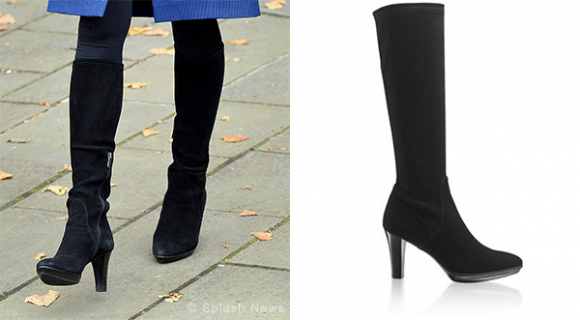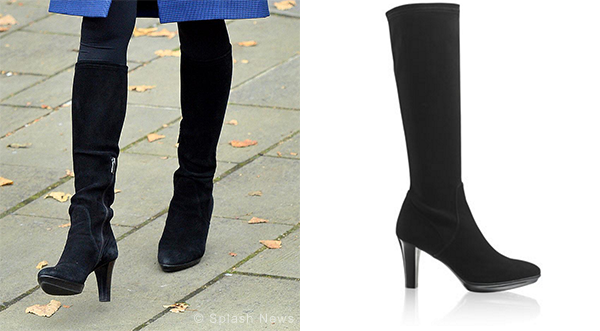 Kate's Aquatalia style can only be purchased from ShoeScribe (in very limited sizes) and Russell & Bromley, where they're known as the "Hi and Dry Stretch Platform Boot".  There are very limited sizes at Amazon in Plum, while Footnotesonline stock the shoe in grey – again, limited sizes remain.
If your size is not available from one of those retailers, you may be interested the Aquatalia "Raine" boot -it is the most recent iterations of the Rhumba boot.  There's 33% off this style at the time of writing.  Here's a side-by-side comparison of both boots.  The Rhumba is on the left, the Raine is on the right.