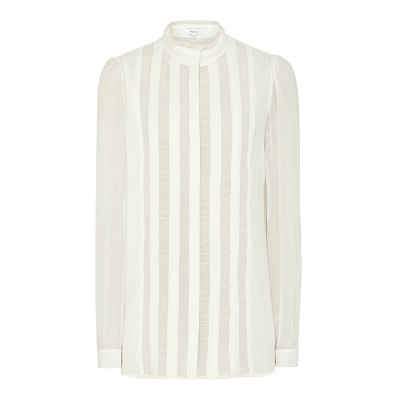 In February 2016, the Duchess of Cambridge (also known as Kate Middleton) wore the Reiss Vinnie shirt for an event held at Kensington Palace.  Along with the Huffington Post, Kate launched the #YoungMindsMatter initiative.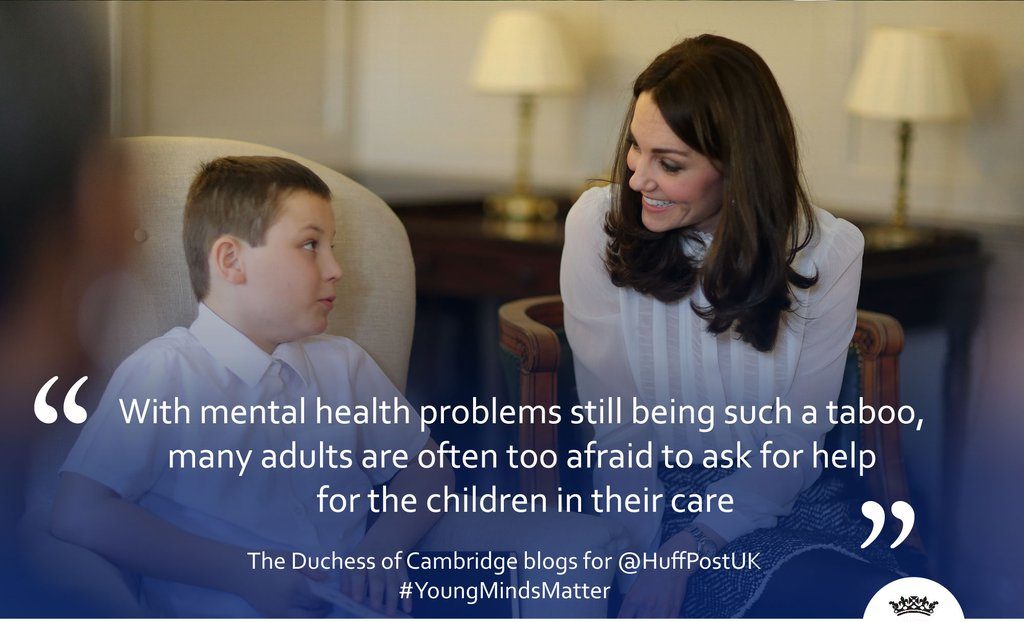 Kate worked as Guest Editor at the newspaper, taking over one of the apartments in Kensington Palace and turning it into a temporary newsroom.  During the launch, Kate penned a blog post on the topic of child mental health and commissioned articles from other organisations and notable people in the industry.
Kate chose "office appropriate" clothing for her new temporary role, wearing the off white Reiss Vinnie shirt tucked into a Dolce and Gabbana skirt.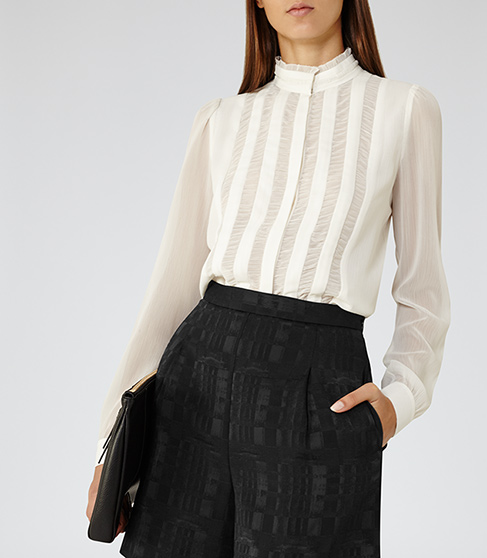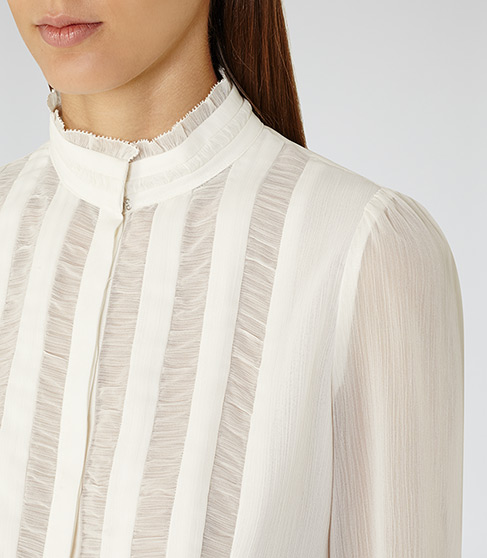 About the Reiss Vinnie Shirt:
The Reiss Vinnie shirt features a textured stripe design that runs down the front, a high neck collar with ruffle trim and a concealed button front.  It is cut from lightweight chiffon fabric in an off-white colour.
Reiss write that the shirt is "sophisticated" and "laced with vintage-inspired charm".  This type of blouse is versatile, meaning you can wear it from desk to dinner.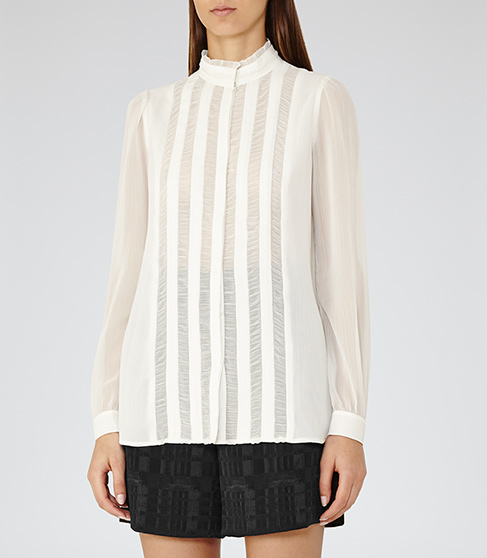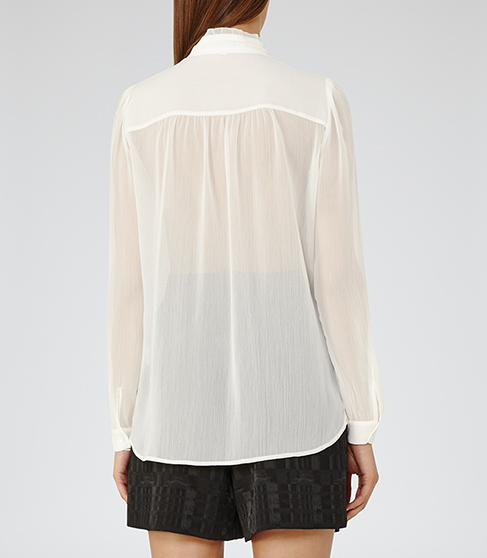 Here's how Harrods described the blouse:
Cut from off white chiffon with a ruched panel design to the front, this vintage-inspired Vinnie shirt from Reiss will lend a ladylike look. Complete with a high neck and frill trim, simply style with leather skinnies or tuck it into a pencil skirt for ultimate versatility.
Where to buy the Reiss Vinnie shirt:
Predictably, the high-necked shirt quickly sold out.  It was popular those who wanted to emulate this chic look in their own workplace.  Reiss restocked the shirt later in the day, but it quickly sold out again.  Try eBay.
Similar blouse:
If you're really keen on copying Kate's style, you'll be pleased to learn that Reiss sell a very similar blouse, as shown below: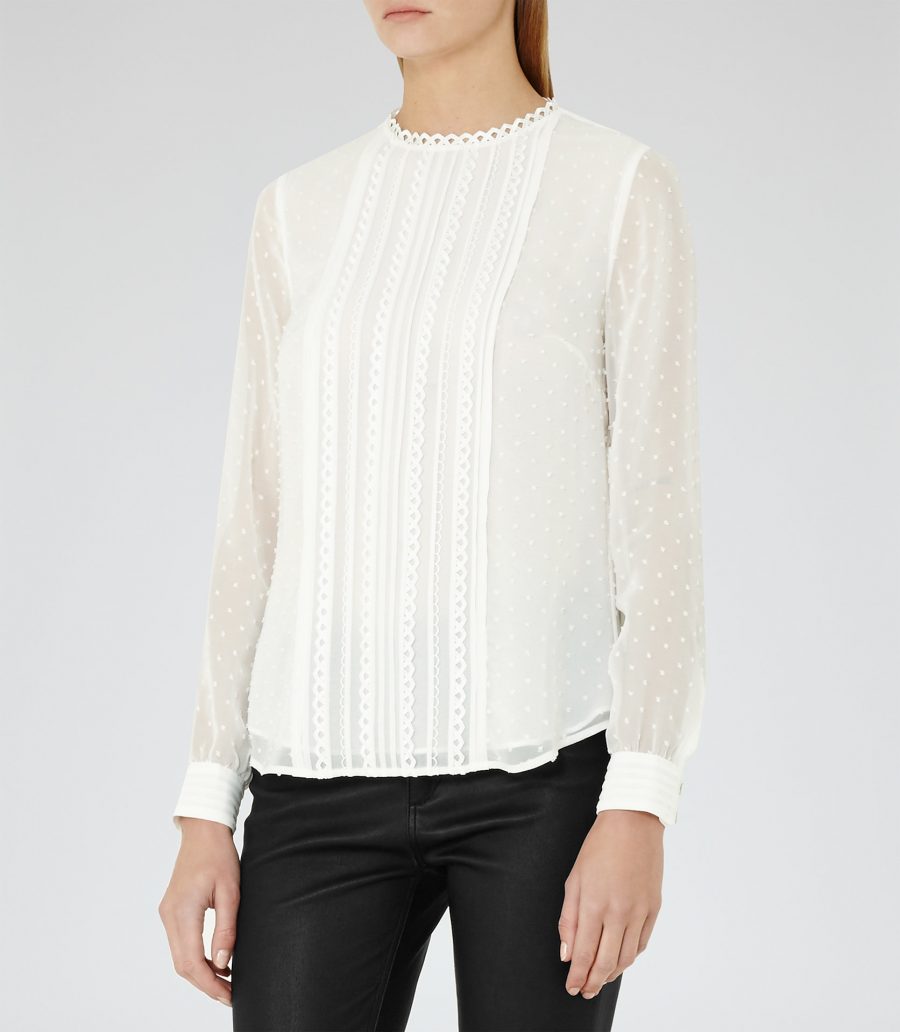 Here's how Reiss describe the blouse:
The Alemenda blouse is cut from delicate lace with semi-sheer, spotted sleeves and a decorative front plackett. Feminine and easy to wear, it's the kind of piece that you can dress up or down to suit the occasion.
Kate wearing Reiss:
Kate is no stranger to Reiss clothing; the Duchess has worn a large number of items from the upscale high street retailer while in the public eye.  Most recently, Kate wore the Reiss Rubik Houndstooth Coat during a visit to the Action on Addiction charity in December.   A few months earlier, Kate wore the Reiss Emile coat for the opening ceremony of the Rugby World Cup.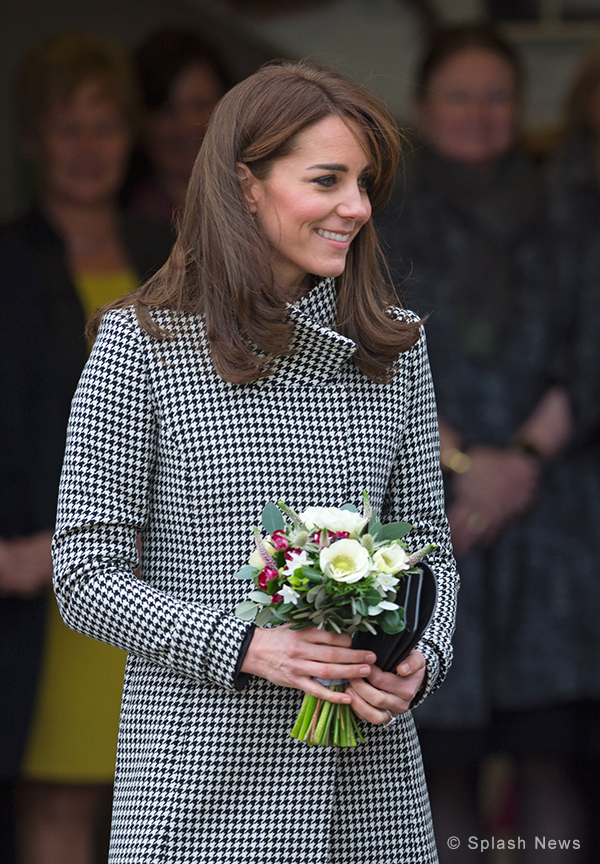 Kate famously wore a dress by Reiss for her engagement portrait with Prince William in 201o.