Kate Middleton owns the Reiss Emile coat in cobalt blue.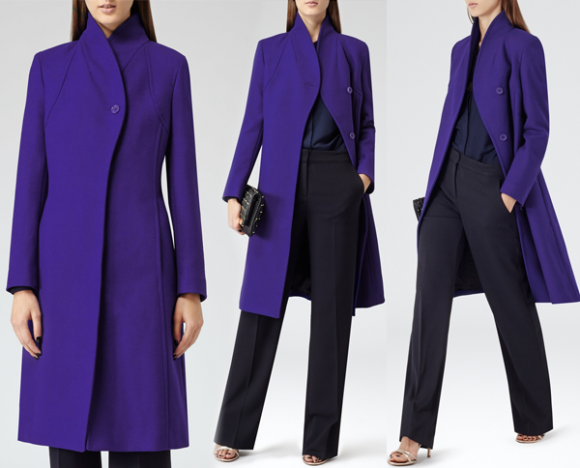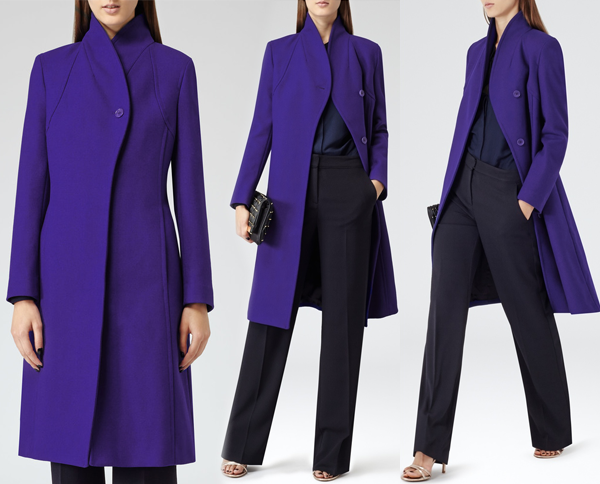 We first saw the Princess wear the coat at the opening ceremony of the Rugby World Cup in 2015.
About the Reiss Emile Coat
Reiss describe the Emile coat as "sharply tailored" and "streamlined."  They say the coat will "take you through the new season in style" and "is neatly panelled to flatter your figure."
The coat features a stand up wrapped collar, single button fastening and two front pockets. It's fully lined, is knee-length and features full-length sleeves.
More about the coat from Reiss:
This sharply tailored coat is crafted from a luxe wool blend into a slimline fit and featured a wrapped collar and long sleeves. Team over black opaque tights and patent boots for a modern look.
Essential information:
Style name: Reiss Emile Wrapped Collar Slimline Coat.
Coat Length: Mid.
Material: 78% Wool, 22% Polyamide.
Washing Instructions: Dry clean.
Kate wore the coat in a bright blue colour, which Reiss named "Blue Passion."  A quick Google search shows it was also available in pale pink and burgundy too.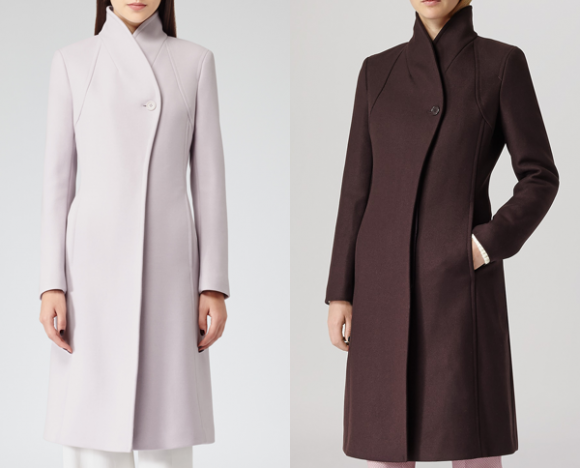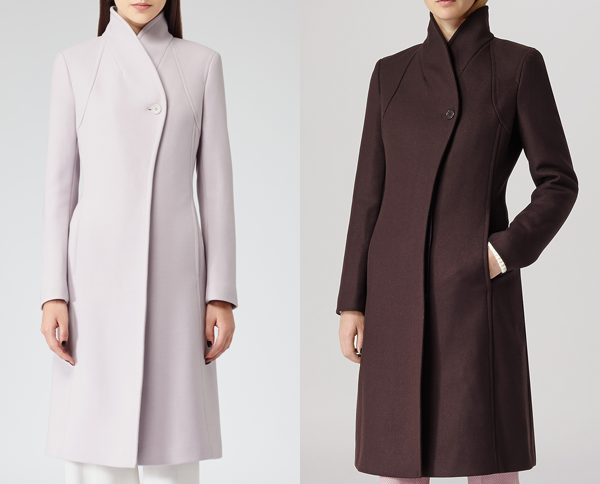 Buying Kate's blue Reiss coat:
Sadly, the coat is long sold out.  You can only purchase it from sellers on eBay.
Originally, the coat retailed for £325 ($525 in the USA) before it went on sale for £195 ($370 USA).
Kate Middleton and Reiss:
Kate has been spotted wearing Reiss on several occasions, cementing its status as a brand fit for royalty.
The Princess famously wore the Reiss Shola dress to meet President Obama in 2011.
She wore the company's Nanette dress for her engagement portrait with Prince William in 2010 and she chose Reiss's Delany jacket for a visit to the Shooting Star House in December 2013.
The Princess has worn a couple of blazers from Reiss on repeat recently, including the Larson style in neutral brown and the baby blue 'Hollie'.
About Reiss:
Reiss is a British fashion brand known for its sophisticated and modern designs. Founded in 1971, the label initially specialised in men's tailoring but has since expanded to include women's wear. Their collections often feature tailored cuts, high-quality fabrics, and a muted colour palette, making them a go-to for workwear and evening attire.
It's a label that effortlessly bridges the gap between high street and high-end, offering style-savvy individuals pieces that stand the test of time.
Personally, I think Reiss offers an accessible entry point to the currently popular 'quiet luxury' and the 'old money,' aesthetics, allowing fashion aficionados to achieve a refined look without breaking the bank. The brand's timeless pieces evoke an understated elegance that is effortlessly chic.