Kate Middleton owns the Reiss Rubik Houndstooth Coat.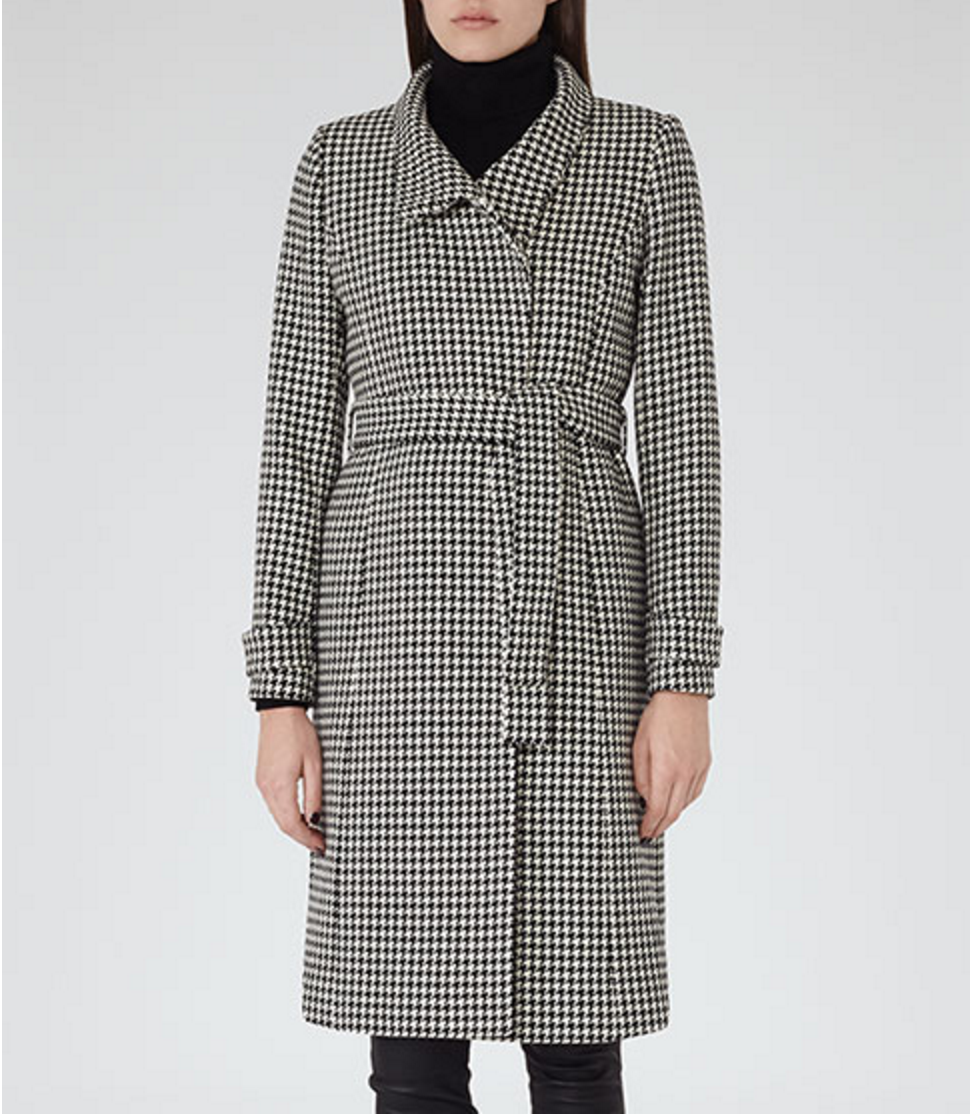 The then-Duchess debuted the coat during a visit to the charity Action on Addiction in Warminster, Wiltshire.  (Read more about that visit here). Kate looked very elegant in the garment, which suited the occasion perfectly.
Kate also wore the coat in December 2015, during a Christmas shopping session in London.
About the Reiss Rubik Houndstooth coat:
The Reiss Rubik Houndstooth coat is a "wrap" style coat with a large funnel collar.  Reiss call this a "high collar".  Kate wears it up, but the website model is styled with it down (see below).  It appears the coat can be worn either way.
The black and white check coat retails for £365 / $620.  Reiss described the coat as being slim fit, long in length, having a concealed button front and a self-tie belt (which Kate removed).  According to Reiss, the coat works for "both day and evening looks."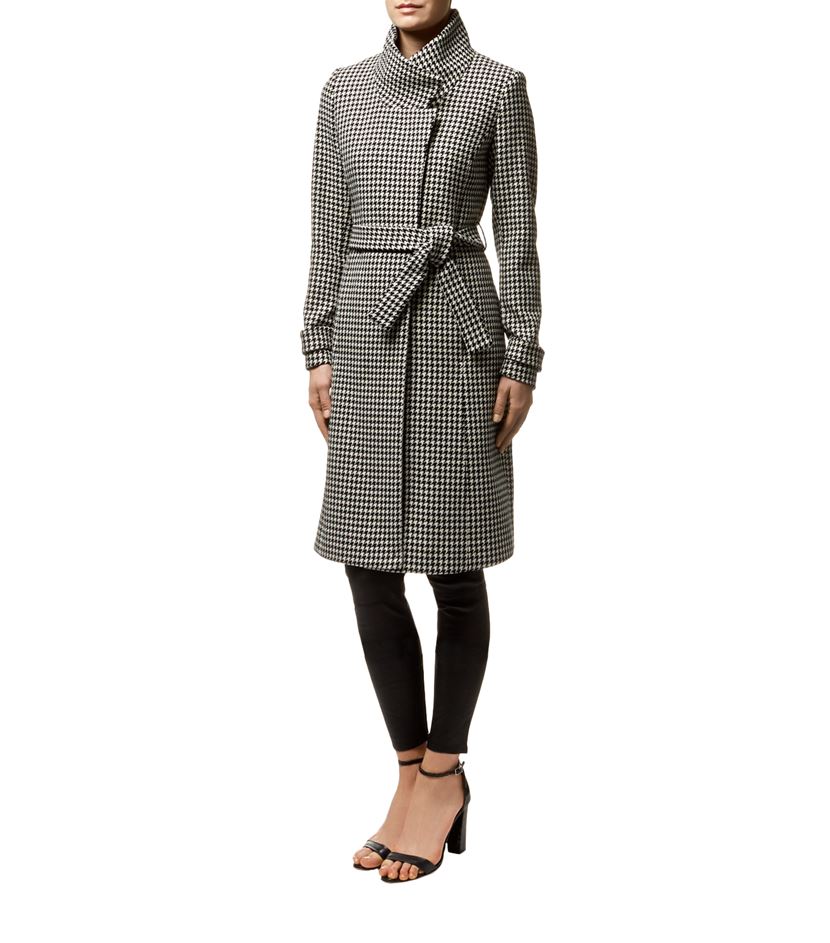 Harrods also sold the coat (it is now out of stock).  Here's how they described the piece:
Monochrome is all over the catwalks again this season so tap into the trend with this black and white Rubik coat by English label Reiss. Styled in a striking houndstooth print, it features an asymmetric stand collar, belted waist and a streamlined tailored silhouette. Simply layer it over sharply tailored separates for a clean, classic look.
Can I buy this Reiss Coat?
Sadly, it's sold out at Reiss. There are listings for it on eBay though.
RepliKate This Coat!
Looking for a black and white Houndstooth coat to wear today (correct as of October 2023)? Try this formal coat from Forever New at ASOS (left). This design from Joe Brown (right) is a fantastic repliKate too.
Kate Middleton wearing Reiss:
The Duchess is a big fan of Reiss, it appears.  She often wears coats and dresses by the brand.  Recently, Kate sported the brand's electric blue "Emilie" coat, which she wore to a rugby match.
The duchess also owns the Reiss "Angel" coat, which she publicly wore on Christmas day in 2011.
Kate's worn Reiss during two notable occasions. She chose the Reiss Shola dress to meet the Obamas in 2011 and the Reiss Nanette dress for her engagement photos back in 2010.
About Reiss:
When it comes to British fashion, Reiss is a name that's synonymous with modern elegance. Founded in 1971, the brand has built a legacy around delivering high-quality apparel that masterfully blends the classic with the contemporary. With a focus on exceptional design, craftsmanship, and attention to detail, Reiss offerings are a staple for those who appreciate chic, sophisticated style.
Reiss's aesthetic can be described as effortlessly elegant with a twist of modernity. From its tailored suits to flowing dresses, the brand epitomises what it means to be refined yet accessible. Their collections are not just clothes; they're curated ensembles that elevate day-to-day dressing into an art form. With a variety of textures, cuts, and colours, Reiss knows how to keep your wardrobe interesting while maintaining a level of understated luxury.