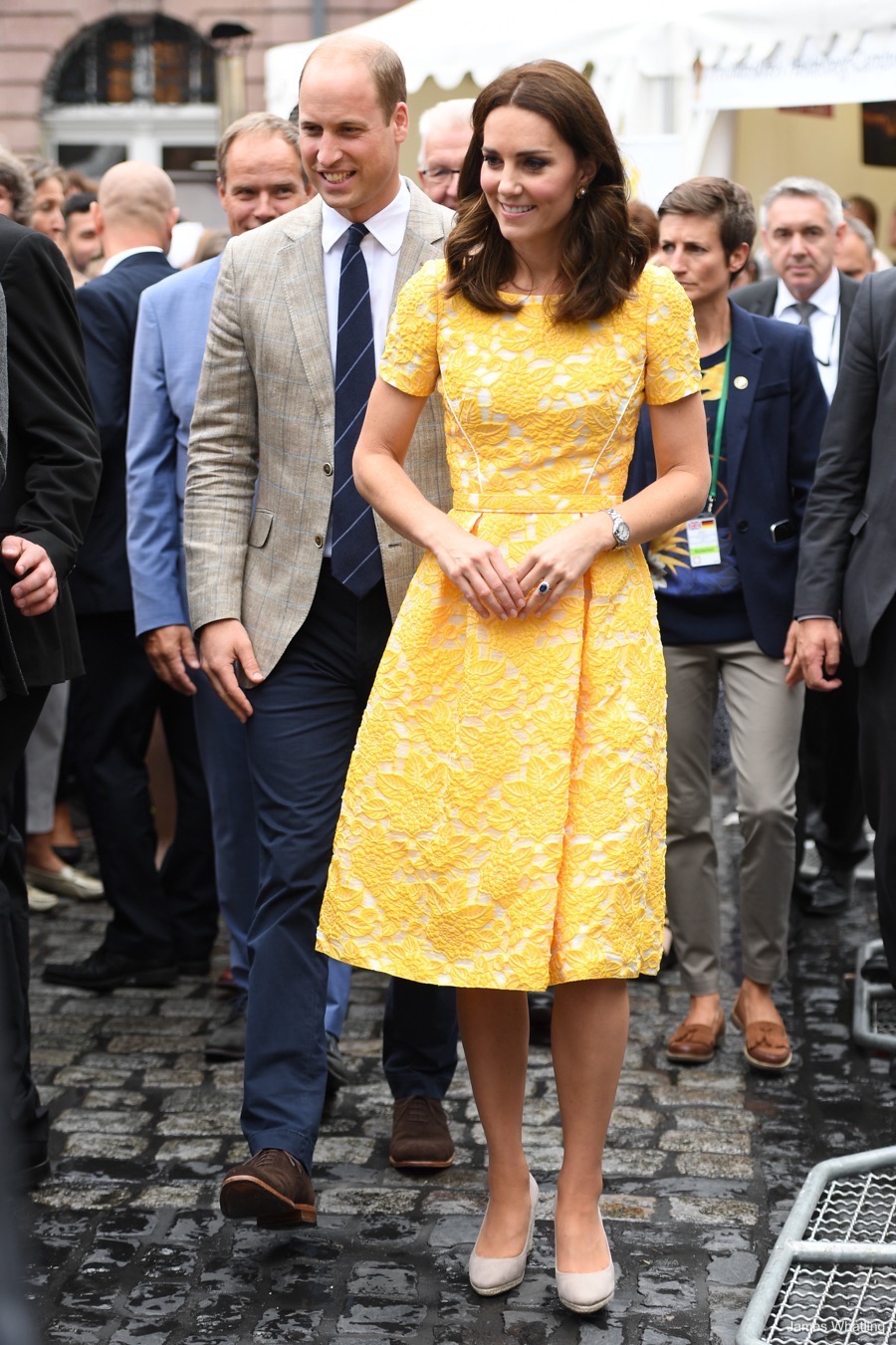 On the 20th of July 2017, William and Kate continued their tour of Germany with a visit to the charming city of Heidelberg.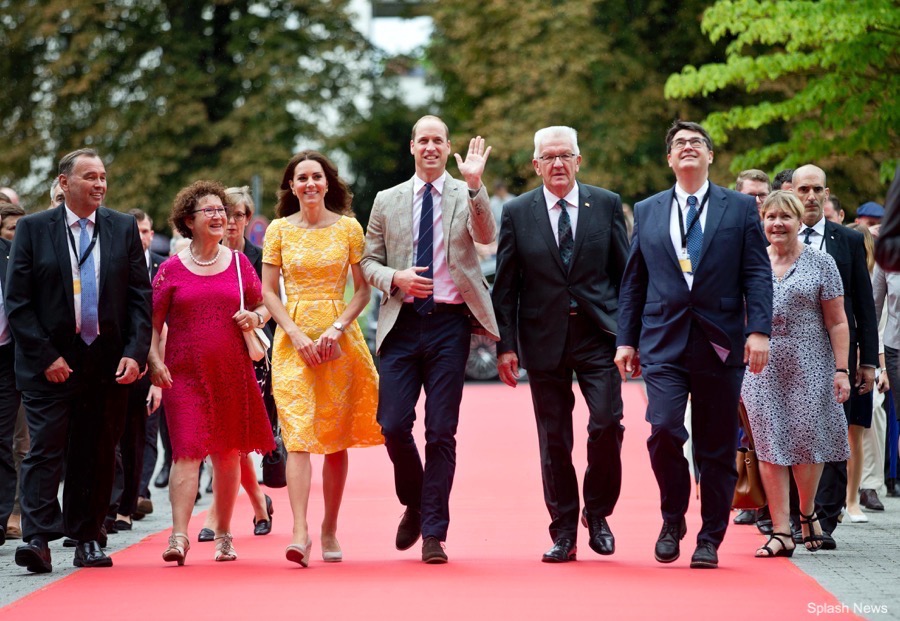 Kensington Palace described Heidelberg as one of the country's "most enchanting cities". It lies in the south-west of the country, near Frankfurt and is surrounded by thick forest.
You'll be interested to know that Heidelberg is Germany's oldest university town. In 1965 it was twinned with Cambridge in the UK. The city is a popular location for tourists, with millions of visitors flocking to see Heidelberg Castle each year.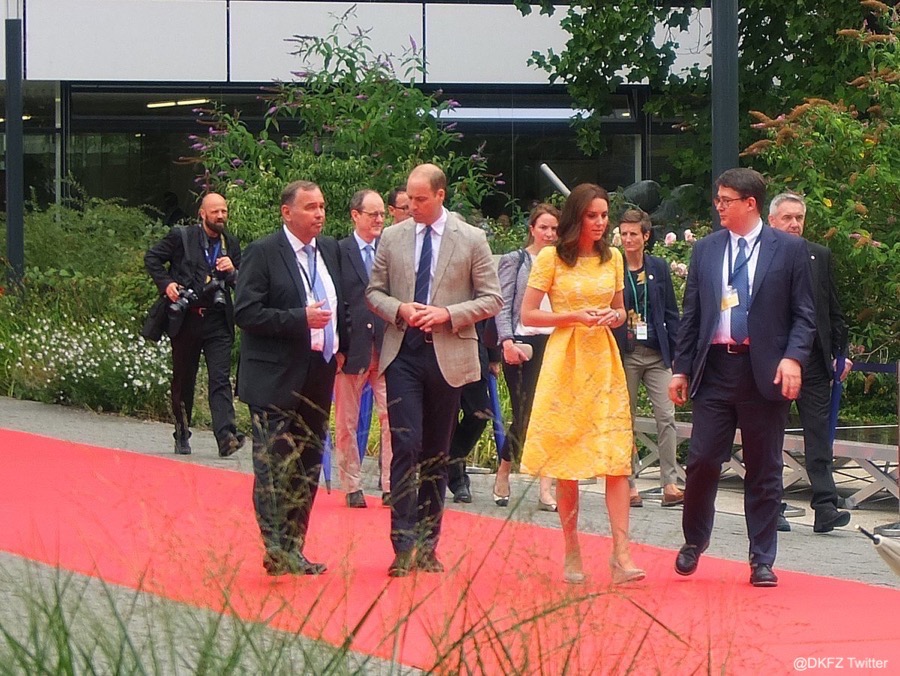 During their time in the city, William and Kate visited the German Cancer Research Centre. The couple met with researchers and toured the centre's stem cell research lab.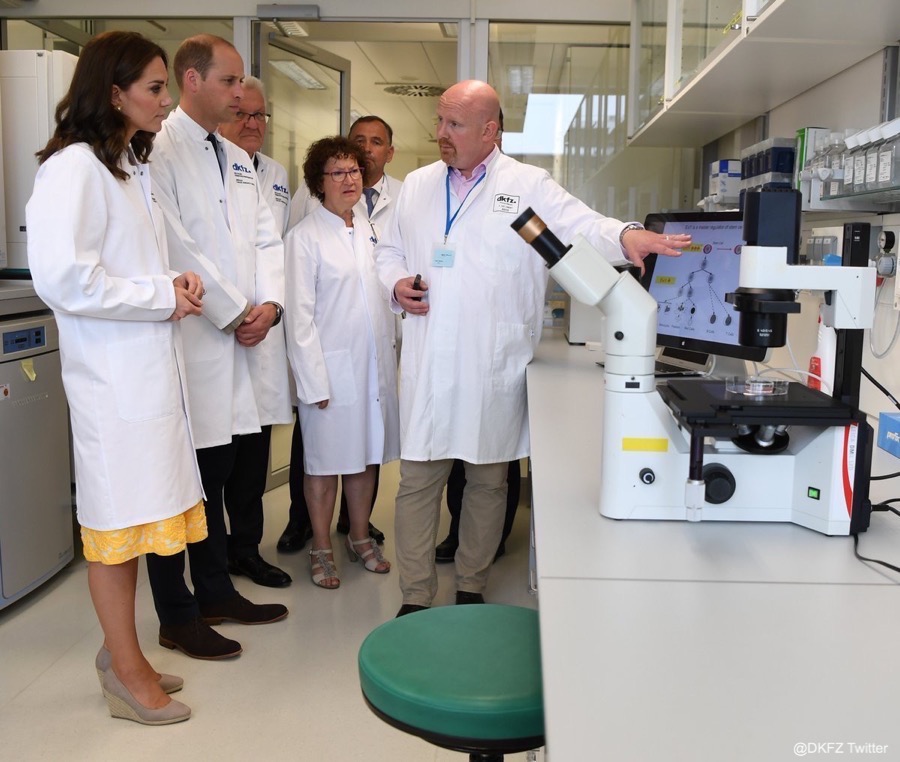 They received a briefing on leukaemia from the scientists at the centre. Kate tested the equipment too: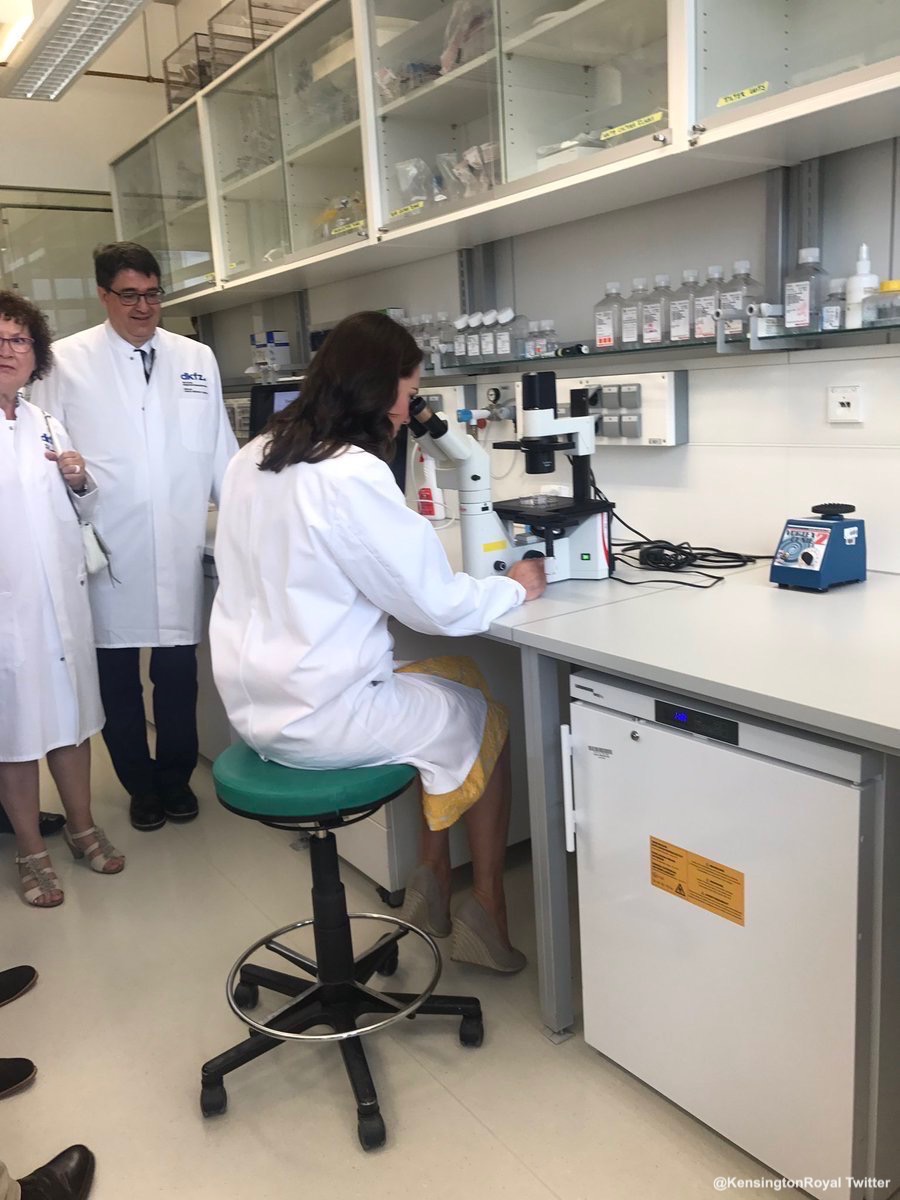 Next, the Royal couple headed into the centre of Heidelberg to explore a British-German street market.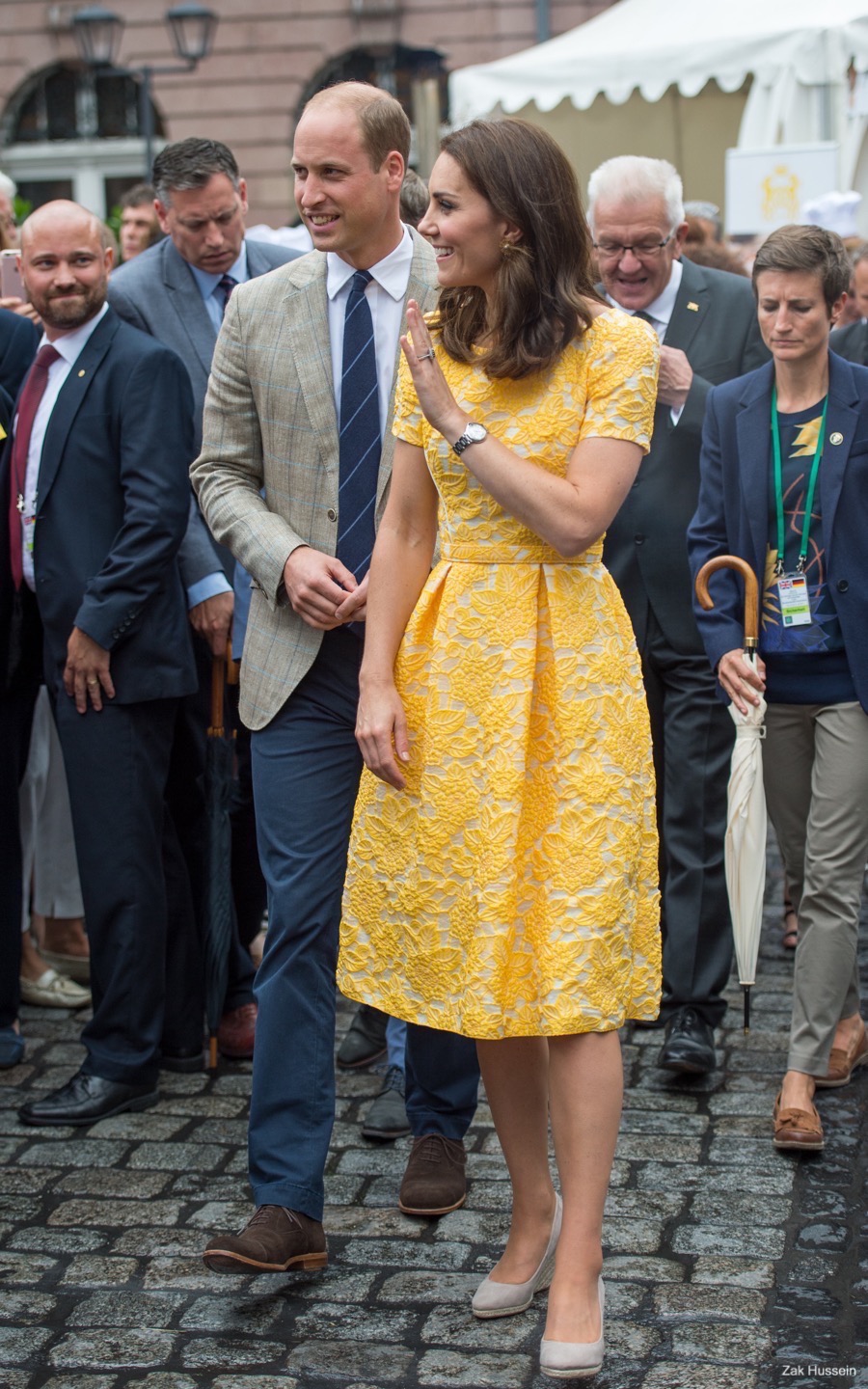 The couple tried their hand at pretzel making. According to the reporters at the scene, William didn't quite grasp the technique. Kate's effort looks good though!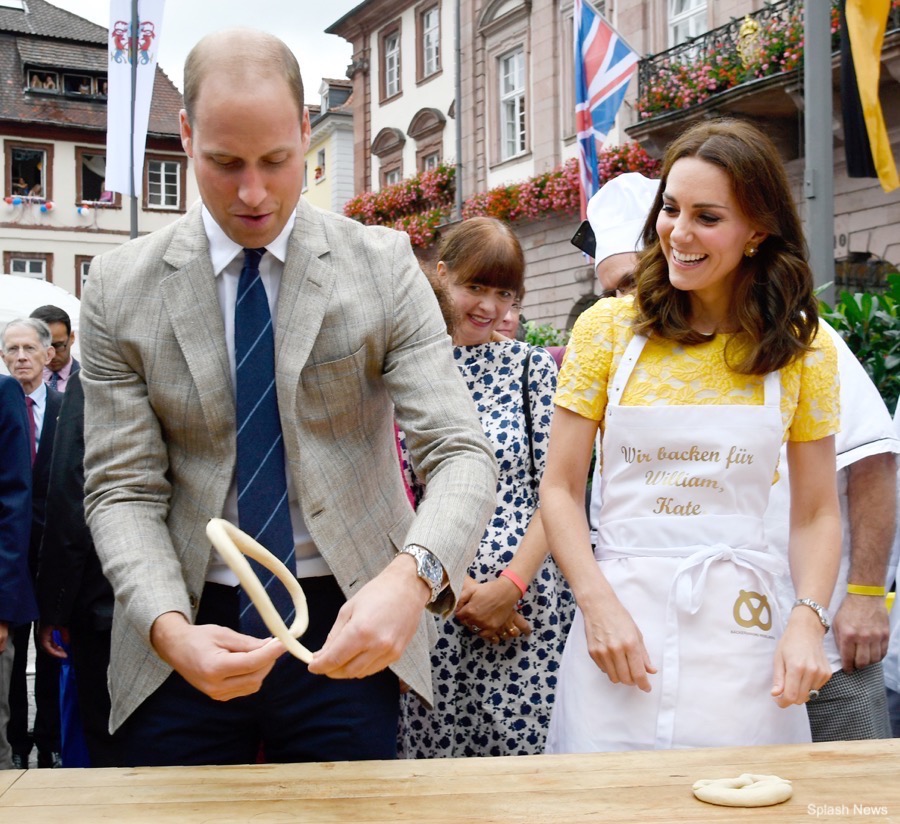 Kate's outfit:
Kate chose a new dress in a cheery yellow hue by Jenny Packham. As our regular readers will know, Packham is British, based in London and one of Kate's go-to designers.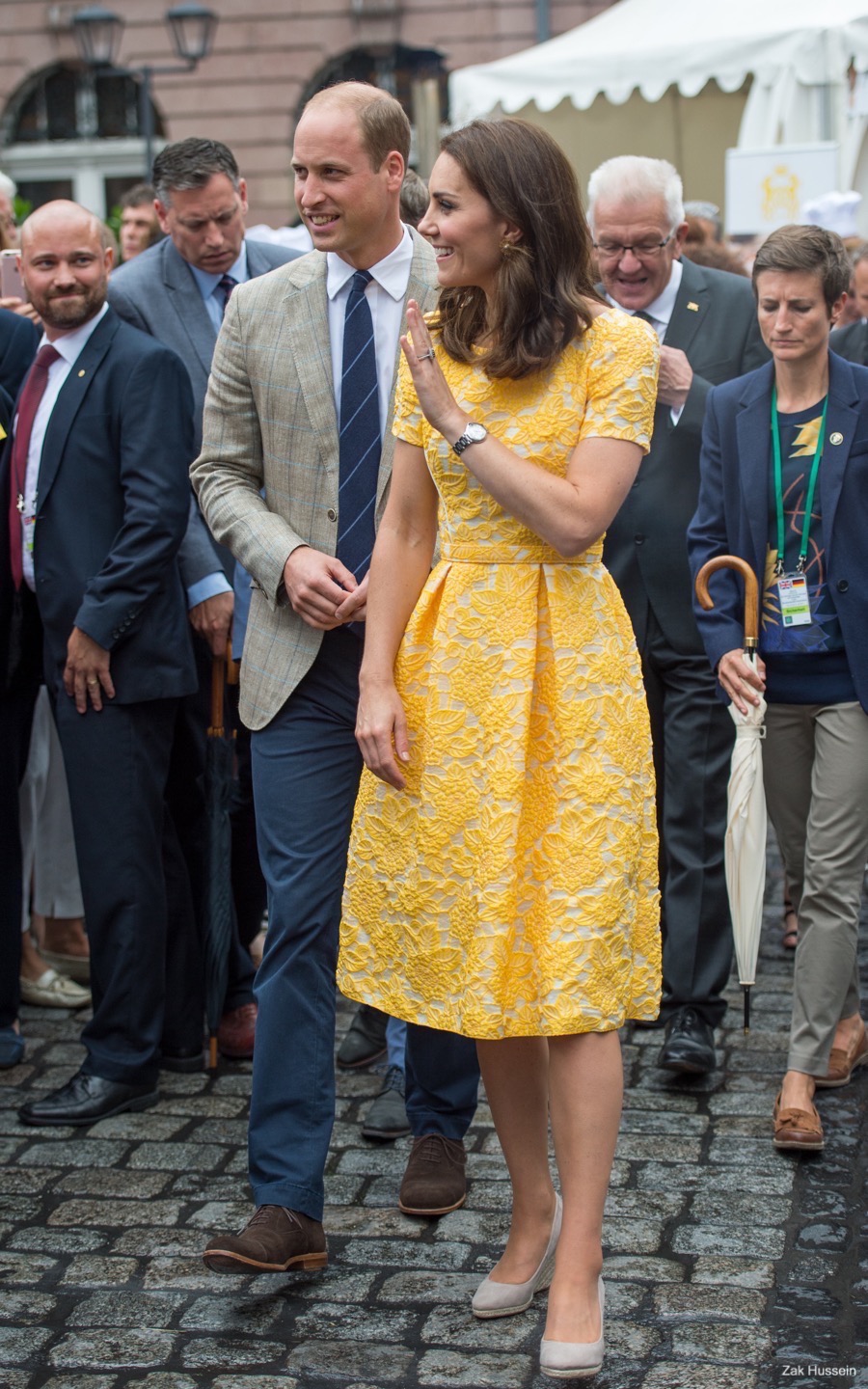 The dress features short sleeves, a midi-length pleated skirt and white piping detail on the front. Here's a closer look at the yellow floral fabric: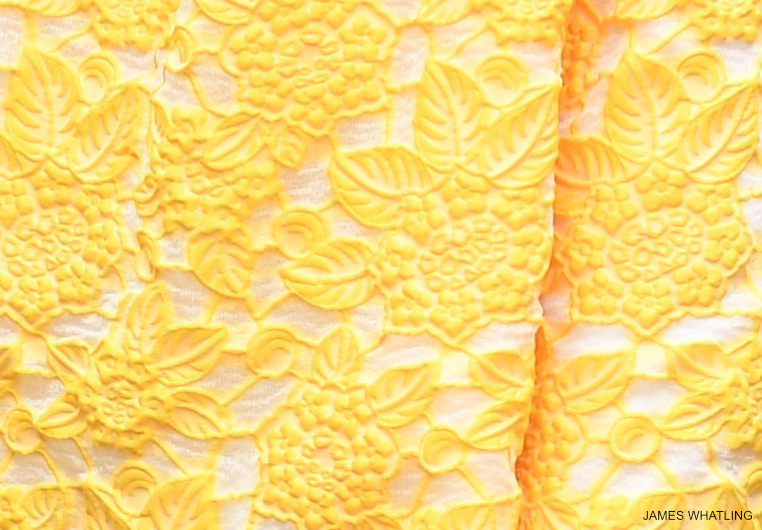 As on previous tours, we imagine Kate chose the yellow-gold colour as a nod to the German flag 🇩🇪, and as a nod to Heidelberg's coat of arms, which features a yellow-gold lion on a black background.
Kate wore her dress with a pair of wedged shoes by Monsoon. She's wearing the British company's Fleur Wedges in taupe.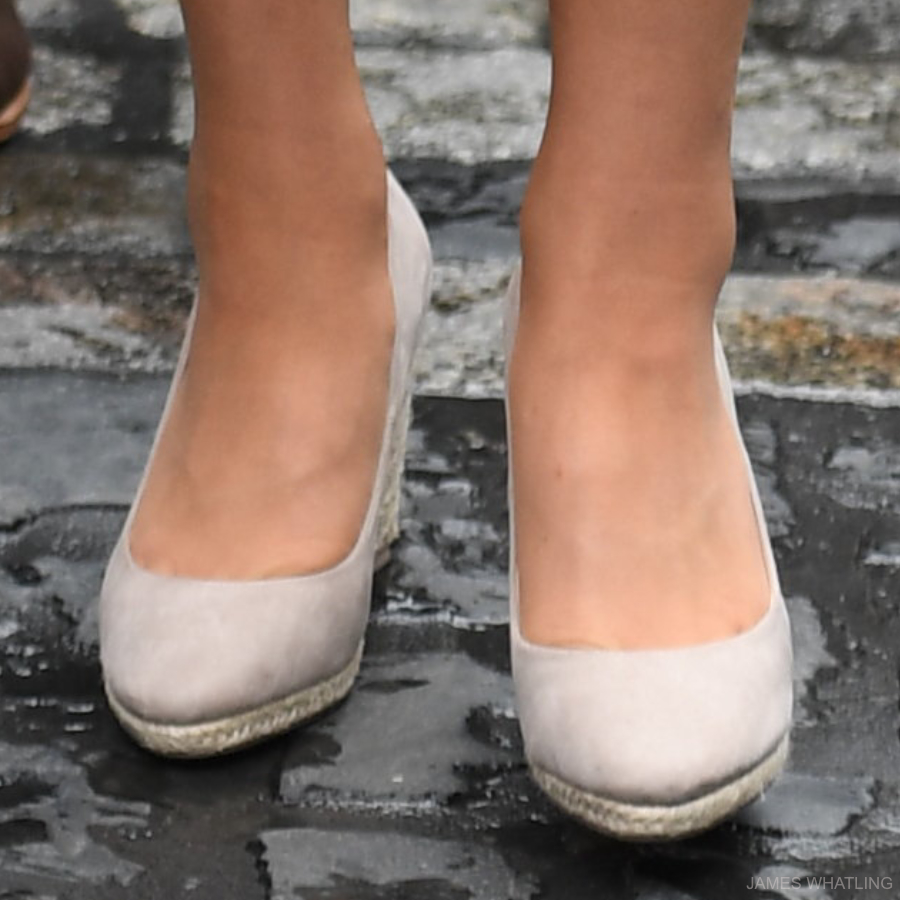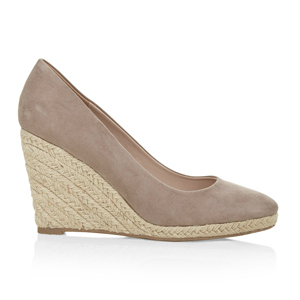 You may recall that Kate first debuted the wedges during a visit to Mumbai, India in April 2016?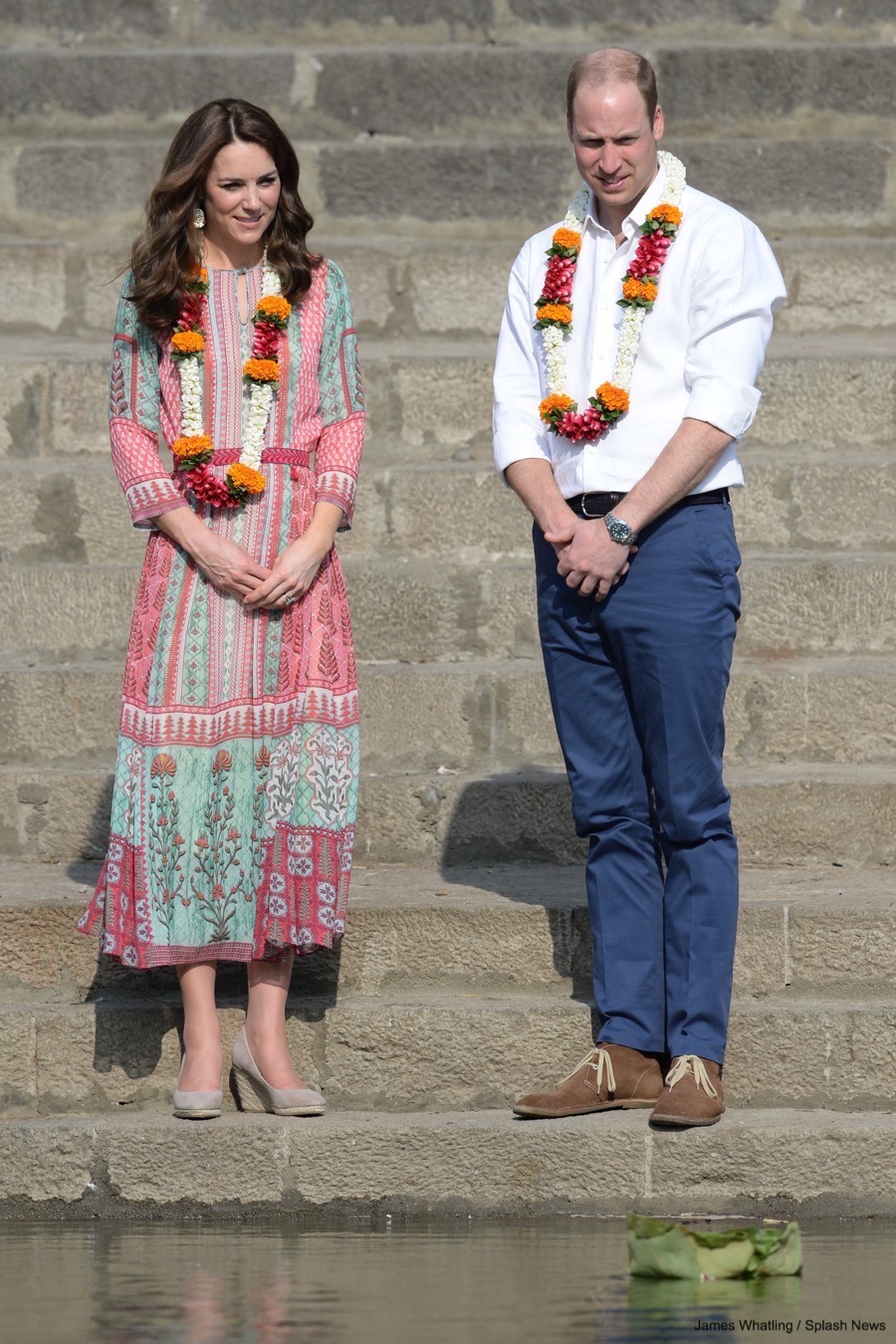 The shoes are from a past season and as such, are no longer available for purchase. Monsoon did re-release the shoes in two new colours for spring 2017 but sadly they've also sold out.
Kate debuted a new pair of earrings for today's Royal Visit. They're the Pearl Sun Star style by Oscar de la Renta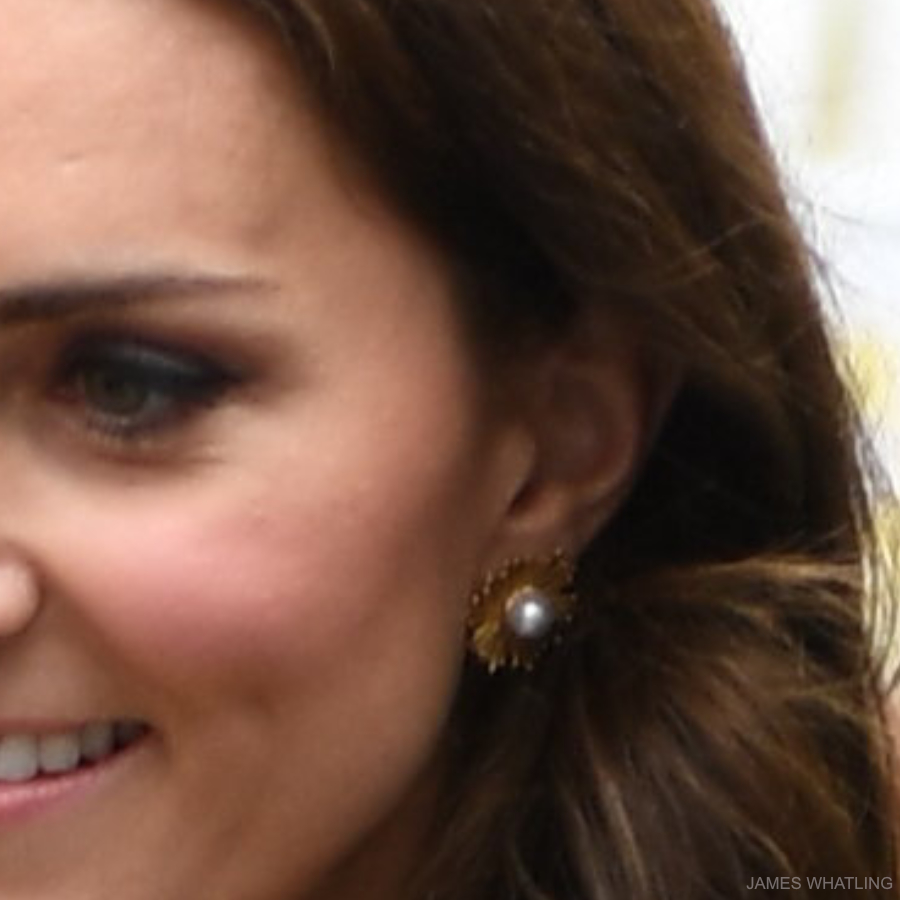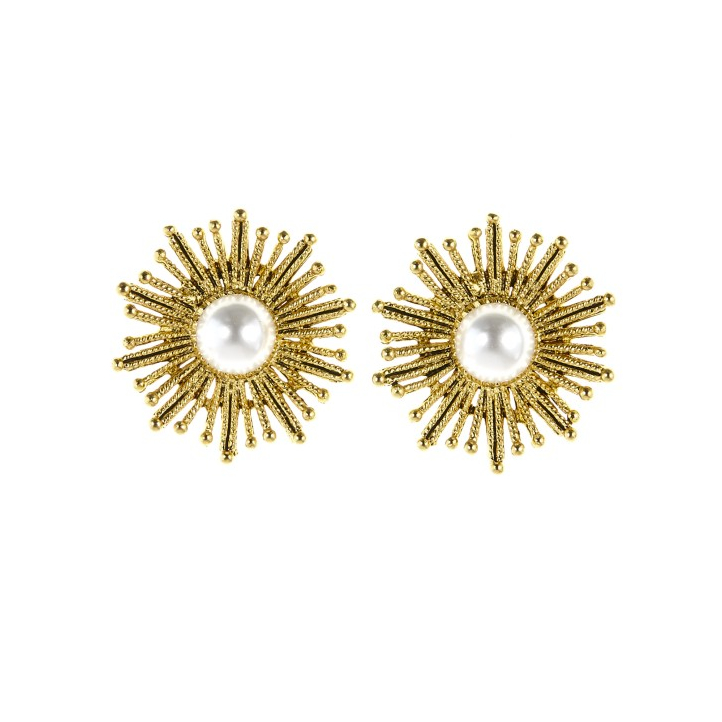 These stylish earrings feature Japanese resin pearls set in gold-plated stars. Oscar de la Renta says they're perfect for making a subtle statement and can be worn with everything. The earrings are made in the USA and cost $175 USD (around £135 GBP). If you'd like to purchase the earrings, you can find them on the designer's website here.
Oscar de la Renta sells several coordinating items in the Sun Star collection, including a pair of double drop earrings, a ring and a brooch.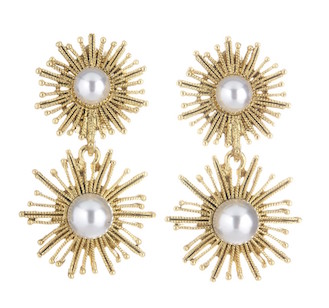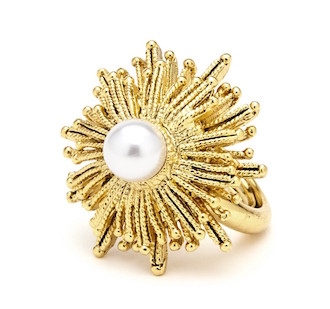 Kate wore her Ballon Bleu de Cartier watch. Kate wears the 33mm size in stainless steel. The watch features blue sword-shaped hands.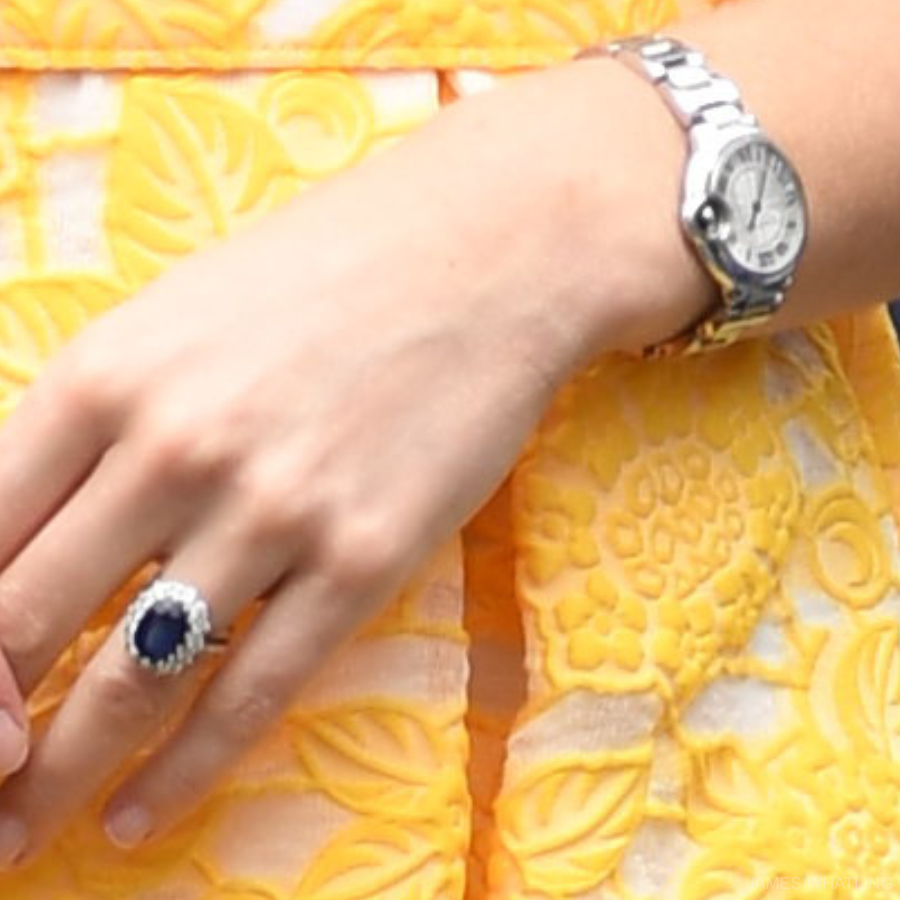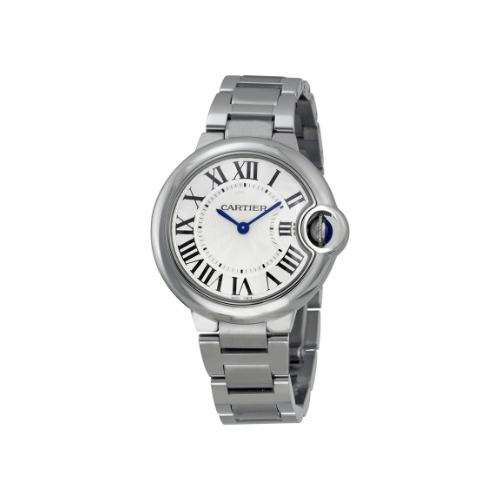 Kate carried a taupe clutch bag during some of the day's engagements. It's a custom piece by Alexander McQueen.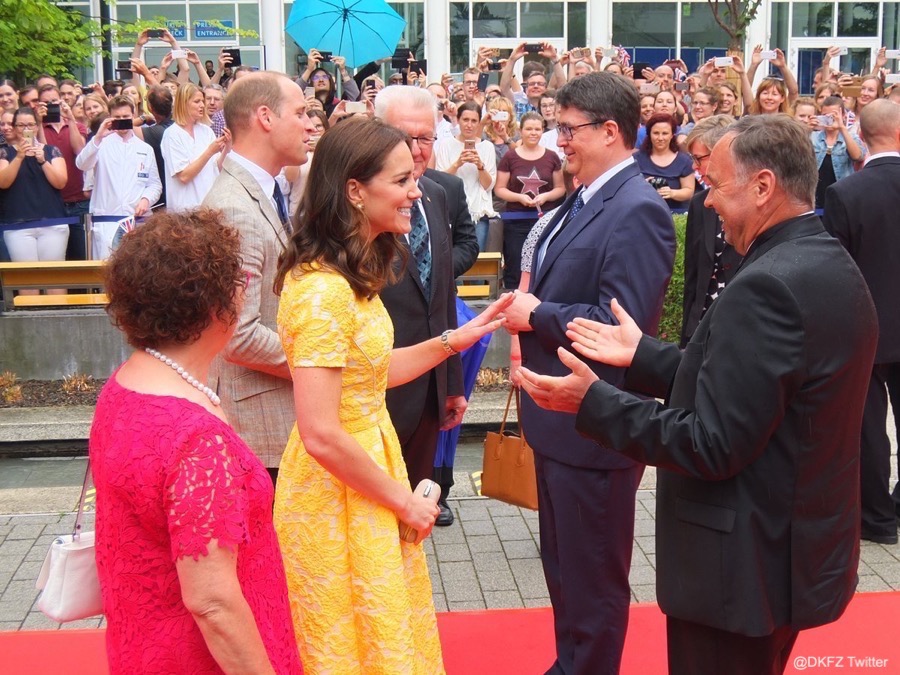 You may recall she owns the same clutch bag in dove grey too. (Pictured below, William and Kate at reception in Singapore back in 2012).