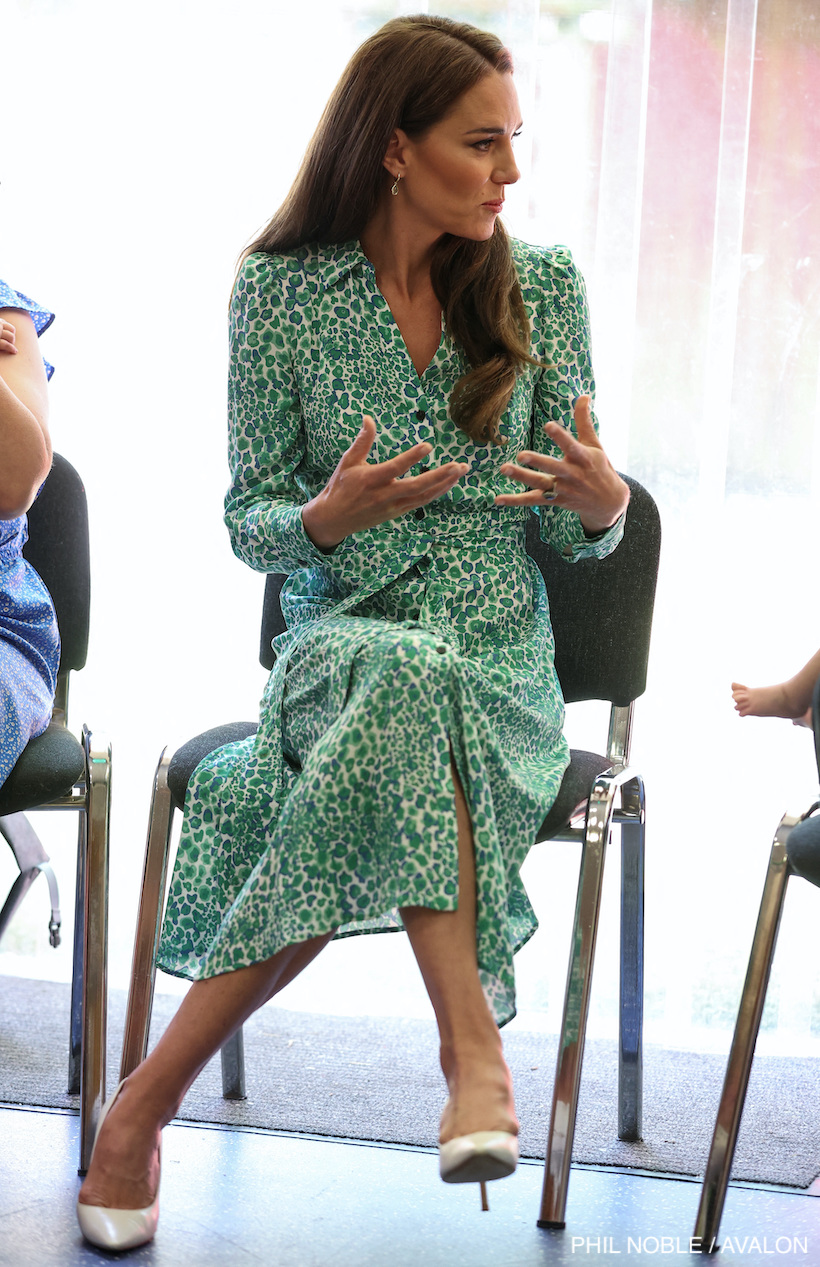 On Thursday, the ever stylish Kate Middleton visited a children's health centre in Nuneaton. The Princess of Wales looked ready for summer in her green leopard-print silk dress by Cefinn.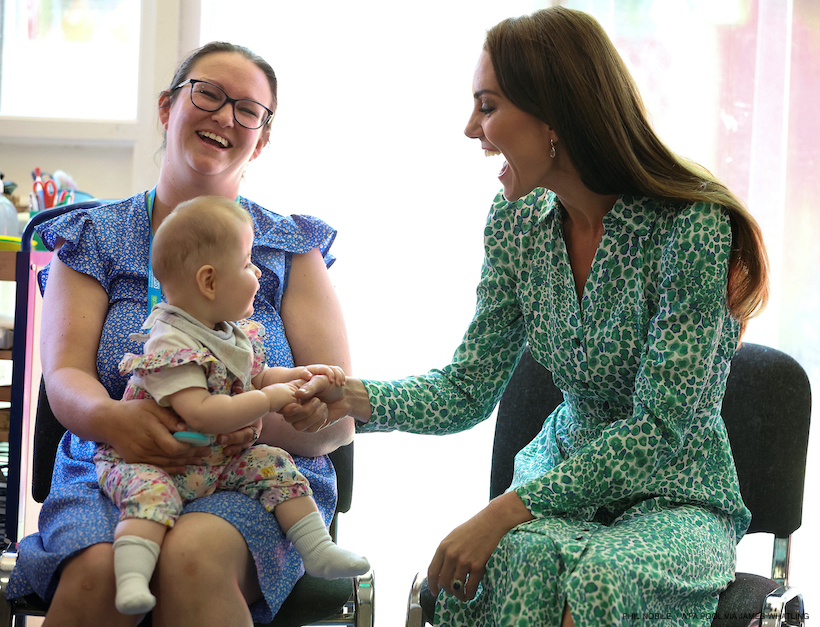 Paired with white Jimmy Choos, a gorgeous white Mulberry handbag and new Kiki McDonough earrings, the Princess looked effortlessly chic as she toured the centre and met with health visitors and families.
Kate visited the centre to meet those participating in a groundbreaking study aimed at enhancing infant wellbeing. The study, supported by a £50,000 grant from The Royal Foundation Centre for Early Childhood, focuses on the implementation of the Alarm Distress Baby Scale (ADBB) in the UK.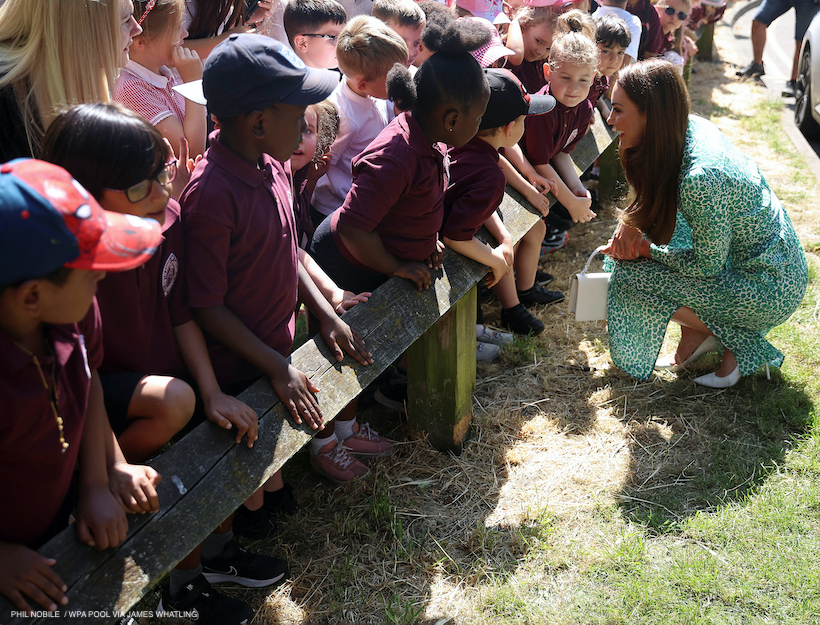 This tool, which assesses infants' interaction with their surroundings through social behaviours like eye contact and facial expressions, is instrumental in understanding how babies express their emotions and can even help identify early signs of psychological distress.
Kate joined several health visitors undergoing training on how to use the scale.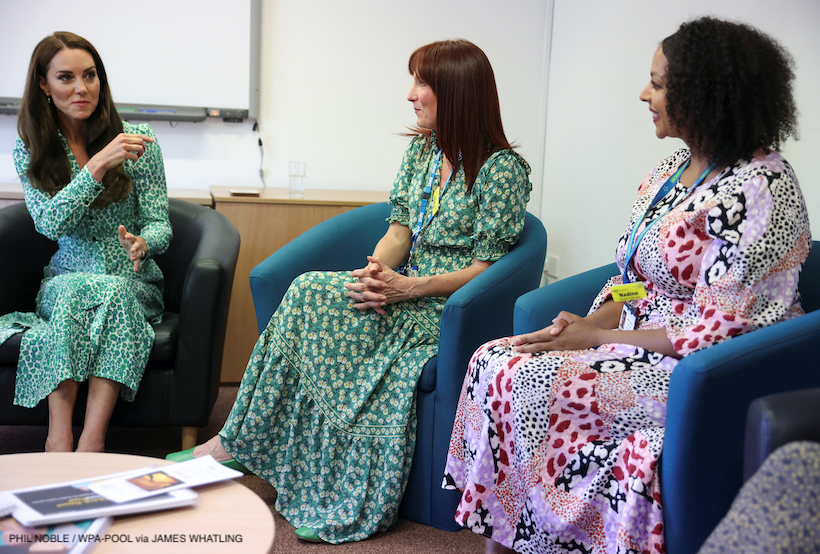 During the visit, Kate also visited a drop-in clinic to hear firsthand from families about the impact of the support they are receiving from their health visitors.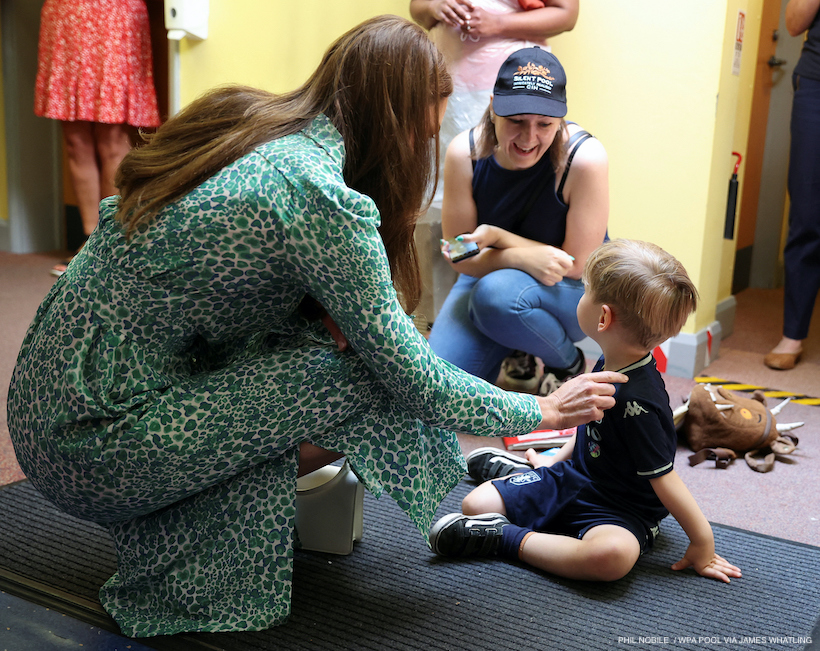 The Princess's visit highlighted the invaluable work health visitors do across the United Kingdom, and showcased the potential of the ADBB to revolutionise our understanding of early childhood development.
For those who outside of the UK, a health visitor is a specially trained nurse or midwife who provides support and advice to all families with children under five. All new parents are assigned a health visitor. The role often includes conducting home visits to assess the health of the entire family, monitoring the growth and development of children, providing immunisation advice, and offering guidance on issues such as feeding, sleeping, safety, and emotional support. They can also link families with other services in the community, if needed.
Let's take a deep dive into the Princess's ensemble.
Kate's outfit in Nuneaton:
Kate looked fantastic in the vivid green dress by Cefinn. The leopard print design lent an element of daring to the Princess's ensemble without overwhelming. Complemented by pristine white accessories, the overall look exuded a refreshing, summer-ready elegance.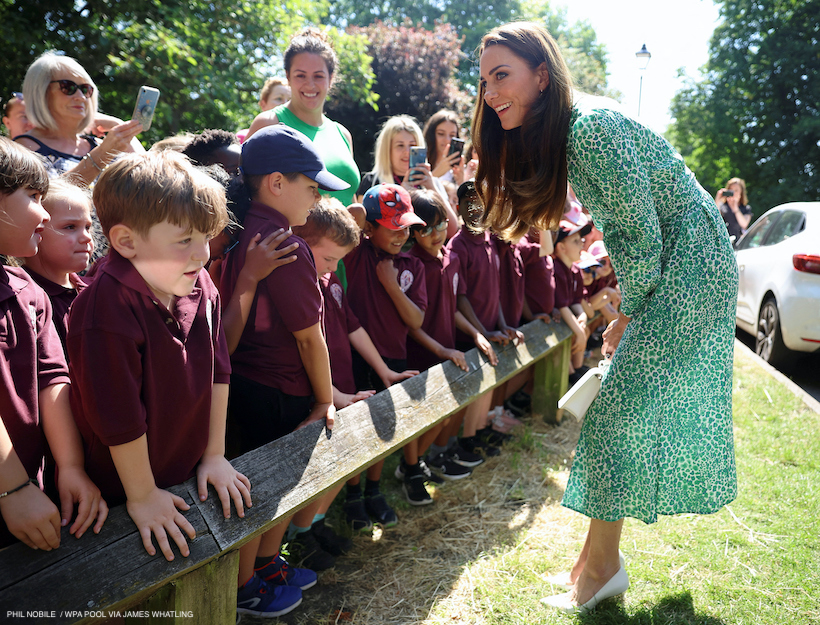 It's just a shame—as several of you pointed out in the comments—that the dress isn't lined. Or that Kate didn't wear a slip. This caused it to create a silhouette of her lower body when she was backlit by the sun.
The shirt-style midi dress features a collar, slightly gathered shoulders, long sleeves and a button-down front. It's made from 100% silk an elasticated back panel, a fixed waist-cinching sash, flattering darting and side slits.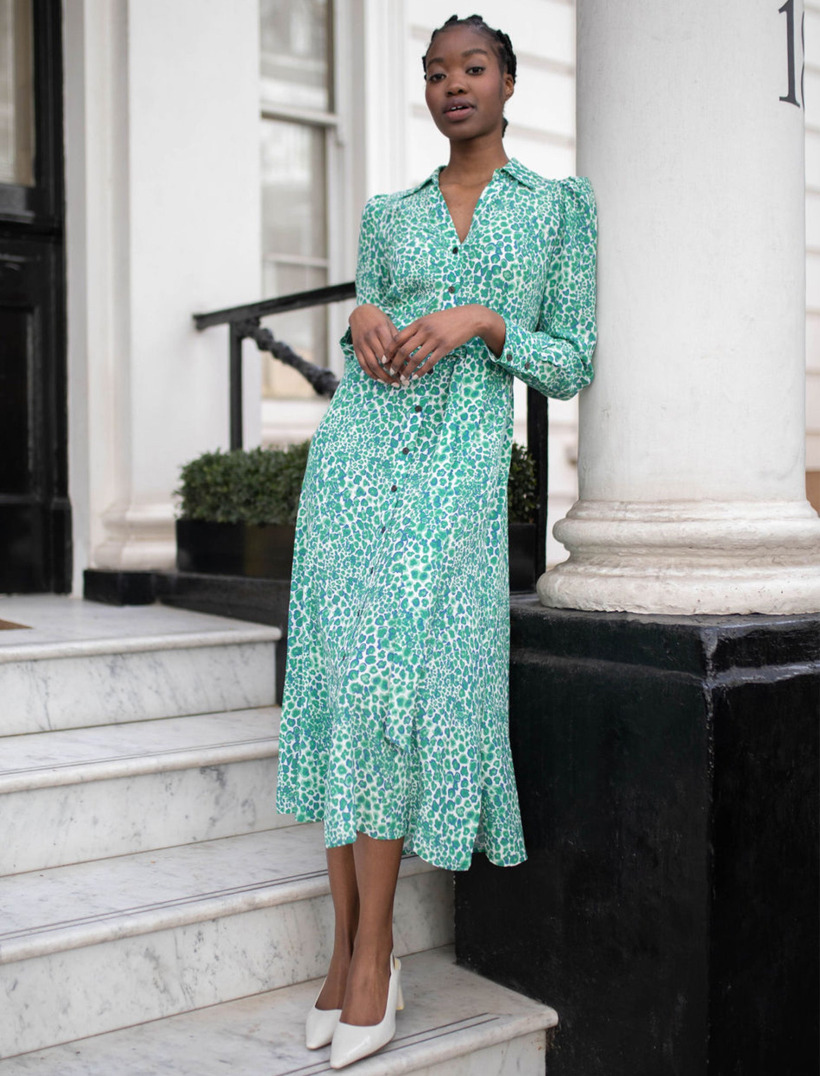 At the time of writing, the £490 dress is sold out at Cefinn.com. However, there is a waiting list – you can enter your email address and click a button to be notified when your size is back in stock.
Can't wait? Hate green? The Petra dress also comes in both pink leopard and navy/turquoise polka dots too. Both are currently available in limited sizes. I REALLY like the pink—I hope we see Kate wear it to an engagement this summer.
Kate's no stranger to Cefinn, of course. The Princess has worn a handful of items from the brand before, including a blue blouse and a knit dress with balloon sleeves.
Samantha Cameron—the wife of former British Prime Minister David Cameron—founded Cefinn in 2017. The London-based brand caters to the modern, multitasking woman. The brand, renowned for its chic and feminine designs, offers effortless elegance with its high-quality, easy-to-wear pieces. Shop at Cefinn.com.
Let's look at the Princess's accessories next.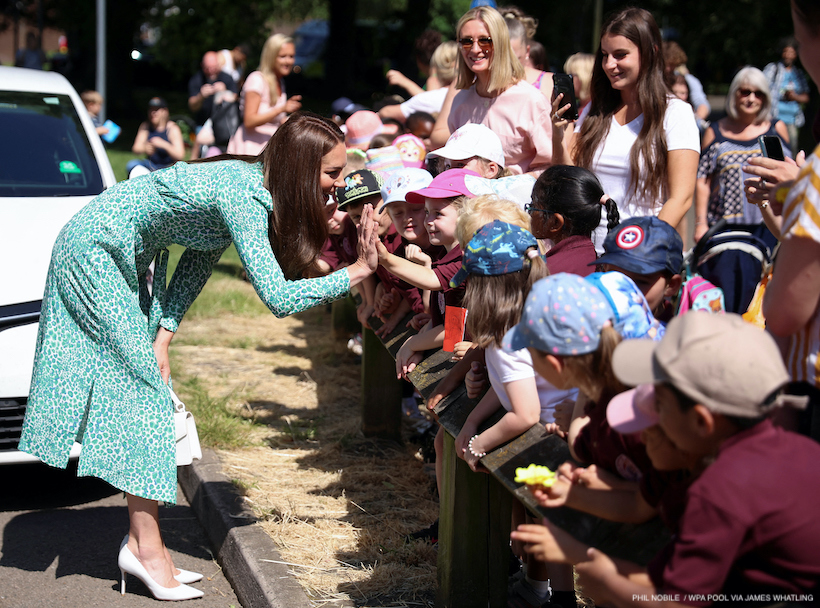 Kate's handbag is from Mulberry. It's the Amberley Satchel—the Princess has carried it eight times to date.
The white leather bag features a flap-over front with tonal white ring hardware and Mulberry's iconic geometric rider's lock closure—also in white. The Amberley satchels are sold with straps, but Kate doesn't use hers. She carries them by the top-handle instead.
Mulberry collectors will be disappointed to realise the brand no longer carries the item, unfortunately.
I think it's fair to say Kate's a big fan of Mulberry handbags. She's carried TWELVE bags from the quintessential British brand since joining the Royal Family—and we know she carried a few before that too.
Let's move on to look at Kate's heels, they're the Jimmy Choo Romy 85 in white leather. The Princess has worn them seven times in public since 2021. (Thanks for the info, Data Duchess!)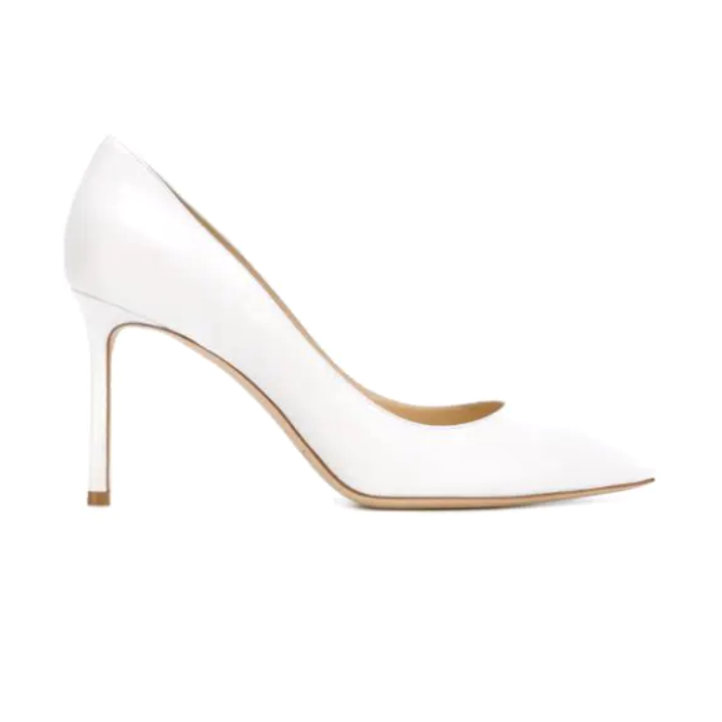 The white pumps feature a pointed toe and a slim heel.
Sadly, Jimmy Choo do not sell the Romy 85 in white leather at the time of writing.  Try the Love 85 shoe in white leather if you're looking for a similar style this summer (it'd be the perfect bridal shoe).
I counted Jimmy Choo as Kate's second favourite heel brand in my recent post analysing her favourite footwear designers. The Princes has worn 17 pairs from the company to more than 60 public engagements since marrying Prince William in 2011.
Let's end the post by looking at Kate's new gemstone earrings.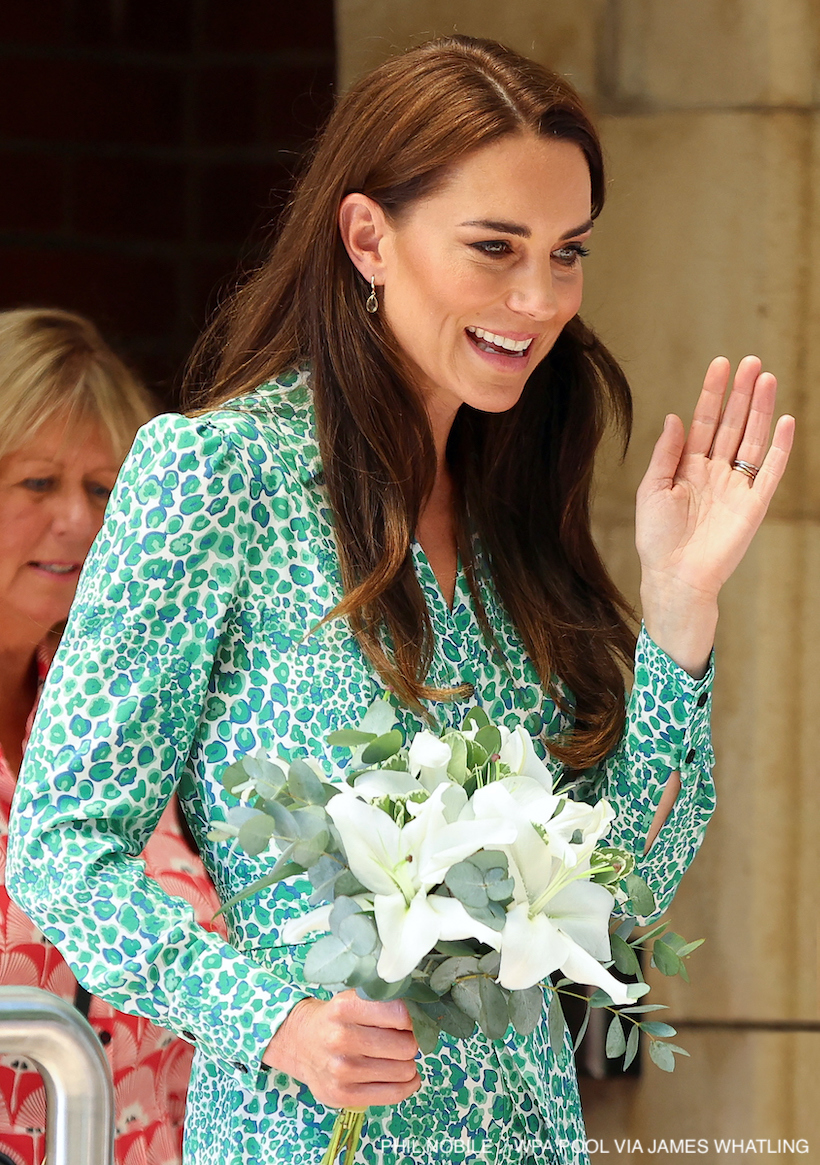 They're a pair of green amethyst pear drops from Kiki McDonough.
The 18ct gold earrings are set with a naturally occurring green amethyst gemstone.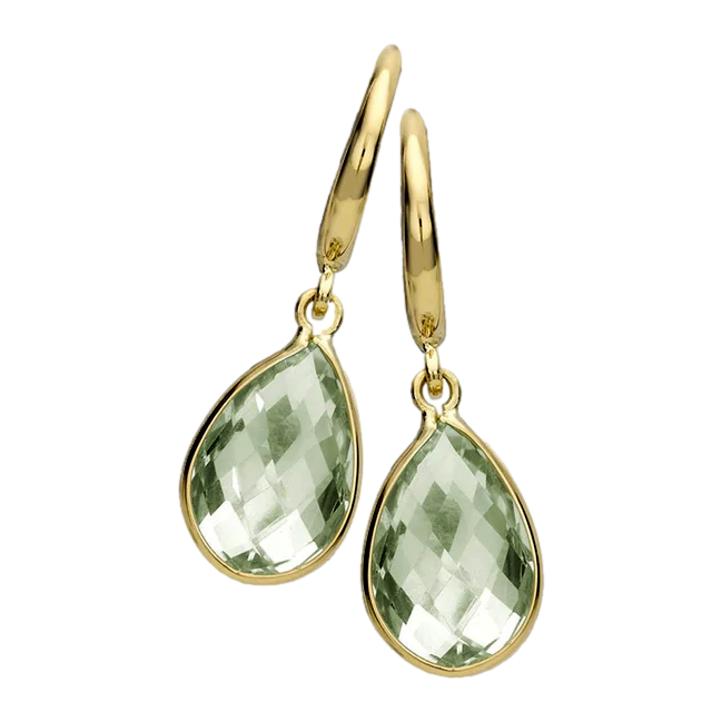 At first, I incorrectly thought the Princess was wearing her other pear drop earrings by the same designer, which feature citrine stones instead of green amethysts. A couple of eagle-eyed fans found some HQ photos and super-zoomed in, confirming the stones were in fact green, not yellow as I mistakenly thought. (I'd credit the fans, but truth be told, I don't know who it was!)
Will the earrings perfectly accent an outfit you have in mind? Or have a special occasion coming up? You'll be pleased to read they're still available at kiki.co.uk (RRP: £695).