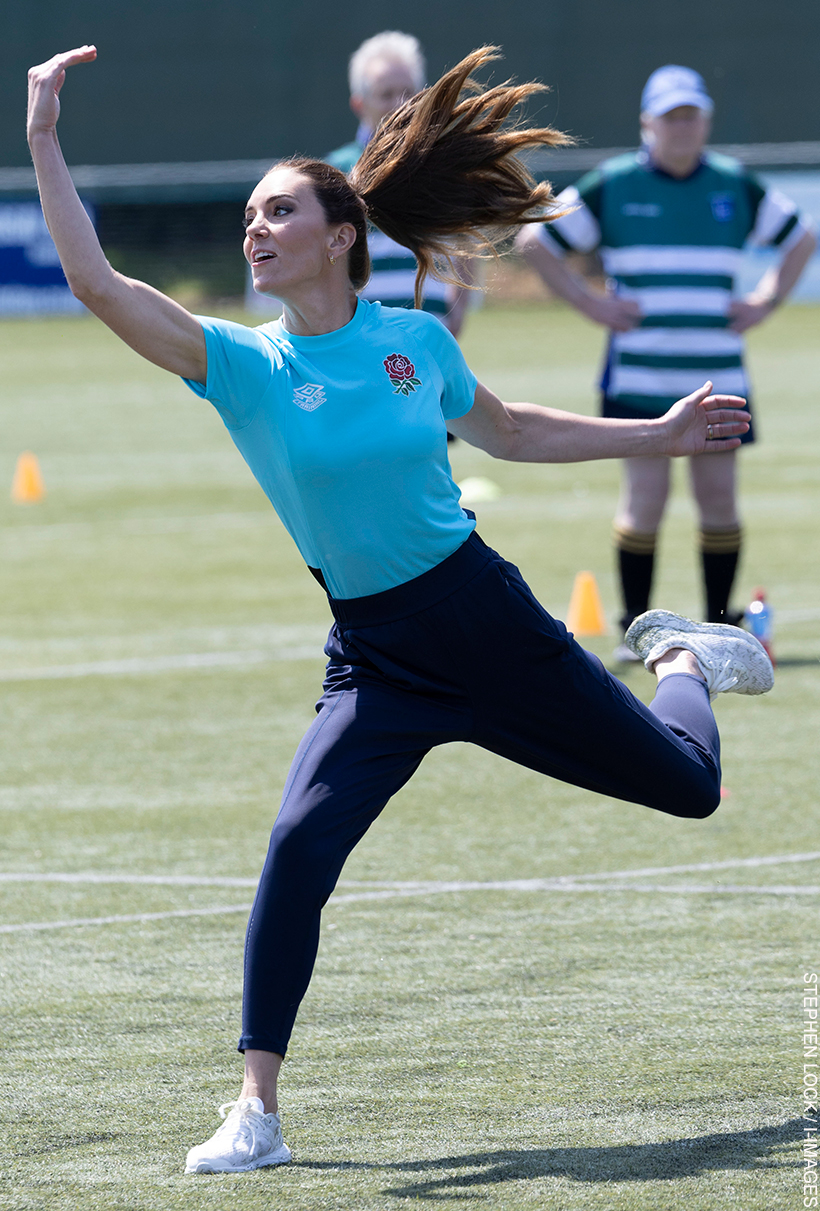 Kate Middleton looked effortlessly cool in her casual, sporty attire at the Maidenhead Rugby Club, Berkshire on Wednesday afternoon. Embracing the spirit of athleticism, the Princess of Wales swapped her usual royal garb for a pair of Lululemon sneakers and Sweaty Betty yoga pants, a fitting ensemble for the occasion.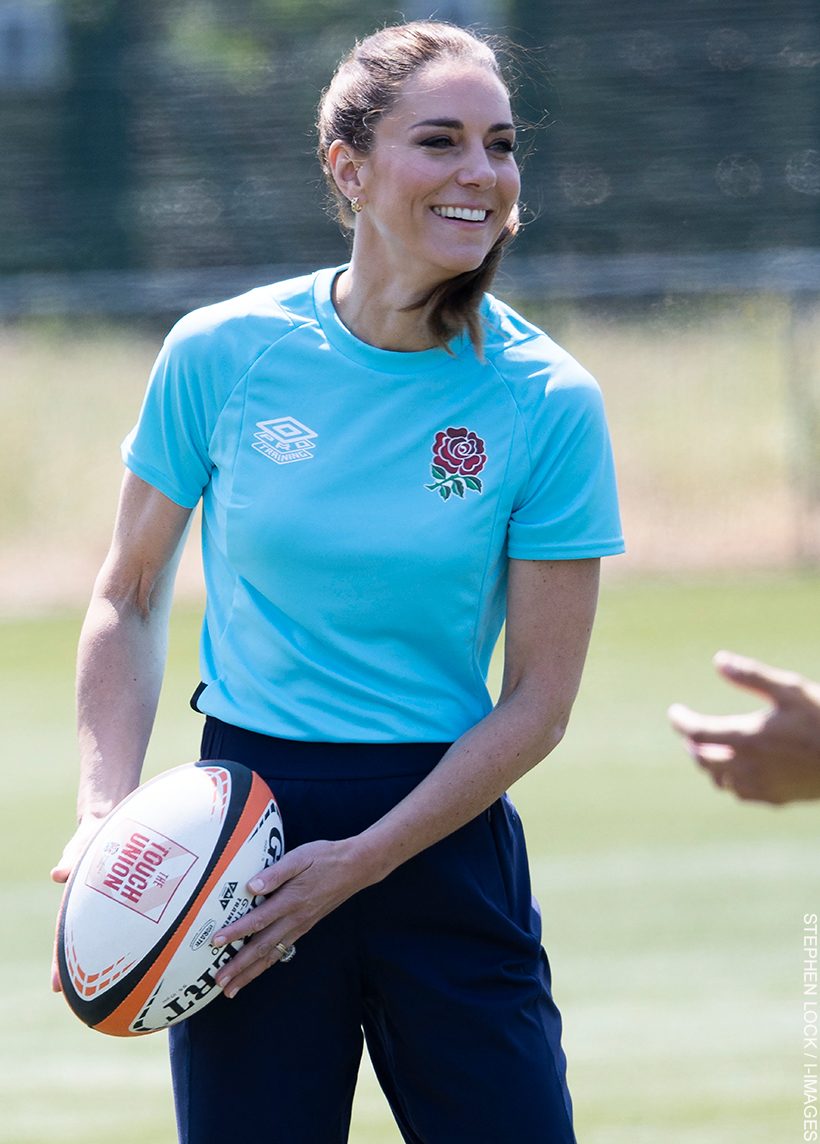 Kate visited the club to engage in meaningful discussions about early childhood experiences and their lifelong impact, as part of her ambitious 'Shaping Us' campaign with The Royal Foundation Centre for Early Childhood​.
During her visit, the Princess took part in rugby drills on the pitch with local and professional players, showcasing her athletic side.
Following the energetic outdoor activities, the Princess moved indoors to the clubhouse for an insightful conversation around early childhood experiences, fatherhood, and the crucial role community settings like local sports clubs can play in supporting children, parents and those who are helping to raise children.
The Princess was joined by Ugo Monye, a former England rugby professional and father of two, who is a champion of the 'Shaping Us' campaign. They, along with other participants, including professional rugby players and representatives from Maidenhead RFC, engaged in a heartfelt dialogue about the importance of early childhood experiences and their lifelong impact.
Kate launched the 'Shaping Us' campaign earlier this year. The campaign emphasises the crucial importance of the first five years of a child's life and aims to increase public understanding of this critical developmental period. Kate wants the public to understand that our experiences, relationships, and surroundings during our early childhood fundamentally shape our whole lives, affecting everything from our ability to form relationships and thrive at work, to our mental and physical well-being as adults, and the way we parent our own children​.
Here's Kate explaining the campaign and its importance in her own words:
Maidenhead Rugby Club is a vibrant, inclusive sports club that has served the local community for over 90 years. The club's philosophy aligns perfectly with the goals of the 'Shaping Us' campaign – to provide a supportive, nurturing world around all children and those caring for them. With more than 800 members, the club is a wonderful example of a community setting that can play a significant role in supporting children and parents.
Let's move on to discuss Kate's outfit now.
Kate's outfit at Maidenhead Rugby Club:
The Princess wore a blue England Rugby top with navy trousers from Sweaty Betty and a new pair of Lululemon sneakers. She finished the look with her simple gold hoops from Orelia London.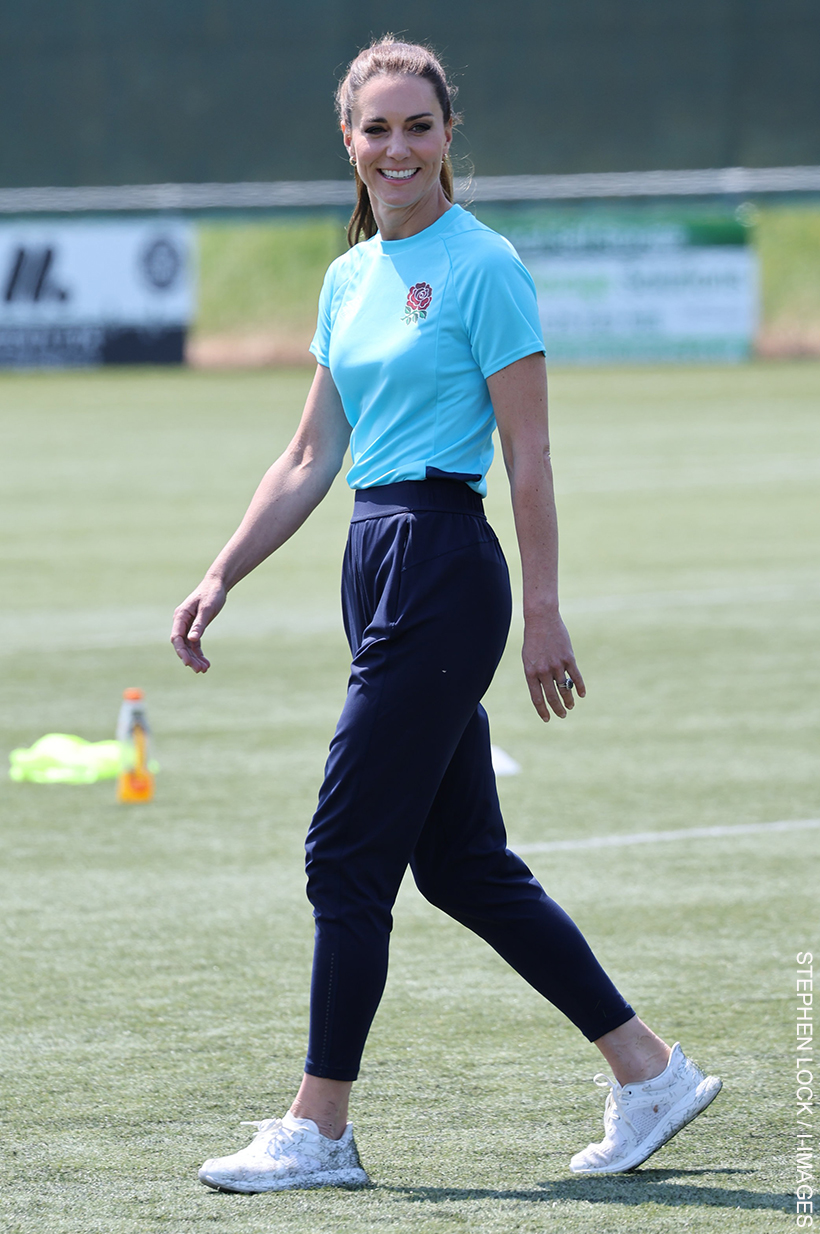 I identified the trousers myself – but thanks to Elizabeth from Kate's Closet for identifying Kate's sneakers. (The earrings she's worn for some time now and were confirmed by the brand a while back.)