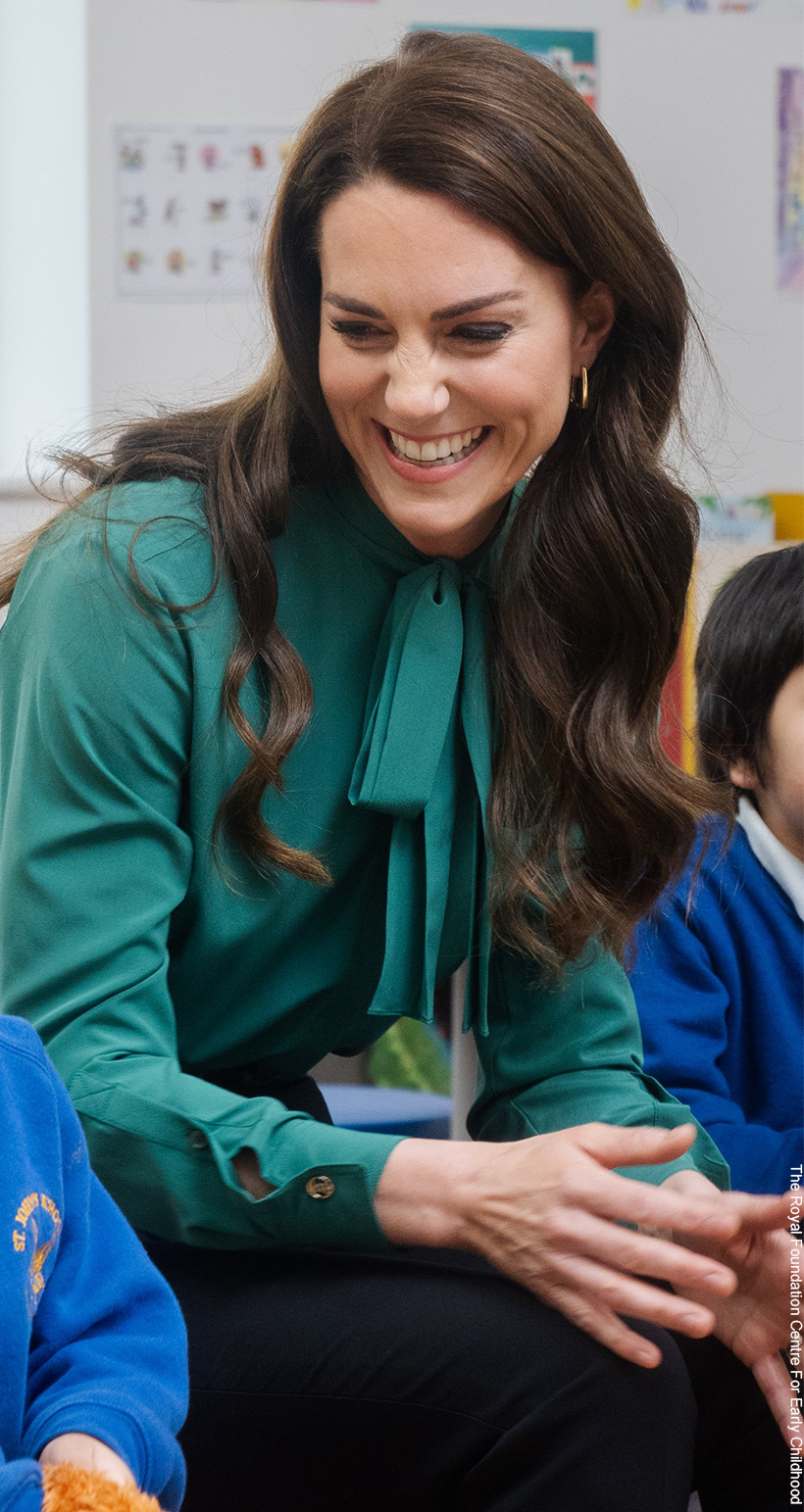 Today, The Princess of Wales continued her 'Shaping Us' campaign by releasing a new video recorded with a group of schoolchildren at St John's Primary in Bethnal Green. Watch it below:
The Princess spoke with the children about their emotions and feelings following a preview of 'Layla's Story', the claymation video created for the campaign. For anybody who hasn't seen the video yet, it can be watched below:
The video follows 'Layla' from pregnancy until the age of five, showing how every interaction shapes her as she grows.
The new campaign video opens with Kate being introduced to all of the children's teddies, "I should have bought my teddy with me, shouldn't I?" she asks.
Kate talks to the schoolchildren about "good feeling and bad feelings", about being nervous and then proud of yourself, and asks "does it makes you feel better when you talk about your feelings?"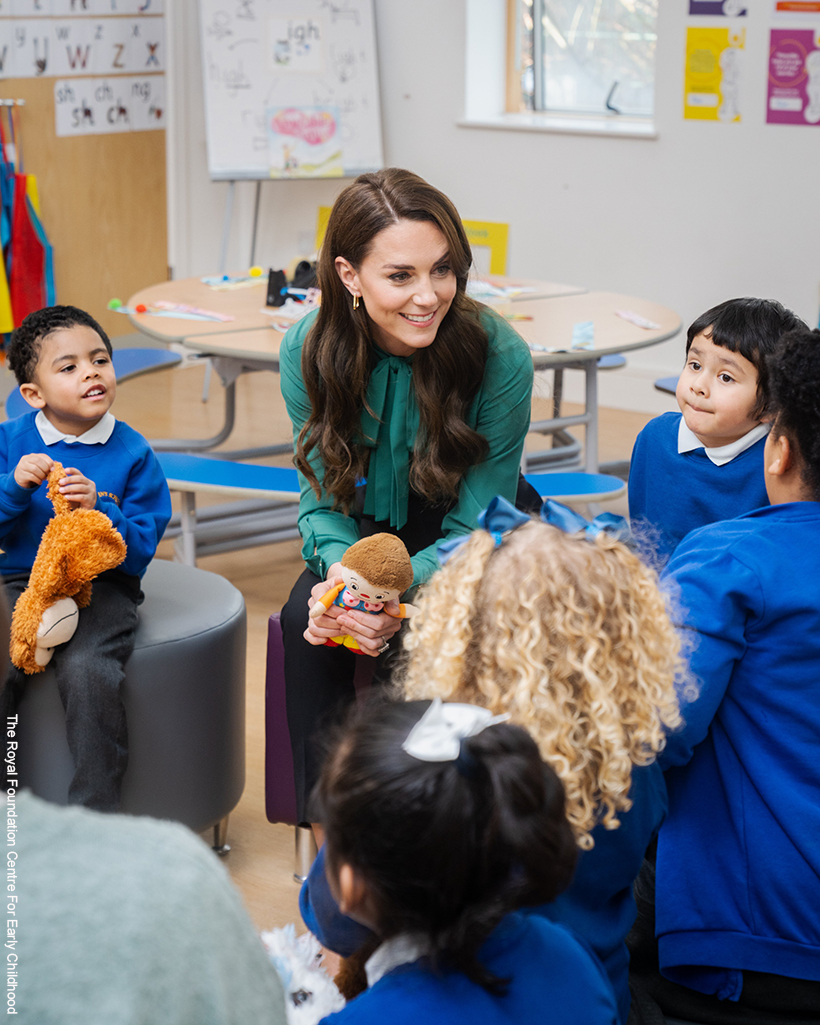 The video ends with the Princess asking, "how does the film make you feel?" One child replies "it tells us about how people grow up." Kate adds "and how important it is to look after you [children], give you love, give you kindness, so you can be the best you can be"
Over the weekend, Kensington Palace released a letter ahead of the 'Shaping Us' campaign penned by the Princess of Wales. Two photographs accompanied the letter, showing Kate filming the video with the children from St John's.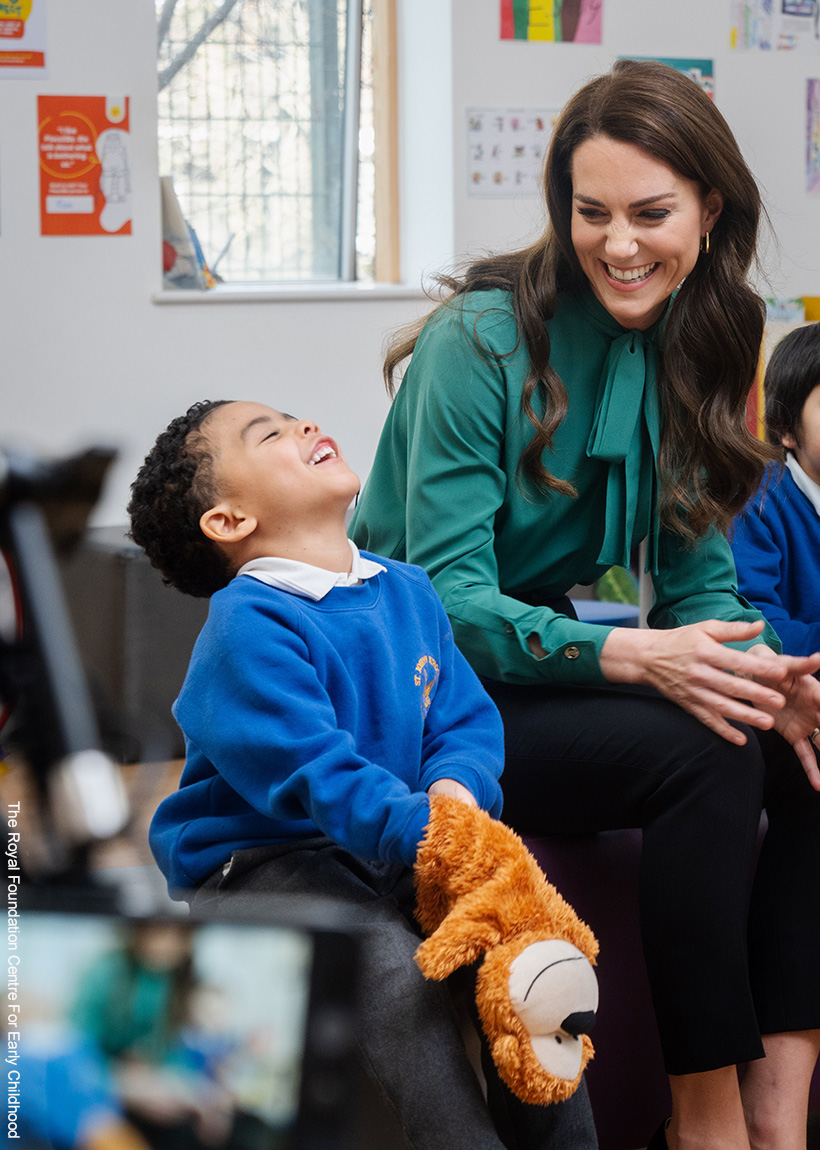 Kate wrote that Shaping Us is designed to "highlight the critical importance the first first years of our lives have on shaping the adults we become."
She explains that during the first five years, our experiences, relationships and surroundings shape the rest of our lives and the adults we become. This is because our brains develop at such an amazing rate over that short period—faster than any other time in our lives. During the first five years, we learn to understand ourselves, understand others and understand the world in which we live.
Kate wants the 'Shaping Us' campaign to change our focus as a nation — get us to understand that nurturing healthy and happy children in the first five years can potentially avoid problems requiring interventions, like poor mental health and addiction, later in life.
Kate's letter in full: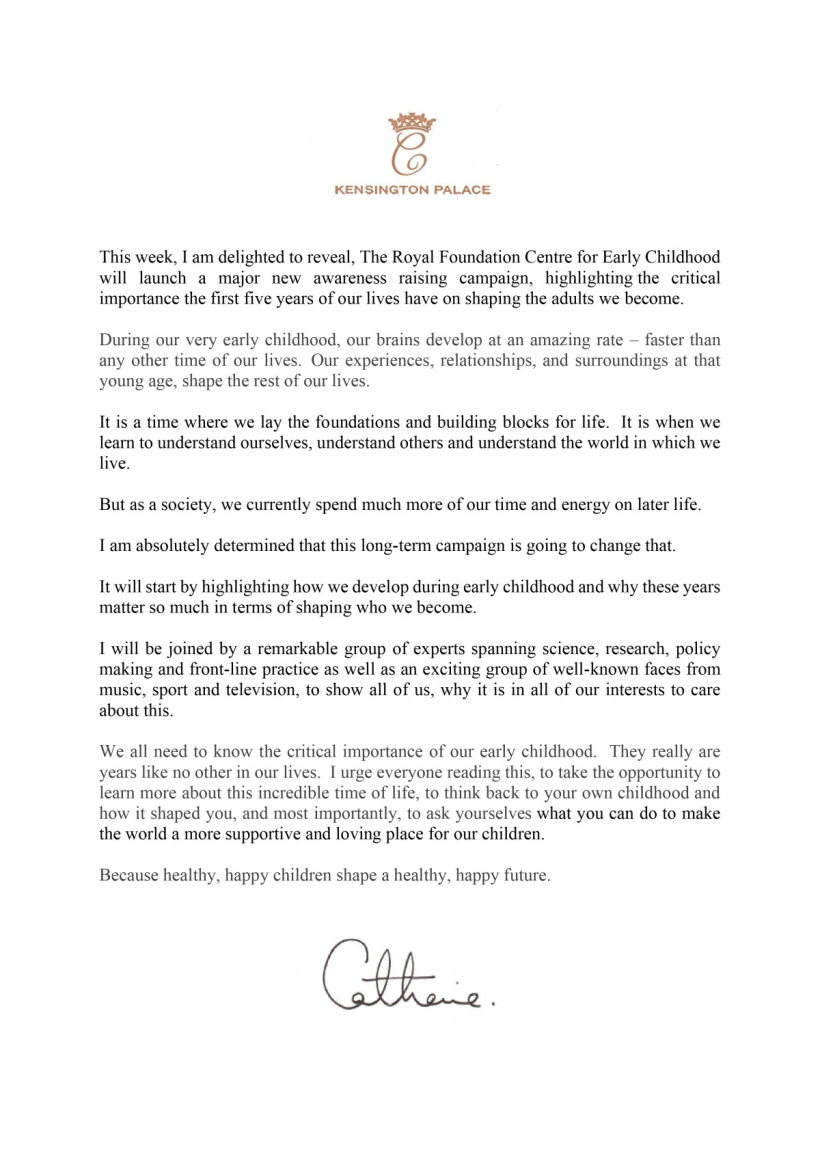 Let's look at the Princess's outfit in the pictures and the video.
Kate's outfit:
For the visit to the primary school, the Princess wore a teal green pussybow tie blouse with button-up cuffs. Middleton Maven identified the shirt as a Burberry piece—you can see it's Burberry from the 'B' button on the cuff.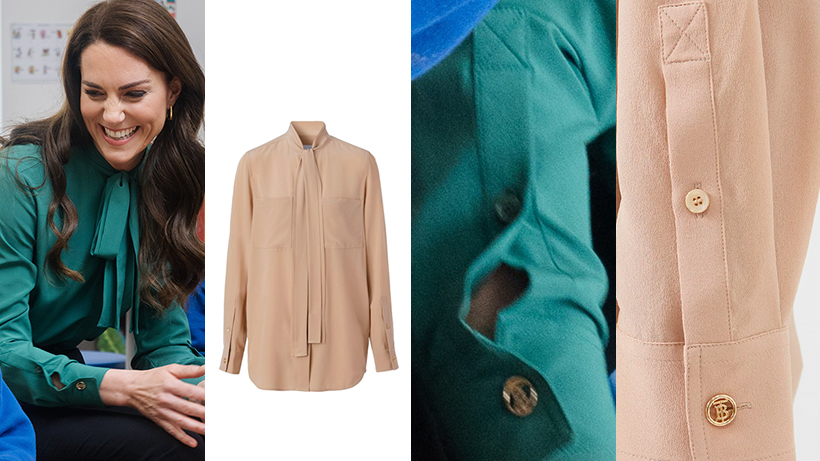 The blouse feature a high neckline that ties at the front, buttoned cuffs and curved hems. It's made from 100% silk.
It looks like Kate's blouse is bespoke—I think she commissioned it from the British brand. As far as I can see, Burberry only sell it off-the-rack in beige and brown (Farfetch.com RRP: £850 GBP / $1,150 USD). It does not look like they ever produced this deep teal-green shade in their ready-to-wear collection.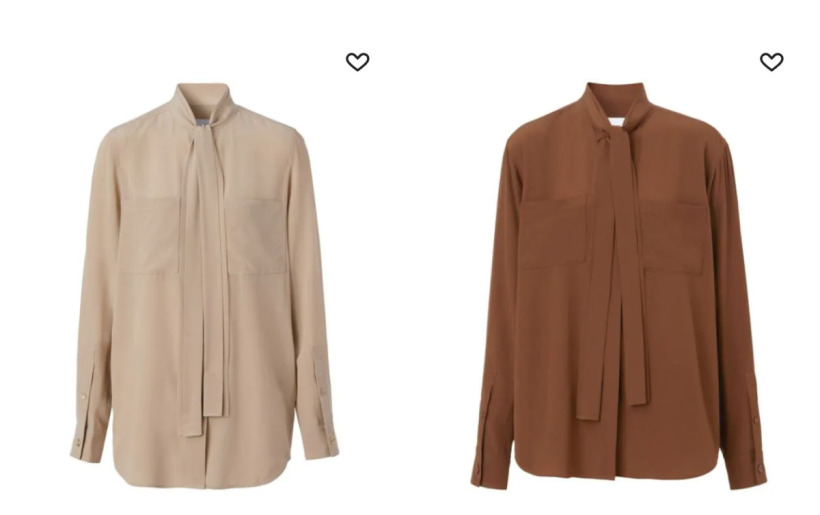 Burberry Tie Neck Blouse, Brown and Beige
Same blouse, different colour! We think Kate owns this blouse in at least two colours, pink and green. Burberry only currently sell it in brown and beige. Add it to your workwear wardrobe today.
Kate also commissioned her blouse without the chest patch pockets.
Note: at the top of this page, I have edited the image of the blouse using photoshop, changing the colour of a stock image to make it appear green.
I suspect the Princess owns a second Burberry blouse in pink, it looks like she wore it under her suit during the Boston visit last December: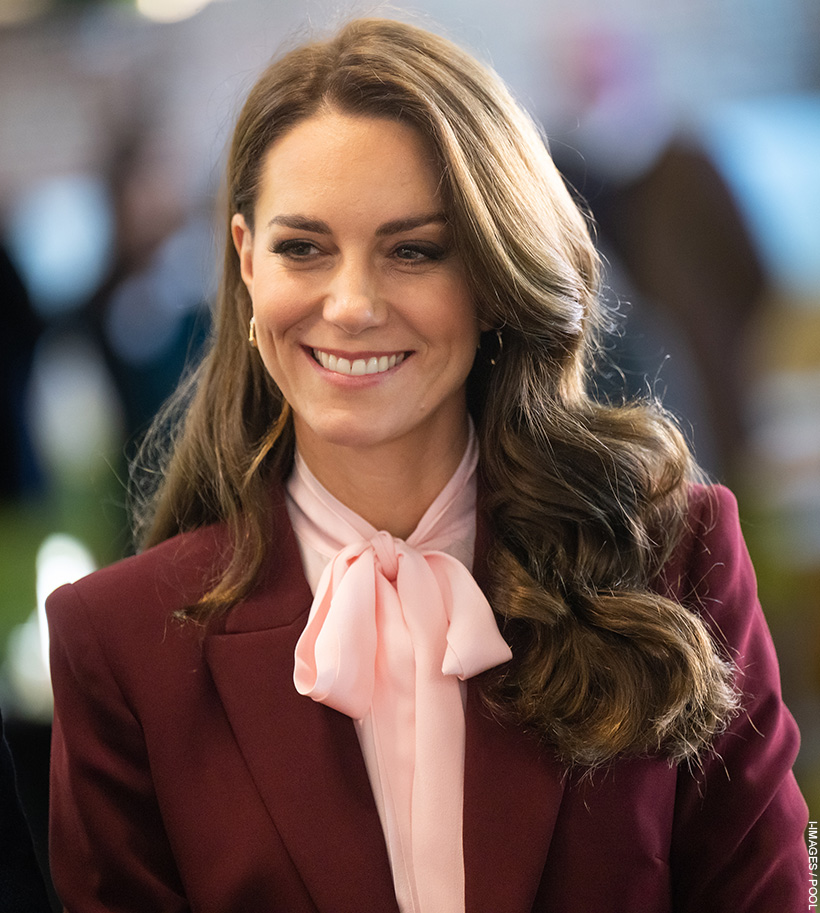 She wore it with a Roland Mouret suit.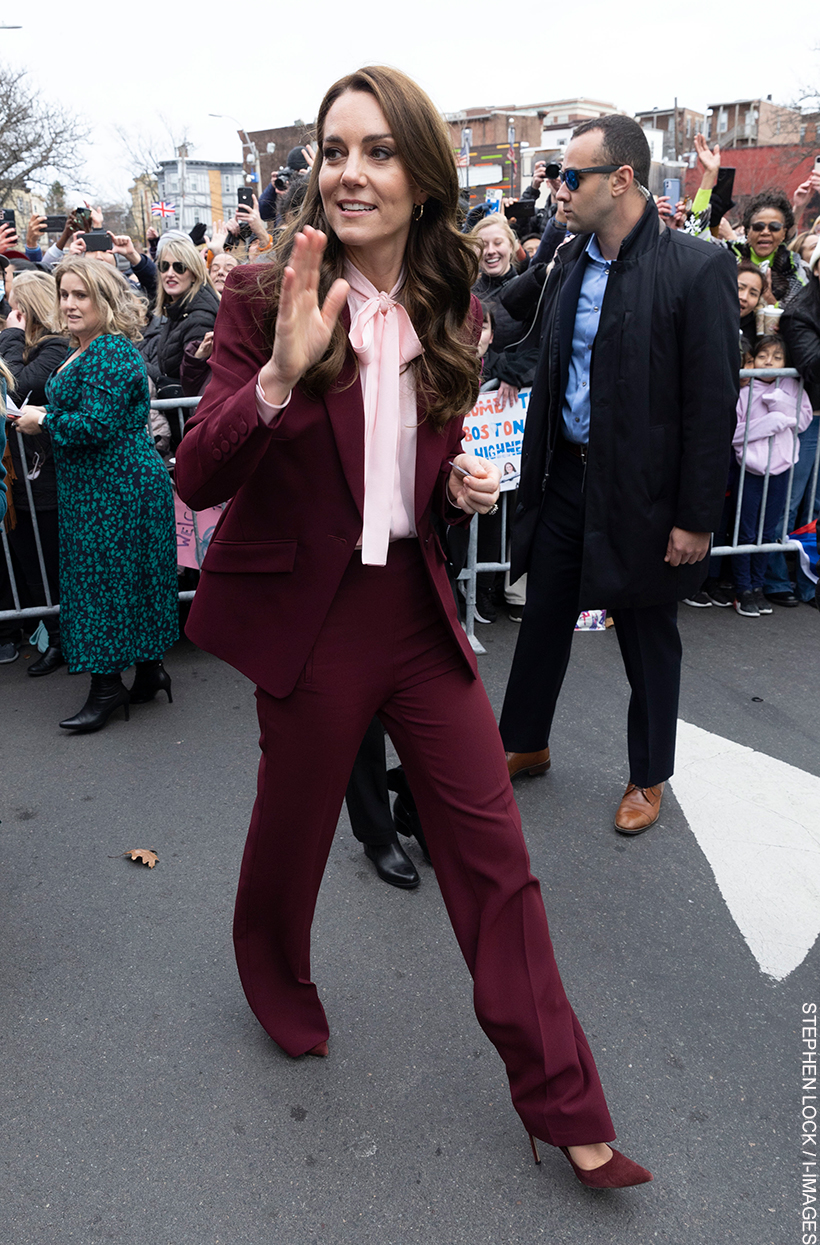 Burberry is an iconic British luxury fashion house, originally known for its rainwear—Kate wore one of their stylish trench coats during her courtship with Prince William in 2011 (below).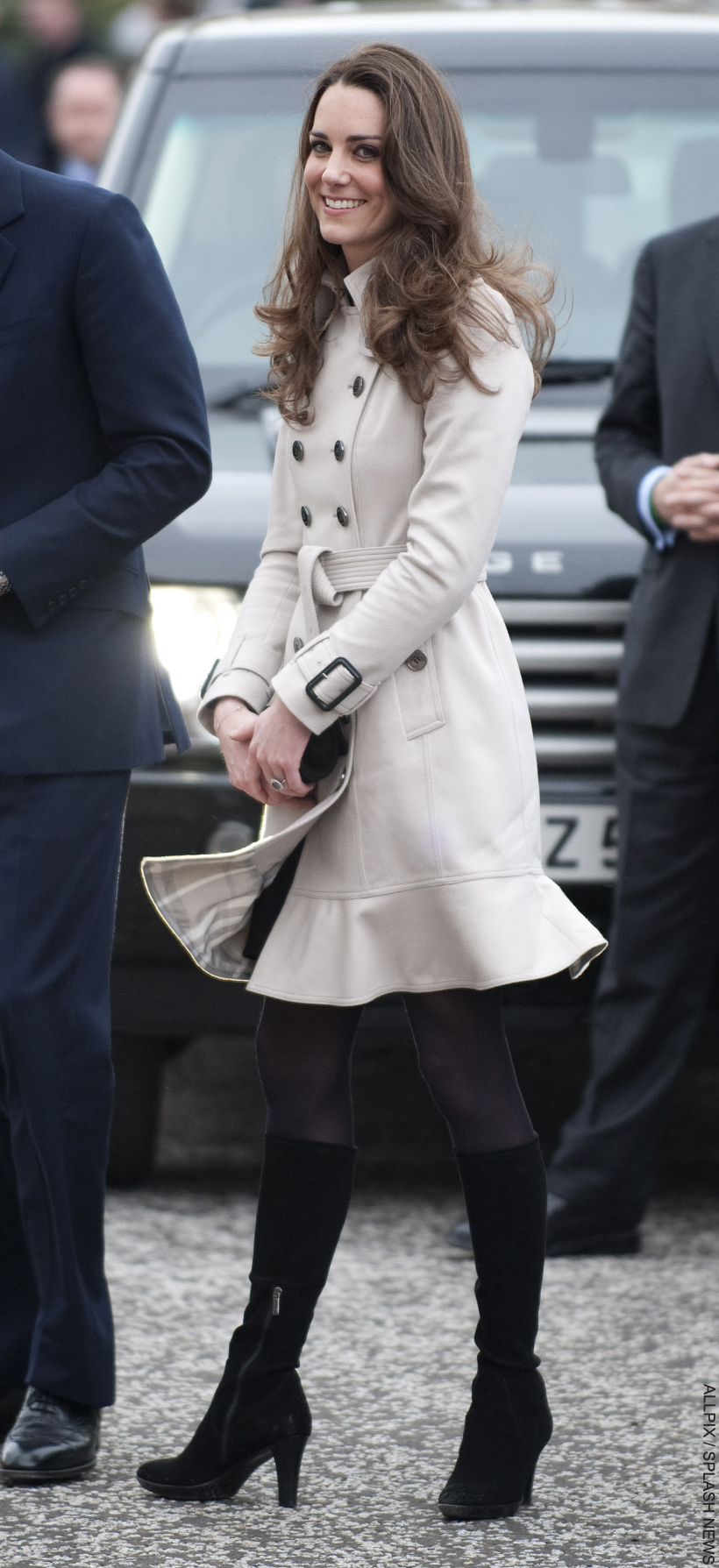 More recently, the Princess wore a bespoke plaid dress from the brand (below) during a visit to Boston in December last year—but we haven't seen her wear much else from the company over the last decade.
Let's move onto Kate's earrings now. They're the Spells of Love Alia hoops in gold (Kate below left, stock photo of the model on the right).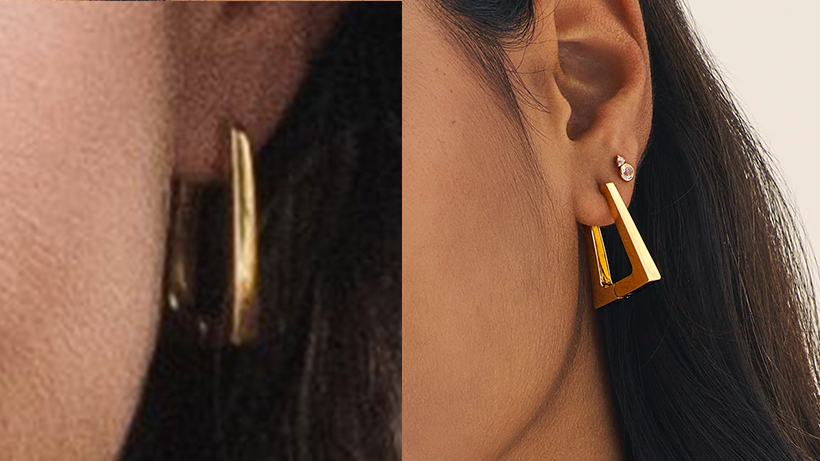 We first spotted Kate wearing the gold earrings in 2020. She's worn them eight or nine times in public to date. They're handcrafted and made from demi-fine vermeil, essentially a thick layers of 18k gold coated over brass. RRP: £79.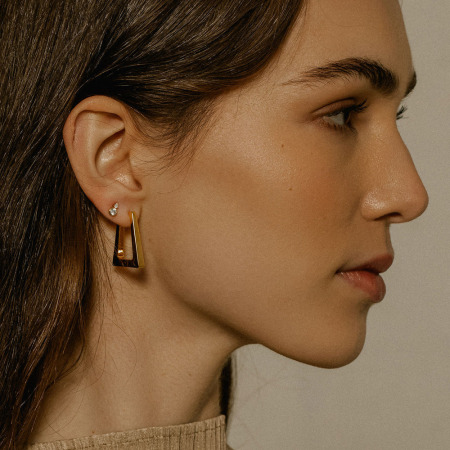 Spells of London Alia Hoops in Gold Vermeil
Exact match! These hoops are the ultimate statement earrings for any occasion. The versatile style can be dressed up or down. I picture them with a sweater and jeans. But Kate's shown they work equally well with a more formal ensemble. Handcrafted and made from high-quality materials. Click the button below to shop at Spells of London:
Kate owns a handful of Spells of Love pieces. The brand is a small, independent company based in Wales. Hayley, the designer, champions eco and ethical manufacturing processes and small batch production.
It's difficult to know for certain, but I think the Princess paired the blouse with the L.K. Bennett Frieda cigarette trousers in black.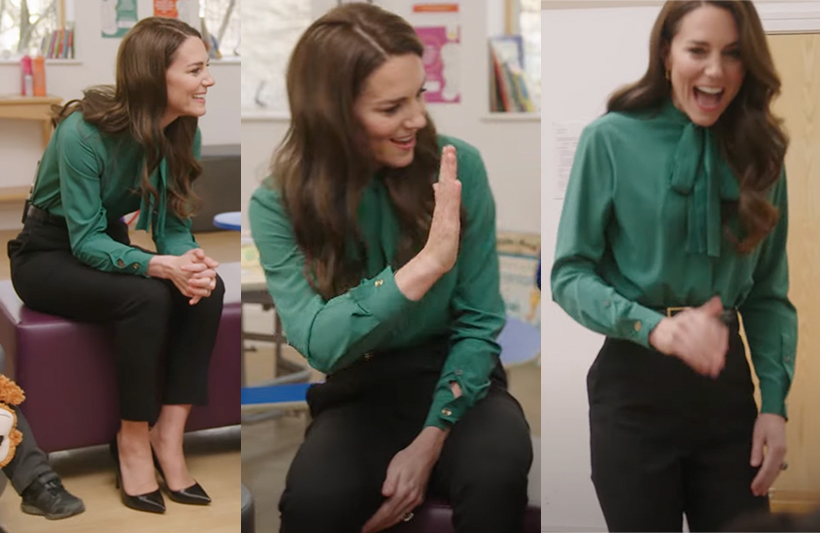 We think she's worn the black crepe stretch trousers a few times in recent years, usually with a smart blazer or coat.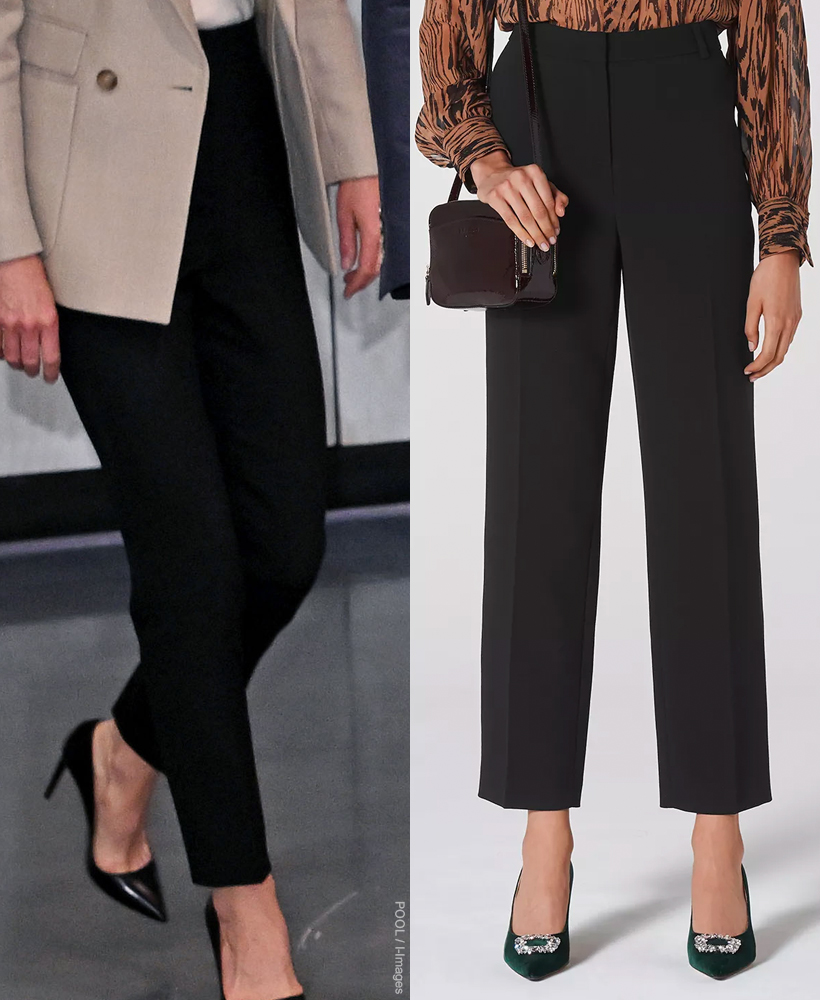 The classically tailored trousers feature a traditional straight-leg cut.
Unfortunately, L.K. Bennett longer no longer stock the black trousers. You can buy them in navy blue though (in limited sizes). Actually, we're pretty sure the Princess owns them in blue too.
L.K. Bennett is one of Kate's favourite brands, it's safe to say. The Princess has worn dozens of items from the British brand, including shoes, handbags, coats, dresses and—of course—trousers over the last decade plus.
As with the trousers, it's not possible to say which pair of shoes the Princess wore with her outfit for certain. My best guess? The Ralph Lauren Celia Calfskin Pumps in black.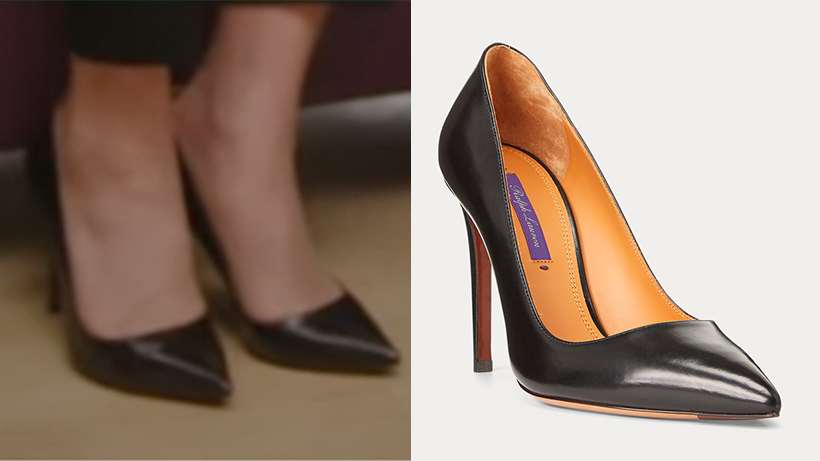 We're pretty certain the Princess wore the black pointed leather pumps to visit the Disasters Emergency Committee HQ in April 2022.
I don't remember seeing her wear any other pair of black leather pumps in recent years (she usually wears suede).
The black calfskin pumps have a pointed toe and 100mm (4″) high heel. The shoes are made in Italy and feature a padded calfskin insole for added comfort. You can still purchase the pumps in black (and several other shades.) Shop them at RalphLauren.com RRP: £460.
Kate is a fan of Ralph Lauren and clearly shops with the label often. She owns quite a few of their items (including a pair of suede boots, a blouse and several sweaters.)
Kate owns the Celia pumps in brown too: