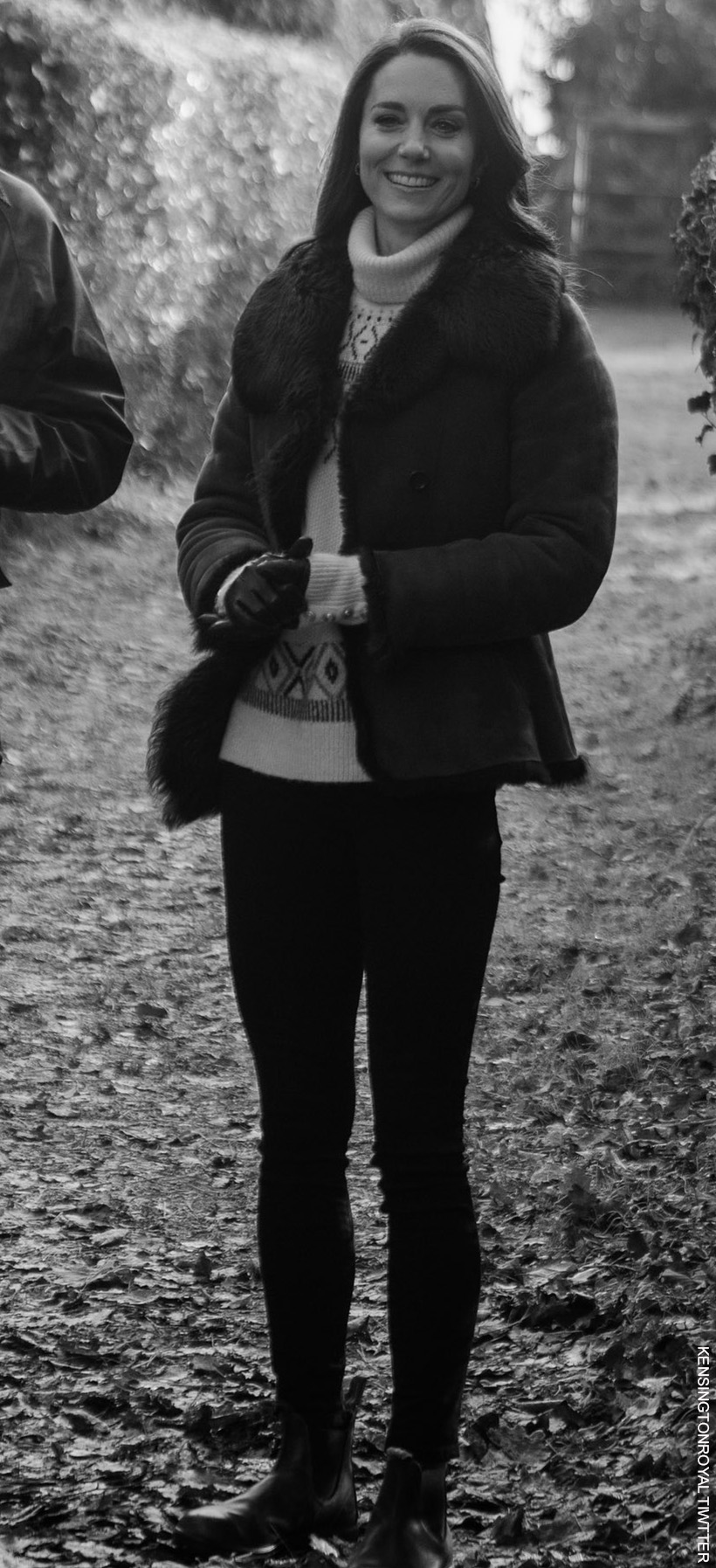 On Friday (3rd February 203), Kate Middleton's 'Shaping Us' campaign continued with the release of new video. Kensington Palace shared a video of the Princess of Wales talking with celebrity champion, Roman Kemp. The two took a stroll while discussing mental health and early childhood.
In the video, the Princess wore her L.K. Bennett Darwin jacket, last seen a decade ago over her Holland Cooper fair isle sweater, black skinny jeans and brown Blundstone boots. The video was filmed in January, no doubt the shearling jacket and wool knit helped to keep the cold weather at bay.
The footage begins with Kate and Roman greeting one another before holding a discussion about how Roman entered the world of mental health campaigning, after a friend and colleague took his own life 2.5 years ago.
The pair then discuss early childhood. Roman turns interviewer by asking Kate to talk about early childhood, explain what it is and why it's important.
The Princess shares that it's the period in which our brains grow the fastest-they're at the most malleable. She explains that this stage of childhood is crucial for building a strong foundation for good mental health later in life.
Roman also asks the Princess she wants to achieve with the Shaping Us campaign. Kate tells him that she wants to raise awareness of the importance of early childhood, and communicate why it matters so much. That an understanding of early childhood could dramatically change our future as a society by creating a more healthy and nurturing world for us all to live in.
Next, Roman and Kate head inside a shed, they sit down and have a cup of tea and a brief chat about Roman's childhood.
The pair acknowledge the extra pressures families must feel at the moment. The Princess says it's important the campaign does not add to the pressure but she wants society as a whole to realise the importance of early childhood so people can get the support and help they need.
She explains that it's not the number of toys or amount of special outings that a child has – but the emotional support they're given by the adults that touch their lives—parents, teachers, grandparents, nursery staff etc.
Kate ends the video by explaining "love goes a long way."
Shaping Us is a new longterm campaign spearheaded by the Princess of Wales through the Royal Foundation Centre For Early Childhood. The Princess aims to transform the issue from one of scientific interest to one of the most strategically important topics of our time.
These are the most preventative years. By focusing our collective time, energy, and resources to build a supportive, nurturing world around the youngest members of our society and those caring for them, we can make a huge difference to the health and happiness of generations to come.

All of society has a role to play in this, even if you are not directly involved in a child's life, because we are all responsible for building a more compassionate world in which our children can grow, learn and live.

In these difficult times, it is more important than ever to help support parents and caregivers provide loving, safe and secure homes for their babies and young children to thrive.

The Princess of Wales
The Princess established the Centre for Early Childhood through The Royal Foundation in 2021. The centre aims to drive awareness and action on the extraordinary impact of the early years, to change lives, improve mental wellbeing and transform society for future generations.
Let's move on to look at the Princess's outfit now.
Kate's outfit in the video:
For us royal style fans, it was such a treat to see the Princess wear her L.K. Bennett Darwin jacket again. We last spotted her wearing it a decade ago!
Back in 2013, paparazzi snapped the then-Duchess at the Swiss ski resort of Arosa. Five months pregnant at the time, the Princess wore the coat while tobogganing. The royals were in Switzerland for the wedding of a friend.
I can't show the photos—but you can click here to view them in a new tab. Go on, I'll wait.
Of course, I don't believe for a second that the jacket has been sat at the back of Kate's wardrobe all this time. I'm sure she's been wearing it regularly in private.
Kate was frequently photographed running errands before her children were born—walking her dog, leaving the hairdressers etc. Between 2011-2012, she was spotted wearing the jacket a handful of times during those moments. She never wore it to a public engagement.
The jacket is made from 100% sheepskin with exposed shearling on the collar and cuffs. It is quite fitted, providing a feminine silhouette At the time, L.K. Bennett described the coat as an "investment piece that looks great everywhere". Kate's certainly proved this true, having owned the garment for well over a decade now.
As you'd expect, the company no longer stock the piece. You can find it on eBay preloved.
Wanting to copy the Princess's style? I quite like this chocolate brown aviator shearling jacket from FatFace, it's not a perfect match but I feel it's very wearable and such a good price (now only £85). For more options, check the widget at the very bottom of this page.
Kate's been associated with L.K. Bennett for well over a decade now. The Princess wears the brand pretty regularly—both in private and in public. The British luxury fashion brand offers a range of women's clothing, shoes, and accessories. They're known for their timeless and elegant styles.
Let's look at Kate's sweater next. I'm certain it'll feel familiar to most our readers—it's from Holland Cooper. The company's Fair Isle knit in cream.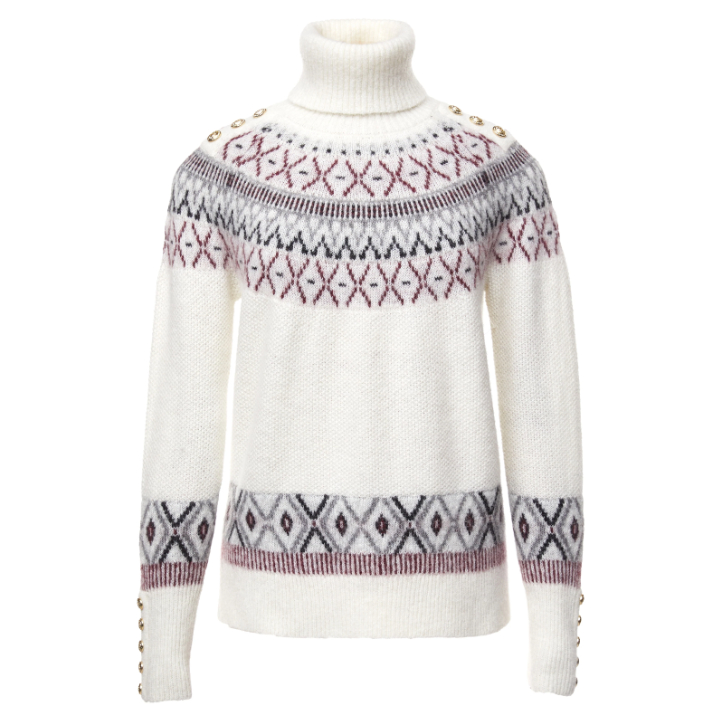 The sweater is crafted from a wool-alpaca mix yarn with a fair isle knitted border in burgundy and grey. It's finished with Holland Cooper's signature gold buttons on the cuffs and shoulders.
The Princess has worn the sweater on two other public occasions: to read the CBeebies Bedtime Story in February 2022 and in a promotional video for her Christmas Carol Concert in December 2022.
The beautiful sweater is sold out, though it's listed as 'coming soon' on Holland Cooper's website.
If you can't wait for the restock, try it in grey from Coes.
GET THE LOOK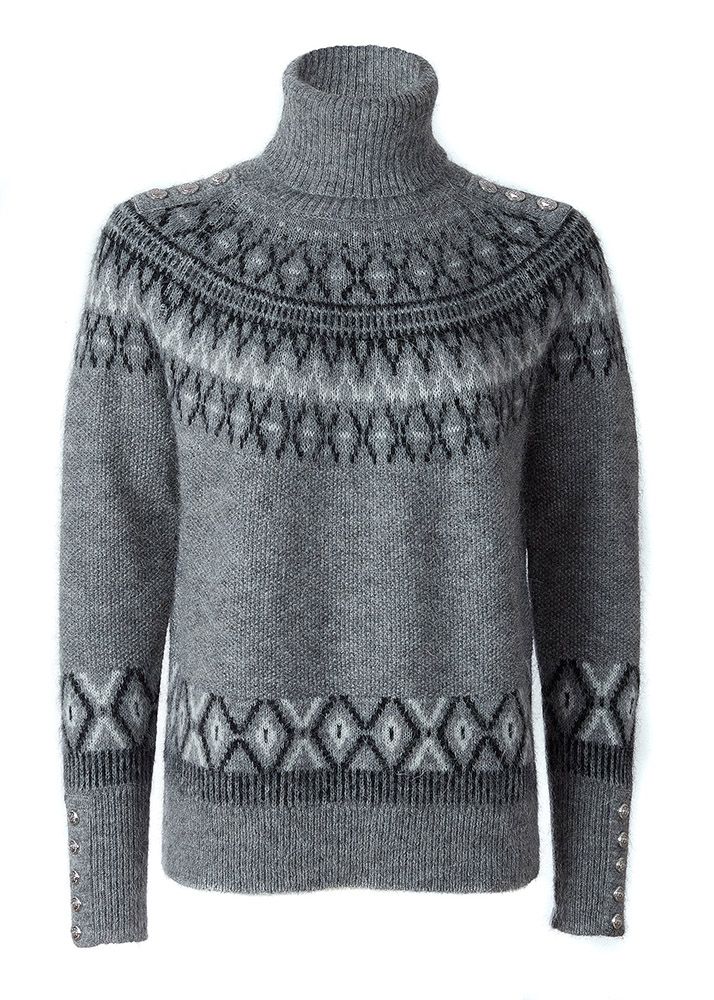 HOLLAND COOPER FAIRISLE KNIT ROLL NECK JUMPER IN GREY
Same as Kate's but in grey! This jumper is designed with a longer length and super high roll-neck, for a relaxed look and feel that is perfect for pairing with jeans.
Holland Cooper is a British luxury clothing brand known for mixing heritage fabrics with contemporary design. Kate seems to be quite the fan—she has quite a few items in her wardrobe as last count.
I couldn't identify the Princess's jeans but I can tell you more about her boots. They're the Blundstone Chelsea Boots in #1609 Antique Brown—pictured below on another occasion: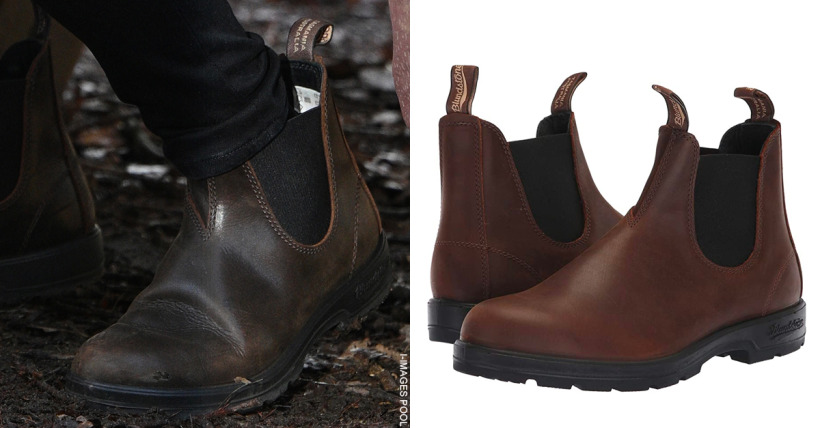 The boots feature a black elastic panel, they're made from brown leather and feature tabs at the front and back.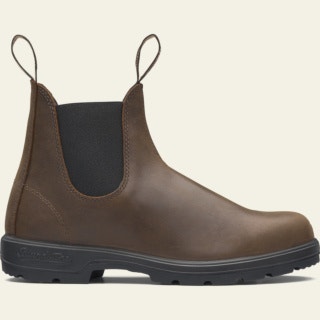 Blundstone 1609 Chelsea Boot in Antique Brown Leather
Pair these brilliant boots with jeans, a comfy sweater and a casual coat for Kate-inspired style all season long.
The Princess has worn the boots on two other royal engagements- at a Forest School in Copenhagen, Denmark (February 2022, left) and during a visit to Abergavenny in Wales (March 2022, right).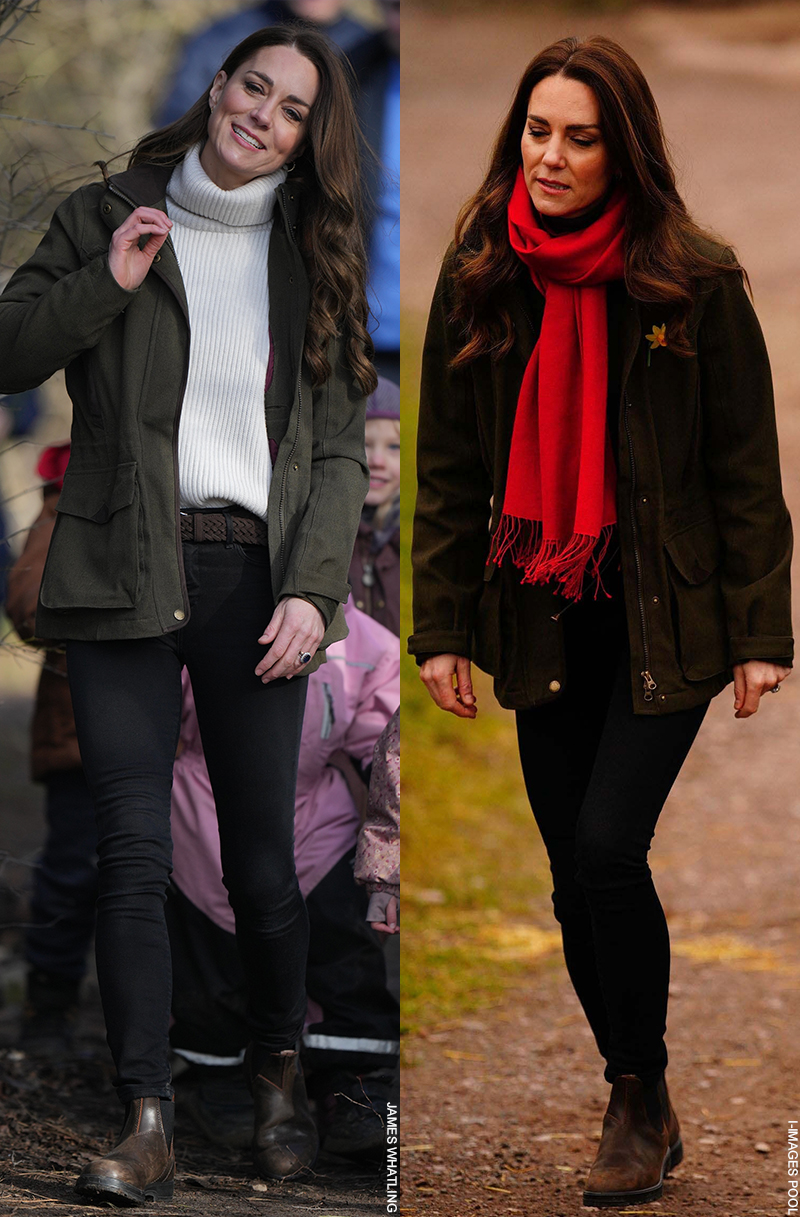 She was also photographed wearing them during a private shopping trip in January 2022.
It looks like the Princess finished her outfit with her gold plated chain hoops from Orelia London (pictured below on another occasion).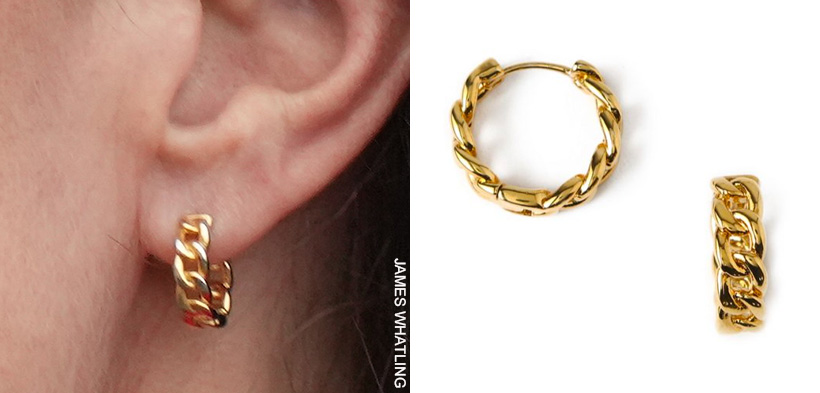 The Huggie Hoop gold chain earrings are made from brass and plated with gold. 
Orelia say the Huggie Hoops will add a little "street style bling" to your wardrobe.
If you'd like to wear Kate's gold hoops, you're in luck. They're available at Orelia.co.uk. They cost just £15.