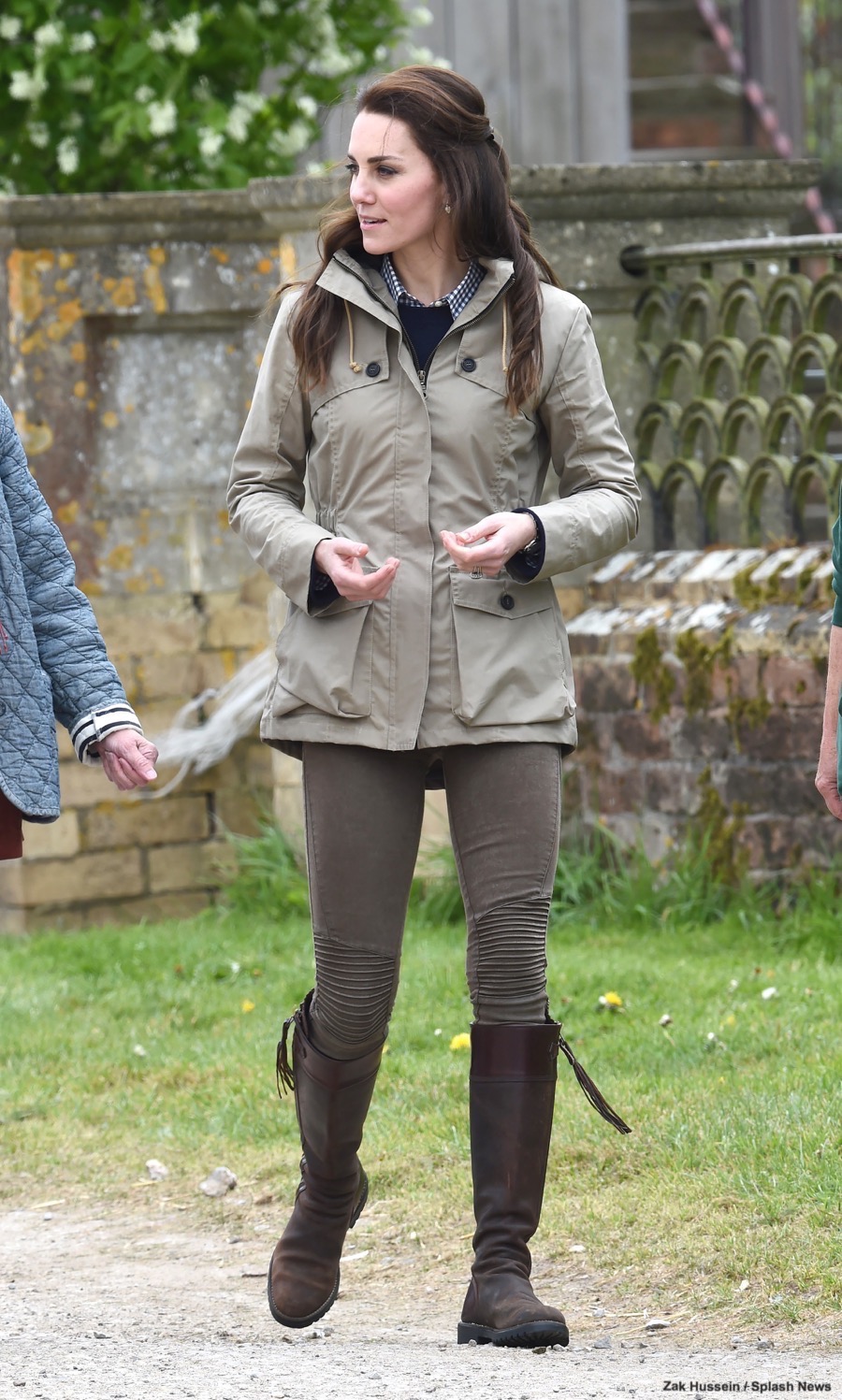 On the 3rd of May 2017, Kate visited Wick Court farm in Gloucestershire. Wick Court is part of the Farms for City Children initiative, which gives urban children from across the UK the unique opportunity to live and work together in the countryside on a real farm for one week.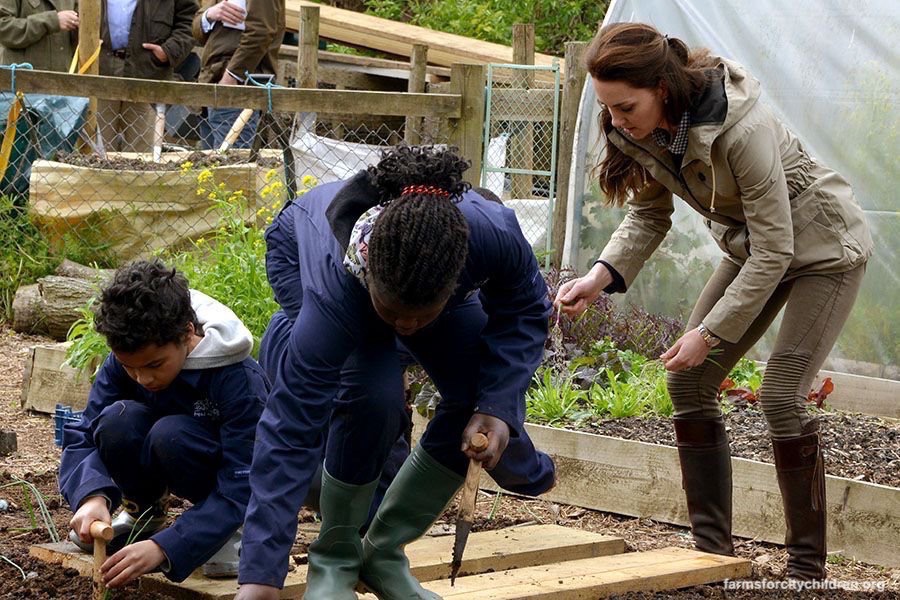 According to Farms for City Children, Kate read about the project in Country Life magazine and asked if she could visit the charity to hear more about their work.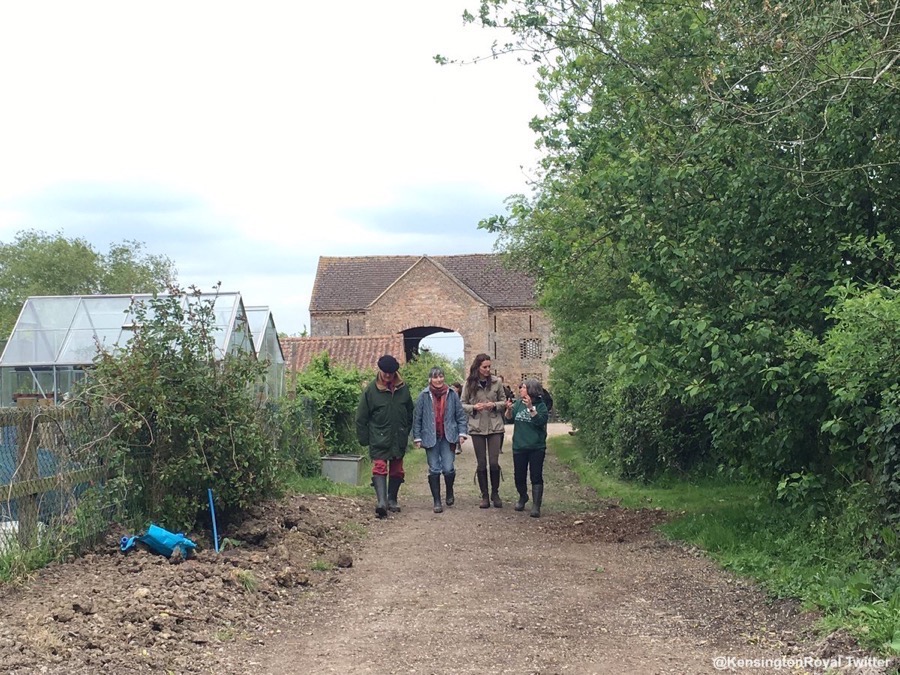 The visit began with an introductory conversation in Farms for City Children's Quentin Blake art room. Kate chatted with the founders and Chair of Trustees about the charity's history, current projects and plans for the future.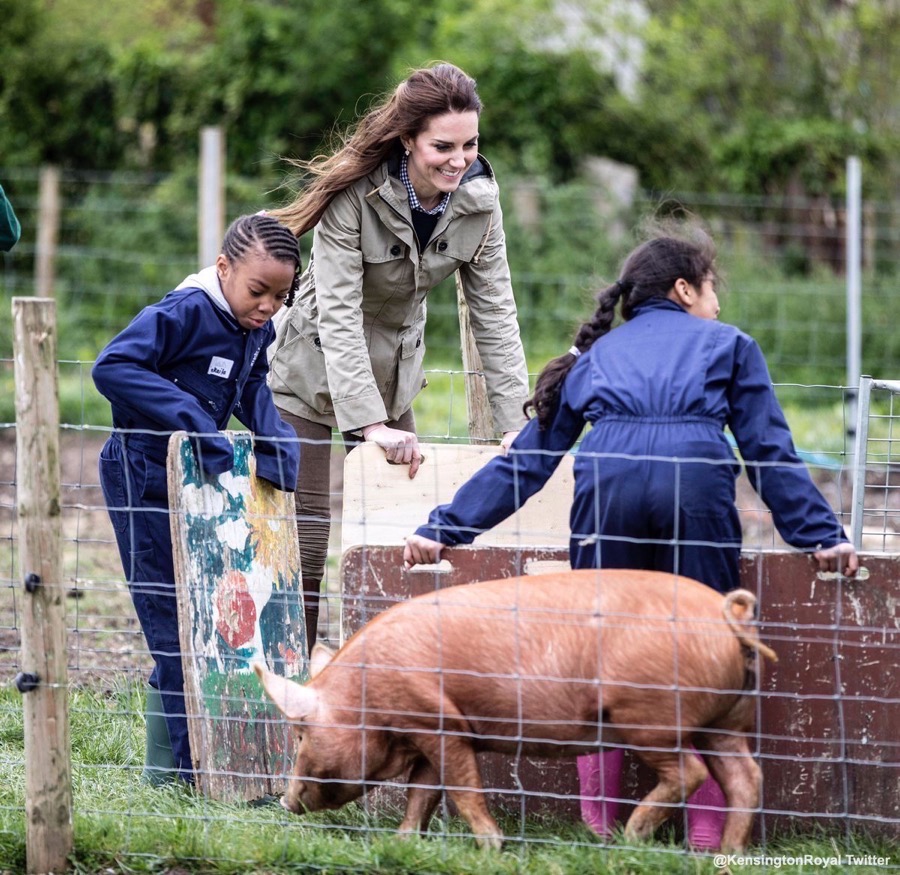 Next, Kate met with children from Vauxhall Primary School in London and enjoyed a home-cooked lunch. The children then provided Kate with a tour of the house where they're staying.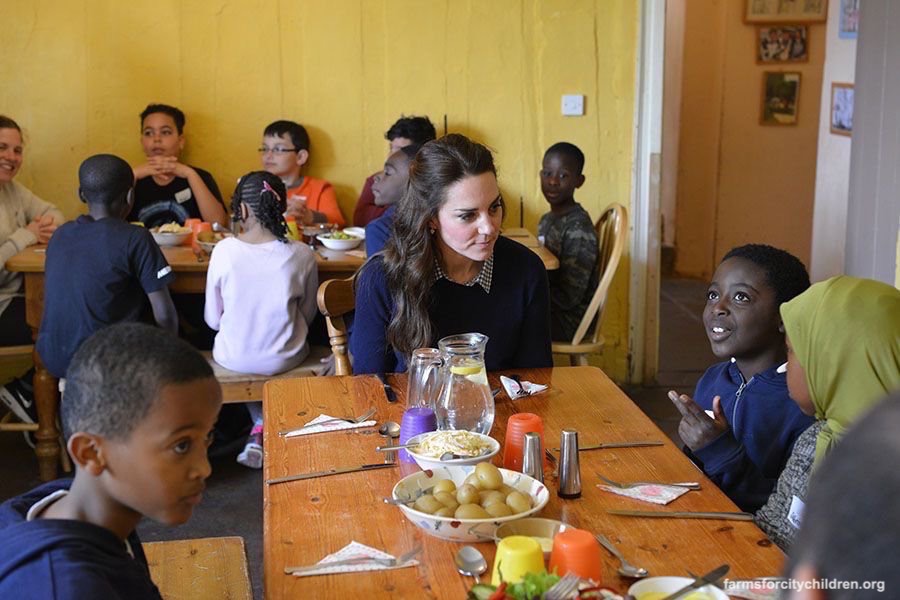 Below, Kate chatting to Edison David, the headteacher of Vauxhall Primary.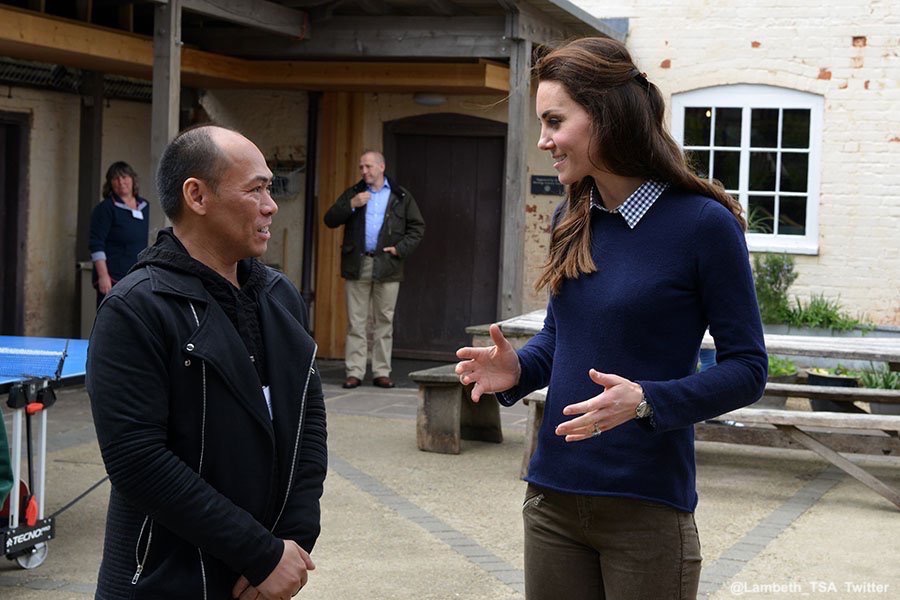 Kate visited the new roundhouse building on the farm, where she and the primary school children listened to Michael Morpurgo read his book Conker.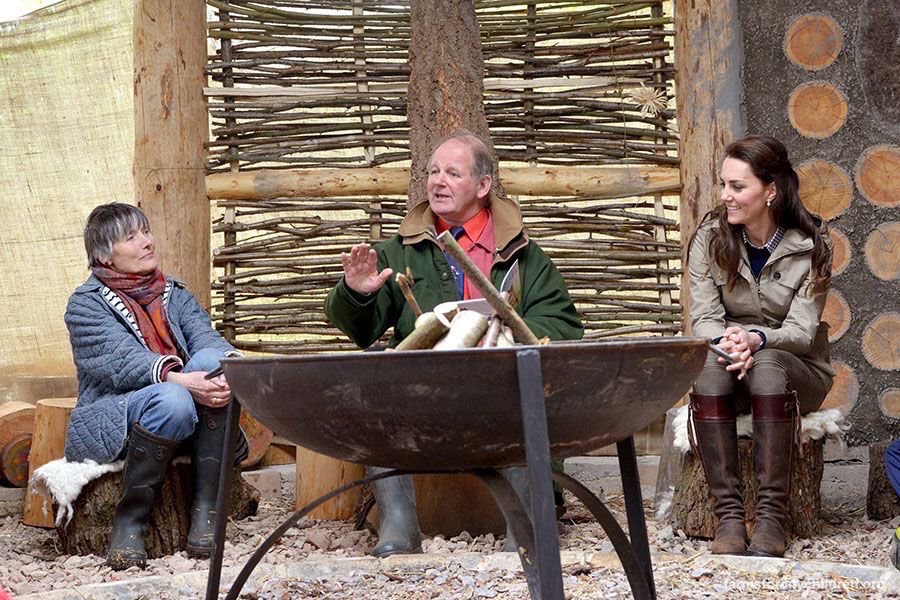 Then Kate and the children got down to business, helping with the farm work. Kate and the children planted onions in the vegetable patch before heading out to meet the livestock.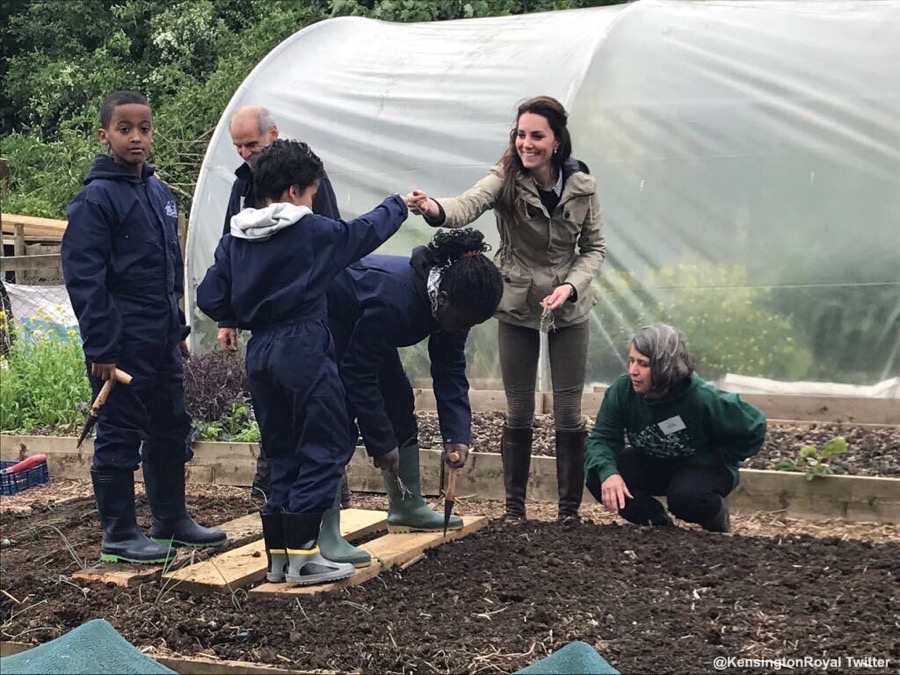 Kate fed Stinky the hand-reared lamb, helped to weigh a pig, collected eggs and groomed some of the retired racehorses that live on the farm.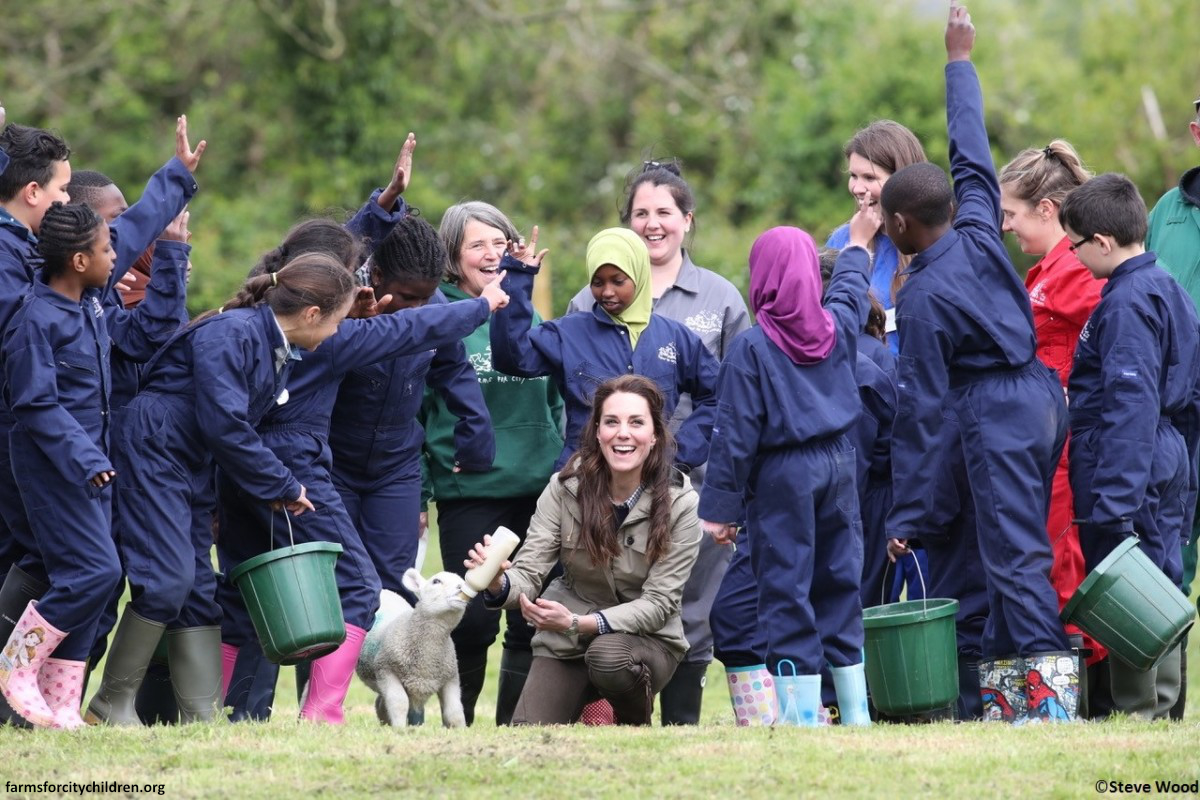 During the visit, Kate told the children she has lots of animals at her home in Norfolk, including five chickens, an incubator full of eggs, a lamb, a dog and a hamster. Kate also said that George and Charlotte and very excited about the eggs and they peer into the incubator each morning to see if anything has happened.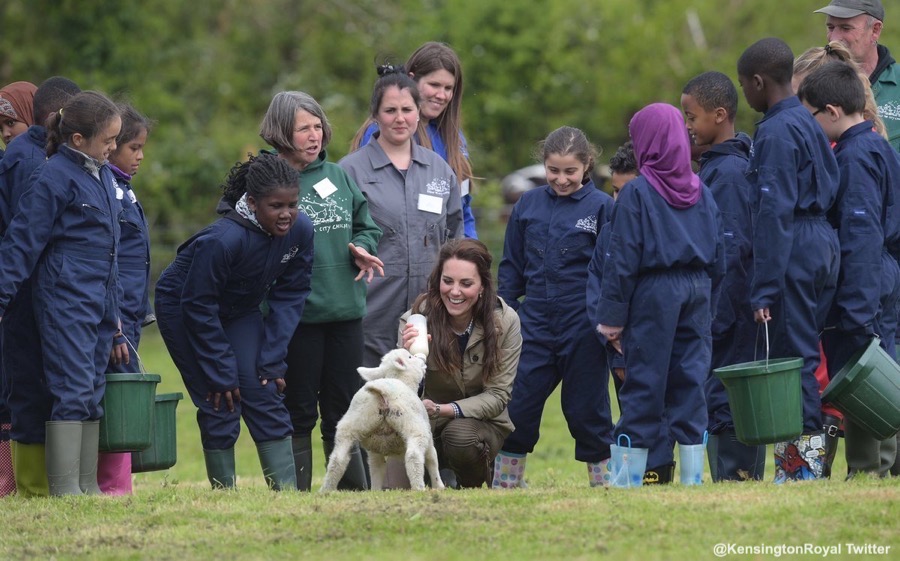 The day ended with an informal tea party, where Kate chatted further with staff, farming partners, volunteers and trustees.
Kate's outfit:
Kate chose a number of familiar pieces for the farm visit.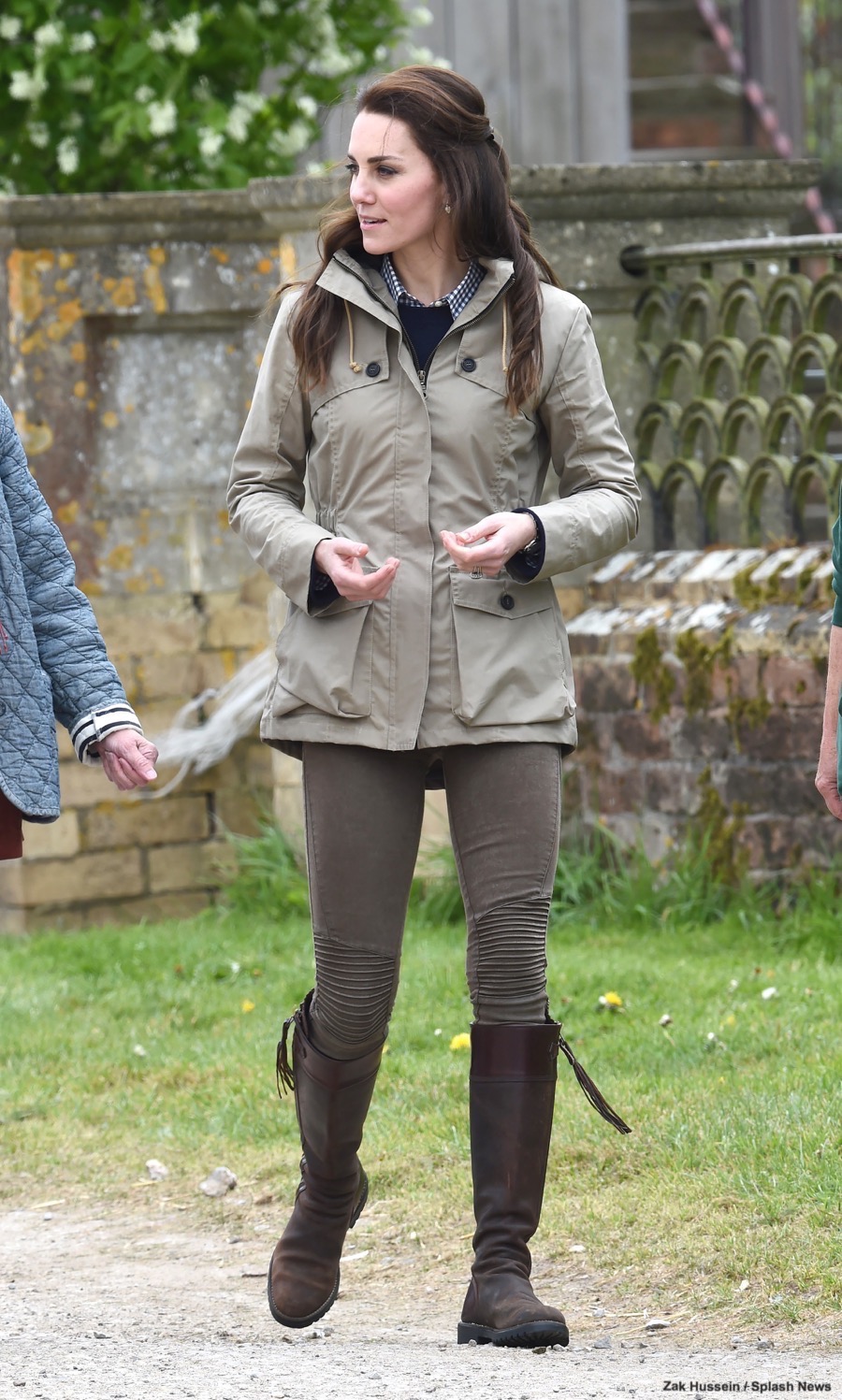 Kate's Khaki green coloured wax parka is by Troy London. The company specialise in designing timeless country clothing that's made to last and manufactured in Britain.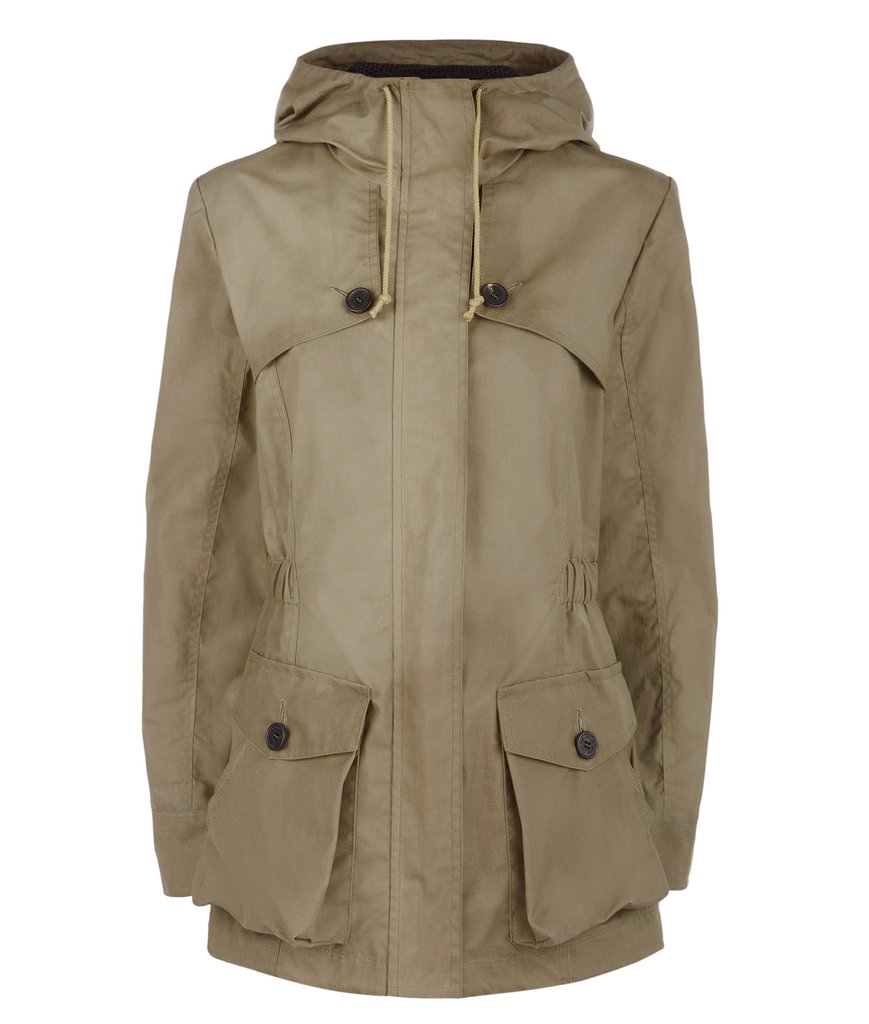 The £350 ($448) parka jacket is made from 100% cotton. It's milled in England with a dry wax finish and features a black sports-luxe lining for water protection. The waist is cinched, which gives the jacket a more feminine silhouette. The jacket is still available for purchase at TroyLondon.com, though some sizes are not available for dispatch until late July.
You may recall the Duchess first wore the coat in 2016, during a sailing activity in Canada.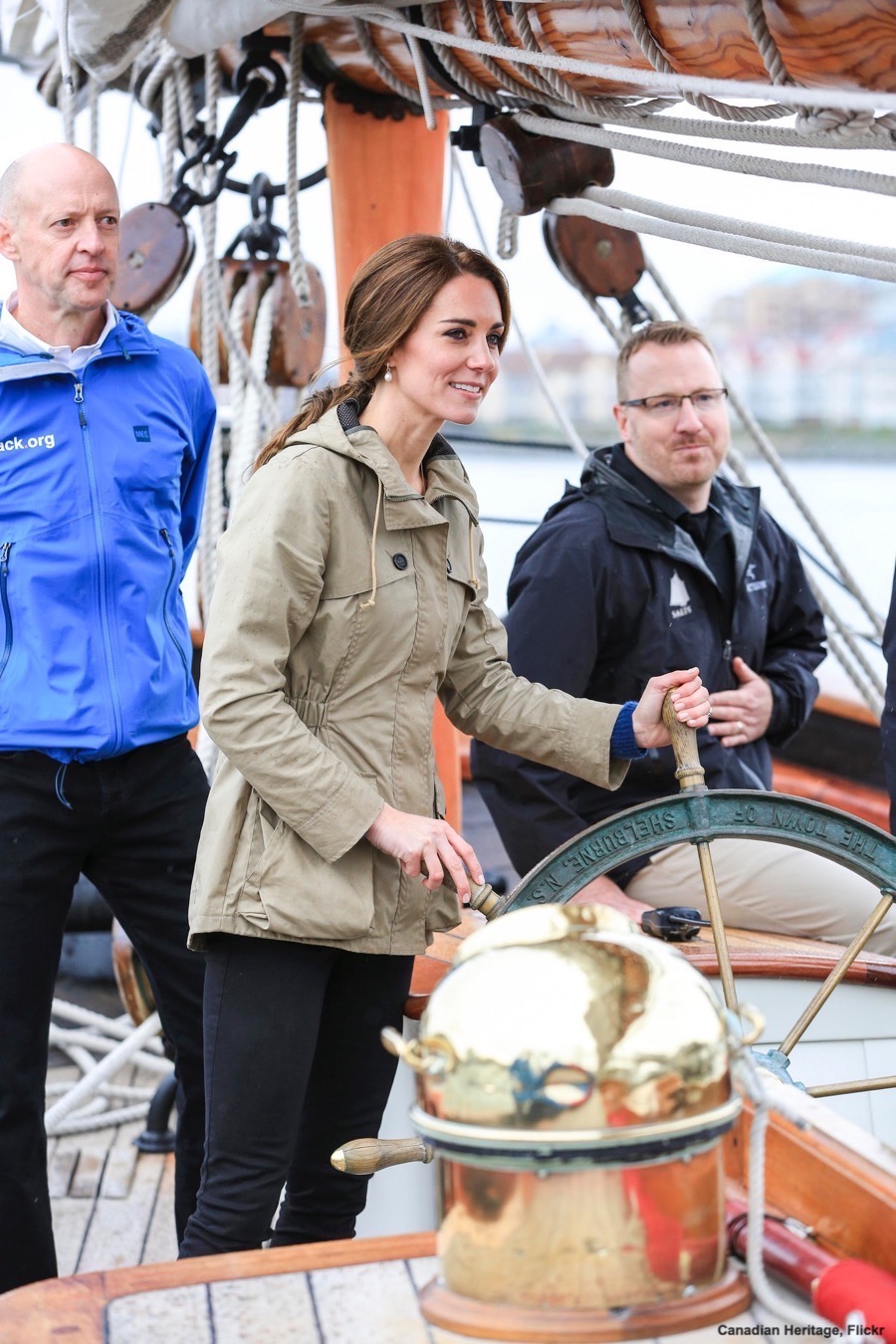 Sisters Rosie van Cutsem and Lucia Rick Keene are the founders of Troy London. Rosie van Cutsem is married to one of Prince William's friends and Prince William's godfather – William van Cutsem. They live in the countryside in Norfolk, not too far from William and Kate's home, Anmer Hall.
Kate wore a blue long sleeve knitted tee for the visit. It's thought to be from J Crew. The company sells two different types that are very similar: a 12-gauge knit and a 14-gauge knit. Fashion fans believe Kate's wearing the 14-gauge knit style, in "heather navy". Both sweaters are semi-fitted, hip-length and made from Italian cashmere. They feature a rib trim at the neck, rolled-edge cuffs and rolled edge hem.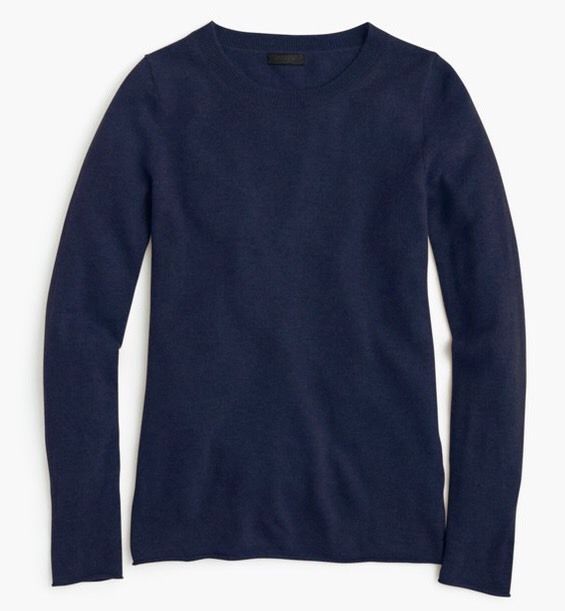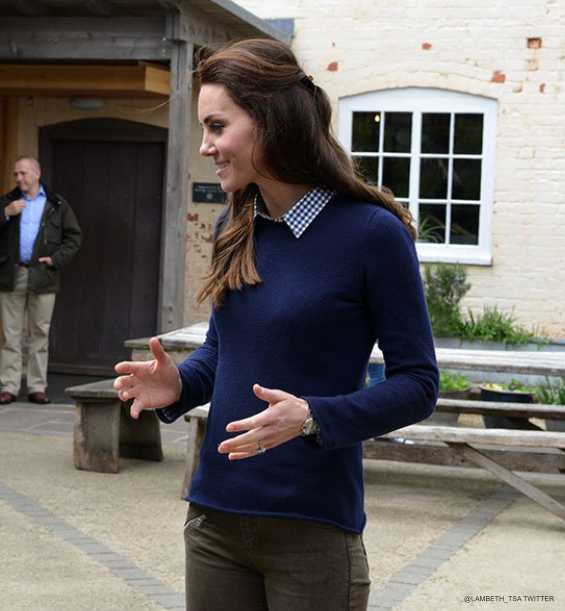 The cashmere sweaters originally retailed for £198 in the UK and $198 in the USA. Sadly, it is no longer available for purchase.
You can see the collar of Kate's GAP fitted boyfriend shirt peeping over her sweater's neckline.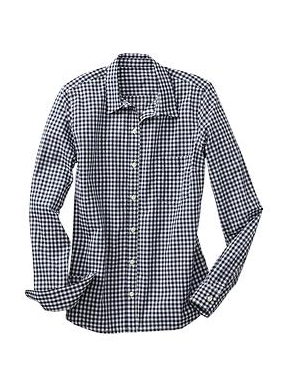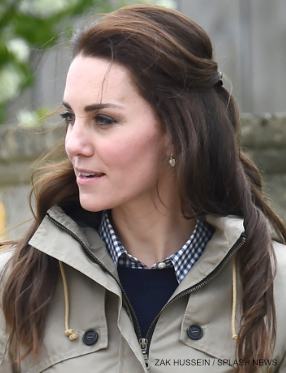 The relaxed fit shirt is made from 100% cotton and features long sleeves and a patch pocket on the chest. It has a tailored silhouette and the hem hits below the hips.
Back in 2014, the shirt retailed for $49.95 USD. Kate first wore the shirt in 2014, during a visit to a vineyard in Queensland, New Zealand. As you'd expect, the piece is no longer available for purchase. Click here to shop GAP's current season boyfriend shirts instead.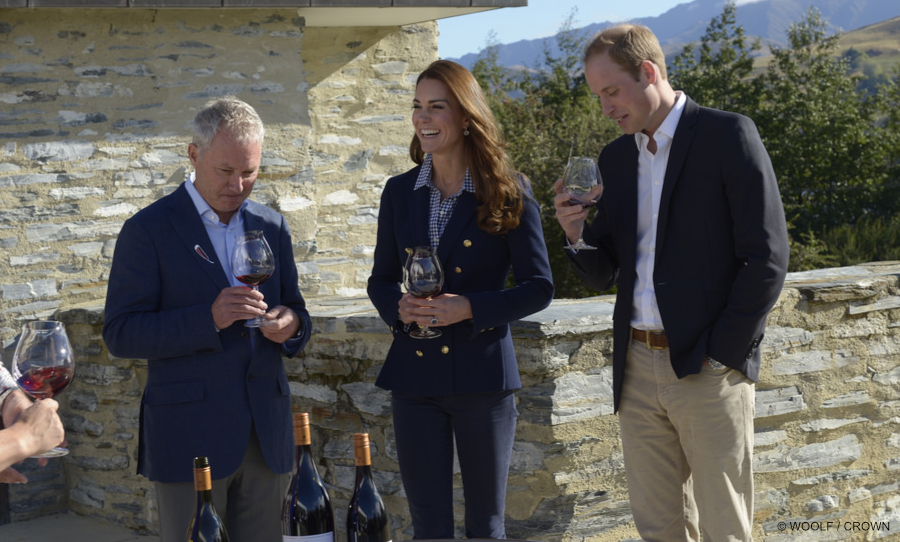 Kate chose her Zara Mid-Rise Biker Jeans for the farm visit. They feature a "power stretch knee detail" and gold zips.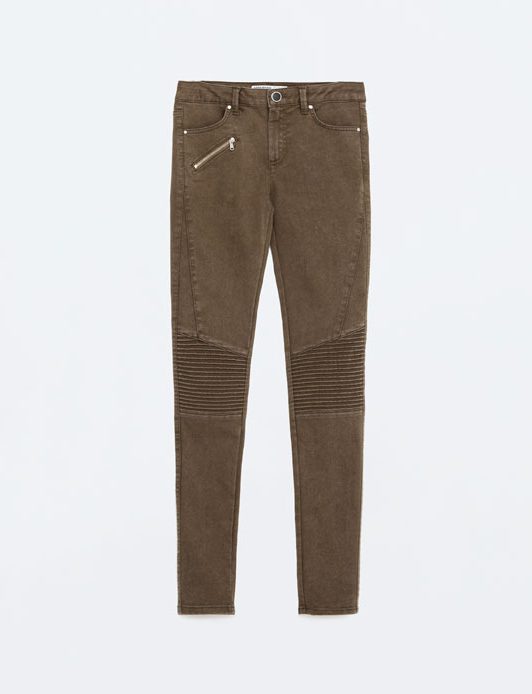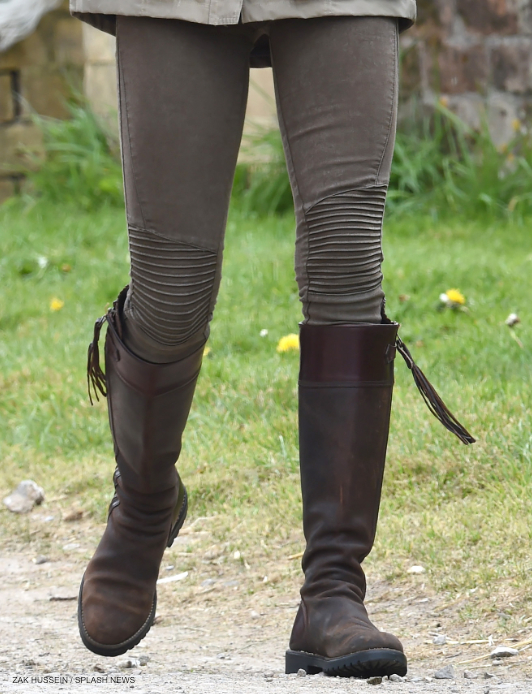 Kate wore them on Safari in Australia, back in 2014. At the time, they cost £29.99 (which is around $38 USD at today's exchange rates).
Most of our regular readers will instantly recognise Kate's boots: they're the Long Tassel Boots by Penelope Chilvers. Kate's owned them for over a decade. (Penelope Chilvers confirmed to a journalist that Kate has not replaced the boots, to her knowledge).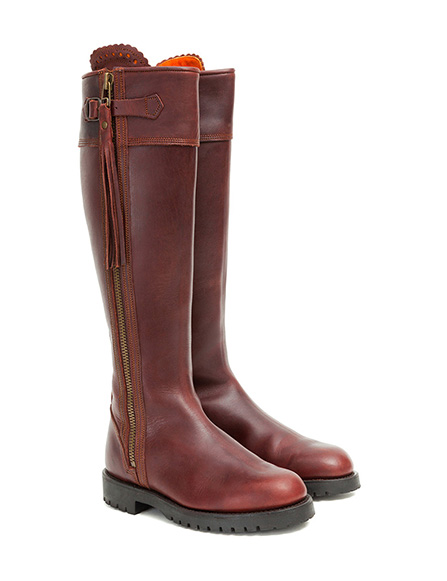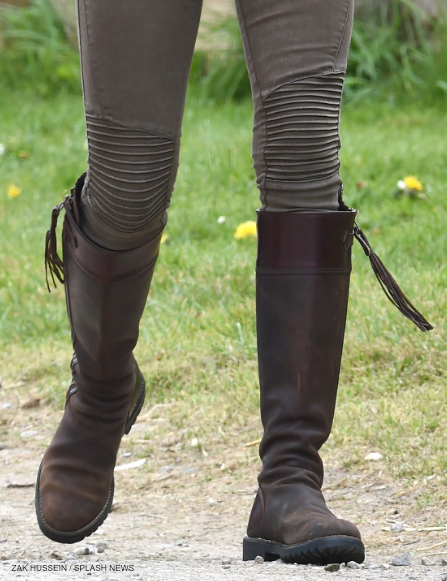 The boots are made from Spanish leather. Kate wears the conker brown style. They cost £475 and can be purchased from PenelopeChilvers.com
You may recognise Kate's earrings, they're by Kiki McDonough. They're the Lauren Leaf Earrings. These drop earrings are made from 18ct yellow gold and pave diamonds shaped into an elegant leaf motif. Kate has worn the striking earrings repeatedly over the last six years. At last count, she's worn them around 30 times while performing royal duties.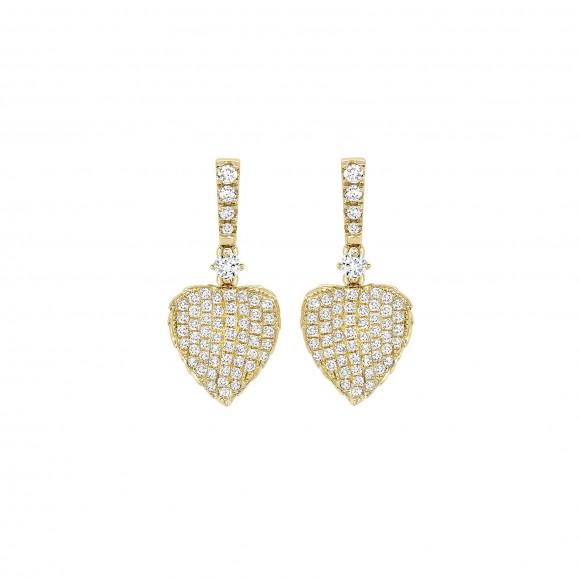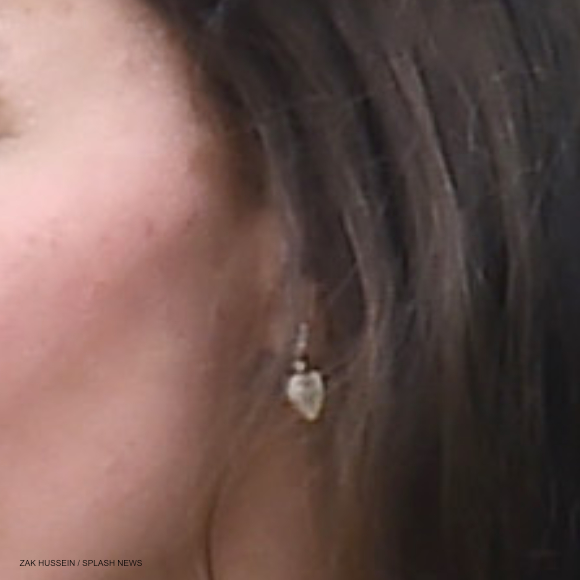 Finally, Kate wore her Cartier Ballon Bleu watch. She wears the 33mm size. She's worn the watch regularly since around 2013.