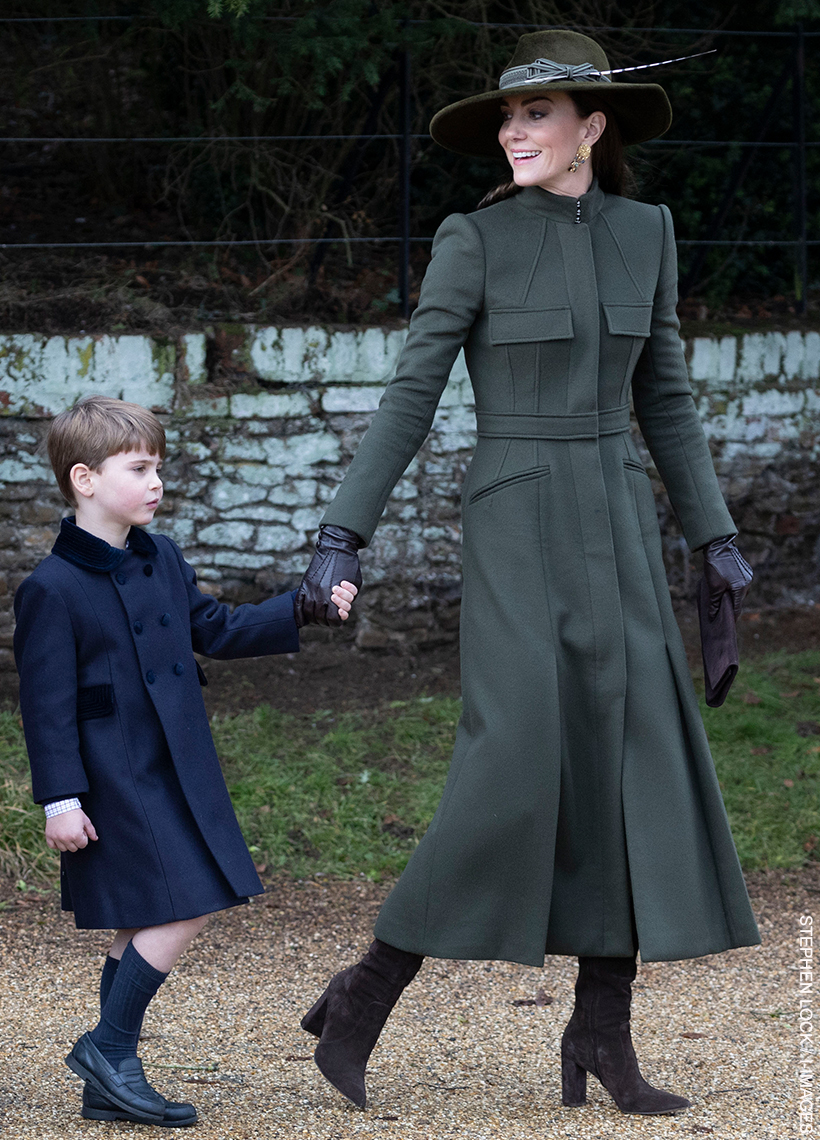 It was lovely to see a return to tradition! After a two year hiatus due to the coronavirus pandemic, the Royal Family were out in full force in Sandringham for the traditional Christmas morning church service.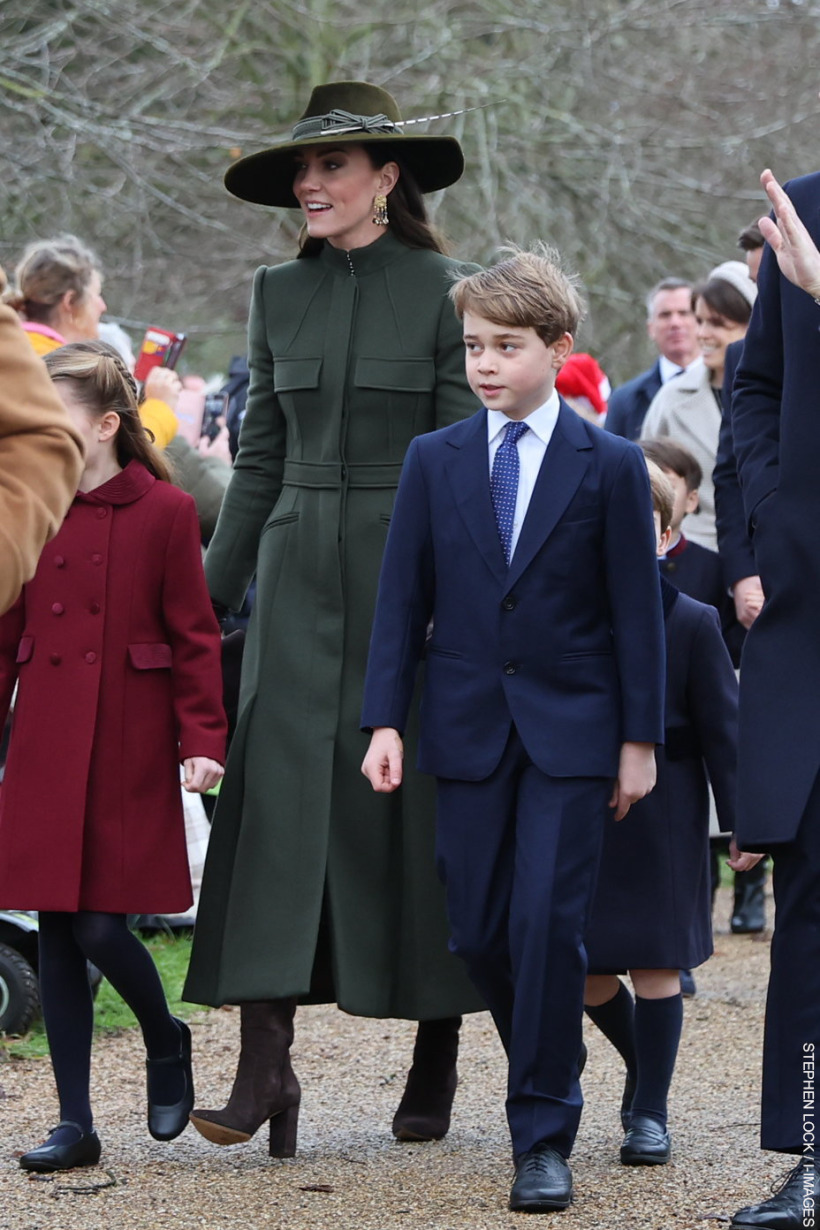 Kate Middleton joined her in-laws dressed from head-to-toe in deep forest green. It's no surprise that the Princess chose this festive shade—she loves a bit of literal dressing and the colour is deeply associated with with the season!
The royals walked the 300-metres from Sandringham House to St Mary Magdalene Church, greeting well-wishers along the route.
This year, all three Wales children accompanied their parents. It was Prince Louis' debut and the the second time for Prince George and Princess Charlotte. (They first joined William and Kate in 2019.)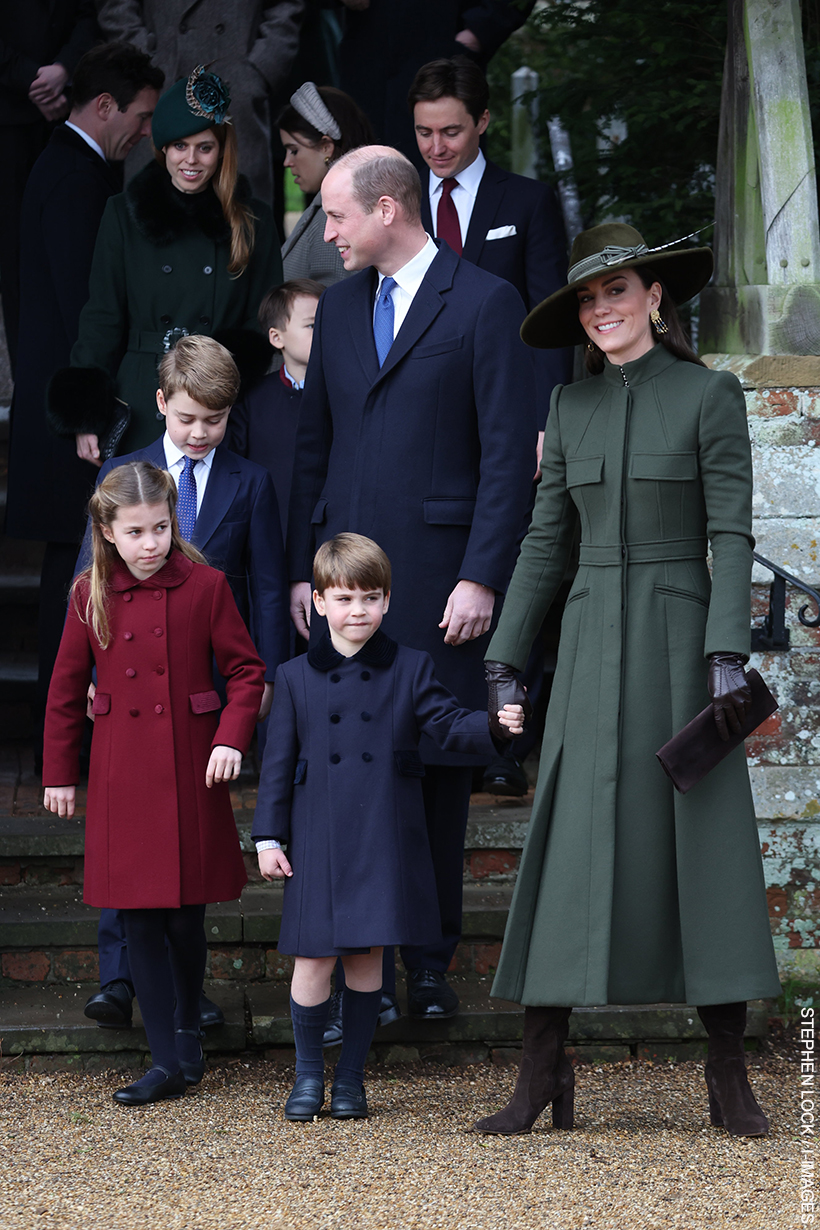 Of course, this is the Royal Family's first Christmas at Sandringham without Queen Elizabeth, following her passing in September. No doubt her absence will be felt all today.
Inside the church, the Royal Family enjoyed a private service. I think it's likely the congregation remembered the Queen, Prince Philip and other loved ones.
Let's move on to the fashion section of this post and look at what Kate wore for the Christmas festivities now.
Kate Middleton's Christmas Day Outfit:
The women of the Royal Family always dress up for the traditional morning walk, with smart hats and warm coats being a staple. Seeing their ensembles—and in particular Kate's—is always a highlight of my Christmas Day. This year, the Princess did not disappoint. She chose a deep forest green—a colour associated with the season—paired with earthy green accessories. I felt her look epitomised country chic!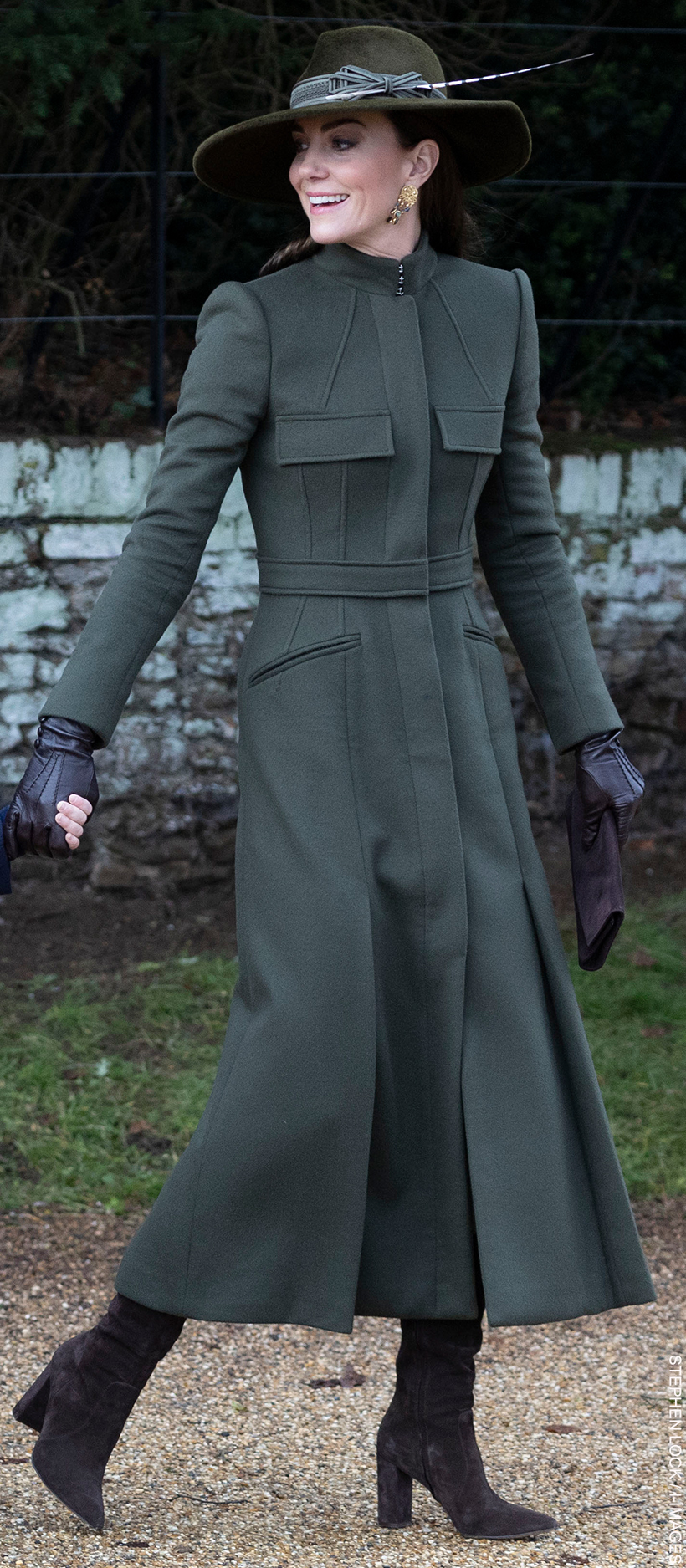 The tailored coat is from Alexander McQueen. It features a high collar, seam detailing, flap pockets on the bodice, pockets on the skirt, pleats on the skirt and an inset waistband.
If it feels familiar, that's because we've seen the Princess wear it on three other occasions, all in 2020. to visit Bradford (pictured below), to visit Galway in Ireland and at London Euston Station for the Royal Train Tour.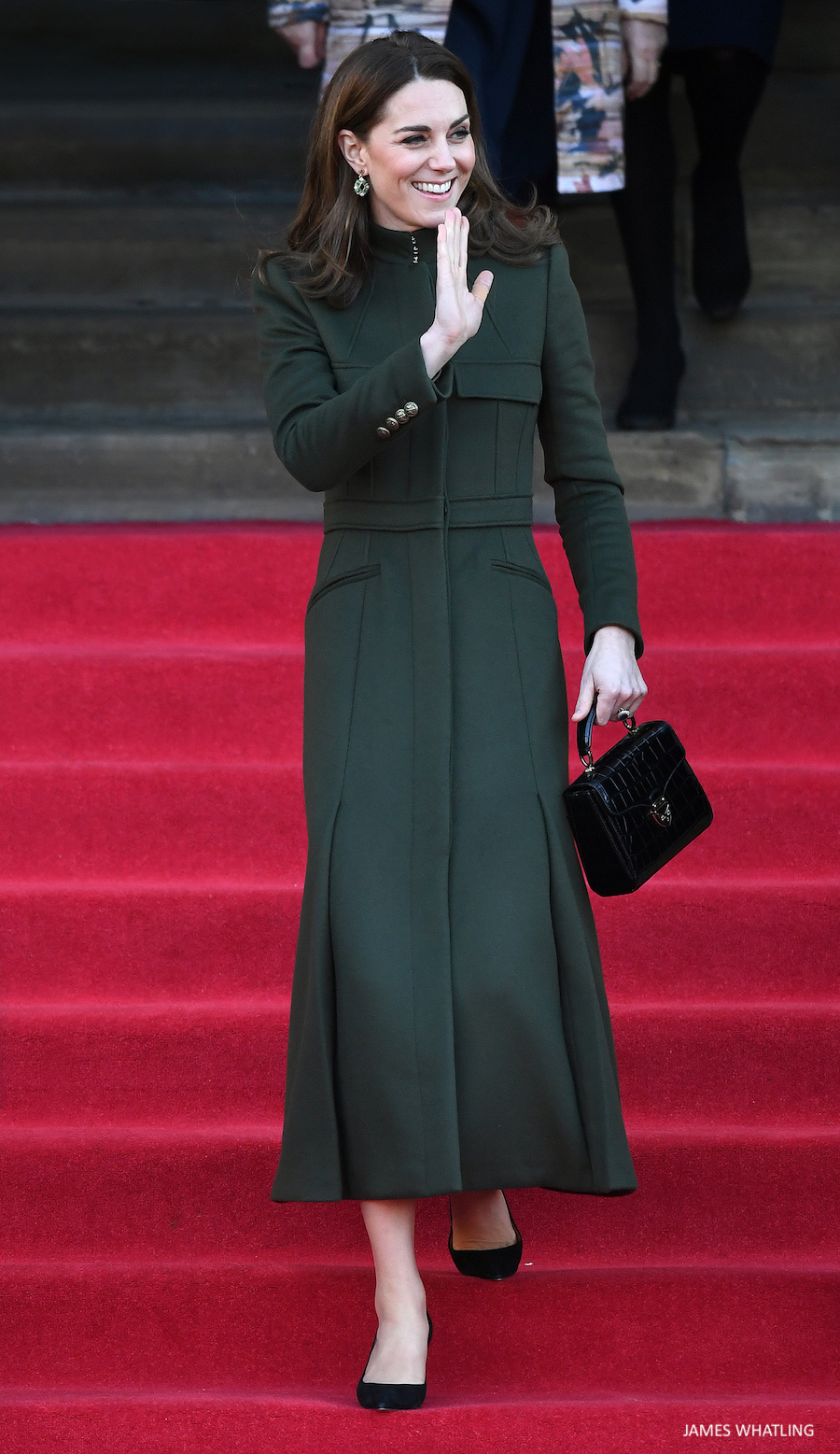 It is widely reported that the coat is a bespoke creation for Kate. She will have commissioned the garment from Alexander McQueen's atelier.
Kate has a longstanding relationship with Alexander McQueen. She has worn many of the brand's creations for public appearances—including her iconic wedding dress of course, designed by Sarah Burton, the company's creative director.
Alexander McQueen is a luxury fashion house that has gained a reputation for its edgy, avant-garde designs. Founded by the late Lee Alexander McQueen in 1992, the brand has dressed celebrities and influential figures around the world. Alexander McQueen's collections often incorporate elements of British culture and traditional craftsmanship techniques like embroidery and beadwork.
It looks like Kate paired her festive outfit with a pair of brown suede boots from Gianvito Rossi, a similar pair pictured below I'm not sure if they're the dark brown pair she's worn twice before or another pair in dark chocolate brown (or black, perhaps).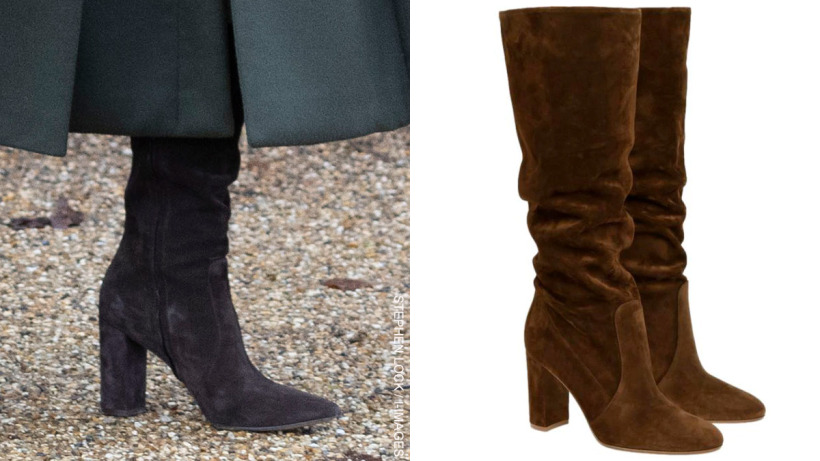 The team at Gianvito Rossi told another blogger that they custom created the boots for Kate. It looks to me like they're loosely based on the their ready-to-wear 'Glen' style from the current season collection. The boots appear the same, but with a rounded toe instead of pointed. They also feature a large block heel, a distinctive shaped panel on the boot's vamp and a side zipper.
Kate's worn the brown boots twice in public before, to support the England Rugby Team in November 2022 and during a visit to Boston in December 2022. She also owns the same boots in blue.
If you'd like to buy the Glen boots, they're available in brown at LL-CC, grey, black and camel at Net-A-Porter.com and Blue at MyTheresa.com.
Kate is loyal to luxury footwear designer Gianvito Rossi. Known for his elegant, refined aesthetic and commitment to using high-quality materials and exceptional craftsmanship, Rossi has created a range of designs for the Princess, including sandals, boots, pumps, and more.
UFO NO MORE quickly identified Kate's earrings. They're the Dina style from the French brand Sézane.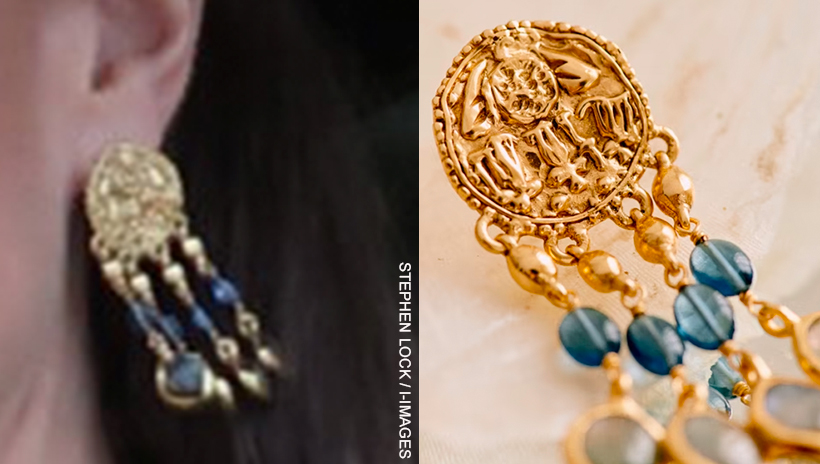 The gold-plated recycled brass earrings tassel drops with coloured stones. RRP: £100 (around $120 USD). If you were hoping to pick up a pair, I'm sorry to say they're sold out.
This is the fifth pair of Sézane earrings we've seen Kate wear recently. I suspect the Princess enjoys the brand's design aesthetic and their conscious manufacturing practices and ethics.
Sézane is a French fashion brand known for its focus on quality, sustainability, timeless style and Parisian aesthetic. The brand's commitment to sustainability is reflected in its use of eco-friendly materials and its partnerships with organisations that support social and environmental causes.
Under the coat, we can see Kate wore her green rib knit midi dress from Mango. (Credit to @RoyalWikipedia for spotting this! Zoom in on a couple of photos and you'll notice the distinctive rib skirt as Kate walks)
The Princess wore the khaki green dress with a different coat in November, to visit a Children's Centre in West London.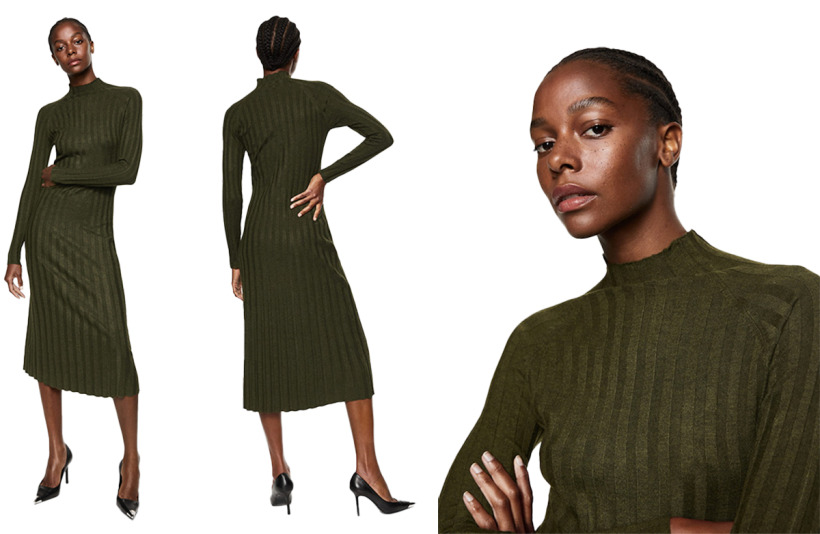 The green knit dress is from Mango's Committed Collection—their clothing produced using sustainable fibres or processes to reduce environmental impact. The garment features a tailored silhouette in an evasé design—a sort of graduating A-line style—with a high neckline and long sleeve.
Sadly, the dress is no longer available to buy in khaki green. There are a few remaining sizes left in caramel brown if you'd like to copy Kate's sleek style.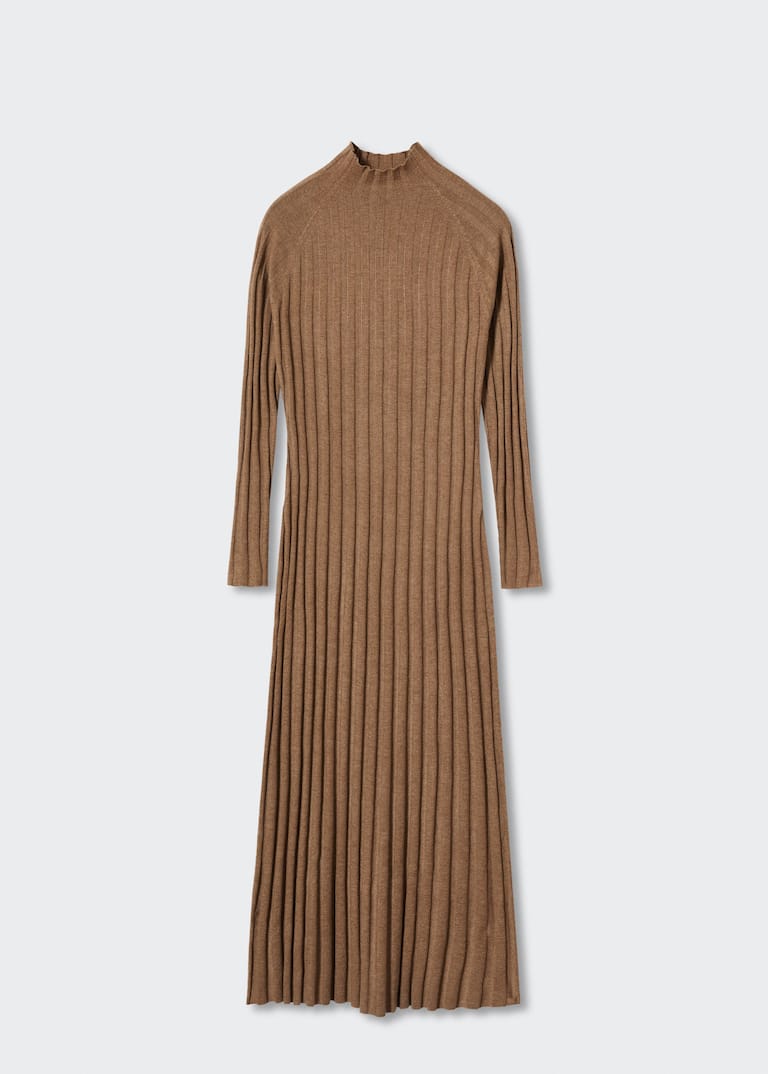 Same Dress, Different Colour
Buy it in caramel: Sadly, the khaki version of Kate's midi dress is long sold out. But Mango still sell it in caramel (in limited sizes). Style it with toffee-coloured accessories and a camel overcoat for a Princess-approved look!
Kate accessorised her look with a brown suede handbag and a pair of leather gloves.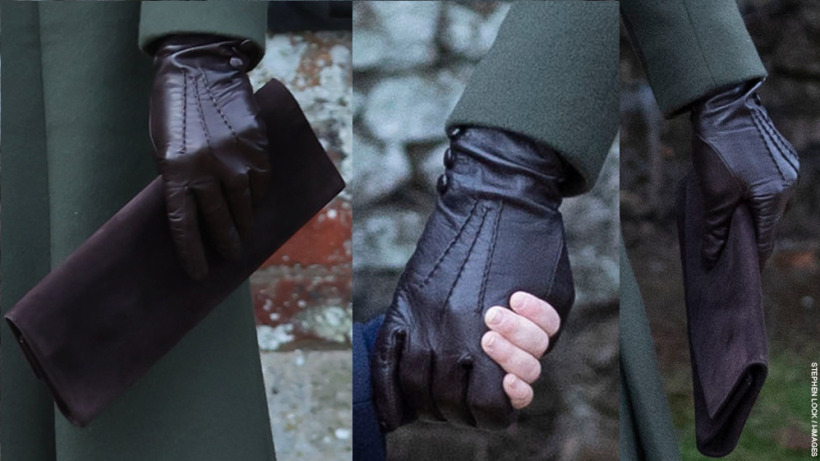 I think the bag is her Stuart Weitzman Muse clutch.
Kate's owned the Muse clutches for years—she owns the style in four different colours that we know of. She's carried the bags regularly since she jointed the Royal Family in 2011. Sadly, the rectangular flap clutch is no longer available to buy.
I have been in touch with Dents who confirm Kate wore their Rose gloves in Mocha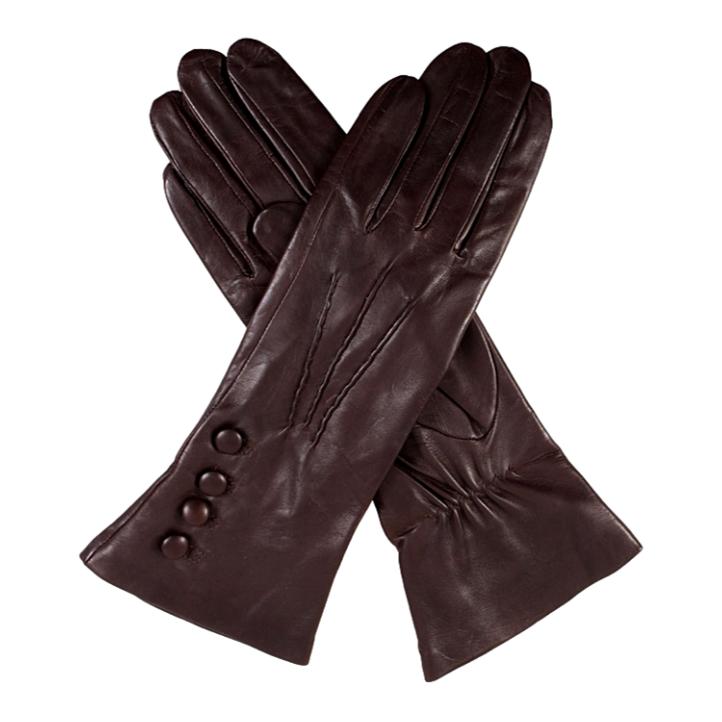 The Princess finished her look with a hat by Philip Treacy. (Thanks to UFO No More for the ID). The green hat looked the epitome of country chic with its leather band, bow and feather.

What do you think of Kate's outfit for the Christmas Walk? Share your thoughts in the comments below!