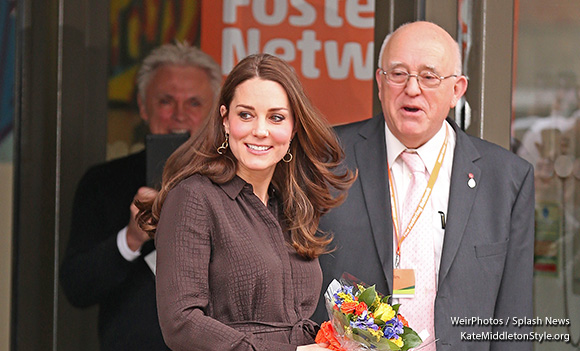 The Duchess of Cambridge attended an event in North London today, hosted by the The Fostering Network and Islington Council.
The Fostering Network are an organisation that provide support to both fostered children and fostering families.  Today's event was held to celebrate the work of foster carers.
During the event, The Duchess met with foster carers, social works and care leavers to discuss the role of fostering and to hear the stories of those who have experienced fostering first hand.
The Fostering Network also hope The Duchess's attendance at the event will draw attention to the need for more foster carers in UK.
"A visit from The Duchess helps to shine a spotlight on fostering and the need for more foster carers, particularly to look after teenagers, disabled children and groups of brothers and sisters. We are very grateful to her for her interest, and know that the foster carers and care leavers attending our event today are excited to be sharing their experiences and stories with her."
– Lucy Peake, director of development at The Fostering Network
Kate's Outfit:
To todays event at The Fostering Network, The Duchess wore a dress by British high street brand Hobbs.
Specifically, Kate is wearing the Hobbs "Animal Shirt Dress", which is made from 100% silk.
The dress is still available in the website's outlet section here.  It's currently on sale in limited sizes in both brown and grey for £50 ($76) reduced down from £169 (approx $269).
Hobbs describe the dress as follows:
The classic shirt-dress has been updated with this animal-print embossed silk jacquard. This elegant piece features a covered placket and coordinating belt for a sleek look.  Wear to work with a glossy court shoe, or slip into suede ankle boots for a cool weekend spin.
Kate wore her Stuart Weitzman's "Power" pumps in black suede.
The shoe is still available at Stuart Weitzman USA in a number of colours and styles, ranging in price between $231 -$355. For those in the UK, On the brand's UK website, the "Power" shoe is available in blue suede for £235.
Shop Stuart Weitzman "Power":

Here's how the shoe is described on the brand's website:
At once elegant and alluring, this pointed-toe stiletto is the ultimate in sleek city chic. Take it from day to night with a backless dress and ultra-tailored blazer.
Kate carried her Mulberry London Bayswater clutch bag in black suede today too.
The Duchess has carried this bag on a number of occasions throughout her career as a working royal. Selfridges stock the black leather version of the bag (the suede version has been sold out for years).  Here is how they describe the Bayswater clutch:
Borrowing signature detailing from the iconic namesake tote, Mulberry's Bayswater clutch wallet is an essential addition to your accessories collection. Smart and compact in glossy goat leather, it features the unmistakable Postman's Lock and multiple compartments for your after-dark essentials. (Height 11cm, width 20cm, depth 3cm)
Shop Mulberry Bayswater Clutch:

Kate wore a pair of earrings we haven't seen publicly before. They are by a brand named Mirabelle.
With thanks to the diligent Anna from My Small Obsessions, I can reveal they are the Lolita style. They form part of the designer's "Mythology" collection.
Here's how Mirabelle describe the earrings:
Small Gold Plated loop earrings, 22 carat on Brass. 4cm long

Hand Made, Fair Trade.

Available in Silver Plate as well.
About Mirabelle:
Mirabelle is a British brand that sells hand made and Fair Trade designer jewellery. Their jewellery is also sold at Whistles, Felt London (who have confirmed they supplied the earrings to Kate), Asos and Rock my Vintage.
Shop Mirabelle Jewellery:

More information about fostering in the UK:
If you believe that you have the skills to foster, and the room in your home, visit couldyoufoster.org.uk to find out more and to contact your local fostering services.