After spending this morning touring both Gardens by the Bay and the Rolls Royce factory, and then this afternoon visiting Queenstown, Kate and William retired to their hotel room for several hours before emerging this evening ready for a reception at Eden Hall, the British High Commissioners' residence.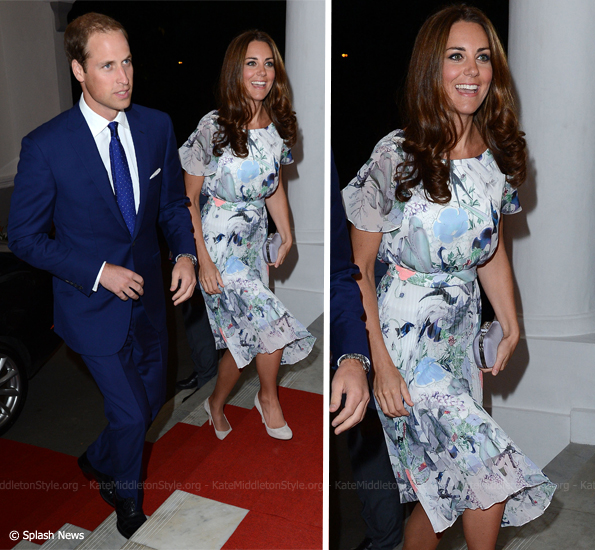 At the soiree, Kate and William met members of the British and international expatriate communities, plus notable Singaporeans.
The royal couple also met the winner of the "Best of Britain in Singapore" Photo Contest at the reception.  You can see all of the entrants here on Facebook.  Scroll down this page to see the winning photo and read the description.
You might be interested to hear that Musicity provided the entertainment at the reception.  Musicity are a "location-based, curated music platform that explores the intersection of music, place, memory and experience".  They provide further information on their website:
"We commission recording artists to compose original music in response to an aspect of the city that inspires them. Through our mobile app, you can visit these locations to hear and download these exclusive tracks."
Here we take a look at  Kate and William posing with High Commission staff and their spouses inside Eden Hall: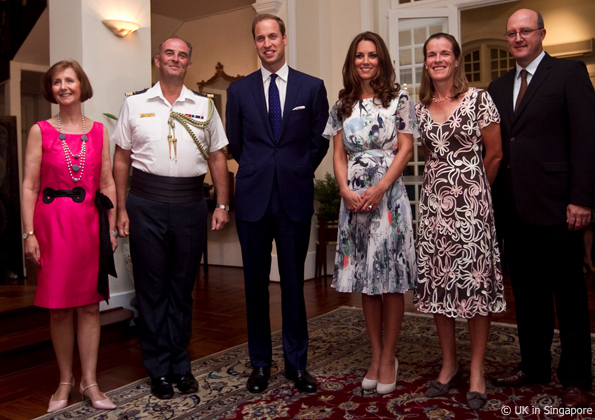 Kate's outfit:
Kate wore an oriental-print dress in soft tone colours from one of her go-to designers, Erdem.  The floaty dress appears to be adapted from the "Meryl" dress from Erdem's Spring/Summer 2012 collection: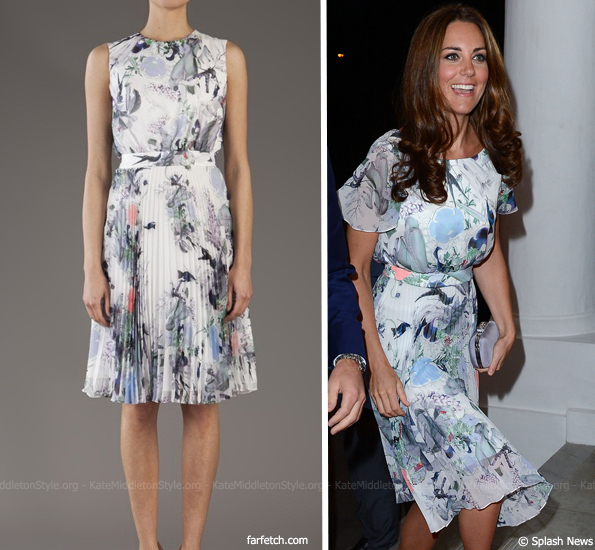 You can see both dresses have the same pattern, pleating and waist detail, however, Kate's version of the dress has a wider neckline and chiffon sleeves.
Here's another two photos of the ready-to-wear Erdem Meryl dress.  The dress on the left was photographed by the staff at nathalieschuterman.com while the image on the right is a catwalk photo taken from Erdem's website.  You can see both dresses don't have sleeves like Kate's dress – we can only assume she requested a modification of the design from Erdem, perhaps to respect the local customs for conservative dress in Singapore (or perhaps guests are simply expected to cover up their shoulders during high profile events and dinners?  Perhaps some of our Singaporean readers could help to clarify?)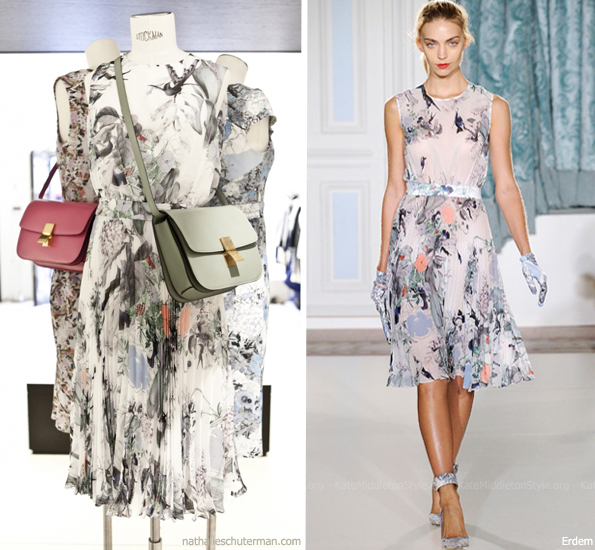 The Erdem Meryl dress is described as having:
"[a] full pleated skirt, back cutout detailing and invisible side zipper closure." 
The dress is made from Polyester with 100% silk lining.
Kate's accessories:
Let's take a look at Kate's accessories close up: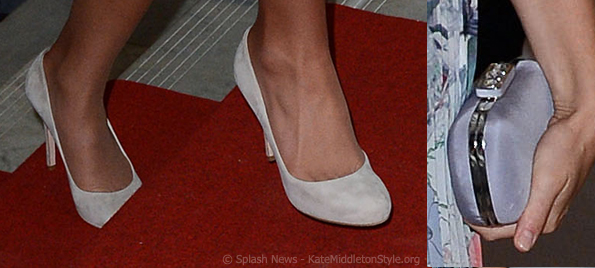 Kate wore her L.K. Bennett Harper shoes (the light beige version) with her Erdem dress. The gorgeous suede court shoes retail at £195 and come in a range of colours on L.K. Bennett's website.  Click any shoe to view it in more detail:
Kate also clutched what looks like a satin or suede Alexander McQueen clutch bag (with the skull removed).  Kate is known to adapt McQueen's clutch bags to remove the skull, making the bag less edgy and more wearable.
Kate wore a new pair of drop earrings, which you can see at the HRH Duchess Kate blog, here.  More on those later, once we have the details!