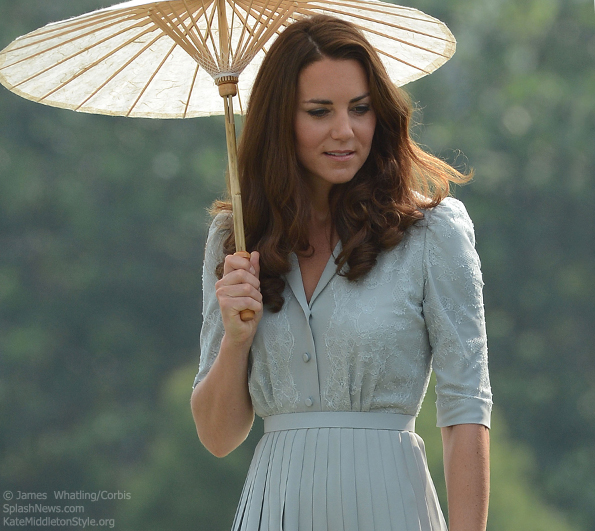 The royal couple's final day in Singapore ended on quite a solemn note with a visit to the Kranji Commonwealth War Crematory where William and Kate laid a wreath on behalf of The Queen and Prince Philip.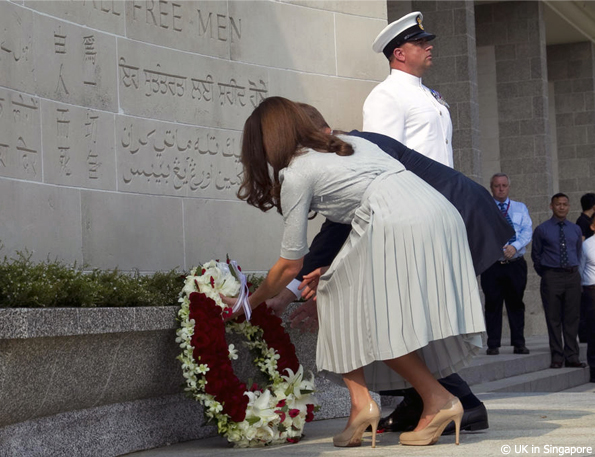 The couple wandered around the rows of white graves, appearing deep in thought, after meeting veterans from Singapore, Britain, Australia and New Zealand.
To stave off the hot sun, Kate carried a traditional East Asian parasol, here we show a picture:
Kate with a parasol, touring graves with William at Kranji Commonwealth War Crematory. The couple take a moment to reflect on the sacrifices made during the Second World War. Image courtesy of Rebecca English from the Daily Mail.
William and Kate both signed the visitor's book at Kranji too. Here we share another picture from Rebecca English, @RE_DailyMail. You can see William and Kate's named signed clearly: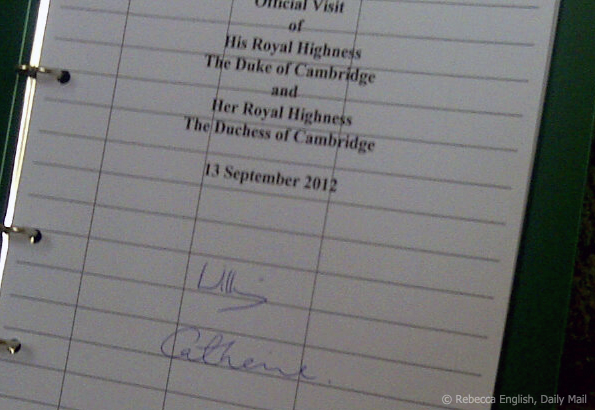 Later, William and Kate flew to Kuala Lumpur in nearby Malaysia to embark upon their four day visit to the country, on the second leg of the South East Asia Jubilee tour.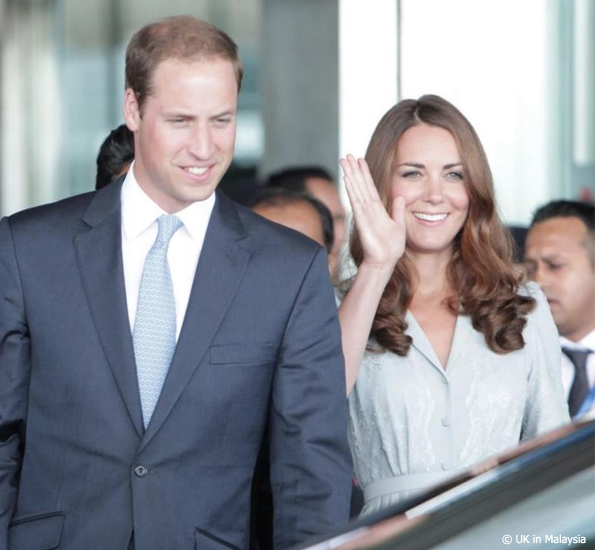 Their first engagement was a lunch hosted by the country's Prime Minister at his official residence. As you can see below, Kate's Duck Egg blue dress matched the room's decor beautifully! (As an aside, this leads me to wonder if Kate researches things like this, such as colour schemes in advance, or whether it's just a happy coincidence…?)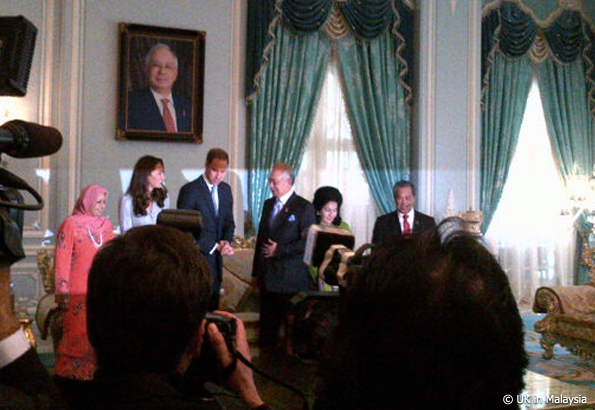 Image courtesy @ViviennePal, via UK in Malaysia
Kate was overheard admiring a large exotic fruit display and asking about pieces that we don't tend to see very often in the UK. According to The Daily Mirror, Kate said, "wow" and remarked "I love unusual fruit."
The couple ate a grand meal comprising of rock lobster salad, smoked salmon, nutmeg scented butternut pumpkin soup, macadamia nut baked salmon with vegetables and saffron beurre blanc followed by a chocolate feuillantine dome with bourbon creme brulee and earl grey ice cream. Of course, with Malaysia being a largely Muslim country, alcohol was not offered at the formal dinner.
The couple then headed over to their engagement at Hospis Malaysia for the afternoon.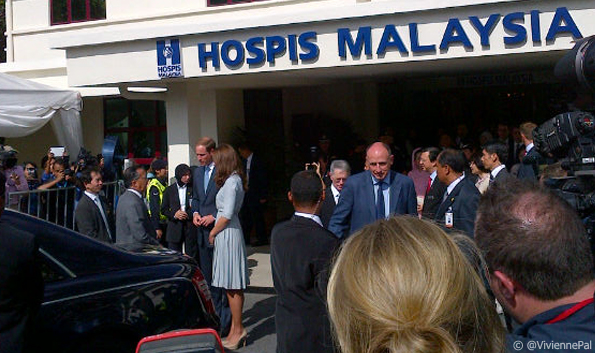 Image courtesy @ViviennePal, via UK in Malaysia
At the hospice, Kate and William met both patients at staff, before Kate gave her first overseas speech. This is Kate's second official public address as a member of the Royal Family. Kate started off by talking about her visit to the country, declaring that herself and William are "hugely excited" to be there. She went on to discuss her links with East Anglia Children's Hospice in the UK and mentioned how "thrilled" she was to hear that Hospis Malaysia is to collaborate with the charity she supports. Hospis Malaysia is one of only a handful of medical institutions in the commonwealth country providing support for dying patients. While at the hospice, Kate signed a birthday card for one of the patients and unveiled a plaque with Prince William.
Kate's outfit:
Kate wore a custom Jenny Packham dress in a soft duck egg blue colour.
The dress features a knee-length hemline and covered Kate's arms. The dress features a band at the waist and a pleated skirt: it's a style we've seen Kate wear frequently. The dress featured delicate lace panel detailing too, which you can see clearly in this picture: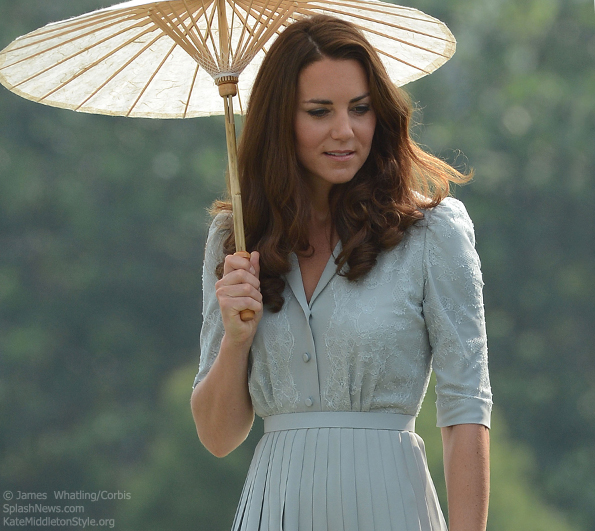 Kate wore her signature L.K. Bennett Sledge platform shoes in taupe. Later in the day, we spotted her with the straw 'Natalie' clutch from the same brand.
The Princess wore her mystery pale blue gemstone teardrop earrings. The earrings are thought to be aquamarine, surrounded by diamonds, hanging from a string of diamonds.
There is a theory that the Princess is wearing the pair shown below, and they're from Asprey London but this is unconfirmed.  I'm not even sure where this photo originated, or if the earrings shown are Asprey.  But the earring back/post is very similar to the distinctive design used by Asprey.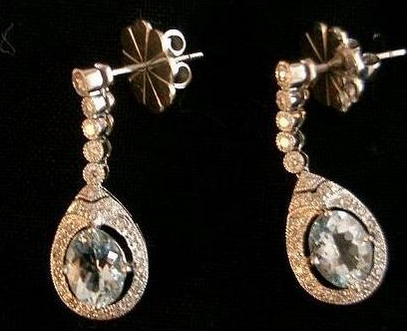 You can shop a great replica of these earrings at ETSY.