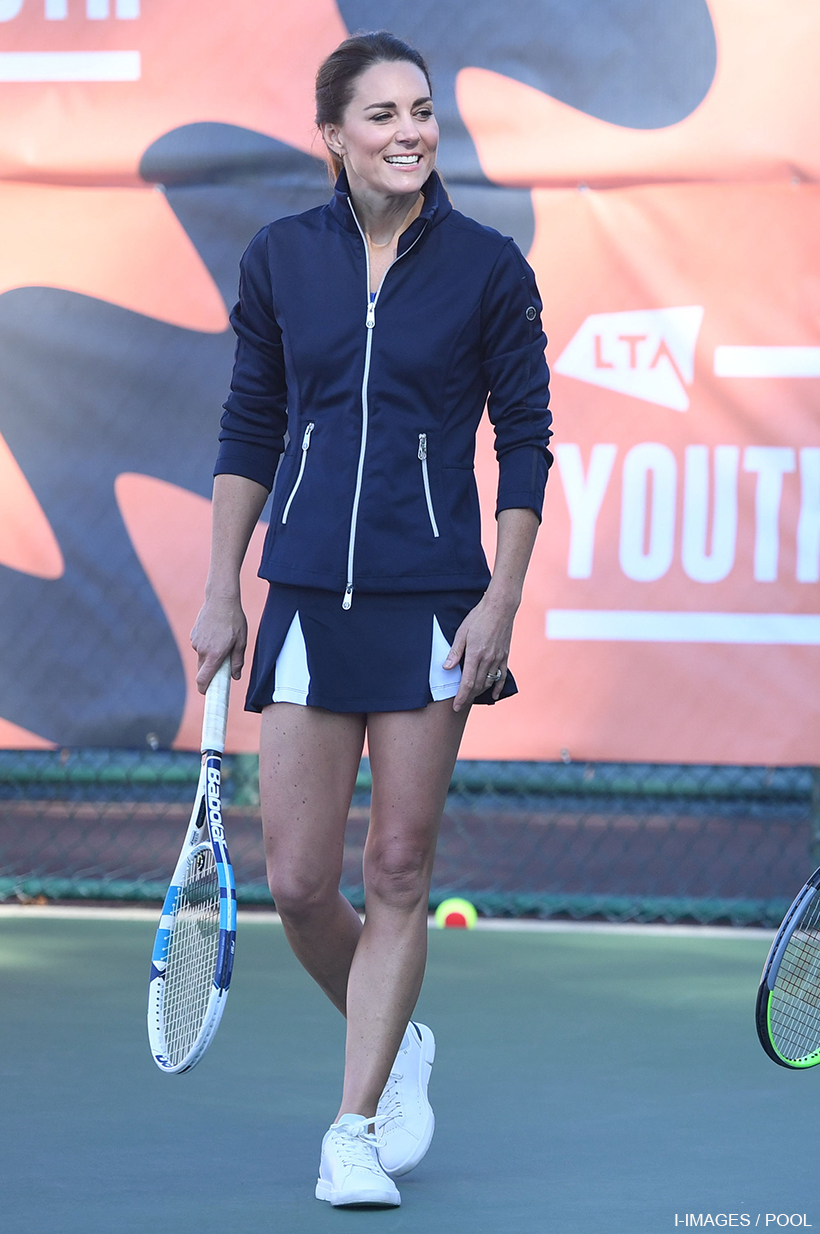 Kate was in her element today as she visited the National Tennis Centre to meet US Open Champions Emma Raducanu, Joe Salisbury, Gordon Reid and Aflie Hewett.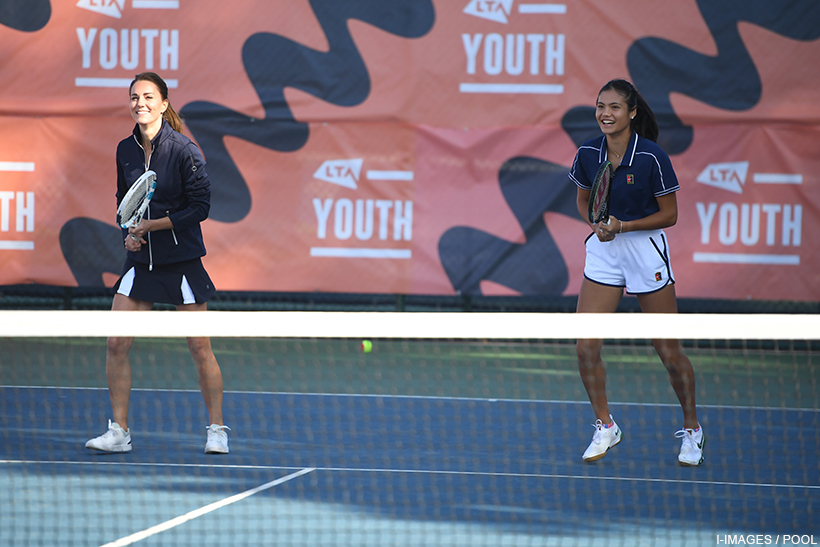 The Duchess, who is a huge tennis fan and keen amateur player, congratulated the four Brits on their successes at the US Open earlier this month.
I'm sure many of our readers will recognise Emma Raducanu, the reigning US Open champion. The teen sensation made headlines after becoming the first British woman to win a Grand Slam in 44 years at just age 18. You may remember that Kate issued a rare personal tweet to congratulate Raducanu shortly after she won the title, signing off the message with a "C" to indicate that she authored it.
Alfie Hewett and Gordon Reid both won the men's wheelchair doubles and Joe Salisbury is the men's doubles champion.
Dressed in sporty attire, Kate took to the tennis court to play alongside the tennis champions. The five of them played against each other in various combinations. According to reporters, Kate impressed Raducanu with her forehand. "I was very impressed", she said, "it was a lot of fun to play tennis with the Duchess". The pair appeared to get on famously, there were lots of laughs:
Video footage of Kate playing tennis with the pros:
Kate's visit was part of The Homecoming, a celebration held for the champions by the Lawn Tennis Association, the National Governing Body for tennis in Great Britain. You may remember that Kate is Patron of the organisation. Tennis fan Kate is also a regular in Wimbledon's Royal Box/
Back in 2017, The Duchess took part in a BBC documentary about Wimbledon, speaking of her love of tennis. She explained that she grew up watching the championships from a young age and that it inspired her to get involved with the sport.
During her visit to the National Tennis Centre, Kate met with teenagers involved in the LTA's Youth Program.
The LTA's youth programme makes tennis accessible all around the UK, giving children of all ages, genders, abilities, disabilities and backgrounds the chance to play.
You might remember that William and Kate visited LTA Youth in Edinburgh during their visit to Scotland earlier this year.
This is just one of many tennis-related engagements Kate's attended as a working royal. Over the last few years, the Duchess has used her position to draw attention to children's tennis in the UK. Below: Kate holding a roundtable meeting on children's tennis initiatives In 2018, Kate visiting a primary school to learn about the work of the 'Wimbledon Junior Tennis Initiative' in 2018; Kate visiting the National Tennis Centre to meet with children who've benefited from the 'Tennis For Kids' campaign in 2017; Kate at a 'Tennis on the Road' event run by Judy Murray in 2016.
Now onto the fashion portion of the blog. I do love writing about Kate's sporty style!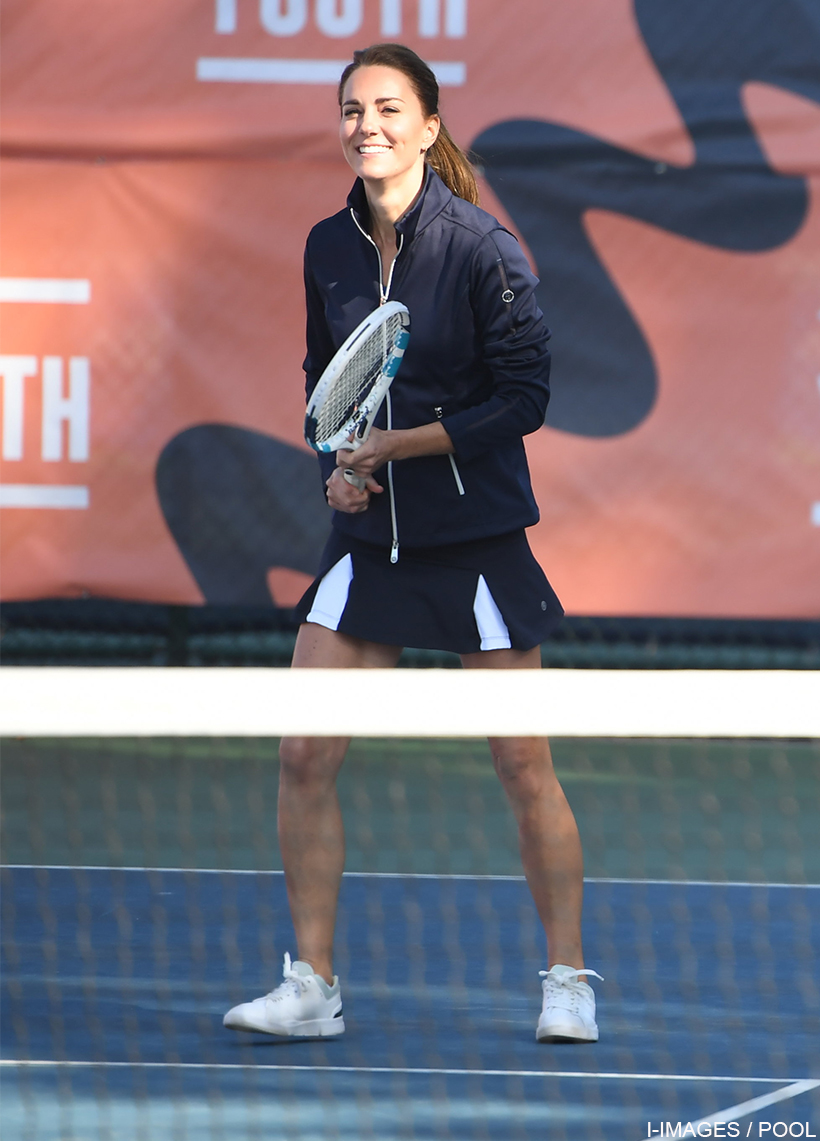 Kate's outfit:
Kate's blue tennis outfit is by French sportswear brand Poivre Blanc. (Thank you to Mallory and Laura for the IDs).
Kate wears the Ladies Tennis Jacket in Oxford Blue. The piece is described as a "flattering, comfortable and yet technical piece of performance clothing". It is made from an anti-UV, quick-dry stretch fabric and features a two-way zip on the front and zipped hand pockets both in a contrasting shade of silver. The piece can be purchased from Amazon.co.uk (from £45.66) and pureracketsport.com (was £110, now £88.50).
Underneath, she wears the coordinating Meryl Stretch Pique Polo Shirt in Oxford Blue. (You cannot tell from the photo above, but this tweet shows it is definitely that top). It is made from meryl pique fabric, which is antimicrobial and offers ventilation. It has an extended v-neckline and contrasting stripes running along the sleeves and the centre front.
She also wears the brand's matching 'skort'. It's the Meryl Stretch Pique Skort in Oxford Blue and it features white inverted pleats. The piece is described as "both stylish and functional". It's crafted from meryl jersey and features contrasting piping along the front and a pocket to store a tennis ball. This piece is also on Amazon.co.uk (£55.83).
On Instagram, Poivre Blanc confirmed Kate wore their tennis clothing and thanked her, calling her "amazing" and "stunning".
Kate finished her sporty ensemble with The Roger Advantage tennis shoes by On. (Thank you to Lady Parky for this ID).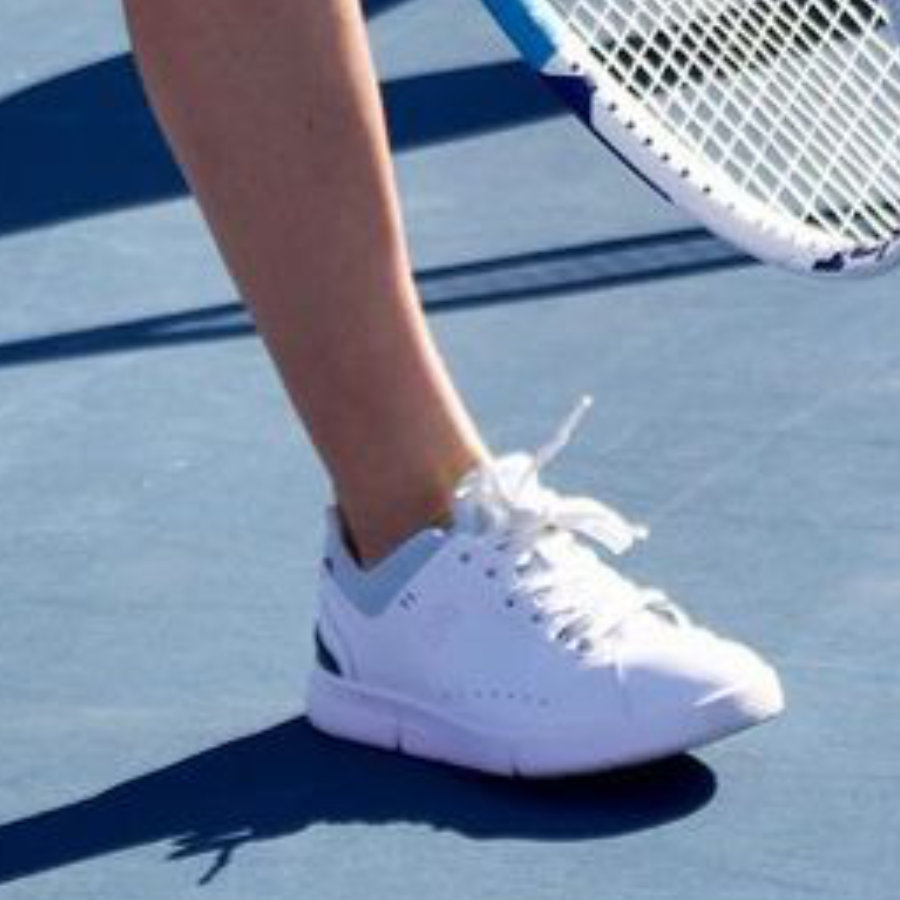 The shoe is a collaboration between On Running and Roger Federer (who is, of course, considered one of the greatest tennis players of all time!) They feature clever technology which makes you feel as if you're running on clouds, are engineered for lasting comfort and are beautifully designed to feature a clean, pared-down aesthetic. They're is made from vegan leather with minimal, tonal stitching. The shoe is, of course, approved by the Swiss-Maestro himself.
Kate wears The Roger Advantage in white – juniper (there are seven other colourways available). They can be purchased from on-running.com (£130 / $139.99), Zappos.com ($140) and BTSN.com (€149.99). UPDATE: They're also at Walmart in size US10 for $99.99.
Kate finished her look with a small pair of gold hoop earrings. Chrissy (via the @MiddletonMaven account) suggests they're her Missoma Gold Mini Pyramid Charm Hoops. (Kate usually wears them with a pink Rhodochrosite stone attached). You can click the + icon to zoom in on the photo below. It's not crystal clear but you can see the detailing on the hoops:
The gold hoops are made from 18ct gold vermeil on Sterling silver. If she is indeed wearing these hoops, it'll be the fifth time we've seen them in public since their debut last year.