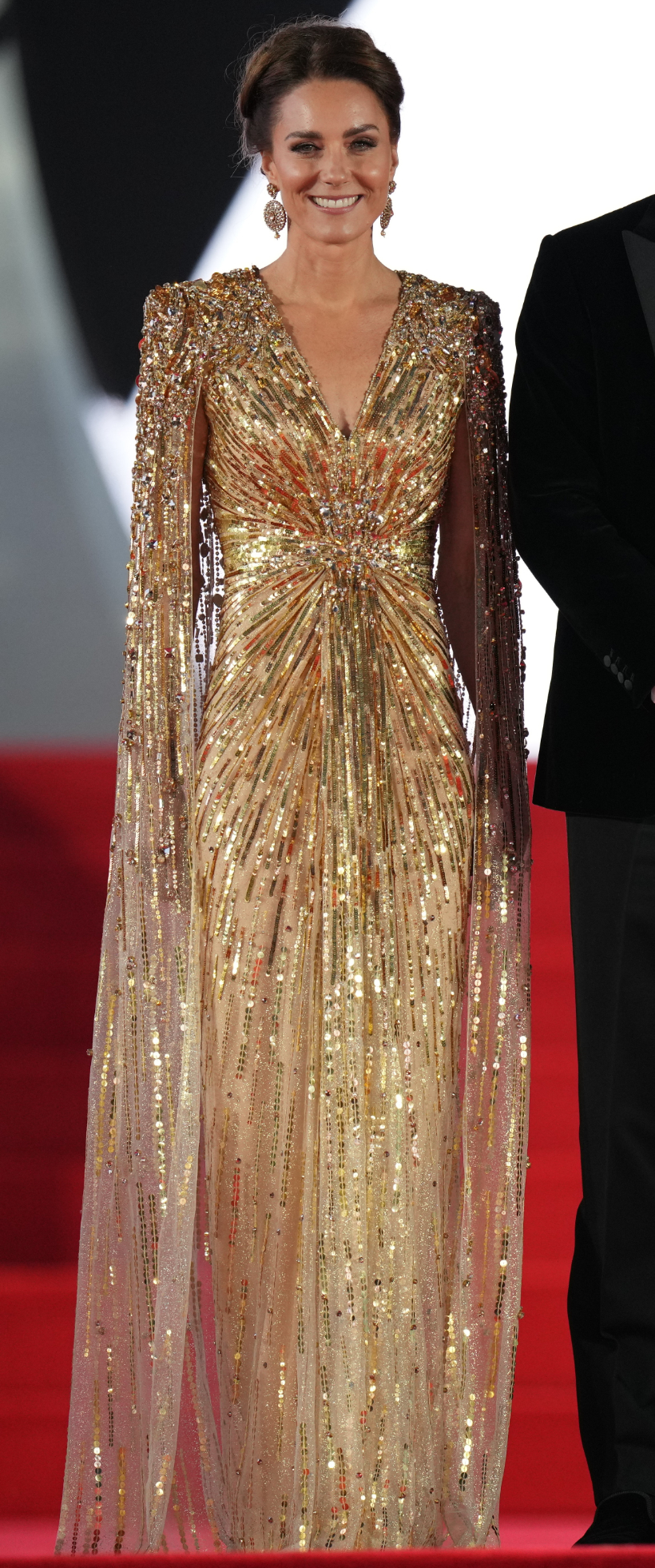 28th September 2021—William and Kate attended the World Premiere of the new James Bond film, No Time To Die, at the London Royal Albert Hall. They were guests of honour alongside Prince Charles and Camilla.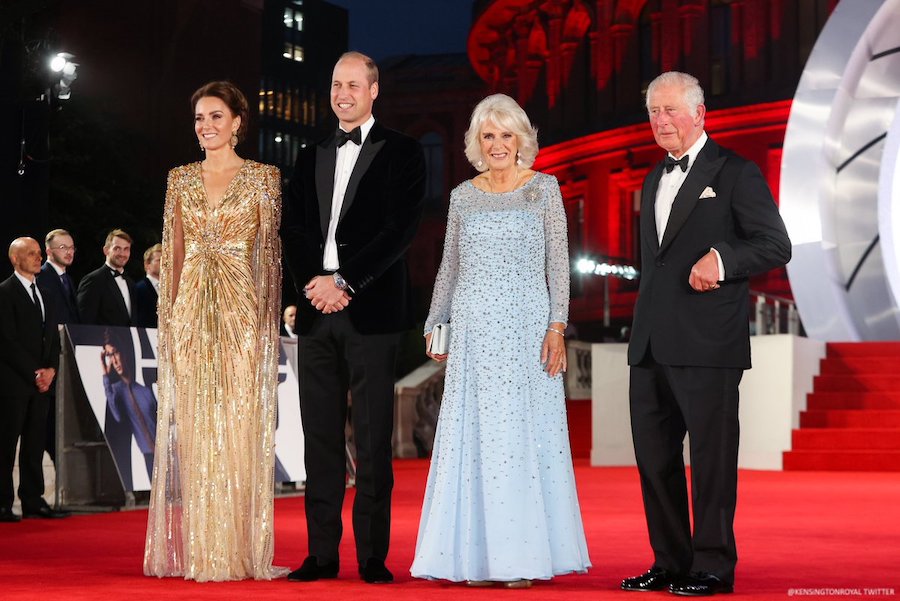 The premiere was supposed to take place last April but was delayed three times due to the coronavirus pandemic.
The premiere benefitted charities supporting serving and former members of the three intelligence agencies: the Secret Intelligence Service, the Security Service, and GCHQ.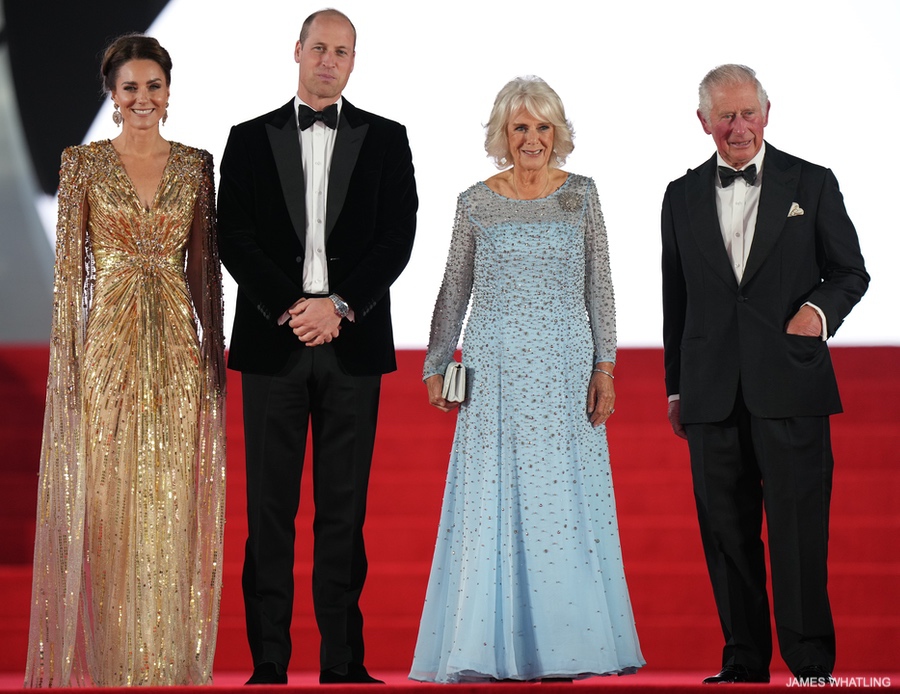 The four royals joined a number of stars on the red carpet. Below: Bond himself, actor Daniel Craig, with actresses Lashana Lynch and Lea Seydoux.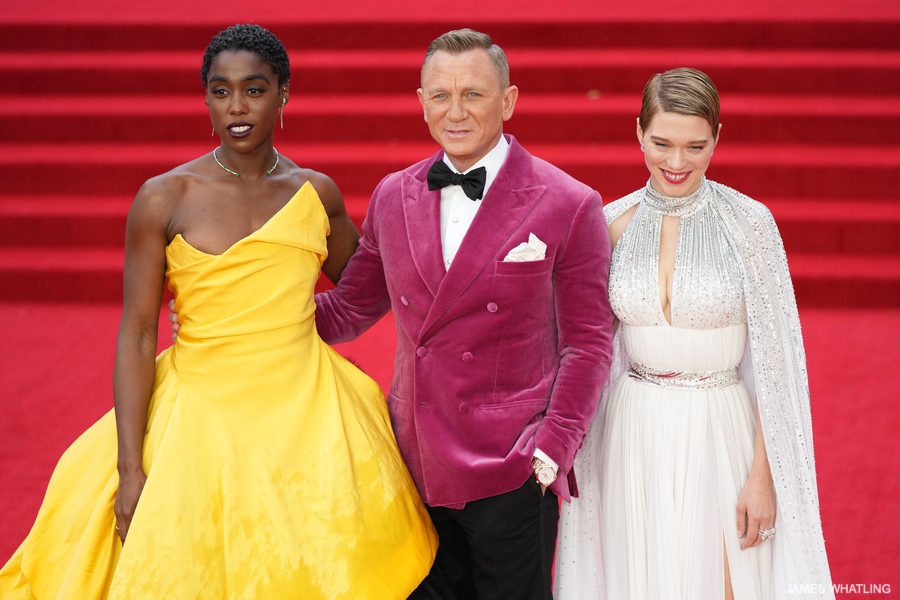 Below, singer-songwriter Finneas O'Connell and his sister, pop star Billie Eilish, who both wrote the theme tune for No Time To Die. Also, Actor Rami Malek and writer Phoebe Waller-Bridge.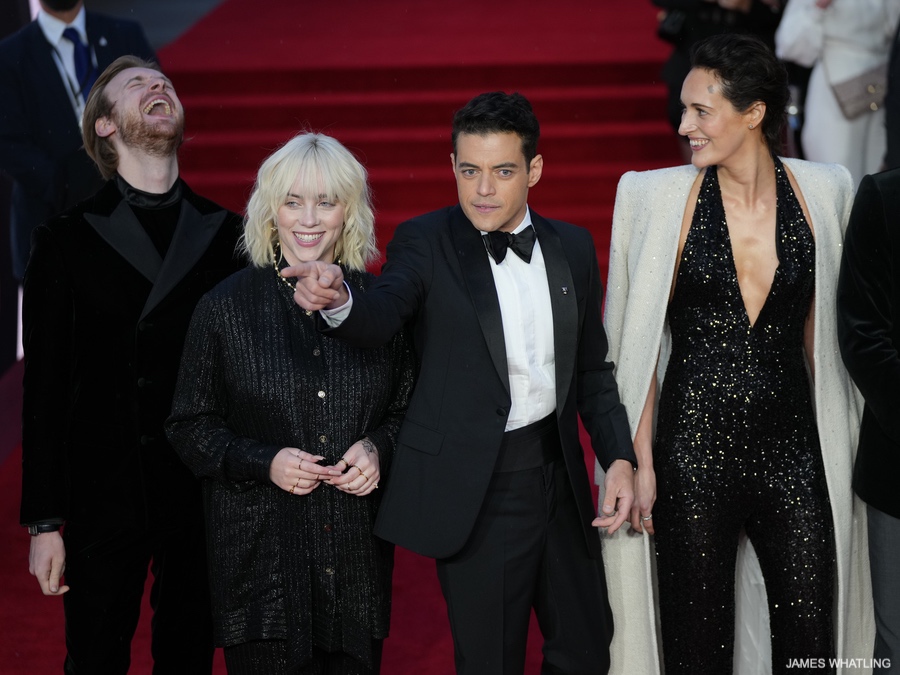 Video of the royals meeting the film's stars:
Kate's gold gown:
This was Kate's first showstopping gown since the pandemic took hold of the United Kingdom in 2019. (Though she did wear an evening dress to a reception a week before this event, this gold gown is on another level!)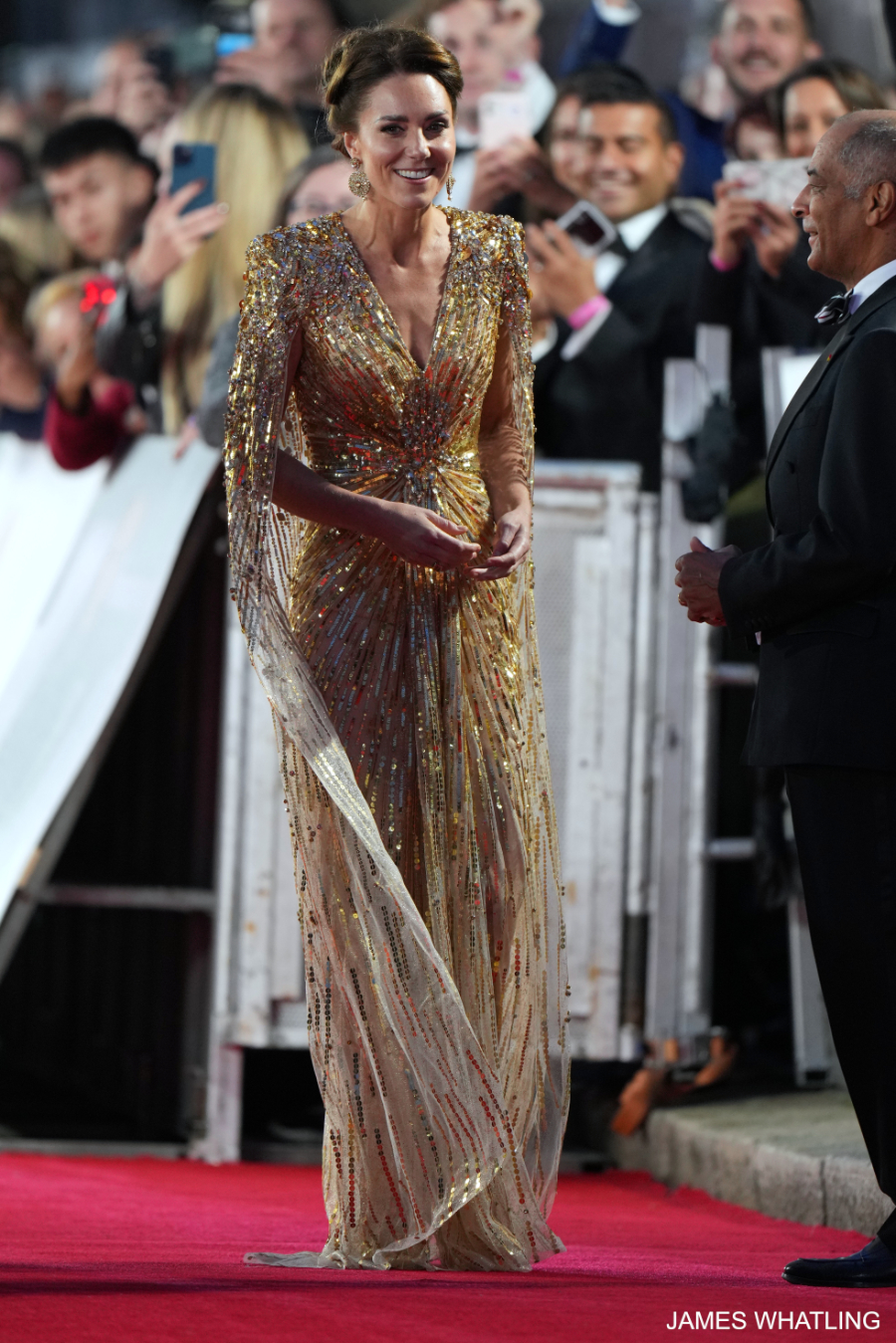 The stunning gold gown is from Jenny Packham's 007 capsule collection in collaboration with EON Productions, the company behind the James Bond Movies. Inspired by Goldfinger, the piece features tonal gold sequins, beads and glitter detailing, plus crystal embellishments. It has a plunging v-neckline and a long, floaty cape. (Note, Kate's version of the dress features a slightly higher neckline.)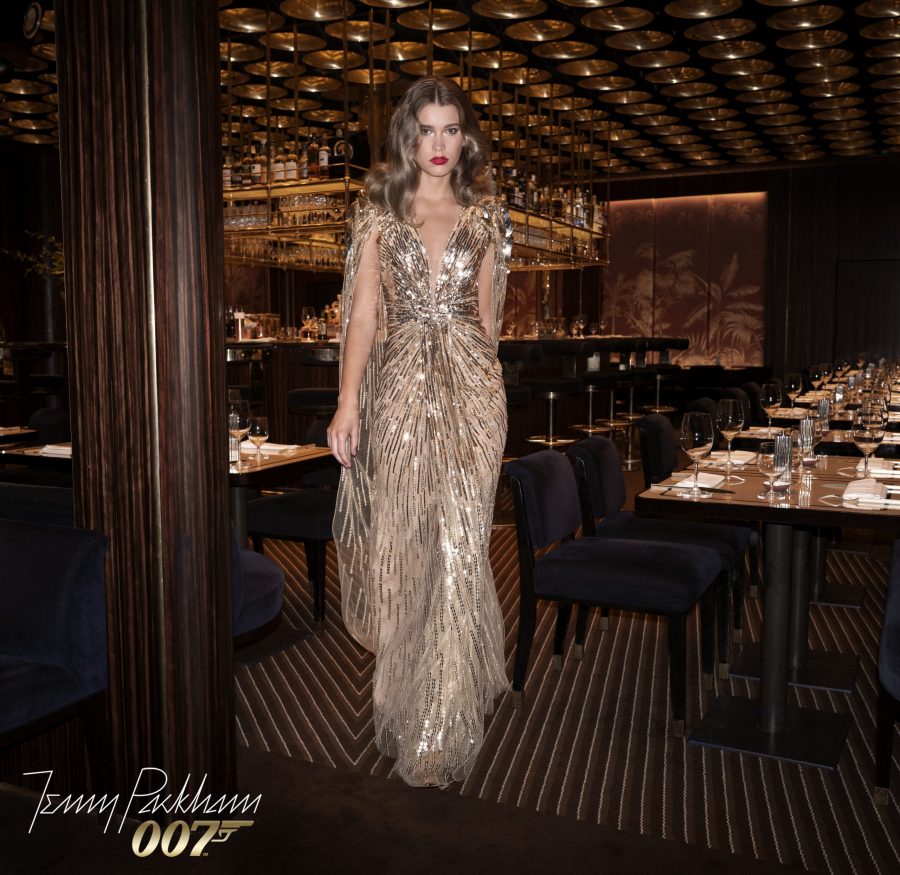 The Goldfinger dress and 007 capsule collection will be released to the public on the 5th of October, known as Global James Bond Day. It will be sold in 10 department stores worldwide, including Harrods and Net-A-Porter.com.
If you cannot wait until then, there are a few dresses in Jenny Packham's ready-to-wear collection that are very similar. You can see Kate's dress borrows elements from each: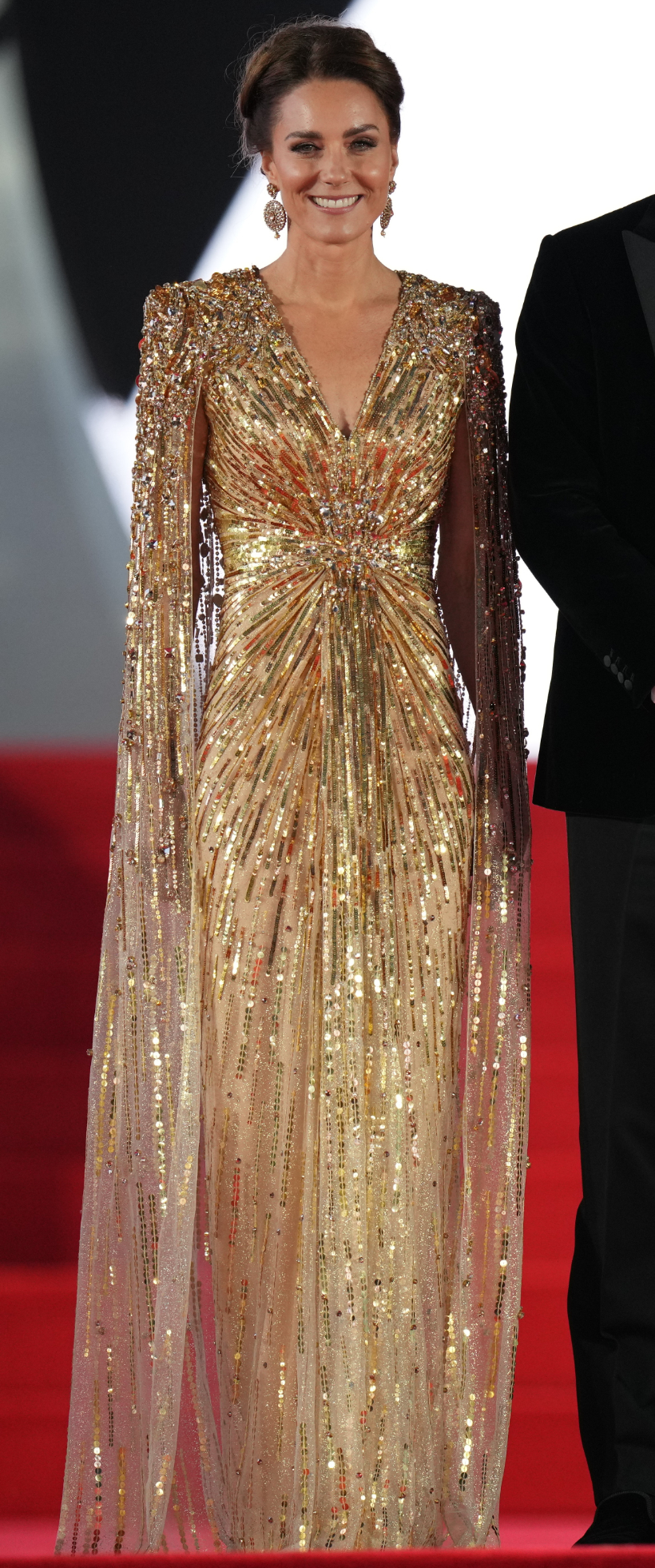 The first dress is Jenny Packham's Embellished Margot Gown (£2,800 at Harrods and Farfetch $4,757). The second dress is the Elizabeth Cape-Effect Embellished Tulle Gown (£3,640 Net-A-Porter and $6,184 at Farfetch).
A close-up of the sequinned, beaded, glittery fabric on Kate's dress: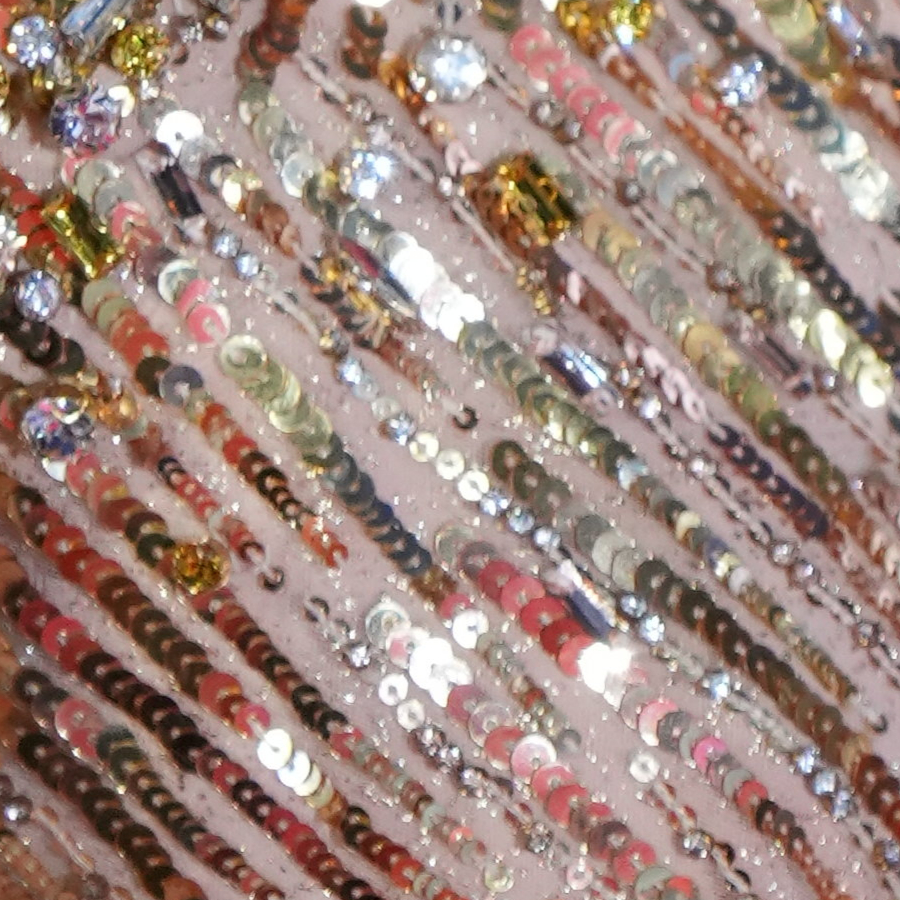 It's a stunning gown and I'm sure this will go down in fashion history as one of her most iconic looks.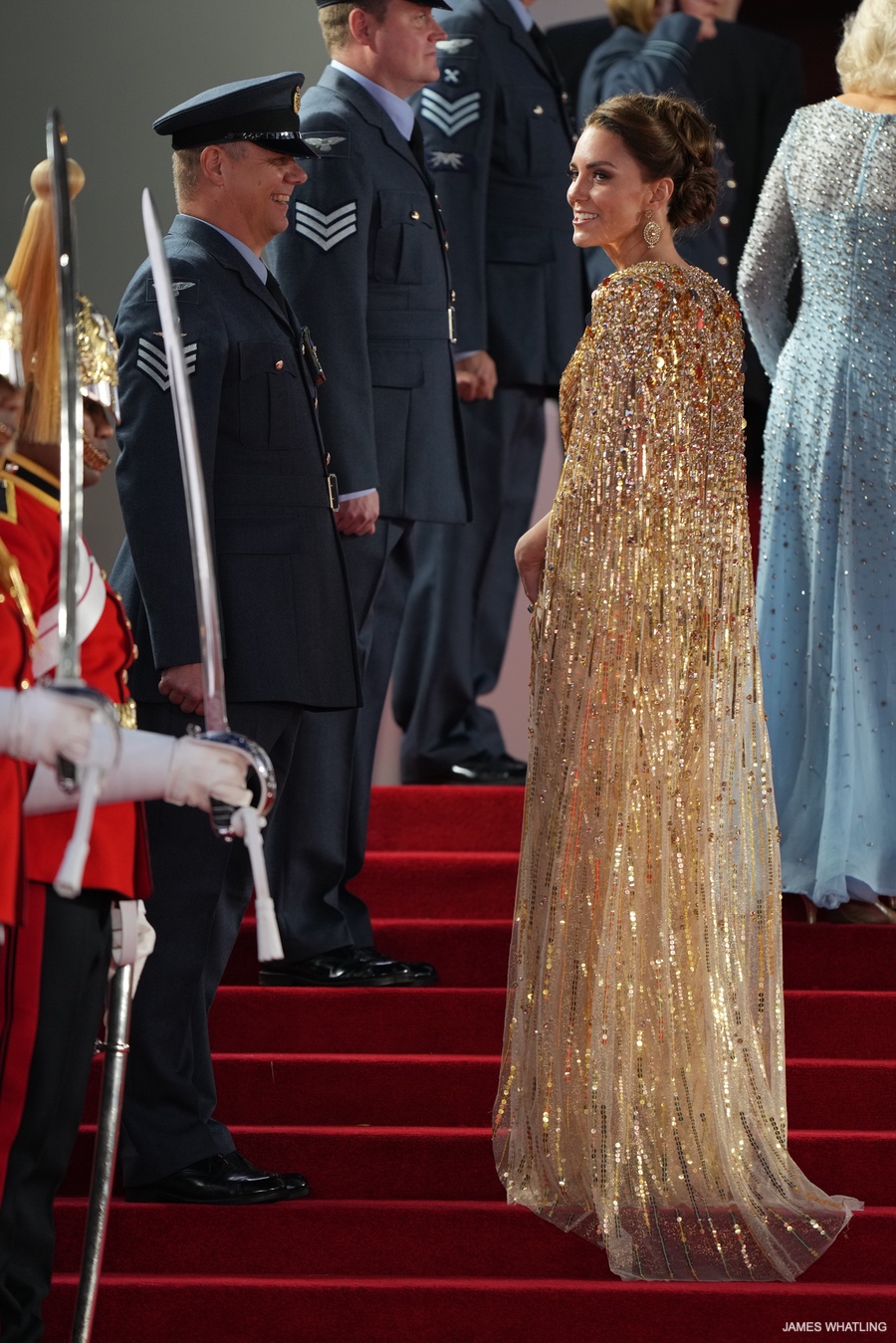 At this point, I'm sure Kate has Jenny Packham on speed-dial. The Duchess wears her designs with some frequency:
For those readers who were around a few years ago, you'll remember me writing about this look: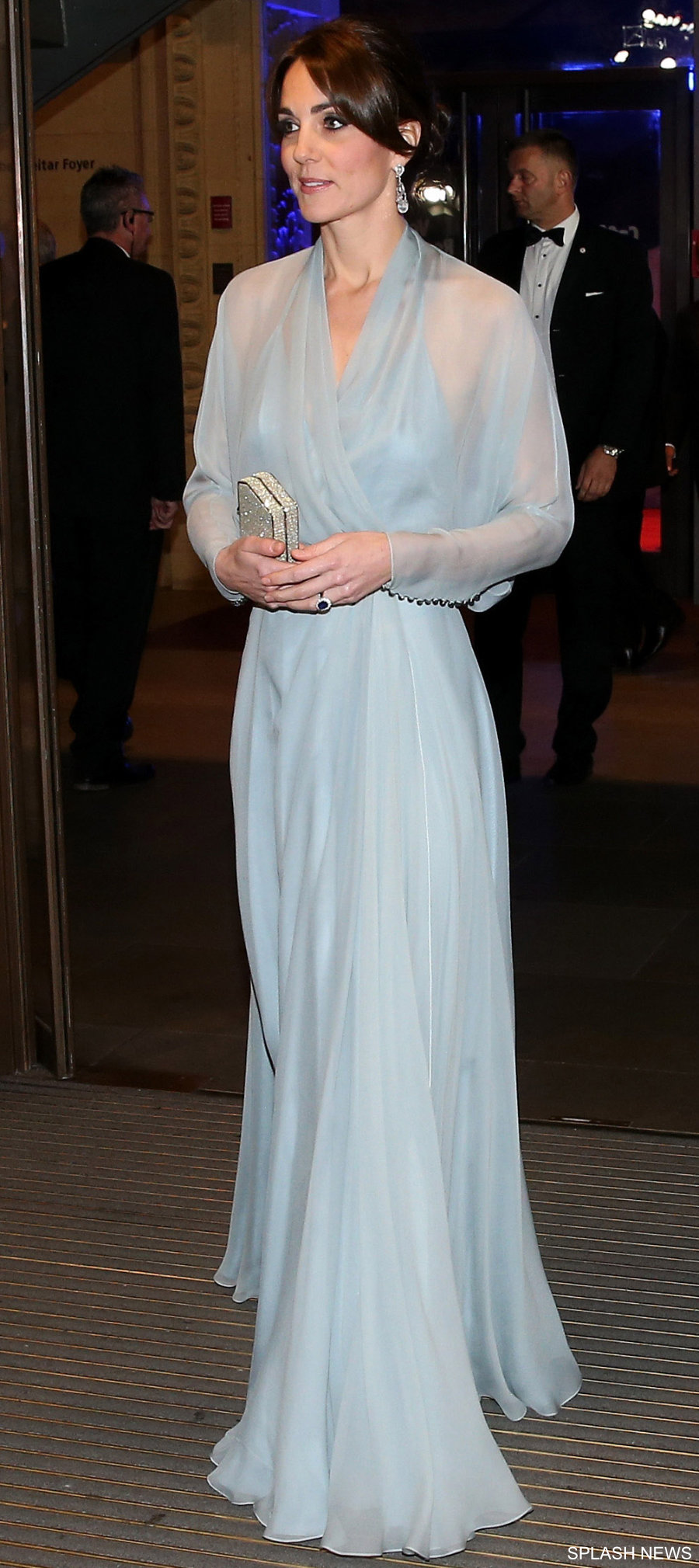 This was Kate's outfit for the first James Bond premiere she attended (for SPECTRE in 2015). She chose Jenny Packham for that outing too. Then, she paired her ice-blue dress with shimmering silver accessories.
However, for the No Time To Die premiere, Kate opted for tonal accessories. She paired her gold gown with gold earrings, a yellow-gold cocktail ring and glittery gold shoes.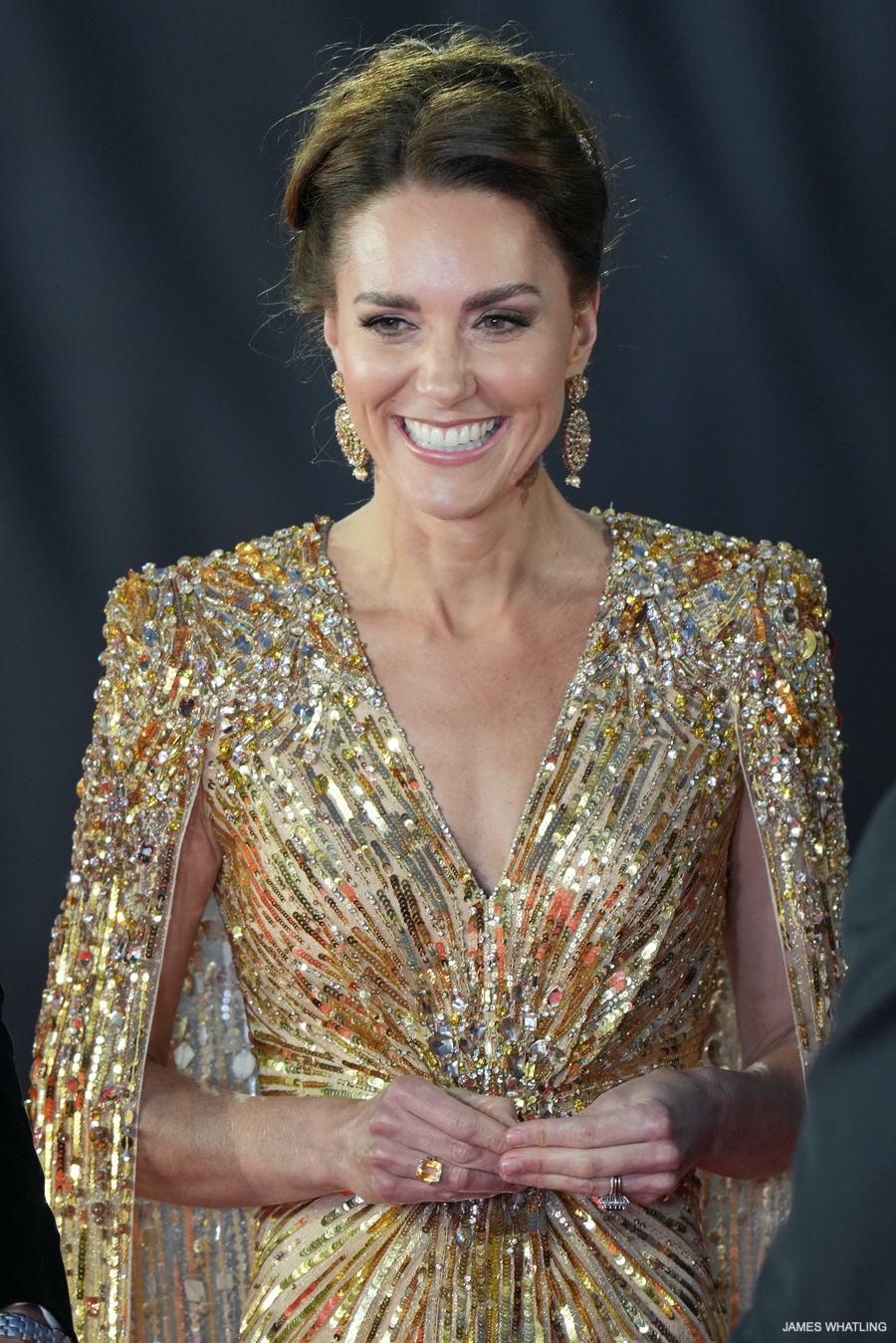 The gold statement earrings are from O'NITAA (£290).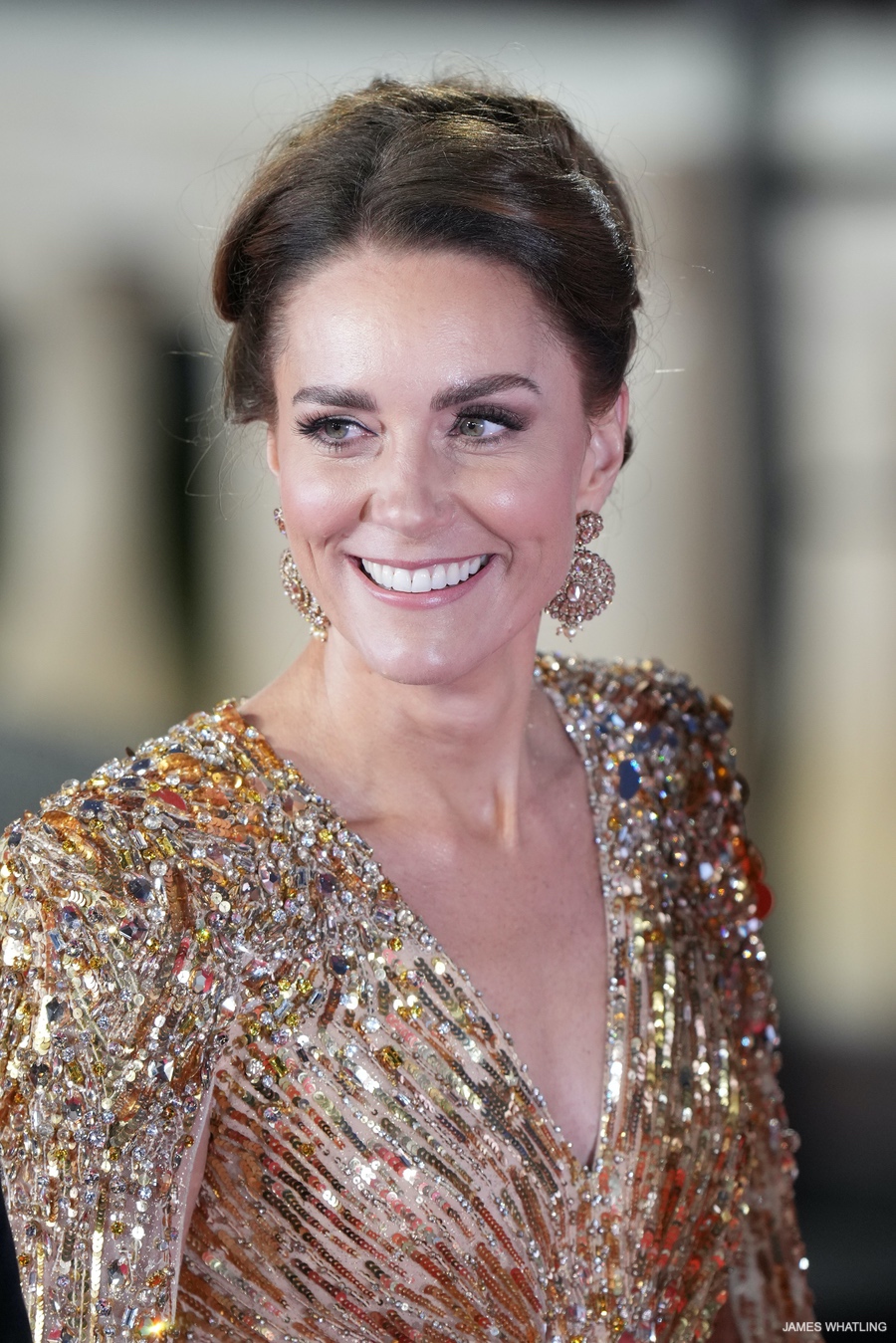 O'NITAA is a London-based boutique that stocks South Asian Couture. We first spotted Kate wearing the spectacular earrings during a reception at the Pakistan National Monument in 2019.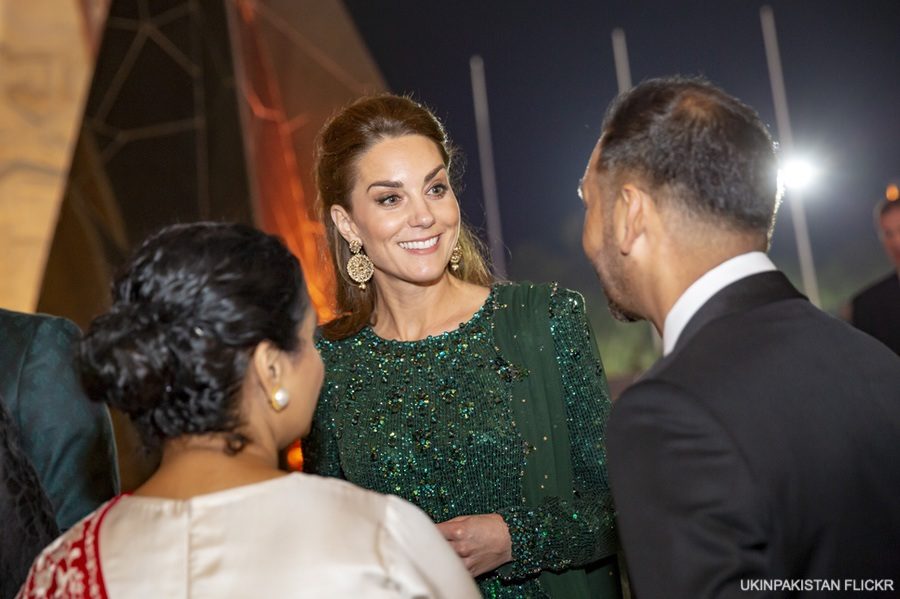 O'NITAA confirmed the earrings were bespoke, sourced and created for Kate. They're gold plated and featured uncut crystal stones. (Image of the earrings below via @MoniqueJessen, People magazine). Get in touch with the O'NITAA team if you wish to place an order for the earrings, you'll find the contact details on their website.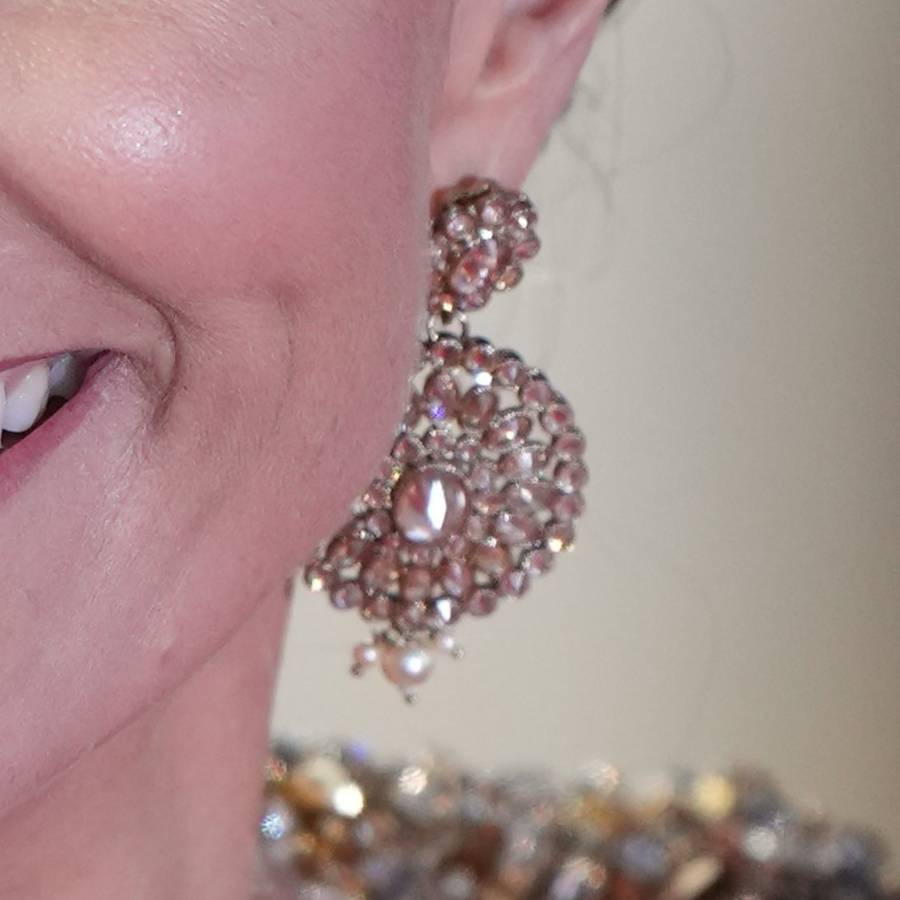 Kate brought back her yellow rectangular-shaped gemstone ring for the premiere. This is a mystery piece, which she's owned for over a decade. (You can also see her engagement ring, wedding band and eternity ring on the other hand.)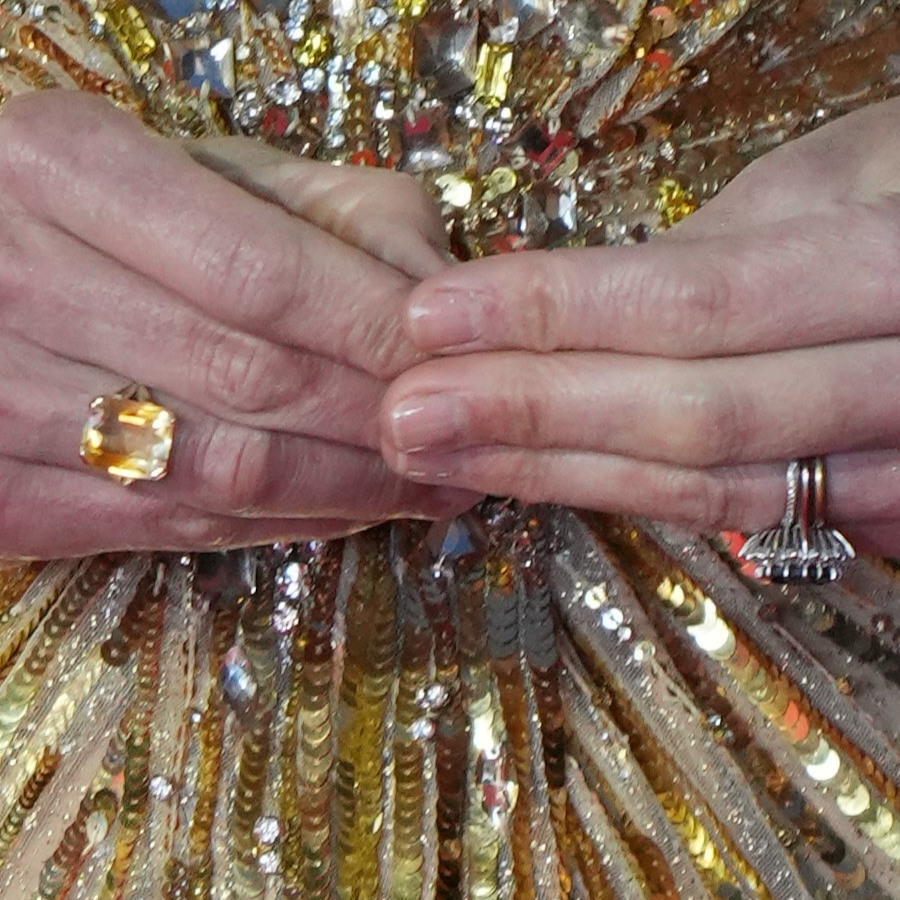 Here's a picture of Kate wearing the yellow ring on her birthday in 2008: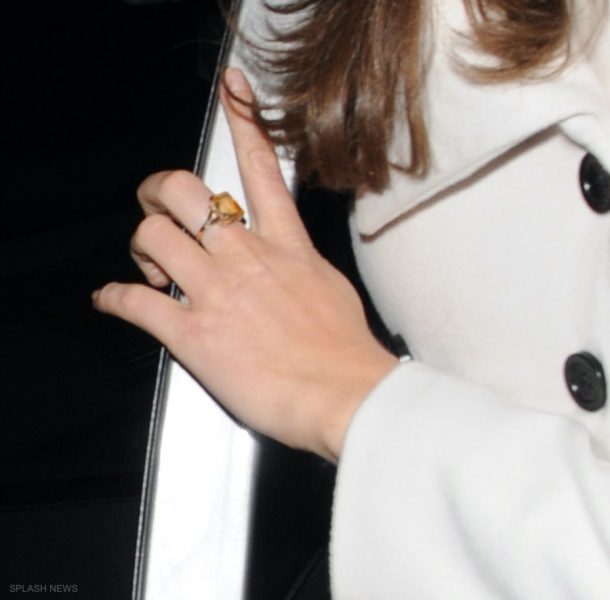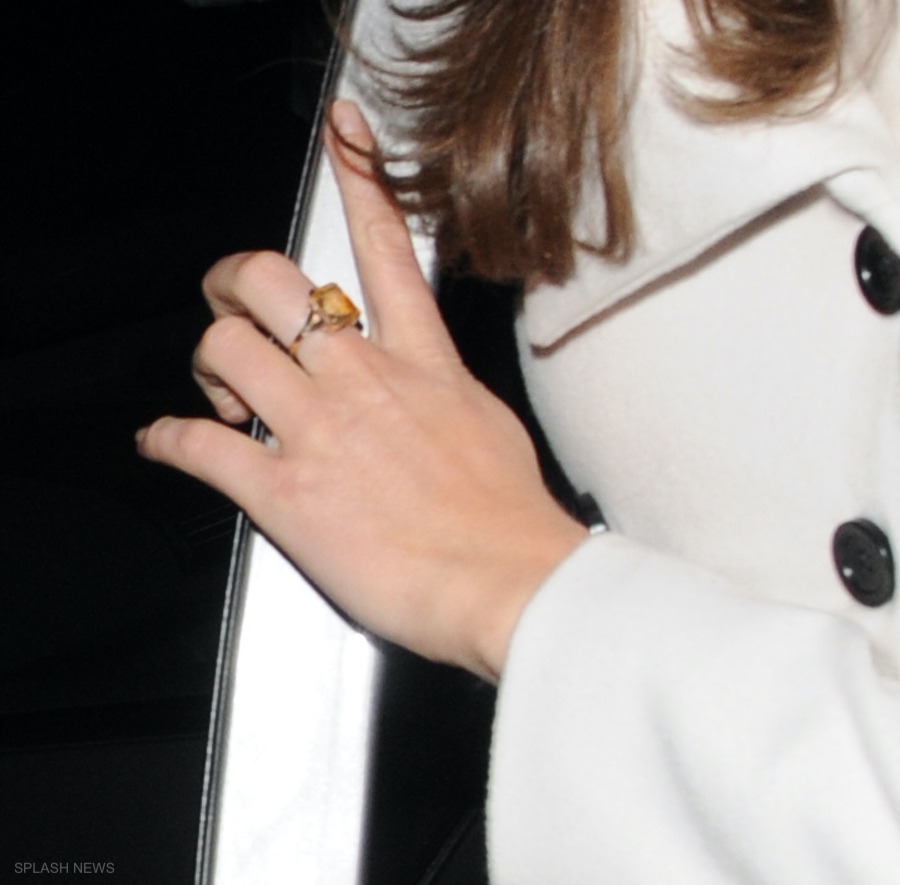 Sadly, nothing further is known about the ring.
We do, however, know that she debuted a new pair of heels tonight! (Thanks to Gabi and Emily for their super detective skills.) The Duchess wore a pair of glittering gold pointy shoes by Aquazzura.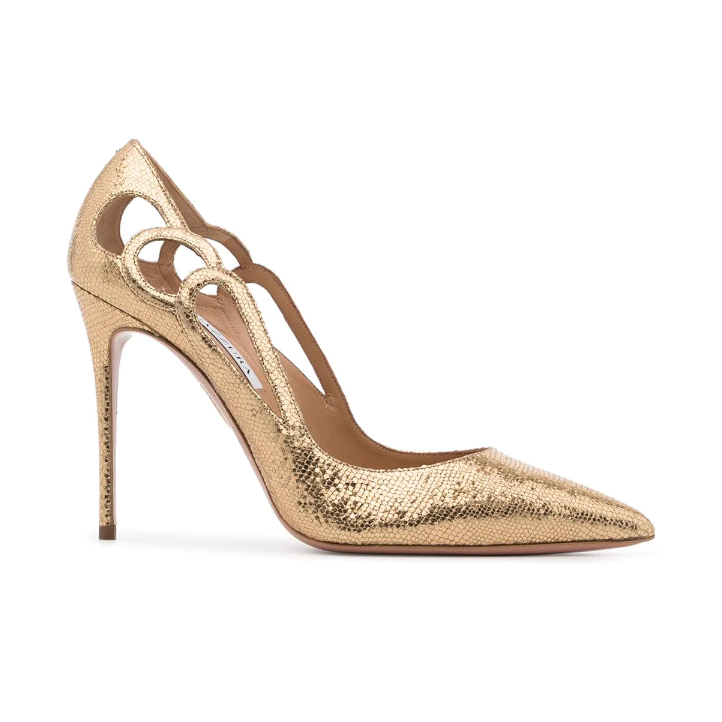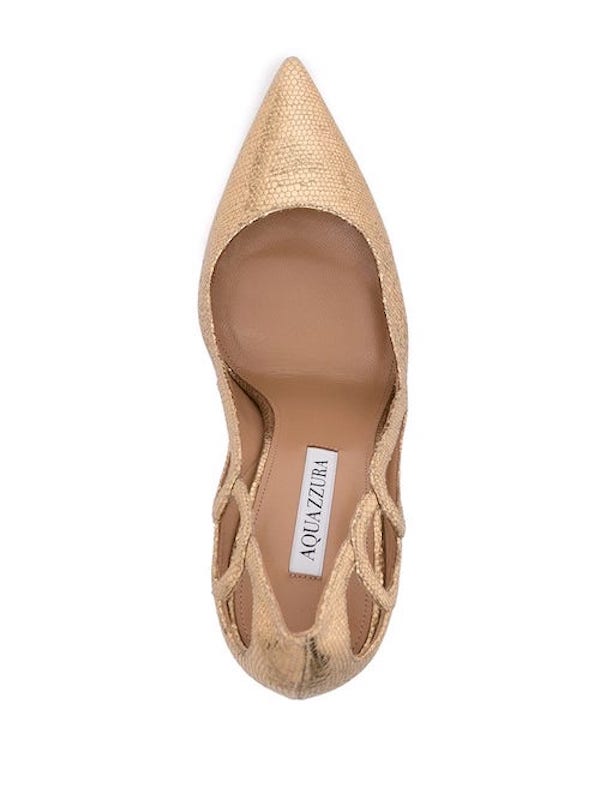 They're the Fenix 105 style in golden nappa leather. The beautiful shoes, which retail at MyTheresa for £555 and FarFetch for $750, feature a 105mm heel and a severely pointed toe. The metallic leather has a mosaic-like effect, which catches the light and makes the shoe glisten. However, it's the cut-out detailing that makes these shoes a real showstopper!
And that's everything!
Just one word Kate: WOW.