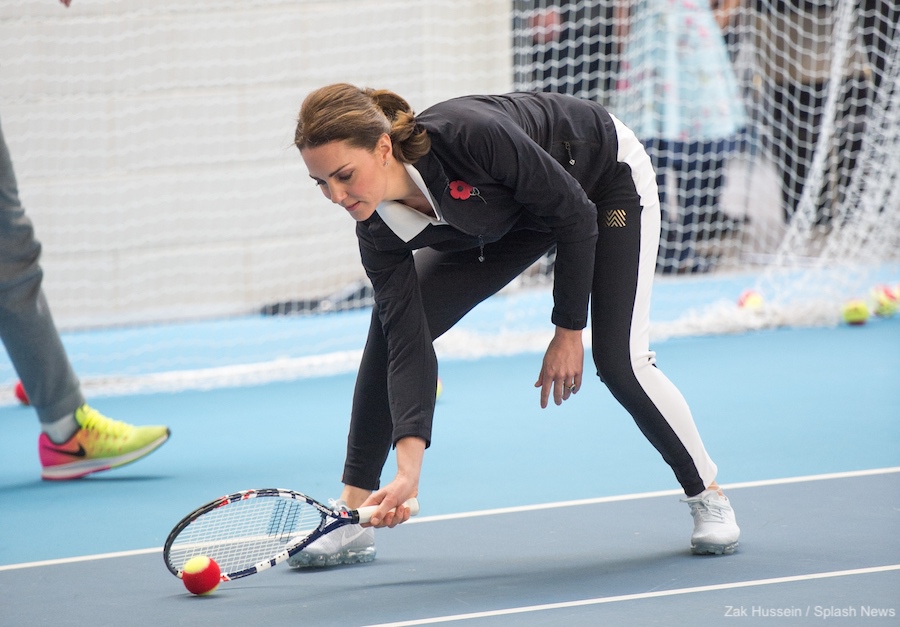 On the 31st October 2017, Kate Middleton chose a casual and sporty ensemble for a visit to the Lawn Tennis Association (LTA).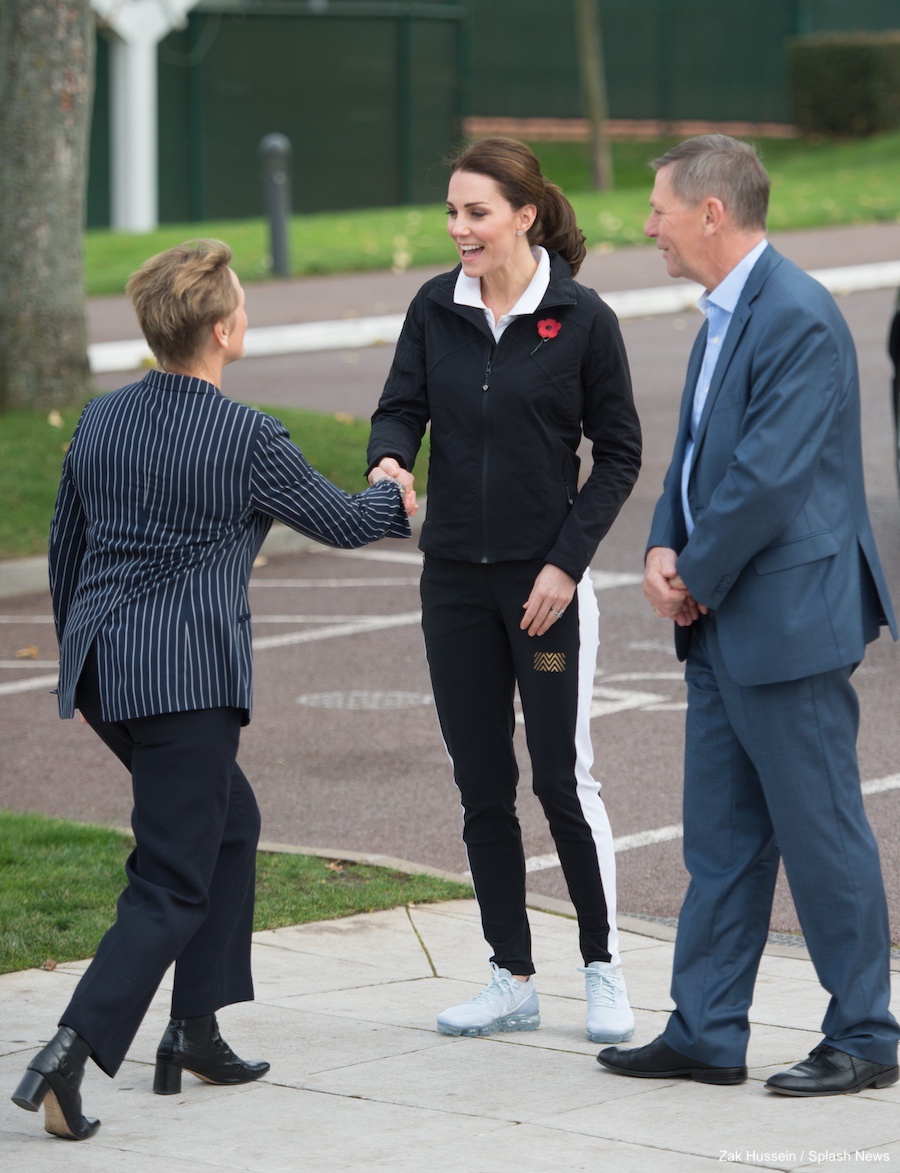 The Lawn Tennis Association is the governing body of tennis in Great Britain, the Channel Islands and the Island of man. Their primary mission is to encourage more people to play tennis more often.
The visit, which took place at the National Tennis Centre in London, allowed Kate to learn more about the LTA's work and meet with children who benefit from the organisation's "Tennis for Kids" campaign.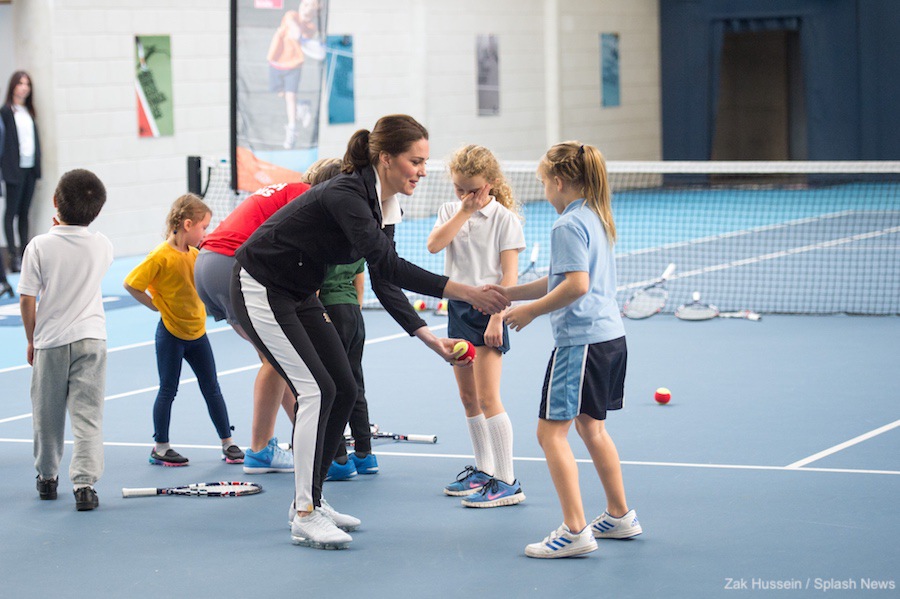 Throughout 2017, Tennis for Kids will give over 22,000 children between the ages of 5-8 the chance to play and enjoy tennis. The organisation runs six-week courses staffed by specially trained coaches.
The classes are aimed at children who're new to tennis. At the end of the programme, the children receive a free tennis racket to take home, which should hopefully encourage the youngsters to keep playing.
Today, Kate witnessed Tennis pro Johanna Konta run a session.
Konta, who has represented both Great Britain and Australia in championships since 2008, is one of Tennis for Kids' Ambassadors.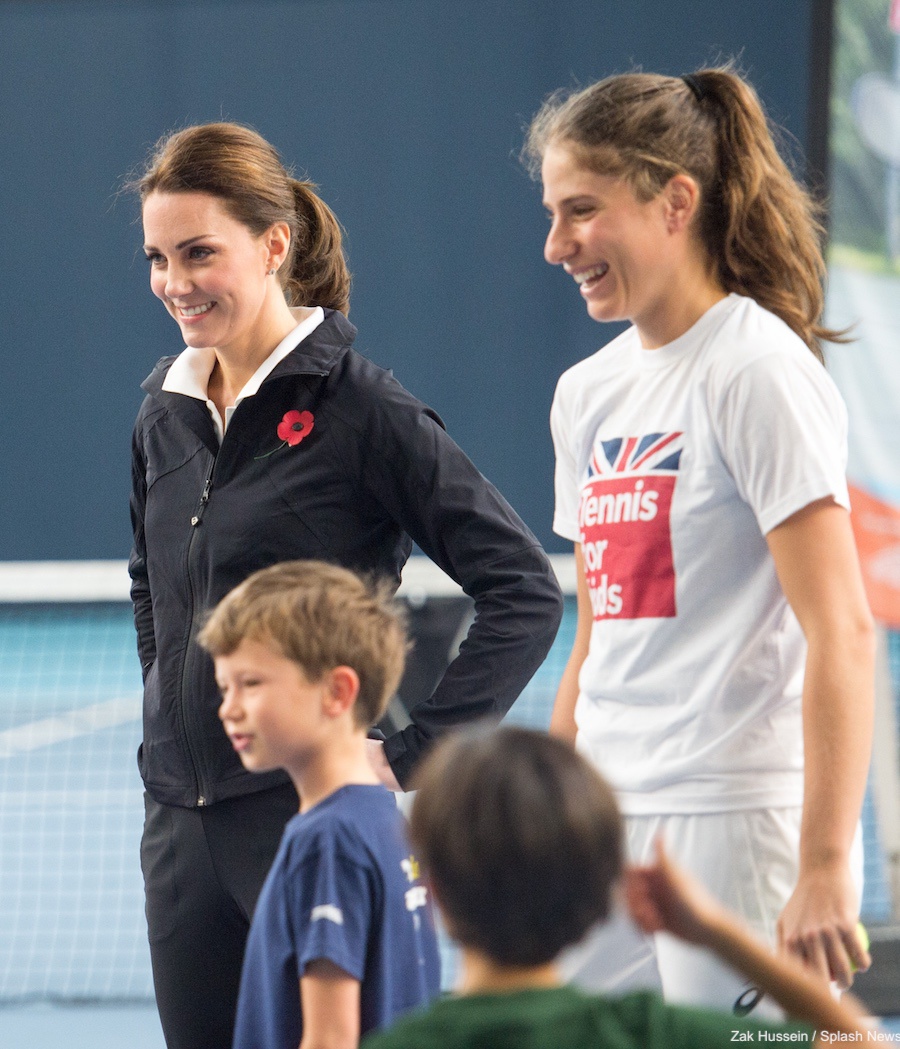 During the visit, Kate met with some of the UK's top junior tennis players and members of their training teams. She learned what it takes to be a top junior tennis player.
She also watched a demonstration of Wheelchair Tennis skills and met with two-time Paralympic medallist and Wimbledon and US Open Wheelchair Doubles Champion Alfie Hewett.
At the start of the day, Kate received a briefing from LTA reps on the organisation's latest grassroots activities and objectives.
She also met with Coach Core apprentices and took part in a session they led.
Coach Core is an apprenticeship scheme that gives young people aged between 16-14 the chance to become the next generation of inspirational sports coaches. It was established by William, Kate and Harry's Royal Foundation in 2012. If you recall, Kate visited a Coach Core event earlier this month.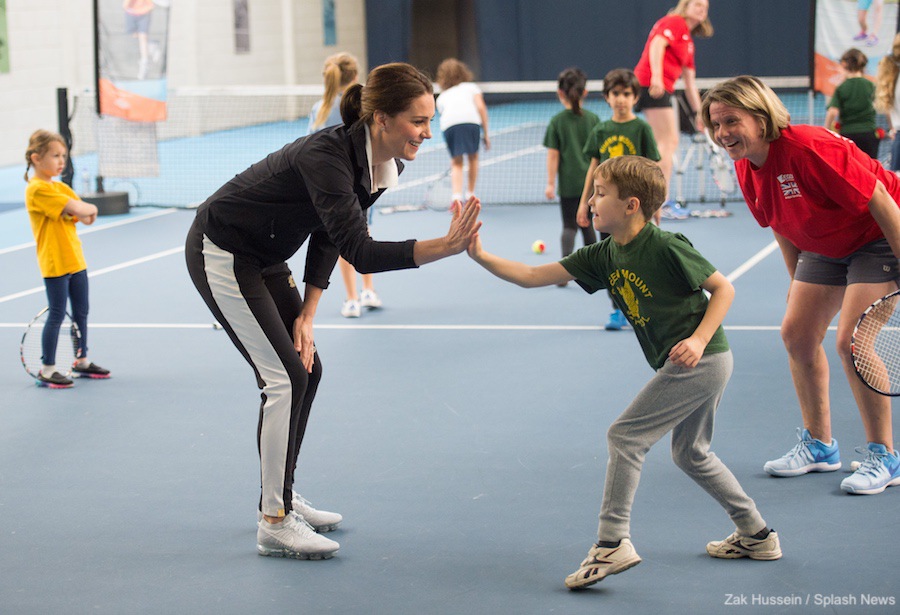 Of course, Kate is Patron of the LTA. She took over the position in December last year. Previously, the Queen held the role for 64 years.
We know that Kate enjoys tennis and is a keen player. She can be found in the Royal Box at Wimbledon every July (only missing one year due to pregnancy in 2013). She also took part in a BBC documentary about Wimbledon earlier this summer.
During the documentary, Kate spoke about her love for tennis. She also explained that she grew up watching Wimbledon and that it inspired her to get involved with the sport from a young age.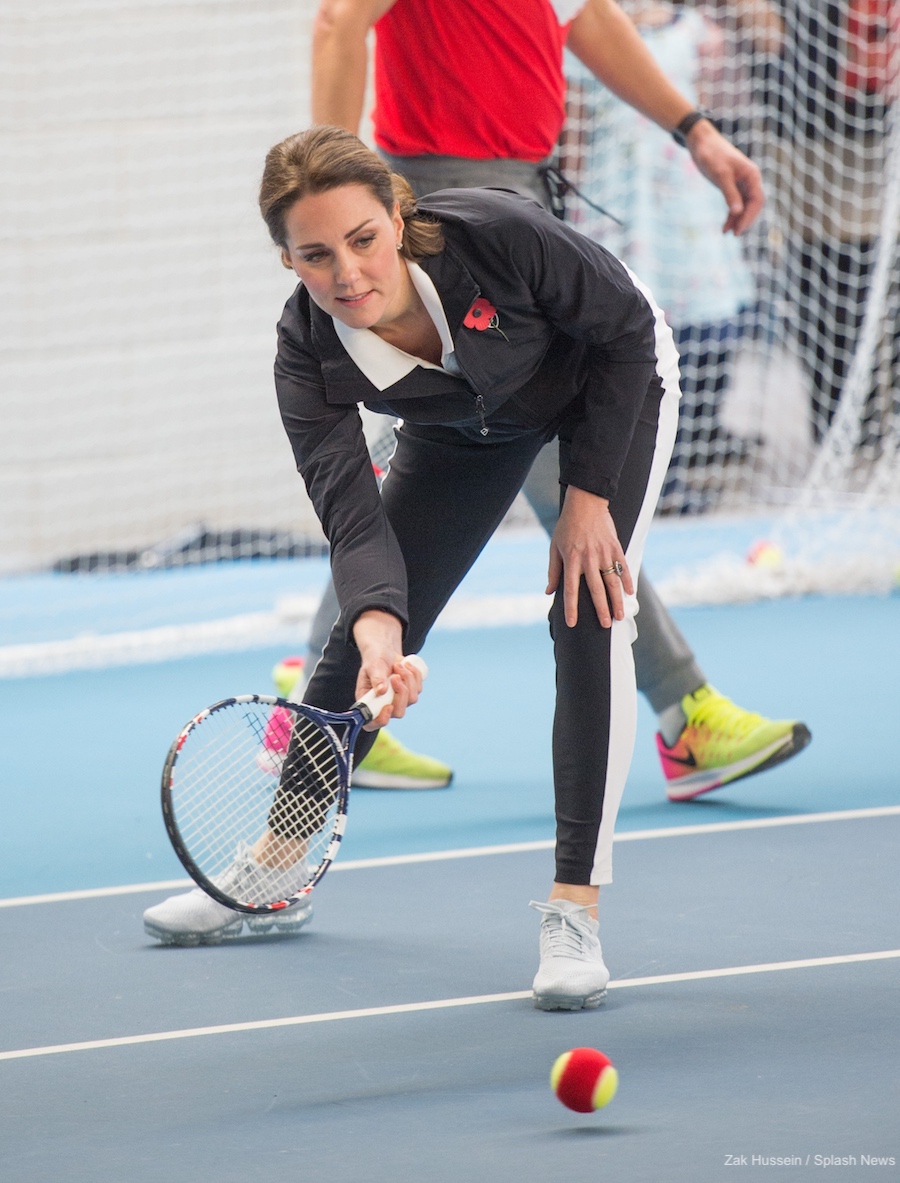 This was Kate's first solo engagement since announcing her third pregnancy in September.
About Kate's casual sporty outfit:
For the Lawn Tennis Association visit, Kate chose sporty outfit in monochrome colours.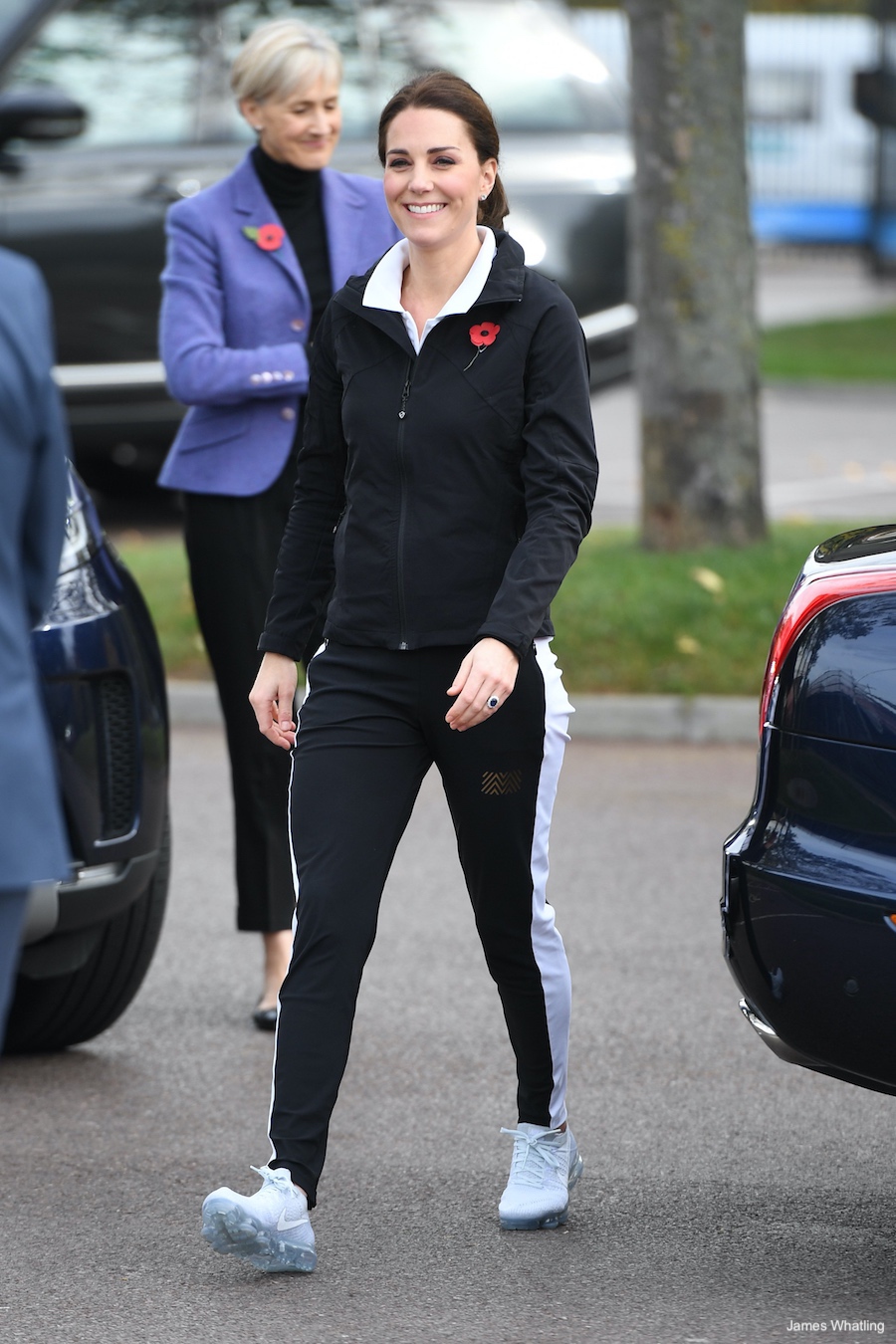 If you read our blog after Kate visited Judy Murray's Tennis on the Road workshop last year, you'll recognise her black and white track pants immediately. They're Monreal London's Tuxedo Track Pants.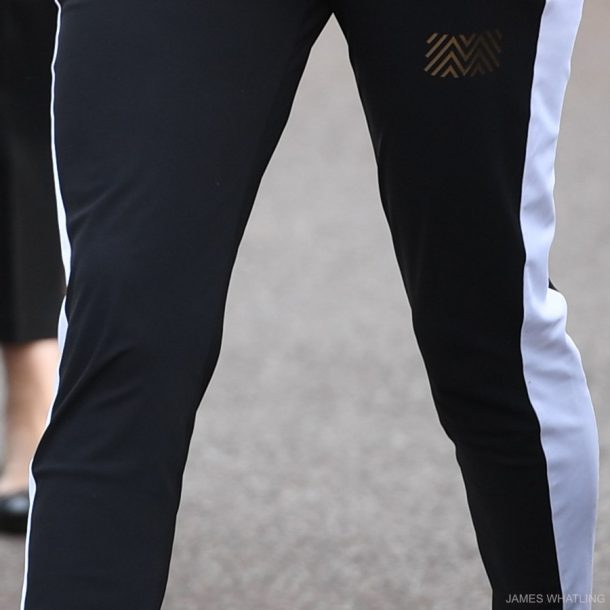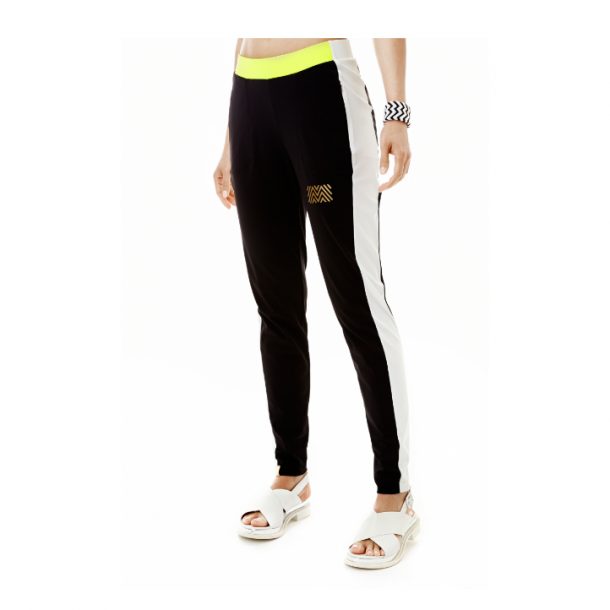 The company's track pants offer a refined, slim silhouette. They feature an elasticated waistband in contrasting neon yellow. The trousers remain in stock on the brand's website. They cost £185 / $345 USD.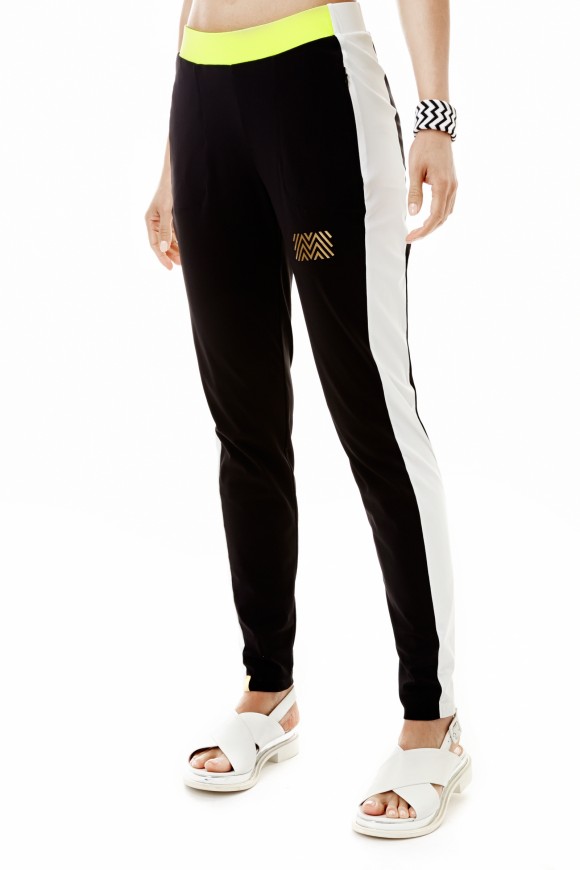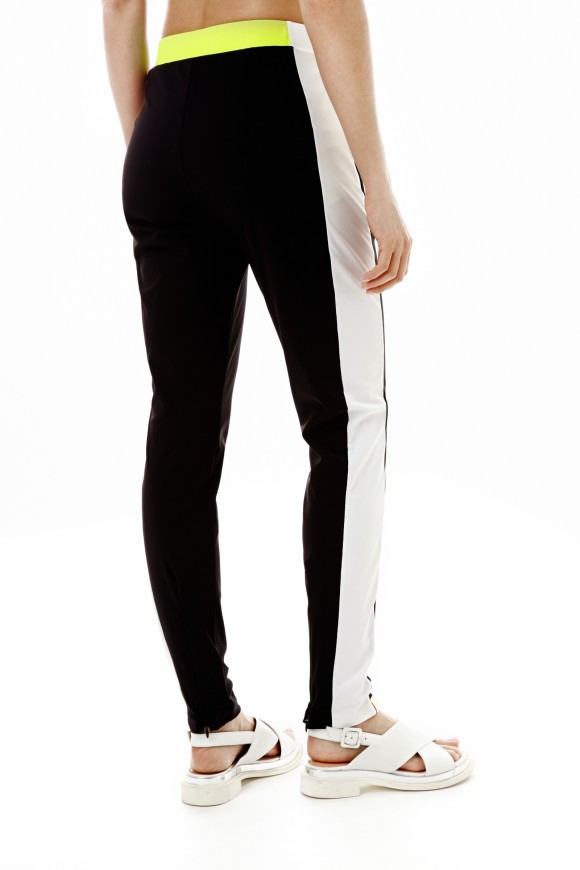 Here's how Monreal London describe the track pants on their website.
Inspired by the timeless glamour of the tuxedo, our slim-fit Tuxedo pants have inbuilt shorts for lift, support and to add a layer of opacity. Concealed pockets and side panels are flattering and leg-lengthening, while the elasticated waistband and invisible ankle zips add comfort. They're made from high-flex luxury performance jersey and feature monochrome panels with a contrast neon yellow waistband.
Kate debuted a new pair of running shoes for the visit. They're by Nike. They're the Nike Air VaporMax FlyKnit style in white and grey.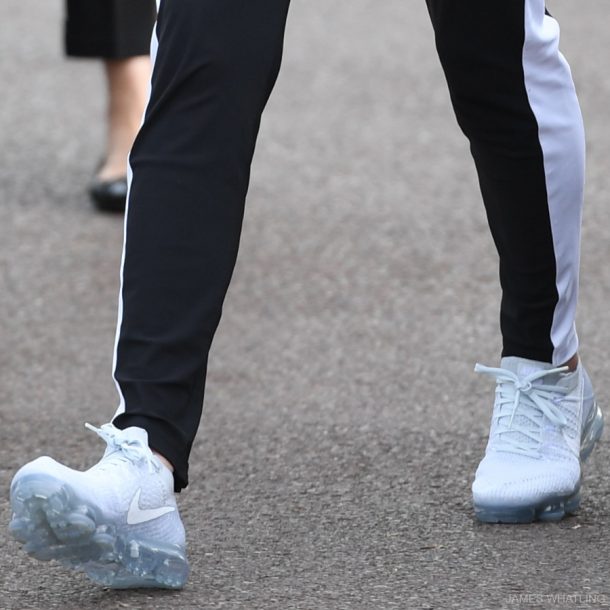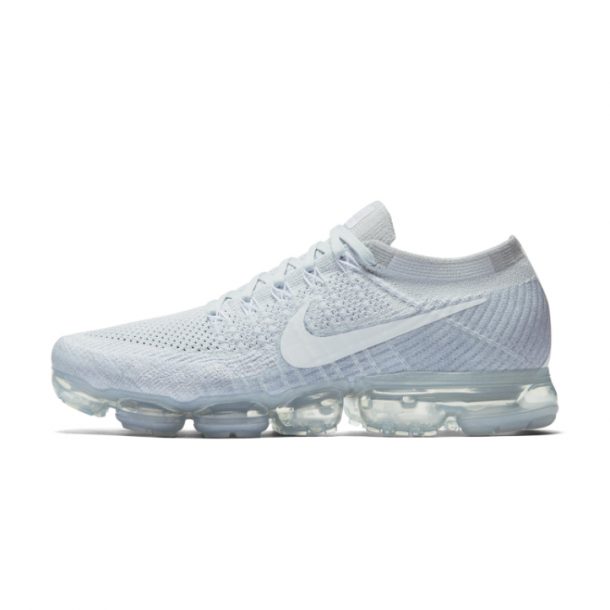 According to Nike, the shoes offer a "lightweight, bouncy ride for a gravity-defying sensation underfoot and Flyknit fabric for a snug, flawless fit". They retail for $190 USD / £179.95 GBP. Click here to view on Nike.com.
Thank you to Laura for quickly identifying the shoes.
On to Kate's jacket, another new (to us) piece. It's by PlayBrave and it's their Clarice Track Jacket.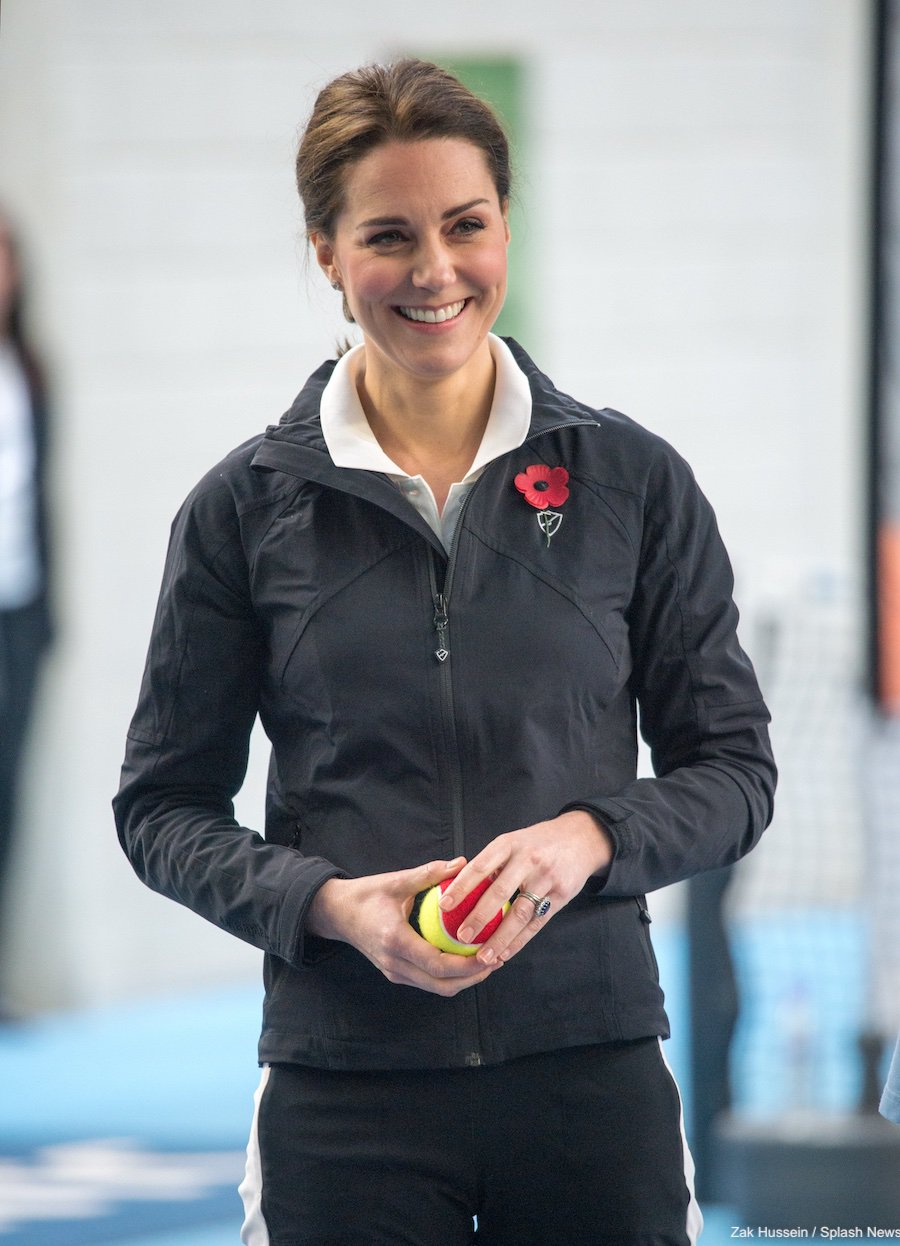 I hadn't heard of PlayBrave before Kate wore their jacket. I've done a little research and the British brand designs premium quality high-performance sportswear. The company is over ten years old and they've partnered with a number of prestigious tennis clubs around the UK.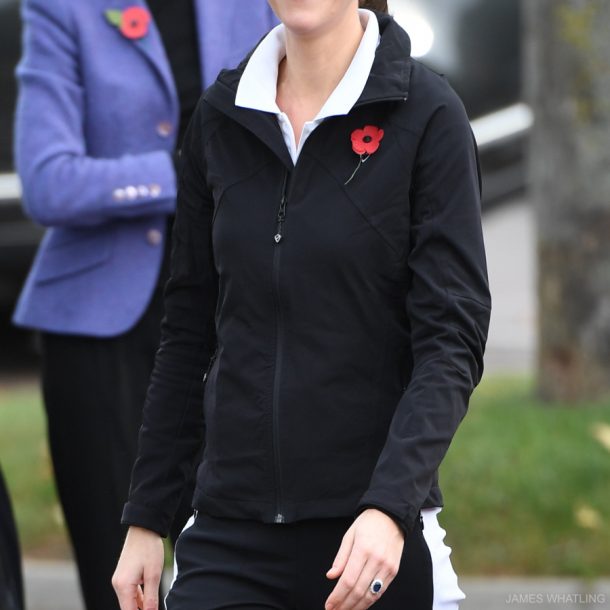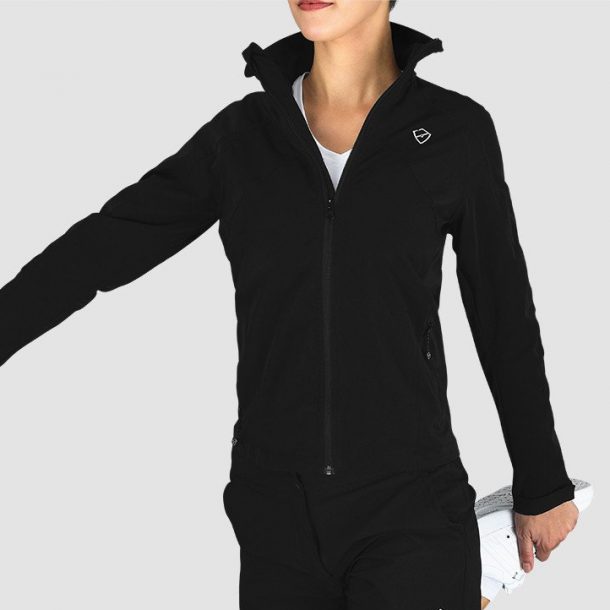 Props to Charlotte for identifying this piece.
Now on to Kate's earrings.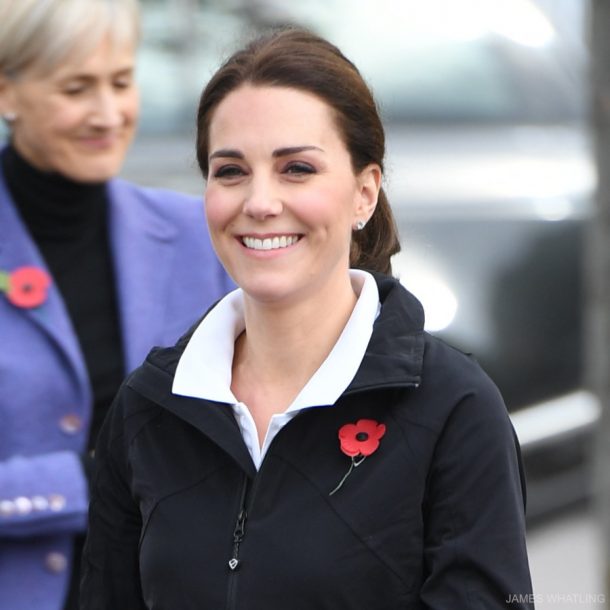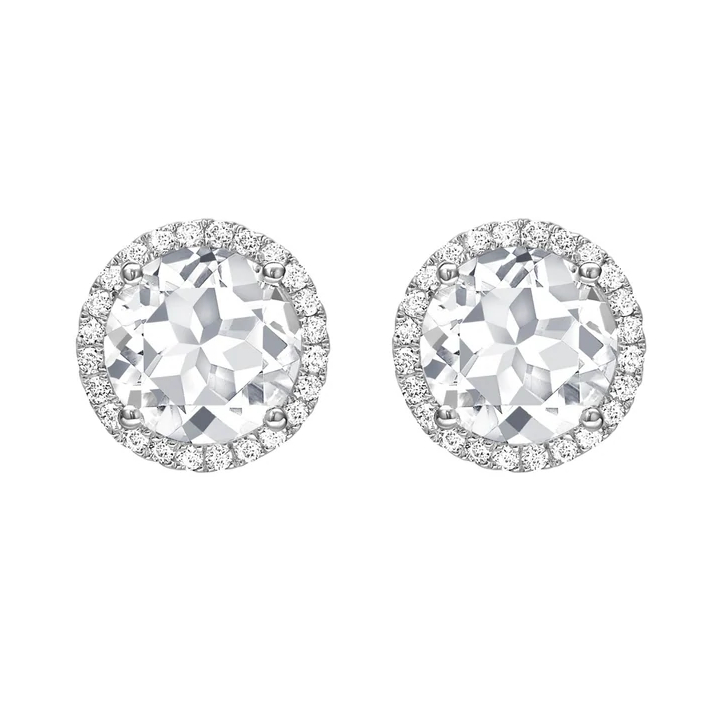 They're by Kiki McDonough, specifically, the Grace style. The white topaz and diamond stud earrings are set in 18ct white gold. The designer says they're one of her most popular styles. They retail for £795 GBP (that's around $1,057 USD at today's exchange rate).