Shortly after 7.15pm today, Catherine and William emerged from St. Mary's Hospital in Paddington, London with the new baby Prince of Cambridge:
Their gorgeous baby boy was born yesterday afternoon at 4.24pm (BST).  The prince weighed 8 pounds and 6 ounces, The Daily Mail worked out that he is the heaviest future king born in 100 years.  Dad William weighed 7lb 1.5oz when born in 1982, while grandfather Charles weighed 7lb 6oz.
The royal couple left St. Mary's Hospital without revealing the new Prince's name, but promised they are "working on it" and will let us know soon. We expect they'll release a statement in the coming days – it was a week before Princess Diana and Prince Charles told the world of William's name.
The royal couple made two brief appearances on the Lindo Wing steps.  First, to allow the media to photograph them and the new prince.  During this time, Prince William and the Duchess of Cambridge answered questions from waiting journalists.  They said it was a "very emotional" time, and Kate said other parents will resonate.  William said the baby has "got a good pair of lungs" … and he joked that the baby has Kate's looks. Here's a look at Daddy William holding the baby prince:
After, William and Kate went back into the hospital to grab the car seat, before William drove his new family home:
William drove his wife and new baby back to Kensington Palace.  It's expected the trio will remain there for a few days before travelling over to Kate's parents' home in Bucklebury.   A look at William carrying Baby Cambridge in his car seat:
Kate's outfit leaving the hospital:
Leaving the hospital, Kate wore a cornflower blue spotty print dress, a bespoke piece from Jenny Packham.  She also wore her Pied A Terre Imperia wedges in white.  You can see Kate's outfit in detail below:
Prince Cambridge's christening:
Next, we have a baby christening to look forward to – William was christened 45 days after his birth.  It's expected that Prince Cambridge's christening will take place in autumn after The Queen and Prince Philip have returned from their holiday at Balmoral.
"Royal babies are usually christened by the Archbishop of Canterbury in the Music Room at Buckingham Palace, with only close family and friends present, and a photograph is issued afterwards.

But there is likely to be more media access this time, according to royal sources. One possible alternative venue is St George's Chapel at Windsor Castle, where Prince Harry was christened.

The boy will be dressed in a lace and satin robe, a handmade replica of the 172-year-old garment used in Royal christenings since that of Princess Victoria, eldest daughter of Queen Victoria, in 1841.

The new gown, made by the Queen's dresser Angela Kelly and the team of dressmakers at Buckingham Palace, was first worn by the Earl and Countess of Wessex's son, Viscount Severn, in 2008.

His older sister Lady Louise Windsor was the last to wear the original Honiton lace and white satin robe at her christening in 2004. It was used for generations of royal infants including the Queen, her father King George VI, the Prince of Wales, and Princes William and Harry."
You can read more about the traditions of Royal Baby christenings in this article from The Express.
Welcome Baby Cambridge into the World!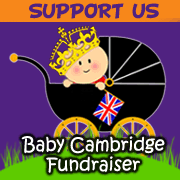 According to a Daily Mail reporter, William and Kate have specifically asked people NOT to send gifts to celebrate the new baby, but to instead make a donation to charity.
I'm also asking readers to NOT send a congratulations card or gift, because the couple will receive thousands of cards that will  end up being recycled and toys that will be donated away.  Please think about spending that money on a child in need instead – donating a few pounds or dollars to a sick child who requires hospice care.  We'd love you to donate to our Baby Cambridge Fundraiser, your donations will go directly to Kate's charity EACH.  We're so close to raising £4,000 in the name of the new Prince of Cambridge – so please help us reach that total by donating here.  You can donate in (nearly) any currency, quickly, easily and the money goes directly to Kate's charity EACH.