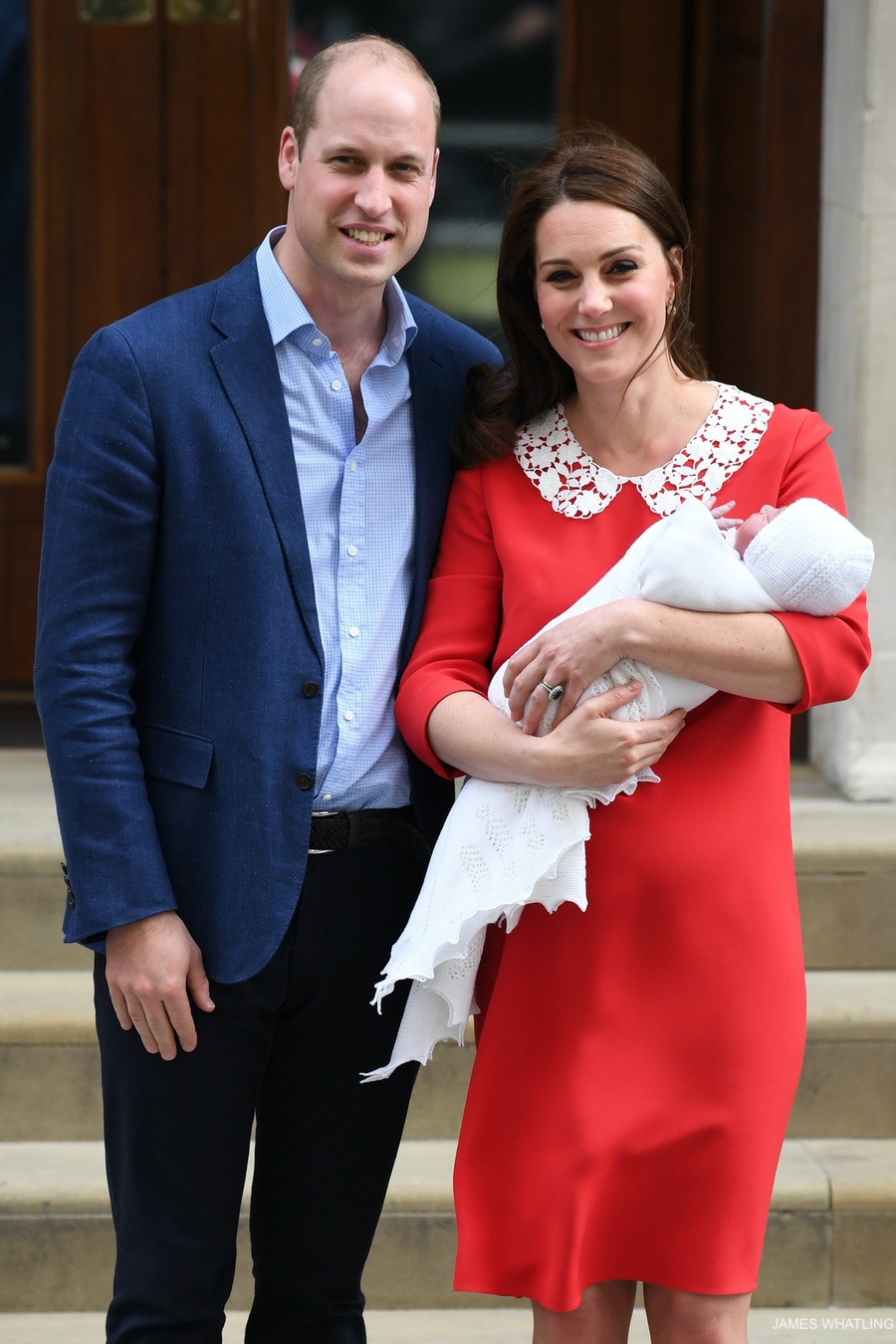 On 23rd April 2018 at approximately 6.00 am local time, the Duchess of Cambridge was admitted to St. Mary's Hospital in Paddington for the birth of her third child.  She gave birth to a beautiful baby boy five hours later, at 11:01 am.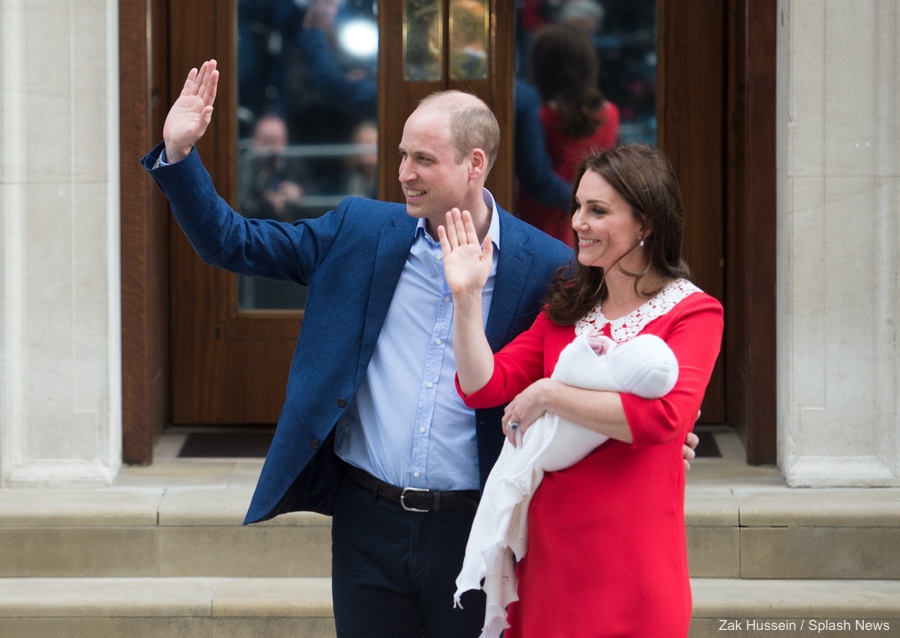 The new arrival weighed 8lb 7oz. He is the heaviest baby born into the Royal Family in the last 100 years. (His older brother, Prince George previously held the record!)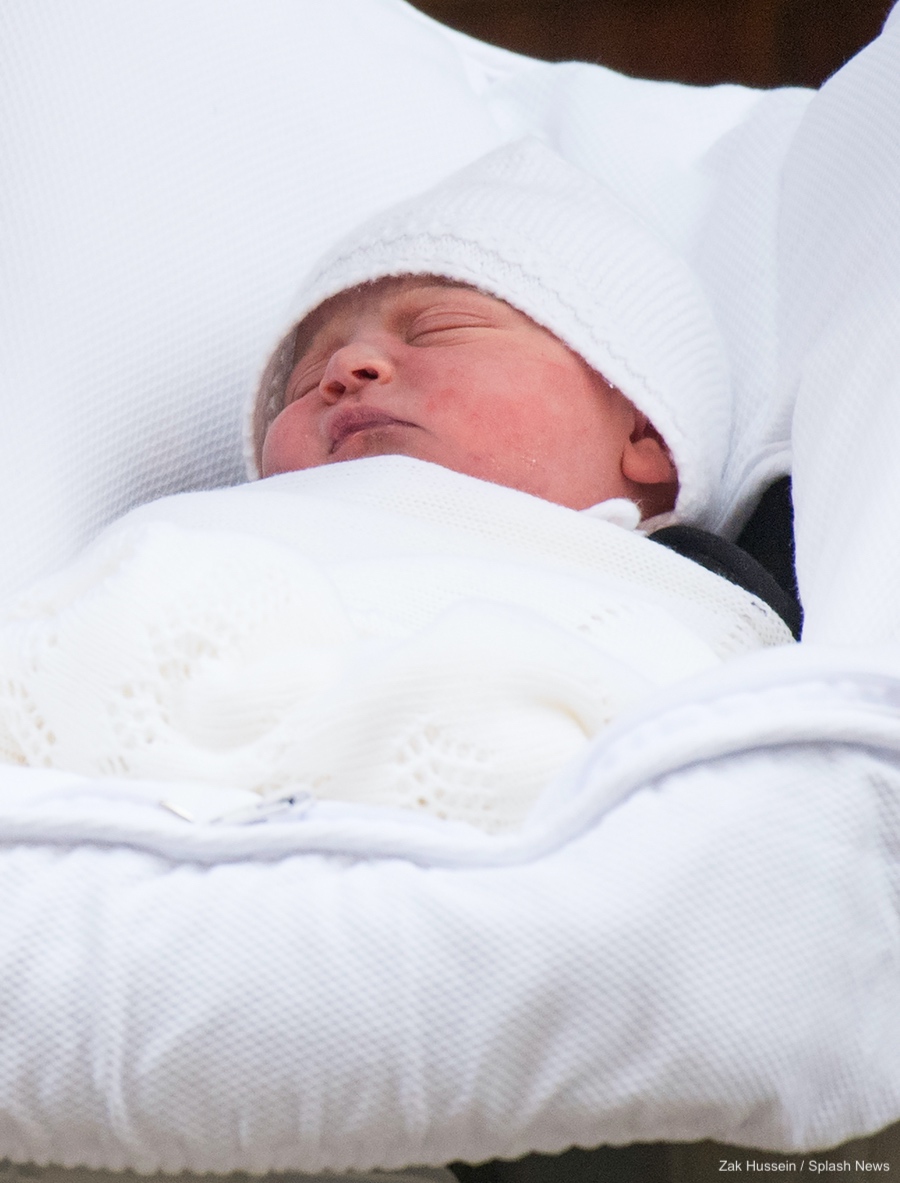 The new Prince of Cambridge is now fifth in line to the throne.
Along with his sister Princess Charlotte, the baby is already making history.  His birth means that Charlotte will be the first female Royal in history not to have her position in line to the throne usurped by a younger brother.
Recent changes to the laws governing succession [in 2012] means the newest royal baby's sex will no longer have a bearing on his position to the throne, with boys no longer having precedence over girls – The Express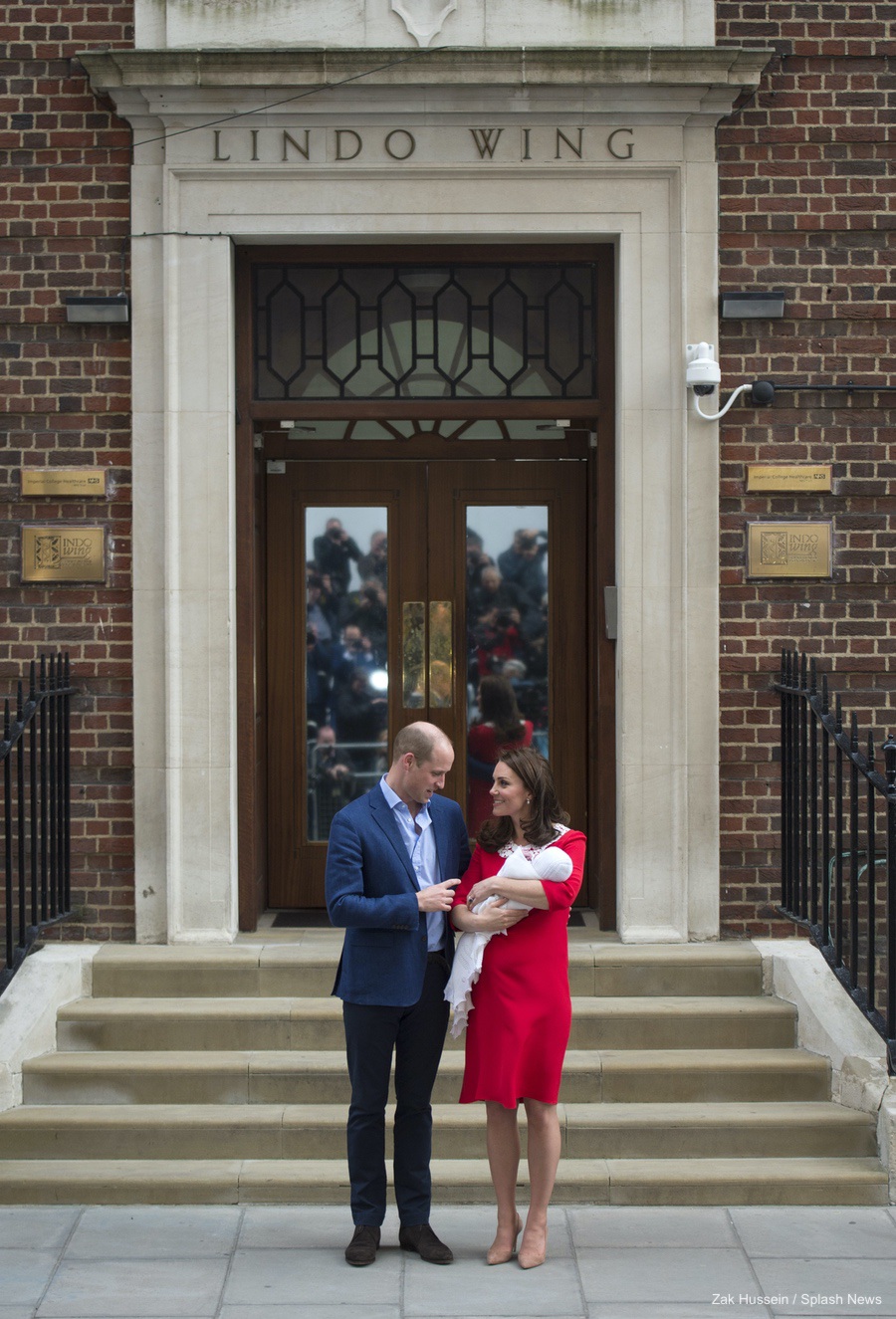 The birth of the new baby was announced on an easel outside of Buckingham Palace.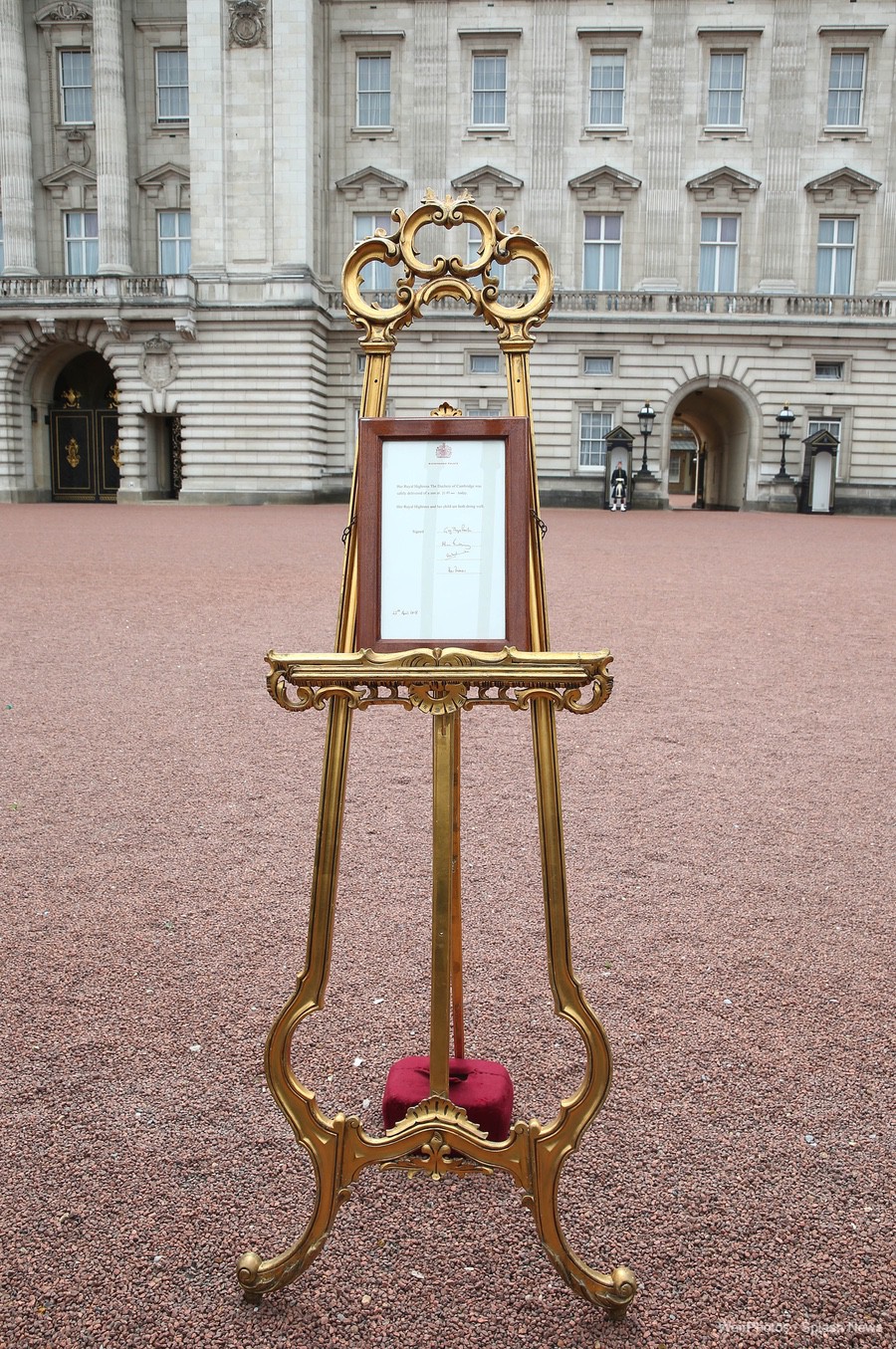 The official document read: "Her Royal Highness The Duchess Of Cambridge Was Safley Delivered Of A Son At 11.01am Today. Her Royal Highness And Her Child Are Both Doing Well." It was signed and dated 23rd April 2018.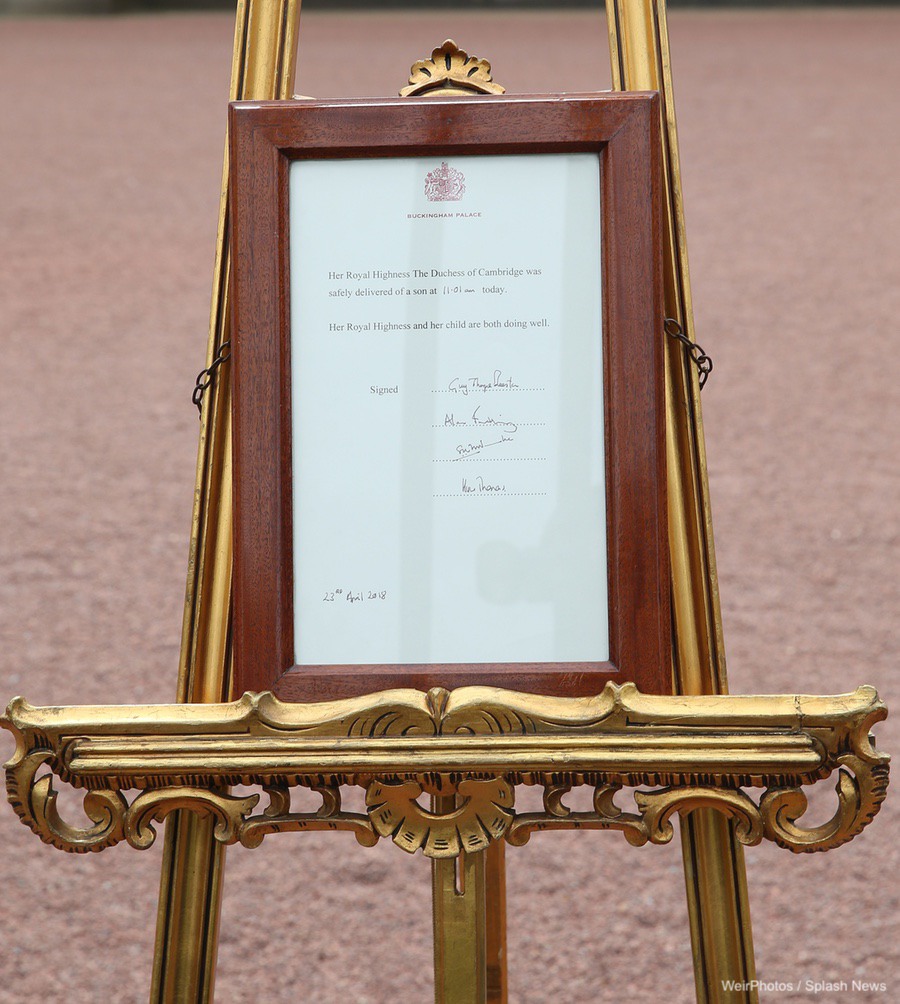 At approximately 16:15 pm, Prince William left St Mary's and returned to Kensington Palace.  The Duke collected his two other children, Prince George and Princess Charlotte.  Roughly half an hour later, the trio arrived back at the Lindo Wing entrance.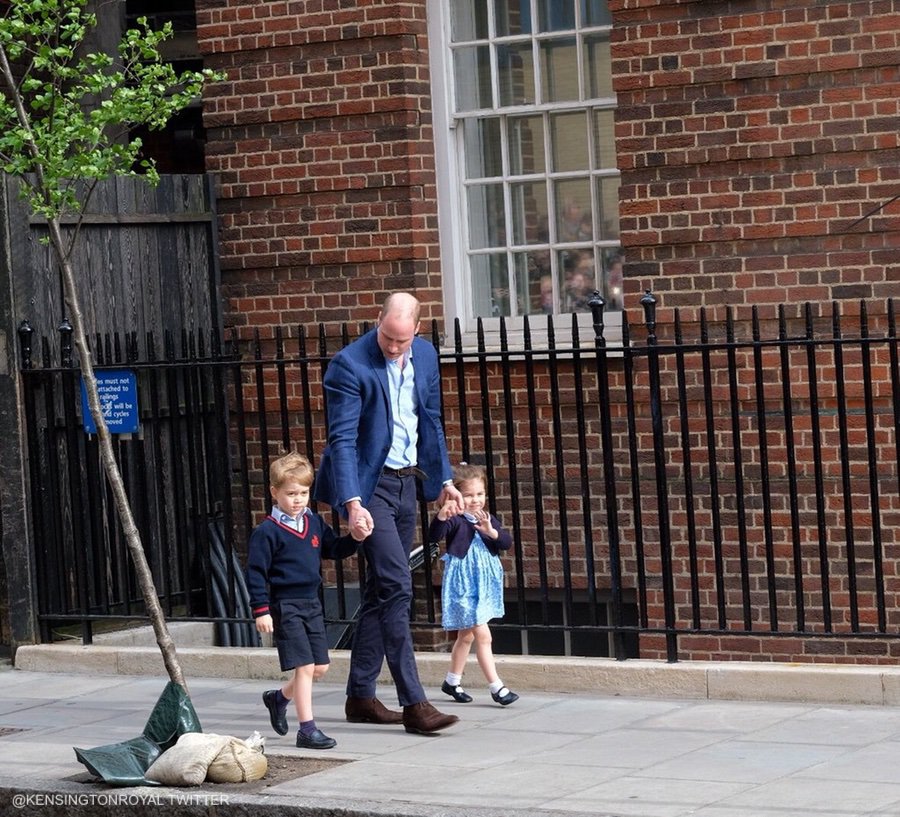 George, still in his school uniform, appeared quite shy and overwhelmed. In contrast, Charlotte seemed unfazed as she waved at the assembled crowd.  The toddler was dressed in a pretty blue dress for the visit to her new baby brother.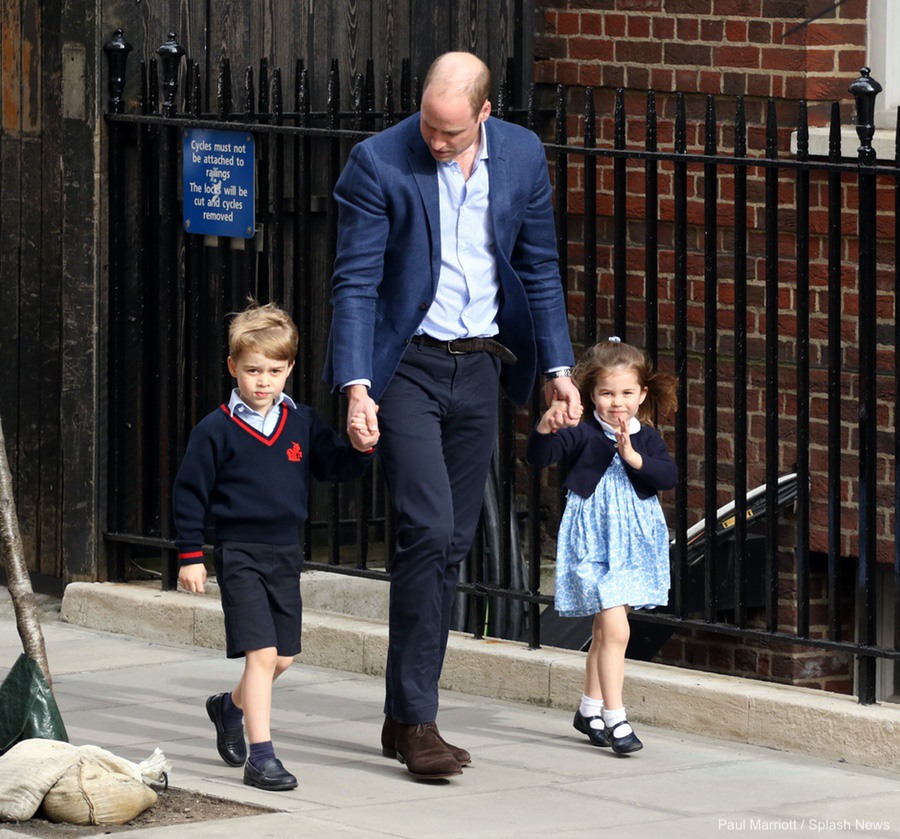 The two youngsters privately met their new baby brother inside the hospital. Later, they left for Kensington Palace via a side entrance, away from the cameras.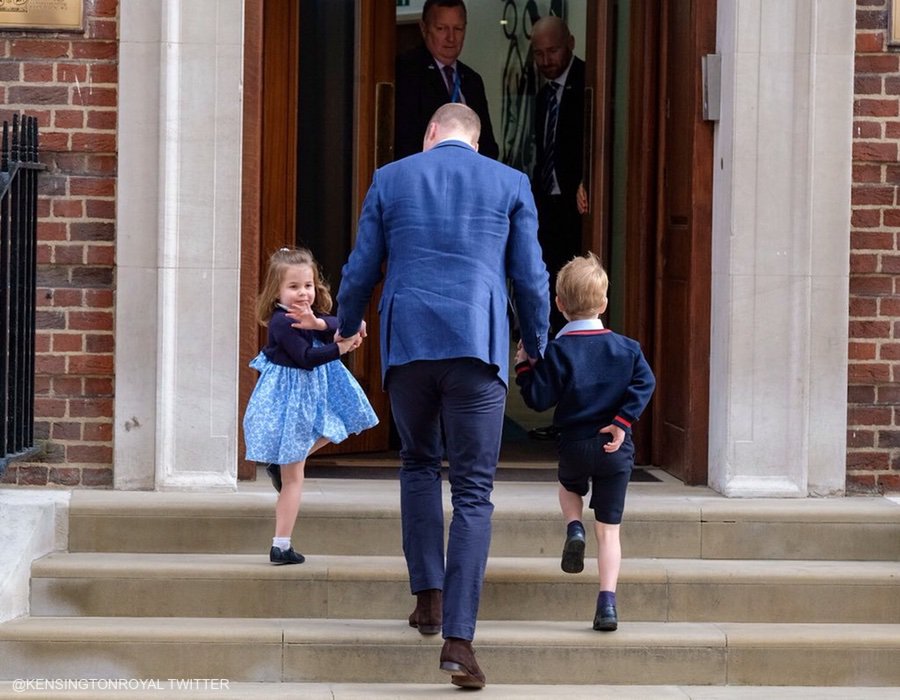 William and Kate soon followed the younger children home. Before leaving, the couple posed on the steps of the Lindo Wing, allowing the gathered media to photograph their new arrival.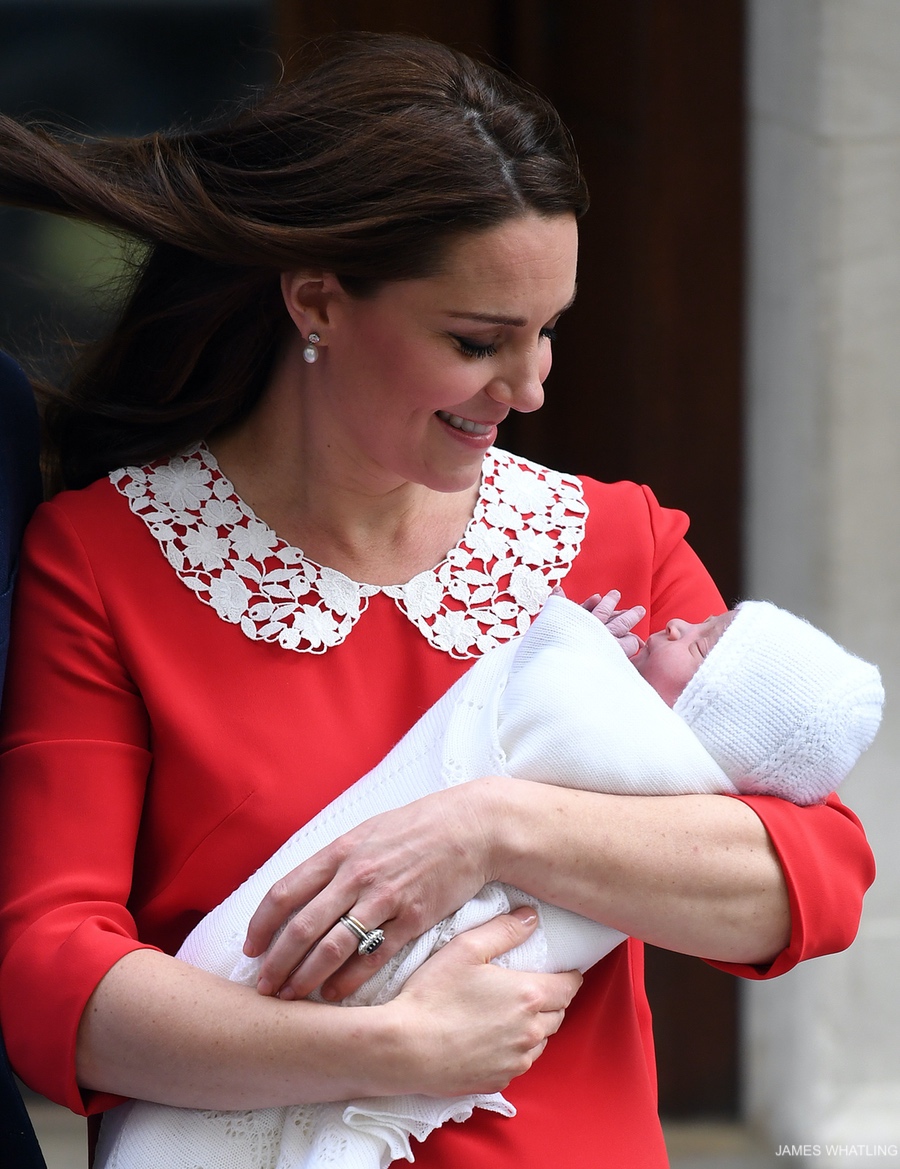 While putting the newborn baby boy in his car, William joked that three babies will mean "thrice the worry now."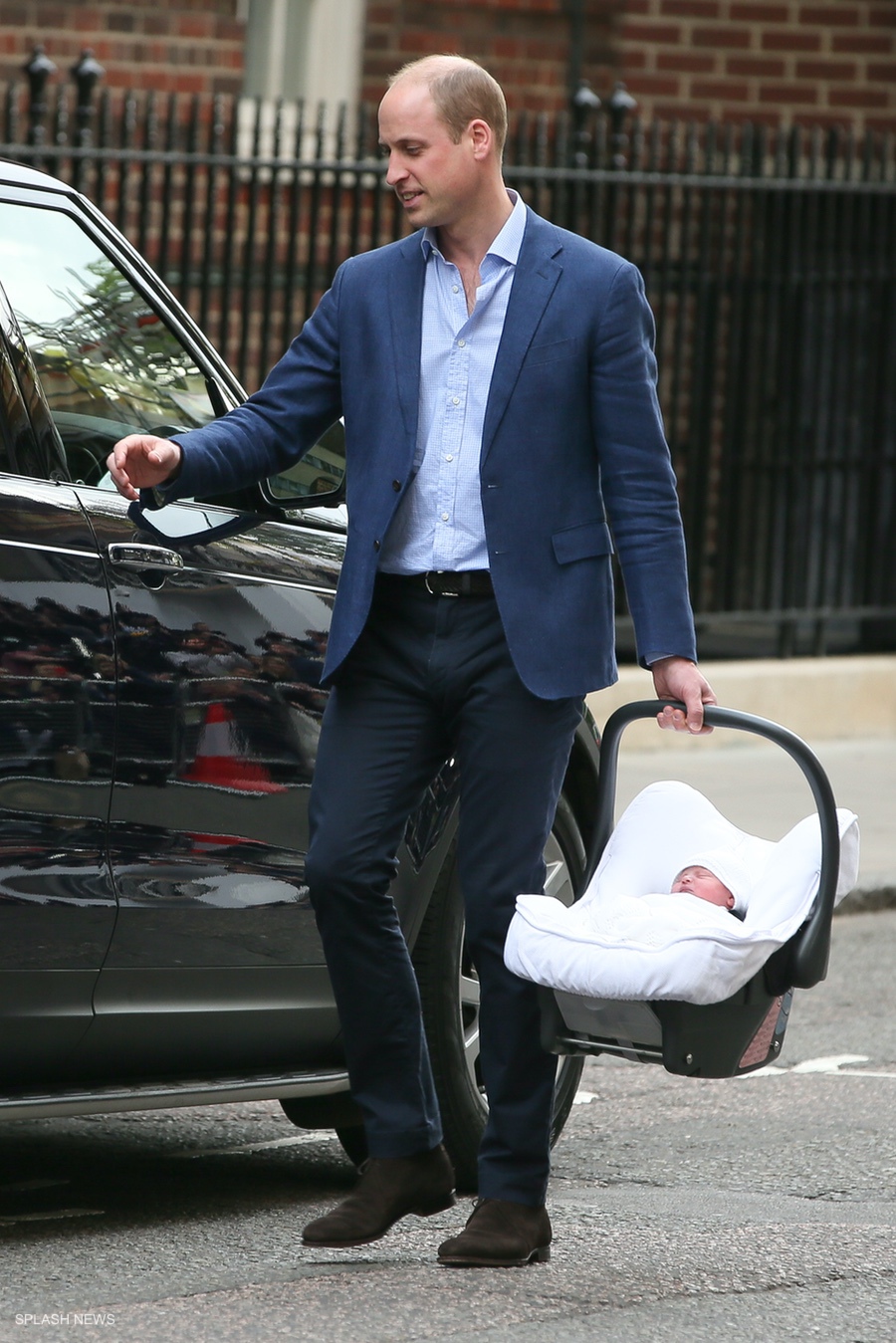 It'll be several days before we learn of the new baby's name.
Kate's outfit:
Kate looked wonderful in a vibrant red dress with a white floral lace collar.  Reporters confirm it's Jenny Packham.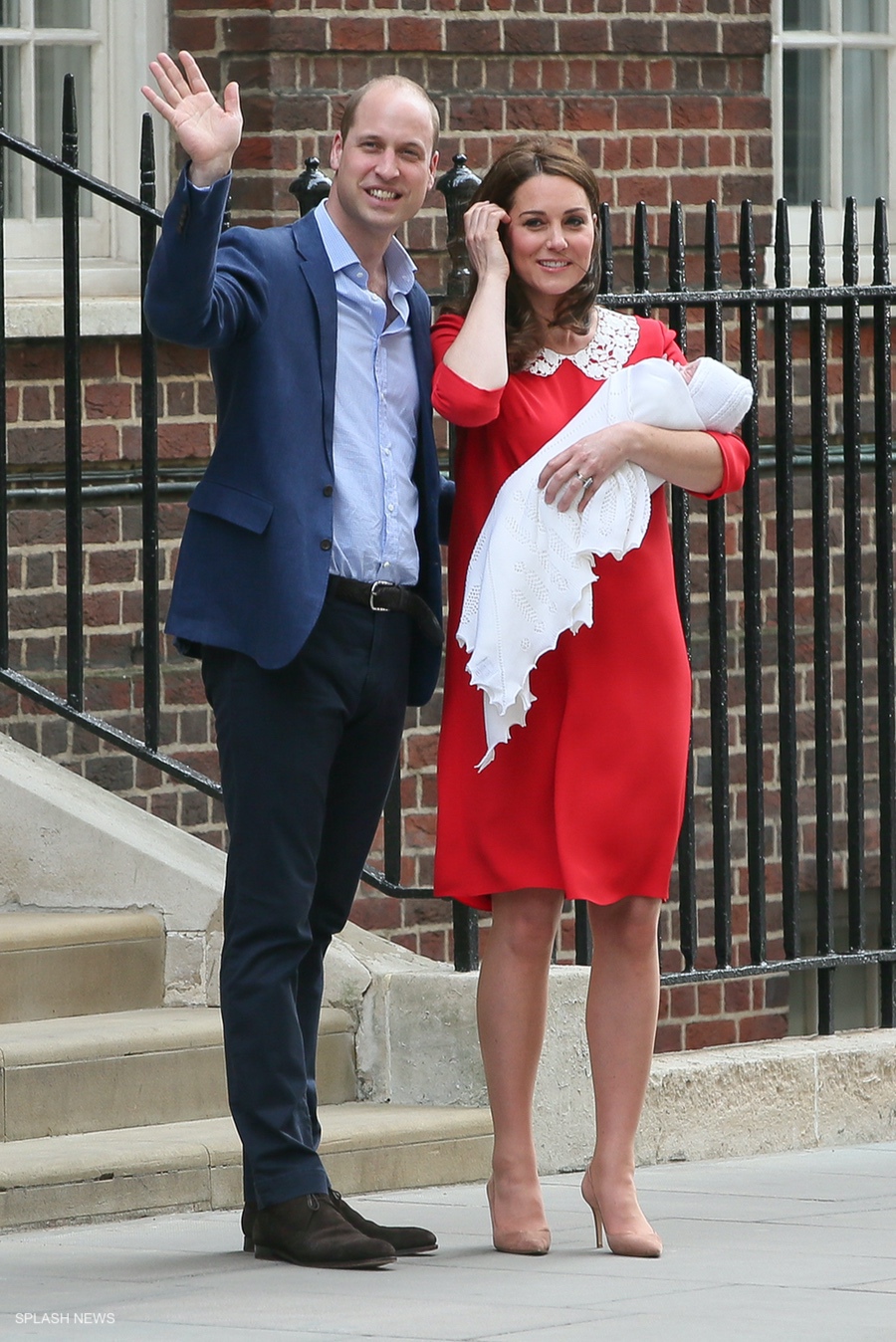 This is the third time Kate has opted for the British designer for such a momentous photo opportunity. She wore Jenny Packham dresses after the births of George and Charlotte too.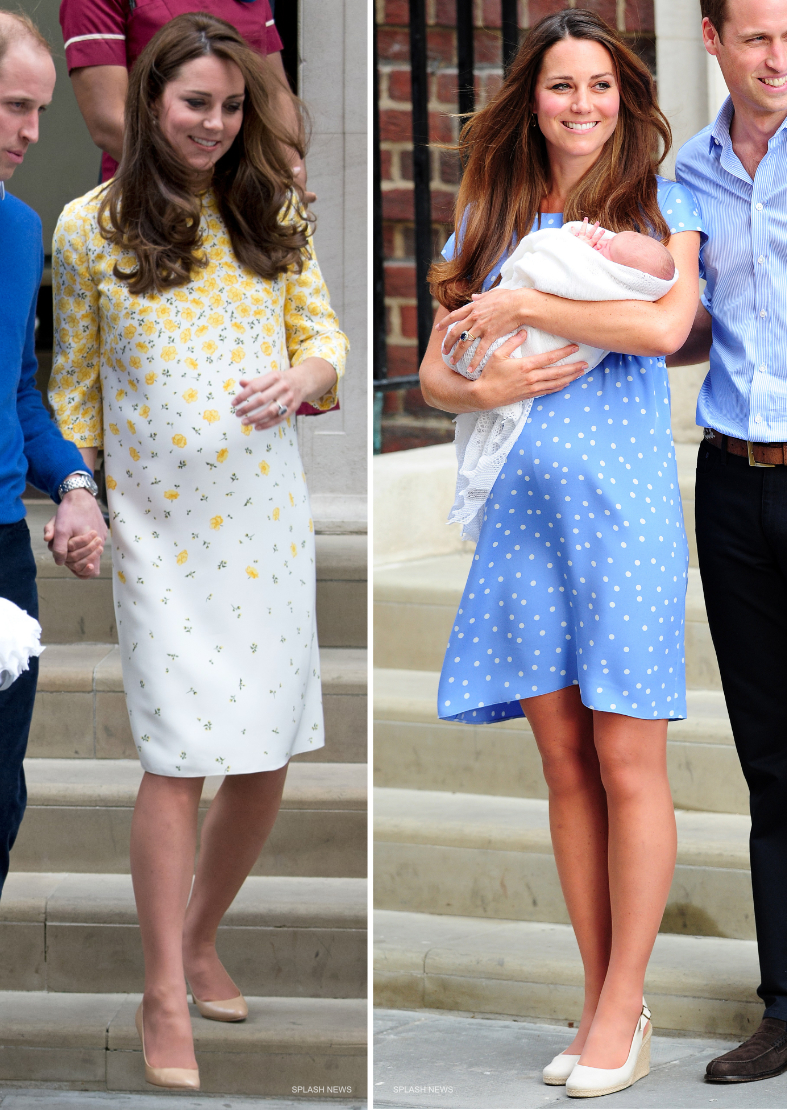 Kate added a little sparkle to her outfit with a pair of pearl earrings loaned from the Queen's collection.  She also wore her nude-coloured Gianvito Rossi pumps.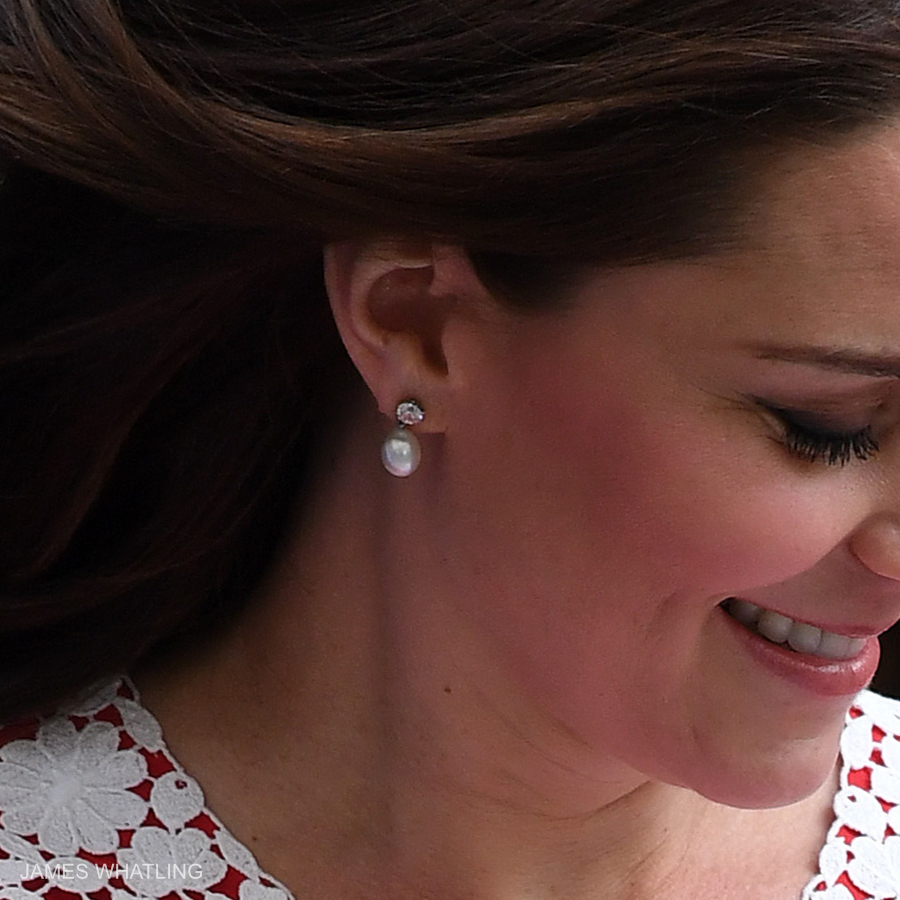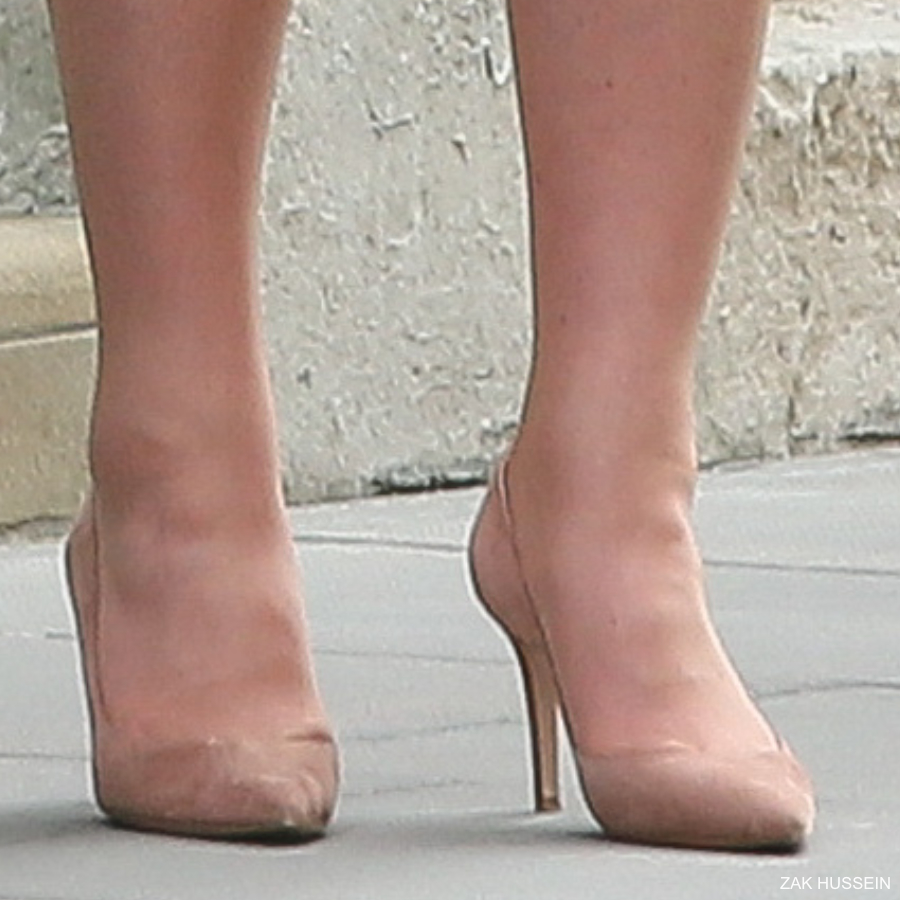 William and Kate wrapped their newborn baby boy in a white shawl by G.H.Hurt & Son.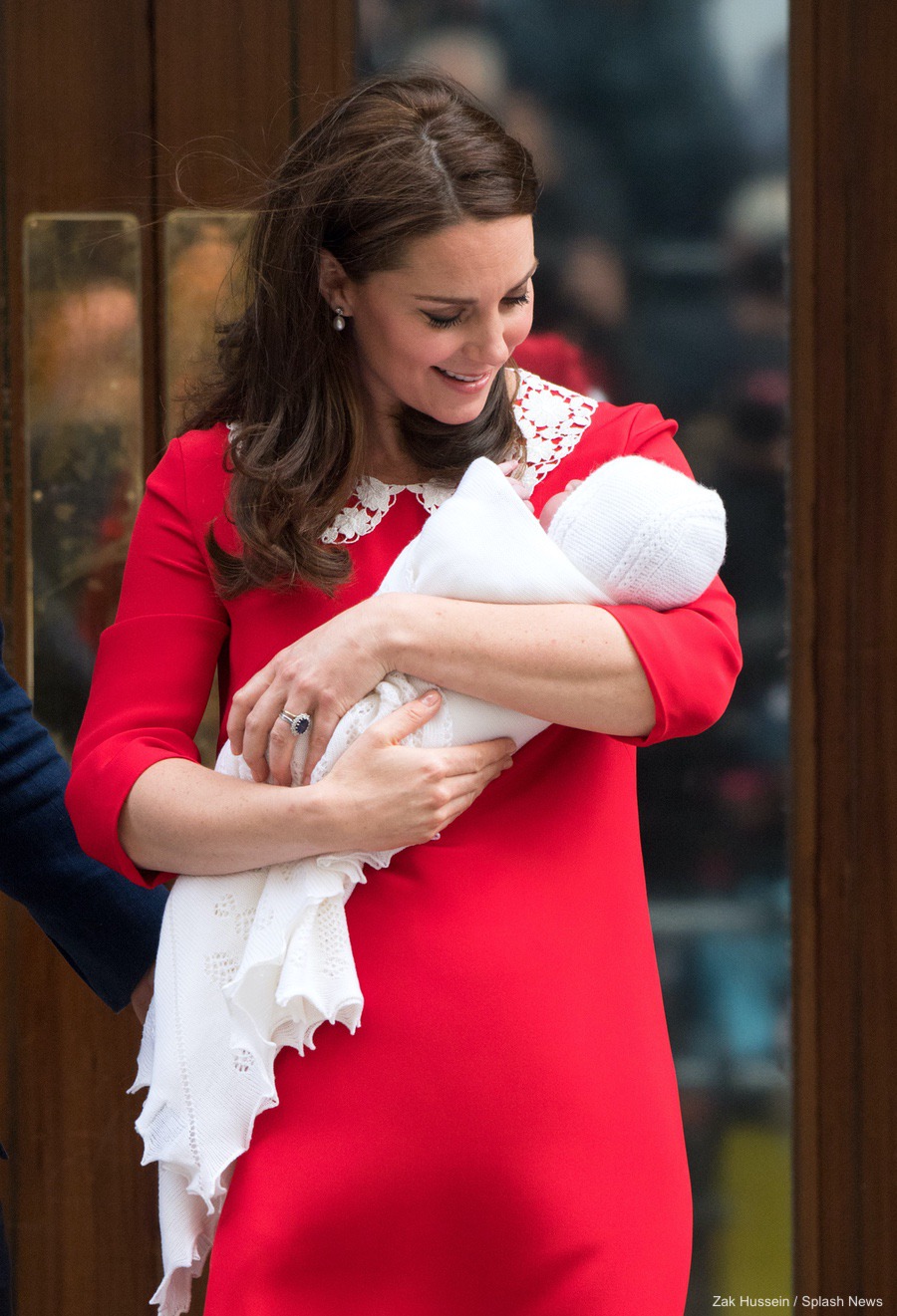 Kate also used blankets from the same company for the new prince's siblings. G.H. Hurt & Son is a family-owned company who manufacture shawls, scarves and blankets in Nottingham, England. The company has been around for more than 100 years. They've provided
Related: